Written by Katie Penn & photos by Katie Penn
Facts at a Glance About Slinky Dog Dash:
Park: Hollywood Studios. Location: Toy Story land. Height Requirement: 38 inches (97 cm) Genie+: Yes. Individual Lightning Lane: No. 
Quick Notes: A 'family' coaster through Andy's back yards with plenty of ups and downs.
Disney Warnings: Thrill ride. Small drops. Due to the nature of the experience, service animals are not permitted on this attraction. Children under 7 must be accompanied by a person over 14 years old. WARNING! For safety, you should be in good health and free from high blood pressure, heart, back or neck problems, motion sickness, or other conditions that could be aggravated by this adventure. Expectant mothers should not ride. 
Our Additional Cautions: Mostly small drops, frequent rises and falls, relatively gentle twists and turns.
Length: Approximately 2 minutes.
Special Needs & other info: Guests in ECVs must transfer to standard wheelchair, and then to a ride vehicle. For power wheelchair users, in most cases queues that allow wheelchairs also allow most power wheelchairs. See the Cast Member at the attraction for your options. 

Overview of Slinky Dog Dash in Hollywood Studios
Slinky Dog Dash is a newer attraction referred to as a 'family' coaster. It is designed to appeal to a wider audience than a more thrilling coaster. While it's more mild than some of the other coasters at Disney World, it's still a roller coaster. The modern ride system is smoother than older coasters but is still fast with plenty of twists, turns, rises and falls as you whizz through Andy's backyard.
Queue for Slinky Dog Dash
The wait for this attraction can often exceed two hours.
If you're sensitive to the sun, consider riding early in the morning or better yet, after the sun goes down. A large portion of the outdoor line is uncovered. As with the rest of Toy Story Land there is little to no shade. In some places there are sun umbrellas, but guests should be prepared to spend a long time standing in the sun.
The line winds around the front of the attraction. It is a simple line without much theming. There are sections where the line winds underneath various upturned books and board games which do provide a little shade and some fun memories for guests who will spot old childhood favorites while they wait.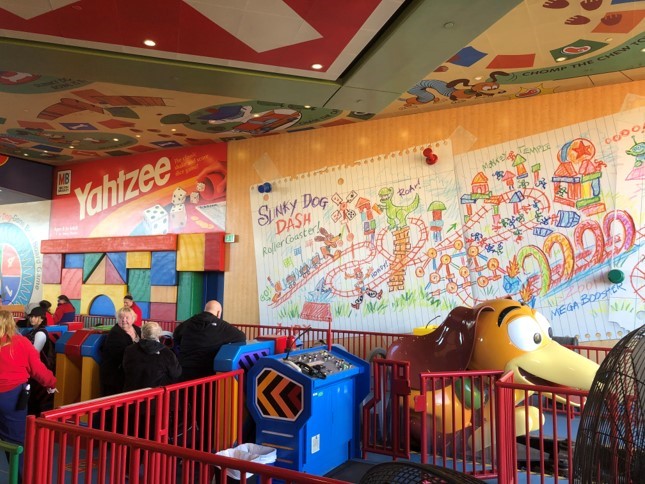 The loading area is covered in the same way and provides a fun, colorful area which is open to the elements in a few places. Guests are sorted into odd and even numbered parties when the line reaches the loading building. Boarding is organized one train at a time, with a cast member arranging parties two deep to prepare for the next two trains. When told which gate to proceed to there will already be one party in front of you waiting to board. Stand behind them and then advance to the gates, one behind the other, once the party in front has boarded and the gates are shut.
ECV/Wheelchair queue information: The queue is wheelchair accessible but not ECV accessible. Guests must transfer to a standard wheelchair to enter the queue.
Seating for Slinky Dog Dash
Seating: Slinky himself is made up of cars seating four people in two pairs. The seats are fairly easy to step into – there is not a big lip to step over or drop to step down into. Each rider does have their own lap bar, so smaller riders are not unrestrained when sat next to a larger rider (e.g when an adult rides with a child) There are storage pouches in the back of the seat in front of you, but larger items will need to be placed on the floor at your feet.
Wheelchair/ECV & mobility ride car information: There's a short step up (approximately 6 inches) to get seated on the ride car. Guests in wheelchairs must transfer to ride car. You can request the ADA car which has a small panel on the side which comes down. Your wheelchair will be put right by the ride car. You can sit on the panel, slide onto the ride seat and bring your legs in. For photos and information check out Rolling with the Magic's Slinky Dog Dash page.
Additional details about Slinky Dog Dash
The newer nature of the attraction means that the ride is smooth and glides along the rails. It starts with a small, gentle lift hill and glides around some twists and turns.
Mid ride Slinky stops at a traffic light system, moves backwards slightly, and waits briefly for a countdown to launch. The ride then launches from a standstill. The drop following this second launch is quite high and the train is turning as it crests the hill. This can be quite disorientating as it gives the feel of the track disappearing as the train reaches the top of the hill. This section may affect people with vertigo. The sensation is worse the closer you are to the front of the slinky car. However, the maximum speed of the ride is 40 mph, so it never feels as if you are travelling at excessive speeds.
The later parts of the ride involves part of the track which looks like a wave undulating up and down several times. This induces a gentle rocking/lurching sensation. While it is not enough force to wrench a rider out of their seat it does create the sensation of your stomach being 'left behind'.
As you whizz around Andy's back yard you will pass all sorts of toys. If you are able to keep your eyes open you never know who you or what you might spot.
TIP – keep your eyes open at the end – Wheezy makes a karaoke appearance as the train waits to enter the unloading area.
The train arrives in the same station as the loading area. Guests will disembark the train and then it will pull forward to stop for the next guests to board.
Take a look at the queue and the ride:
Check out other dies in Hollywood Studios
Animation Courtyard

Commissary Lane

Echo Lake

Grand Avenue

Hollywood Boulevard

Pixar Place

Star Wars: Galaxy's Edge

Sunset Boulevard

Toy Story Land
SEE RIDES AND ATTRACTIONS IN THE OTHER PARKS:
Join our Facebook group!!!!
Ask any questions, share your knowledge and just enjoy getting to know other Disney fanatics in our Facebook group called Walt Disney World Made Easy for Everyone.
Also: Like our Facebook page here.
And join me on Pinterest here.
GET UPDATES, NEWS & TIPS (IT'S FREE!!!) Plus get a Free Disney World Planning Schedule Form.
Sign up below to stay updated on the newest information, tips and tricks to help you plan your perfect Disney World trip!