Facts at a Glance About Rise of the Resistance:
P

ark: 

Hollywood Studios Location: Star Wars: Galaxy's Edge. Height Requirement: 40" (102cm) or taller. Genie+: No. Individual Lightning Lane: Yes. 
Quick Notes: Guests become recruits of the Star Wars Resistance as they battle the First Order and Kylo Ren. There are multiple parts to this attraction including a simulation portion. Much of it is walked through, with one portion on a ride car. 
Disney Warnings: Thrill ride, small drops, dark, loud. WARNING! WARNING! For safety, you should be in good health and free from high blood pressure, heart, back or neck problems, motion sickness, or other conditions that could be aggravated by this adventure. Expectant mothers should not ride.
Our Additional Cautions: Flashing lights, various light effects, loud noises including explosions. Brief simulation with turbulence and angles. Highly stimulating. Some close places. Some sharp turns and brief spinning to change direction. See below for more.
Length: Approximately 15 minutes. 
Special Needs & other info: Must transfer from wheelchair/ECV for the ride car portion. Children under age 7 years must be accompanied by a person age 14 years or older. Rider swap should be available. 
Overview of Rise of the Resistance in Hollywood Studios
This new and very extraordinary ride opened in December 2019. It's an attraction on a grand scale that has multiple ride systems and is unlike anything ever created at Disney before. From start to finish it's an immersive experience and truly spectacular.
There are multiple parts to this attraction including various pre-shows which are part of the fun. You become part of the story as you are recruited to be part of the Resistance to battle the First Order and Kylo Ren. Once under way on your first mission, you're taken prisoner by the First Order. Of course you'll eventually escape.
The experience of Rise of the Resistance
Everything you do and anywhere you go, you're part of the story. The Cast Members, animatronics, sights and sounds all play a part in creating an amazing atmosphere.
Guests are walked through various pre-shows and onto a "shuttle" where they also stand for the experience. They launch (simulation of course) and are boarded by the First Order. Guests disembark on the First Order space station. Guests walk through the ship, and are eventually separated into groups to board ride cars.
For details on the ride cars and boarding, see the accessibility section below. The ride itself is relatively smooth though there is some spinning to change directions and quick turns. The ride car boards a 'space shuttle'. There is some turbulence with explosions and angles as the ship makes a brief ride to the planet surface in the middle of a battle. There's a very brief rough landing.
This experience is so unusual and the scale so grand that the best way to give you details is by video. Check this out (If you need accessibility info see below):
Accessibility and Using a DAS on Rise of the Resistance
Go to the regular Stand By entrance. You will tell a Cast Member at the ride that you have a DAS and they will send you down the Lightning Land line, or give you a return time to come back to the Lightning Lane line.
For those in wheelchairs or scooters:
Guests can stay in a wheelchair or ECV for the first parts of the attraction. The first ride vehicle is sort of like the Orlando Airport trams, but themed to Star Wars. That is a drive on, or walk on and stand. During that part of the attraction, guests are "captured" and led off the first vehicle. The next part of the attraction is a walk thru where guests using mobility devices can drive through.
The second ride vehicle is not wheelchair accessible, but the ride vehicle is stationary and guests can drive their mobility device as close as they need to transfer. It appears there is a less than 6 inch step up into the ride vehicle. One door opens up wide so guests can make a side transfer to the seat, which appears to be approximately chair height.
If you can not transfer, you can exit just before the area where others board the ride vehicles.
This link shows a short video showing the side opening on the ride car: https://twitter.com/MousePlanet/status/1202333090141503488
The ride car is reasonably roomy with a fabric seat belt like the one on Soarin, but it's approximately 4-6 inches longer.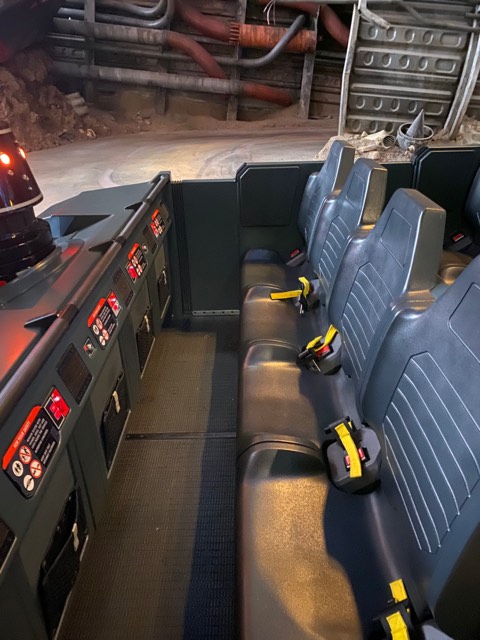 We saw that on the first row at least, there's a space for the toes to rest, giving you more room. It may be in every row, but we have yet to confirm this. This is especially helpful to those who have difficulty bending their knees and those who simply need more space.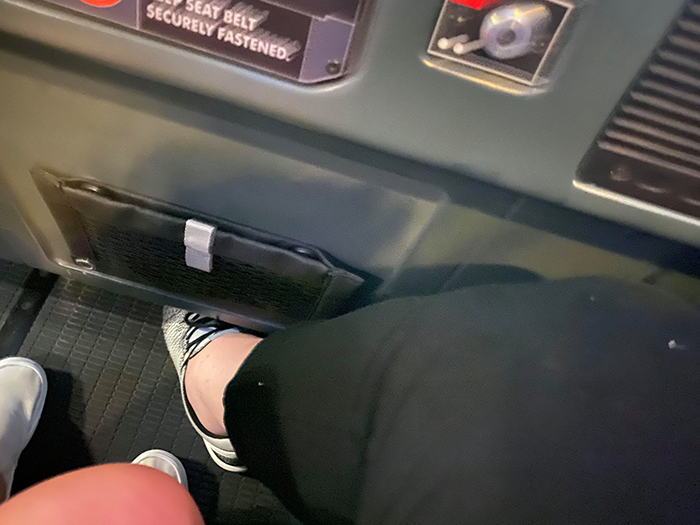 There's one section of the ride that wheelchair/ECV riders might want to pay attention to. Here's what one reader had to say about the experience riding on her scooter:

"I rode this for the first time in Feb. I stayed on my ECV and that was not a wise choice for me. The first room simulates a ride vehicle/transport was not comfortable on my ECV. I felt like I was holding on for dear life as me and my scooter bounced all over the place. I can walk for medium distances and stand for a short time so the second time I did this attraction (the next week), I took my cane and husbands arm and I walked. My EVC was waiting for me as I exited the last ride vehicle. The experience was much better and I felt in control of my body. It allowed me to feel like I was being transported with the group of people instead of just hanging on and being bounced around. I don't know if others experience it this way or not but there was a 5 or 6 year old child in a pediatric type wheelchair/stroller across from me. In that first transport room, her parents were holding on to her and her wheelchair in order to try to stabilize it." —Kim Turchyn

Though Kim was assigned a position to park and sit, she feels she could have stood up during this short segment of the experience. That may have been a good solution for her.
Enjoy the ride!
Check out other dies in Hollywood Studios
Animation Courtyard

Commissary Lane

Echo Lake

Grand Avenue

Hollywood Boulevard

Pixar Place

Star Wars: Galaxy's Edge

Sunset Boulevard

Toy Story Land
SEE RIDES AND ATTRACTIONS IN THE OTHER PARKS:
Join our Facebook group!!!!
Ask any questions, share your knowledge and just enjoy getting to know other Disney fanatics in our Facebook group called Walt Disney World Made Easy for Everyone.
Also: Like our Facebook page here.
And join me on Pinterest here.
GET UPDATES, NEWS & TIPS (IT'S FREE!!!) Plus get a Free Disney World Planning Schedule Form.
Sign up below to stay updated on the newest information, tips and tricks to help you plan your perfect Disney World trip!