Facts at a Glance About Rise of the Resistance:
P

ark: 

Hollywood Studios Location: Star Wars: Galaxy's Edge Height Requirement: 40" (102cm) or taller Fastpass: Not yet. Single Rider Queue: Yes. 
Quick Notes: Guests become recruits of the Star Wars Resistance as they battle the First Order and Kylo Ren. There are multiple parts to this attraction including a simulation portion. Much of it is walked through, with one portion on a ride car. 
Disney Warnings: Thrill ride, small drops, dark, loud. WARNING! WARNING! For safety, you should be in good health and free from high blood pressure, heart, back or neck problems, motion sickness, or other conditions that could be aggravated by this adventure. Expectant mothers should not ride.
Our Additional Cautions: Flashing lights, various light effects, loud noises including explosions. Brief simulation with turbulence and angles. Highly stimulating. Some close places. Some sharp turns and brief spinning to change direction. See below for more.
Length: Approximately 15 minutes. 
Special Needs & other info: Must transfer from wheelchair/ECV for the ride car portion. Children under age 7 years must be accompanied by a person age 14 years or older. 
Disney announcement: "…Starting September 23, we will pause the use of virtual queue for Star Wars: Rise of the Resistance, and Guests at Disney's Hollywood Studios may experience this incredible attraction using a traditional standby queue for the first time since it opened in 2019."
Overview of Rise of the Resistance in Hollywood Studios
This new and very extraordinary ride opened in December 2019. It's an attraction on a grand scale that has multiple ride systems and is unlike anything ever created at Disney before. From start to finish it's an immersive experience and truly spectacular.
There are multiple parts to this attraction including various pre-shows which are part of the fun. You become part of the story as you are recruited to be part of the Resistance to battle the First Order and Kylo Ren. Once under way on your first mission, you're taken prisoner by the First Order. Of course you'll eventually escape.
UPDATE: For details about changes post-Covid-19, visit Disney's Rise of the Resistance changes page here. 
How to get on Rise of the Resistance – What you must do in advance.
It has a brand new queue process that's designed to reduce time waiting in line for guests. Since that's so unusual, and requires you to take action, we'll start there.
With Rise of the Resistance, everything works differently than other rides. You can only get on the ride if you get registered for a "boarding group".
Important Fact: You and the members of your party can only get on one boarding group per day.
Important Fact: Guests must be 40″ (102 cm) or taller
How to get on a boarding group for Rise of the Resistance:
Here's how it works.
First, you must have a valid ticket or annual pass, and you must have a Disney Park Pass reservation to apply for a Boarding Group.
At 7 am on the day you're visiting the park, you can apply for a Boarding Group.  For this 7 am virtual queue only, you do NOT need to be in the park to get a boarding group.
At 1 pm the virtual queue will reopen. We are hearing from disneyfoodblog.com that there has been a change. Where in the past you had to be in the park to get on a boarding group, now you will need to have checked into Hollywood Studios that day. Then even if you leave the park, you will be able to apply for a 1 PM Boarding Group.
When the queue is open, you can then register to be in a boarding group on your My Disney Experience app or you can go to a Guest Experience kiosk to register. 
If you're using the My Disney Experience app, do the following:
Open the Star Wars: Galaxy's Edge section.
Go to "Star Wars: Rise of the Resistance – Access by Boarding Group."
 Click on "Find Out More."
If boarding groups are still available, you can click on "Join Boarding Group".  If it's grayed out, this means that there are no more boarding groups available for this day.
For this to work, you'll need to have your My Disney Experience linked to park tickets for you and everyone in your group.
If the app is glitching, we hear that the best thing to do is to shut it down and restart it. On an iPhone that would mean double clicking to bring up every active app, and swipe up the My Disney Experience app so it's shut down. Then start the app again.
Once you register, you can park hop if you wish, or just enjoy Hollywood Studios. 
If you're using the My Disney Experience app, turn on your push notifications for the app. You'll be notified when it's your turn to get in the queue.
Disney will send you a notification when it's your turn to get in the queue. You will have either 1 or 2 hours from the time your boarding group is called to get in line. Your app will let you know. The amount of time you're given can vary at the discretion of Cast Members at the ride. They'll decide based on the way things are going at the ride that day. 
Rider swap should be available. They are scanning bands first to confirm your boarding group. Then the riders go into the regular line and the waiters go into the fastpass line once the riders return.
Back-up Boarding Groups
Disney will give out back-up boarding groups, which may or may not get on the ride. If you haven't gotten registered early enough to get on a boarding group, they may give you a back-up boarding group. Once all the regular boarding groups have gone on the ride, if the park is still open, they'll allow those with Back-up boarding passes to ride. It should work the same way as regular boarding passes, except that there's no guarantee you'll be called.
Something to be aware of – START TRYING BEFORE THE POSTED TIME. We saw an account of people being told that the boarding groups registry would go live at a certain time, but it actually went live a little before then. There were people who were waiting to sign up at the announced time who could not get on a boarding group for that day, even though they got to the park early enough. So we'd suggest trying the app earlier than the posted park opening time.
Tip: Get to another one of the popular rides as quickly as possible.

Once you're allowed into the park, try to get to one of the popular rides as soon after signing up for a Boarding Group as you can. The more popular rides are filling up quickly with very long wait times. For example we heard that today Slinky developed into an 80 minute wait within 10 minutes of park opening, and Smugglers Run was a 3 hour wait.
Can you visit the rest of Galaxy's Edge without a boarding group?
The boarding group registry is only for the Rise of the Resistance ride. You can get into the Galaxy's Edge Star Wars area and you can go on the other Star Wars ride in Galaxy's Edge – Millennium Falcon Smugglers Run – without a boarding group.
We are getting feedback that Disney is limiting guests to riding only once per day. This should change as the newness of the ride wears off and the crowds reduce.
The experience of Rise of the Resistance
Everything you do and anywhere you go, you're part of the story. The Cast Members, animatronics, sights and sounds all play a part in creating an amazing atmosphere.
Guests are walked through various pre-shows and onto a "shuttle" where they also stand for the experience. They launch (simulation of course) and are boarded by the First Order. Guests disembark on the First Order space station. Guests walk through the ship, and are eventually separated into groups to board ride cars.
For details on the ride cars and boarding, see the accessibility section below. The ride itself is relatively smooth though there is some spinning to change directions and quick turns. The ride car boards a 'space shuttle'. There is some turbulence with explosions and angles as the ship makes a brief ride to the planet surface in the middle of a battle. There's a very brief rough landing.
This experience is so unusual and the scale so grand that the best way to give you details is by video. Check this out (If you need accessibility info see below):
Accessibility and Using a DAS on Rise of the Resistance
For those who want to use the DAS, you must obtain a boarding group first. Once your boarding group is called, you must go to the regular Stand By entrance.  You will tell a Cast Member at the ride that you have a DAS and they will send you down the Fastpass line, or give you a return time to come back to the Fastpass line. Fastpasses are currently not being issued for this ride, so there will only be DAS users in this queue.
You should be able to get a DAS for other rides and attractions, even if you're going to use the DAS for this ride.
If you feel that a person in your party has a health issue that makes it difficult to get to the park early enough to get on a boarding group, we're hearing that Disney may help. However there's no guarantee and it's decided on a case by case basis. The people in your party who are able to get there early should go to Guest Relations before the park opens, and explain the situation to a Cast Member. They may (or may not) make it so that when the person with the disability arrives, they (and their caretaker) can be added to your boarding group at Guest Relations.
For those in wheelchairs or scooters:
Guests can stay in a wheelchair or ECV for the first parts of the attraction. The first ride vehicle is sort of like the Orlando Airport trams, but themed to Star Wars. That is a drive on, or walk on and stand. During that part of the attraction, guests are "captured" and led off the first vehicle. The next part of the attraction is a walk thru where guests using mobility devices can drive through.
The second ride vehicle is not wheelchair accessible, but the ride vehicle is stationary and guests can drive their mobility device as close as they need to transfer. It appears there is a less than 6 inch step up into the ride vehicle. One door opens up wide so guests can make a side transfer to the seat, which appears to be approximately chair height.
If you can not transfer, you can exit just before the area where others board the ride vehicles.
This link shows a short video showing the side opening on the ride car: https://twitter.com/MousePlanet/status/1202333090141503488
The ride car is reasonably roomy with a fabric seat belt like the one on Soarin, but it's approximately 4-6 inches longer.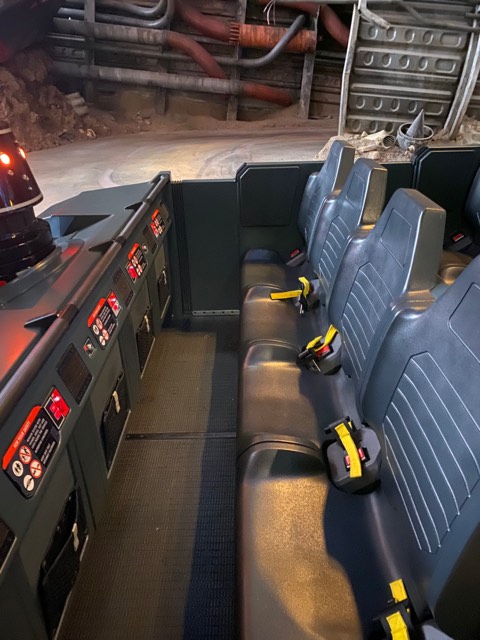 We saw that on the first row at least, there's a space for the toes to rest, giving you more room. It may be in every row, but we have yet to confirm this. This is especially helpful to those who have difficulty bending their knees and those who simply need more space.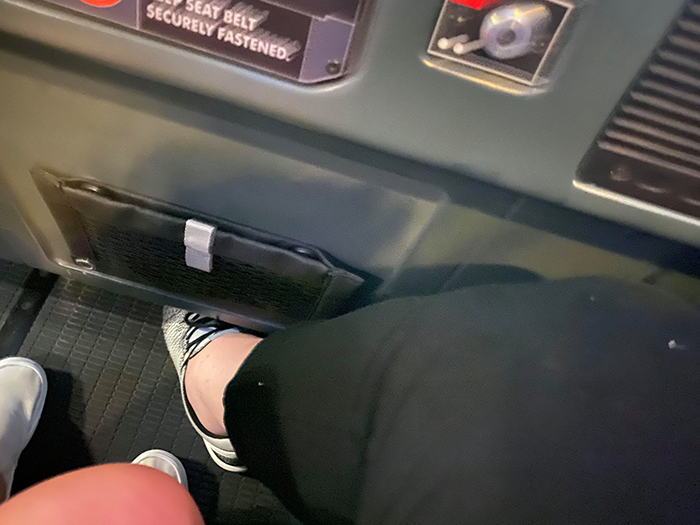 There's one section of the ride that wheelchair/ECV riders might want to pay attention to. Here's what one reader had to say about the experience riding on her scooter:

"I rode this for the first time in Feb. I stayed on my ECV and that was not a wise choice for me. The first room simulates a ride vehicle/transport was not comfortable on my ECV. I felt like I was holding on for dear life as me and my scooter bounced all over the place. I can walk for medium distances and stand for a short time so the second time I did this attraction (the next week), I took my cane and husbands arm and I walked. My EVC was waiting for me as I exited the last ride vehicle. The experience was much better and I felt in control of my body. It allowed me to feel like I was being transported with the group of people instead of just hanging on and being bounced around. I don't know if others experience it this way or not but there was a 5 or 6 year old child in a pediatric type wheelchair/stroller across from me. In that first transport room, her parents were holding on to her and her wheelchair in order to try to stabilize it." —Kim Turchyn

Though Kim was assigned a position to park and sit, she feels she could have stood up during this short segment of the experience. That may have been a good solution for her.
Our Facebook group member's tips on getting a boarding group:
Check out some quotes that show the strategies used to get on a boarding group:
"I was utterly surprised when I got a boarding group last week. I didn't do all of the tricks and tips I had read. All I did was log on at 6:45 am, turn off my wifi and at exactly 7, I clicked join. I guess I was very lucky when I got group 58!" —Christine Heath
"Last week I got boarding group 14! Here's what I did: at 6:50am I logged into MDE (My Disney Experience) from my iPhone in my room at Yacht Club. I was not on WiFi. I made sure I was ready & viewing the virtual queue on the app. Using another iphone, I watched time.gov and I hit "join" at exactly 6:59:59. I followed the prompts to keep hitting join & I was in! Super easy & fast! 
" —Lynne Motta Shea
"I woke up at 6:58, walked out my door, clicked join at 6:59:58 and got group 7.  No special tricks, no freaking the heck out and stressing over it lol." —Ashley Powell
Enjoy the ride!
Check out other dies in Hollywood Studios
Animation Courtyard

Commissary Lane

Echo Lake

Grand Avenue

Hollywood Boulevard

Pixar Place

Star Wars: Galaxy's Edge

Sunset Boulevard

Toy Story Land
SEE RIDES AND ATTRACTIONS IN THE OTHER PARKS:
Join our Facebook group!!!!
Ask any questions, share your knowledge and just enjoy getting to know other Disney fanatics in our Facebook group called Walt Disney World Made Easy for Everyone.
Also: Like our Facebook page here.
And join me on Pinterest here.
GET UPDATES, NEWS & TIPS (IT'S FREE!!!) Plus get a Free Disney World Planning Schedule Form.
Sign up below to stay updated on the newest information, tips and tricks to help you plan your perfect Disney World trip!