Intro: This highly advanced interactive ride opened in June 2008, and it's become one of the most popular rides at Disney.  Considered a 4-D experience, it's inspired by Disney Pixar's "Toy Story" films. Guests will be "shrunk" to toy size to play with the stars of the film; Woody, Buzz, Rex, Hamm and others. The story is that Andy receives a new Midway Game Play Set for his birthday.  Of course the toys want to play with it, so as soon as Andy leaves, they jump into action. You'll join the Toy Story characters for an assortment of 3-D midway games, all set up under Andy's bed.  The 3-D animation will change depending upon your interaction with it, making this attraction totally unique.  If you're competitive and you like to play video or midway games, you're likely to enjoy this!
We expected this attraction to be similar to Buzz Lightyear at the Magic Kingdom, but it was significantly different.  Of course the 3-D and 4-D effects were different, but this ride was far more physically challenging. It has rough tracks, jerky motion, high speed turns and spins and sudden stops that were quite rough. You'll need to maintain an upright position while being whipped around, often over circular tracks. Those with neck problems or weakness may wish to bypass this attraction, especially those with moderate to severe issues. You may wish to have someone who knows your condition try it for you first, if you feel strongly about going on it.
Queue: The queue starts outdoors if there's overflow.  The outdoor area isuncovered.  The indoor
queue is brightly lit. The lines do have some corners that are slightly tight for wheelchairs & ECVs, but we found that it was manageable. Since you've been shrunk and you're walking through Andy's bedroom, you'll see giant toys everywhere.  Even the ceiling is decorated with toys and games like scrabble and checkers.  Adults will enjoy reminiscing about their favorite games, and most kids will feel right at home in this atmosphere.
At one point in the queue you'll encounter a talking Mr. Potato Head.  At over 5 feet tall, he's a very advanced Audio-Animatronics figure that moves and can have two-way conversations. There are certain pre-recorded things he can say, and a cast member who is out of site can choose the appropriate comments. He can even remove his own ear and put it back on. He seems to especially delight children, and we really enjoy him as well! We saw children happily engaging in conversations with the potato guy, which can really make your wait time pass more quickly.  The FASTPASS line doesn't go by Mr. Potato Head.
Wheelchairs and ECVs use the main queue entrance. At one point in the queue, all wheelchair and ECV riders will take an alternative route which will lead to a special loading area.  The regular queue includes stairs. The FASTPASS queue also allows guests to take the alternative route to bypass stairs and to utilize the special loading area.
A FASTPASS is a great idea here.  Keep in mind that during the busy seasons the FASTPASS tickets may be gone by late morning or early afternoon.  This is an attraction that many people charge over to after the rope drop (when guests are allowed to enter the park) in the morning. If you're hoping to ride more than once, one strategy may be to head over to Toy Story Midway Mania once the park opens, get your FASTPASS, and then get in the regular queue line.  You can ride once, and then ride again with your FASTPASS.
Boarding & riding: The ride cars come to a complete stop for you to board. There are a couple cars made to take wheelchairs. These cars load and unload only within the special boarding  area. Wheelchair riders who plan to transfer to the ride seat will still be using one of these specially equipped cars.  Even if the line is short in this area, there may be a wait for one of these ride cars to come back.
If you're transferring to the ride car seat and you can walk, they'll have you park your chair along the divider bar.  You may need to walk approximately 10-15 steps, depending upon where you parked.  If you can't walk, and you're in an ECV or scooter, you'll be transferred to a manual wheelchair. You then have the choice to transfer to the ride seat, or to ride on the wheelchair. If you're transferring, they will ride the wheelchair right up to the side of the vehicle.  You'll walk a couple steps directly into the ride car.
One side of the vehicle is made to take a wheelchair. It has enough room for one wheelchair rider and one companion. When you choose to ride in your wheelchair, you'll ride up to the ride car and onto the vehicle over a ramp. Once you're in place, the car is inserted back onto the main track and proceeds through the ride. Be sure to use your wheelchair brakes. If you're in a power chair be sure to turn it off.
Each of the standard cars sits four with two rows of two sitting back to back. You may be able to fit a small child with two adults, but there are only two guns. There are hard bench seats with very high, straight backs. You are unable to see the people behind you because you're completely separated by the seat backs.
There are two lap bars that you pull down, one for each person.  Each person pulls down their own lap bar.  Be aware that when you pull it down, it locks in place at the lowest point that you've taken it to.  So if you pull the lap bar down and find that it's too tight, it will be locked in that position for the entire ride. If you find you've done this, call out to the cast member and request that they release the lap bar so you can reset it.  Since there's no guarantee that you'll catch their attention in time, try to lower the lap bar carefully.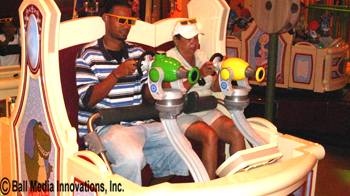 Tip:  The gun and lap bar are on the same mechanism.  If you placed your lap bar where you thought it should be, but you then try to lower the gun so that it's closer to you, it will lower your lap bar as well.  This may make it uncomfortably tight, so try to avoid moving the gun once you have your lap bar set where you want it.
Tip:  Depending upon where you're sitting and the direction you're facing, you may be able to lean on the side of the car for stabilization.  It's challenging to predict which seat will work for this.  If you're using the handicapped queue, it will probably be the seat facing forward on the inside. You can also hold your head against the back of the seat for neck stabilization, but it does get uncomfortably bumpy. Since the back is very hard, you can actually bump your head.
After being loaded into your car, you'll either be facing forwards or backwards, but you'll be facing forward for each game. Your car will take off from the loading bay and will ride from screen to screen. It will stop in front of each screen to allow you to play the game. When your car is in motion, you'll be whipped around, sometimes in circular motions as the track changes direction. The motion is swift and feels rough. You'll ride until you come to a sudden stop in front of the next screen. Every stop can be jarring. You'll play the game on that screen, and then your car will take off in a sudden spurt towards the next screen. You'll know it's about to go because the game ends, giving you a moment to brace yourself. There are sudden changes of direction whenever you ride. The floor is level so there are no upwards or downwards motions.
The last part of the ride is a final bonus round where you fire as fast as you can to pick up extra points.
You'll be shooting with a spring-action shooter gun that launches virtual objects such as darts, rings, pies, baseballs and eggs at virtual targets such as balloons, aliens, barnyard objects and dishes.  To
shoot you just tug at the string, which we found to be very easy on the hands. Unlike the Buzz Lightyear attraction, you can really see where your gun is shooting so that you can adjust your aim. The gun swivels and you can aim by pointing it higher or lower as well as side to side.  We found that aiming does not require much strength or physical effort. It can get very competitive and even addicting as you learn to shoot more accurately!
For those riding in a wheelchair, you'll have two gun shooting action choices. The spring action shooter pull string is available, but you also have the choice of a button on the top of the gun. Some people find that it's much easier to shoot with the button, and it may even give you an advantage with points!
You'll be wearing 3-D glasses which should be able to fit over your glasses. Each screen has a different midway target game. You'll have approximately 30 seconds for each screen to shoot targets to your heart's content.  The first round is for practice and the points don't count. That's followed by five real rounds.  This means you'll be taken to a total of six game screens. Your points are shown on a screen panel in your ride car. After each game you can see your scores, which makes it really fun for those who are competitive.
At one point there's a 3-D effect that has something flying out at you.  It can be startling. There is a sensory effect with air blowing at you to give you the feeling that something flew by you. If you pop a 3-D water balloon, you will have water sprayed at you. It's a small amount of water, and you won't get soaked.
The characters talk to the guests to give you tips and to encourage you. There's cheerful music playing throughout. There are a lot of audio sound effects that can be noisy such the sounds of the targets being hit. All the sound together can be quite loud and stimulating. The lights are kept low during the ride, but we didn't experience it as dark. You can see around you. Although we've seen other sources state that the attraction uses fragrance effects, we did not experience any fragrances. At this writing Disney states that they don't use fragrances in this attraction.
Extra info:
Time:  Approximately 5-6 minutes
Guests can experience this ride in a wheelchair. Electric wheelchairs are also permitted if they fit. If you're in a motorized scooter or ECV you will be transferred to a manual wheelchair.  You can also choose to transfer to the ride seat.
Handheld Captioning is available at this attraction.
Guests with young children can take turns experiencing the ride. See a Cast Member for help with this.
Service animals are not permitted on the ride.
Guests are not permitted to use flash photography
Cautions: Heart problems, back or neck problems, motion sickness, vertigo and balance problems, weakness, pain issues, headaches, visual issues. Some people with epilepsy and vertigo have difficulty with 3-D and 4-D effects.
Quick Notes:  3-D & 4-D moving motion base ride with short bursts of speed, and 360° fast spinning, jerking and sudden stops. Air is blown at you briefly. Some people will experience a minor water spray.