Facts at a Glance About Indiana Jones Epic Stunt Spectacular:
Park:

 

Hollywood Studios Location: Echo Lake. Height Requirement: None. Genie+: Yes. Individual Lightning Lane: No. 
Quick Notes: Live action show simulating movie scenes and showing how it's done.
Disney Warnings: None
Our Additional Cautions: Includes loud noises, fire, explosions, gun shots, actors simulating violence and escape from various forms of attacks and booby traps, harrowing stunts, fire extinguishers sprayed on stage. Guests may experience some heat and smoke, most intense if sitting near the front. Some may find the experience over stimulating. See attraction description below for details and further cautions.
Length: The show lasts about 30 minutes.
Special Needs & other info: You can remain in your wheelchair or ECV for this show. Handheld Captioning, Assistive Listening, Audio Description, Sign Language.

Overview of Indiana Jones Epic Stunt Spectacular in Epcot
This is a fun, high-action live show that also reveals behind the scenes secrets in filmmaking. Several scenes from the movie Raiders of the Lost Ark are simulated using actors, props and special effects. Adult volunteers are chosen to participate in the show.
Queue and seating information for Indiana Jones Epic Stunt Spectacular
The queue is outdoors, with netting covering most of the area. It does provide a slight bit of protection from the sun, but it's not close to full sun or rain protection. Crowds start coming pretty early for each show, so you may want to arrive at least 20 minutes before show time during low crowd periods, and earlier during busy seasons.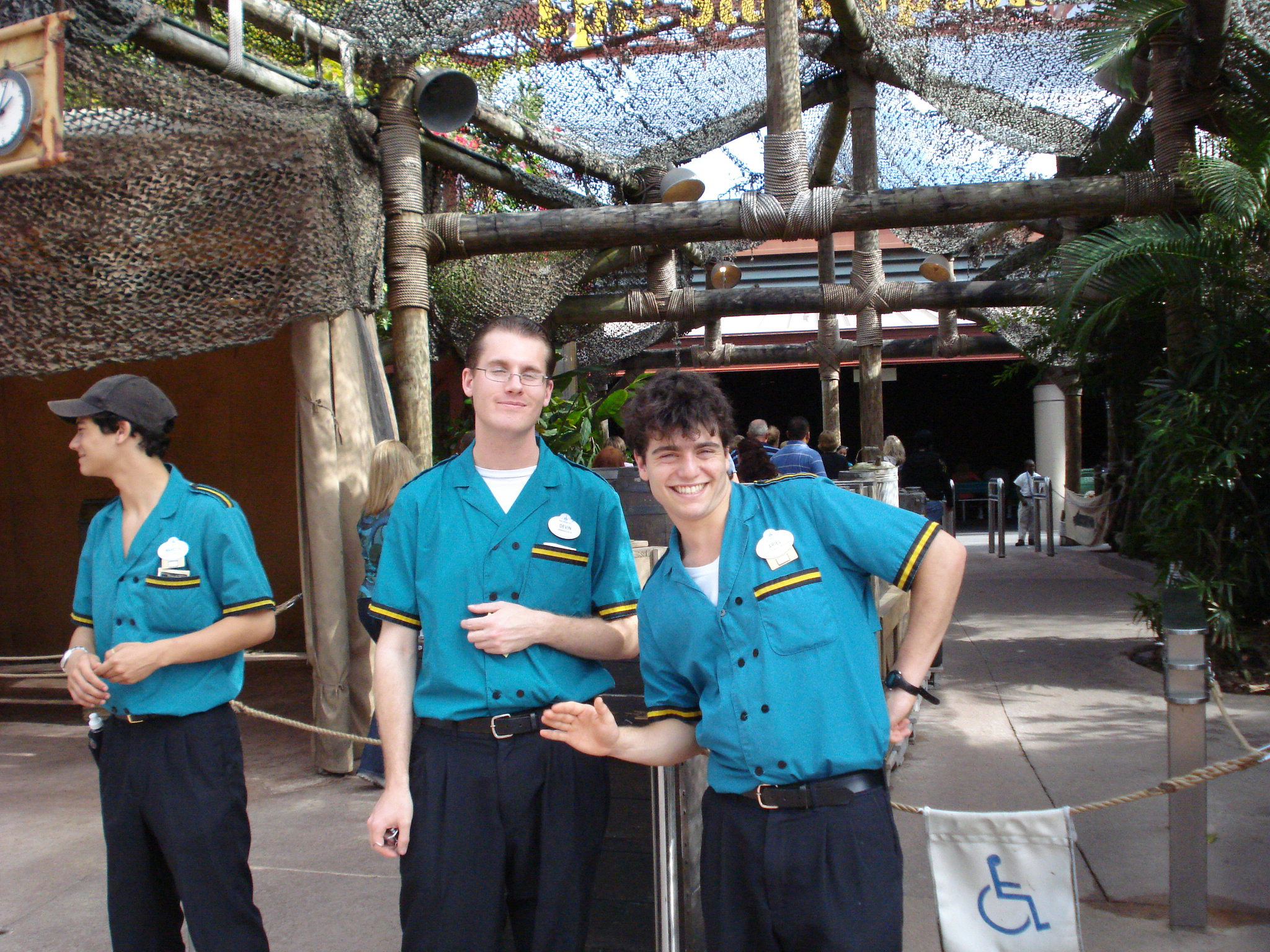 In parts of the queue and towards the back of the theater, there are machines spraying a mist on the crowd.  During hot weather, this can be a welcome relief. It can get very moist in those locations.
The theater is open air but with overhead covering. The seats are hard benches with backs, and they're undercover. There are steep stairs.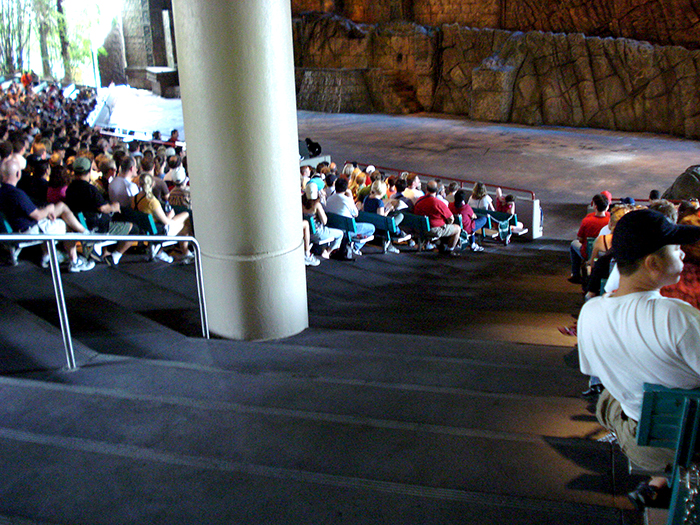 Wheelchair/ECV information: There are limited numbers of wheelchair/ECV spots, so it's possible that they could all be filled if you arrive close to show time. Wheelchair/ECV users should speak to a cast member at the entrance to be taken to one of the special seating areas. The back rows of all the sections have cut-outs for wheelchairs and there are a small number of wheelchair spots in the front, but they're all towards the sides. If you prefer to be centrally located, stay in the back. If you wish to sit up front, let a cast member know. The path down to the front row accessible seating is a steep switchback ramp. A cast member will lead you down to the seating and after the show you'll exit the same way you came in.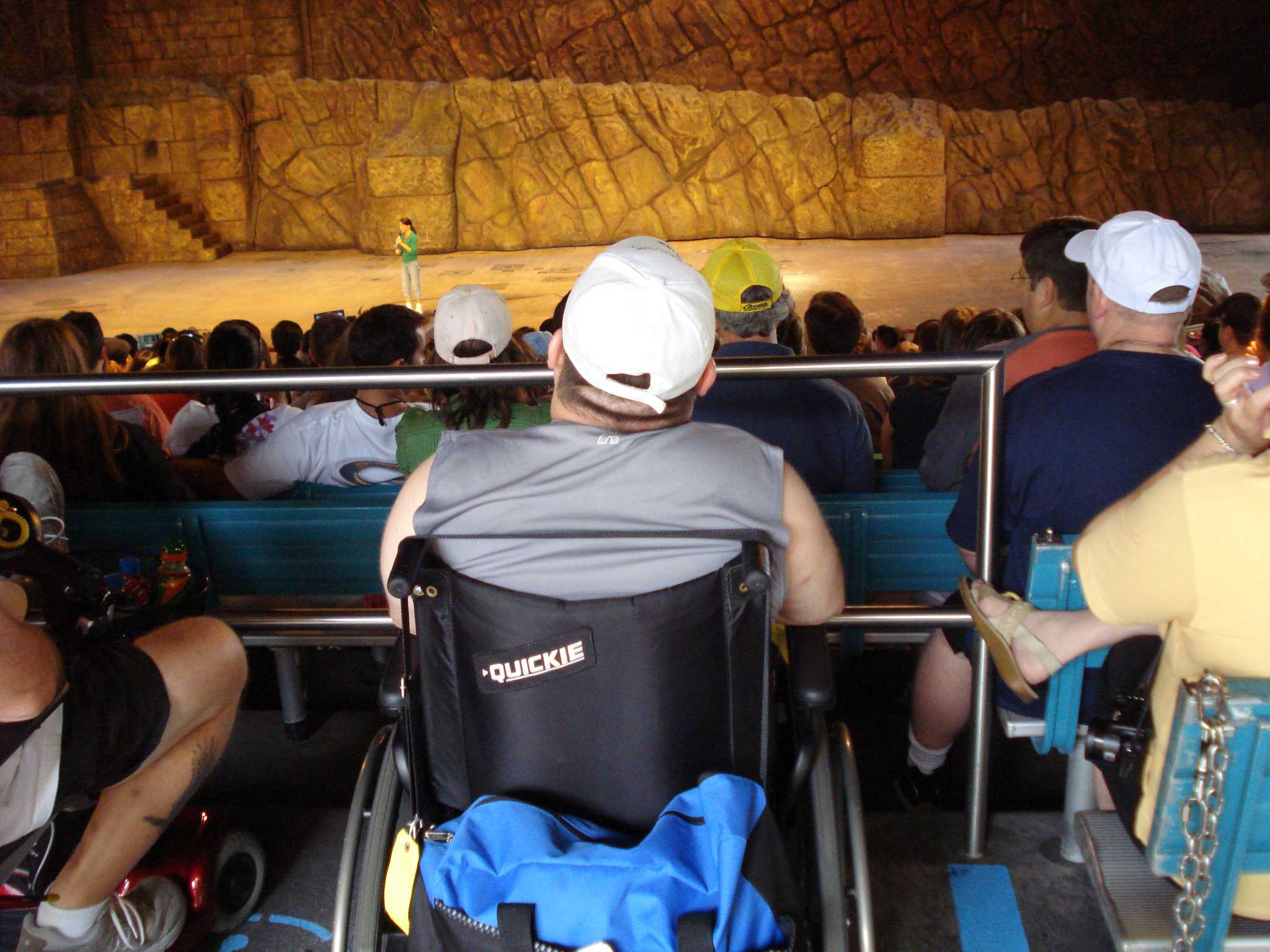 Additional details about Indiana Jones Epic Stunt Spectacular
You'll see live explosions, crashes, fights and battles, chase scenes, a moving plane with rotating propellers around which stunt scenes are performed, people falling from buildings and other harrowing stunts. A car flips and explodes, and the cast extinguishes the fire with a fire extinguisher (we think it's carbon dioxide which dissipates quickly, but this is unconfirmed).
They also reveal some behind-the-scenes secrets showing what makes the stunts look real. There are sudden explosions and fire, and you'll even feel the heat in the back rows. There are also extremely loud, sudden noises and gunshots. Smoke effects are used; however, whenever we've seen the show, the smoke has blown away from the audience. This could be coincidence, so keep in mind that it could possibly blow your way. The effects have greater impact when you're in the front of the theater. Sit towards the rear of the theater to minimize the effects.
Tip: We found the bench backs to be hard, awkwardly positioned and tough on our backs.  Consider using a rolled-up sweater for cushioning and support behind your back. Wheelchair and ECV users who can transfer may prefer to stay in their own chairs.
When the show ends the crowd is thick and hard to navigate through. Unless you're sitting in the back row and can make a break for the exit, you may wish to allow the crowd to thin out before you try to leave.
Check out this video of the Indiana Jones Epic Stunt Spectacular:
Check out other rides and attractions in Hollywood Studios
Animation Courtyard

Commissary Lane

Echo Lake

Grand Avenue

Hollywood Boulevard

Pixar Place

Star Wars: Galaxy's Edge

Sunset Boulevard

Toy Story Land
SEE RIDES AND ATTRACTIONS IN THE OTHER PARKS:
Join our Facebook group!!!!
Ask any questions, share your knowledge, and just enjoy getting to know other Disney fanatics in our Facebook group called Walt Disney World Made Easy for Everyone.
Also: Like our Facebook page here.
And join me on Pinterest here.
GET UPDATES, NEWS & TIPS (IT'S FREE!!!) Plus get a Free Disney World Planning Schedule Form.
Sign up below to stay updated on the newest information, tips and tricks to help you plan your perfect Disney World trip!