Facts at a Glance About Jedi Training: Trials of the Temple:
Park:

 

Hollywood Studios Location: Echo Lake Height Requirement: None. Genie+: No. Individual Lightning Lane: No. 
Quick Notes: Live action show with volunteer kids training to fight the dark side with light sabers. 
Disney Warnings: None
Our Additional Cautions: Those who are sensitive might find this scary. Fog/mist on the stage.
Length: The show lasts about 20 minutes.
Special Needs & other info: You can remain in your wheelchair or ECV for this show. 

Overview of Jedi Training: Trials of the Temple in Hollywood Studios
Children are brought on stage to learn Padawan light saber skills. The final exam is a duel with Darth Vader. Expect it to be extremely crowded during high crowd times. This is held at an outdoors stage next to the Star Tours ride.
Registration information for Jedi Training: Trials of the Temple
Guests must register in advance at the Indiana Jones Adventure Outpost located between the Indiana Jones Epic Stunt Spectacular! and the 50's Prime Time Café. Registration starts when the park opens for the day.
The sign-up for specific shows is done from park opening until all slots are filled. Registration is on a first-come, first-served basis and can fill up pretty quickly.
The children who will be participating must be present to be signed up. You cannot just have the parent there.  You'll select the show you want your child to participate in (unless it's already filled). Walk-ups are extremely unusual.
Additional details about Jedi Training: Trials of the Temple
The story is that Darth Vader's visit is a surprise and kids are told to "prepare to face your fears". Kylo Ren also appears. They're both rather menacing figures. The very sensitive might find this scary. They both spar gently with the children.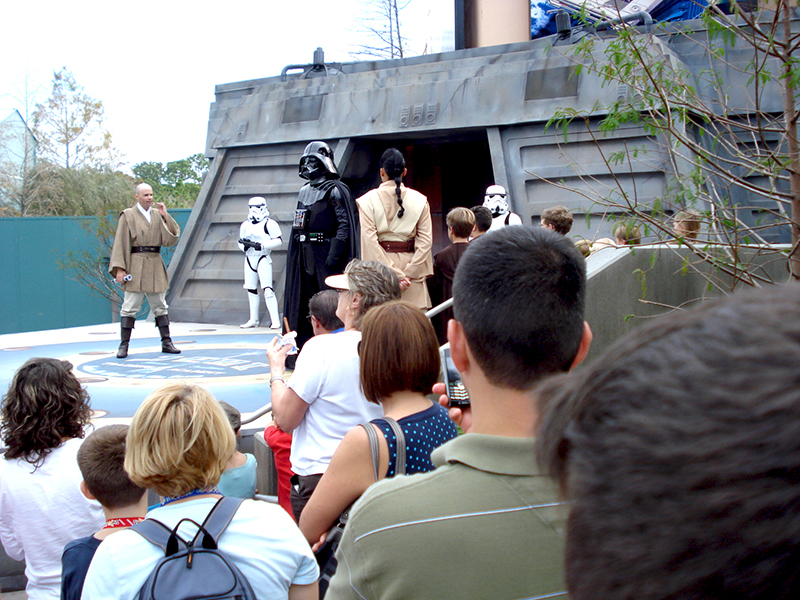 The audience stands in front and to the sides of the stage. Parents are not allowed on stage. Only the child is allowed up on the stage. Even if it's a special-needs child, a parent is not permitted to accompany them onto the stage.
If the child is in a wheelchair, they are able to participate. If using a stroller as a wheelchair and the child cannot maneuver, the child may not be able to participate. Another requirement is that the child must be able to follow instructions, so if the child has severe mental/emotional impairments they may not be able to participate.
Check out this video of the Jedi Training: Trials of the Temple:
Check out other dies in Hollywood Studios
Animation Courtyard

Commissary Lane

Echo Lake

Grand Avenue

Hollywood Boulevard

Pixar Place

Star Wars: Galaxy's Edge

Sunset Boulevard

Toy Story Land
SEE RIDES AND ATTRACTIONS IN THE OTHER PARKS:
Join our Facebook group!!!!
Ask any questions, share your knowledge and just enjoy getting to know other Disney fanatics in our Facebook group called Walt Disney World Made Easy for Everyone.
Also: Like our Facebook page here.
And join me on Pinterest here.
GET UPDATES, NEWS & TIPS (IT'S FREE!!!) Plus get a Free Disney World Planning Schedule Form.
Sign up below to stay updated on the newest information, tips and tricks to help you plan your perfect Disney World trip!