Facts at a Glance About Star Tours – The Adventures Continue:
Park

: 

Hollywood Studios. Location: Echo Lake. Height Requirement: 40" (102cm) or taller. Genie+: Yes. Individual Lightning Lane: No. 
Quick Notes: Star Wars themed 3-D ride in an enclosed theater simulating a spaceship adventure.
Disney Warnings: Star Tours is a highly turbulent, simulator-type thrill ride through space that includes sharp turns and sudden drops.
WARNING! For safety, you should be in good health and free from high blood pressure, heart, back or neck problems, motion sickness, or other conditions that could be aggravated by this adventure. Expectant mothers should not ride. This attraction simulates space flight and may affect people who are sensitive to motion. 
Our Additional Cautions: Turbulent simulator ride with tilting, diving, hairpin turns, bucking, jerking, multiple light effects, loud noise. Those who are sensitive could find some simulated situations scary. See full attraction description below for further cautions.  
Length: Time is approximately 4 1/2 minutes.
Special Needs & other info: Must transfer to manual wheelchair, and then to ride vehicle. For power wheelchair users, in most cases queues that allow manual wheelchairs also allow most power wheelchairs. See the Cast Member at the attraction for your options. Due to the nature of the experience, service animals are not permitted on this attraction. Children under age 7 years must be accompanied by a person age 14 years or older. Handheld Captioning, Video Captioning. 

Overview of Star Tours – The Adventures Continue in Hollywood Studios
Themed after Star Wars, this digital 3-D motion simulation ride lets you feel what it would be like to ride a space shuttle in a galaxy far, far away. Disney says that there are over 50 possible story combinations, so depending on how many times you ride, it's possible to have a different story each time. Technically, there are around 11 unique video segments that can be combined together in different ways to give you over 50 stories.
Of course, during each story version something goes wrong and you'll be sent racing through various planetary and space locations such as the Death Star, the woods on Kashyyyk, the dessert on Tatooine, the icy planet of Hoth, or under water on Naboo. You'll also see some good guys and bad guys from the Star Wars movies along with new characters.
Queue, pre-show & boarding for the Star Tours – The Adventures Continue
The indoor queue has some interesting Star Wars themed things to see as you wait, including a funny interactive talking robot, an interplanetary travel advertisement, Audio-Animatronics R2-D2 with a Starspeeder spacecraft, and C-3PO robots.
The queue itself is dimly lit, and it's long, with steep angled floors and winding hallways. There's a small amount of steam coming out of a machine at one point, and occasional blinking lights. There can be loud noises at times.
The Genie+ queue is to the left, and it allows you to bypass most of the regular queue. It's dimly lit with mild inclines, and towards the end of the queue you'll wait in a thin closed-in hallway which may be a bit challenging for those with severe claustrophobia. You'll miss most of the items described above shown in the regular queue. If you're in a wheelchair or ECV or have a DAS, see a host for options. Depending on various factors, some of those with a DAS and some in wheelchairs or ECVs may be sent through the Genie+ queue, and some may be sent through the standard queue.
The official policy is that those in ECVs must transfer to a manual wheelchair and then they must transfer to the ride seat. However we've been allowed to stay in an ECV in the queue. It may be based on the cast member's discretion and the size and maneuverability of the individual ECV. There are various light effects in the queue, such as blinking console and machine lights, but you'll bypass much of this in the Genie+ queue.
Guests watch a fun pre-flight boarding and safety video. Once the "boarding gates" open you'll enter a room with tiered seating facing the front. There's a small pouch below your seat where you can store your "carry on items".
Though there are no steps, wheelchair users will transfer into a seat in the front row due to the added space. The seats have arms but there's a seat that has a removable armrest for easier transfer. The wheelchair can get right up close to the seat for transfer.
The simulator seats have soft seatbelts. The seats are separated and are similar to theater seats.  They're hard, and have armrests and backs, but do not have head or neck support. Here's the experience of a couple that is plus size/pooh size:
"My husband and I are both extremely large. We both fit comfortably on this ride – no problem." —Leigh Selby Craven
Take a look at the theater/ride car here. You can see dividers that are in place for Covid safety.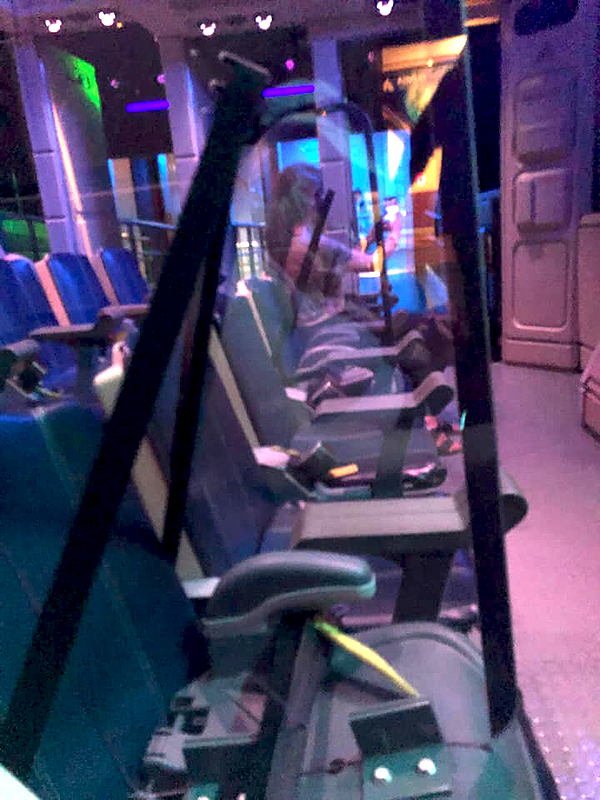 Additional details about Star Tours – The Adventures Continue
This ride simulates flying in a Starspeeder 1000 spacecraft, which is actually a fairly small theater. We feel that it's spacious enough not to feel closed-in or claustrophobic to most people. The front window is a movie screen through which you see the action as if you were looking through a window of your vehicle. Between the audience and the screen is your Audio-Animatronics pilot, C-3PO. C-3PO and the screen become visible at the start of the ride.
This is a turbulent ride. You're jostled and bucked around. Imagine the types of moves seen by spacecraft in the Star Wars movies, and you'll get the idea. The combination of physical and visual effects makes you feel like you're traveling in a spaceship at high speeds. It includes motion such as dive-bombing at steep angles, quick turns and flying through turbulence. The motion you'll experience will match the action on screen, so for example when you're ship suddenly takes off, your seat will rock sharply backwards. Or when you're dive bombing, you're seat will thrust you forwards steeply so that you're almost looking downwards, so much so that your seat belt may be needed to keep you in your seat.
The sound is quite loud, to add to the effect.
The movement of the ride vehicle combined with the speed at which images on the screen move (sometimes very quickly and jarringly) can set off vertigo in people who have that issue. Add to that the simulation of dives, hairpin turns and other effects and there's potential for motion sickness, as with any simulator ride. If you're prone to motion sickness you may wish to pass on this one. Regardless, many people do fine here, with no motion sickness issues at all. We've heard that Disney has enhanced the video and motion technology so that they're more synced up, which may reduce the tendency towards motion sickness. We have not been able to confirm this though. Still, we hear reports of motion sickness from some visitors.
Multiple light effects may be used in this attraction, including flashing lights, twinkling stars, laser lights, blinking buttons on control panels, bright explosions and a light effect that simulates moving at "light-speed" through the stars. The theater is very dark, and some very bright images appear on the screen, often suddenly.
If you've experienced 3-D at Disney on another attraction, you'll notice that the glasses at this attraction look smaller and more high-tech. This is because Disney has upgraded its 3-D technology. The glasses are shaped like regular sun glasses and most people should be able to wear their own glasses underneath. The 3-D adds depth and realism to what you're seeing, and there are some startling 3-D in-front-of-your-face effects thrown in. Light and laser flashes will seem to come right at you.
Those who are sensitive could find the ride scary. Initially the story line will start out calm, but it will always become tense with danger abounding. Imperial Troopers and a probe android stop your vehicle and show you a photo of a "spy" they're looking for, which happens to be one of the guests in your vehicle. Your ship will be chased and shot at with laser weapons, and you'll weave through various possible scenes such as trees, alien cityscapes or asteroids where it looks like you could crash, or underwater where a scary sea creature tries to eat your Starspeeder.
While the old version of this ride used to sometimes offer a motionless option for those with health challenges, this is no longer available. This was not a special or specific ride theater. It involved just using one of the theaters for a "movie only" run during times when it was not busy. Guests who requested a non-moving experience were often given a time to come back later so that the theater would be more filled with guests wanting that option. It's been too busy to offer this. We hope that Disney will add this option at some point in the future!
Take a look at the queue and the ride:
Check out other dies in Hollywood Studios
Animation Courtyard

Commissary Lane

Echo Lake

Grand Avenue

Hollywood Boulevard

Pixar Place

Star Wars: Galaxy's Edge

Sunset Boulevard

Toy Story Land
SEE RIDES AND ATTRACTIONS IN THE OTHER PARKS:
Join our Facebook group!!!!
Ask any questions, share your knowledge and just enjoy getting to know other Disney fanatics in our Facebook group called Walt Disney World Made Easy for Everyone.
Also: Like our Facebook page here.
And join me on Pinterest here.
GET UPDATES, NEWS & TIPS (IT'S FREE!!!) Plus get a Free Disney World Planning Schedule Form.
Sign up below to stay updated on the newest information, tips and tricks to help you plan your perfect Disney World trip!