Header image by Traci Ryant
Facts at a Glance About TriceraTop Spin:
Park:

 

Animal Kingdom. Location: Dinoland U.S.A. Height Requirement: None. Genie+: No. Individual Lightning Lane: No.
Quick Notes: Elevated Dinosaur cars spin while guests control how high or low to fly. 
Disney Warnings: Spinning. 
Our Additional Cautions: This elevated ride spins continuously around a hub, with up and down motion. It can be loud. 
Length: The ride lasts approximately 2 minutes.
Special Needs & other info: This ride has an accessible ride car for wheelchairs. Guests in ECVs must transfer to a manual wheelchair. For power wheelchair users, in most cases queues and rides that allow manual wheelchairs also allow most power wheelchairs. See the Cast Member at the attraction for your options. Children under age 7 years must be accompanied by a person age 14 years or older.

Overview of TriceraTop Spin in Animal Kingdom
This minor attraction is a spinning ride with elevated dinosaur cars that circle around the center core and allow you to control how high or low to fly. The center of the ride looks like a big spinning top, and dinosaurs pop out during the ride. We find that TriceraTop Spin most appealing to young children (and adults who are young at heart).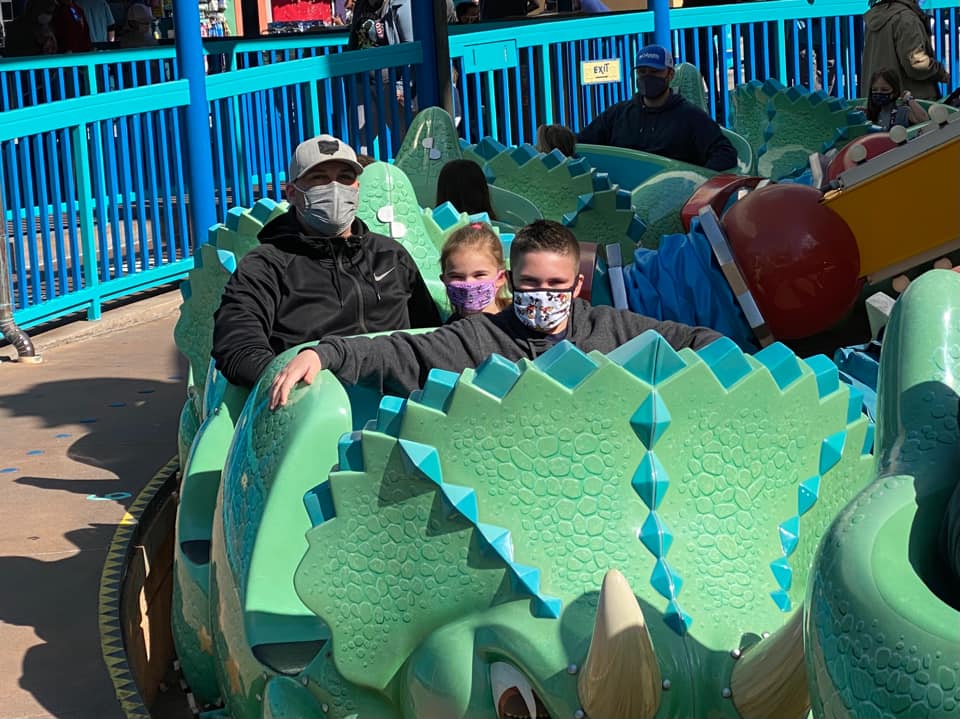 Queue and ride car information for TriceraTop Spin
The outdoor queue is covered.
Each dinosaur car seats four people in two rows. The seats are hard benches with backs, with fabric-type belts that can be kept loose. You must step up one step to board.
Wheelchair  information: There are some manual wheelchair accessible dinosaur vehicles, so you can stay in a manual wheelchair or transfer from your ECV, oversized wheelchair or power wheelchair to a manual wheelchair. Let the cast member know if you prefer to transfer to a ride seat or if you prefer to ride in a wheelchair accessible vehicle.
The wheelchair accessible dinosaur has a regular seat which is removed to make a wheelchair spot. The latch mechanism that remains in the dinosaur car after the seat is removed may be too high for some wheelchairs to fit into the attraction car. You can ride right up a ramp onto the Dinosaur car.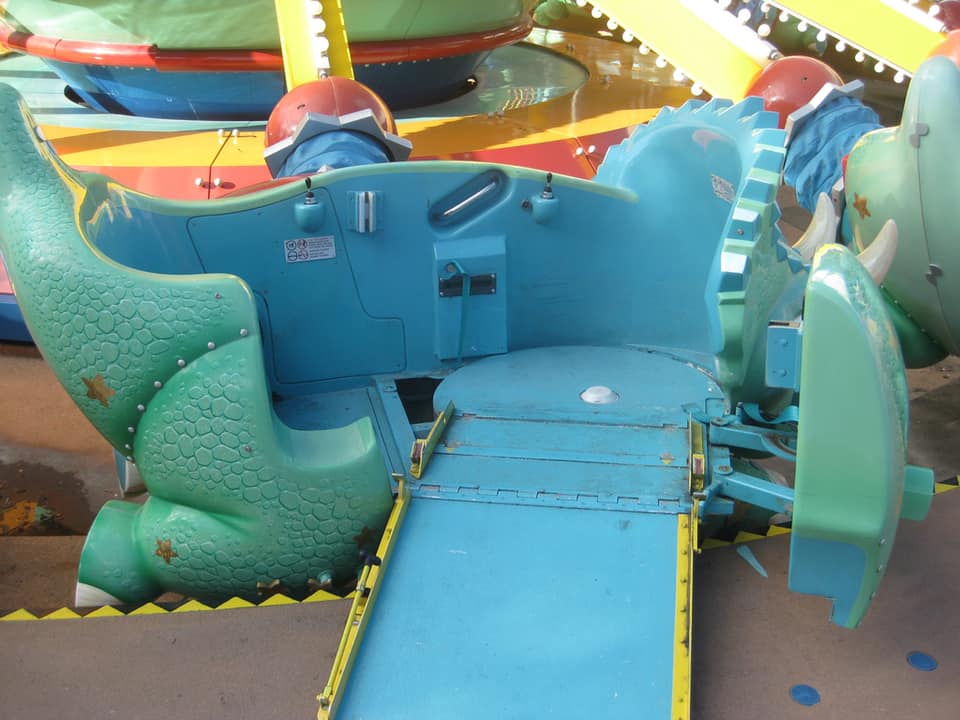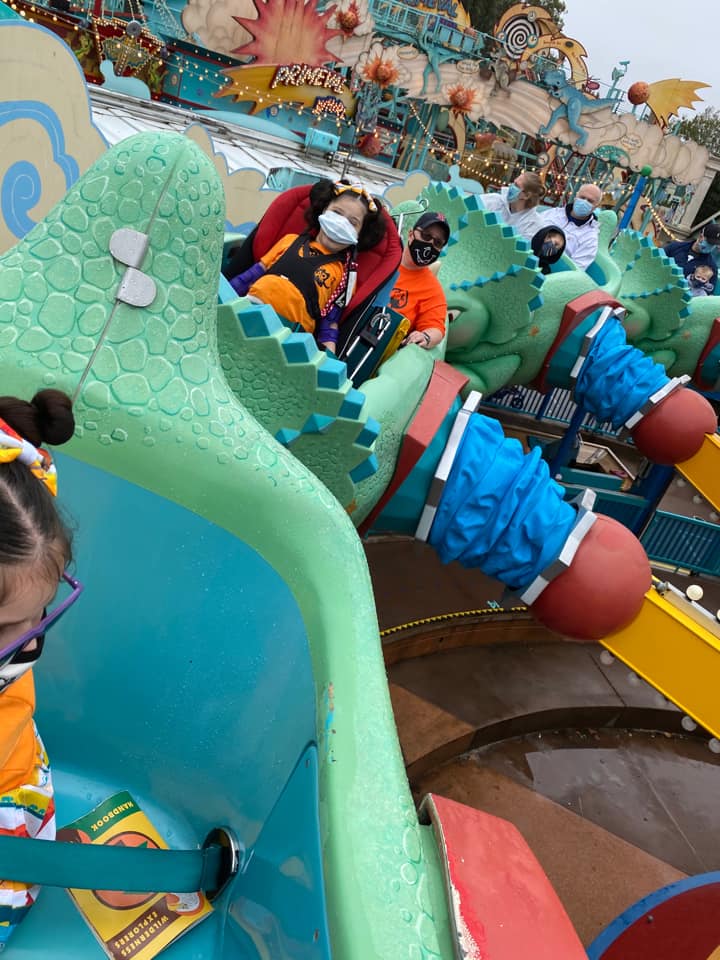 Some regular strollers designated as wheelchairs may not fit on this accessible ride car.
To see more photos of loading on a wheelchair accessible car, visit Rolling With The Magic's TriceraTop Spin page.
Additional details about TriceraTop Spin
Whoever is in the front row gets to control how high or low you go. Those in the back can tilt the dinosaur car forward and backward, though the tilt is not dramatic.
For some, the spinning, rising and dropping motions will not be appropriate, but others love it! Here's what one mom had to say about her son:
"My 7 year old son with ASD and ADHD loved this ride. Something about the "stomach drop" sensation when it goes up and down! That feeling is one of his favorite stimulations." — Natalia Plaisted
The ride sound can be considered loud. Here's what one mom had to say:
"This is by far the loudest of the hydrologic spin rides. The noise bothers my daughter a lot. I'd wear noise cancelling headphones if this might be an issue for your child. To put it into perspective, she's fine on Dumbo and Magic Carpets of Aladdin. It's just this one." — Nicole Elizabeth Martin
Check out TriceraTop Spin on video:
Ask any questions, share your knowledge and just enjoy getting to know other Disney fanatics. Also: Like our Facebook page here. And join me on Pinterest here.
SEE RIDES AND ATTRACTIONS IN THE OTHER PARKS:
CHECK OUT MORE RIDES IN ANIMAL KINGDOM:
Discovery Island

Pandora – The World of Avatar

Africa

Rafiki's Planet Watch

Asia

Dinoland U.S.A.
GET UPDATES, NEWS & TIPS (IT'S FREE!!!) Plus get a Free Disney World Planning Schedule Form.
Sign up below to stay updated on the newest information, tips and tricks to help you plan your perfect Disney World trip!