Facts at a Glance About Kali River Rapids:
Park:

 

Animal Kingdom. Location: Asia. Height Requirement: 38" (97cm) or taller Genie+: Yes. Individual Lightning Lane: No.
Quick Notes: High–speed, white-water raft ride.
Disney Warnings: Thrill Ride, Water Rides, Small Drops, Spinning. You will get wet! You may get soaked!
Kali River Rapids is an exciting high speed white-water raft adventure with sharp turns and sudden drops. W

ARNING! For safety, you should be in good health and free from high blood pressure, heart, back or neck problems, motion sickness, or other conditions that could be aggravated by this adventure. Expectant mothers should not ride.
Our Additional Cautions: Includes fire, smoke and flower scents. The raft will spin at various points and you may travel backwards. There are some drops, and the rapids cause some bumpiness and roughness. Some guests may find the movement of the raft too jarring for them. YOU WILL MOST LIKELY GET SOAKING WET.  Protect any medical devices that should not get wet. Bring a sealable bag to the park with you. 
Length: The ride lasts approximately 3-4 minutes.
Special Needs & other info: You must transfer from your wheelchair or ECV to the ride boat. Children under the age of 7 must be accompanied by someone at least 14 years old. Due to the nature of the experience, service animals are not permitted on this attraction. You must step down into the raft and up to get out.

Overview of Kali River Rapids in Animal Kingdom
This white-water raft ride back story is that you're part of a group of eco-tourists. You're taking an excursion down the river of an Asian rainforest. Guests ride through a jungle that's being threatened by illegal logging. As you ride down a river surrounded by ruins and lush forest, you may get completely soaked from water delivered at you in a variety of ways.
Queue and ride car information for Kali River Rapids
Most of the queue is outdoors, covered and open sided. Some of it is extravagantly decorated to look like you're walking through an Asian temple. There are large idols that have various offerings around them such as fruit. Exotic items abound such as Balinese costumes (the very sensitive might find the masks a little scary), as well as gongs and bells. There are candles (not lit) and other colorful decorative. The last part of the queue is outdoors and uncovered.
The large ride craft is a 12-seat round raft with 6 sets of 2-person seats. The raft seats have high backs, which can add support to the head and neck. Each person has a seatbelt. There's a round bar in the center of the raft that you can grab onto.
Plus size info: People of larger size may find it challenging to share a 2-person seat with a full size adult. If possible, share with a smaller adult or child. You may want to request your own 2-person seat. For plus size info, see the video at the bottom of this page to see Pammie Plus Parks information on plus size boarding.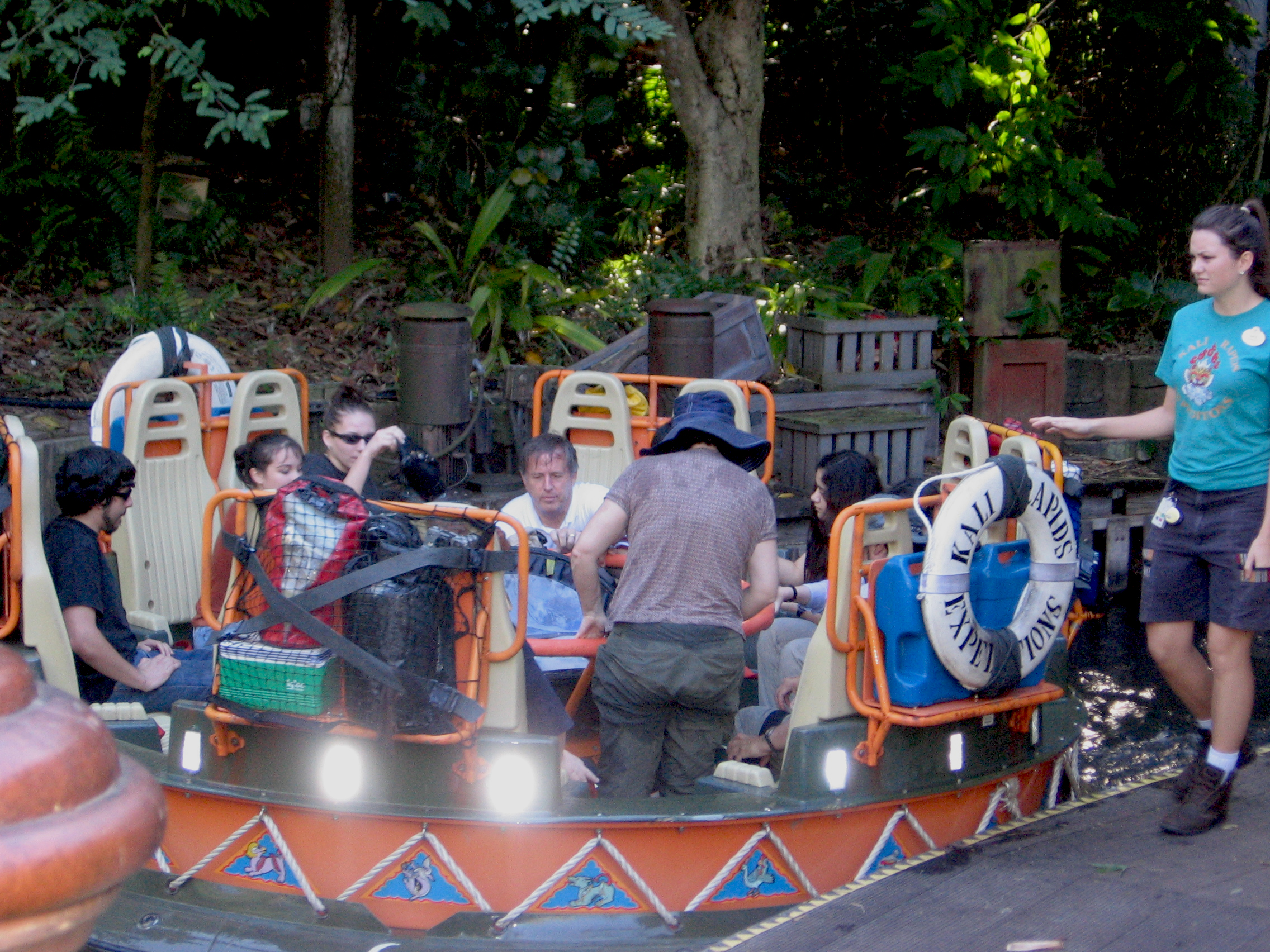 Tip: Be very careful getting out of the raft. The wet raft combined with wet shoes often makes things slippery.
Wheelchair/ECV and accessibility information: The loading area is a large disc that rotates and matches the speed of the rafts as they drift slowly. You'll have to step down into the raft from the disc and get seated as it continues to drift. This happens fairly quickly.
For people in wheelchairs or those who move slowly, there's another loading area. The raft is docked and you can board without the time pressure. You'll park near the raft, walk a few steps to get to it, step up to get over the raft top, and down three steps. They put a flag on your raft so they know you need assistance when you return, and you go through the same procedure getting out.
Wheelchairs may be parked as close as needed to the raft; a cast member will move it out of the way once you're loaded. It can be a difficult transfer because of the several small, narrow steps to get down into the raft and the small aisle between the seats. The wetness on the floor of the raft also makes slipping a possibility, especially while getting out.
Guests who use a transfer tier to transfer into a pool may want to ask about the transfer assist device that's available to set over the ramp for getting in and out. A transfer tier is simply a set of stairs meant for someone with a mobility related disability to bump down on their butt. Good upper body strength is required to use it. The transfer assist device for the rafts is a portable transfer tier that fits into the raft. It's placed in for the transfer in or out, and then removed for the ride.
Seizure disorders: One of our readers, who preferred to keep her identity private, shared this unexpected seizure trigger while going on Kali River Rapids:

"My son has a seizure disorder, the ride it's self went fine, but when exiting the raft onto the spinning platform he had a seizure( may have been caused by the spinning ) not sure if it was the ride spinning or platform or combination of both."  —Anonymous
Additional details about Kali River Rapids
In the first part of the ride, your raft will go up hill via metal rollers. At the top you'll slide down a not-so-steep water chute, and you'll pass over a huge geyser. This is bumpy, wet and a sign of things to come. During the ride there are geysers that will spray you, and the boat travels over white-water rapids. This causes some bumpiness, jerking and bouncing. The round raft spins as it floats in the water currents. You're likely to travel backwards at some points. There are some brief times of high speed. There's spraying, dripping and squirting water often aimed at the guests.
Of the 12 people in the boat, at least 10 will probably get very soaked (and I'm talking drenched). One or two may or may not come out drier than the rest. There's no way to predict which, if any, of the seats will avoid the water splashes. On a hot day, this drenching feels wonderful. On a cool day it can be very uncomfortable and even a health concern for some. You may wish to wait for the hottest part of the day to try this ride.
Even on hot days, you'll probably be going in and out of air-conditioned attractions afterwards, some of which are very cool. Disney sells towels and some dry clothing right after you leave the ride, including socks and underwear.  There's a restroom right outside that you can use to change in.
You may wish to bring a change of clothing so you can change into dry clothes after riding. Even on warm days, wet clothes can chafe as you walk. Be aware that wet clothing may show more than you anticipate – including colored or patterned underwear that didn't show under dry clothes.
There are lockers for this attraction located near the entrance to the queue where you can store clothing or other items you want to keep dry. The standard size locker is free for 2 hours; you will be charged if using it longer than 2 hours. The Pammy Plus video below has a good overview of the lockers.
During the ride, the raft floor will have standing water at times and your feet will get wet. Disney requires you to wear shoes on this ride. If you take them off, a cast member may or may not make you put them back on. That depends on the cast member. You may wish to bring flip flops to change into so you can protect your shoes in a bag. Remember that flip flops may be slippery if they're wet or if you're walking on a wet surface.
Here's a tip from Angel Cooper, one of our awesome Admins in our Disney planning Facebook group:

"I have to wear sneakers with socks when I go to the parks or I'm just not comfortable. But walking around in wet socks and sneakers all day would not only also be terribly uncomfortable but cause irritation in my feet. So what I do is, we bring flip flops in my backpack. They don't take up much room and I put them in a gallon size Ziplock. Before we get in line for the ride we switch our shoes and socks for the flip flops and store everything else in the free 2 hour lockers, shoes included. After the ride, we retrieve our stuff, switching our wet flip flops for our dry socks and shoes and then seal the wet flip flops in the Ziplock bag and stuff them back in the back pack. Nothing gets wet and we have dry socks and shoes the rest of the day."
There USED TO BE a storage area in the center of the raft for personal items, but it was not very effective in keeping items dry. Disney sealed those storage areas at the time the lockers mentioned above were installed. Guests may still be able to bring large items, like backpacks and place them on the center area. Be aware anything put there will get wet and may get jostled. Ask the Cast Member at the queue entrance if you have any concerns about bringing an item into the queue.
There are flower scents pumped into the area during this ride. Part of the ride is through lush vegetation, but then you'll encounter a burned forest. You'll smell smoke from the "illegal tree burning" and feel the heat of the flames as you pass. After passing underneath and by burning logs with flames, you'll go down a short flume chute and splash down below with some impact. Anyone caught going down the drop backwards will disappear for a moment in a tidal wave of water.
Tip: For extra fun, people can stand on a bridge overlooking the rafts, and squirt unsuspecting riders with water from an elephant's trunk! Personally, this is my idea of fun!
Please keep in mind that those who are not swimmers or are uncomfortable with water may find this attraction very scary.  Especially vulnerable are young kids who are not comfortable with water or being splashed. Every kid is different so parents will need to make a judgment call.
In comparison to turbulent rides such as DINOSAUR, this is not nearly as physically violent. However those who are sensitive to the types of motions described above should skip this attraction. Though we've heard from people with mild neck and back pain issues who were okay on this ride, those who are sensitive will find the bumpiness of traveling over the white water and the drops to be a problem. Those who prefer thrill rides often find this too tame, but many will love it.
Check out Kali River Rapids on video:
This is Pammie Parks Plus showing you how plus size people can manage on this ride. It also has a good view of the steps involved in getting down into this ride.
Ask any questions, share your knowledge and just enjoy getting to know other Disney fanatics. Also: Like our Facebook page here. And join me on Pinterest here.
SEE RIDES AND ATTRACTIONS IN THE OTHER PARKS:
CHECK OUT MORE RIDES IN ANIMAL KINGDOM:
Discovery Island

Pandora – The World of Avatar

Africa

Rafiki's Planet Watch

Asia

Dinoland U.S.A.
GET UPDATES, NEWS & TIPS (IT'S FREE!!!) Plus get a Free Disney World Planning Schedule Form.
Sign up below to stay updated on the newest information, tips and tricks to help you plan your perfect Disney World trip!