Facts at a Glance About Expedition Everest:
Park:

 

Animal Kingdom. Location: Asia. Height Requirement: 44″ (112cm) or taller Genie+: Yes. Individual Lightning Lane: No.
Quick Notes: Travel through the Forbidden Mountain on a high-speed roller coaster where you encounter the giant Yeti (Abominable Snowman). There are no upside-down loops on this roller coaster.
Disney Warnings: Thrill Ride, Big Drops, Dark. The seating and restraints on this attraction may prohibit Guests of certain body shapes or sizes from riding.

WARNING! For safety, you should be in good health and free from high blood pressure, heart, back or neck problems, motion sickness, or other conditions that could be aggravated by this adventure. Expectant mothers should not ride. Some parts of Expedition Everest – Legend of the Forbidden Mountain may be scary for children. This attraction features loud noises, fast drops, high speeds, dark places and frightening creature effects.
Our Additional Cautions: High-speed roller coaster with rough, jerky movements, hard twists and turns, sudden stops, 80-foot plunging drop. You'll travel backwards during the ride at some points. Includes Audio-Animatronics bats and Yeti, times of darkness, steam, smoke effect, light effects. Some guests may find the motion of the ride too jarring. This attraction is meant to be scary.
Length: The ride lasts approximately 3 minutes.
Special Needs & other info: You must transfer from your wheelchair or ECV to the ride car. Disney asks that you practice loading until you're able to load within 30 seconds. Children under the age of 7 must be accompanied by someone at least 14 years old. Due to the nature of the experience, service animals are not permitted on this attraction. Single Rider Line. Automated External Defibrillators. 

Overview of Expedition Everest in Animal Kingdom
The story is that you're taking a pleasant scenic train ride to Mount Everest, but you must first pass through the Forbidden Mountain. At the summit you come upon bent and mangled tracks (clearly damaged by the Abominable Snowman, otherwise known as the Yeti), and it suddenly becomes a high-speed roller-coaster ride where you're escaping from the Yeti, with some intense twists—literally and figuratively.
Queue and ride car information for Expedition Everest
This ride has a Single Rider line. It can drastically cut down your wait time. Here's the experience of one reader:
"If riding alone doesn't bother you, it is one of the BEST uses of Single Rider Lines at Disney World. We've ridden 3x in a row before with no longer than a 10-minute wait utilizing the Single Rider line." —Jayne Townsley
Parts of the queue are outdoors and parts are inside. Some areas have dim lighting. There's an entire back story revealed during your time in the queue, which you'll miss if you bypass the lines. It's loaded with details that unfold the story and can keep you occupied during the wait. You can go through the queue and decide not to go on the ride. There are exits at various points. Just let a cast member know that you would like to exit.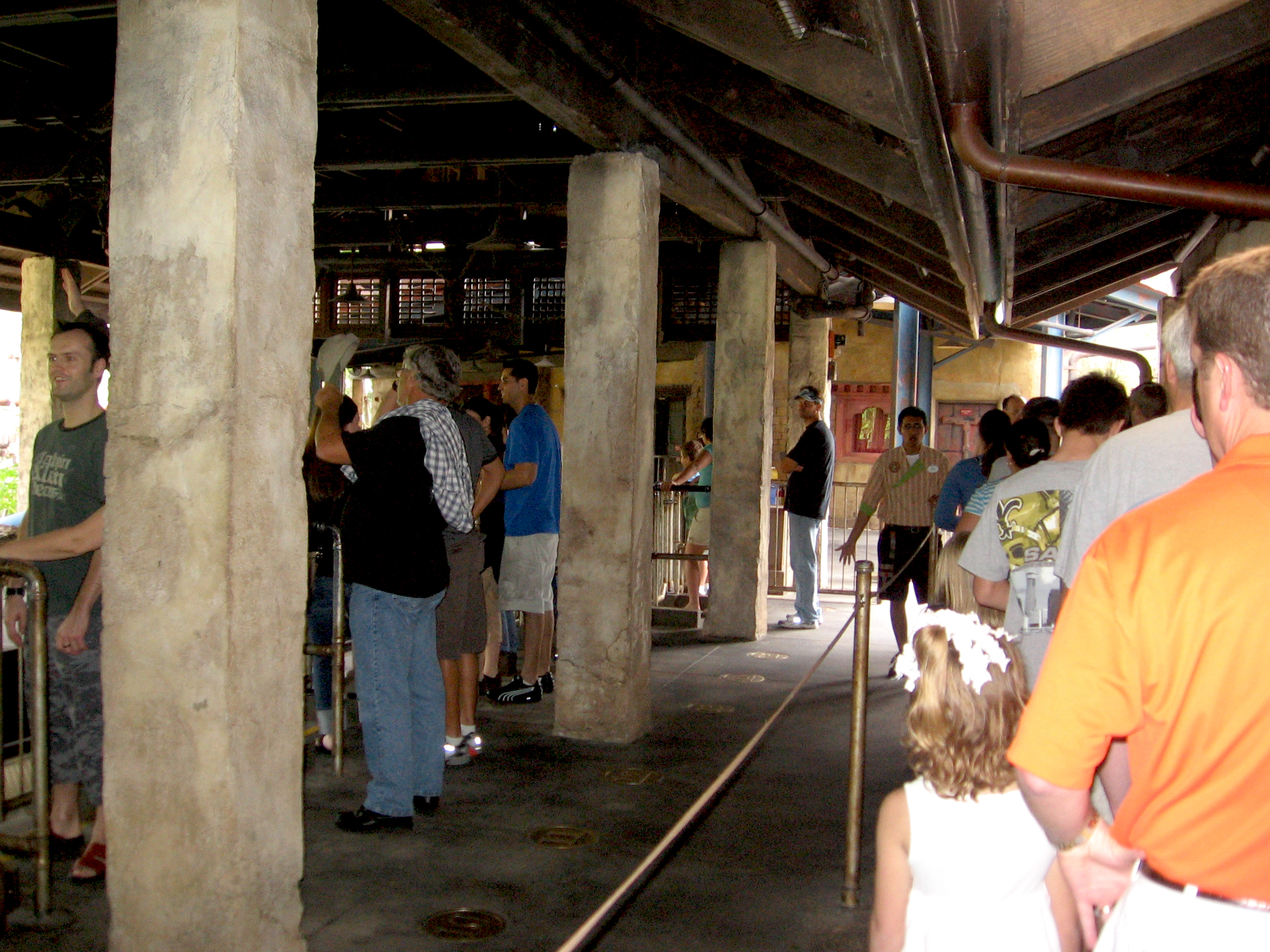 This attraction usually offers a Single Rider Line. Note that if you use it, you'll be separated from the rest of your party. It is possible that you could be on the same train as the others in your party, but you definitely won't be in the same row.
The ride trains seat 2 per row with 17 rows per vehicle. The seats have a high back that you can lean your head on.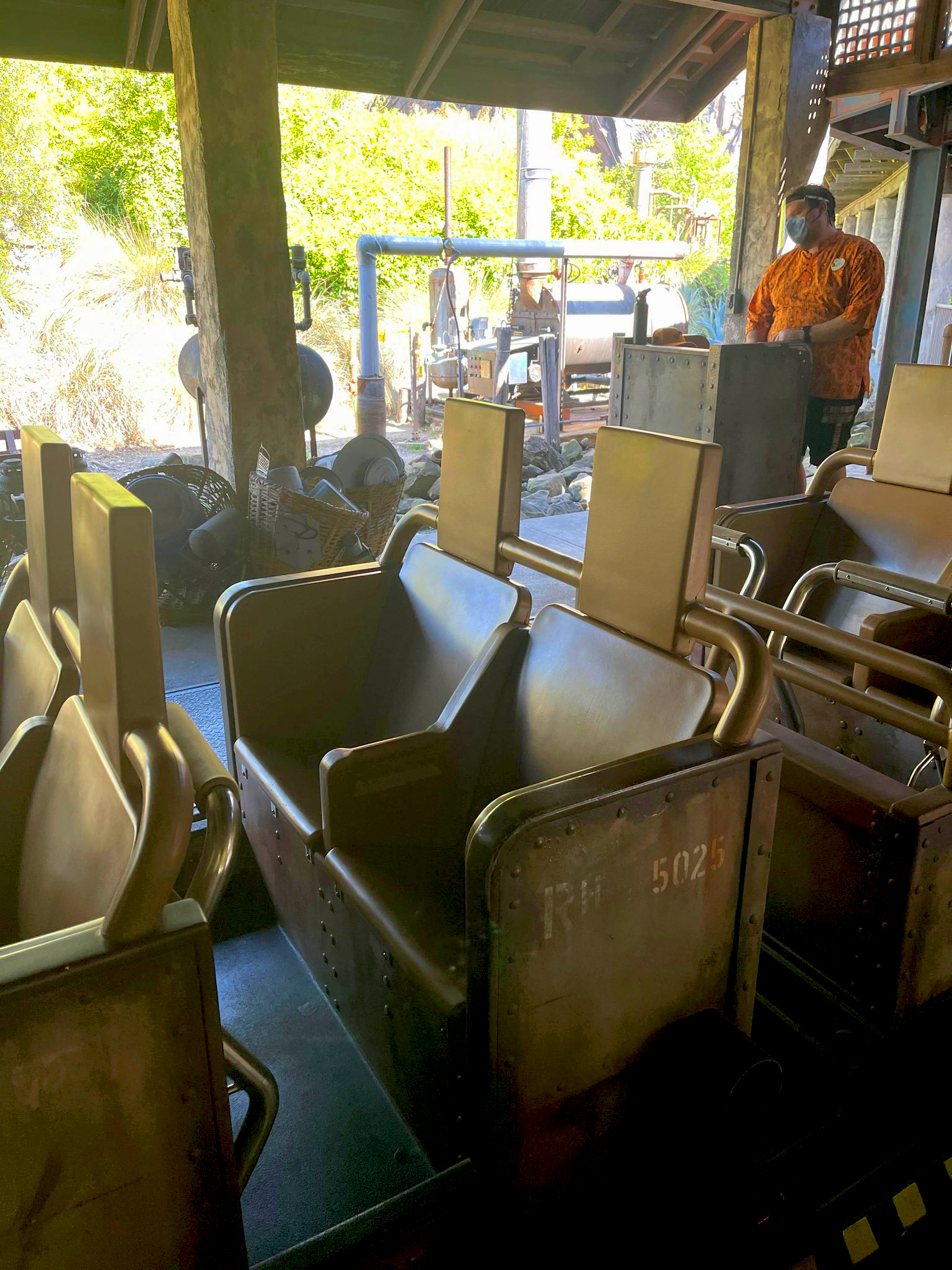 Each seat has its own safety bar that you pull down over your lap. It should lock in at whatever point you pull it down to. Once the safety bar stops moving, it locks in. Most larger people of size seem to find the seats a comfortable fit, however some with certain body types may have a challenge getting the bar down into a position where it locks. You might have to put the bar down until it clicks while still standing, and then slide under it to sit.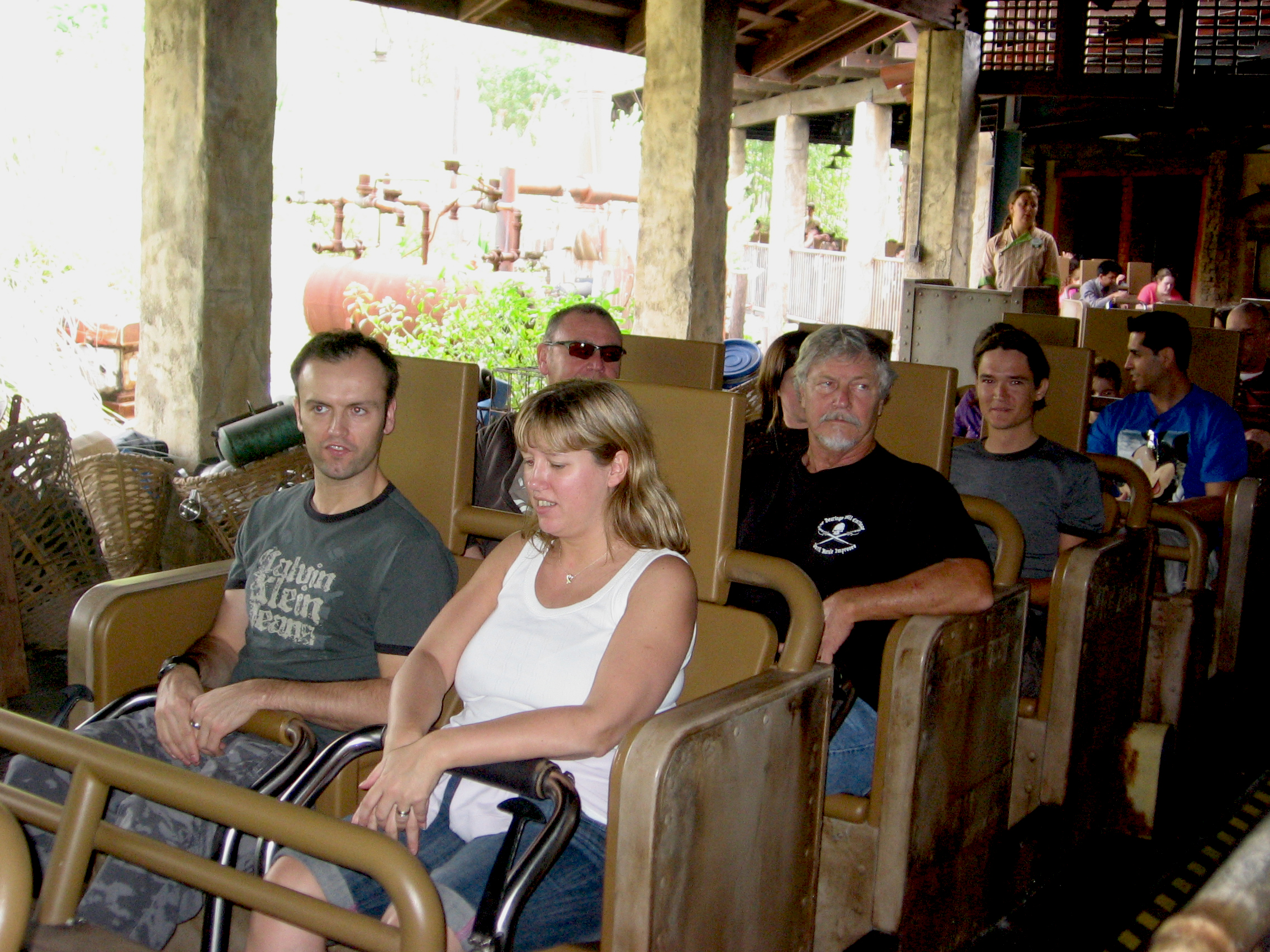 There's a test seat that you can try out before riding, which is located near the gift shop that's associated with this attraction. You may want to practice on the test car to be sure you'll fit comfortably.
Tip – Secure your glasses and other objects: Anything not secure might be lost. For example, we have heard from someone who's glasses fell off on this ride. Make sure they and anything else are secure before you ride! For glasses you might want to take them off.

Seating Location Tips: Here's a suggestion from one of our readers: "One piece of advice is if you want less "whipping" motion sit closer to the front of the ride. I rode in the last seat with my son once and it was a bit much for me." —Mary Benhart

On the other hand, we received this tip from another reader who felt the front of the ride car was better for her condition: "The front is harder for me to do than the back. I have a condition where I am more prone to pass out. In the front the force I feel is stronger during one drop." —Lyam Lacock
Wheelchair/ECV info: Guests may use their wheelchair or ECV until the boarding area. Wheelchairs can be pulled up very close to the attraction vehicle for boarding. There is not a wheelchair accessible train, but there is one row that has a wider opening door that can make transfers easier. The train is stopped for loading and unloading, but guests do have a limited time for transfer. Guests with mobility disabilities may want to use the test seat to practice their transfer technique. It's located near the Single Rider Line. Disney asks that you practice loading until you're able to load within 30 seconds. 
Keep in mind that the lap bar is not meant to be used for support. It will move when weight is placed on it as it's hinged.
To see photos of the practice ride car visit Rolling With The Magic's Expedition Everest page.
Here's a boarding tip from one mom of a disabled child:

"On the back row, the side opens to help with mobility but the middle divider is still there. We found it best to have the parent get in front, lift or assist the child, while the parent walks backwards into the ride. The cast member will move the wheel chair or other accessibility device. The ride itself is pretty smooth and we had no issues with the ride. It was fun!!" —Meli Mel
Check out this video of someone making a transfer from a wheelchair to the ride car:
Additional details about Expedition Everest
You'll experience some rough moments, including moving backwards, brief periods of darkness as you move through caves and ruins, plunging down an 80-foot drop, hard twists and turns and sudden stops. All the while you'll see and hear things which suggest that the Yeti monster is close, such as footprints, roaring and loud screaming. You see him ripping train tracks. At one point it reaches out to grab you. (Of course it doesn't get you!)  It's a very brief sighting and he's too far away to be considered by most people to be a real threat in that moment. Still, he's actually one of Disney's more realistic creations, and he's meant to be scary.
The ride goes through some changes in direction. It starts forward, stops briefly when you see that the tracks are broken by the Yeti monster, and then it takes off going backwards. After this it stops again and goes forward for the rest of the ride. This ride can be very bumpy or jerky. When the ride goes backwards, some people find that positioning can be awkward for the neck.
Although this ride doesn't take you upside down, there's a point where some have expressed that they feel as if they were upside down. Here's what one member of our Walt Disney World Made Easy for Everyone Facebook group had to say:
"There is a backward section that throws some people off to the point that they would swear they are going upside down and it freaks them out. I've not had that sensation." —Jayne Townsley
For one mom who's son experiences the sensation of being upside down, here's what she recommends:
"For my son, the biggest thing was to reassure him that the Lap belt only meant that the ride does NOT go upside down. The part where it goes backwards felt like he was upside down to him. That really helped him with some of his fear. Now he loves the ride! It still feels weird to him, he says, but he knows he's not upside down now."  —Deborah Stanley
On sunny days the ride car will move in and out of dark caves and into the bright light. There are bright flashes of light inside a dark cave when your photo is taken. Bats (not real) hang in the caves. There are spots with a steam/smoke effect.
Motion sickness: As with any roller coaster, some people experience motion sickness with this ride. Here's the experience of one of our readers:
"Personally I love this coaster, but I get very sick from the going backwards. I have Meniere's disease and it creates pressure in my head that sets off all of my symptoms and makes me sick for the rest of the day."—Joy Carnahan
Plus Size: Here's what one of our plus sized readers had to say about this ride:

"I am plus sized and both of my legs are crooked. I had no trouble getting on and off the ride. There is not a step up or down to get on. This was my favorite ride during my vacation last year."
Check out Expedition Everest on video:
Ask any questions, share your knowledge and just enjoy getting to know other Disney fanatics. Also: Like our Facebook page here. And join me on Pinterest here.
SEE RIDES AND ATTRACTIONS IN THE OTHER PARKS:
CHECK OUT MORE RIDES IN ANIMAL KINGDOM:
Discovery Island

Pandora – The World of Avatar

Africa

Rafiki's Planet Watch

Asia

Dinoland U.S.A.
GET UPDATES, NEWS & TIPS (IT'S FREE!!!) Plus get a Free Disney World Planning Schedule Form.
Sign up below to stay updated on the newest information, tips and tricks to help you plan your perfect Disney World trip!