Header photo by Stephanie Collins
Facts at a Glance About The Boneyard:
Park: Animal Kingdom. Location: Dinoland U.S.A. Height Requirement: None. Genie+: No. Individual Lightning Lane: No.
Quick Notes: Themed playground including slides and dinosaur bones to climb on, and a dig site where kids can uncover dinosaur bones.
Disney Warnings: You are about to enter an active dinosaur dig site. The Dino Institute has opened this site for your enjoyment and to inspire children of all ages to learn more about the mysterious world of dinosaurs. This imaginative play area is best enjoyed by children ages 10 and under. Please use caution while climbing and exploring.  And be sure to stay on the pathways.  Our excavators carved them out for your safety. No food/drink. No smoking.
Our Additional Cautions: Includes loud music, roaring sounds, simulated dinosaur bones, slides and some elevated play areas. Sand is sanitized with a chemical sanitizer. Because of the layout of the area and the large number of people, it may be challenging to keep children in sight at all times.
Length: It's up to you!
Special Needs & other info: You can stay in your wheelchair or ECV. There's one exit and entrance.

Overview of The Boneyard in Animal Kingdom
This dinosaur dig site themed interactive playground is a great place for kids to run free. After standing in lines that can be so boring for kids, parents can let them loose here to blow off steam. There are tube slides, digging areas, and things to climb on including giant dinosaur bones.
Queue information for The Boneyard
There is no queue.
Additional details about The Boneyard
Much of the flooring is spongy like a kitchen mat, designed to protect kids when they fall. Wheelchair users may find it slightly more challenging to ride over.
In the digging area kids can dig in sand and uncover dinosaur bones. On last check the sand is a product called "Texas Grit" which we've been told is ground stone. It feels smooth, it doesn't get as hot as regular sand, and it's easier to clean off of kids than real sand. Keep in mind that the digging area gets heavily populated with kids walking on and touching the sand, so those with immune issues should take note. The sand is regularly sanitized with a chemical compound. Periodically the area is closed for the bones to be re-covered.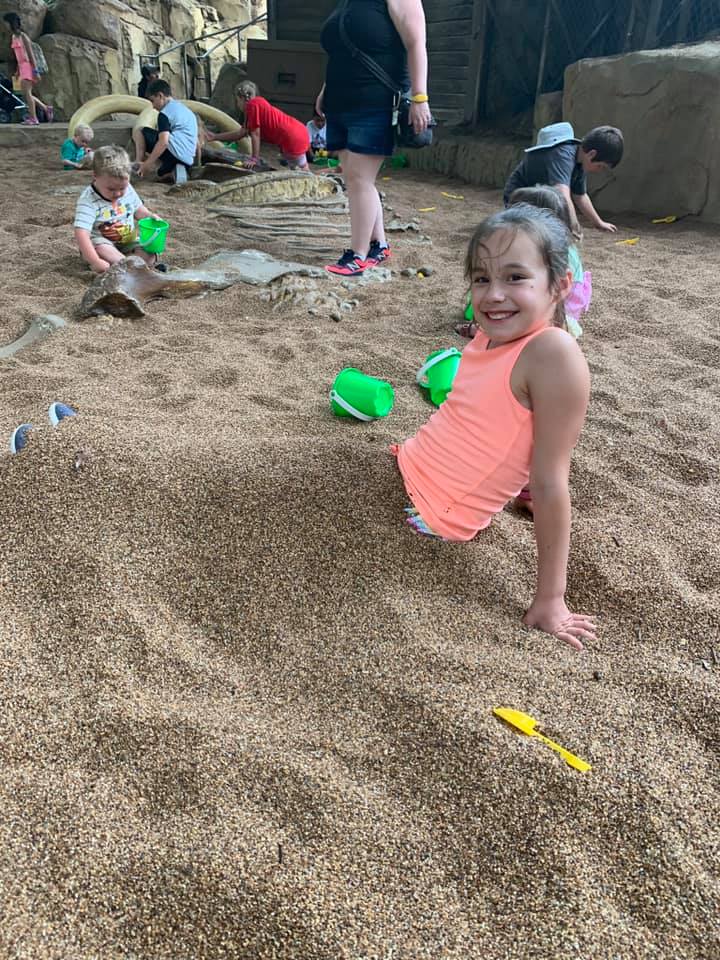 There's a wheelchair ramp onto the digging area sand.
This playground gets scorching hot in warm weather despite some large fans blowing around the playground. Even when we visited in the spring and fall we found it uncomfortably hot. Avoid this attraction if you have heat or sun sensitivity. There's a water fountain inside.
There are some boxes and "rocks" to sit on, but they're not really designed for sitting and they're not particularly comfortable. Keep in mind that the area is large and complicated enough so that you may lose sight of your kids at times if you're not careful. Most adults will not fit in the closed tube slides, so you can't follow your child down. There are planked floor bridges with protective netting on the sides that are wobbly.
Check out The Boneyard on video:
Ask any questions, share your knowledge and just enjoy getting to know other Disney fanatics. Also: Like our Facebook page here. And join me on Pinterest here.
SEE RIDES AND ATTRACTIONS IN THE OTHER PARKS:
CHECK OUT MORE RIDES IN ANIMAL KINGDOM:
Discovery Island

Pandora – The World of Avatar

Africa

Rafiki's Planet Watch

Asia

Dinoland U.S.A.
GET UPDATES, NEWS & TIPS (IT'S FREE!!!) Plus get a Free Disney World Planning Schedule Form.
Sign up below to stay updated on the newest information, tips and tricks to help you plan your perfect Disney World trip!