Facts at a Glance About It's Tough to be a Bug:
Park: Animal Kingdom Location: Discovery Island. Height Requirement: None. Genie+: Yes. Individual Lightning Lane: No. 
Quick Notes: 3-D & 4-D movie experience featuring some nice bugs, and some not so nice bugs who want revenge on humans.
Disney Warnings: Dark, Scary, Loud. It's Tough to be a Bug! is a theatrical journey into a bug's world that features images of insects, loud noises, dense fog, and things that creep and crawl in the dark. This attraction may be frightening for children.
Our Additional Cautions: Includes darkness, loud noises, flickering/pulsating lights, buzzing noises, large audio-animatronics bugs and spiders coming down overhead and down the walls, wind effects, stinkbug smell (synthetic), water spray, and heavy smoke effects. Guests sitting on the attraction seats will experience a quick jab in the back, and some pokes on their bottoms. There's a large Audio-Animatronics bug that kids and those who are sensitive may find scary. Those who are sensory sensitive might find this too stimulating. See below for details and more cautions.
Length: The show lasts approximately 8 minutes.
Special Needs & other info: You can stay in your wheelchair or ECV. Audio Description, Reflective Captioning, Assistive Listening, Language Translation Devices. Ears to the World, Disney's Show Translator, is capable of translating this experience into French, German, Japanese, Portuguese, or Spanish. The service is complimentary and devices can be picked up at the Guest Relations service counter. Children under age 7 years must be accompanied by a person age 14 years or older. Due to the nature of the experience, Guests with service animals should check with a Cast Member at the attraction for boarding information.

Overview of It's Tough to be a Bug
This is a 3-D movie experience with a lot of 4-D sensory experiences. The theater is located inside the gigantic 14-story "Tree of Life," which is a manmade tree/building with over 325 intricate carvings around the trunk depicting wildlife.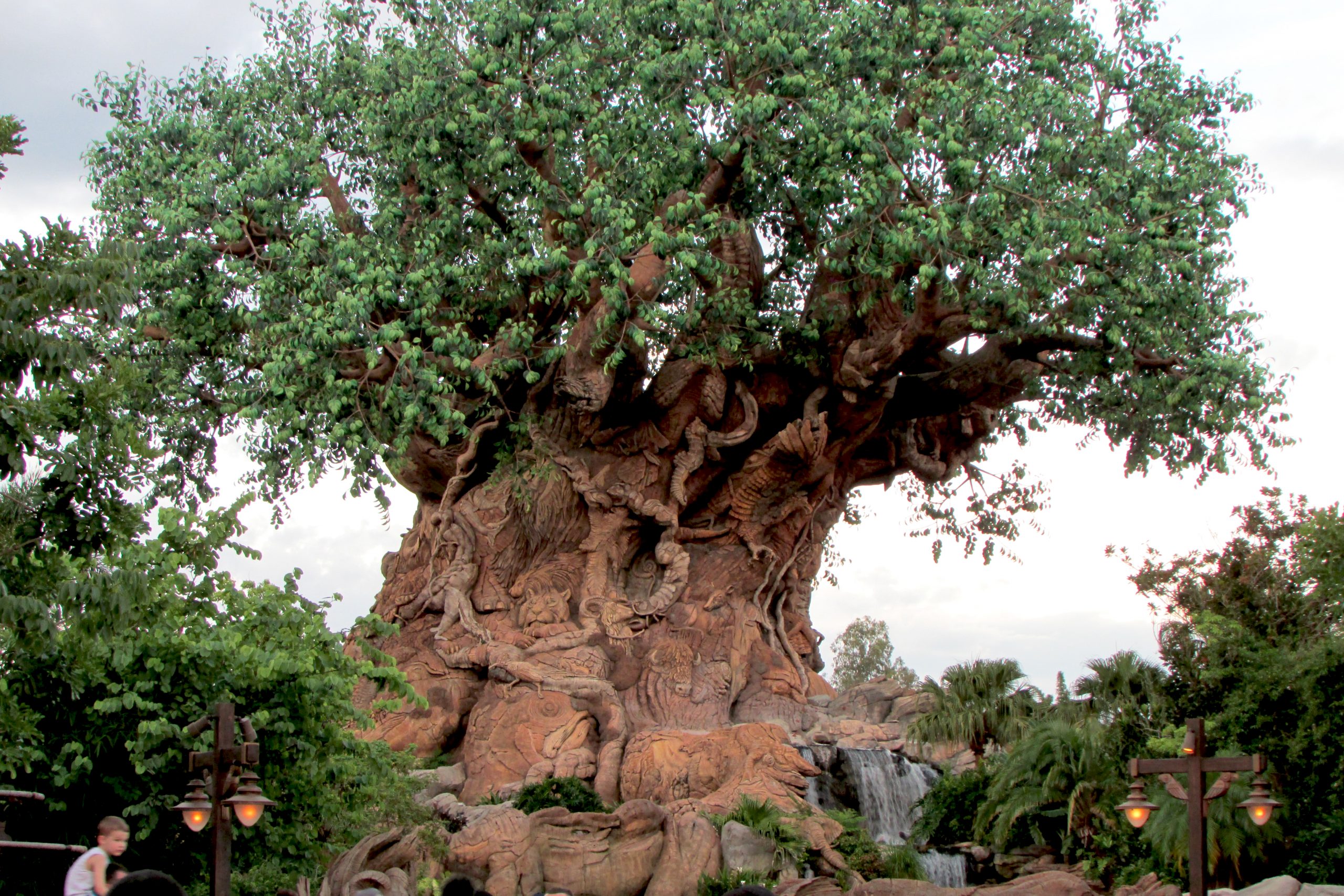 The host for the show is Flick, the animated star of the Pixar film A Bug's Life. He tries to illustrate why bugs are a necessity for our daily lives.
Hopper is the bad guy of the story and is very large. He can be especially scary for children, even if they've seen the movie. Hopper on a screen is a bit scary. An Audio-Animatronics Hopper bigger than your parents is quite another thing! With over 70 separate functions that bring him to life, he's one of Disney's most advanced Audio-Animatronics characters. Hopper and his gang of trouble-making bugs show up to get revenge on the humans in the audience, because he feels that humans treat bugs so badly.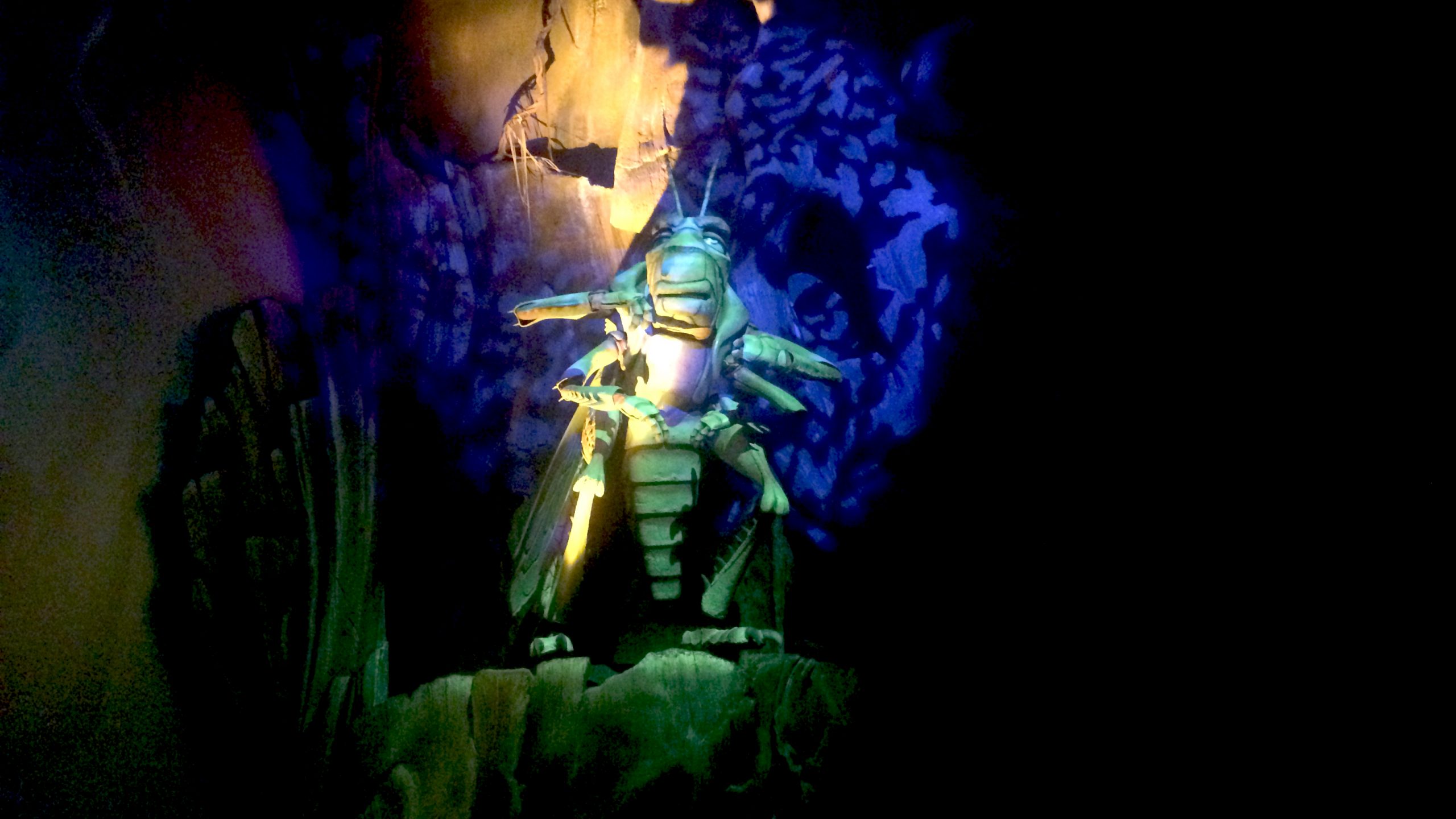 Queue, pre-show & seating for It's Tough to be a Bug
The outside path leading to the theater is partially shaded by mature trees, but there are still patches of full sun. It can be quite hot in warm weather. It's long and winds around and then inside the massive Tree of Life tree trunk.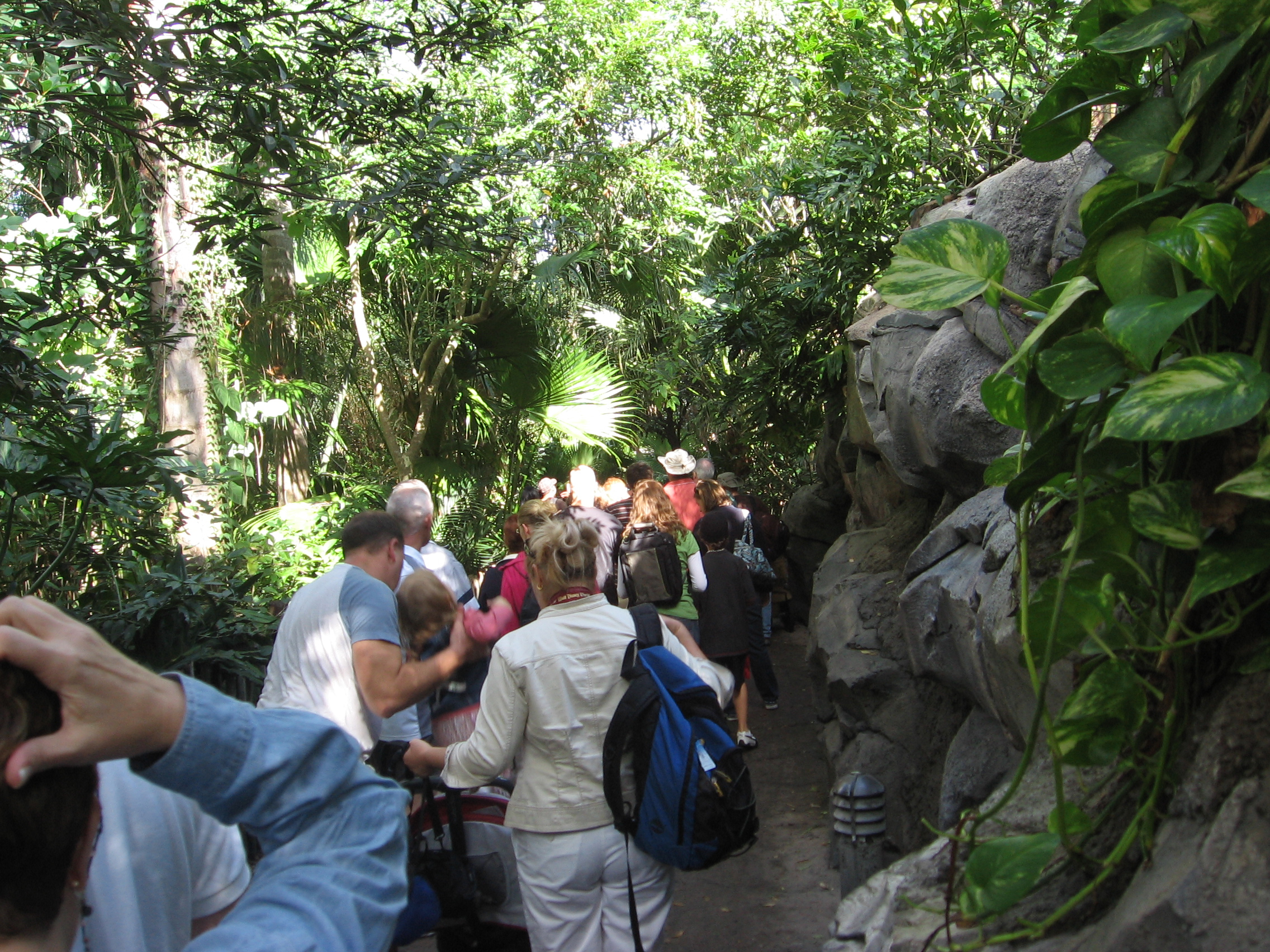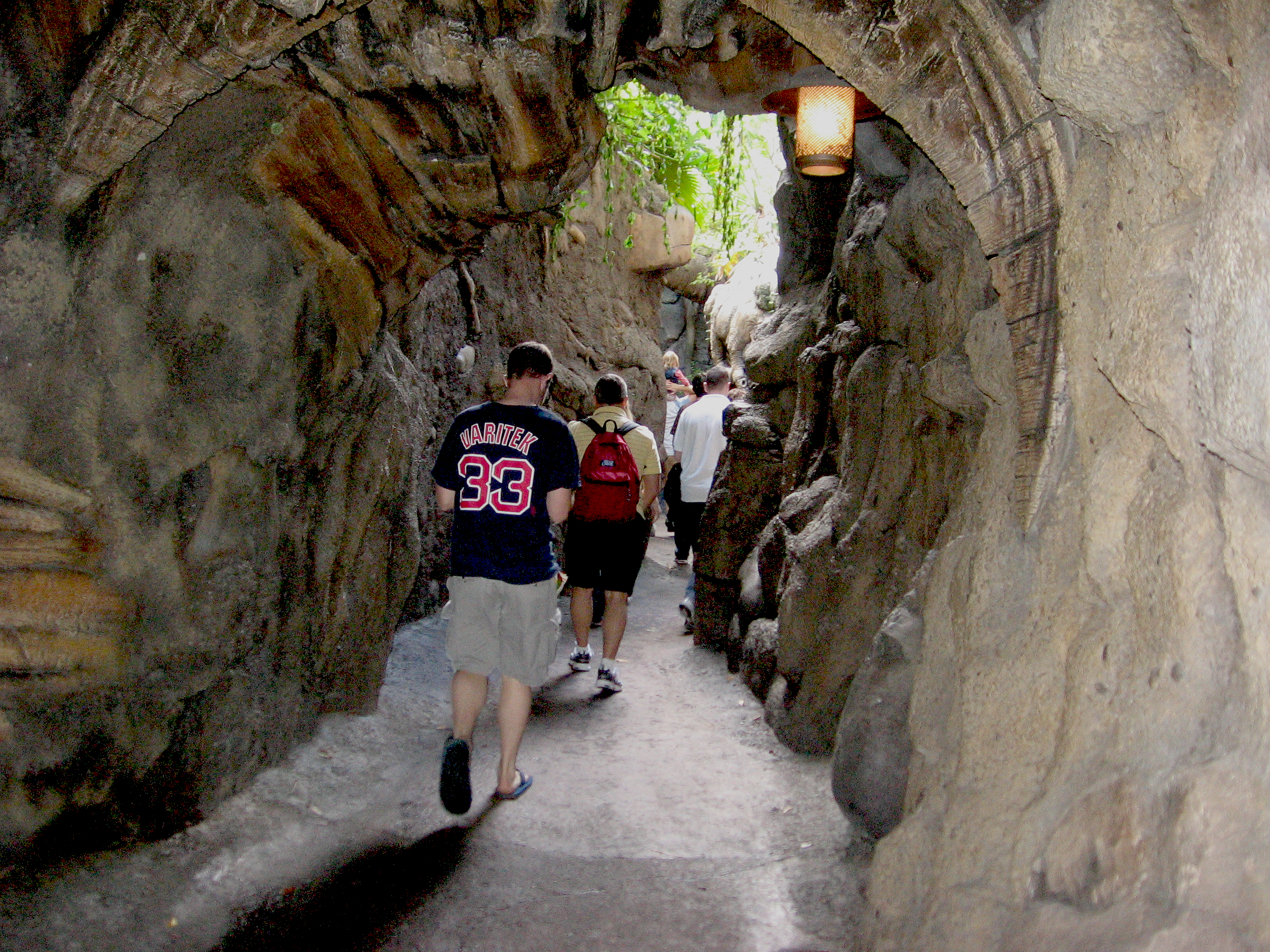 While you're outside you can get a good look at the carvings on the Tree of Life.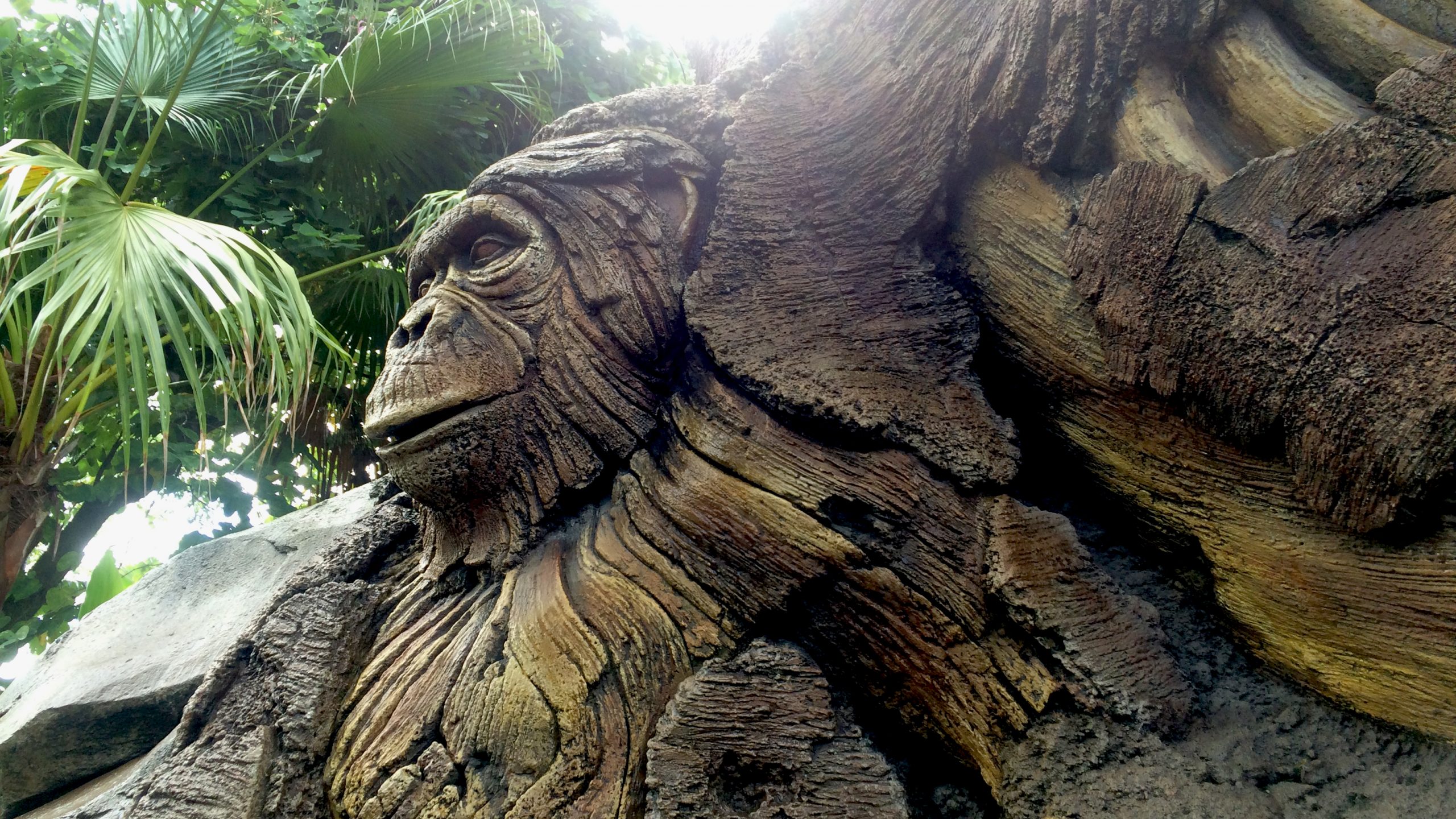 The pre-show waiting area is inside. It's air conditioned with dim lighting and low ceilings. Everything is brown with 'plant roots' and other natural items poking through to give the feeling of being underground inside of an ant burrow. It can get very crowded which can feel somewhat claustrophobic to some very sensitive people. There are cricket sound effects and bug-accompanied music tracks played in the waiting area.
You're given "Bug-Eyes" (3-D glasses) for the show. They should fit over most glasses.
Seating: Guests sit in rows of theater seats which are hard bench seats with backs.
Seating Tips for anyone who might need to leave early: Here's what one of our readers recommended and I think it applies to anyone who is concerned that they might need to leave the show early:
"Tell the Cast Member you have a child with sensory OR ASD, etc. They will make sure your child knows to go to them if they need to leave, and will seat you close to an exit. —Natasha Louise
Or you can handle it without a Cast Member:
"If you think you might need to leave before the end, the exit doors are directly across from the entrance doors. Choose a row and keep going all the way to the end of the row. That will put you next to an exit door. People have left every time my family has attended this show, so you will probably not be alone if you need to leave." —Sue Mickelson
Tip for Sensory Avoidance: Some of the special effects are right in the seats (see below). If you have a wheelchair/ECV or stroller marked as a wheelchair, you may wish to use that instead of transferring to a seat. This will allow you to avoid those effects.
Wheelchair/ECV information: The outdoors queue has plenty of room to get through. The end of the queue leads to a room inside the tree. Those with wheelchairs or ECVs wait near the left-most doors to be let into the theater. Wheelchair seating is available with slots between regular seats. If you can transfer to a seat, you'll be able to experience more of the sensory effects. You can leave your wheelchair/ECV in the back of the theater. You should be able to drive right up to a seat either in the front or on the sides.
Additional details about It's Tough to be a Bug
There's one sensory effect that those with lower back pain should be aware of. To simulate a bug sting, an item pokes you once in your back, from the back of your theater chair. The item doing the poking feels small—I'm guessing about the width of a small pencil eraser. This is actually a release of pressurized air, but if feels like a small, blunt object. Most people will have no problem with it. However those with back pain might find it uncomfortable. We've heard from several Disney visitors who felt an increase of back discomfort from this poke. If you have back pain, you may wish to sit forward in your seat during this part of the show so that your back doesn't touch the seat back. You'll know that it's coming when Hopper (the creepy but amazing Audio-Animatronics character) says, "Hornets, arm your stingers and attack."
At the end of the show, there's another effect on the bottom of the seat when Flick has announced the show is over and says to "Please allow the small crawling insects to leave before exiting." Guests sitting on the attraction seats will feel a series of small pokes going from the right to the side of the seat cushion. They're gentler than the earlier poke, and they do feel like something scurrying underneath your seat.
Some of the other effects include a dense fog that fills the room which we believe is made from dry ice, spraying water, wind effects, synthetic stinkbug smell pumped into the room, and buzzing sounds. At one point the audience is told it will be sprayed with acid or bug spray. Of course it's really water.
During the show, giant spiders come down overhead from the walls and ceiling, though they never actually reach the audience. The show might seem quite scary to some children and even some sensitive adults. There are always a lot of screams from the crowd, and this attraction regularly makes children cry. If someone in your party does get scared, taking off the 3-D glasses or closing your eyes can minimize some of the on-screen visual effects.
Some of the off-screen effects may be less intense in the back of the theater. The Audio-Animatronics character named Hopper is in the front, to the right of the stage. Some people will find him scary, and sitting in the back left may keep you farther from that character, diminishing the effect.
There are flickering and pulsating lights used in this show. It's very dark in the theater at times.
Overall, some who are sensitive may find this far too stimulating or scary. Here's what one mom had to say:
"It was miserable I didn't really know what it was. My son who has sensory issues starting screaming refused to sit in the chair. Then his autistic sister following his lead also gets down crying. I wanted to leave but being alone with them crying I couldn't find an exit or an employee. We have never gone back." —Rhiannon Gall
Still many will love it! It's one of our personal favorites.
3-D technology might be physically challenging for some. Here's one reader who has found that they can trigger migraines. However she's found a way to minimize the impact. So here's her tip for reducing issues with 3-D:
"3d movies (especially ones like this and Captain EO, with older technology) can give me a migraine very quickly (even Star Tours, which is relatively short, can trigger me), probably because I have very bad eyesight and weak eye muscles. I have found that it is less likely to happen with newer 3-D movies if I'm sitting in the middle of the theater, and much more likely if I'm off to the side. I would definitely not recommend this to anyone who has had these kind of issues in the past." —Roxanne Meares
Ask any questions, share your knowledge and just enjoy getting to know other Disney fanatics. Also: Like our Facebook page here. And join me on Pinterest here.
SEE RIDES AND ATTRACTIONS IN THE OTHER PARKS:
CHECK OUT MORE RIDES IN ANIMAL KINGDOM:
Discovery Island

Pandora – The World of Avatar

Africa

Rafiki's Planet Watch

Asia

Dinoland U.S.A.
GET UPDATES, NEWS & TIPS (IT'S FREE!!!) Plus get a Free Disney World Planning Schedule Form.
Sign up below to stay updated on the newest information, tips and tricks to help you plan your perfect Disney World trip!