Strollers Marked as a Wheelchair for Guests at the Disney World parks
As a rule, strollers can't be taken through attraction queues or onto ride cars. Guests with children who have special needs may be able to get permission from Guest Services to have their stroller designated to be used as a wheelchair. If approved, you're given a red tag for the stroller. These are the only strollers that can be taken through attraction queues. If a ride allows manual wheelchairs on a ride car, these strollers can also usually be boarded.
Keep in mind that strollers marked as wheelchairs must be within the allowable size of wheelchairs which can not exceed 36″ (92cm) in width and 52″ (132cm) in length.
These include strollers you own, as well as the Disney stroller rentals.
Disney Rules for strollers

Rule #1: Strollers will now have to be no larger than 31″ (79cm) wide and 52″ (132cm) long or smaller.

Apparently most strollers fit these dimensions.

Child in an over-sized stroller marked as a wheelchair (Photo from Dina Forte)

At this time we have been told by Disney that guests who have larger special strollers for their disabled children will be able to get their strollers marked as a wheelchair, and the dimensions won't be enforced. We were told that these strollers would have to be within the size guidelines for wheelchairs/scooters. However Disney doesn't have specific size guidelines for wheelchairs/scooter going into the parks. It's something that would be decided by Cast Members at the park. So it's clear that there's some confusion there.

Also, after this policy started, we saw other reports saying that Disney will not make any exceptions to their new stroller size guidelines, even for those marked as wheelchairs.

The feedback we're currently getting about what's actually happening is that Disney is making exceptions.

If this is a concern for you, call Disney World Services for Guests with Disabilities [(407) 560-2547] to confirm their current rules, but please be aware that cast members at the parks are not always in sync with the call center. Guests can not get permission for exceptions in advance. It's always decided at the park by the Cast Members there.

Rule #2: Stroller wagons (including Keenz) will not longer be permitted in the parks.

This is true even for those who are disabled, according to Guest Relations. Officially Disney is saying that there will not be any exceptions made to this rule.

However we're hearing reports that Disney is handling this on a case by case basis. A small number of people with children who have very obvious disabilities and strong reasons why a stroller couldn't be used have been allowed to use their Keenz. However this is something that can't be counted on. In fact, we're hearing about plenty of refusals, so it's best to bring a different type of option if you can.

We also hear that in addition to getting a red tag for your stroller or wagon that gives you the same privileges as a wheelchair, Disney is giving out blue tags to those with a wagon/Keenz that they give approval for.

Again, please be aware that guests can not get permission for exceptions in advance. It's always decided at the park by the Cast Members there.

Here's the experience of Disney mom Bailey Sonday. When asked if she has been able to get her Keenz in every time she takes it, or if she's been given a hard time, here's what she said:

"Some lip from cast members, nothing that can't be corrected by educational explanation. Other times it's smooth sailing. We have always been able to take it in, it seems to me there was no actual training among cast members about how to deal with such situations."
Some tips on strollers marked as wheelchairs at the Disney World parks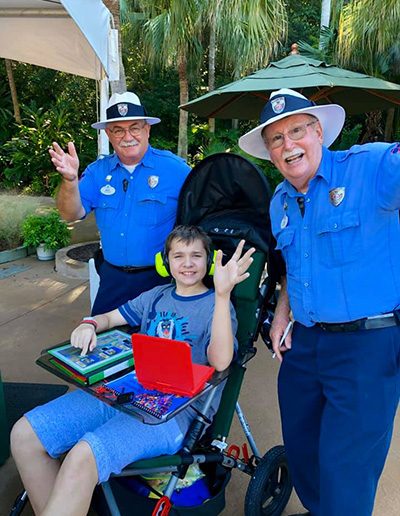 Double strollers are eligible to be designated as a wheelchair. Even if it's only one child in the double stroller that needs the designation.
For children's wheelchairs that resemble strollers, we recommend visiting Guest Services to have it designated as a wheelchair in order to avoid confusion.
When boarding rides, in some cases you'll want to transfer the child to the ride seat if possible. On some ride cars a child in a stroller would be sitting quite low, and may not be able to see the sights.
Tie Down Straps for strollers on rides at Disney World
There are also some accessible ride cars that require wheelchairs to be fastened down with tie-down straps, similar to the ones used to secure wheelchairs on the buses. These should not be used with regular strollers or with special needs strollers unless they were manufactured with a transport option. The transport option means that the stroller has loops welded or securely attached to a sturdy part of the frame. Those loops are where the tie-down straps get attached.
Strollers that were not made to be tied down can be damaged just by attaching the heavy hooks on the tie-down straps. An example of a ride that has tie-down straps is Toy Story Mania.
Getting a stroller tagged as a wheelchair for a non-disabled child at Disney World
In our Facebook group, Walt Disney World Made Easy for Everyone, there was a great question asked. A mom had a disabled child who would not be in a stroller, and another child who was not disabled who would be in a stroller. The question was whether or not they could get the stroller for the non-disabled child marked as a wheelchair. This would free the parents up to help and support the disabled child more effectively.
The best answer to this question came from Sue Mickelson, our seriously knowledgeable Facebook group admin:
Getting a stroller tagged as a wheelchair for a non-disabled child is on a case by case basis. As with the DAS (Disability Access Service), the person needs to be prepared to explain the issues that prevent waiting in the regular line without it… (See info on what a DAS is, who qualifies, and how to get it here.)
Some situations Sue has heard of included:
Double stroller when only one child has a disability.
Parent has a disability that prevents holding / carrying the non-disabled child in line.
The children outnumber the adults and the children are too young to walk in line (for example, triplets).
For info on stroller options, including rentals, check out our article here: Strollers at Disney World
————————————————————————————————————————————
MENTION US AND YOU'LL GET A FREE SNACK TRAY STROLLER ACCESSORY with stroller rental. MENTION THE DISCOUNT CODE "EASY DISNEY". 
Or Call: (866) 484-4797 (mention the diz-abled.com offer or "EASY DISNEY" to get your FREE SNACK TRAY)
————————————————————————————————————————————
Join our facebook group!!!!
Ask any questions, share your knowledge and just enjoy getting to know other Disney fanatics in our facebook group called Walt Disney World Made Easy for Everyone.
Also join me on Pinterest here.
GET UPDATES, NEWS & TIPS (IT'S FREE!!!)
Sign up below to stay updated on the newest information, tips and tricks to help you plan your perfect Disney World trip!