Facts at a Glance About DINOSAUR:
P

ark: 

Animal Kingdom Location: Dinoland Height Requirement: 40" (102cm) or taller Genie+: Yes. Individual Lightning Lane: No.
Quick Notes: Ride back in time in a simulator/vehicle to capture an Iguanodon dinosaur as a meteor is about to hit the earth.
Disney Warnings:  Thrill ride, small drops, dark, scary. This experience includes dark places and scary dinosaurs. (image of scary dinosaur) This prehistoric tour is a high speed, turbulent ride adventure that includes sharp turns and sudden drops. WARNING! For safety, you should be in good health and free from high blood pressure, heart, back or neck problems, motion sickness, or other conditions that could be aggravated by this adventure. Expectant mothers should not ride. Is it too scary? DINOSAUR includes loud sounds in the dark and menacing dinosaurs that may scare some children.
Our Additional cautions: Physically intense ride that can be scary, in a simulator/vehicle with severe turbulence, sudden and intense movements and stops, sharp turns, loud noises, Audio-Animatronics dinosaurs, light effects including swirling, pulsating and flashing lights, periods of close to total darkness, steam and smoke effects, smoke fragrance, simulated meteor storm. Some guests may find the attraction is too jarring or intense for them.
Length: The ride lasts approximately 3 1/2 minutes.
Special Needs & other info: You must transfer from your wheelchair or ECV to the ride car. Children under the age of 7 must be accompanied by someone at least 14 years old. Due to the nature of the experience, service animals are not permitted on this attraction. Video Captioning (pre-show only), Assistive Listening (pre-show), Language Translation Devices. Ears to the World, Disney's Show Translator, is capable of translating this experience into French, German, Japanese, Portuguese, or Spanish. The service is complimentary and devices can be picked up at the Guest Relations service counter. Automated External Defibrillators. 

Overview of DINOSAUR in Animal Kingdom
You'll take a very rough ride back in time to rescue a dinosaur.
In a preshow video, a Paleontologist named Dr. Grant Seeker, along with Dr. Helen Marsh (Phylicia Rashad), tell you about the Time Rover time machine technology. Dr. Marsh plans to send you back on a nice sightseeing trip long before the meteors hit, but  Dr. Seeker has other ideas. He's secretly programmed your Time Rover to take you back to retrieve an Iguanodon dinosaur just before the big meteors slam to earth. You'll be cutting it very close!
Designed to frighten and thrill guests, this ride is so physically rough that we've seen reports of discomfort and even injury from those who don't ordinarily have physical issues. It's extremely turbulent, jerky, very dark and very loud. Though there are no roller coaster type drops or rises, you'll be jostled, bucked, bounced and swayed pretty intensely.
Check out the expressions on the riders below to get an idea of what this ride is like!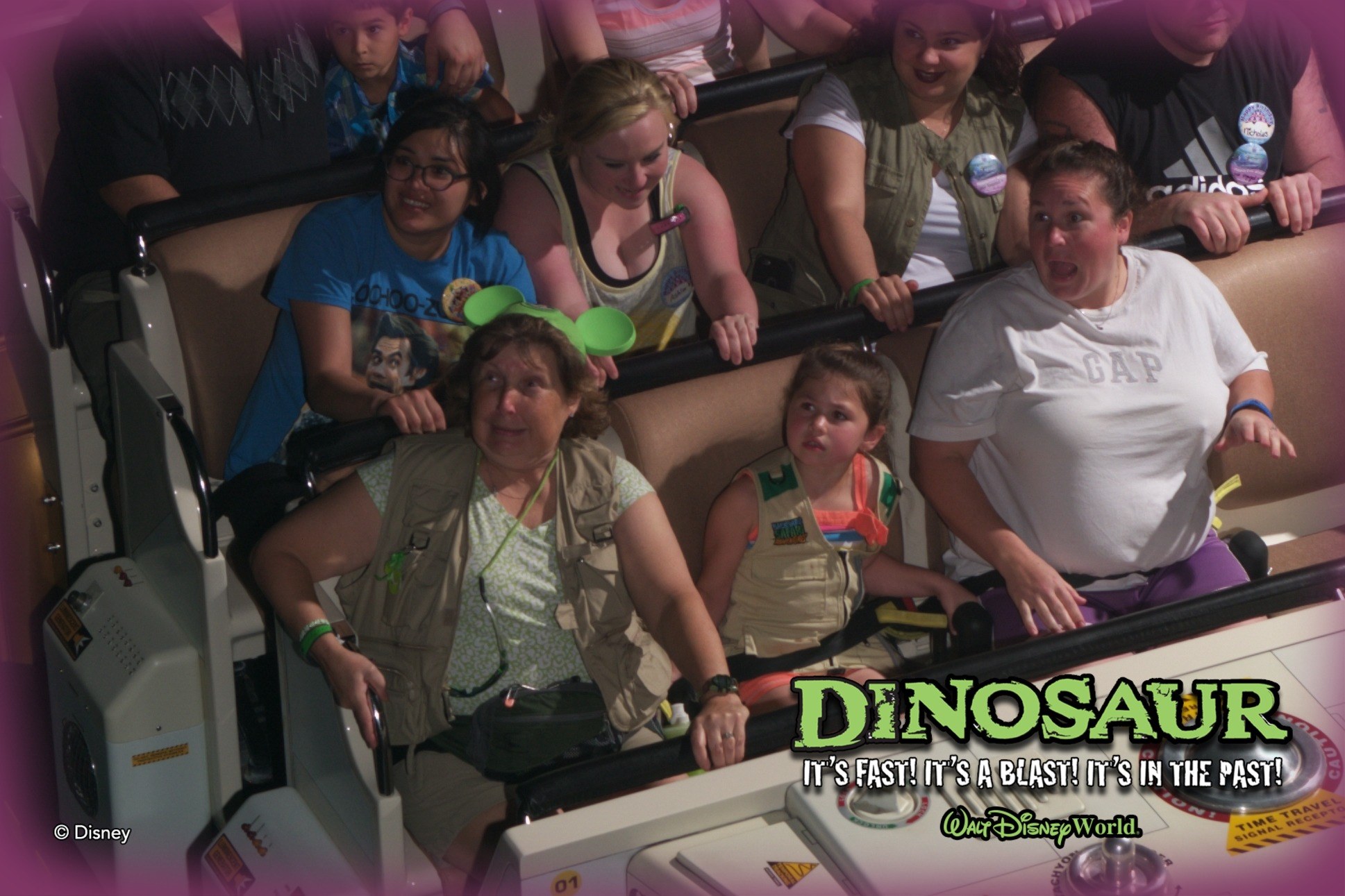 Parents should be cautious with this ride, especially for those who are sensitive or who have sensory issues. Here's what one mom said (some of these quotes are being kept anonymous as requested):
"This ride was incredibly deceiving on the app or was as of 2 years ago. It's listed as being a kids appropriate ride for ages 5 and up. My son, who has SPD and ADHD/anxiety, LOVES dinosaurs. We were reluctant to go but we did the dino theme park area and he saw this, so was insistent on going. We ended up having to go down the emergency elevator to evacuate him because he was having a full on panic attack afterwards that then led to an asthma attack. Having said that, don't take kids on it."
Here's another mom's experience that led to her decision to not let her kids ride:
"This is one ride that I remember going on as a kid and being terrified after. My siblings and I laugh about it now cause my Mom kept telling us while waiting in line it's just dinos they are fake it's gonna be cool. We all got off in tears
so I've never taken my kiddos on."
On the other hand, many people love this ride. Even those you might not guess would love it. Here's another mom who's son had the opposite reaction:
"Everyone's perception is different With this ride. My son has ASD, anxiety, panic disorder, and adores this one, it is his favorite ride (apart from Kilimanjaro Safari) at WDW. When we were there the last time he rode it 5 times in a row. He is 17 years post spinal fusion and was approved to go on it by his medical team as the fusion is solid. The giggles and laughs make It worthwhile. He also plans his pose for the photos since he knows exactly where it is… he prefers it over expedition Everest any day…now that's scary!!"
One more mom with a recommendation to be careful when considering this ride for your children:
"This ride is awful! My daughter isn't special needs but is 6 years old & I was terrified the entire time that she was going to be permanently scarred by this ride experience. Definitely something to be aware of for families traveling with littles- if you ride this ride first you may never get your children on another ride again." —Barbara O'Dea
Queue and ride car information for DINOSAUR
The outdoor queue is covered, with some ceiling fans. The indoor queue is made to look like a museum where you pass by fossils and life-size replicas of dinosaur skeletons. You'll see pre-shows where the back story and purpose of your time travel ride is revealed. At times the lights are dim. and there are some photos of bugs and reptiles.
Even if you're not planning to go on the ride, the queue can be interesting and worth walking through. The pre-show is a video that you'll stand for.
The ride vehicle seats 12 and is a combination track-based ride and simulator. To board the ride car you'll need to step up. Though each guest has a seat belt, they're pretty narrow and can cause discomfort during the turbulence. There's no head, upper back or neck support. There is a bar to grip in front of you.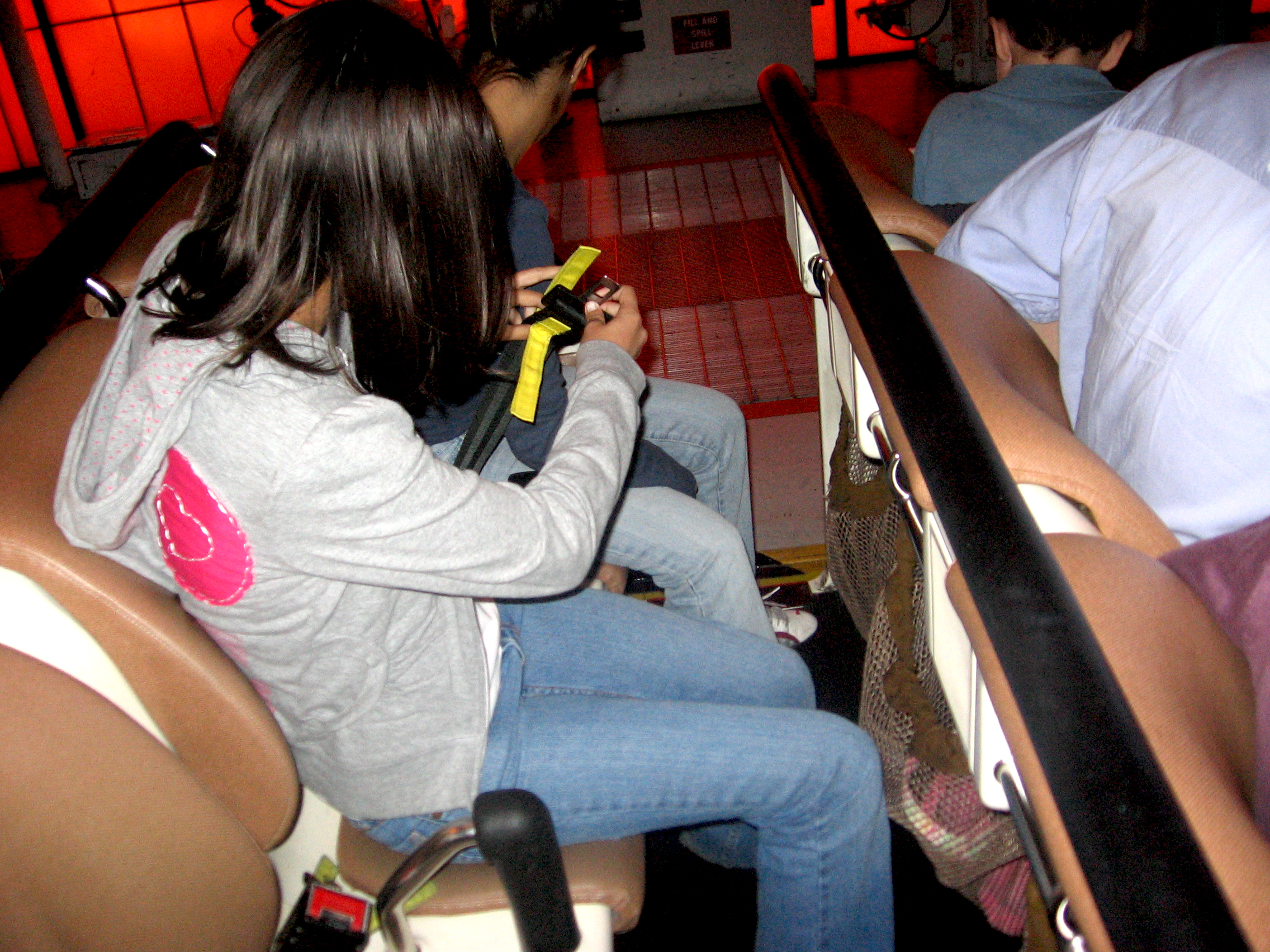 Some people find that the seats sit high, so that children and shorter adults feet might not touch the floor of the ride car.
Ride car position tip: One of our readers has noted that it seems like most of the animatronic dinosaurs jump out from closer to the front and or right of the ride vehicle. Sitting on the left rear makes it a little more tolerable for her sensitive daughter.
Wheelchair/ECV and accessibility information: There are some tight corners for wheelchairs in the queue but it should be wide enough for everyone to pass through. To get to the ride car, and to leave the ride car area at the end of the ride, there are 16 steps. You can bypass them by using an elevator, which is to the left of the loading area. Let a cast member know that you need this. Those in wheelchairs/ECVs will use the elevator.
To board the ride car you'll need to step up. To board from a wheelchair or ECV you can park quite close to the ride car, but the transfer is not the easiest because of the narrow space between rows of seats. This means that the opening is kind of narrow. Wheelchairs and ECVs are left at the boarding area. Ride cars return to the same place at the end of the ride.
To see photos and a description of the transfer, visit Rolling With The Magic's DINOSAUR page here.
Here's something that some of those wheelchair/ECV users with injury should be aware of:

"If you are a tall non-ambulatory adult, and your injury is high transferring to the ride car is near impossible. My husband is 6'3″, T7-T8 paraplegic so the long legs make this ride a no go for him." —

Annemarie Fragoso Cook

Here's what one of our contributor's had to say about this ride:

"My older daughter, who is not disabled, went once and will not go again. She finds it very rough, jerky, loud and unpleasant. My younger daughter, who is physically disabled and has sensory sensitivities, doesn't mind it. Each person has their own seatbelt, but the seats are not very supportive. When we do ride, my husband rides on one side of her and I ride on the other to help support her from the sides. Because of all that goes on, we find this ride to be really exhausting (difficulty of transferring our daughter, ride motion, constant noise, lights and 'surprises')." -Sue Mickelson
Additional details about DINOSAUR
You'll ride through a primeval forest looking for an Iguanodon, avoiding dangers along the way, including some attacking dinosaurs (which just about catch you) and meteorites. The vehicle is open and looks kind of like a safari car. The motion technology includes a hydraulic pump, which allows the vehicle to move roughly as if you're traveling over rocks and tree stumps.
There are sudden movements, sudden stops, sudden sharp turns, loud noises, flashes of light, steam and smoke, and other very intense special effects. These include meteors falling, and ferocious looking, large Audio-Animatronics dinosaurs jumping out at you, appearing suddenly or running over the tracks. The smell of smoke is pumped into the atmosphere. It's actually a fragrance and not from real smoke.
In our opinion this attraction should be avoided if you have even minor issues that could be impacted such as back or neck pain, weakness, or heart conditions. We consider it unwise to see if you can get away it. If you feel strongly that you don't want to miss this ride, you may want to have someone familiar with your condition ride first to help determine whether it's right for you.
Adding to the stress, there's a warning counting down the seconds left until the asteroid that killed all the dinosaurs will hit the earth. Of course it's part of the show, but those who are sensitive may find that it provokes anxiety. 
Here's what one reader had to say about this ride:

"I see you mentioned all about the jerkiness and loudness. I don't think it can be emphasized enough just how loud this ride gets and how it's a constant roar. There is NO downtime for those who have sensory challenges." —Jayne Townsley
Your time rover will lose its headlights, and this ride is pitch-black at times. There are frequent, fast coming "shock" moments like when a large dinosaur jumps out at you from the darkness.  This attraction can be scary, and not just to children. Some adults find this ride frightening. If you have any problems with blood pressure, anxiety or fear, this may be stressful. If your child is sensitive, have them skip this ride. If they're not into it, it could be traumatic for them. If others in your party want to go on DINOSAUR, use the rider swap option.
There are many effects with lights including swirling and flashing lights, and sudden bright lights including one when your picture is taken. Some people find this temporarily blinding.
The exit area includes video monitors showing the dinosaur that was 'transported back with you walking in the hallways, viewed by 'security cameras. This may be scary for some children or others who are not quite sure that this didn't really happen.
Check out DINOSAUR on video:
Ask any questions, share your knowledge and just enjoy getting to know other Disney fanatics. Also: Like our Facebook page here. And join me on Pinterest here.
SEE RIDES AND ATTRACTIONS IN THE OTHER PARKS:
CHECK OUT MORE RIDES IN ANIMAL KINGDOM:
Discovery Island

Pandora – The World of Avatar

Africa

Rafiki's Planet Watch

Asia

Dinoland U.S.A.
GET UPDATES, NEWS & TIPS (IT'S FREE!!!) Plus get a Free Disney World Planning Schedule Form.
Sign up below to stay updated on the newest information, tips and tricks to help you plan your perfect Disney World trip!