Facts at a Glance About Finding Nemo – The Musical:
Park:

 

Animal Kingdom. Location: Dinoland USA. Height Requirement: None. Genie+: No. Individual Lightning Lane: No.
Quick Notes: Live musical show featuring actors, puppets, aerial acts and original music.
Disney Warnings: None.
Our Additional Cautions: Includes steam, flashing lights, bubbles and giant puppets (including several sharks). A layer of fog blankets the stage at certain points. There are bright and rapidly changing theatrical lighting effects including spotlights. One portion of the stage has a narrow area that juts into the audience area. People sitting next to that part of the stage may be closer to the performers.
Length: The show lasts approximately 26 minutes.
Wheelchair/ECV and Special Needs info: You can remain in your wheelchair or ECV. Audio Description, Sign Language, Assistive Listening.

Overview of Finding Nemo – The Musical in Animal Kingdom
This multi-media musical is based on the Disney-Pixar film, and it's a must see show. The movie was not a musical, but Disney created 14 wonderful original songs for this show. The production tells the story of the little fish called Nemo, his friends and his devoted dad. Nemo is frustrated by his dad's over protectiveness. He gets angry, ventures away, and gets caught in a fishing net. He's eventually placed in a fish tank. The situation seems hopeless. His dad goes in search of him despite all the dangers and the terrible odds of finding and saving Nemo.
Live actors wear bright costumes to match their large and extremely detailed puppets. The puppeteers are clearly visible when performing, and no measures are taken to hide them. They dance, sing and become a part of the show, unlike typical puppet shows. The show includes an aerial act. We find that the quality of the music, puppetry and performers rival that of any Broadway show such as The Lion King.
Queue and seating information for Finding Nemo – The Musical
The queue is in full sun. It can be extremely hot waiting in this line during warm weather. Here's what one visitor had to say:
"On our first visit to this attraction I spoke with cast members and requested that we be allowed to wait out of the sun. They said that was not an option for this show's queue. They explained that they could not allow us inside the theater because the show was being set up, and there are no covered areas to wait under. We persisted with our request (it was our last opportunity on this trip to see the show, but it was HOT out), they allowed us to go wait at the front of the line, which is on the top of a hill where there's a shade tree. However, this was clearly not the normal procedure and they made it clear that it may not always be permitted."
If you're sensitive to the sun and/or heat, you may wish to visit this attraction early or late in the day to minimize exposure. Be sure to wear sunscreen and bring bottled water with you. A handheld personal misting fan and a hat can help as well. Many people deal with the sun exposure by having the person needing to avoid the sun wait outside of the line while the rest of their party is in the line, rejoining the line when their party gets to the front. Other people have positioned themselves so other members of their party shade that person.
The theater seats 1500 people, so if the queue is long and you're towards the end, don't worry!  There's a good chance you'll get in. Still, we'd recommend arriving at least 30 minutes before show time, and possibly more during peak crowd seasons.
The indoor theater is air conditioned. It has hard bench seats with backs, and sitting on them for 30-50 minutes can be very uncomfortable.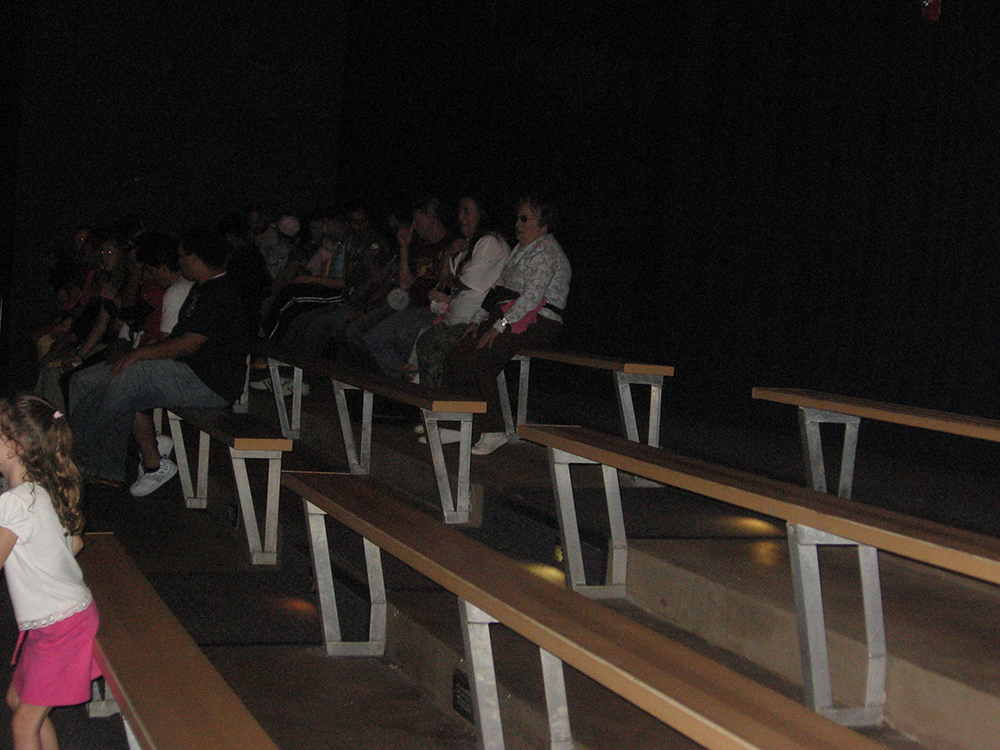 The show is on the long side for a Disney park, but there's a restroom close to the theater's exit. On one visit a member of our party was permitted to go out the side door to the restroom and to return before the show started. However this would be at the cast member's discretion.
Wheelchair, ECV and accessibility info: Wheelchair and ECV users should see a cast member to be directed to the proper seating. There are limited numbers of wheelchair/ECV spots, so it's possible those might be all filled even though the theater is not full. The majority of the accessible seating is in the rear of the theater. There are a few seats in the middle, but these are not used on rainy days to avoid the floors in that aisle becoming wet or slippery (the aisle becomes part of the performance area).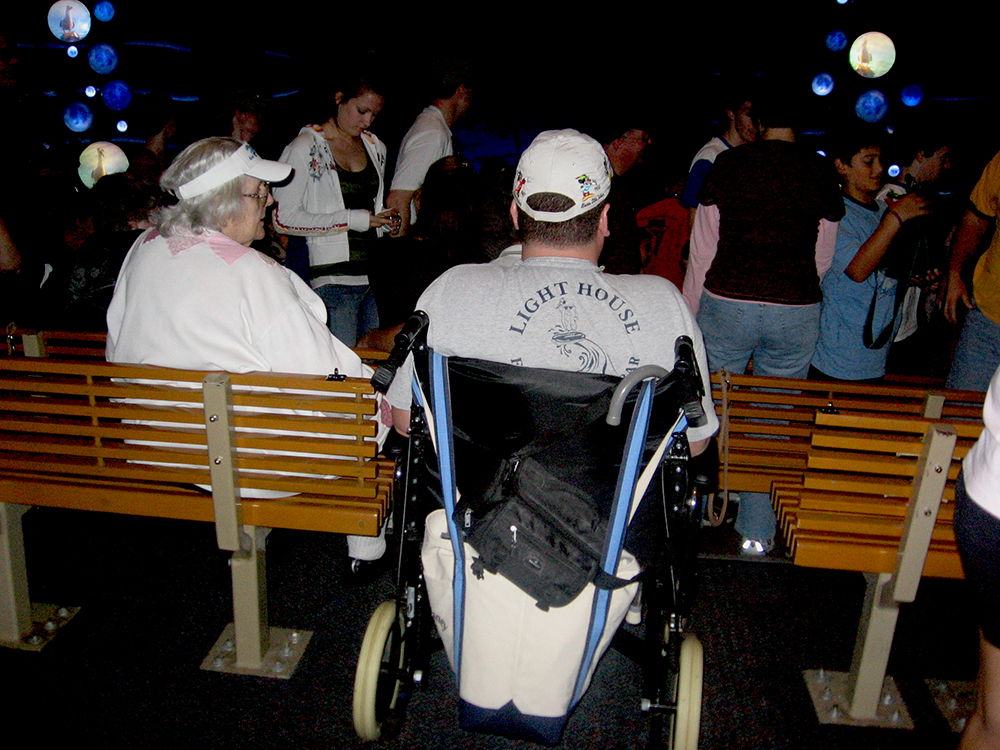 Additional details about Finding Nemo – The Musical
The puppets and actors walk amidst the audience at times. There's a great deal of fog blanketing the stage at times. Some of this may drift into the front of the theater. We haven't seen it come towards the second level of the theater, so sit further back if this is an issue for you.
The theater is kept quite dark so you can see the puppets on the stage. At one point there are bubbles falling over the audience.
Certain elements of the story could be upsetting or scary to the very sensitive. For example, the story includes Nemo's mom and all her eggs (Nemo's future siblings) being eaten by another fish. Nemo is the only one who survives. We find that this is done in a subtle way so that young children may not understand. Afterwards, Nemo's dad displays a fearful attitude, scared that Nemo will be killed as well. Nemo gets caught in a net and he's trapped inside an aquarium. He's scheduled to be given away to a human kid who's known to have killed other fish before. Don't read this if you want to be surprised: He escapes before that happens.
In addition to Nemo and his friends, there are villainous fish including a large shark that could be frightening to small children and to those who are very sensitive.
There are flashing lights at times.
Check out Finding Nemo – The Musical on video:
Ask any questions, share your knowledge and just enjoy getting to know other Disney fanatics. Also: Like our Facebook page here. And join me on Pinterest here.
SEE RIDES AND ATTRACTIONS IN THE OTHER PARKS:
CHECK OUT MORE RIDES IN ANIMAL KINGDOM:
Discovery Island

Pandora – The World of Avatar

Africa

Rafiki's Planet Watch

Asia

Dinoland U.S.A.
GET UPDATES, NEWS & TIPS (IT'S FREE!!!) Plus get a Free Disney World Planning Schedule Form.
Sign up below to stay updated on the newest information, tips and tricks to help you plan your perfect Disney World trip!