Facts at a Glance About Disney's Gorilla Falls Exploration Trail at Animal Kingdom:
Park: Animal Kingdom. Location: Africa. Height Requirement: None. Genie+: No. Individual Lightning Lane: No. 
Quick Notes: Walking trails with a variety of wildlife including those mentioned above, as well as gorillas, hippos, meerkats, antelopes, gazelles. Bird aviary has free-roaming birds. 
Disney Warnings: None
Our Additional Cautions: Includes viewing of spiders, lizards, snakes, gorillas, fish, naked mole rats and mice (in glass observation areas). Close contact with free-roaming birds in the aviary. See below for more details.
Length: It varies depending on how long you watch each exhibit. 
Special Needs & other info: You can stay in your Wheelchair/ECV. Audio Description. Due to the nature of the experience, Guests with service animals should check with a Cast Member at the attraction for boarding information.

Overview of Gorilla Falls Exploration Trail in Animal Kingdom
This is a major animal attraction of almost a half mile through a lush and heavily wooded area. It's explored at your own pace, so you can linger as long as you like by your favorite sites. Some of the animals on this trail tend to be on the shy side, but Disney has created some amazing viewing areas that will get you close to these fascinating animals. For example, at times we've visited when the only thing separating us from some gorillas was the glass divider they were leaning on.
You'll have up-close views of African wildlife, including a troop of gorillas, Nile hippos (there are underwater and land hippo viewing areas), meerkats, antelopes, gazelles, and other animals.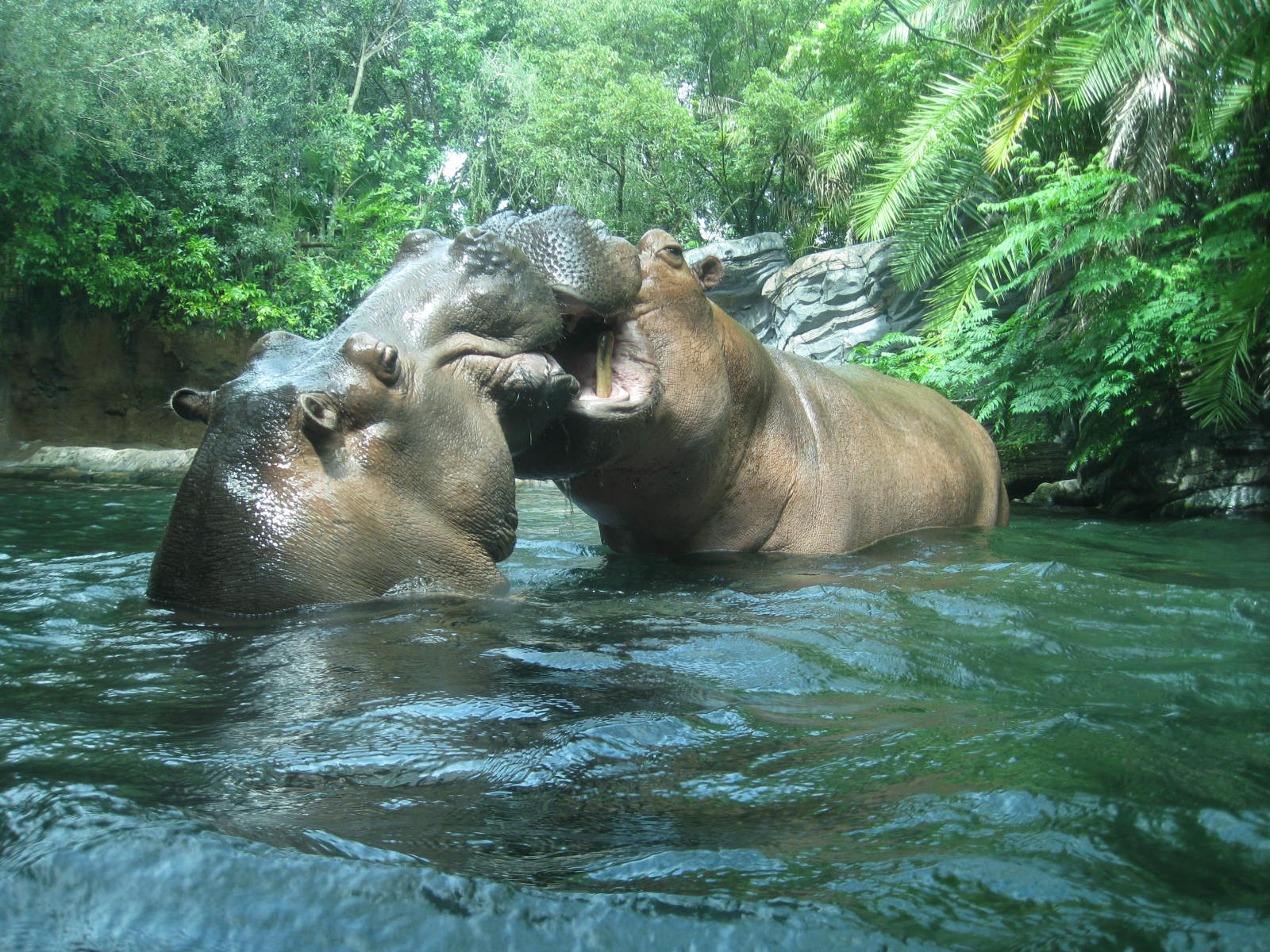 You'll walk through a building designed to look like a research center with a variety of small animals, reptiles and spiders, and you'll walk through an exotic bird aviary with free flying (and walking) birds.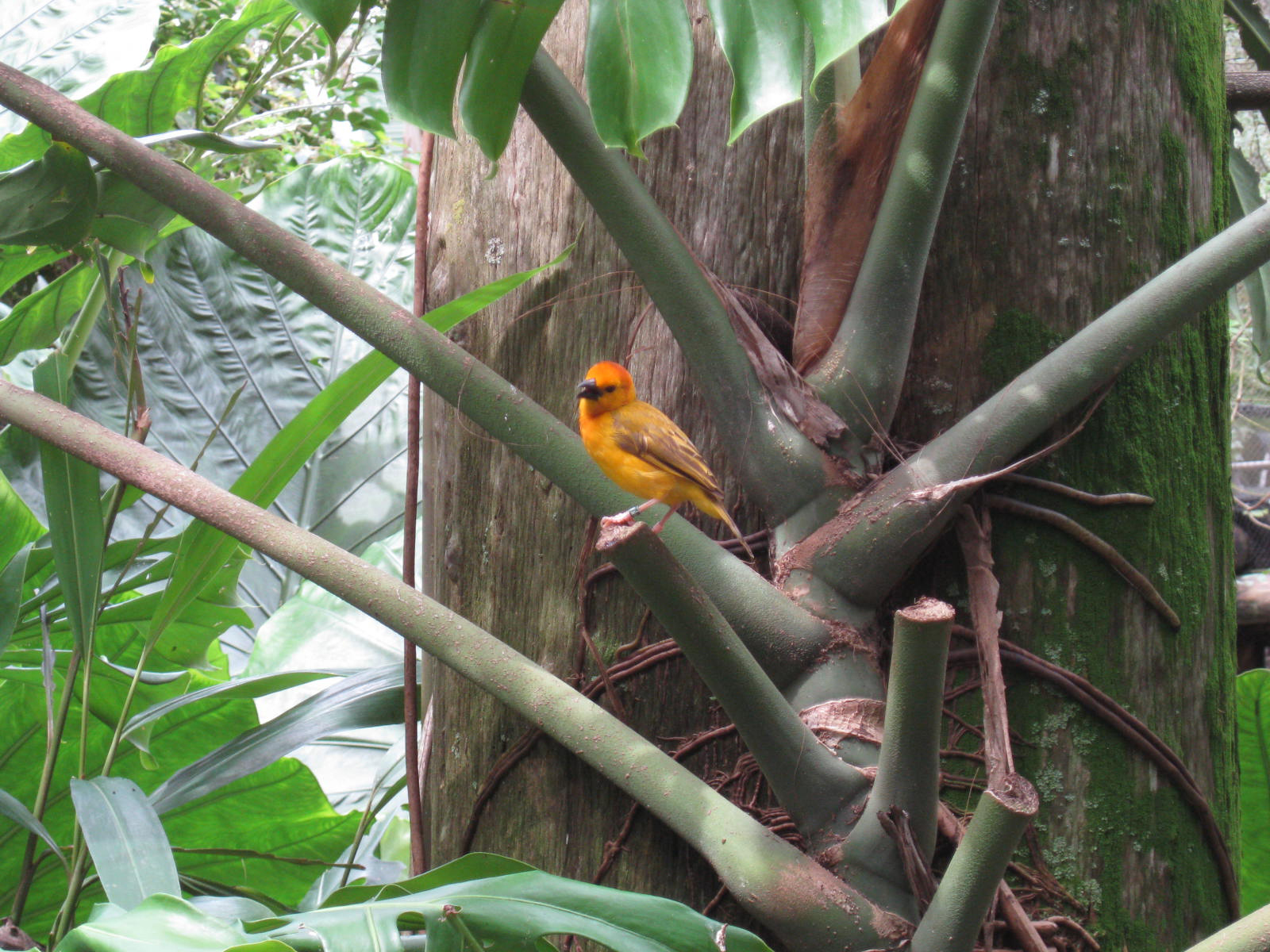 Additional details about Gorilla Falls Exploration Trail
This attraction does not have a queue. You'll walk right onto the trail. The trail is paved and quite bumpy, as are many of the paths at Animal Kingdom. Keep in mind that there are no bathrooms along this trail, so use a restroom before you begin. There's some shade along the path, but depending on the time of year it can still get very hot. It's also a good idea to have some bottled water with you, as it can't be purchased on the trail. You'll be outdoors and it's important to stay hydrated!
There's no set length of time that you might be on this trail, but you can count on at least 20-30 minutes if you enjoy the animals. We often linger longer. At various points along the trail, cast members hang out and answer questions. Don't hesitate to ask them questions. That's their job and they always seem to enjoy talking about the animals.
There are various displays you'll encounter along the trail including signs with African wildlife facts, and Manipulatives which are hands-on experiences that you can touch and feel which teach you about the animals in that location. This is something that those with visual impairments might particularly enjoy.
Though the trees provide some shade, depending on the time of year it can get very hot.
In the research center you'll find spiders, lizards, snakes and naked mole rats on display.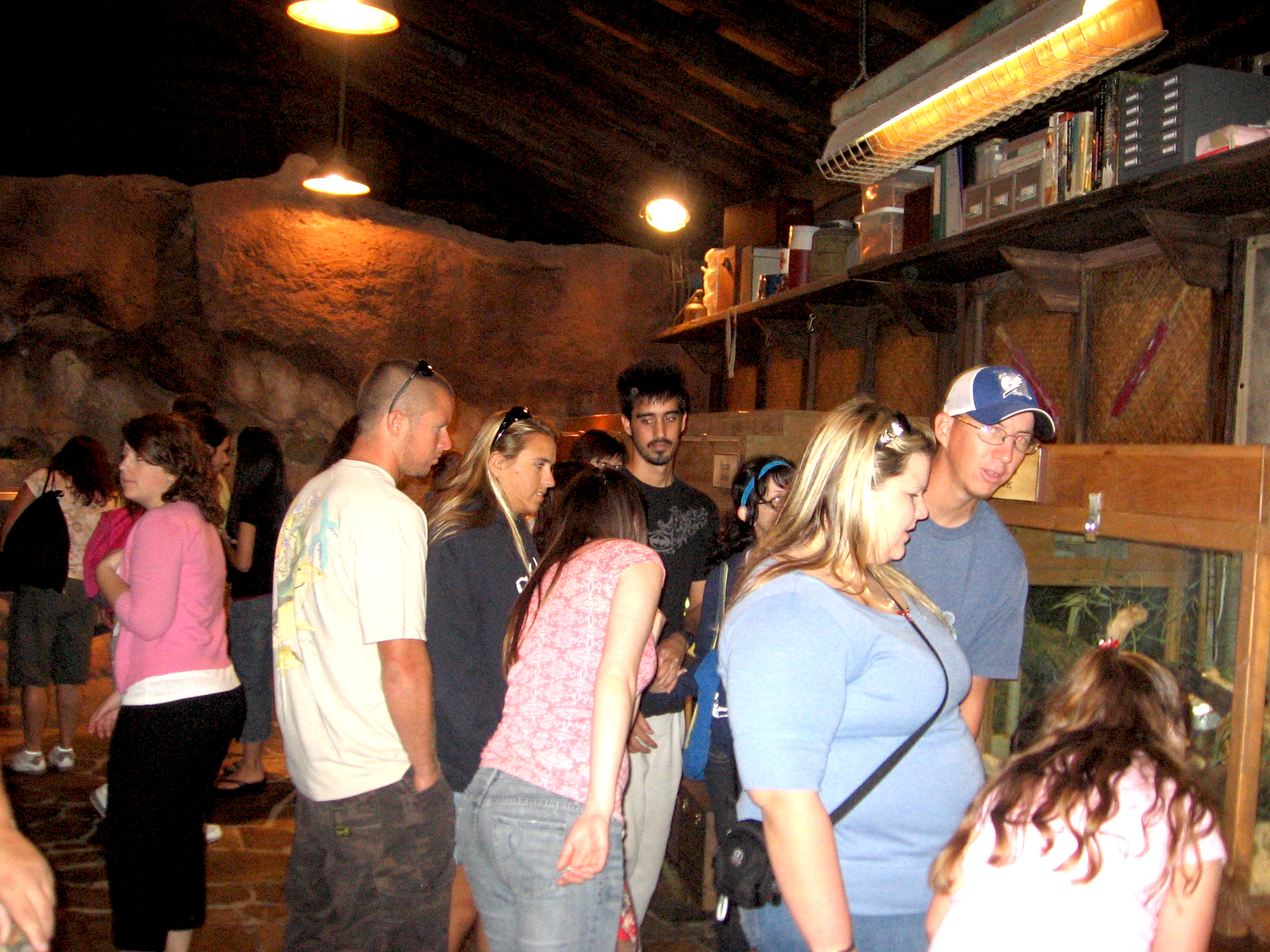 In the aviary there are birds flying free, kept inside by overhead netting. There are usually some larger birds roaming free on the walking paths. They're generally pretty passive, but there's the possibility of a bird having a bad day and behaving in a more aggressive or interactive manner.
Tip: The bird aviary can not be bypassed. Most of the time there are no birds on the path, though it can happen. If you really don't like being in there, you can usually just speed walk right through. In our experience the path is usually not so crowded that you can't keep moving forward, or politely bypass others.
Along the trail there are times when the animal viewing areas can become crowded, and you may have to wait for an opening in an observation area, especially to get a wheelchair/ECV up close.
For the glass guerrilla viewing area, if you're unable to get a good view because of crowds, you can move on. You'll encounter outdoor viewing areas for these same animals, but you'll be viewing from a much greater distance. It's still a pretty fantastic view, and you may be seeing different gorillas from the troop.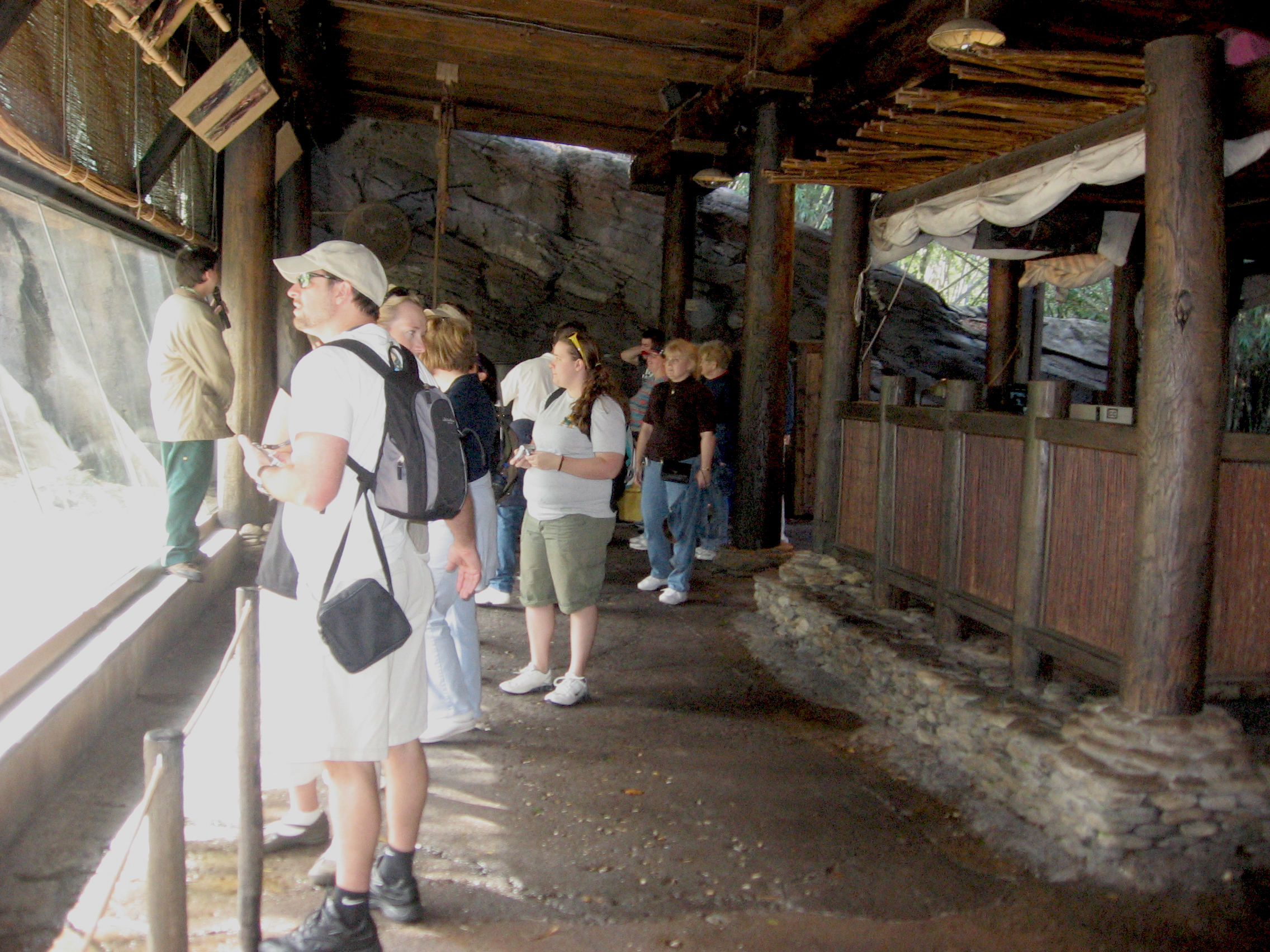 However if you have the time, it may be worth it to wait for room to open up in the glass-enclosed viewing areas. When the gorillas are hanging out by the glass, it's quite amazing to be that close.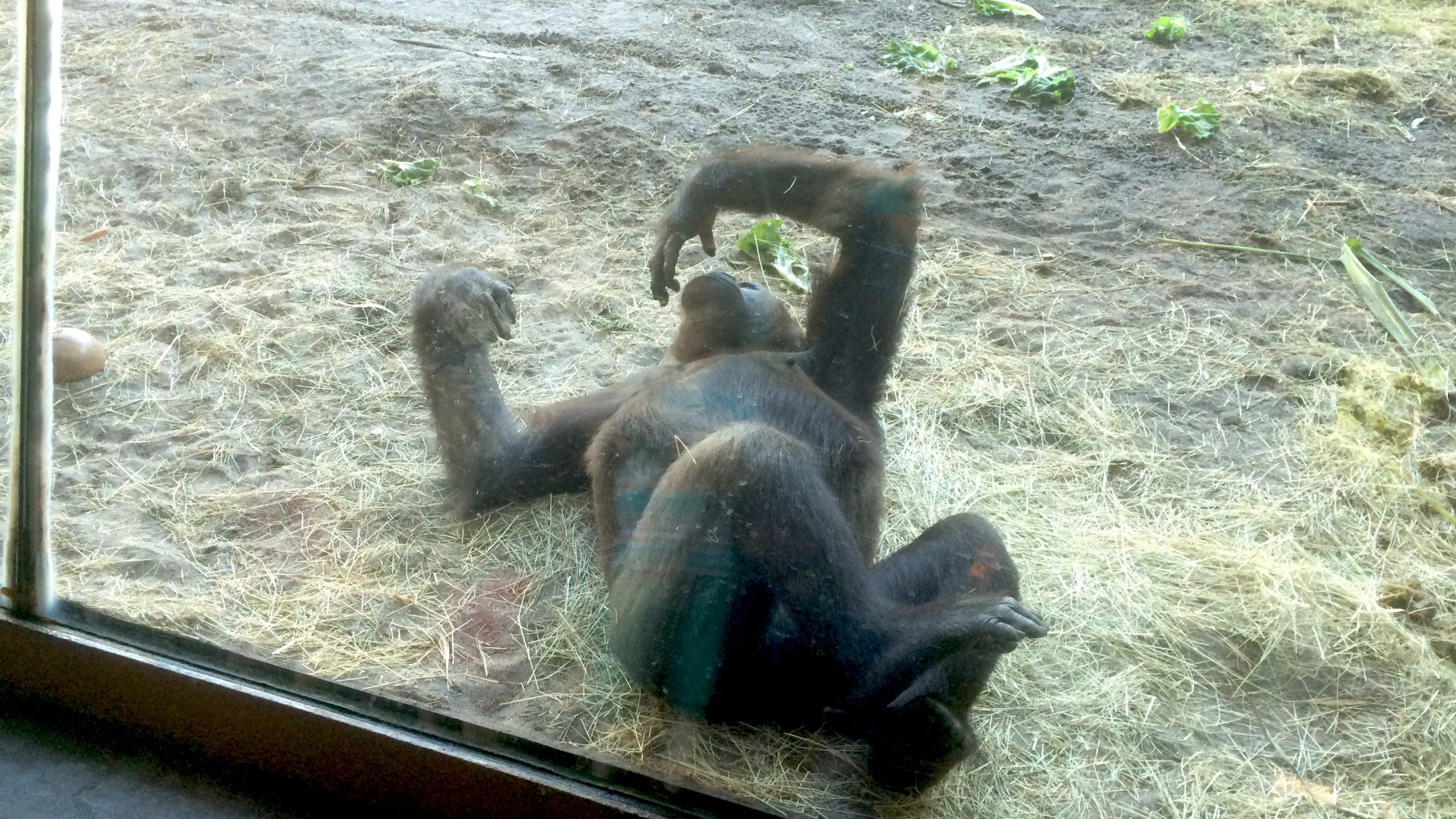 Tip: You'll cross a couple of wooden bridges that can wobble a bit. The boards make for a rougher ride in a wheelchair/ECV. If you find riding over rough surfaces painful and can walk short distances, consider walking over the bridges. Have someone else in your party ride your wheelchair over the bridge.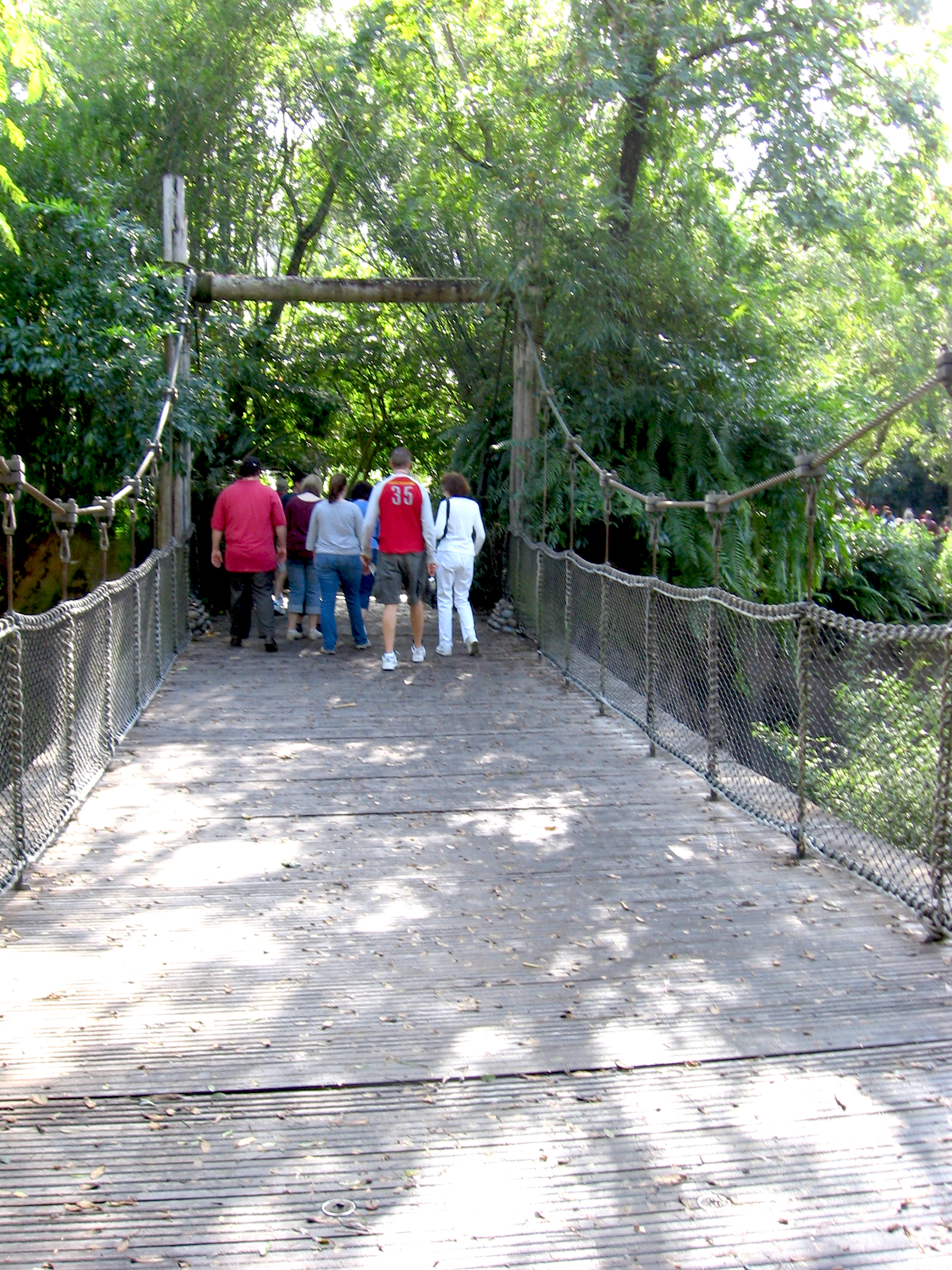 As you move in and out of the research center, you'll pass through some heavy doors. Those in an ECV or a wheelchair, and those with weakness or pain issues may need help with the doors. The research center building can be a bit tight for a wheelchair/ECV, but it's manageable.
Guests with service animals will need to check with a host or hostess cast member before bringing the animal into the aviary. We believe that this is so they can make sure the animal is not known to chase or bark at birds, and so they can be sure that the user has control over the animal.
Wheelchair/ECV and accessibility info: You'll be able to access the main path fully and will be able to see all displays, but there are some spectator areas that afford a different viewing angle, accessed only by stairs. No worries – you can usually get a good view of the same thing from your wheelchair in a nearby viewing area.
Check out Gorilla Falls Exploration Trail on video:
Ask any questions, share your knowledge and just enjoy getting to know other Disney fanatics. Also: Like our Facebook page here. And join me on Pinterest here.
SEE RIDES AND ATTRACTIONS IN THE OTHER PARKS:
CHECK OUT MORE RIDES IN ANIMAL KINGDOM:
Discovery Island

Pandora – The World of Avatar

Africa

Rafiki's Planet Watch

Asia

Dinoland U.S.A.
GET UPDATES, NEWS & TIPS (IT'S FREE!!!) Plus get a Free Disney World Planning Schedule Form.
Sign up below to stay updated on the newest information, tips and tricks to help you plan your perfect Disney World trip!