Written by Sue Mickelson
Facts at a Glance About Remy's Ratatouille Adventure in Disney World's Epcot:
Park:

 

Epcot. Location: World Showcase (France). Height Requirement: None.
Genie+: No. Individual Lightning Lane: Yes.
Quick Notes: Guests join Chef Remy in an adventure through the kitchen, dining room and walls of Gusteau's Paris restaurant.
Disney Warnings: None.
Our Additional Cautions: Fast movements and turns in the ride car, various light effects, loud noises, air burst and some water splashes, heat (by the oven), 3D screens which simulate fast turns, drops and close encounters with humans.
Length: The show lasts approximately 6 minutes. 
Special Needs Info: Wheelchair accessible ride car available. Guests using ECVs can choose to transfer to a ride vehicle or an attraction wheelchair to use the accessible vehicle. Audio Description, Handheld Captioning and Assistive Listening. Service Animals are allowed, but kennels are available. Children under age 7 years must be accompanied by a guest over 14 years old.
Overview of Remy's Ratatouille Adventure
Guests 'shrink' to rat size and join Remy in a wild ride inside Gusteau's Paris Restaurant.
This ride is based on the Ratatouille movie, which showed that anyone can cook – even a rat! In this ride, you become a rat, including your size. Your adventure as a rat will take you through the kitchen, dining room, and even the walls of the restaurant. Using 3-D screen technology, 4D props, and some surprises, you'll feel as though you are in Remy's world. This attraction opened in October 2021 and is located in a newly developed area of EPCOT's France pavilion.
Queue, pre-show & boarding for Remy's Ratatouille Adventure
The Standby queue is to the right of the attraction. It is outdoors until it enters the actual show building. The outdoor queue is covered with an overhanging sunshade, but may have some sun, depending on the sun's angle. If the line grows beyond the covering, it's in full sun. If that happens, you would be able to wait in the shade outside of the line of people until the rest of your party has reached the shaded area.
The Lightning Lane is to the left of the front of the building, and may extend outside of the covered area if it's really busy. The Lightning Lane indoor portion of the queue is cooled and consists of several connected hallways. It can get noisy.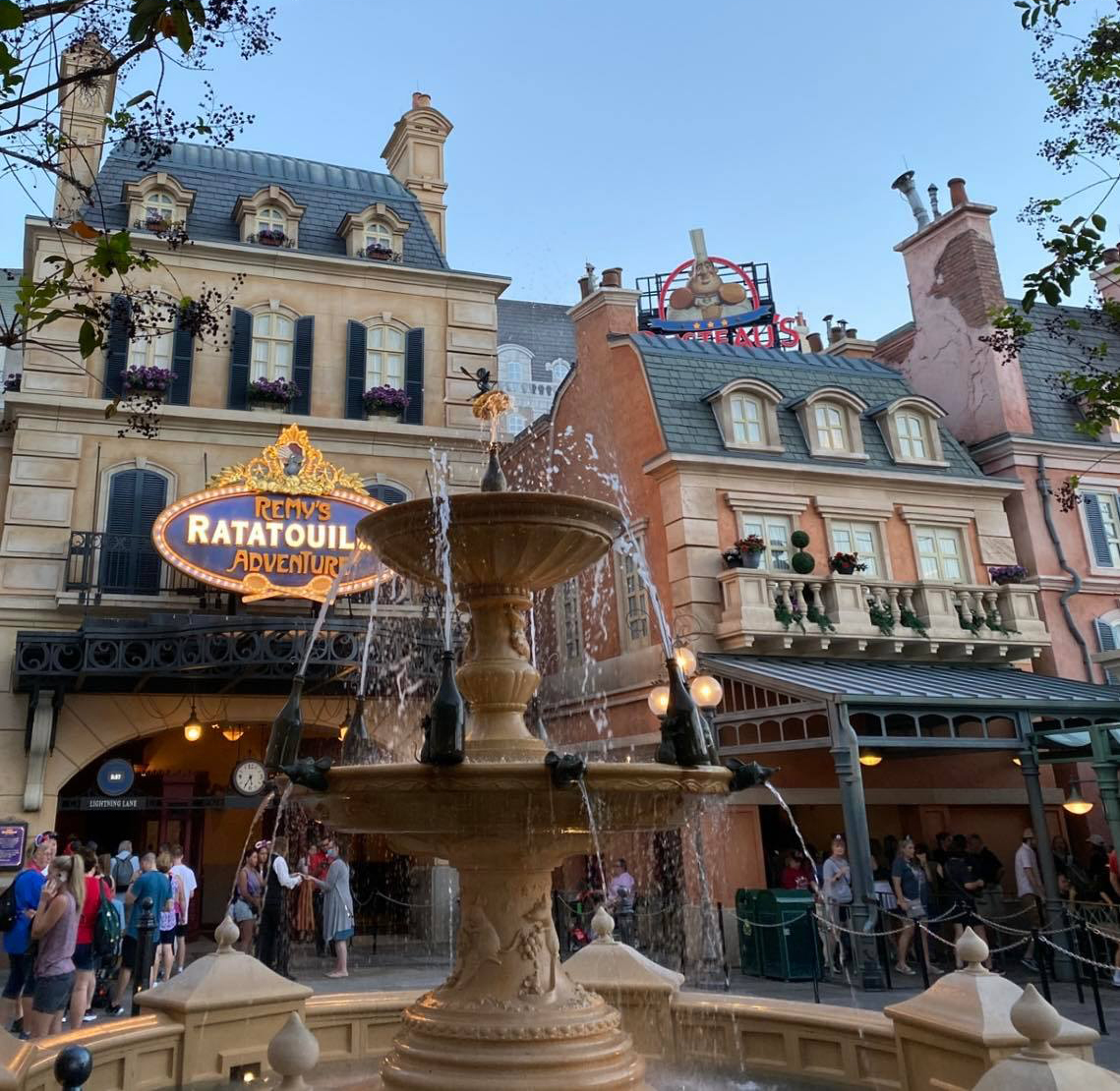 The indoor part of the Standby queue is cooled and includes a number of winding hallways. It can get noisy. The Standby queue has some paintings on the walls. It goes past several display areas, including an artist's desk and supply area.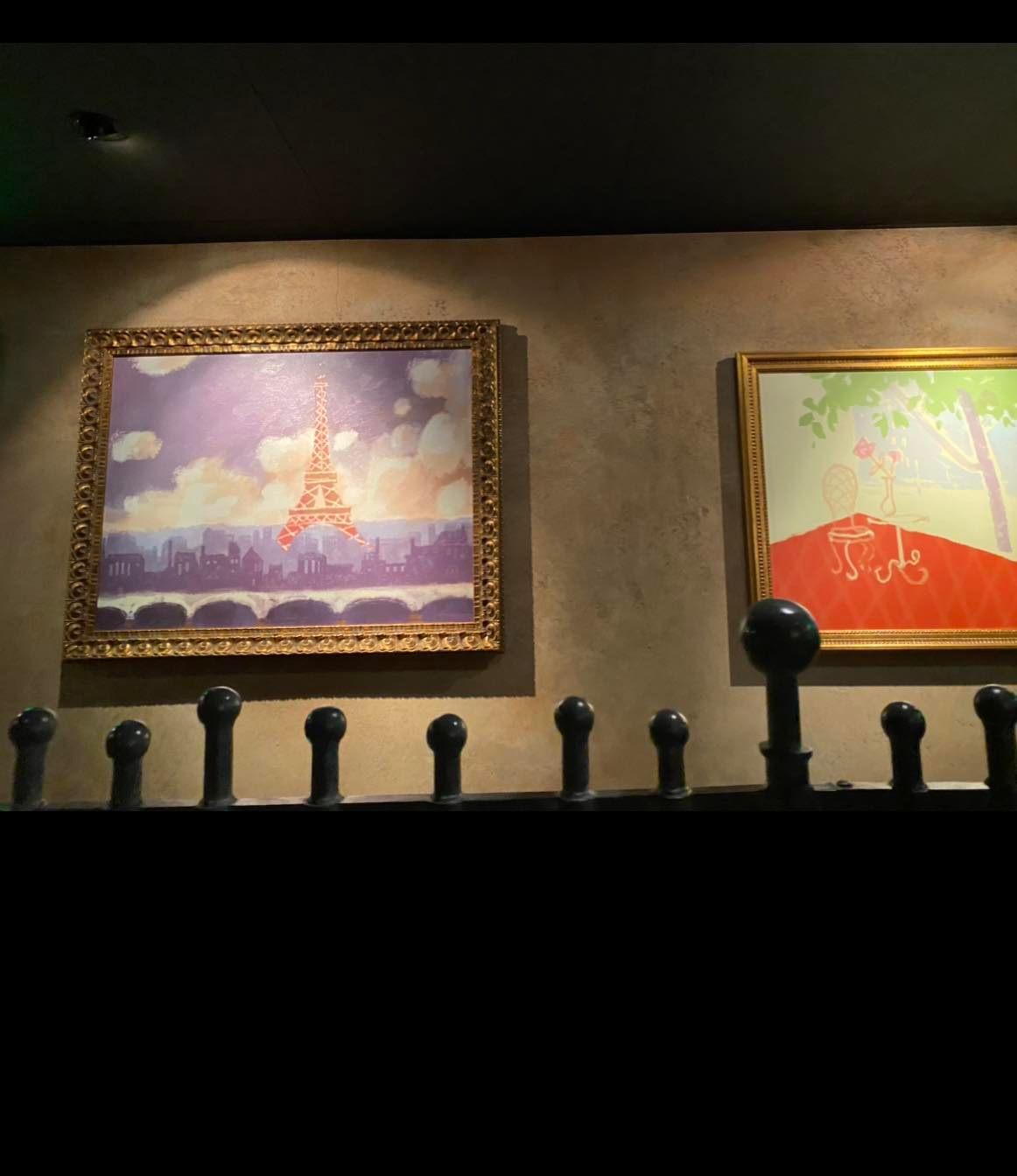 Pre-show: There is no pre-show, but do watch for some animated paintings and a message from Chef Gusteau.  You will pick up 3D glasses just before getting to the loading area.
Boarding Remy's Ratatouille Adventure in Epcot:
The boarding area is themed to look like Paris rooftops at night. It really gives you the feel that you have shrunk to rat size.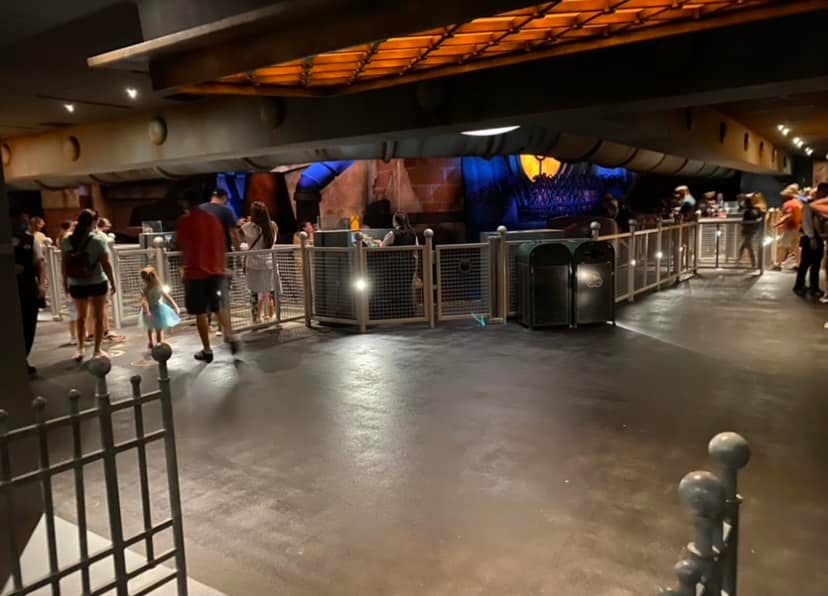 Ride cars are themed to look like cute gray, tan or brown cartoon rats.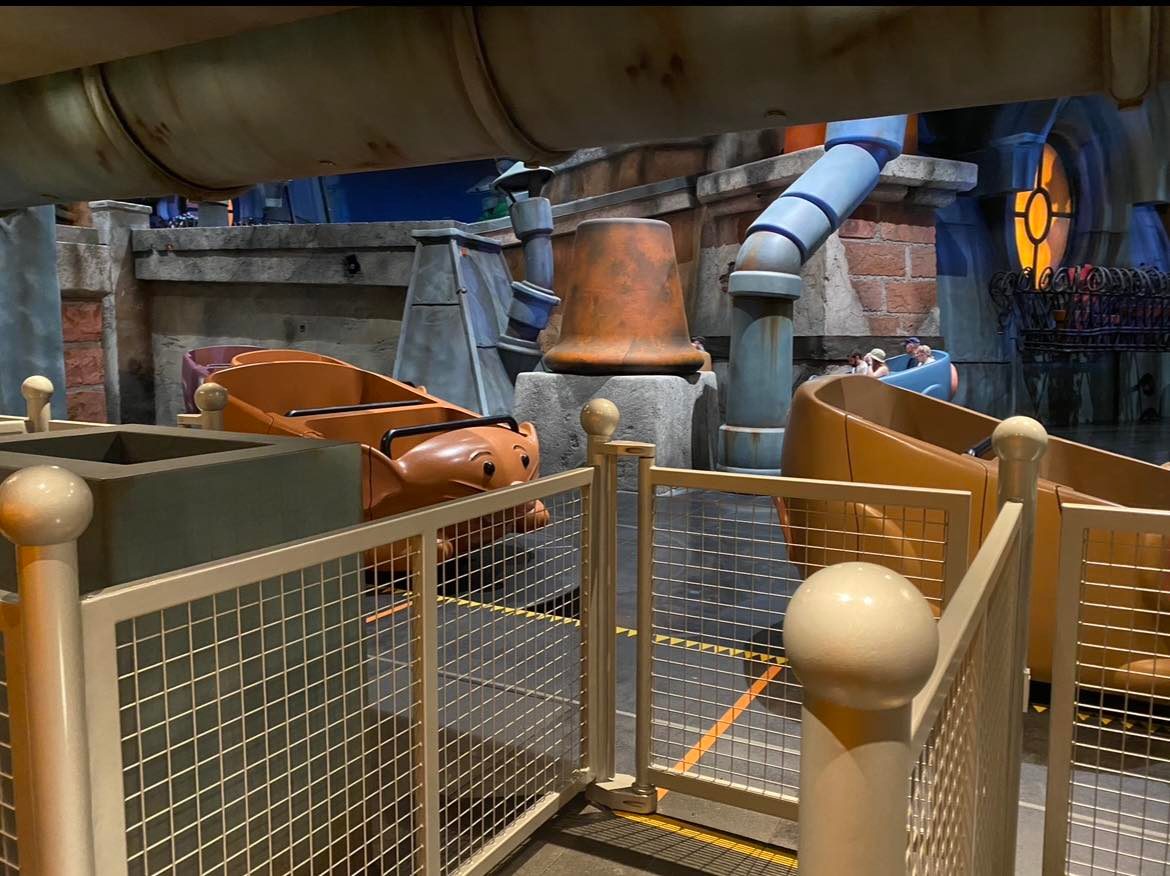 The ride cars stop completely for loading. Each ride car has 2 bench seats with backs and lap bar restraints. Each row seats up to 3 guests; when it first opened, each row was divided into 3 seats. These dividers were removed from at least some rows to accommodate guests needing more space. Guests share one lap bar per row.
Accessibility for Remy's Ratatouille Adventure:
Guests using ECVs must transfer to a ride car, or they can transfer to an attraction wheelchair to use the accessible vehicle. Transfers to ride vehicles occur at the regular boarding area. Once you're boarded, Cast Members will move your mobility device from there to the unload area. There is about a 4-inch step downward into the ride car.
The wheelchair accessible vehicle has a dedicated load/unload area. The vehicle can accommodate manual and most power wheelchairs. Guests load via a ramp that folds down from the back of the vehicle.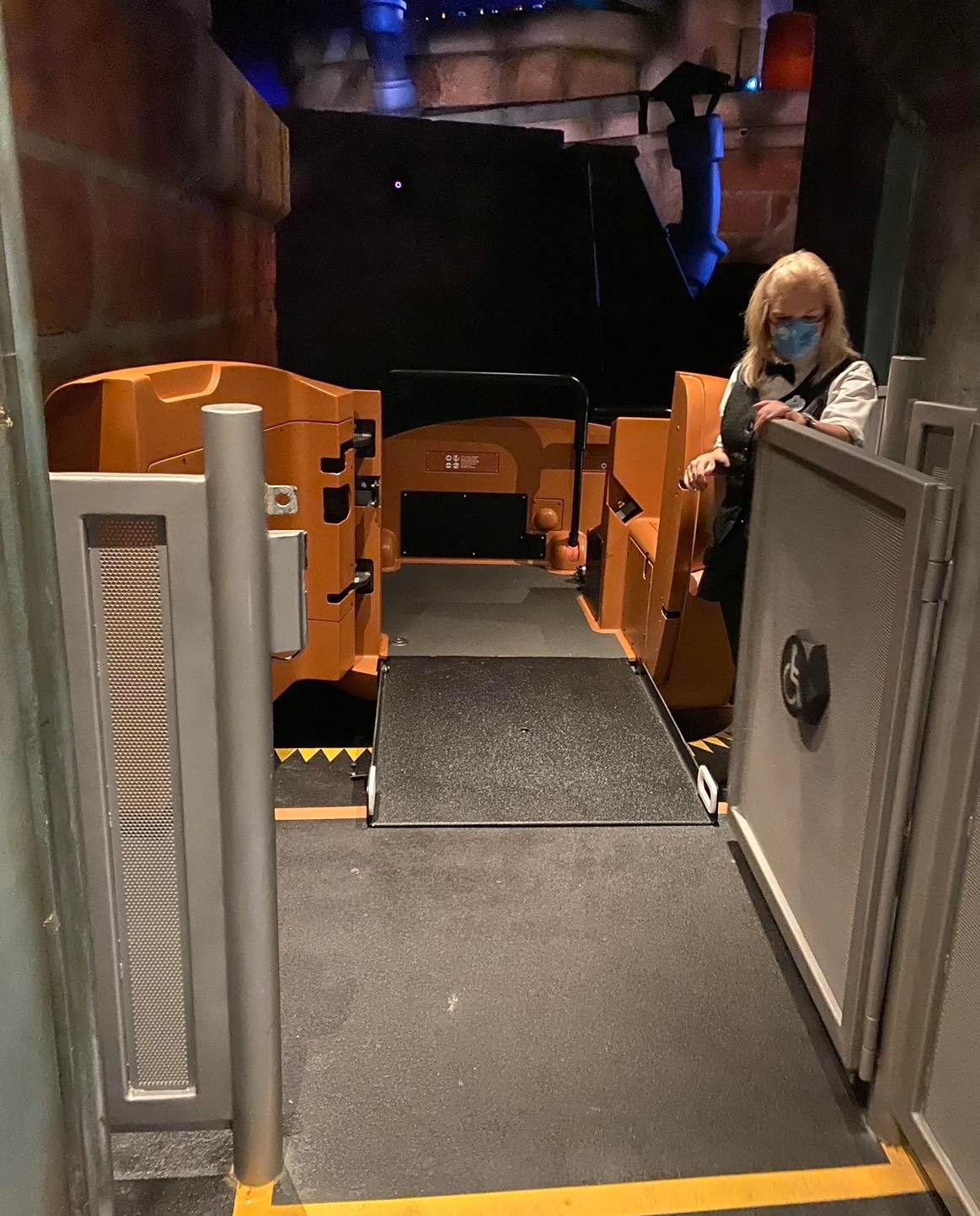 The Cast Member will direct the wheelchair user when to drive in. Then the tie down hooks are fastened to the wheelchair – one at the front and one at the back. Mobility devices unable to use the tie downs are not able to use the accessible ride vehicle (this might include strollers tagged as wheelchairs, and lightweight transport wheelchairs). There is a seat for one companion beside and to the right of the wheelchair passenger. The rest of the group will be sent to the unload area to board.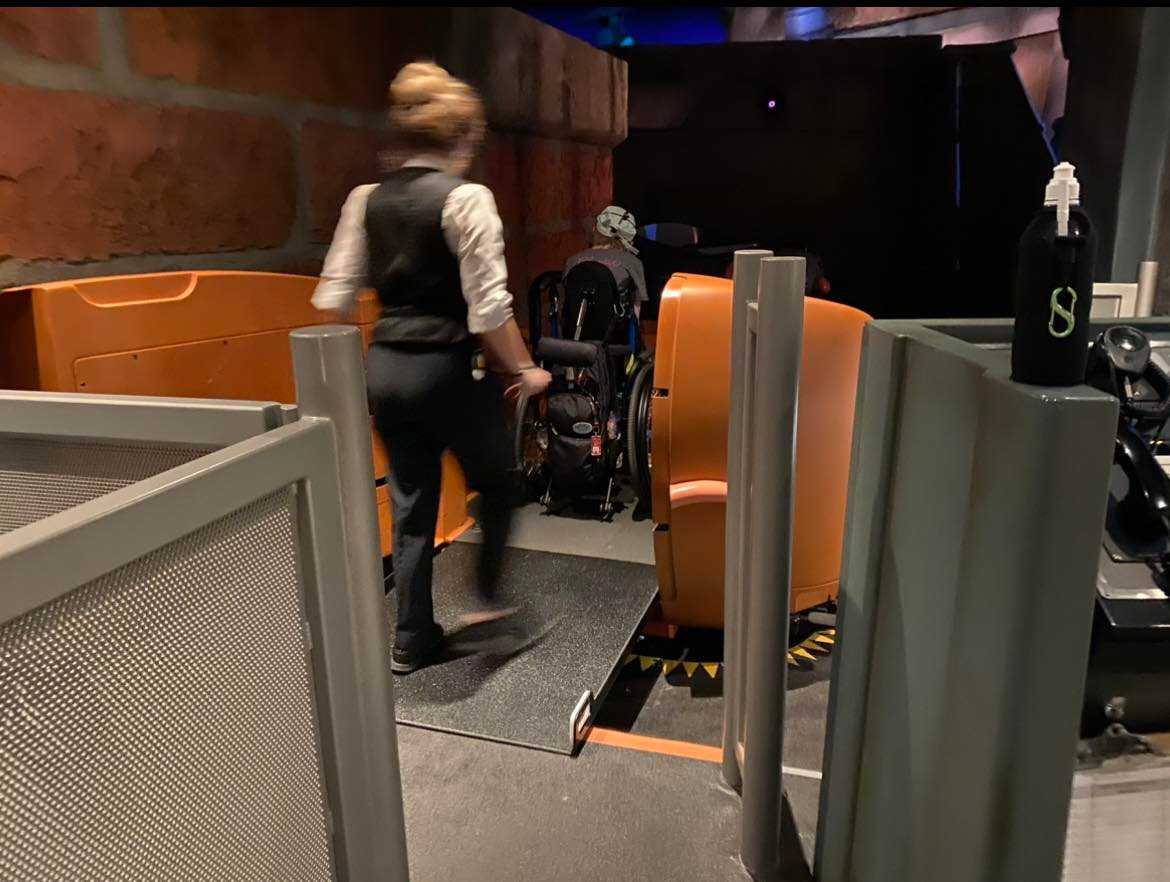 Additional details about Remy's Ratatouille Adventure
Ride vehicles move around on a flat floor using a hidden track, so you can't always tell where you will go. You will always be able to see the ground when you're parked at a screen. Other ride vehicles may not be on the same path.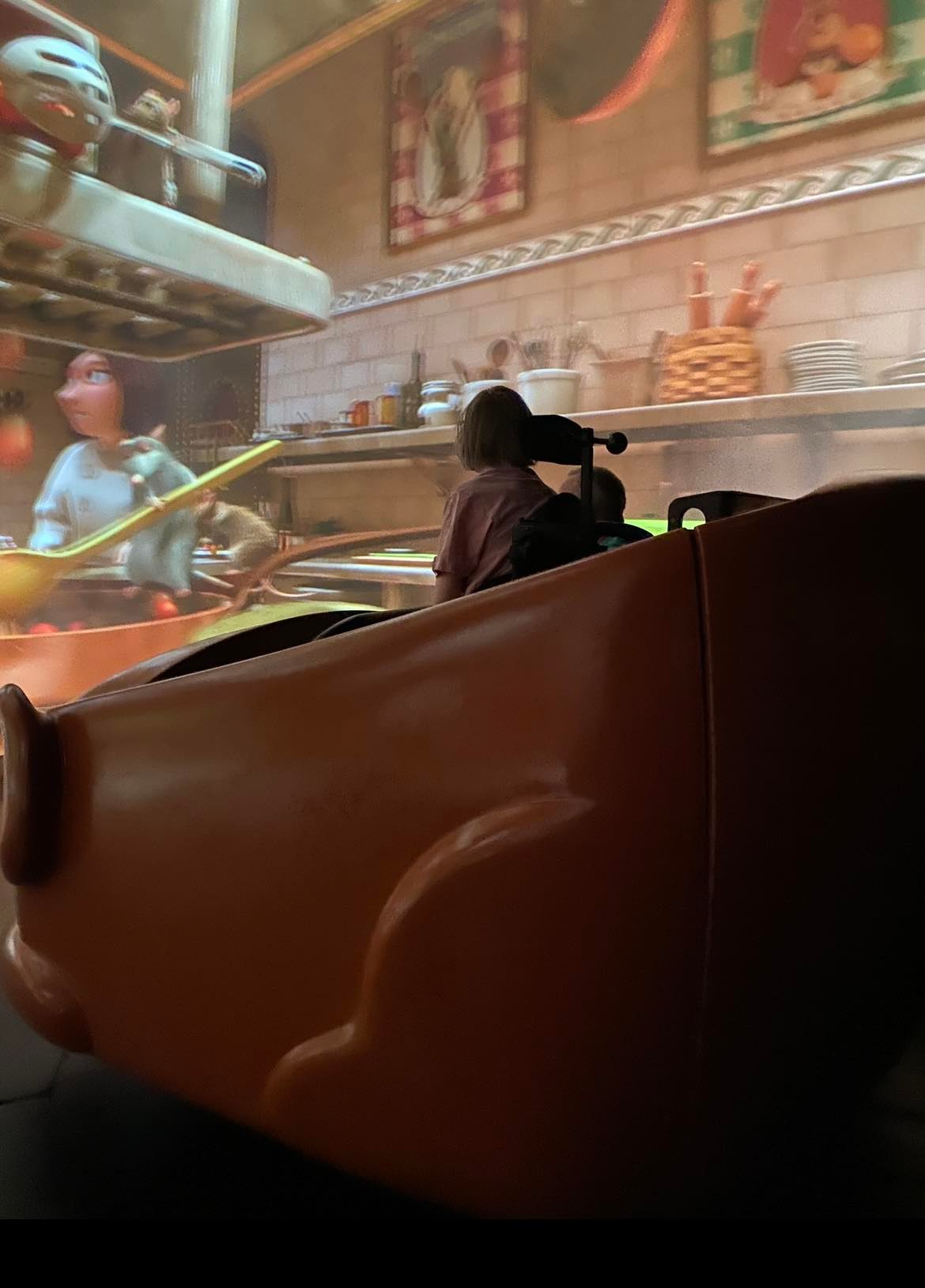 At first, everything moves slowly, accompanied by the charming main theme music from Ratatouille. The first 3D scene is Remy on the kitchen's glass roof getting advice on what to cook from the spirit of Gusteau. Soon after deciding to make ratatouille, a glass roof window opens and guests fall with Remy straight into the busy kitchen.
The rest of the attraction is a wild scamper with Remy and your fellow rats through the kitchen, dining room and walls to avoid being captured. The initial fall and some trips down ramps are quite convincing, but guests never actually move. The motion only occurs on the screen, with the ride vehicles parked on the flat floor. The effects can cause you to feel that you're moving.
There are actual turns and swerves through props as you go between 3D screen scenes. There are 4D scenes between the 3D screens that you pass by, designed to make you feel rat sized.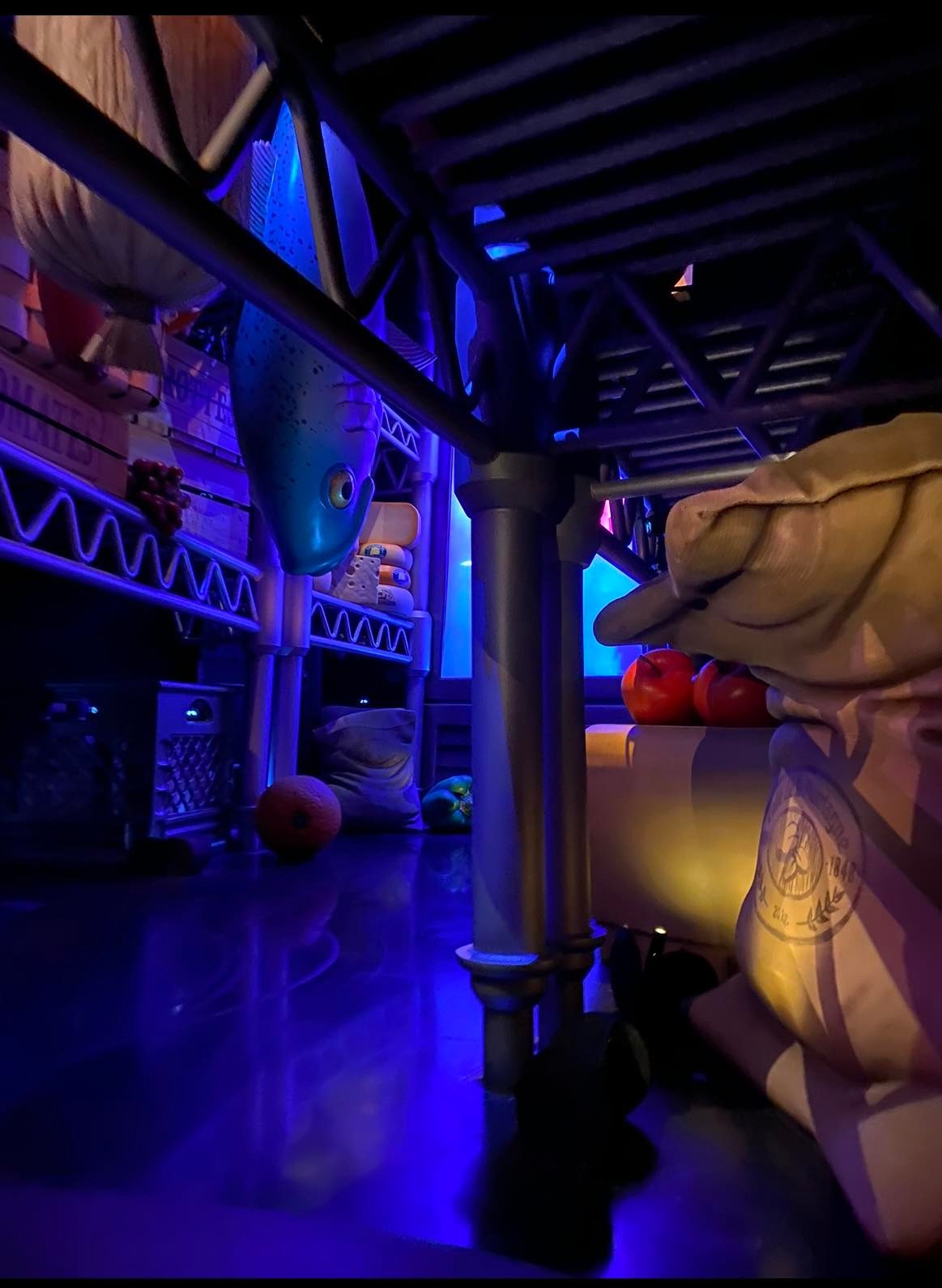 Remy's Ratatouille ride at Epcot – 4D Scenes between 3D screens (photo by Sue Mickelson)At one point, you will go under a hot stove and a champagne cork will come toward you (warm air, water and backing up effects).  The attraction ends happily, with no rats being caught!
So, how does Remy's Ratatouille Adventure feel physically?
When comparing this ride to Toy Story Mania and Mickey and Minnie's Runaway Railway, it's more gentle. The Toy Story Mania turns are quick, feel kind of jerky, and the turns are sharp. Mickey and Minnie is pretty smooth, with nothing really jerky except for the dance scene. In that scene, the ride cars move side to side, while facing forward.
Overall, this ride feels pretty smooth most of the time. The turns are not sharp or quick. The motion mostly happens when you're being taken from one screen to the next. There is a point where the ride car backs up fast, but not really fast and not in a jerky way. Most of the faster action takes place on the screen. Although Disney does not give any warnings, some people experience motion sickness, mostly from the 3D effects.
Check out more rides and attractions in Epcot:
WORLD CELEBRATION

WORLD DISCOVERY

WORLD NATURE

WORLD SHOWCASE
SEE RIDES AND ATTRACTIONS IN THE OTHER PARKS:
Join our Facebook group!!!!
Ask any questions, share your knowledge and just enjoy getting to know other Disney fanatics in our Facebook group called Walt Disney World Made Easy for Everyone.
Also: Like our Facebook page here.
And join me on Pinterest here.
GET UPDATES, NEWS & TIPS (IT'S FREE!!!) Plus get a Free Disney World Planning Schedule Form.
Sign up below to stay updated on the newest information, tips and tricks to help you plan your perfect Disney World trip!