Written by Sue Mickelson
Facts at a Glance About Guardians of the Galaxy: Cosmic Rewind:
Park:

 

Epcot. Location: World Discovery. Height Requirement: 42 inches (107cm). Genie+: No.
Individual Lightning Lane: Yes. Price varies, based on demand. Virtual Queue: subject to availability. Virtual Queue signup at 7 am from anywhere, and again at 1 pm for guests who have entered EPCOT. Guests can sign up for 1 Virtual Queue per day. Guests with DAS who joined Virtual Queue can speak to Cast Member (CM) to use their DAS after their Boarding Group is called.
Quick Notes: The adventure begins with a tour of the Xander Pavilion at EPCOT. Xander is the home planet of Rocket, Groot, Gamora and StarLord (the Guardians of the Galaxy). During the tour, guests are called to help the Guardians on a high speed, urgent mission through space and time.
Disney Warnings: Guests should be in good health and free from high blood pressure, heart, back or neck problems, motion sickness or other conditions that might be aggravated by the adventure. Expectant mothers should not ride.
Our Additional Cautions: The preshow includes loud noises and moments of darkness. The ride includes lighting effects, loud noises/music, and long periods of darkness. This is a fast, but relatively smooth roller coaster. The ride vehicle rotates backwards for a reverse launch with multiple 360° and smaller fast turns during the ride. The ride vehicle often travels in a different direction than it's facing. Ride cars are highly banked during much of the ride. The ride has a reported speed of 50+ mph and a G force of 2-3. The exit includes 2 long, steep stairways from the unload area back to ground level. Elevators are available for guests who can't/don't want to or don't feel well enough to use the stairs. There is a Guardian themed gift shop at the exit.
Length: Ride portion is about 3 minutes 20 seconds.
Special Needs & other info: Wheelchair & ECV accessible queue. Must transfer to ride vehicle. Transfer assist vehicle available. Individual formed seats with lap bar for each seat. Restraint and seat may prevent guests with some body shapes and sizes from riding.

Audio Description, Handheld Captioning and Assistive Listening. Service Animals are NOT permitted. Children under 7 years must be accompanied by a guest over 14 years old.
Overview of Guardians of the Galaxy: Rewind, in Epcot
The grand opening for this ride was on May 25, 2022. The indoor queue, pavilion, preshow, and boarding areas are housed in the former Universe of Energy building in EPCOT's World Discovery (previously called Future World). A gigantic newly constructed building houses the ride, which is one of the longest indoor roller coasters in the world.
Disney calls this a family dark thrill attraction for tweens, teens and adults. Even though it is a 'family' attraction, it is a quite intense experience. You may want to watch videos of the ride before riding if your party includes sensitive or young guests.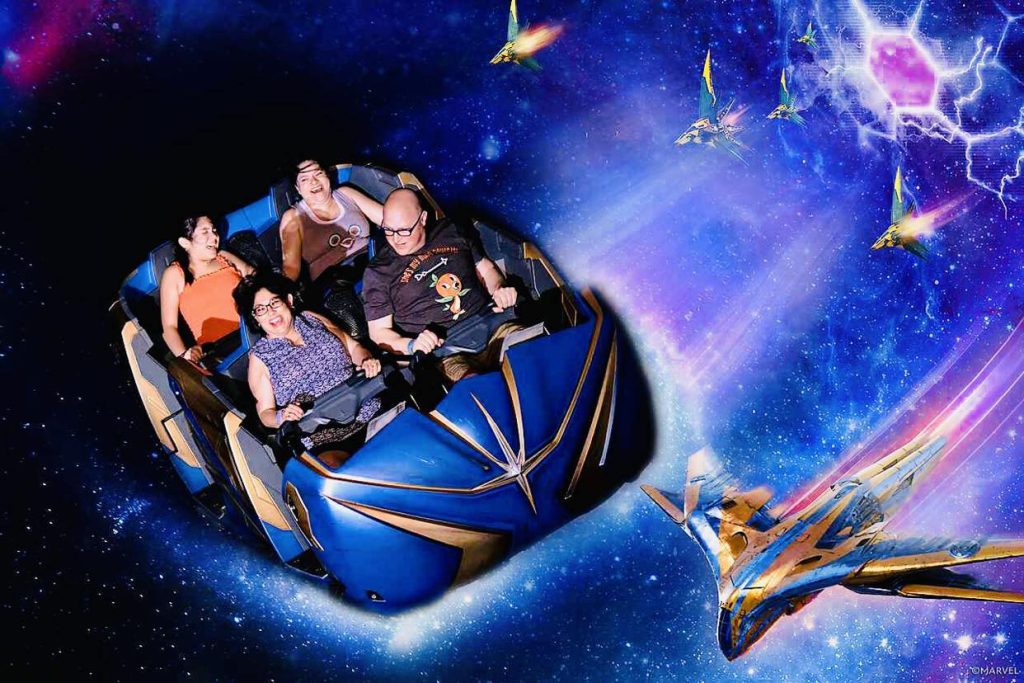 This attraction features members of the Guardians of the Galaxy, including Peter Quill/AKA StarLord, who has fond memories of childhood visits to EPCOT. It is helpful, but not necessary to have viewed the Guardians films.
Here's the story: Guests are visiting EPCOT's first Other World exhibit – the Wonders of Xander Pavilion. The tour of the pavilion leads to a presentation about the Nova Empire, which Xander is the capital of. Guests teleport to a Nova ship for a demonstration of the Cosmic Generator, which is technology that allows creation of "jumppoints" or shortcuts to various destinations and times.
Unfortunately, soon after guests transport to the Nova ship, the Cosmic Generator is stolen by an entity named Eson. Guests are sent to shuttles and the chase is on to help the Guardians recover the Cosmic Generator and save the Universe.
Queue for Guardians of the Galaxy: Cosmic Rewind
This attraction currently uses Virtual Queue/Boarding Groups and Individual Lightning Lane (paid). There is no regular stand by queue.
Virtual Queue sign up for Guardians of the Galaxy
This is offered at 7 am on the My Disney Experience app for all guests. And at 1 pm for guests who have entered EPCOT. Rules for registering for Guardians of the Galaxy Virtual Queue can be found on Disney's site here. This includes info on Extended Evening Theme Park Hours rules and party rules, such as Mickey's Very Merry Christmas Party.
There is also a 6 pm sign-up which is only for those guests who have access to the Extended Evening Theme Park Hours.
As said above, you'll sign up using your My Disney Experience account, with your phone app. Guests who successfully register for the Virtual Queue are assigned to a Boarding Group in the My Disney Experience app. An estimated call back time for your Boarding Group will be displayed in the app. Keep checking the app and have notifications enabled because the time can change.
Once your boarding group is called, guests have a 1 hour window to report to the attraction. Cast Members may allow later entry at their discretion. This means that those who show up late may or may not get in.
DAS and Virtual Queue for Guardians of the Galaxy:
Guests using DAS (Disability Access Service) can speak with an attraction Cast Member once their Boarding Group is called. Look for Cast Member with an iPad near the entrance. The Cast Member scans the DAS holder's ticket/Magicband to verify the Boarding Group and DAS, then issues entry into the Lightning Lane.
The Guardian of the Galaxies queue experience:
There is some shade on the outdoor portion of the queue near the building. The line usually doesn't extend outdoors. The regular waiting line is to the left of the center of the building. Lightning Lane is to the right.
Guests entering the regular line when their Boarding Group is called will not be riding immediately. Their wait in line will be usually between 30 and 120 minutes. Guests using the Lightning Lane will generally wait 15-20 minutes. The wait can occasionally be a bit longer, especially if the attraction was closed for some reason.
Both regular and Lightning Lane queues enter into the "Galaxarium", a round planetarium-like room where guests begin learning about Xander/Nova Empire and how it relates to Terra (Earth). The Galaxarium is lit by blue hued lights and planets/stars on the high ceiling. It's dim, but not dark. Crowd noises can be heard, but are muted by 'new age/space' ambient music. Both regular and Lightning Lane queues are wide accessible ramps leading up to the next area. The regular line winds around in the Galaxarium. The Lightning Lane is a shorter ramp to the right.
In the next area, the Lightning Lane enters a hallway with 'holographic' screens showing interviews with the Guardians of the Galaxy. The regular line enters a gallery with exhibits, artifacts, screens and models explaining Xandorian history and interviews with the Guardians.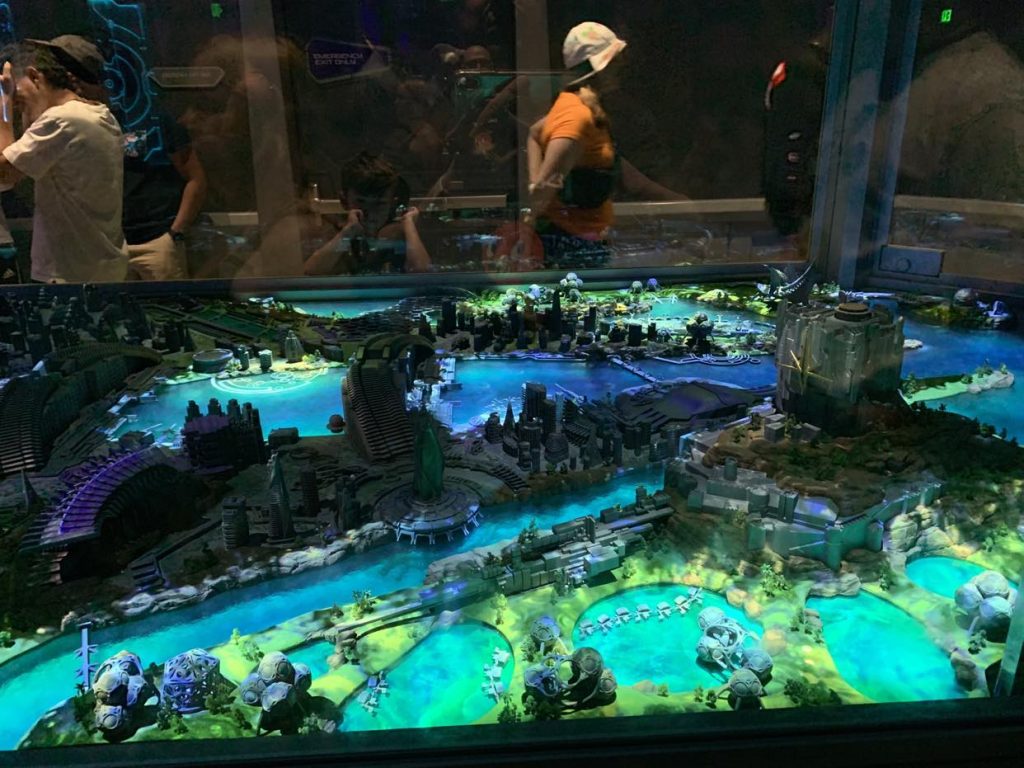 Hint: listen for Peter Quill's interview. He mentions how much he enjoyed visiting EPCOT as a child and how exited he is to revisit his favorite attractions. Guests who visited EPCOT in the early days will recognize many of the attractions. Guests whose first visits were recent, may not.
The exhibits are narrated. Guests may hear competing narration and interviews as well as crowd noise. Guests wanting extra time to look can let other guests pass by. Both the regular queue and Lightning Lane end in a large holding room with blue hued lights and more 'exciting' music.
Pre-show for Guardians of the Galaxy: Cosmic Rewind
Music and lighting from the holding room continue into the Preshow area. There, the next part of the adventure is described by your hosts, Nova Prime Irani Rael and Centurion Tal Marik, on large wide angle screens high up on the wall.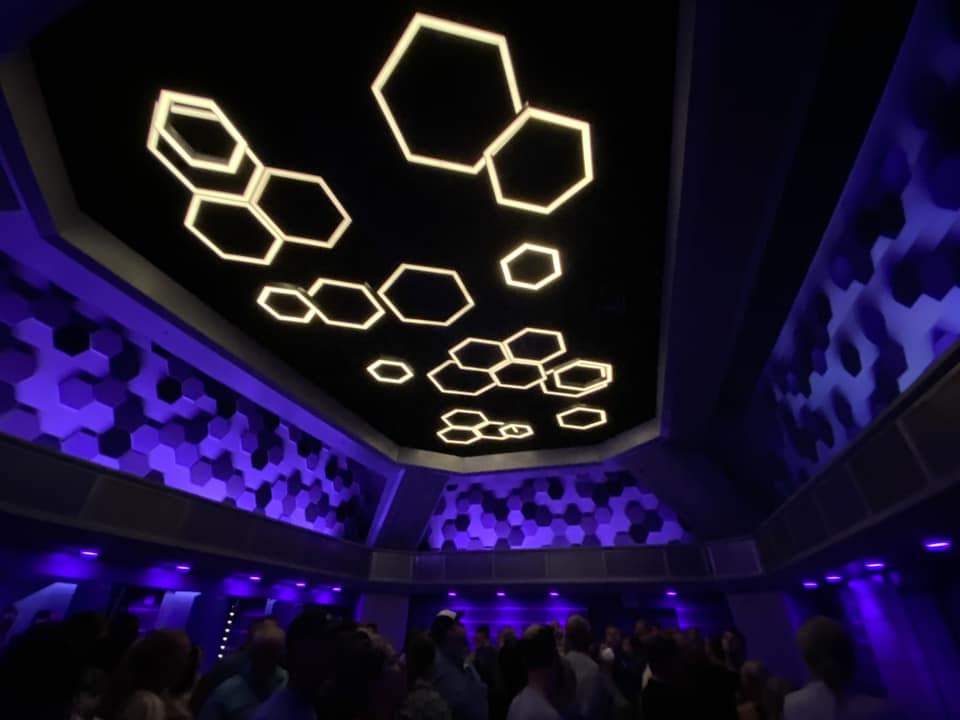 Guests then enter the 'transport' room with teleportation equipment on the ceiling. Centurion Marik mentions they have not teleported Terrans (earthlings) before, but think it should work. This may be concerning for some guests.
The teleportation process to the Nova ship includes blinking/swirling white, blue and red lights. Guests will hear whining machine sounds and other mechanical sounds. The room goes completely dark for a few seconds, then wide angle view screens and smaller screens on the wall show your hosts, along with a view of Earth from space.
Suddenly, the lights go off for a few seconds as the ship "loses power". A red alert is called with pulsating red lights and alarm sounds. The Guardians of the Galaxy appear on another screen to answer the alert. The view screen shows a very large entity named Eson escaping thru a 'jumppoint', along with the Cosmic Generator. Guests are instructed to go to the evacuation area to board escape shuttles. However, the Guardians of the Galaxy enlist guests to use the shuttles to follow Eson, and help recover the Cosmic Generator.
Boarding for Guardians of the Galaxy: Cosmic Rewind
There are high ceilinged, ramped hallways with red lighting. The hallways nclude overviews of the two boarding areas, one on each side. You'll encounter a final Disney warning sign, the height measure and 'exit without riding' option, before row assignment.
Each 'train' is made up of five 4 seat vehicles with 2 seats per row. There are individual lap bars for each seat. Seats are approximately chair height and guests need to step up and over a small doorway into the ride car. Seats and restraints may prevent guests with some body shapes and sizes from riding. The train is stationary for loading and not dispatched until Cast Members check that all restraints are secured.
Watch the entire ride, including a good look at the ride cars and boarding process:
Accessibility, wheelchairs and ECVs for Guardians of the Galaxy
Guests must transfer to a ride car from their wheelchair, ECV or other mobility device. The last car in each 'train' has a transfer assist row with a door that can be opened wider. Mobility devices can be brought close to the vehicle and the Cast Member moves your device from boarding to the unload area.
Additional details about Guardians of the Galaxy: Cosmic Rewind
While waiting to board the shuttles and preparing to launch, guests will hear StarLord and Gamora express confidence about the success of the mission, while Drax and Rocket are pessimistic. This is consistent with their characters, but may be upsetting to some sensitive guests.
Your journey begins by going thru a large port that leads to an impressive view of outer space. As you travel forward through a jumppoint, the guardians attack Eson, resulting in darkness. Then an explosion launches your train backwards thru a swirling white light effect. After chasing Eson through multiple jumppoints, the mission is successful and guests return to EPCOT.
The motion you'll experience on Guardians of the Galaxy
This ride combines a roller coaster with Omnivision to create a new ride system called an 'Omnicoaster'. Omnivision is featured in Haunted Mansion and Spaceship Earth to slowly turn the ride vehicle to draw attention to specific scenes. An Omnicoaster has the same function, but because of darkness, ride speed and onscreen motion, most turns are quick and unpredictable.
Your ride car is sometimes traveling in the same direction as the track, but is often facing sideways or backwards compared to the direction of travel. The track swerves and is often steeply banked. Take a look at this video which shows how deeply banked the ride cars are much of the time.
There are no inversions, but there is one downward corkscrew spiral (like water going down a drain). Your car is attached to the rest of the train, but darkness and turns give the illusion of floating alone in space. This can be very disorienting.
Screens and Lighting
Much of the ride takes place in almost total darkness with projections on massive screens above and around you. Eson appears on the screen as you catch up to him, with flashes of light, as the Guardians try to get the Cosmic Generator away from him. Motion on the screen is often moving quickly away from you. Your ship travels through multiple jumppoints which appear as half-hexagon lighted archways with light effects as you 'jump' through. As your adventure ends, your ship travels through some corridors before being congratulated by the Guardians and entering the unload area.
Music and Sounds during Guardians of the Galaxy 
A song from a list of six featured 1970s or 1980s rock songs plays during the ride. Speakers are located in each row between seats. Other loud sounds include static, explosions, blasters, voices of Guardians and Eson.
Will Guardians of the Galaxy cause motion sickness?
A significant number of guests report mild to severe nausea/motion sickness during/after riding (30-35% or more on social media), and others reported feeling unsteady. Barf bags and benches are available at the exit. Interestingly, some guests who never experienced motion sickness have suffered with it on this ride. Others who expected to be sick were surprised to not have issues. It probably has to do with how the combination of motion, speed, turns and darkness affect each guest.
Here are some things that might help if you're concerned about motion sickness :
Don't go on a completely empty or full stomach or after drinking alcohol
Consider medication/treatment for motion sickness. Allow time for it to work before riding Guardians of the Galaxy.
Tell a Cast Member that you are concerned. Rows 4, 5 and 6 are often recommended.
If you start to feel sick, try to focus on where the track is heading, not on the screens. The track is difficult to see and you may not be able to tell direction of travel because of darkness and car position. Another suggestion is to look straight towards where your vehicle is being pointed.
Barf bags and benches are available at the unload area.
Use the elevators if you feel ill or unsteady. There are reports on Social Media of guests who were unsteady and have fallen on the stairs. Better safe than sorry.
Watch the entire ride including the queue and pre-show:
Here's a behind the scenes look at the technology and how things work for Guardians of the Galaxy:
Check out more rides and attractions in Epcot:
WORLD CELEBRATION

WORLD DISCOVERY

WORLD NATURE

WORLD SHOWCASE
SEE RIDES AND ATTRACTIONS IN THE OTHER PARKS:
Join our Facebook group!!!!
Ask any questions, share your knowledge and just enjoy getting to know other Disney fanatics in our Facebook group called Walt Disney World Made Easy for Everyone.
Also: Like our Facebook page here.
And join me on Pinterest here.
GET UPDATES, NEWS & TIPS (IT'S FREE!!!) Plus get a Free Disney World Planning Schedule Form.
Sign up below to stay updated on the newest information, tips and tricks to help you plan your perfect Disney World trip!