Header photo by Marie Whitten Tropeano
All About Test Track in Epcot's Disney World
Facts at a glance:
Park:

 

Epcot. Location: World Discovery Height Requirement: 40″ (102cm) or taller
Genie+: Yes. Individual Lightning Lane: No.
Quick Notes: Ride in a car that you design, as it's tested in various conditions
Disney Warnings: Thrill Ride, Small Drops. Test Track is a turbulent thrill ride that features a series of automotive testing environments including slippery road surfaces, rapid acceleration, sudden braking, sharp turns, and steeply-banked curves. WARNING! For safety, you should be in good health and free from high blood pressure, heart, back or neck problems, motion sickness, or other conditions that could be aggravated by this adventure. Expectant mothers should not ride.
Our Additional Cautions: Thrill rides, small drops. Includes periods of darkness, light effects (see below), sharp hairpin turns, sudden braking, sudden acceleration, skidding, riding uphill, and over 50-degree banked curves at speeds up to 65 mph. People of size may find these seats challenging.
Length: The ride lasts approximately 5 minutes.
Special Needs & other info: You must transfer from your wheelchair or ECV to the ride car. Service animals are not allowed on this ride. Children under the age of 7 must be accompanied by someone at least 14 years old. Due to the nature of the experience, service animals are not permitted on this attraction. Video Captioning. Automated External Defibrillators. Single Rider Queue. 

Overview of Test Track in Epcot
You're a designer testing out your vehicle's design efficiency. Prior to your ride, you'll "custom design" your own virtual vehicle using a 42-inch touch screen to choose things like the size of the wheels and length of your vehicle.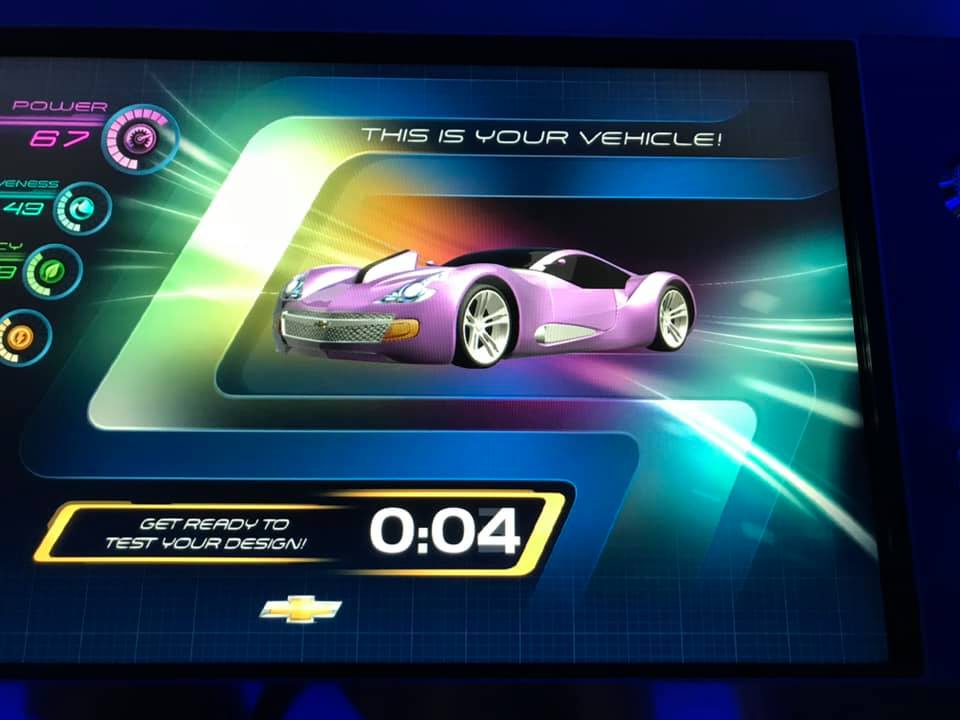 You'll then get to ride through various tests, seeing your virtual car design's performance scores. Of course, the actual ride cars will not look like the car you've designed.
During the ride, you'll experience motion including sharp hairpin turns, sudden braking, jerking, skidding, sudden acceleration, climbing a hill and riding along 50-degree banked curves that have you almost sideways up to 65 miles per hour. At one point, the vehicle skids and the rear end slides back and forth. Some people find the outside portion of the ride more exciting at night, since the darkness can add to the thrill.
Waits here can be long, so we recommend using Genie+ for this ride if possible. Get your Genie+ reservation as early as you can because there's only a limited amount given out each day, and they're usually gone early. There's also a single rider queue, which can cut down on your wait considerably, but you'll most likely be separated from your party. At times, guests using the Genie+ or single rider queues will bypass the area where they design their own virtual cars.
Queue, pre-show and loading information for Test Track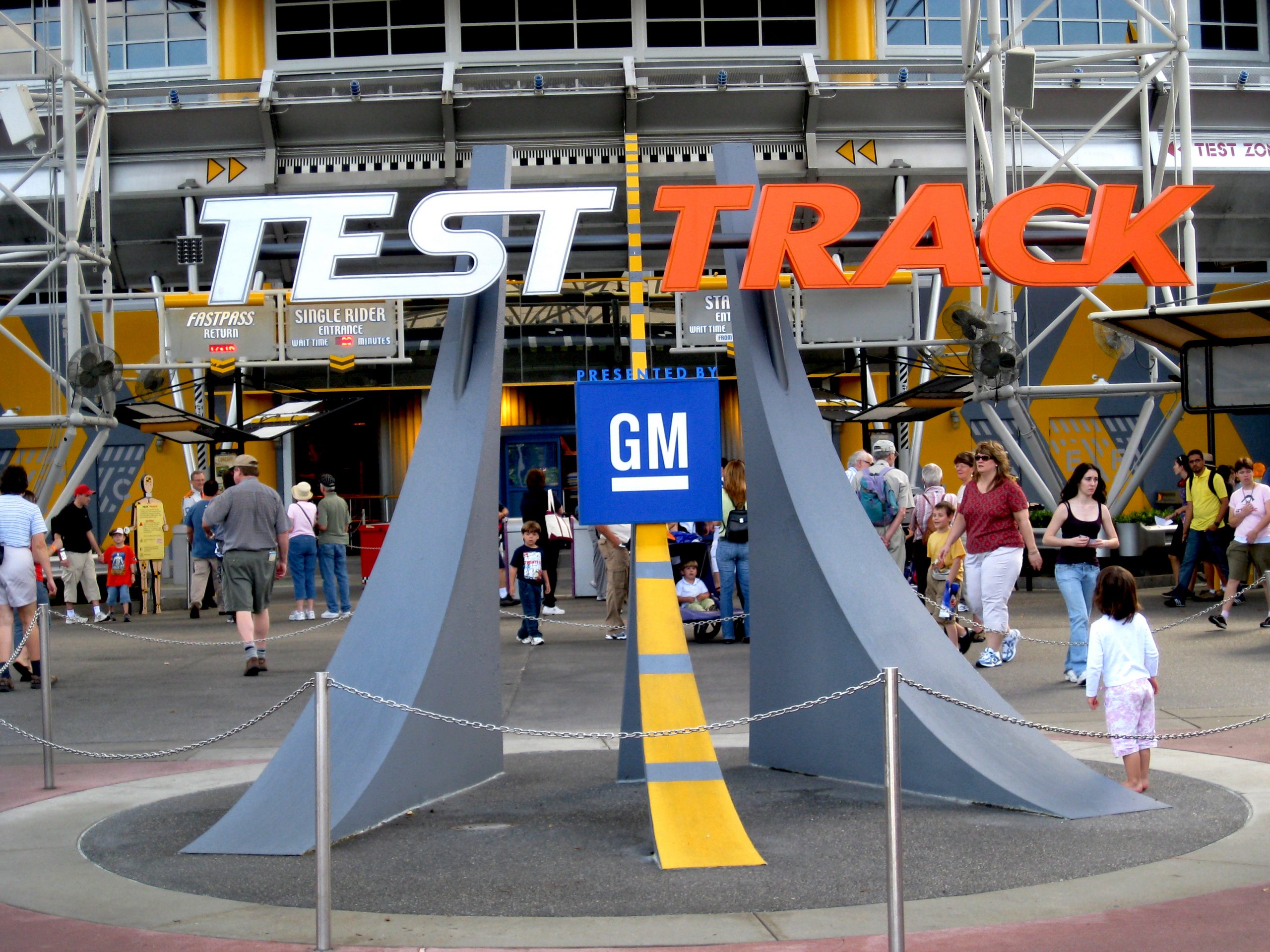 The main queue has some futuristic looking vehicles along with some other things to see related to car design. Guests will enter a room off of the queue to design their virtual vehicle. This is a quick process, lasting approximately 2–3 minutes, and some guests report that the time constraint feels somewhat stressful.
The ride car is a 6-passenger (2 rows of 3 people) ride vehicle with no top. If you don't have three people in your party, a stranger will be placed in your row. The seats are like auto bucket seats with a headrest. The outside seats have shoulder/lap-style belts, and the middle seats have only lap belts. People of size may find these seats challenging. Their vehicle seats are on the low side.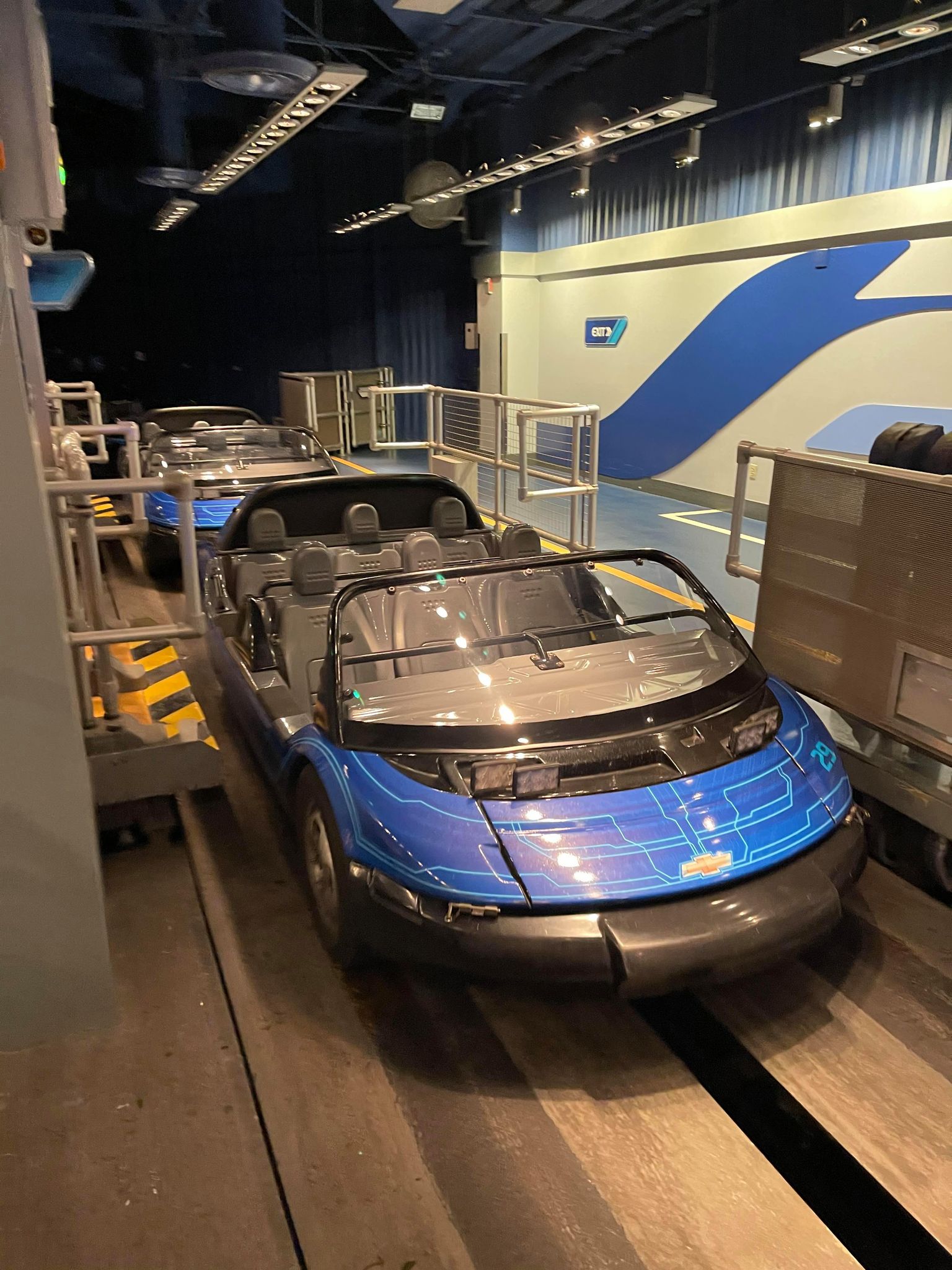 Wheelchair/ECV and accessibility information for Test Track
Wheelchair and ECV riders use the main queue. You must transfer from a wheelchair onto a ride car. To make transferring into the vehicle easier, you can use the seat as a step. Once you're on the load platform, you'll need to get on board as quickly as possible. Be sure that you know exactly how you'll board by the time you reach the platform. If you feel you may have trouble with boarding, you can practice on the stationary vehicle outside the main entrance to the left. Mobility devices left at the boarding area will be waiting for you at the exit side when you unload.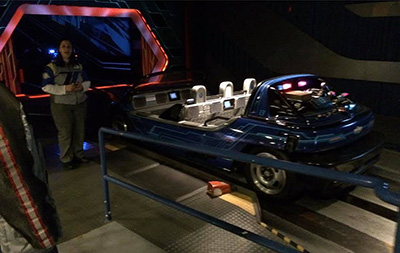 If you're unable to step up and down over the side of the ride car, ask to board at the alternate boarding area where you'll load onto a special ADA ride car, though you may have to wait for it to come around. You'll be brought up one level in a very small elevator while riding in your wheelchair. The elevator is just large enough for a single wheelchair, and there's no room for a companion. The rest of your party will be directed up a flight of stairs, and they'll meet you at the alternate boarding area.
You can also request a grab bar be added to make pulling into the car easier. This alternate area is the seat belt check point, and it's designed to make transferring easier because the side of the ride car is more level with a wheelchair seat. The car can be entered from the side. It's still may not feel easy for some, and it's similar to sliding over the edge of a bathtub and down into the car. The wheelchair can be parked as close to the ride car as needed for transferring.
After boarding, the cast member will move the wheelchair out of the way. When the ride is over, your party will remain in the ride car, passing through the regular boarding/unload area. You'll end up in the same spot you loaded, with the process being reversed to unload.
Additional details about Test Track
The top car speed is 65 mph, but it can feel faster since you're in an open car. There's one moment where it looks like you'll crash through a wall, but of course you don't. Also, there's a "close call" with a truck that looks like it's going to hit you head on. There are a wide variety of light effects, including lightning. A bright light happens when your photo is taken just before you're about to crash through the wall.
Since part of the ride is outdoors, they'll shut it down if there's lightning within 5 miles. If a thunderstorm threatens, you may wish to skip this attraction and come back another time.
Personally, I find that this ride is not roller-coaster scary. It does seem faster moving than the old version because they removed some of the pauses, slowdowns and stops. Though there are a few moments meant to be scary, I would say that the majority of this ride is not scary. Still, those who are sensitive may find it scary at times.
I did not find this ride to be as physically demanding as many of the other Disney thrill rides. I didn't experience any irritation or discomfort with my moderate back or neck issues, nor did others that we've heard from who have mild to moderate back and neck issues. However, if any of the above described experiences would bother you in a regular car in the real world, then you should definitely avoid this attraction. Also keep in mind that Disney does post a warning concerning back and neck problems, high blood pressure, and anything else this attraction could impact, and as always, their warnings should be taken seriously.
This ride has been known for breaking down more frequently than most others. If you happen to be on it when it breaks down, don't panic. They'll get you going again soon. If they need to evacuate the guests, you'll either need to walk over stairs and through narrow passages, or wait to be evacuated by cast members. This is quite rare, however. It's almost always possible for the ride vehicles to be brought back to the station, even if it's at a very low rate of speed.
After the ride, as you exit, you'll find many things to do. You can see the score of the car you created, take a photo with the car you built and email it, and view some Chevrolet cars (it looks like a new car showroom).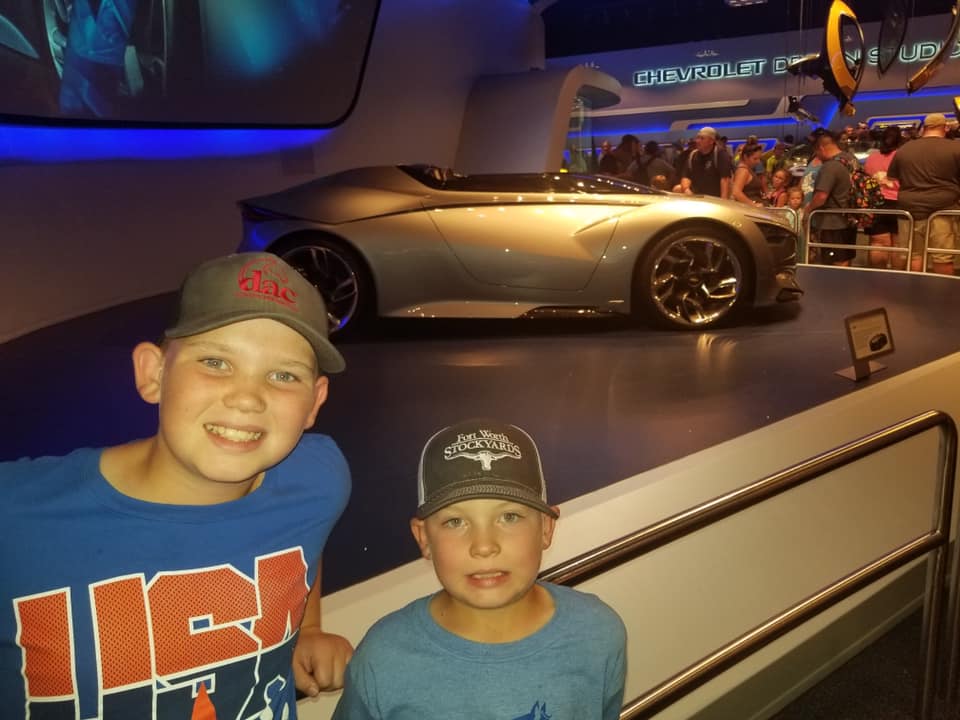 Check out Test Track on video:
Check out more rides and attractions in Epcot:
WORLD CELEBRATION

WORLD DISCOVERY

WORLD NATURE

WORLD SHOWCASE
SEE RIDES AND ATTRACTIONS IN THE OTHER PARKS:
Join our Facebook group!!!!
Ask any questions, share your knowledge and just enjoy getting to know other Disney fanatics in our Facebook group called Walt Disney World Made Easy for Everyone.
Also: Like our Facebook page here.
And join me on Pinterest here.
GET UPDATES, NEWS & TIPS (IT'S FREE!!!) Plus get a Free Disney World Planning Schedule Form.
Sign up below to stay updated on the newest information, tips and tricks to help you plan your perfect Disney World trip!