Facts at a Glance About The Seas with Nemo & Friends:
Park:

 

Magic Kingdom. Location: Future World West. Height Requirement: None. Genie+: Yes. Individual Lightning Lane: No.
Quick Notes: Ride a "clamobile" in a search for Nemo through underwater scenes. Smooth, slow-moving, level ride.
Disney Warnings: You may get wet.

Splash Mountain is a turbulent flume adventure with high speeds, heights, and sudden drops and stops. WARNING! For safety, you should be in good health and free from high blood pressure, heart, back or neck problems, motion sickness, or other conditions that could be aggravated by this adventure. Expectant mothers should not ride. 
Our Additional Cautions: Includes dark areas, view of fish, sharks (animated shark from the Nemo movie), passage through a dark tunnel, jelly fish, tunnel with quickly moving sea creatures that intensifies the feeling of movement, and passage through a tunnel where the ride car moves so slowly through that it feels as if you've stopped. It has low ceilings and walls that can feel close. See below for more cautions and details.  
Length: The ride lasts approximately 5-6 minutes.
Special Needs Info: You must transfer from your ECV into a wheelchair. You can ride in the wheelchair or transfer to the vehicle seat while walking on a moving conveyor belt. For power wheelchair users, in most cases queues and rides that allow manual wheelchairs also allow most power wheelchairs. See the Cast Member at the attraction for your options. Handheld Captioning. Audio Description. Children under age 7 years must be accompanied by a person age 14 years or older.

Overview of The Seas with Nemo & Friends
Based on the movie Finding Nemo, guests ride a "clamobile" following Marlin and Dory in the ocean as they search for Nemo. During portions of this ride animated characters from Finding Nemo are projected into the massive 5.7 million gallon aquarium tank full of real fish (at least 65 species including sharks). It's an amazing effect that makes it appear as if the animated fish are actually swimming inside the tanks. By the end of the ride, Nemo is found and reunited with his friends for a Disney happy ending. Though the technology is exciting, here's what one Disney visitor had to say:
"We were excited to find that we were going to be at Disney right when they unveiled the newly created Nemo ride. There was such a build up that we were expecting to be dazzled. Putting the animated Nemo in the real fish tank was a creative idea, but we found this attraction to be sadly underwhelming, and even boring. When we got off, we all just had that "is that it? Look." 
Of course as with anything Disney, this attraction also has its dedicated fans who love it!
Queue and ride car information for The Seas with Nemo & Friends
The queue is indoors and themed so that you begin at the beach but move down under the sea. It's long, winding, dim and cool. The queue turns have enough room for wheelchairs to navigate comfortably. It may feel claustrophobic to the very sensitive because the dimly lit queue seems to keep winding for quite a long time. However, we didn't have the sense of being closed in by walls. As the scene moves from the beach to the ocean floor, the ceiling above has lighting that looks like water patterns, and you can see the bottom of a boat above you to give the sense that you're looking up at the surface. There are also lights that project to look like a school of swimming fish. There's the sound of waves and sea gulls.
The clamobile looks similar to the ride cars in the Haunted Mansion (see Magic Kingdom Attractions section). These are far more cheerful looking, resembling giant clamshells. The seats are benches with backs, and the back of the ride car is a clam shell that curves overhead. They seat two. The little door at the front of the clamshell automatically slides closed as your ride car leaves the boarding area. Be careful to avoid getting any limbs, toes or fingers in the way.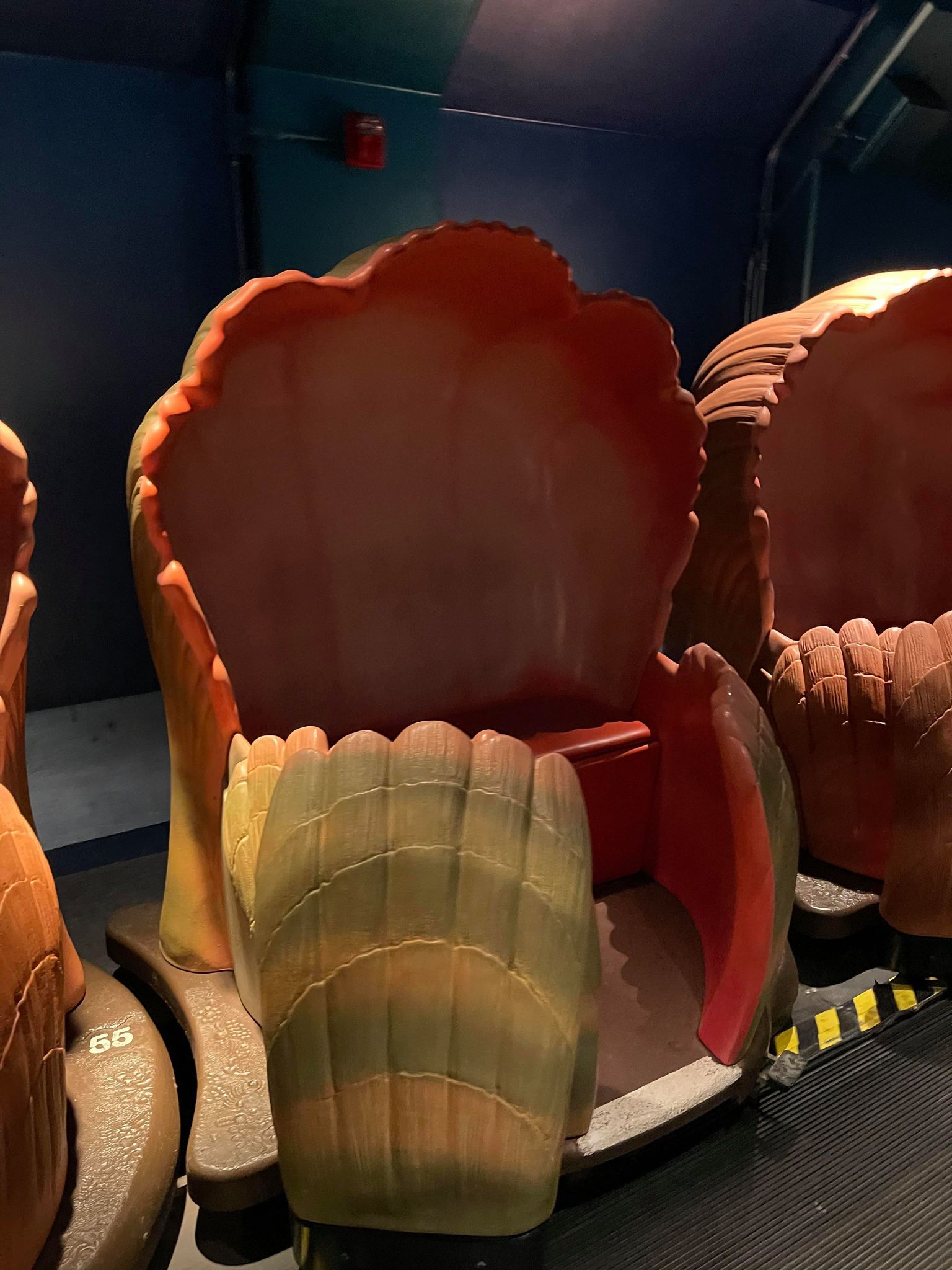 If a clamobile doesn't have its door fully closed when it reaches a certain point, the ride and the conveyer belt will automatically stop. Once the door is fully closed the ride can be started up again.
Wheelchair/ECV and accessibility information: To load into the clamobile, you'll walk on a conveyer belt moving at the same speed as the ride car. To load onto the vehicle, those in ECVs must transfer to a manual wheelchair or walk to the ride car. There's one clamobile that can accept a manual wheelchair plus one companion. Normally the conveyer belt can't be stopped, however it can be slowed down to almost a stop. Those in wheelchairs will be directed to go to the side of the boarding area to wait for the accessible clamshell to arrive. The cast member will open the clamshell and fold down a ramp so that the guest using the wheelchair and one companion can load. The wheelchair will wheel onto the conveyer belt and then onto the ramp to load. The cast member will make sure that the wheelchair is secure and close the ramp back up again.
Additional details about The Seas with Nemo & Friends
The ride cars generally move smoothly on level ground. They rotate so that you face toward the action. Sometimes you face forward, and sometimes your clamobile travels sideways facing the show. We could feel the clamshell pop on the track, but it was mild. Most people will not find it uncomfortable.
At times there are some small flickering lights designed to create an undersea appearance of lights hitting corals or other objects. They appeared to flicker slowly and at irregular intervals. There are also some lights that look like ocean creatures.
At times this ride is very dark. At one point you'll enter a tunnel moving sideways, where you join Crush and the turtles in the EAC (East Australian Current). At first it seems like you come to a stop, but you're moving very slowly. The ceilings are very low, and there are fish in motion being projected as lights on the wall and ceiling across from you. The combination of the small tunnel, barely moving vehicles and patterns of light projections could challenge those with claustrophobia and/or motion sickness.
Tip: If you have an issue with claustrophobia during the above described segment, remember that it doesn't last more than a minute or two, and only slightly longer if the attraction slows or stops to allow a wheelchair to load. Remember that you're going to be out of the tunnel and off of the ride very shortly. Keep your eyes down so that you're not looking at the walls, if necessary.
Tip: If you're prone to motion sickness, when you get to this tunnel, avoid looking at the fish projections. Just look down or close your eyes.
There are a couple of fish with big, sharp teeth that may scare the very sensitive.
View the queue and ride in this video:
The Seas Pavilion Information
In addition to the the ride mentioned above, the pavilion houses exhibits and aquarium-viewing tanks including a 5.7–million-gallon aquarium with more than 2000 fish. Among other things you'll see dolphins, sea turtles, sting rays, manatees, jelly fish and sharks. You'll find the aquarium beyond the exit after getting off of The Seas with Nemo & Friends ride. You can also reach this area directly by entering the Pavilion's exit on the left side of the main entrance.
There's plenty of room to navigate through the aquarium in a wheelchair or ECV, but it can become challenging when it's very crowded. The lights are dim within the building for better viewing of the exhibits. There are programs for certified divers and snorkelers, allowing them to swim in the tank. To participate, call (407) WDW-TOUR (939-8687).
Check out more rides and attractions in Epcot:
Future World East

Guardians of the Galaxy: Cosmic Rewind (

Opens in 2021)

Future World West

World Showcase

Disney's DuckTales World Showcase Adventure (Coming soon)
SEE RIDES AND ATTRACTIONS IN THE OTHER PARKS:
Join our facebook group!!!!
Ask any questions, share your knowledge and just enjoy getting to know other Disney fanatics in our facebook group called Walt Disney World Made Easy for Everyone.
Also: Like our facebook page here.
And join me on Pinterest here.
GET UPDATES, NEWS & TIPS (IT'S FREE!!!) Plus get a Free Disney World Planning Schedule Form.
Sign up below to stay updated on the newest information, tips and tricks to help you plan your perfect Disney World trip!