Facts at a Glance About Disney & Pixar Short Film Festival
Park:

 

Epcot. Location: Future World West. Height Requirement: None. Genie+: Yes. Individual Lightning Lane: No.
Quick Notes: Figment, a purple dragon, takes you on a tour to teach you about imagination. Smooth ride with mild inclines.
Disney Warnings: Dark. 
Our Additional Cautions: 3-D/4-D movie includes vibrating floor with very mild seat jolts during some scenes. Lightning effect. 
Length: The show takes approximately 18 minutes.
Special Needs Info: You can remain in your wheelchair or ECV. Due to limited seating only one person can sit right next to the person in the wheelchair. The rest of your party should be able to get seats in the row in front of the wheelchair row. Guests with Service Animals should check with a cast member to discuss whether their animal can handle the attraction. Guests can make their own decision.  Handheld Captioning, Video Captioning. Automated External Defibrillators. 

Overview of Disney & Pixar Short Film Festival
This theater use to house a tribute to Michael Jackson, and Honey, I Shrunk The Audience. It was replaced with 3 short 3-D animated Disney flicks with some minor 4-D effects such as mild seat motion. The short films are called Get a Horse, Feast and Piper. The 3-D effects are very effective and fun to watch!
Queue & seating information for Disney & Pixar Short Film Festival
The queue starts outdoors with a roof overhead; guests are usually standing here when the preshow area is full and they're waiting to enter the building. The remainder of the queue is indoors and air conditioned.
There's a pre-show in a dark room with slanted floors and no seating. If you find it hard to stand, you may get away with sitting on the floor all the way to the right. Try to have someone from your party stand to your left so that you don't get stepped on by the crowd. Guests are permitted to sit on the stage in the front.
The preshow area has many video screens above the crowd. There are two videos covering the history of Pixar Shorts and the Walt Disney company.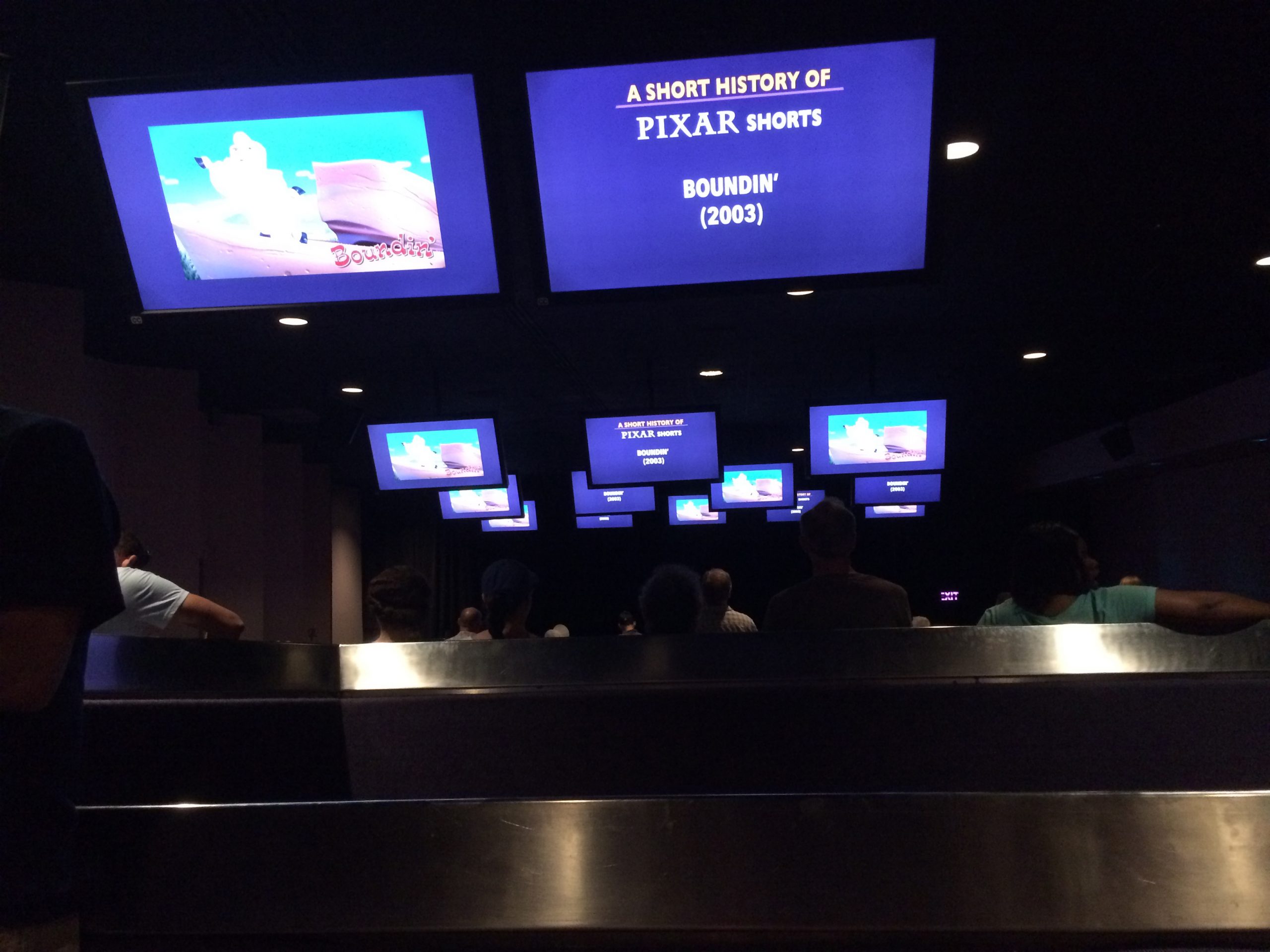 Those in wheelchairs and ECVs are directed to a separated area in the back with level floors. This area has a door that will open to the theater, and leads to only the back few rows when the show is ready to begin. There are rows of multiple screens so everyone in the queue can see, and there's video captioning on some of the screens.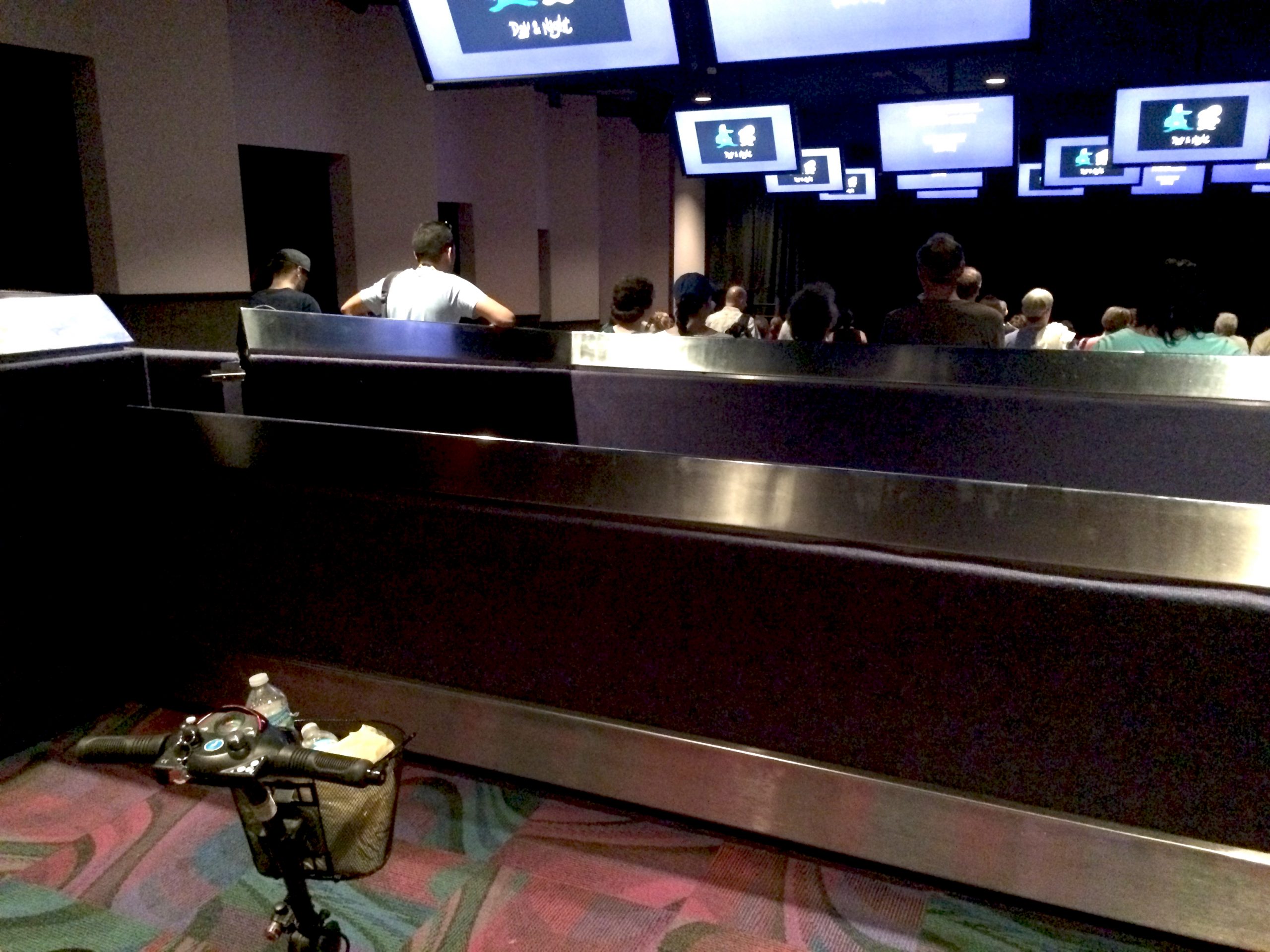 Details about the experience of Disney & Pixar Short Film Festival
Some of the 3-D effects are quite well done, and can be startling. You can always remove your glasses to see it's just a 3-D effect and not real.
The seats are theater style with backs and some padding. All seats have arms. They have some motion, though it's extremely mild and minor in our experience. If you would prefer to avoid this effect and you have a wheelchair, you may wish to view the show from your wheelchair.
You must wear the 3-D glasses provided by Disney in order to get the 3-D effect; these fit over your own glasses.
Check out more rides and attractions in Epcot:
Future World East

Guardians of the Galaxy: Cosmic Rewind (

Opens in 2021)

Future World West

World Showcase

Disney's DuckTales World Showcase Adventure (Coming soon)
SEE RIDES AND ATTRACTIONS IN THE OTHER PARKS:
Join our facebook group!!!!
Ask any questions, share your knowledge and just enjoy getting to know other Disney fanatics in our facebook group called Walt Disney World Made Easy for Everyone.
Also: Like our facebook page here.
And join me on Pinterest here.
GET UPDATES, NEWS & TIPS (IT'S FREE!!!) Plus get a Free Disney World Planning Schedule Form.
Sign up below to stay updated on the newest information, tips and tricks to help you plan your perfect Disney World trip!