Header Photo by Gillian Fisher
Location: In the Magic Kingdom Resort area. Address: 901 Timberline Dr. Lake Buena Vista, FL 32830. Phone: (407) 824-3200 Fax: (407) 824-3232. Parking fee: $25 per night Self-Parking, $33 per night Valet Parking. Check-in: 3 PM. Check-out: 11 AM. Resort Type: Deluxe & Deluxe Villas.
Overview of Disney's Wilderness Lodge Resort
As you pull up to the hotel entrance notice that the trees lining the driveway are mostly pines. Disney has taken pains to remove any tropical influence here.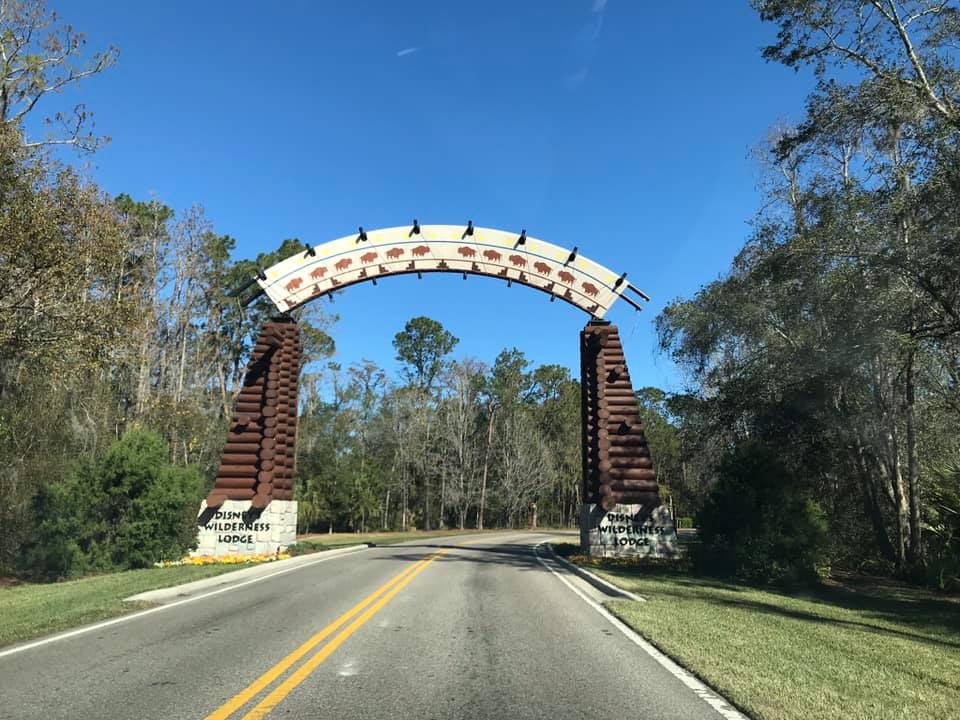 The peaceful and beautiful resort is modeled after Yellowstone National Park's Old Faithful Lodge circa 1904, though more upscale. The outside of the hotel has an oversized log cabin look, with wide stone and wood covered porches with inviting rocking chairs. Disney strove for authenticity, and in fact, much of the lumber was harvested in Oregon. The exterior front that you approach as you arrive is a little deceptive. It  doesn't really give away the splendor you'll find inside!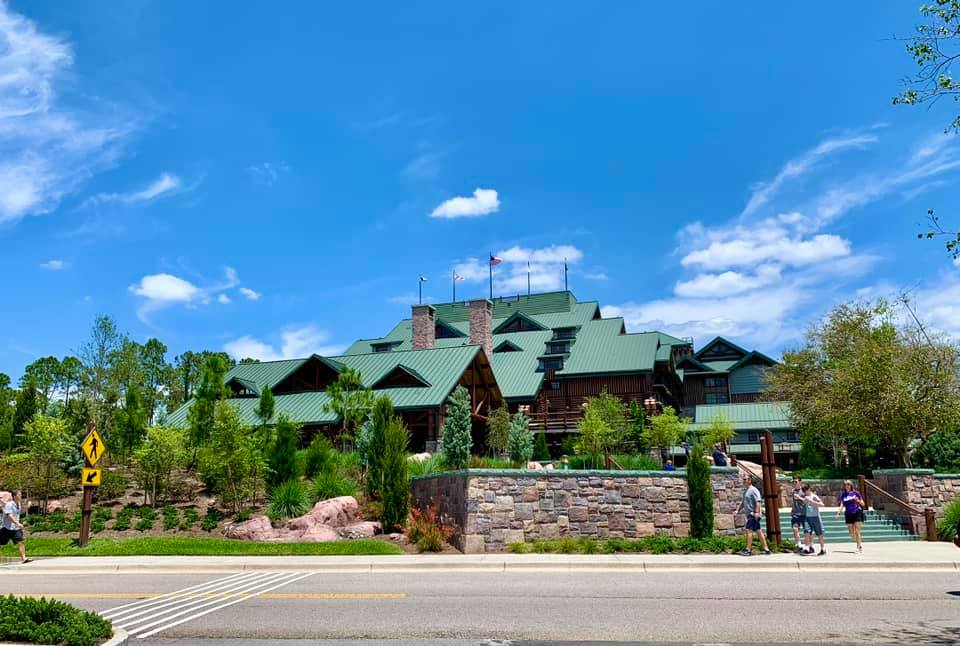 Wilderness Lodge and The Villas sit in the middle of a forested property, and it borders the large 450-acre Bay Lake.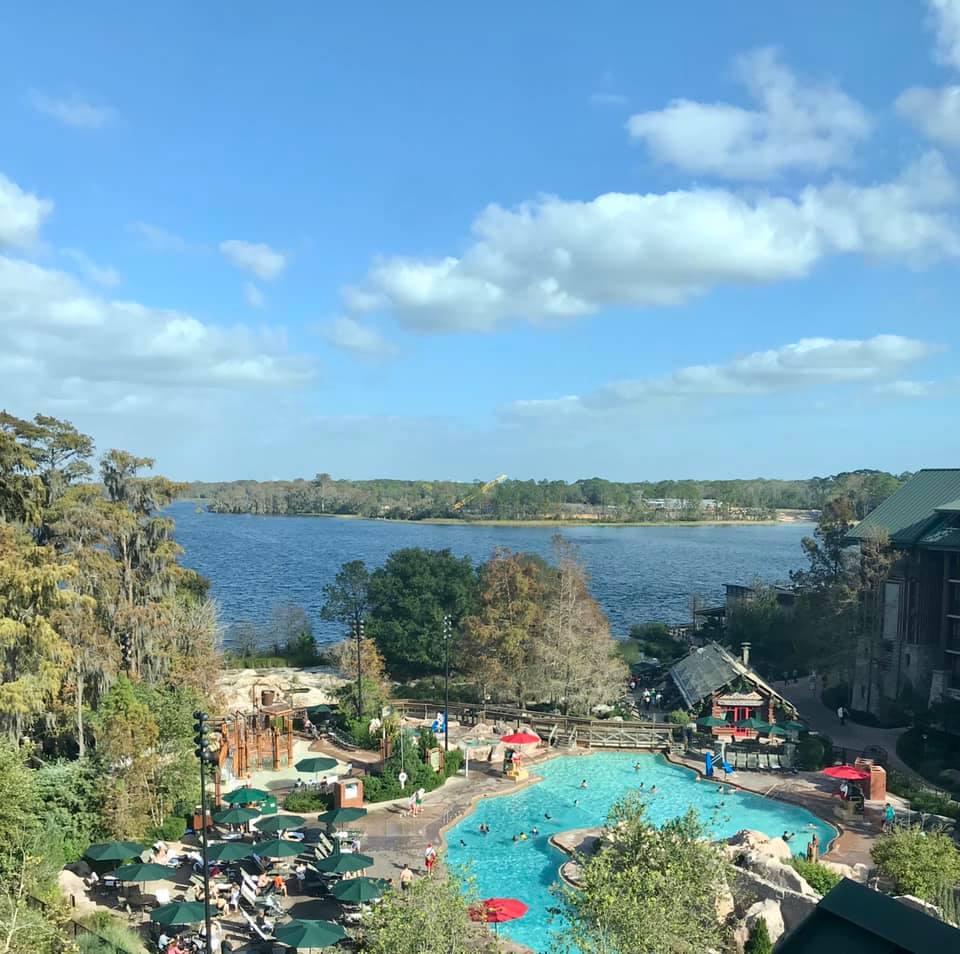 Walking into the amazing main lobby for the first time can be a jaw-dropping experience. Photos can't do it justice! When you enter, the scale of the place hits you. The 7-story open lobby is supported by huge six-story bundled log columns. Colorful Native American and early American explorer's décor, artifacts and reproductions make the lobby a visual picnic. Although the overall look and styling is rustic, everything is beautifully crafted and clearly luxurious.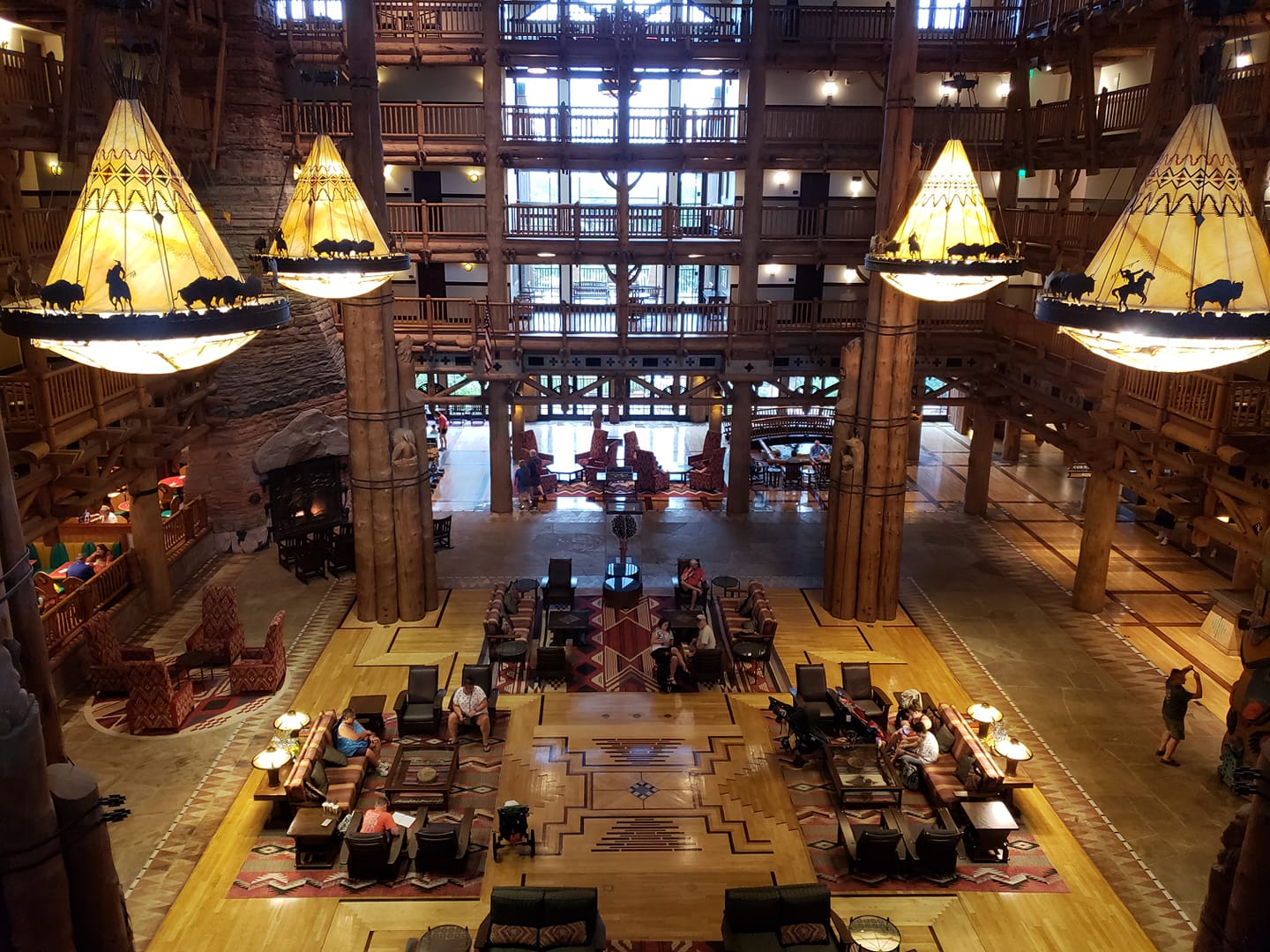 There are two 55-foot totem poles that have incredible size and detail.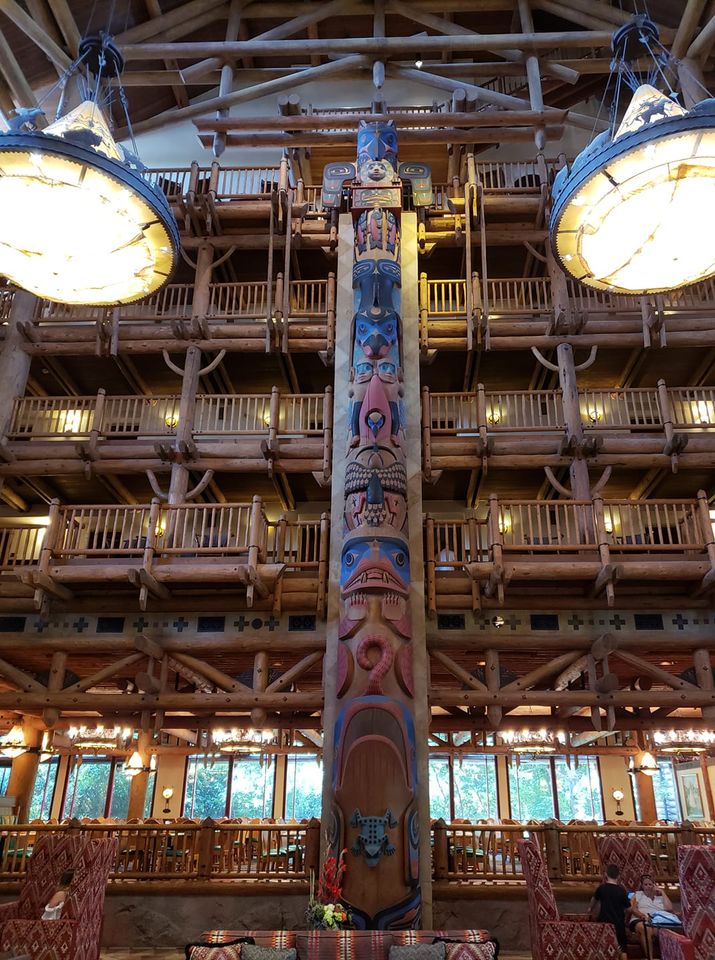 A magnificent focal point of the lobby is an 82-foot stone fireplace that re-creates the geological record of the earth as found in the Grand Canyon.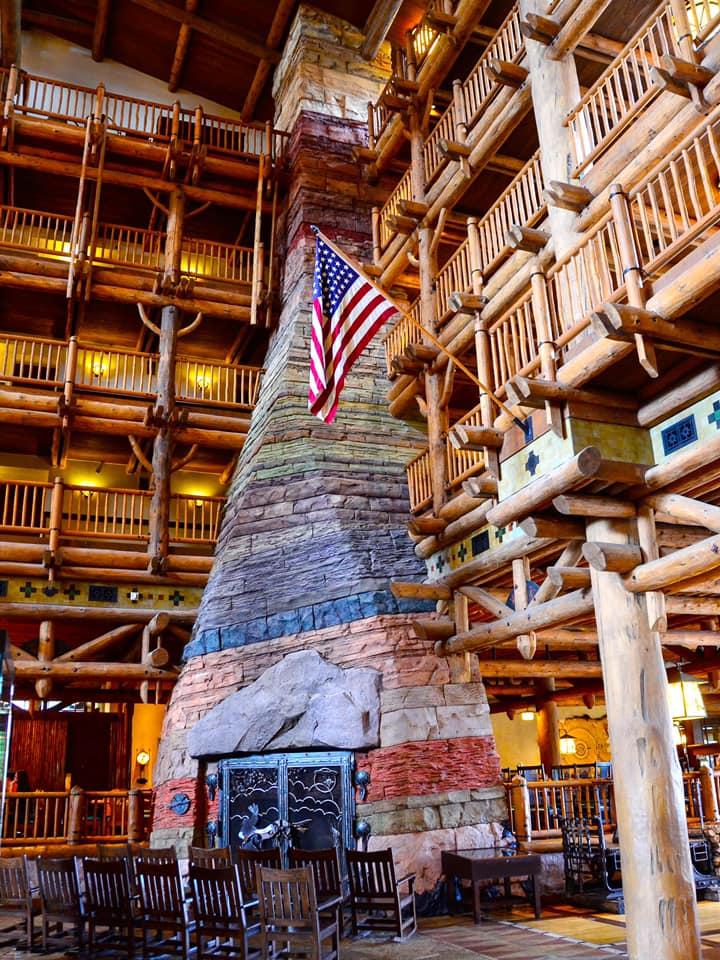 The rocking chairs in front of it are so inviting that it's hard to resist.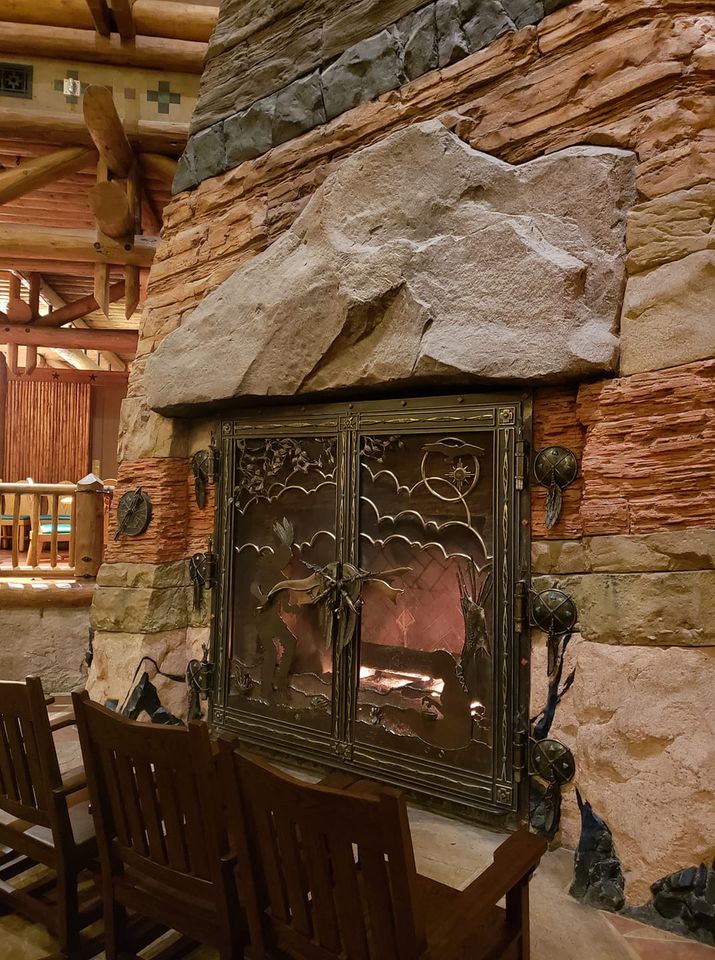 A small man-made hot spring starts within the main lobby, and flows outside into a rocky stream that turns into a waterfall, that lets out into the hot springs themed pool.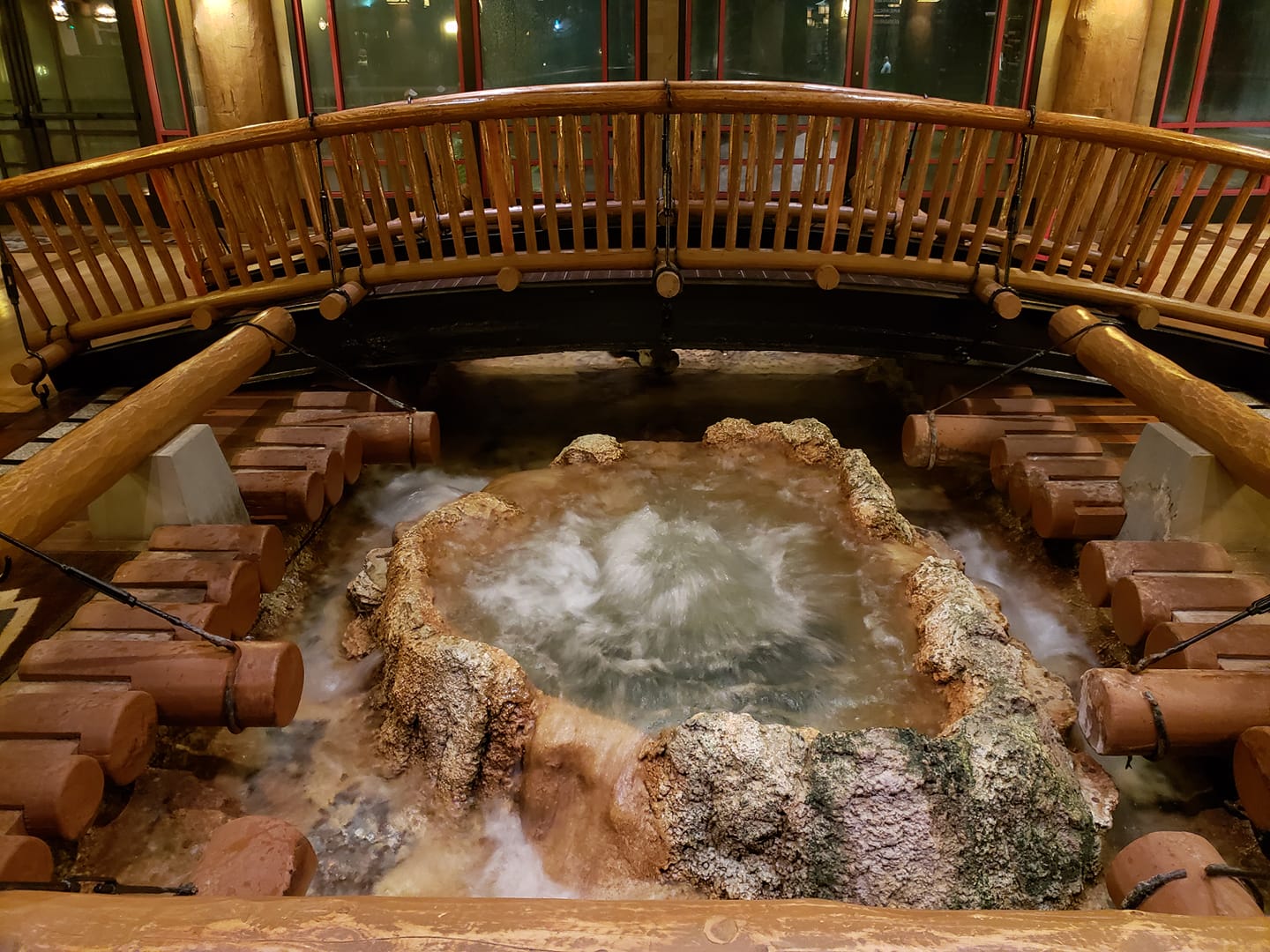 A geyser goes off hourly along the back outdoors walkway. The height of the geyser can actually change. Disney will change it depending upon the wind. If it's very windy they will lower it so that it doesn't blow on passerby's.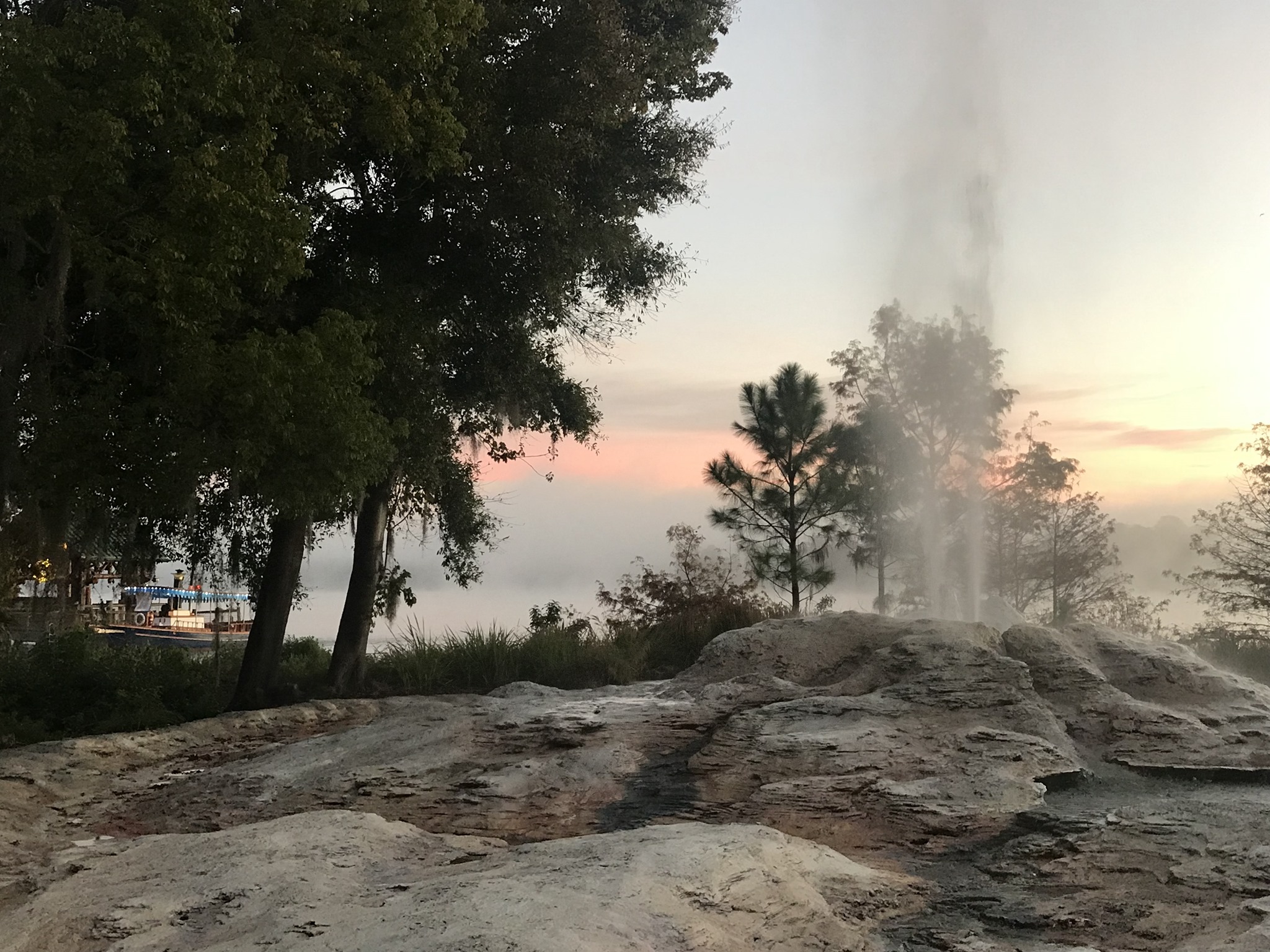 Though Wilderness Lodge is large, it doesn't sprawl to nearly the same degree as many of the other Disney properties. Much of its size is vertical rather than horizontal. A central building rises up 8-stories, and two seven-story guest wings jut out from there, forming a kind of jagged V shape. The main pool is situated outside in the center of the wings, and beyond the open top of the V is Bay Lake. This relatively compact setup means shorter walking distances than at many of the other resorts, which makes it a good choice for those with mobility issues.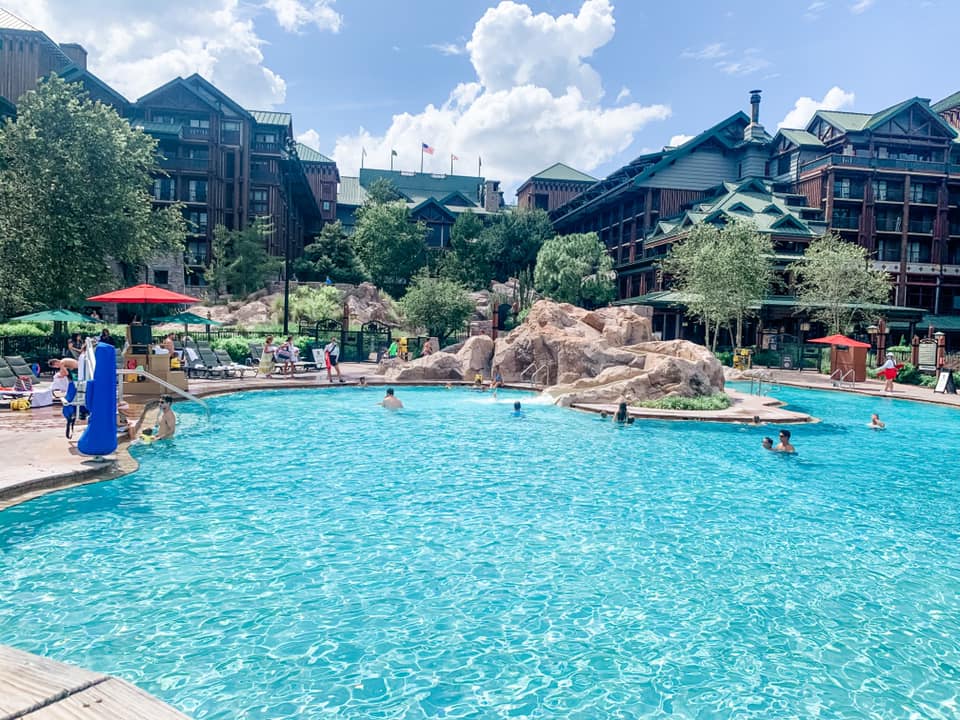 The Villas are another story though. Copper Creek Villas and Boulder Ridge Villas are built alongside the main Wilderness Lodge area. Guests in some of these villas will have fairly long walks to get to the Wilderness Lodge main lobby and the resort's activities. For details about the Villas, visit:
Copper Creek Villas & Cabins at Wilderness Lodge
Boulder Ridge Villas at Wilderness Lodge 
Advantages and some disadvantages of Disney's Wilderness Lodge Resort
ADVANTAGES: In addition to the Disney magic you can expect in every single Disney World resort, here's what's really good about this resort:
It's beautiful. The atmosphere is special. Spectacular in some areas. The architecture, inside river that falls into the pool, the gardens, the geyser, the lake, the lush trees, etc.
It tends to be peaceful. That's something that we frequently hear others say, and it's our experience too. Can there be noisy neighbors or groups of kids? Yes, but we haven't experienced much of that here and we've stayed in this resort several times.
Pricing here (and in Animal Kingdom Lodge) tends to be lower than other Deluxe resorts. 
Its themed main pool with a slide and children's play park adds another element of fun to your vacation.
The location is close to the Magic Kingdom. It's a quick boat or bus ride away.
The small food court style restaurant is convenient and less expensive than a full-service restaurant.
It has full service restaurants as an option.
You get all the benefits of being in a Disney resort, such as early theme park entry, room package delivery, transportation, etc.
You get to use the Boats to get to Magic Kingdom. It's usually such a pleasant ride.
You don't usually see large, noisy groups of people here. That's something that the value resorts get a lot of, and the moderates can get some of that as well. While it does happen at Wilderness Lodge, there's less frequent than at the moderate and value resorts.
Great pools and fun child pay water park area. 
DISADVANTAGES
Though larger than moderate and value resort rooms, the rooms are not huge.
Buses can be less than ideal. The buses are sometimes shared with other resorts so this can mean more crowds on the buses, more stops and more driving time.
If you're trying to get an ECV or wheelchair in your room, unless you have a handicapped room, it's tight.
Bathrooms are smaller than those in other Disney resorts.
The monorail does not come to Wilderness Lodge.
The main building in Disney's Wilderness Lodge
The resort's restaurants, store and front desk are found off the main lobby. The furniture in the main lobby is either log or craftsman style. Colors are deep and primary, with large couches and club-type chairs covered in leather or Native-American inspired fabric. The floor is a mix of inlaid stone, marble and polished wood, with colorful woven area carpets defining the seating areas.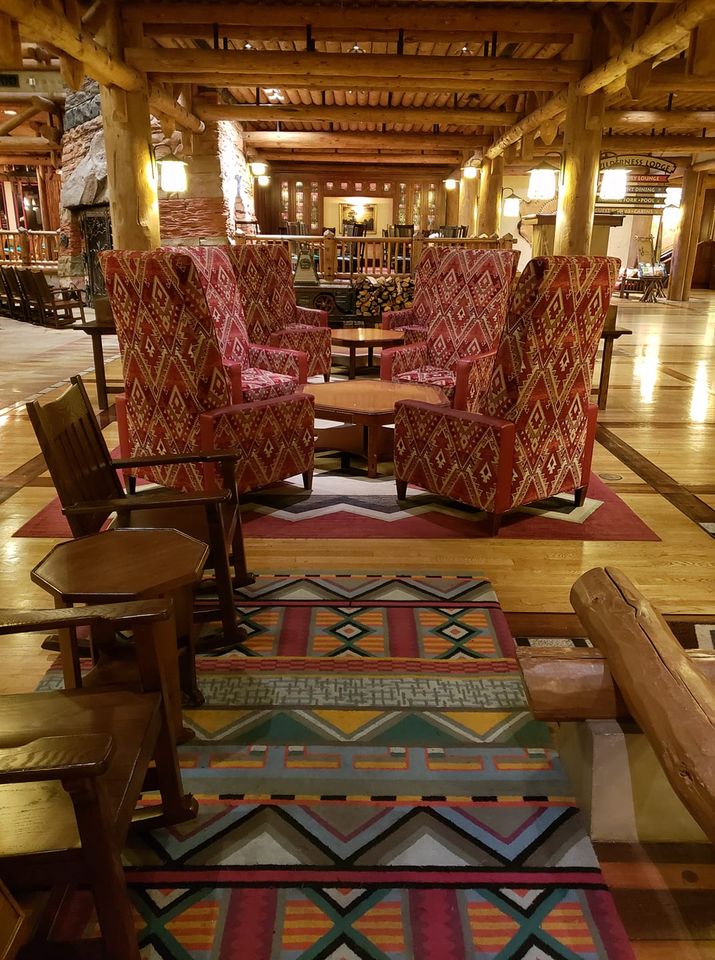 There are pedestals here and there with interesting Native- American artifacts such as headdresses displayed on them. Look up to enjoy the enormous, teepee-like chandeliers that are lit from within.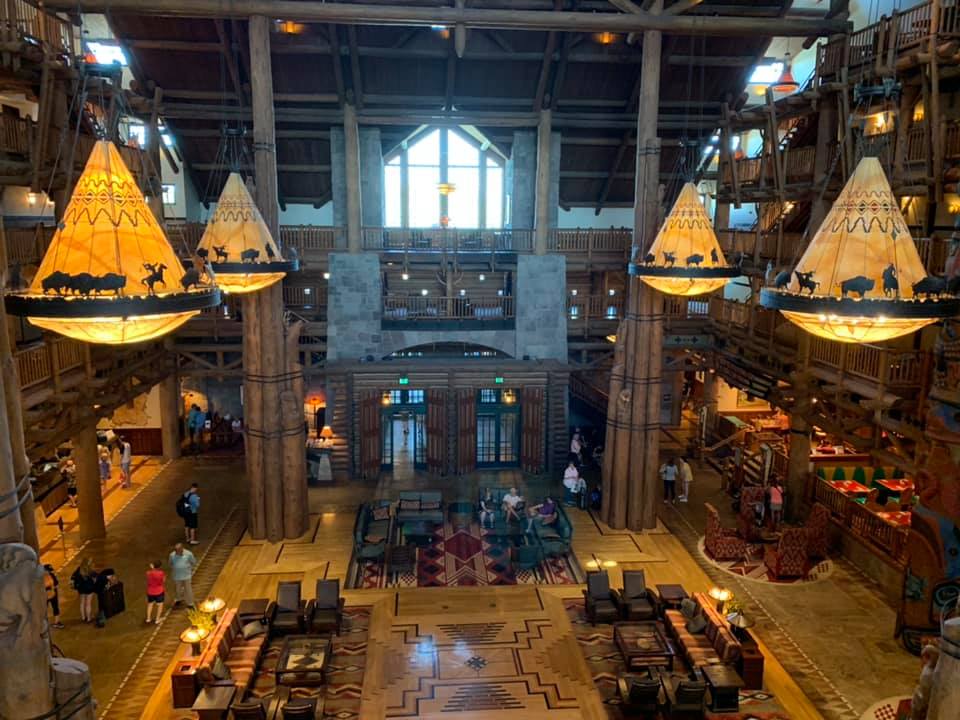 For a great overall view, go up the elevator to look out from one of the hallways overlooking the lobby.
Fragrance: Though we don't discern a fragrance in the lobby or hallways, we do hear that there is a fragrance pumped in. It's designed to seem natural in this environment, and we find it very mild. They also display real flowers in the lobby.
The main building serves the Wilderness Lodge guests as well as the, Boulder Ridge Villas and Copper Creek Villas guests. Guests at all three of these locations can use the amenities in the main building, including the pool.
Parking at Wilderness Lodge
There's valet parking here, which is free for those with a handicapped parking license. There's a dedicated handicapped lot that you'll pass as you drive in (look to your left), but it isn't that much closer than many of the spots in the regular lot. It's a bit of a walk from either lot to the entrance of the hotel, but as Disney Deluxe resorts go, it's probably shorter than most. There are stairs to access the entrance if you head to the left, but if you go around to the right there's a smooth uphill path.
Checking in at the Wilderness Lodge Resort
Bell Services will take your luggage and bring it to your room. If your room isn't ready, they'll store your luggage for you, and you can enjoy the property or even go to a park. On your last day, you can have them store your luggage for you until you're ready to leave.
Check-in for Wilderness Lodge as well as the Villas is in the Wilderness Lodge main lobby. At one end of the counter (the far end, away from the entrance) is the concierge, and next to that is a lowered area for wheelchairs and ECVs. There's a television playing Disney movies for kids not far from the counter. Children can also play with Lincoln Logs across the lobby near the entrance to the Whispering Canyon Café restaurant.
Club Level Check-in: If you have a Club Level room you'll be taken upstairs to the private 7th floor Concierge desk area for your check-in.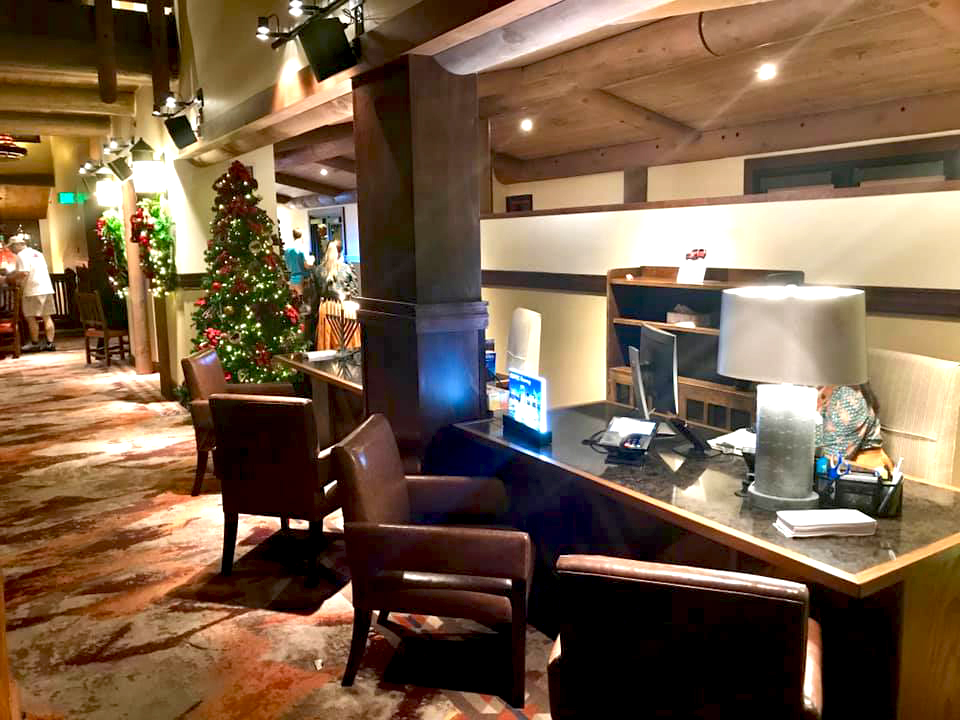 Disney's Wilderness Lodge Guest Rooms
# of rooms: 727 guest rooms
Size of rooms: Standard rooms have approximately 344 square feet.
Maximum number of people: There are rooms that sleep up to 4 adults, King rooms that sleep up to 2 adults and deluxe rooms with Club Level Access that sleep up to 6 adults.
Standard rooms in Wilderness Lodge Resort
That 344 square feet size makes these the smallest of the Deluxe Disney resort rooms. There's a wide range of accommodations ranging from a standard room with a parking lot view to the presidential suite. Club level/Concierge rooms occupy the seventh floor of the resort. Some rooms are located in the main lobby building, but most are down one of the two wings.
Views: Standard view rooms face the parking lot, driveway, service areas or a roof. Nature View rooms face either towards the  Landscape, Trees, or Copper Creek Villas & Cabins. The Nature Fireworks View also gives you a partial view of the fireworks. The rooms facing the woods tend to be most quiet. The Courtyard view faces the Courtyard, pool, waterfall or Bay Lake. Check out the Fireworks View: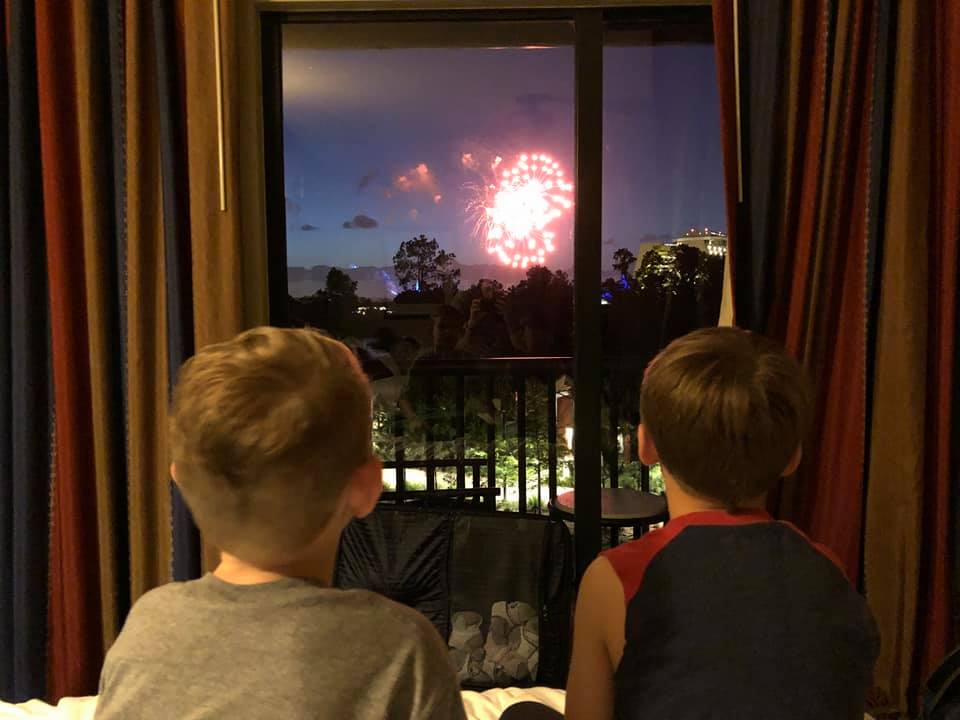 The rooms are off interior hallways, which means you won't be exposed to the elements as long as you're inside the main building.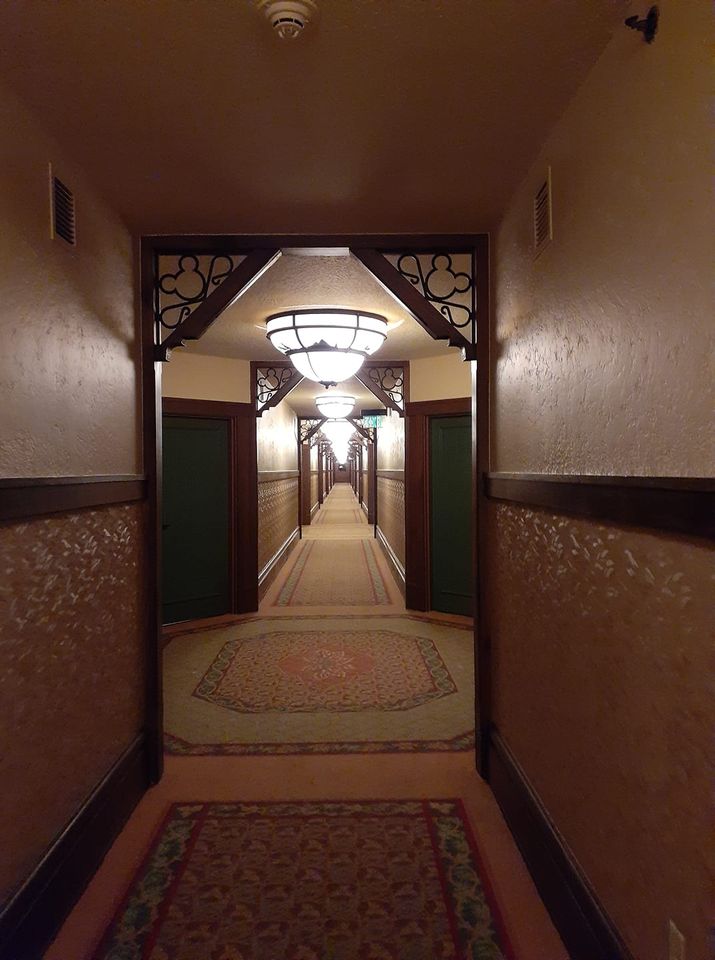 Throughout the hallways there are nooks where you'll find cozy sitting areas including some that overlook the lobby.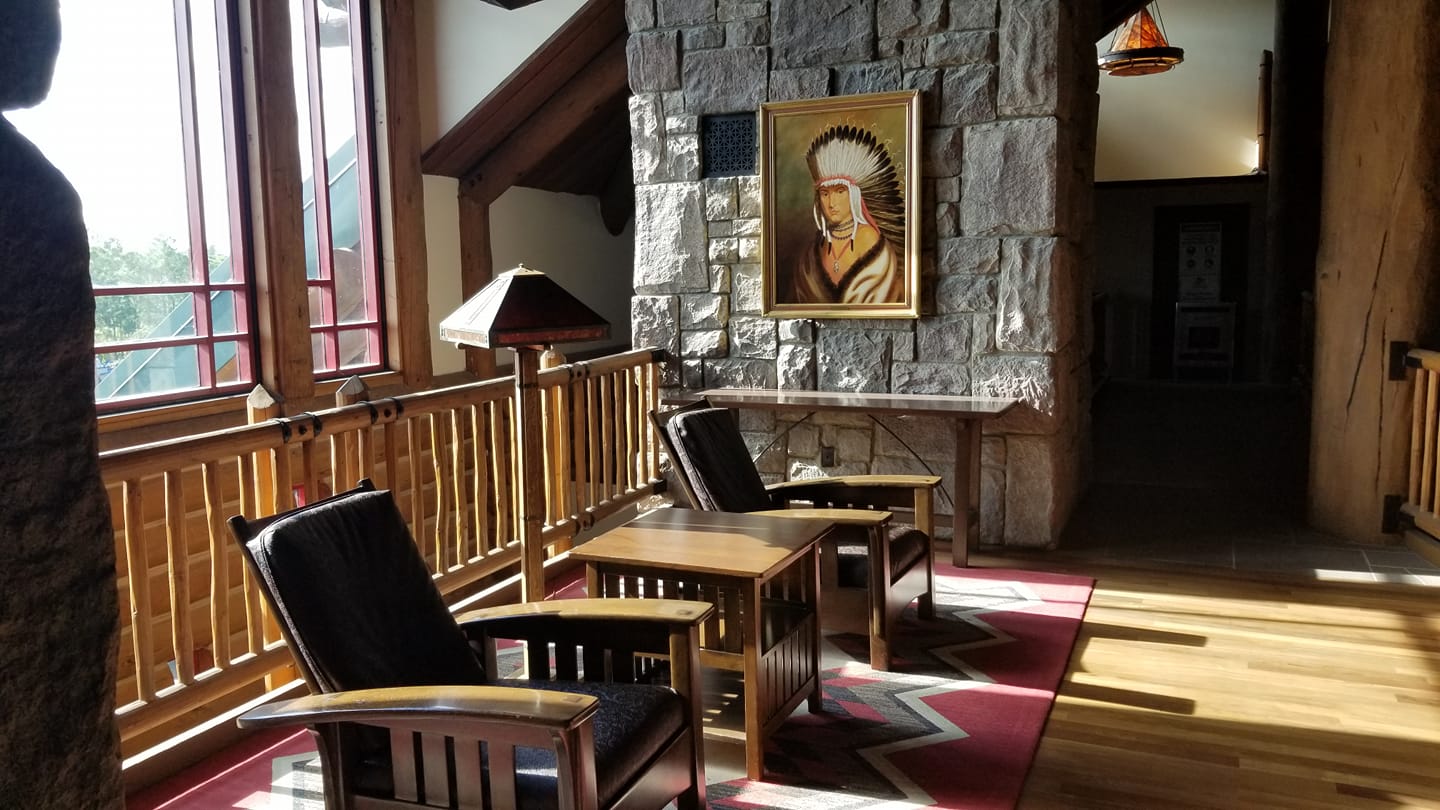 Room Request Tips:

Some rooms open to hallways that overlook the main lobby. Those with a fear of heights may wish to request a room where this is not the case.

Some guests in rooms that open to the lobby complain that they get a lot of noise, especially at night. In our experience our room near the lobby was quiet regardless of what was happening in the lobby. However if you're looking for quiet, you still might want to avoid these rooms.
Rooms have either a balcony or first floor patio with two chairs and a small table.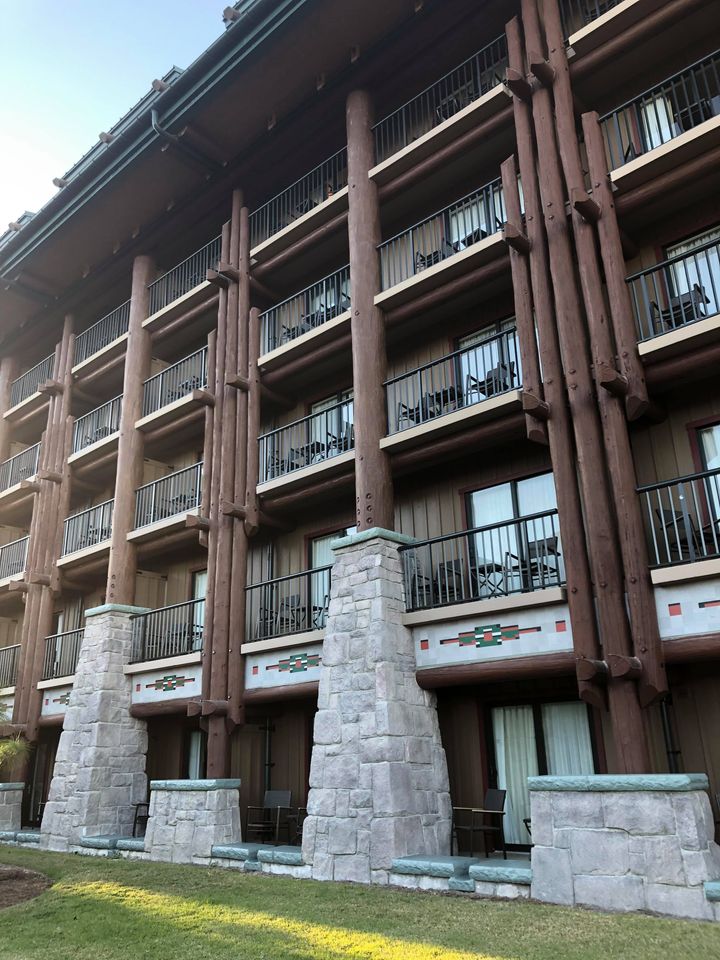 Some rooms have dormer balconies with solid walls rather than see-through railings, so you'll need to stand to see over the wall to see anything. This is less than ideal if you're planning to spend some time on your balcony. If that's you, request a room with see-through railings.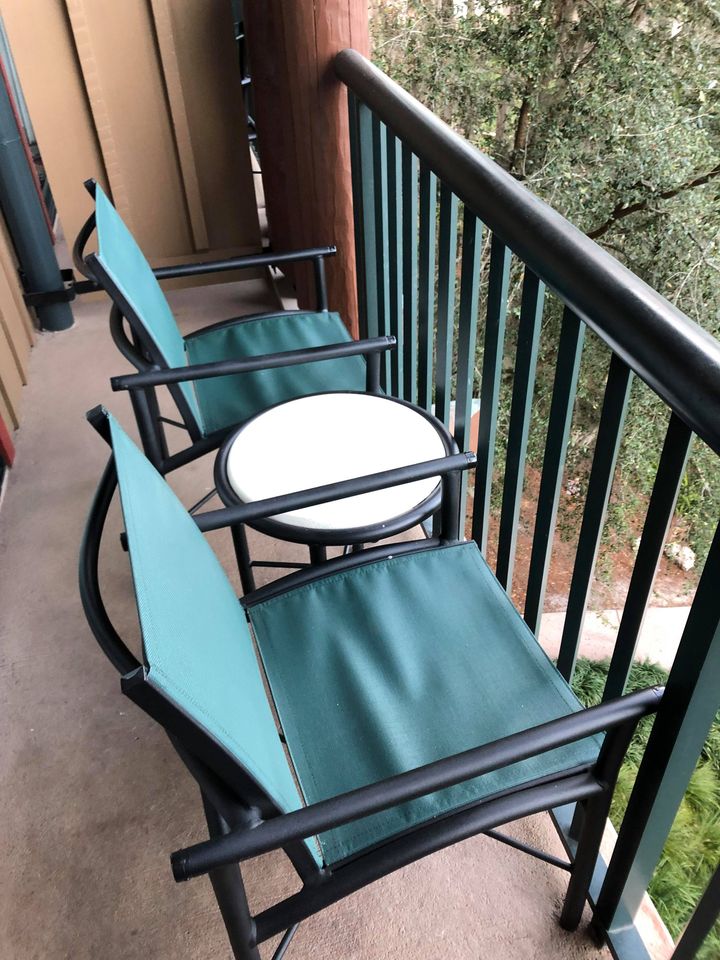 The décor in the rooms is similar to that in the lobby combining a Craftsman style with Native American and Old West inspired designs. Colors are deep and muted, running to dark reds, browns, navy blues and forest greens. There is wood-style laminate flooring and carpeting. Beds are made of logs, with a carved wood and leather headboard, and dressers look as though they are hewn from rough wood. Rooms are carpeted.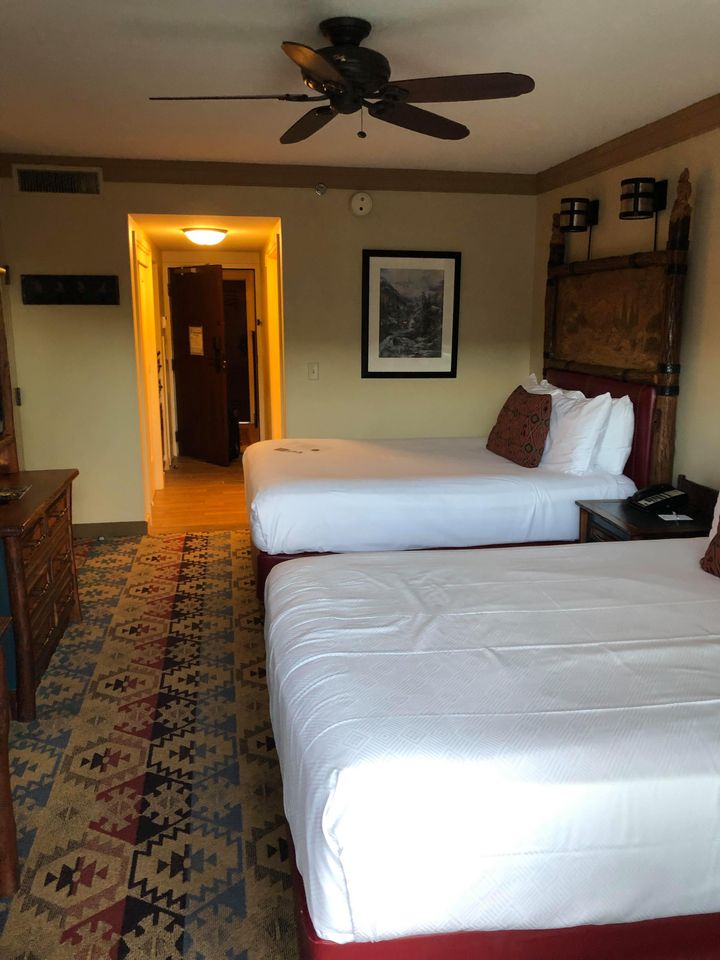 Standard room at Wilderness Lodge (photo by Grace Flanary)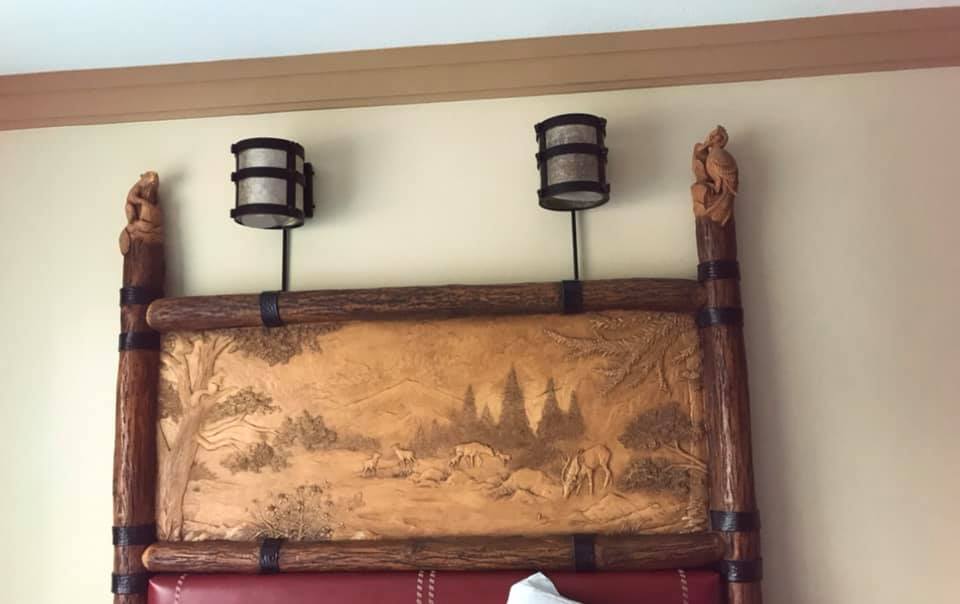 Standard rooms have either two queen beds, or a queen bed along with bunk beds. Keep in mind that bunk beds will be best for guests on the shorter side, such as kids. Handicapped rooms have one king bed or two doubles. King rooms may only have a shower, and no bathtub. Rooms have non-down duvets and pillows, but down pillows are available upon request.
There's a separate vanity area just outside the toilet/shower/tub room. It's attractive with a black granite surface and two sinks.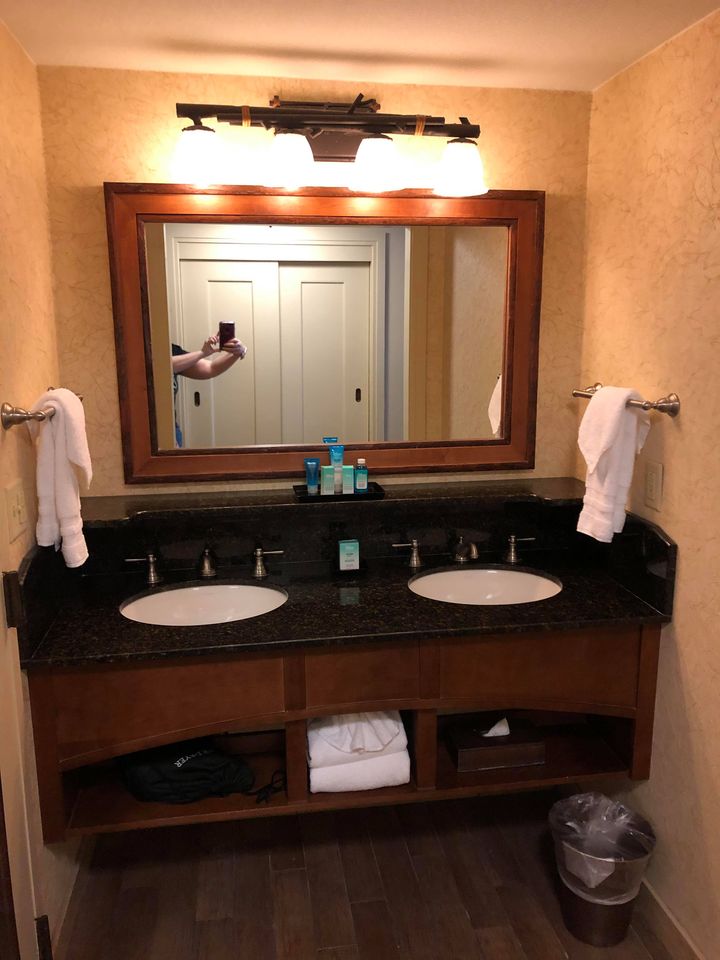 The toilet and shower/tub area closes with a door. Shower curtain rods are curved out, giving more room inside the shower.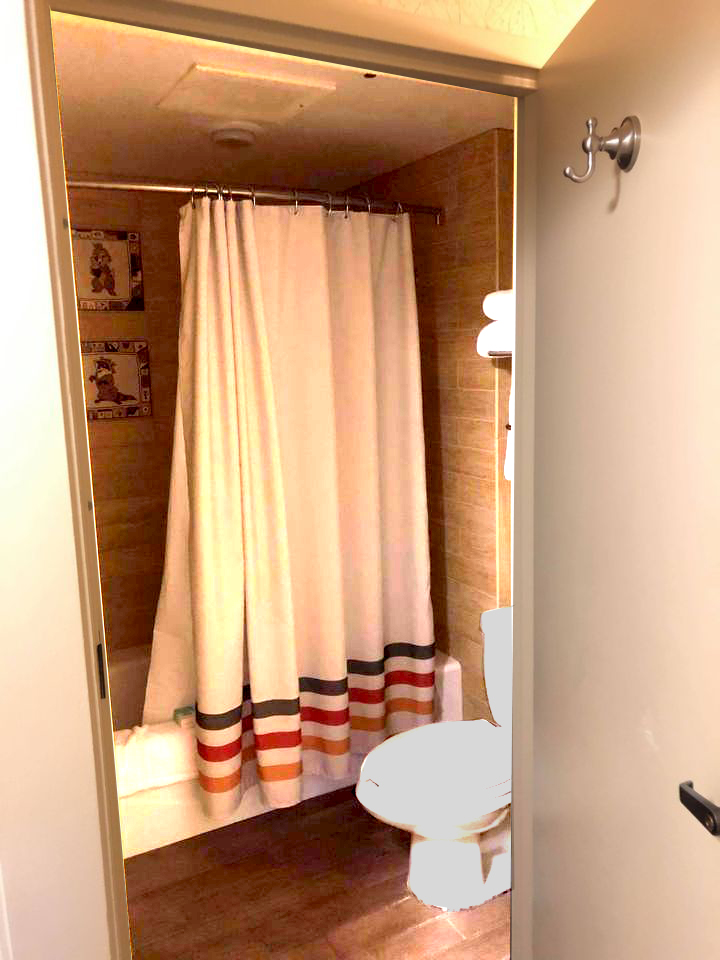 Rooms don't have a desk, but there's a small table and chairs. Rooms have a tall bureau in the entry way, a flat screen 32" television inside an armoire, a night table, an IPOD docking station on the clock radio, and a ceiling fan.
Each room has:
Two queen beds and a daybed, or one queen bed and a bunk bed
Coffee maker
Dresser
Table with 2 chairs
WiFi wireless internet (in room, in main lobby and also by the main pools)
32 inch Flat-panel TV
Nightstand (alarm clock available upon request)
Mini Fridge
Full-length mirror
Ironing board and iron
Ceiling fan
Hair dryer
In-room wall safe
Shampoo, soap and conditioner (H2O brand)
Digital thermostat that you can adjust
Scooter tip: If you're planning on having a scooter while you're staying here, be aware that it can be very difficult to get your scooter inside the room. The hallway into the rooms can be narrow and there isn't a lot of space to park and charge. Some people opt to park their scooters in the hallway. The deluxe rooms offer more room (500 feet) and would be much more comfortable with a scooter.
Club Level or Concierge Level Rooms
The 75 Club Level rooms consist of standard rooms as well as a small number of Deluxe rooms  and Suites. There are a variety of handicapped rooms on the Club Level. Although many of the Club Level rooms are exactly the same as the standard rooms, Club Level guests are entitled to additional services, and there's just some extra pampering. This includes:
Private Check-in. Upon arrival you'll be taken to a check-in location just for Club Level guests.
Access to the 7th floor Old Faithful Club where you can hang out in the lounge and enjoy complimentary food and drinks from 7 am to 10 pm. At breakfast they'll serve a continental breakfast. After that you'll find light snacks, with hot and cold hors d'oeuvres, desserts, beer, wines and liquors each evening. Coffee, tea and soft drinks are available throughout the day.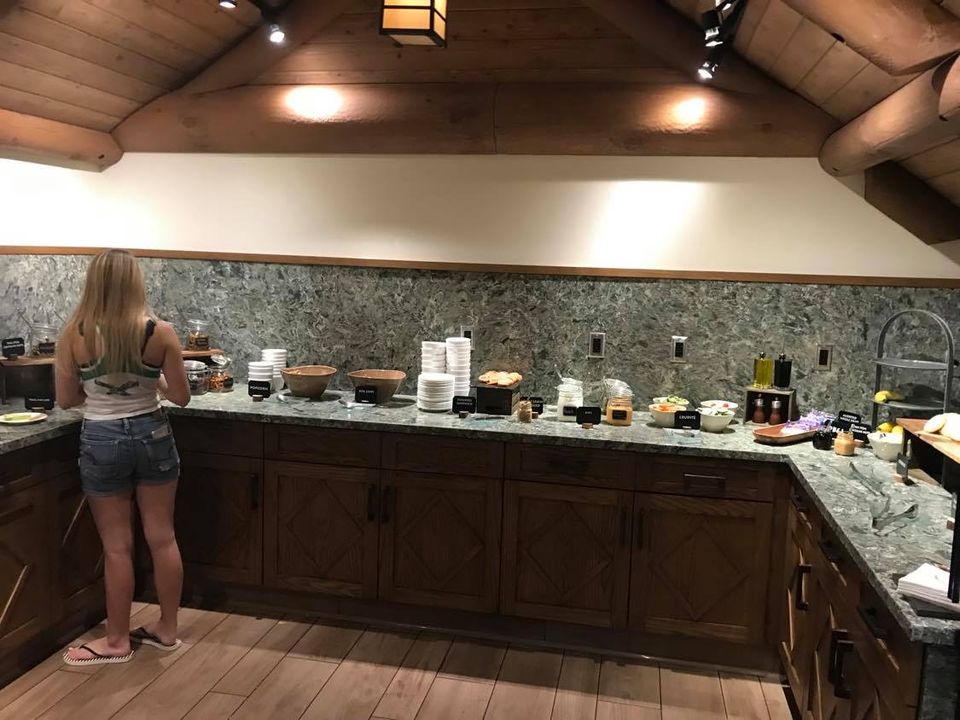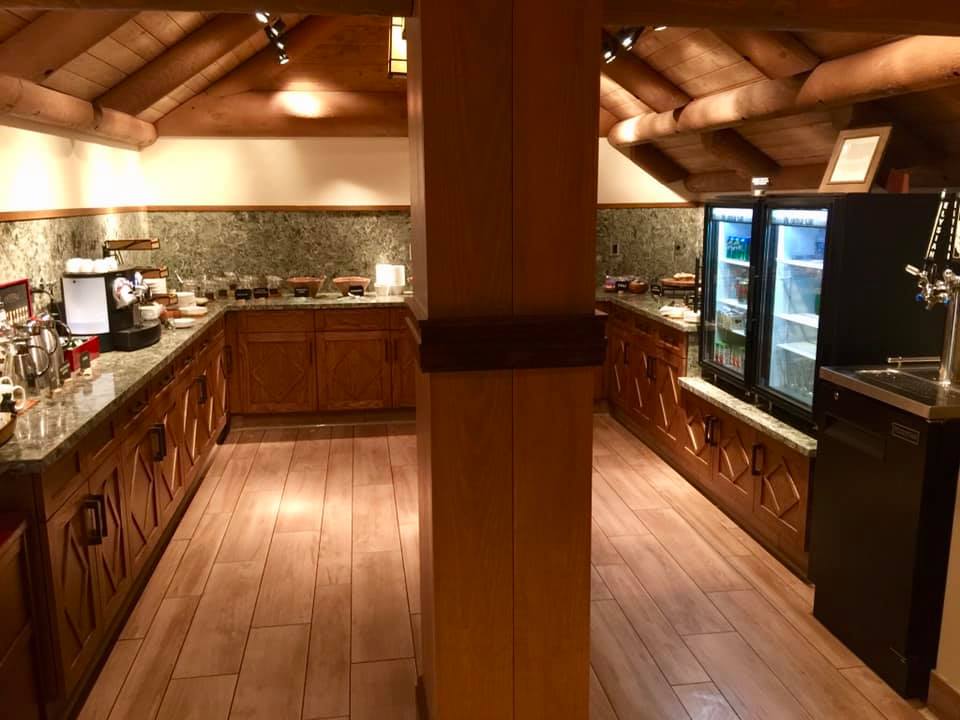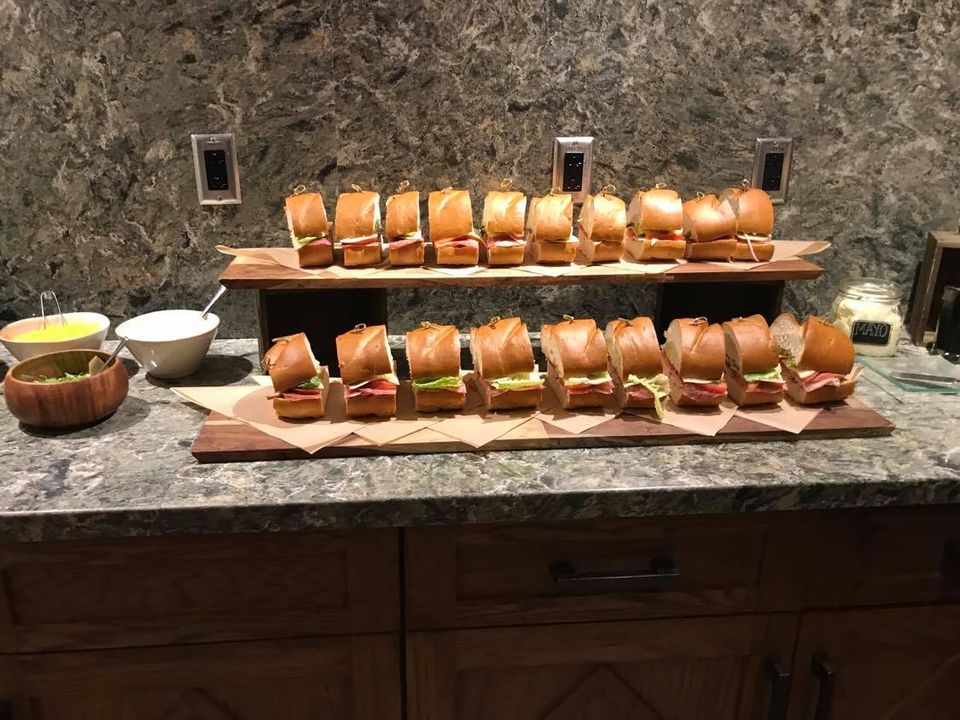 Check out the soft drinks, beer, wines and liquors available in the Club Level snack area. Notice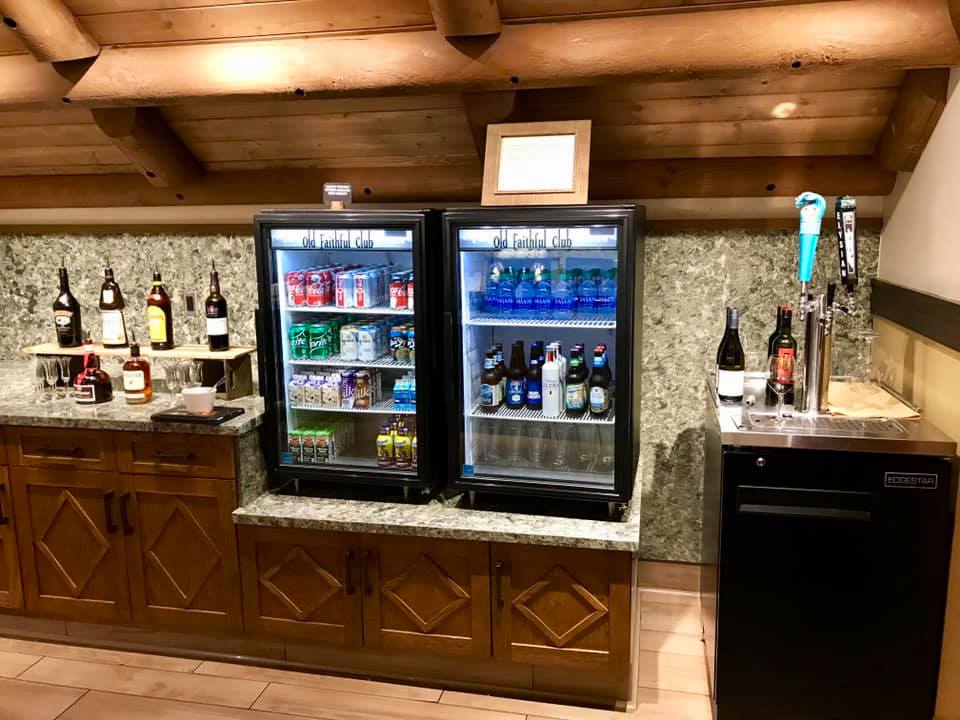 Access Disney Signature Services. You'll receive special support from Cast Members dedicated to serving Club Level members. They can help with anything including dining reservations, transportation, park tickets, tours, and information such as movie times at Disney Springs, etc. Sometimes they can even help you with booking things that might be hard to get. Call 407-939-7777 for this service.
Complimentary newspapers in the lounge.
Complimentary fax assistance.
Use of robes during your stay. Don't take them home or you'll be charged!
Nightly turn down service. They'll get your bed ready and they'll leave chocolate treats.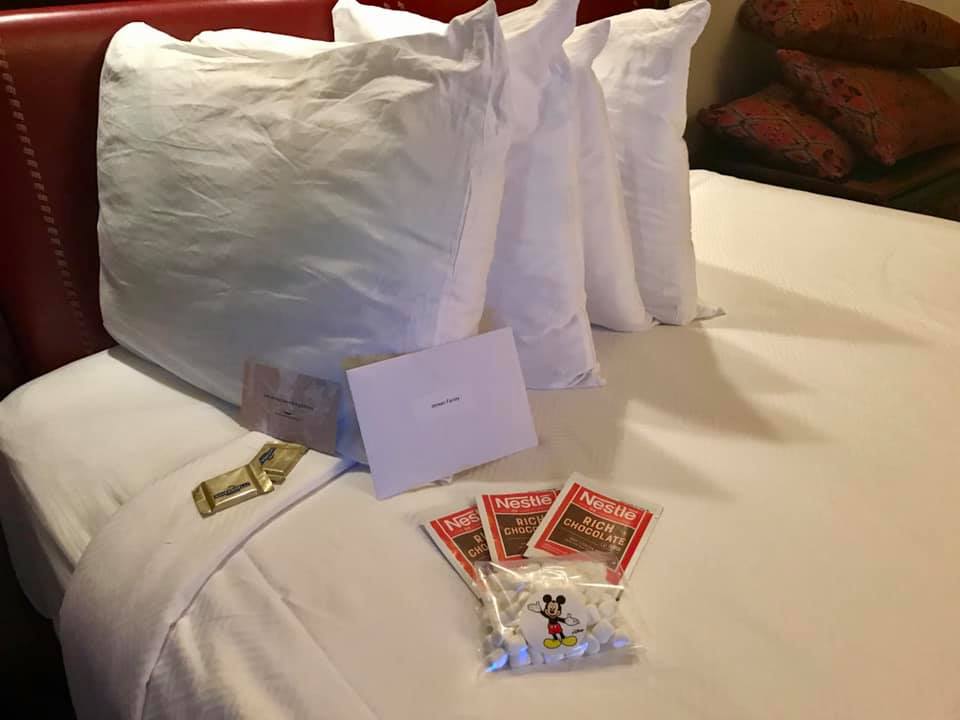 More about Deluxe Club Level rooms: There are 25 of these rooms which have 500 feet of space and sleep up to 6 adults. These are great if you're using a scooter and can walk inside your room. There are two queen beds and 1 queen sized sleeper sofa. The main bedroom is separated from the living space with doors that close, which can get you some privacy.
Handicapped rooms in Wilderness Lodge
Info for those with scooters who can walk in their rooms: Throughout the various Disney resorts, many of the non-handicapped Disney resort rooms are able to fit a scooter inside. So for those who can walk inside their rooms, but need to park and charge a scooter, they can. We always prefer to take a standard room in order to free up the handicapped rooms for those who need to stay in their wheelchairs or scooters. However the standard rooms at Wilderness Lodge are not ideal for this. It's a tight fit without a convenient space for parking and charging inside the rooms. While it may not be impossible, it's not comfortable. Guests have the option of parking and charging in the hallway.
Ideally, if you have a scooter and must park it inside your room, you'll either want to secure an accessible room, or you'll want a Deluxe room.
Types of handicapped rooms: As with all of Disney resorts handicapped rooms, there are various types including those designed for those with hearing loss.  There are accessible rooms which have either two queen beds or 1 king bed. The rooms with roll in showers all have a king bed, except for a small number of rooms that have 1 king and 1 double bed along with a roll in shower.
Available Upon Request for all rooms at Disney's Wilderness Lodge (Including handicapped options)
Alarm clocks are available upon request. Though they used to be put in the rooms automatically, they are no longer there unless you request it.
Guests can also request cribs, and a Pack 'n Play at no extra charge.
Microwave's may be available upon request. They have limited numbers. If you're requesting it because of a health issue, you may want to contact Special Resort Reservations at Disney World with the request before your trip, at (407) 939-7807 and press #1.
Handicapped & health related requests: Hearing-impaired TDD telephones, bed shaker accessory, visual smoke alarms, wake up alarms and door knocks; bed boards and bed rails; Sharp containers for used syringes.
Dining Options at Disney's Wilderness Lodge Resort
Open until 10 pm, this is the newest addition to Wilderness Lodge. You can enjoy American food and drinks with a great view of the lake in this open air restaurant. This is a full service restaurant, and they also have a quick service area.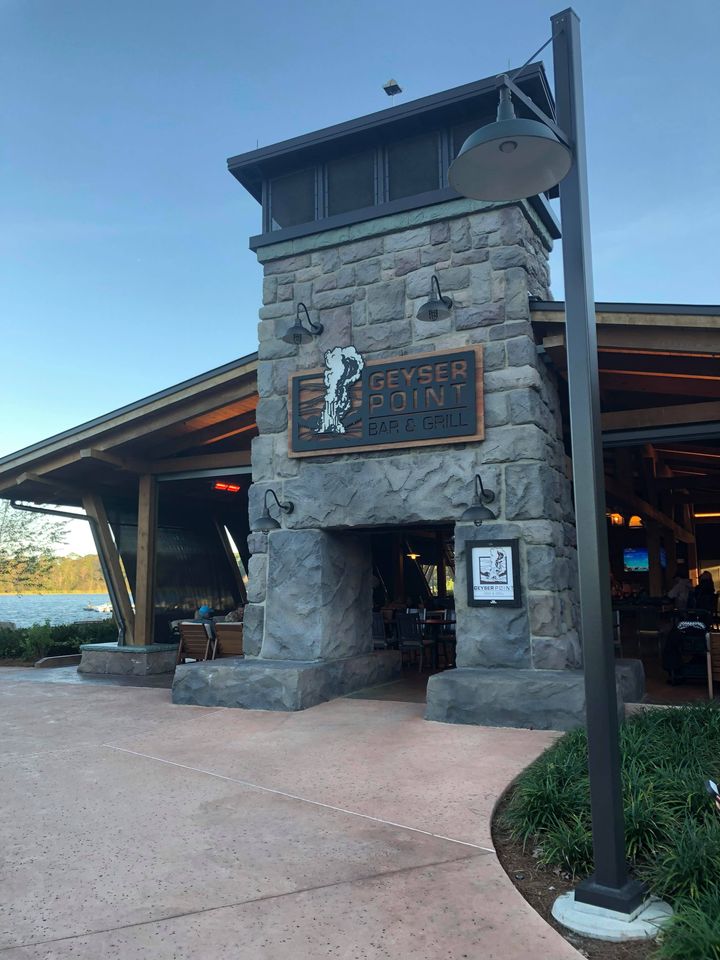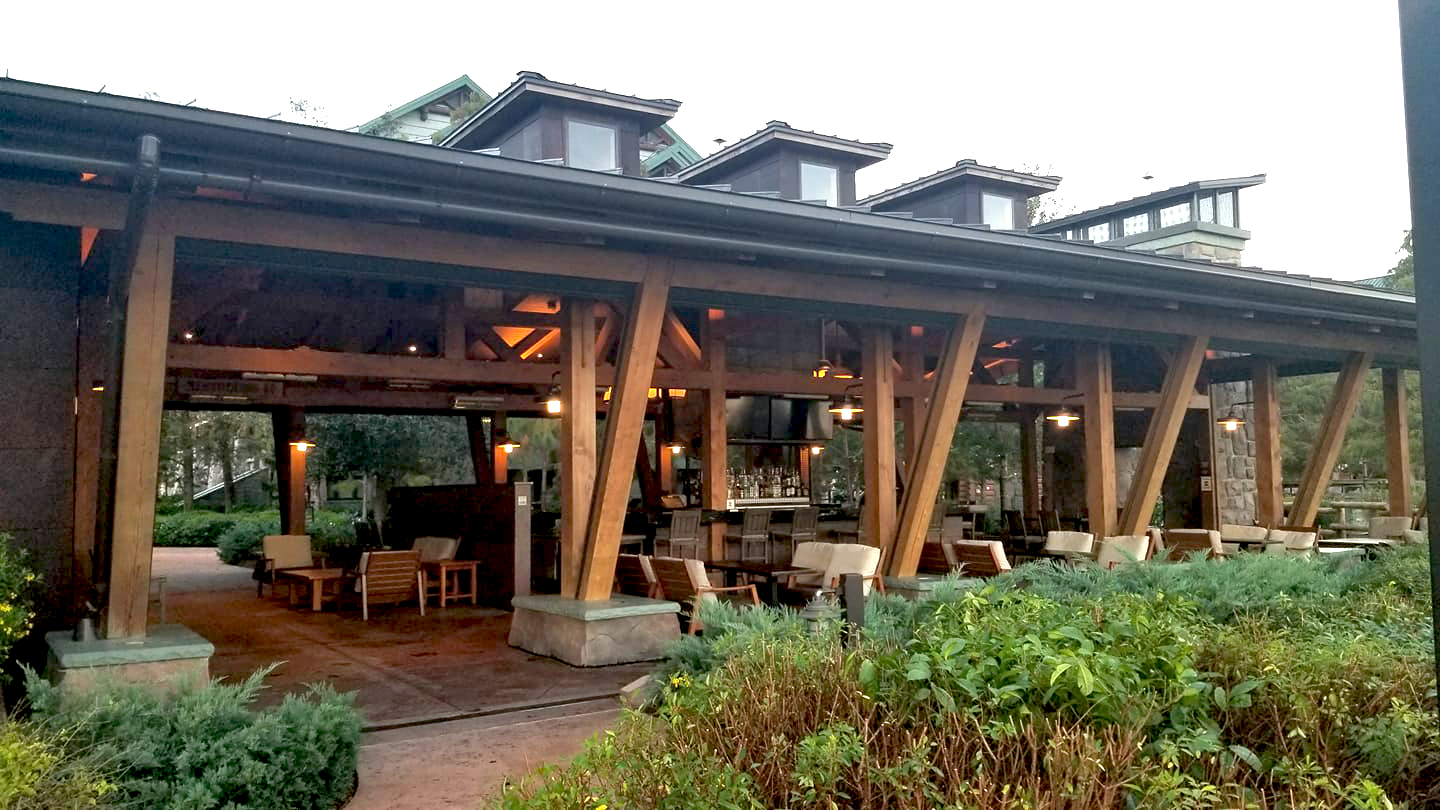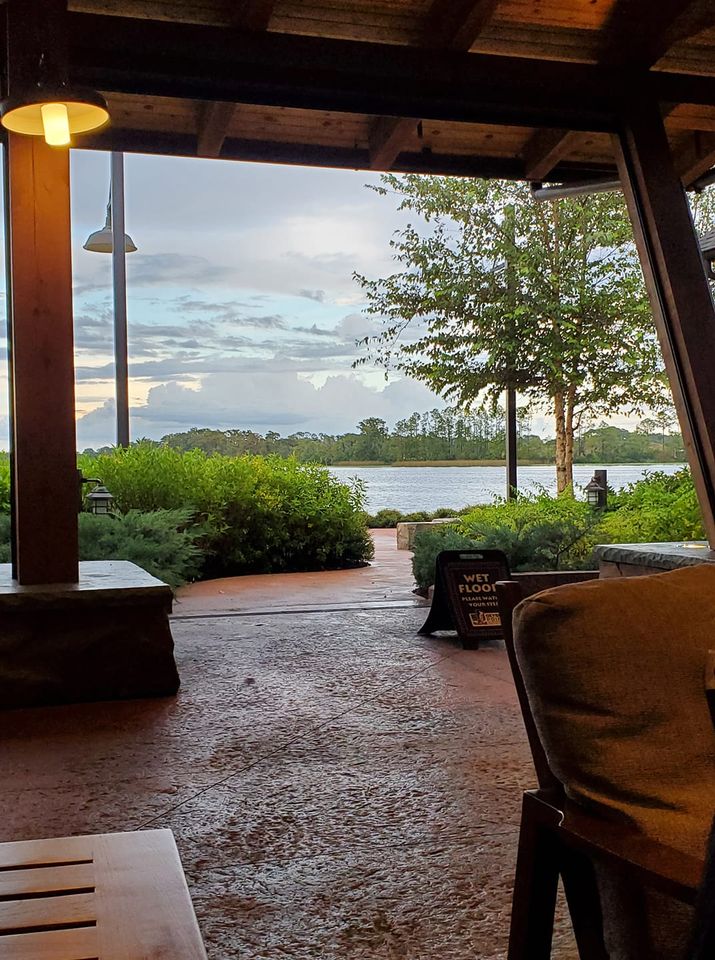 Some options have included a bison cheeseburger, roasted salmon, teriyaki chicken wings, crab cakes and a fruit plate. Prices range from $9-$16 for the main courses.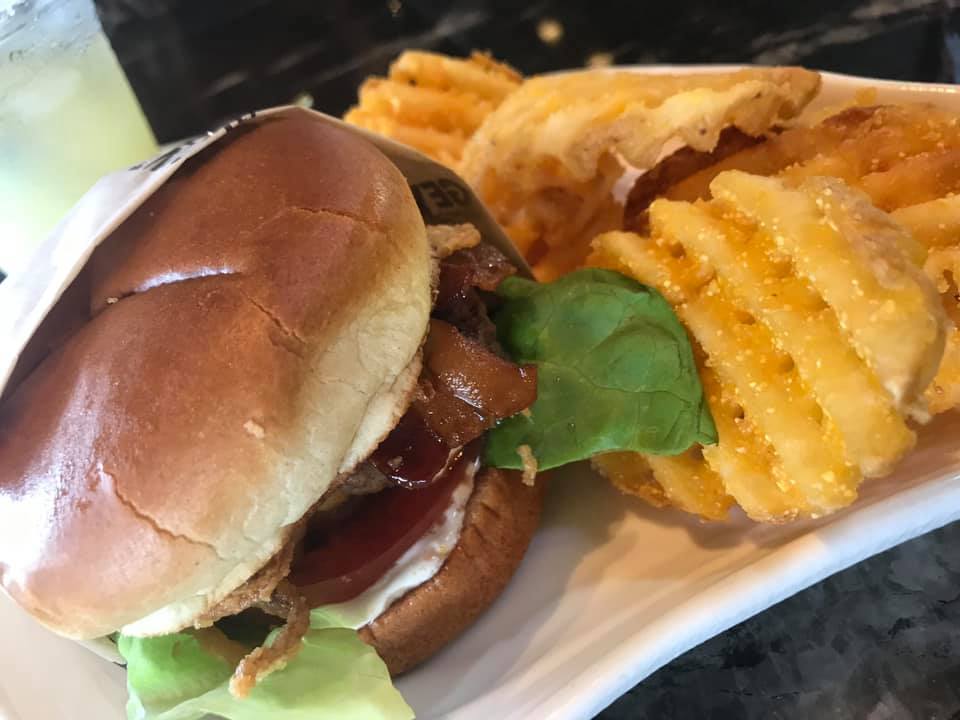 This is the Wilderness Lodge's most expensive option and open only for dinner. This character meal theme is Snow White and the Seven Dwarfs. Guests can interact with Snow, The Queen, Dopey and Grumpy. Dinner is a Prix Fixe menu. Reservations are needed here. It's super popular so we'd suggest grabbing your reservations as soon as you're able.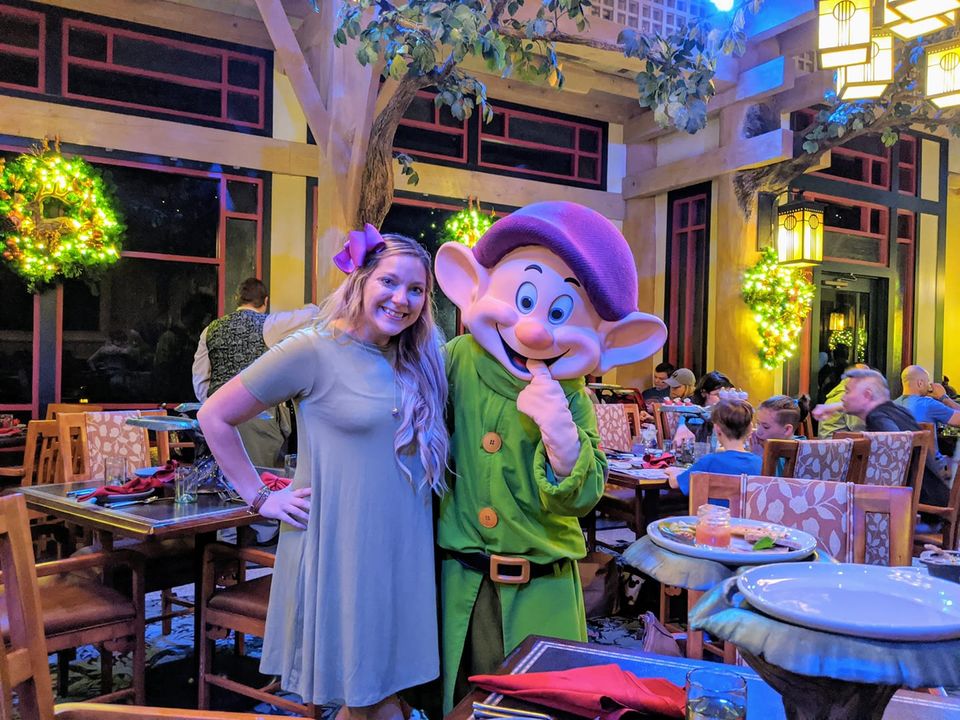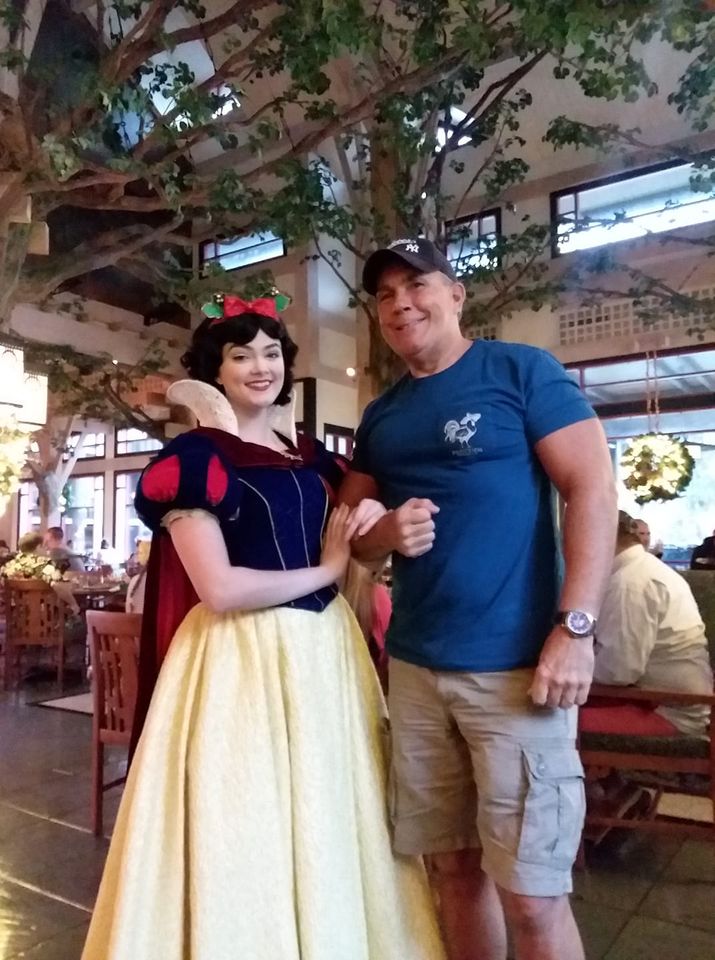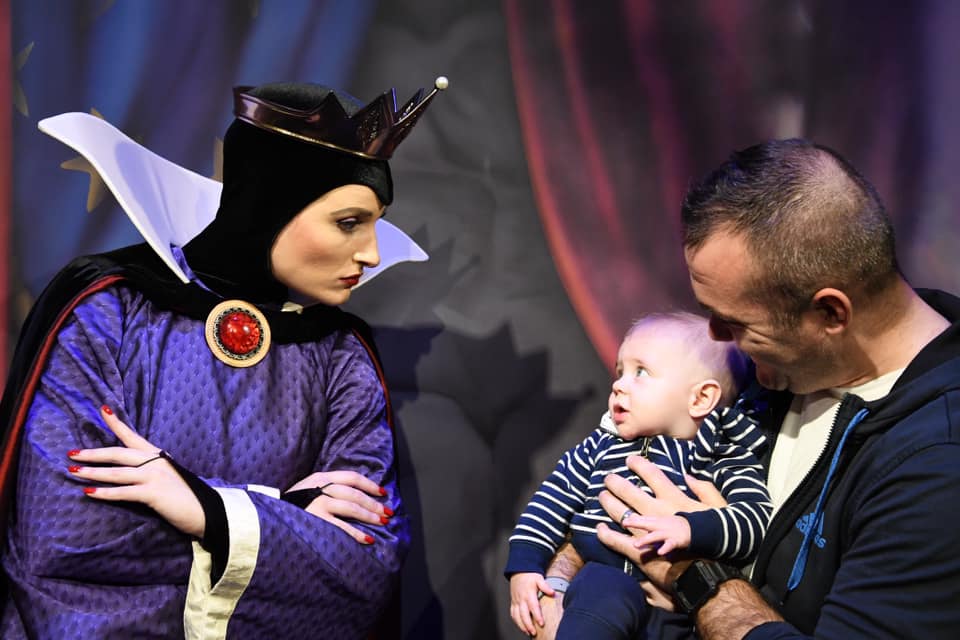 You'll share appetizers and desserts, and choose one entrée. Entrees have included beef stew, braised pork shank, prime rib and poached sustainable fish.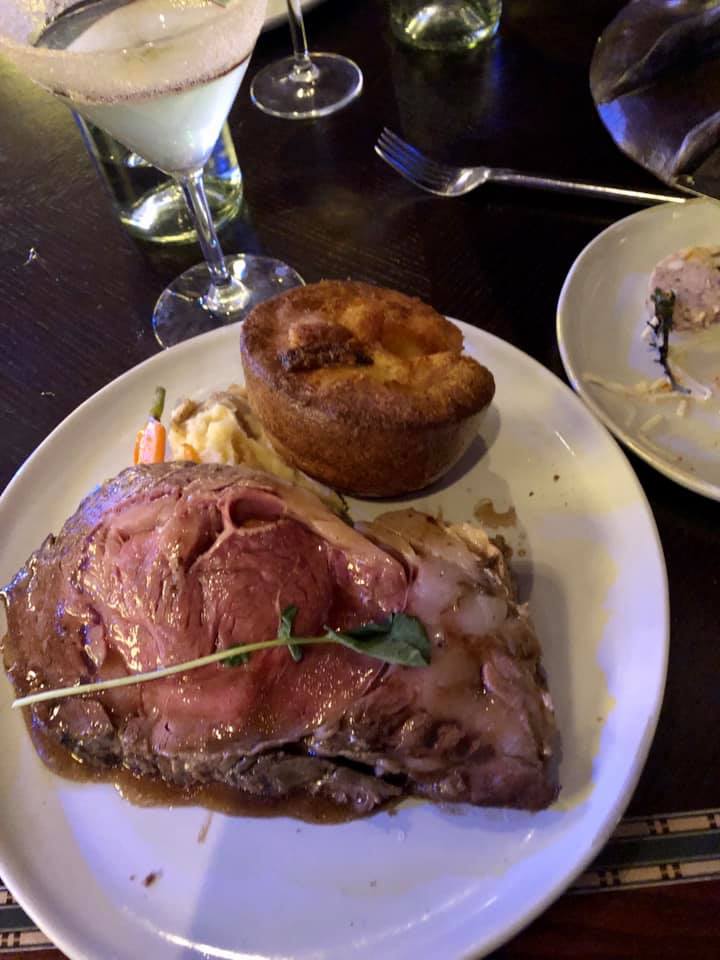 Enjoy a wide variety of tasty Snow White themed desserts.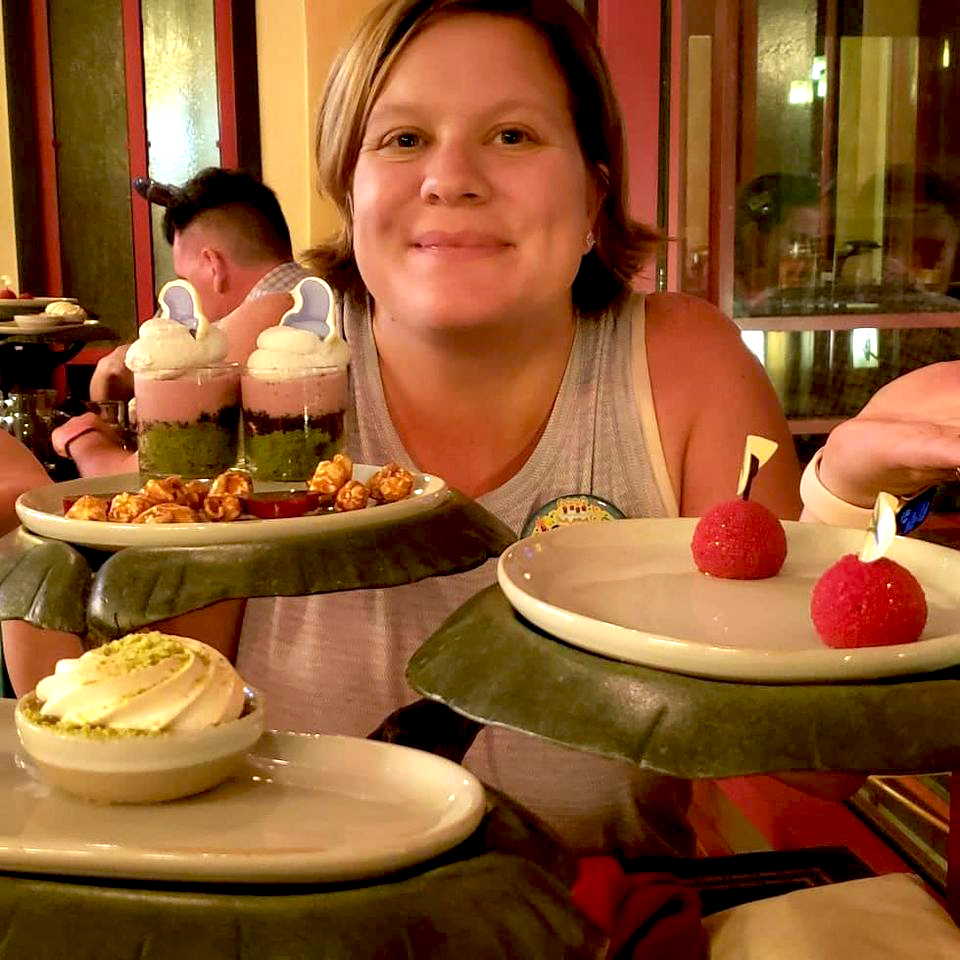 Part entertainment, part eat-until-you're-stuffed, the atmosphere in this full-service restaurant can be  interactive with Cast Members joking around with guests. Boisterous is the keyword. Disney says that you can "do the hokey pokey, ring the dinner bell, and even ask for ketchup (at your own risk, of course)." Here's a photo from Debra Bays who asked for ketchup!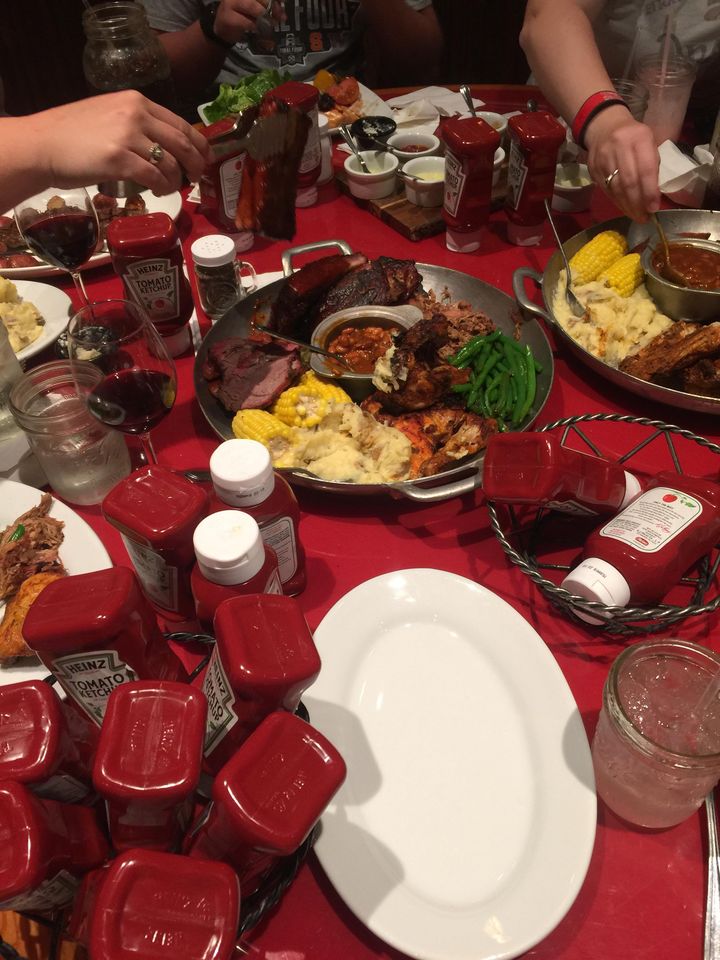 It can get loud in here at times. Located right off the main lobby, this family style restaurant serves breakfast, lunch and dinner.
Guests can order à la carte, however most people order the all-you-can-eat skillets. Guests sit at their own tables, and share food only with their own party. The platters are placed on a lazy Susan in the middle of the table.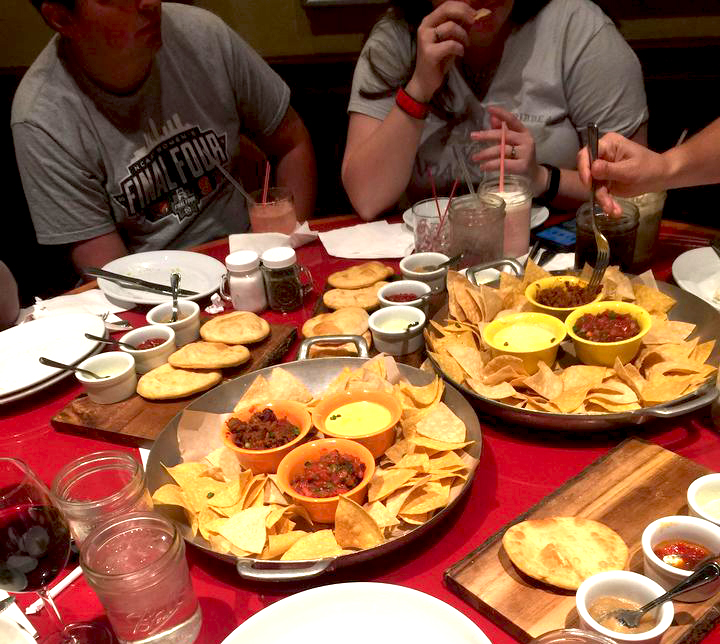 For breakfast, although you can create your own skillet contents, the food consists of bottomless platters.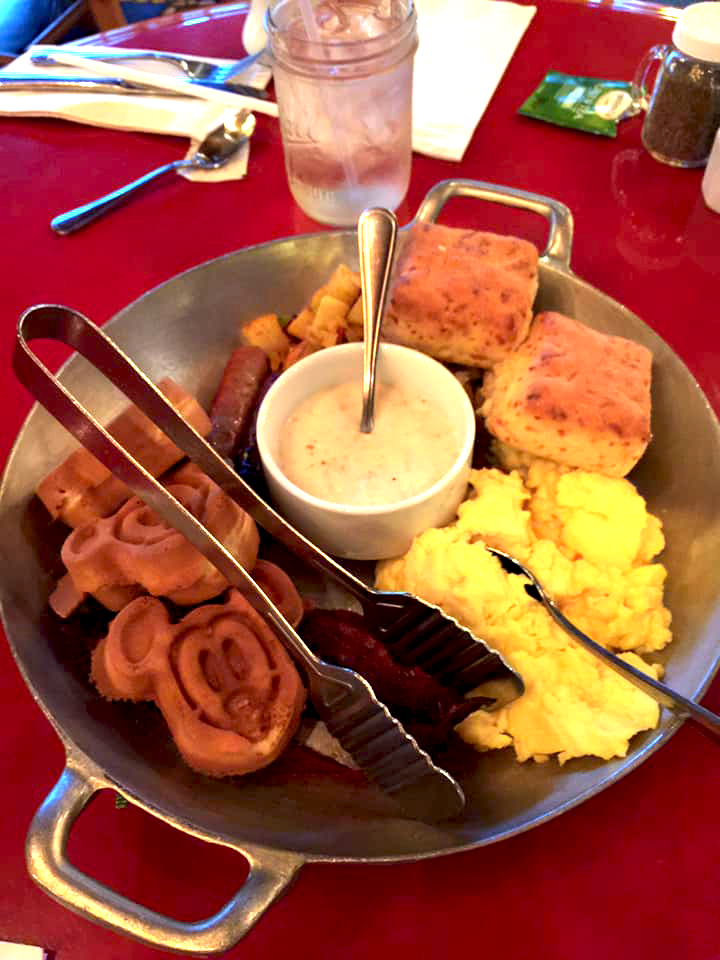 Lunch and dinner options include an all-you-care-to-enjoy skillet filled with barbecued ribs, pulled pork, chicken, smashed potatoes, corn and veggies. Other offerings include sandwiches and burgers, or a salad. This restaurant usually offers a traditional Thanksgiving Day meal.
This is a much smaller version of the typical Disney hotel food court. In our experience crowds seem to come and go in waves. Breakfast has included hot and cold American favorites including a yogurt bar where you choose your toppings. Lunch and dinner have included burgers, pizza, salads, sandwiches and other grill items. There are a couple vegetarian items, such as a grilled vegetable sandwich. You pick up your food selection from the counter and pay in a central location. You may fill your refillable mugs here.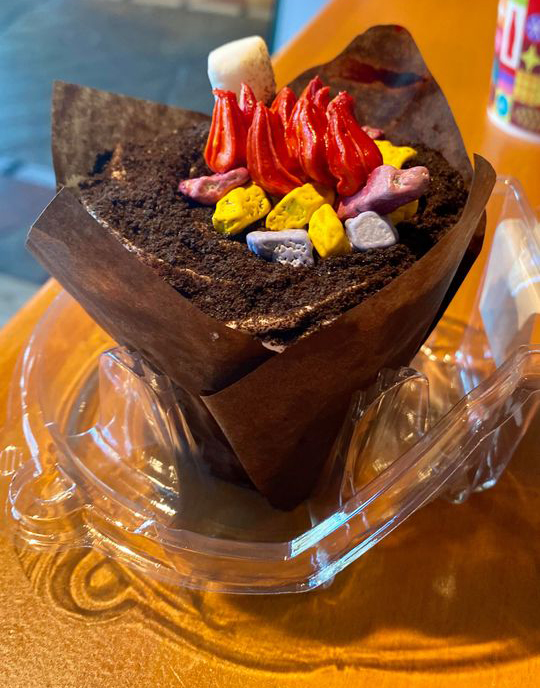 A full service bar, it also serves some snacks of the chicken wing variety. They have a counter with slat back stools, small tables and hard wood chairs with curved arms, and an area with padded club chairs and coffee tables. There's a television here. They're currently open from 5 PM until 10 PM. They do not accept the Disney Dining Plan here on last check.
Room Service – This is available from 7-11 AM, and 4 PM – 12 midnight.
Resort shopping at Disney's Wilderness Lodge
The only shop in the hotel is the Wilderness Lodge Mercantile which is right off the main lobby. They sell items with a Northwestern theme, along with the standard Disney resort store items. You'll find plenty of Disney souvenirs including shirts, hats, mugs, kitchen goods, plush toys, etc. You'll find items that you might need such as bathing suites and covers, shorts, flip flops, etc. There are also sundries – things that are commonly needed like tylenol, peroxide, etc. You'll also find a small selection of snacks, groceries and drinks including beer, wine and liquors.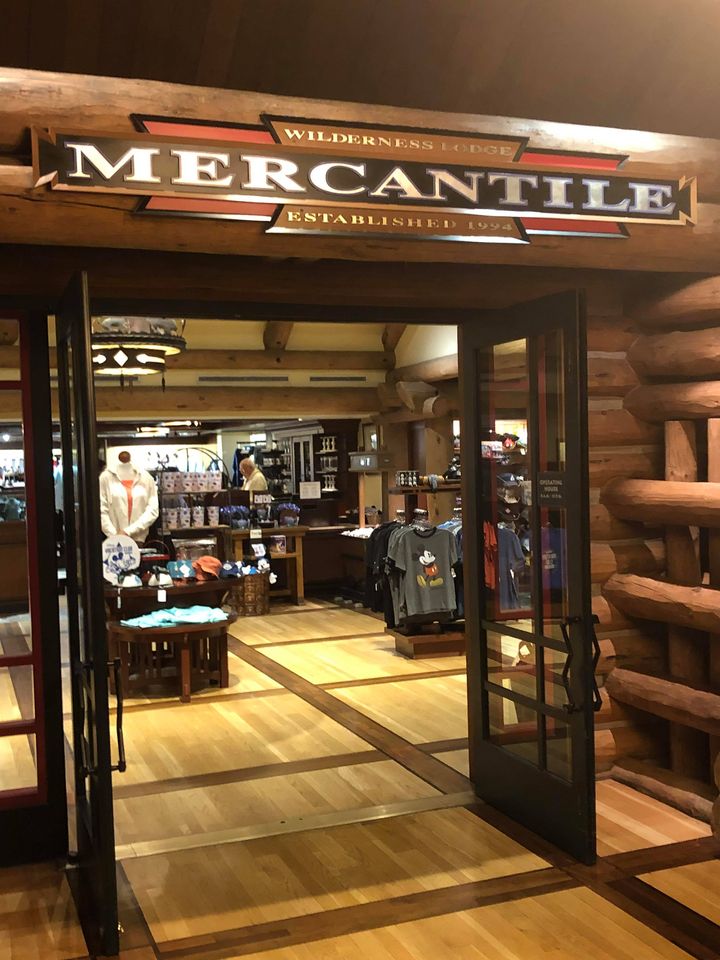 Resort Pools at Wilderness Lodge
This resort has two pools. The larger main pool and the smaller quiet pool in the Copper Creek Villas area.
What's do you need to know about the pools?
Towels should be available to guests at both of the pools.
Each pool has a chair lift.
One of the hot tubs in the Copper Creek Springs pool has a chair lift.
There are lifeguards at the main pool only.
Free life vests are available at all pools. They range from infant size to adult XXL.
Each pool has restrooms.
Swim diapers are required for children who are not toilet trained. They can be purchased in the resort store.
Both pools have a chair-lift device.
Water temperature: In the cooler weather, pools are heated to 82° Fahrenheit, 28° Celsius. At times we've found that the pools felt much colder than that. How warm a pool will actually gets will depend on a variety of factors including pool size. At times we've found that the heat was not turned on for a quiet pool. If that's the case, let a Cast Member know you'd like it turned on.
Pool Party at the main pool: Usually sometime after 1 PM, the main pools at all of the Disney resorts have pool parties going on. Parents and kids will love this, but if you're looking for quiet, keep in mind that these parties are VERY loud. There's dance party music blasting throughout the entire afternoon, and the Cast Members lead the kids in activities over a loud speaker. This all makes the Boulder Ridge Cove quiet pool appealing to many adult travelers and anyone looking for a more peaceful environment.
Copper Creek Springs Pool at Disney's Wilderness Lodge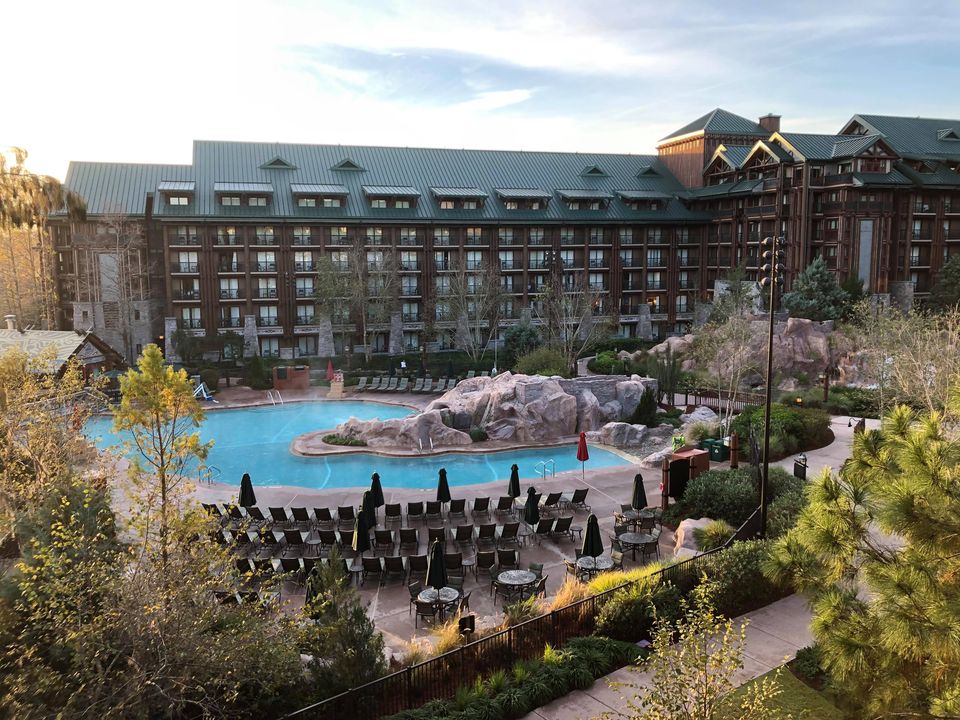 This main pool is smaller than some of the other Disney Resort pools, but the theme is carried out to beautiful effect. Located behind the main lobby and between the hotel's two guest wings, it provides fantastic views from some room balconies.
It appears to be fed by a picturesque stream that originates in the lobby, and trickles down over rocky beds until it plunges into the freeform pool in the form of a small waterfall. The pool itself is made to look like the natural pools found in Yellowstone.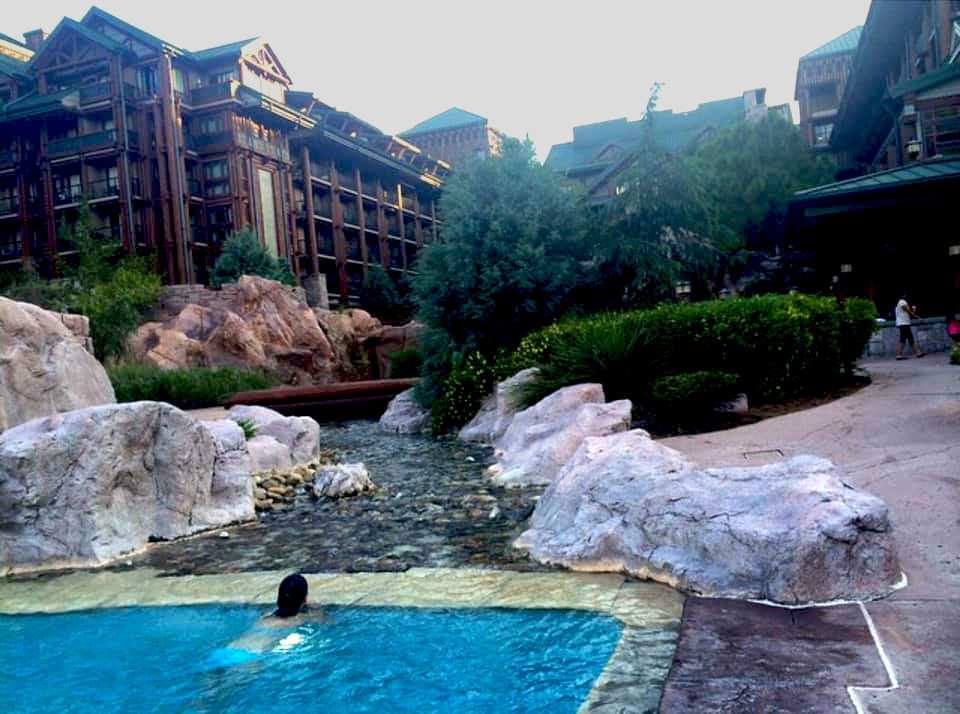 Slide: It's a not-terribly-steep slide that would be fun for small children, but anyone can use it. It runs 67 feet. This very tame slide is accessed via ramp. There are no stairs except for a small (about 3") step up to the platform at the top and a step down (about 5") into the well to sit.
Here's an observation from one mom about the slide design: "…The access to the Copper Creek Springs pool slide is a ramp entrance. No steps to the top of the slide. My son has Autism, and he wasn't very coordinated when he was 5 (on our first trip). I felt this set up was very safe for him. He was also a "runner" (he would wander/ elope quickly) so the set up of having the water slide entrance close to where the slide entered the pool was also awesome! One parent could easily watch over our son & not worry. We were able to keep our eyes on him even if we waited at the bottom of the slide in the water.
Accessibility of the main pool area and main pool: Walking from the lobby down this path to the pool is down (or up, depending on the direction you are heading) a significant number of steps. If you don't want to make the climb, take an elevator inside the hotel and come out from the lowest level. There's no zero entry or transfer tier for handicapped access to this pool, and there's no lip either. The pool edges are smooth and lined with inlaid stones. There is a chair-lift device at the pool. See a lifeguard to use it.
There are two hot tubs which are accessible by stairs or ramp, though the ramp is somewhat hidden. One hot tub is kept hot and the other is usually only cold/lukewarm (great for kids). One of the tubs has a chair lift.
There are some umbrella tables and on last check, a fabric overhang that covers some of the seats.
There's a shallow, children water park for kids who are 48 inches or less.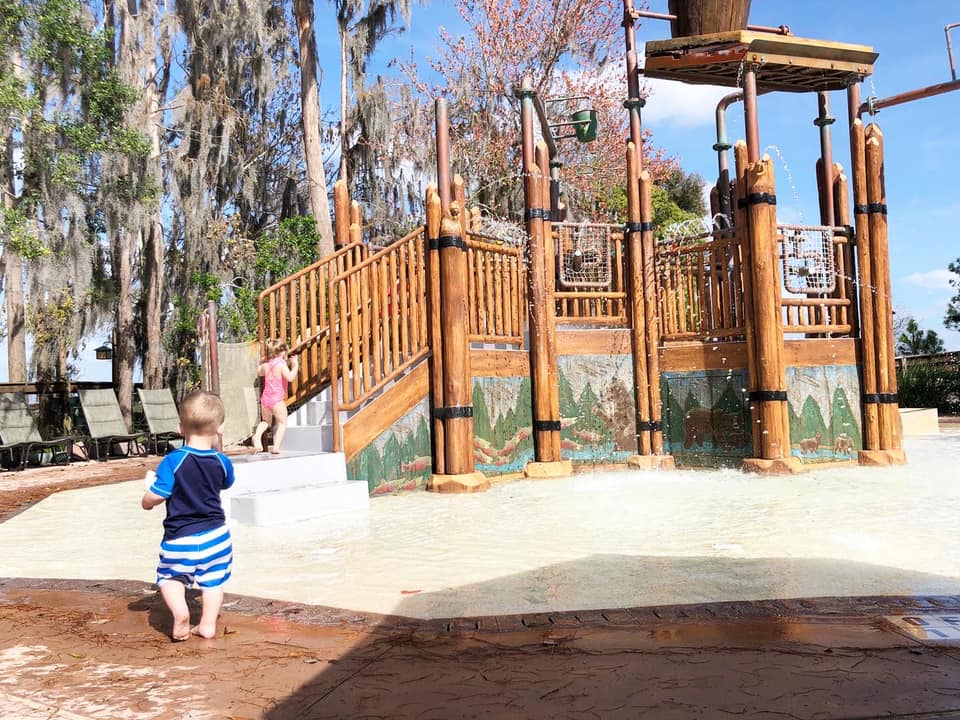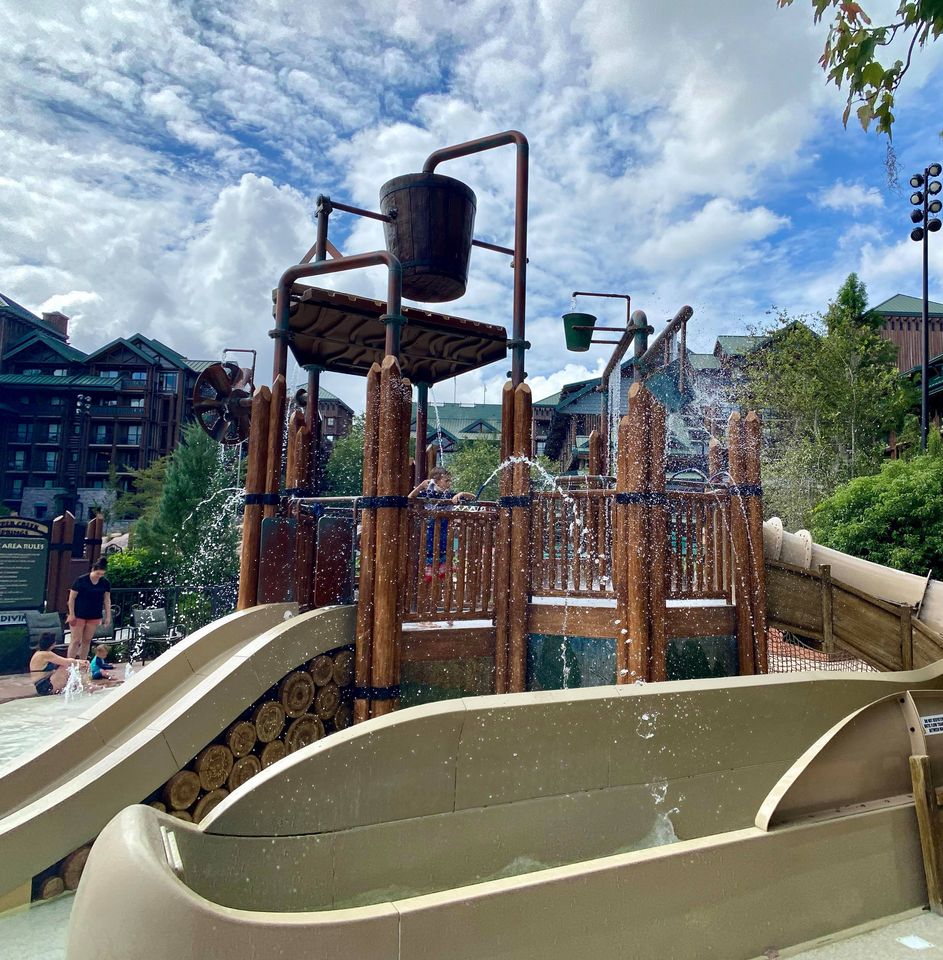 A nearby attraction is Fire Rock Geyser, a 120' geyser. It erupts every hour on the hour beginning at 7 AM, usually running through 10 PM. Modeled after Old Faithful at Yellowstone National Park, between eruptions it looks like a bubbling, steaming puddle. This is a feature to look at only. It's set on the far side of a small boardwalk and behind a fence near the pool.
The landscaping here is sedate, and in keeping with the Northwestern atmosphere. The pathway to the pool from the hotel wanders past the stream, with muted wildflower gardens tucked in among the Disney-built rocks.
Animals at the pool & Tip: You'll find some shade trees on the far left, but birds favor these trees, and the humans below are a target for their droppings. We know this firsthand. If you want to stay there anyway for the shade, cover up your valuables, and anything else you don't want to have to launder. If you should be the recipient of a bird's gifts, the resort has dry cleaning services. Ducks like to hang out here too, scrounging for food. Be sure not to leave anything edible within reach of the ducks or it will be duck food.
Boulder Ridge Cove Pool near the Boulder Ridge Villas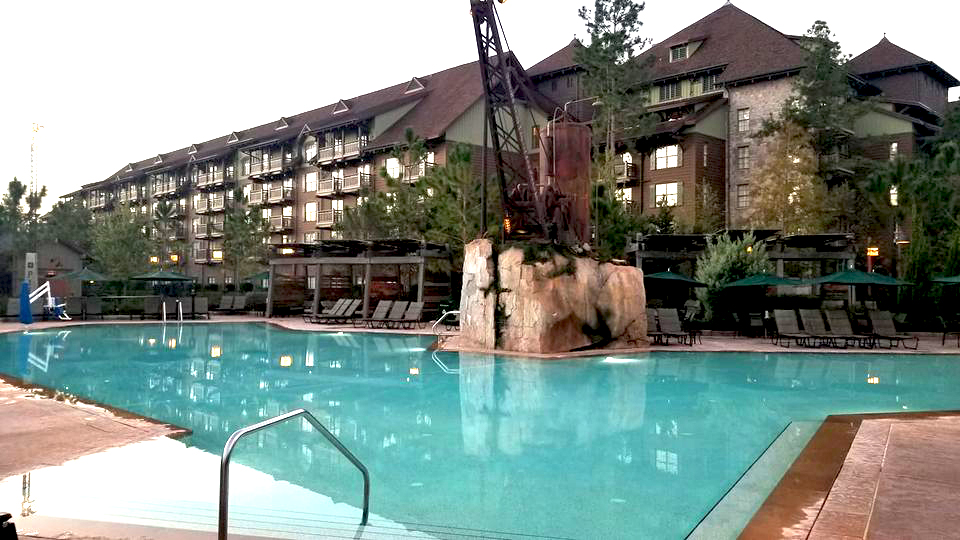 This is located by The Boulder Ridge Villas area of the resort. It's fairly small and tends to be more laid back than the other pool. This pool doesn't have the very loud pool parties that you'll find at the main pool most afternoons, so it's a good option for anyone looking for quiet. The pool has zero entry and It has a hot tub, broad shallow stairs, plenty of seating under umbrellas, towel service, and it's tucked nicely against the edge of a pine forest. It has a transfer tier, and a chair-lift. You'll need a Cast Member to use the lift.
A great perk at this pool is the 6 shaded cabanas which you access on a first-come first-served basis.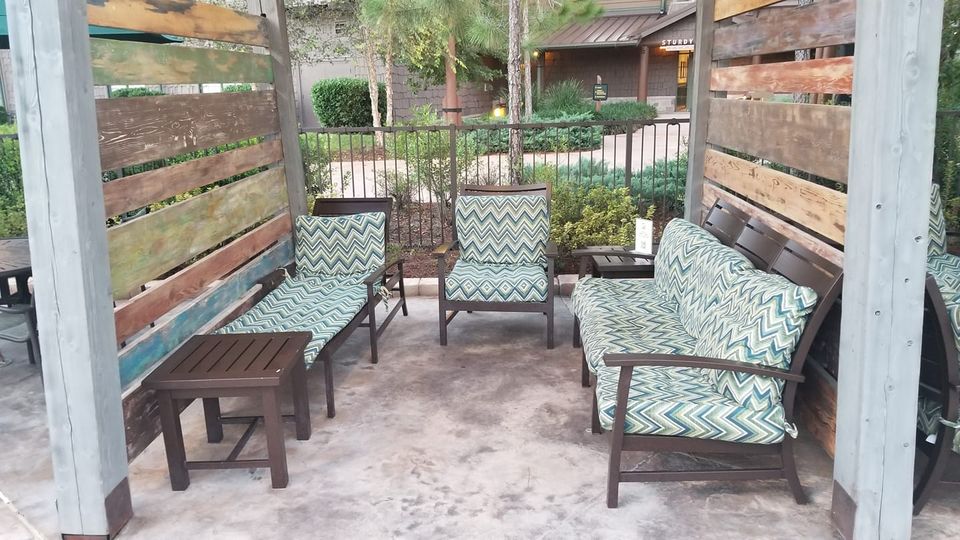 There's a hot tub by the pool. It does not have a chair lift.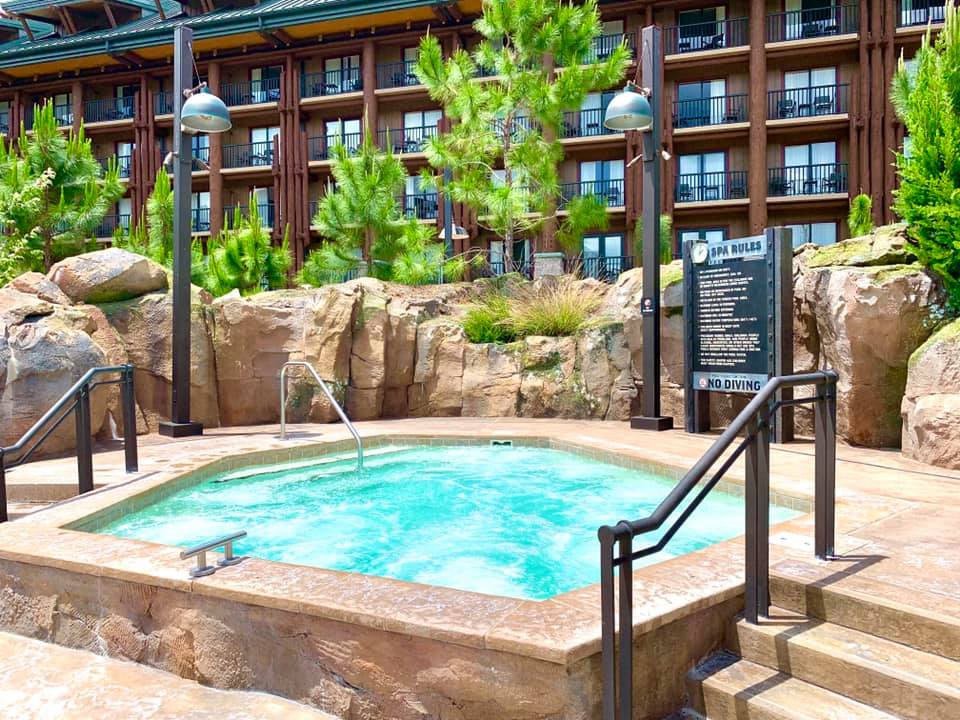 Health Club at Wilderness Lodge
Sturdy Branches Health Club is a 24-hour full service health club located off The Villa's Carolwood Pacific Room. They have tanning beds, a sauna, and gym equipment including ellipticals. Some of the equipment is made by Convenient Life Fitness Machines. Massages are available by appointment. Attendants are there, currently from 6 AM until 9:00 PM. Before or after that you'll need a room key. Kids younger than 17 must be accompanied by an adult, and children younger than 14 can't go at all. For a massage or appointment with a personal trainer, or just to ask a question, call (407) 938-4222.
Salon at Wilderness Lodge
Salon by the Springs is a full service salon offering everything from haircuts and color services to hair extensions and nail services. They also offer "Character Couture" which includes hair styling, make-up and nails, with looks inspired by Disney characters. The salon is open every day from 9 am to 5 pm. Teh salon is located in what was formerly the Trout Pass Pool Bar which is located near the main pool. Appointments are strongly recommended. Guests who are under 18 years old have to have a parent or guardian's permission to call. Call (407) WDW-GLAM or (407) 939-4526.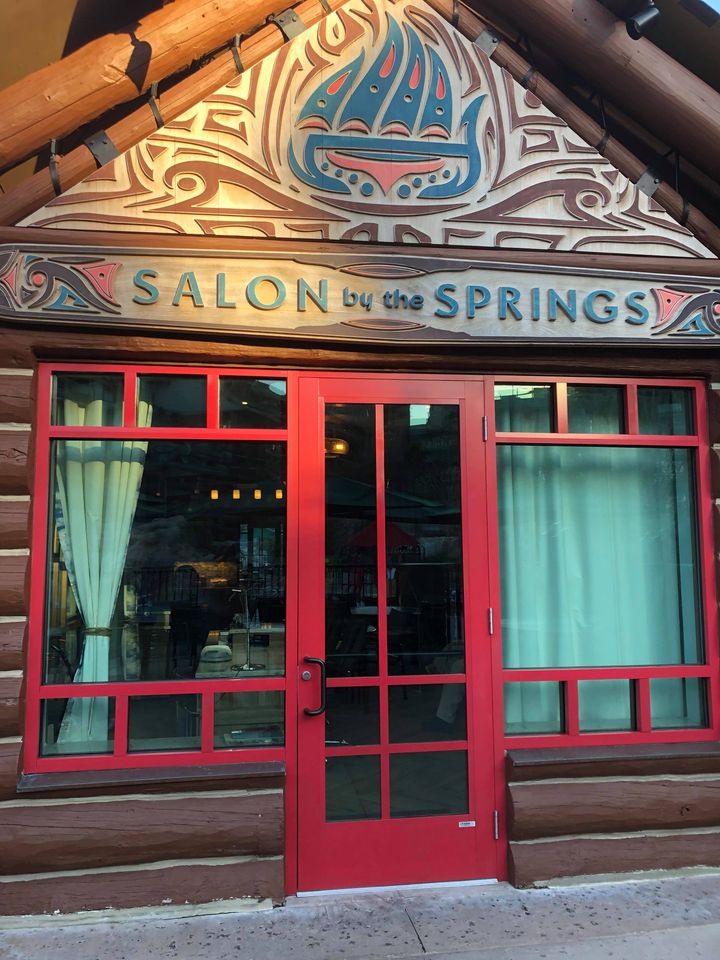 Other Entertainment at Wilderness Lodge
Teton Boat & Bike Rentals, Fishing Excursions: There are boats for rent including Sea Raycers, Boston Whaler Montauks, and Sun Tracker pontoon boats. Reservations are not required. First come, first served. You must be 18 years old or older to pilot a boat. The Bay Lake connects to the Seven Seas Lagoon, so you can pilot your boat all the way over to the Magic Kingdom and catch a glimpse of the castle. They also have guided boat rides and bass fishing excursions with a catch and release program. Other options include bike and surrey Rentals. You can also book a private Fireworks cruise. These make a great birthday or celebration gift! Call (407) WDW-PLAY or (407) 939-7529.
There are also some gaming tables in this area such as foosball and ping pong.
Jogging & walking trail: There's a jogging trail that winds through the woods which is approximately 2.5 miles long. There are paved and wood planked walking and biking trails.
The Buttons and Bells Arcade: Located off the lobby, this arcade opens around 6 am and closing time varies. It's a fun place for kids and kids at heart to pass the time.
Wonders of the Lodge Art and Architecture Tour: This is a free guided tour of the resort that runs about an hour (ask at Guest Relations for times).
Electrical Parade and Fireworks: You can view Disney's Electrical Parade at Geyser Point Bar & Grill. The parade is made of a long group of attached boats with electrical light displays. The bar also gets a nice view of Magic Kingdom fireworks.
Outdoor campfire: Guests can enjoy toasting complimentary marshmallows. Ask at the desk for times and days. You can also purchase the ingredients to make S'mores.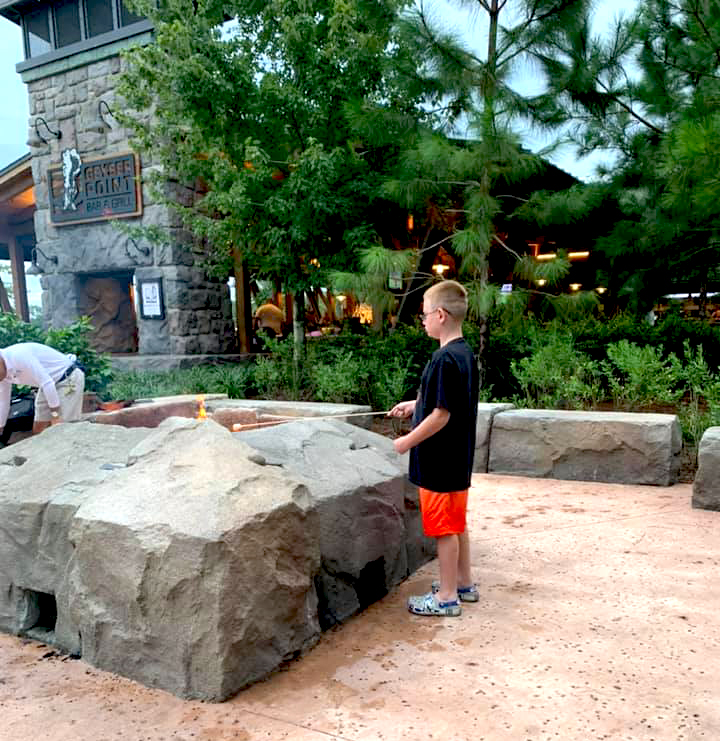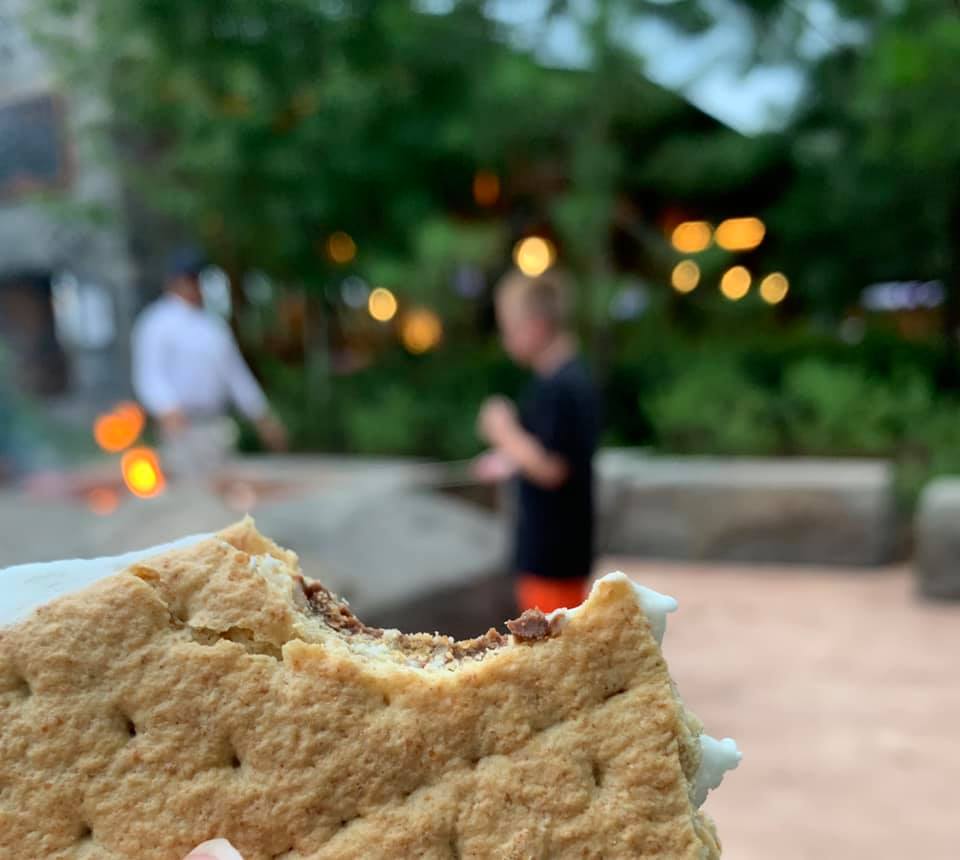 Free outdoor movies: Movies Under the Stars is usually held nightly, near the pool and the Geyser Point Bar & Grill, guests can enjoy a free Disney movie shown outdoors. Disney sets up a blow-up screen and guests can use the pool chairs.
Playground: There's a green and brown plastic playground, which is not especially extensive. On last check it sits on sand instead of a recycled-tire rubber surface, so it's a good choice for those with latex-sensitive children.
Flag Family: Each day, one family is chosen to be the "Wilderness Lodge Flag Family". That family gets to raise the flags in the morning. This entails going up on the roof with a 'ranger' and raising all of the hotel flags. That includes the Stars and Stripes, the flag of Florida, the Disney flag, and two Wilderness Lodge flags. When you're done you get a photograph, a certificate, and, at the time of this writing, a voucher for a free breakfast at the Roaring Forks Café. If this interests you, make sure to mention it when you check in.
Other fun stuff: Disney offers a wide array of activities at this resort. Check the calendar that you can get from the front desk. They've offered everything from Mickey tie-dying to decorating cookies. They've also offered water basketball, arts and crafts, nature crafts, and the list goes on. Geyser Point Bar & Grill hosts a Disney trivia game weekly.
There are massage chairs available for a fee inside the resort.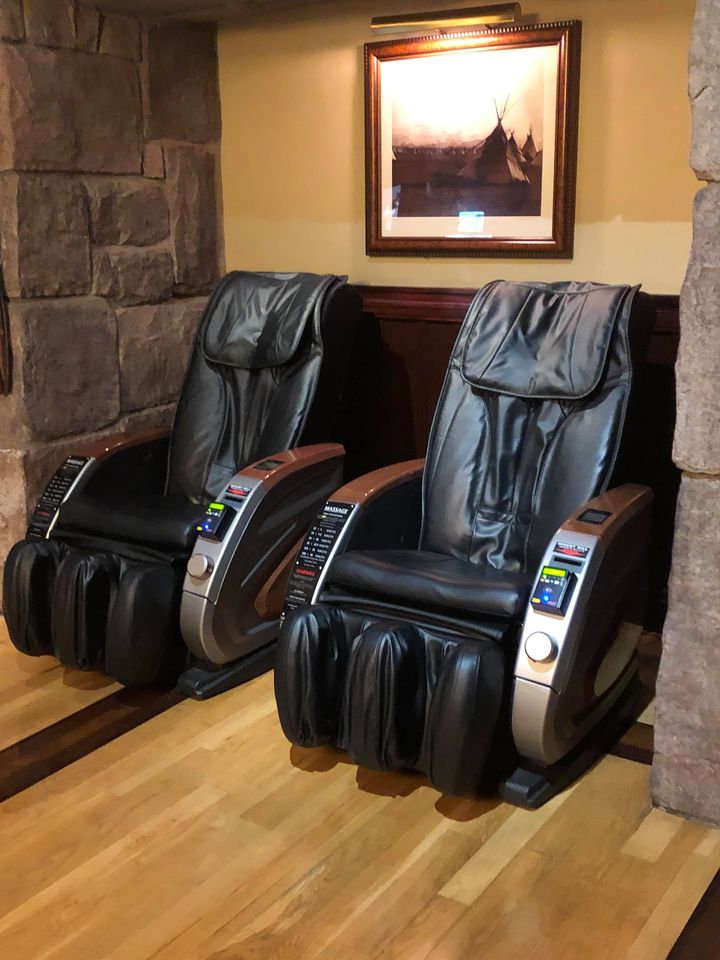 Transportation at Disney's Wilderness Lodge Resort
To drive to the resort you'll go through the Magic Kingdom toll-booth. You won't need to pay once you tell them where you're headed. Stay as far to the right as you can without getting into the bus lane.
Even though this is considered a Magic Kingdom Resort it's not on the monorail line. The only place you can get to by walking is the Wilderness Cabins, about a mile away. There are plenty of dining and recreation options there.
The transportation available at this resort includes boats and buses.
Buses at Wilderness Lodge: This resort has bus service to all of the parks, The Transportation and Ticket Center and Disney Springs. Buses are sometimes dedicated and sometimes shared with other resorts which may include the Grand Floridian, Contemporary and Polynesian resorts, though not usually Fort Wilderness.
You can get to the pick-up spot by walking a fairly short distance down a broad covered walkway that's to the right as you face the main entrance of the hotel. The waiting area is very large, has a roof, and a few hard benches with backs. There's plenty of shelter so no one will be left out in the sun or rain.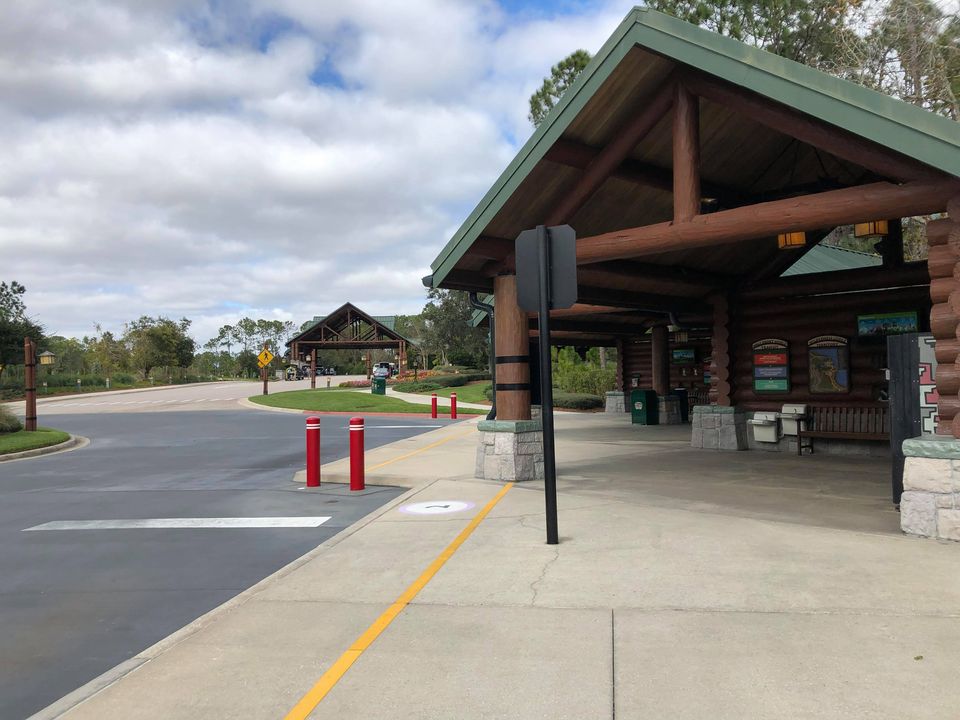 Boats at Wilderness Lodge: Two boat lines are available here. Red Flag line boats go to the Magic Kingdom and back. They're accessible as long as water levels allow for loading. Blue Flag boats run between the Fort Wilderness, Wilderness Lodge and Contemporary Resorts. These are usually not ECV accessible. Wheelchairs can be taken on board if they're folded. Passengers must step down into the boat and sit in a regular boat seat.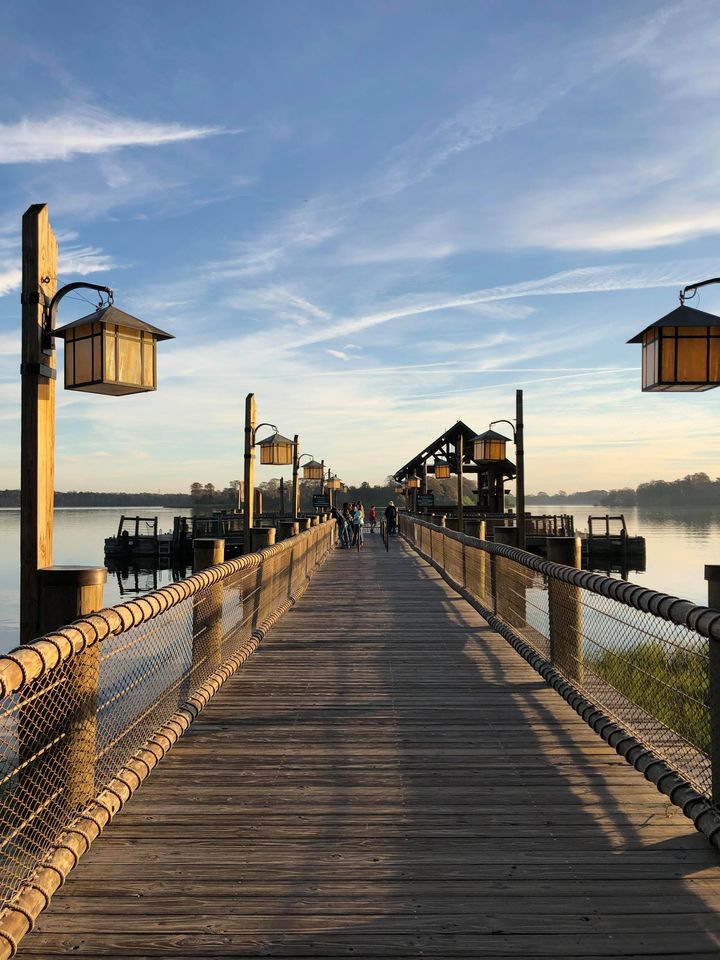 For more information on Disney transportation, including accessibility information, visit our Disney Transportation page. 
Laundry at Wilderness Lodge
There's a 24 hour coin operated Laundromat near the Roaring Forks Snack Bar. The washing machines are top loading, and the dryers are side loading and stacked. They accept credit cards only. If you don't have one, you can buy one at the front desk. The cost is currently $3 a wash and $3 a dry. There's also a vending machine with stuff like laundry soap, fabric softener, etc. Dry clean services are available for a fee. There will be an order form and a bag in your room closet.
Babysitting at Wilderness Lodge
While there used to be an on-site facility, this no longer exists. For information on babysitting services, check out our babysitting at Disney World page.
Smoking
Smoking is banned in all Disney-owned hotel rooms. Even patios and balconies are non-smoking areas. Of course it's always possible that another guest could smoke in a room anyway, but Disney reserves the right to charge a penalty since they'll need to specially clean the room. This usually discourages people from smoking inside their rooms. There are pre-designated outdoor areas around the resort where smoking is permitted. The resort map that you're given when you check in should have the areas marked, or ask a cast member when you check in.
Map of Wilderness Lodge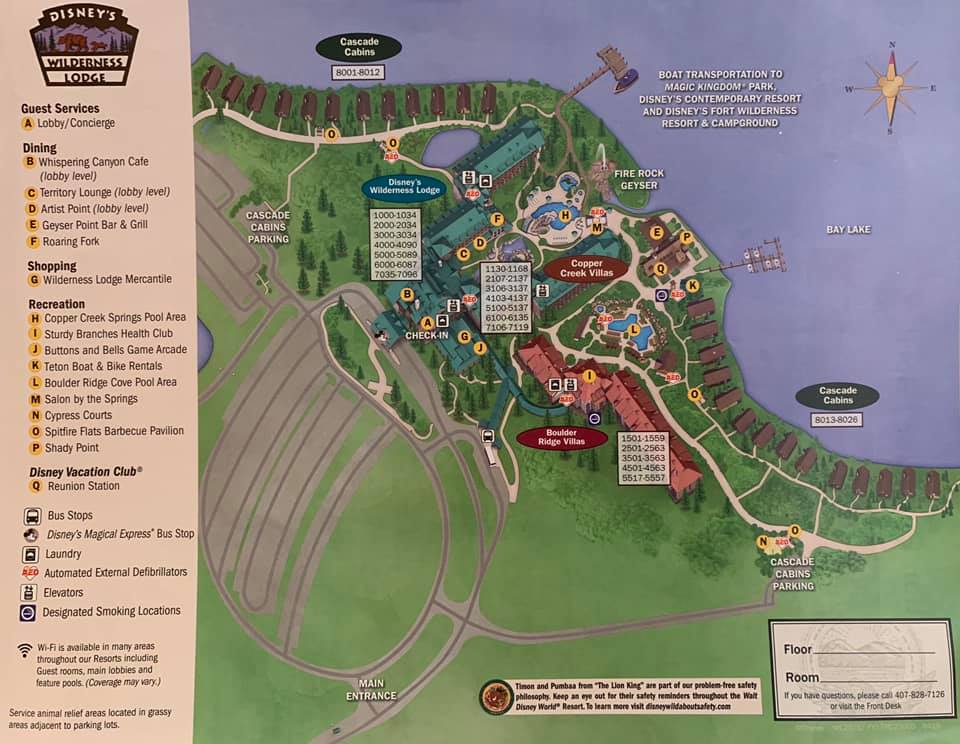 Have more questions? Or just want to hang out with other Disney World fans? Join these Facebook Fan Groups:
Also join me on Pinterest here.
A HUGE thank you to all the people who donated photos and video. You all rock! Thank you especially to Debbie Dawson White for her support with this article!
GET UPDATES, NEWS & TIPS (IT'S FREE!!!)
Sign up below to stay updated on the newest information, tips and tricks to help you plan your perfect Disney World trip!