Disney's Port Orleans Riverside Resort
In-Depth Info for Everyone!

Plus More for Those with Extra Challenges…
Location: Located off of Bonnet Creek Drive, which is right near Disney Springs. Address: 1251 Dixie Drive, Lake Buena Vista, FL 32830-1000. Phone: (407) 934-6000 Fax: (407) 934-5777. Parking fee: $20 per night. Check-in: 3 PM. Check-out: 11 AM. Resort Type: Moderate.
With 2,048 rooms, Riverside is a large and very spread out complex. The buildings are scattered along the beautiful "Sassagoula River", and Riverside is designed with the river at its center. This makes for picturesque views as you walk over decorative and charming bridges, through the lush, wooded areas and lovely manicured gardens that border the river.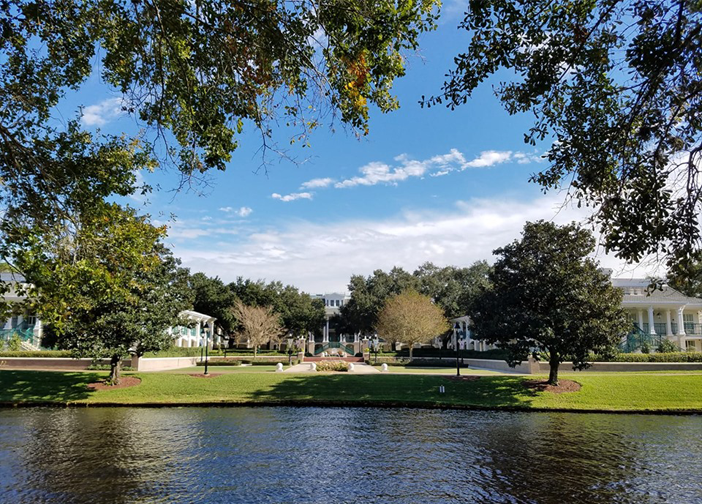 The Riverside Marina is in the center of things, creating beautiful views from inside the main building and from some of the rooms. There's a walkway that takes you around the entire complex by the side of the river and over its rustic bridges. Catch it right and a boat will pass below you. It's a wonderful walk, and part of the attraction of this resort. Benches are strategically placed so you can relax and enjoy the idyllic views.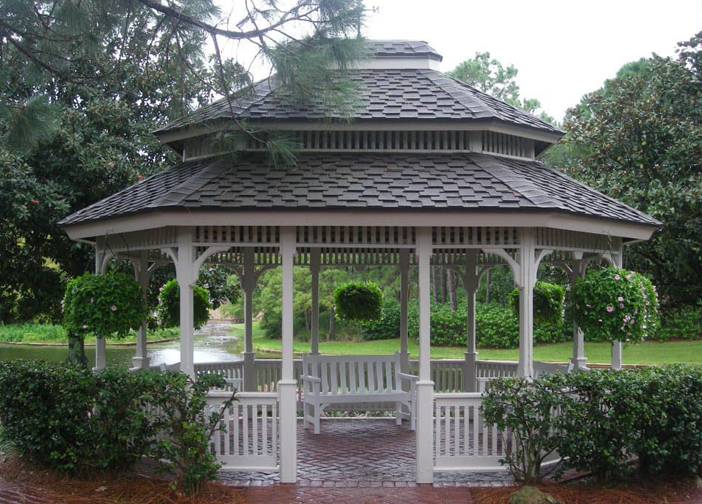 Here's the opinion of one Disney visitor:
"At Riverside it was a pleasure to take the walk to get our morning coffee. We enjoyed seeing the boats, the woods and wildlife (we even saw a few bunnies), the fountains, vine covered garden arches and the beautiful buildings. Although Port Orleans French Quarter has a walking path by the river with seats along the way, it's not a central part of the layout, though still lovely. Still, we prefer Riverside for the views."
The resort has two sections themed around the Old South, which reflect distinct and even opposite lifestyles. The beautiful lawns and gardens of the entire complex are meticulously kept, and you'll see the occasional rabbit, duck, Great Blue Heron or Snowy Egret completing the picture. The 3.5-acre recreation complex called Ol' Man Island is at the center of everything. There you'll find the main pool, hot tub, the sizable playground, Muddy Rivers pool bar and the Fishing Hole. The main building is nearby, just over a bridge.
The resort has several bridges, and their floors are made of wood boards, which can be bumpy for wheelchairs and scooters.
Here's a walking tour of the Port Orleans Riverside resort:
Advantages and some disadvantages of Port Orleans Riverside Resort
ADVANTAGES: In addition to the Disney magic you can expect in every single Disney World resort, here's what's really good about this resort:
It's beautiful. The atmosphere is special. The river, the gardens, the fountain, the lush trees, horses and buggy's, etc. It's just really special.
It tends to be peaceful. That's something that we frequently hear others say, and it's our experience too. Can there be noisy neighbors or groups of kids? Yes, but we haven't experienced much of that there and we've stayed in this resort more times than we can count.
Moderate prices compared to the deluxe Disney resorts.
Its themed main pool with a slide adds another element of fun to your vacation.
The quiet pools tend to be quiet and peaceful.
The food court is convenient and less expensive than a full-service restaurant. It offers a lot of food choices.
It has a full-service restaurant as an option.
You get all the benefits of being in a Disney resort, such as Early Theme Park Entry, Extended Evening Theme Park Hours, room package delivery, free on-property transportation, etc.
You can share the pool at Port Orleans French Quarter, and you can walk there.
You get to use the Friendship Boats to get to Disney Springs or French Quarter. It's usually such a pleasant ride.
You don't usually see large, noisy groups of people here. That's something that the value resorts get a lot of. While it does happen at Riverside, there's not nearly as much of that as in the values.
Some rooms can take 5 people plus a child under 3 years old. 
Pet dogs are allowed. (See more info below) Of course that can be a disadvantage for some, so we'll put that in the disadvantage section too.
DISADVANTAGES
The rooms are not huge. Of course they're larger than the value resort standard rooms, but there's not a lot of wiggle room.
The grounds are HUGE. If your room is far from things, you'll do a lot of walking.
Maintenance on the grounds can be noisy. Since there are so many gardens and common areas, there often seems to be maintenance going on including pressure washing, lawn mowing, etc.
Air conditioning units right outside some of the rooms are noisy. 
The food court can be crowded, especially at breakfast. It's a huge resort and the guests flood into breakfast before going to the parks. It can be very crowded. They do have a lot of cashiers and it's a fairly large food court, so that all helps.
Buses can be less than ideal. There are a lot of bus stops. This means that depending on where you get on, you'll have a lot of additional bus time. Plus at times the buses are shared with Port Orleans French Quarter so that adds even more time.
Pet Dogs are allowed. If you have an allergy or fear of dogs, you might wish to stay somewhere else.
If you're trying to get an ECV or wheelchair in your room, unless you have a handicapped room with a king bed, it's tight. It can be done though.
Yes, it's imperfect, but it's Disney. Many people would rather stay at a Disney Moderate resort than a much more deluxe resort somewhere else. There's that intangible "magic" that everyone talks about at the Disney resorts. It's real and you can't experience it anywhere else. If a Moderate resort fits within your budget, and the theme of this resort appeals to you, this may be a good fit for you.
Dogs at Port Orleans Riverside
In addition to service animals, Disney allows guests to bring their pet dogs to stay at Port Orleans Riverside. It's one of 4 Disney resorts currently allowing this in some of its rooms. For more information on what's involved in bringing your Dog to stay in a Disney World resort, including Port Orleans Riverside, check out this article.
One thing I'll mention here is that there will be "dog friendly" areas designated, but when they're full, pets can be placed in undesignated areas. So any room in the four resorts could house dogs according to what we've been told. For those with allergies to animals, service animals have always been allowed in any room in any resort. This is usually in very small numbers though.
Perks at two different resorts!
Guests of Port Orleans Riverside and Port Orleans French Quarter are invited to use the facilities at both of these resorts, including the pools. To get from one resort to the other, you can take a pleasant walk along the beautiful Sassagoula River that winds through both resorts. This should take approximately 7 to 20 minutes, depending upon your speed and starting point.
Another option is to take a wheelchair accessible open-sided Friendship Boat. The same boat will also take you to Disney Springs, passing through the woods, by a golf course and past other Disney resorts. It's a wonderful opportunity to enjoy nature, and we've often caught site of some interesting wildlife. The breeze is usually fragrant from the trees as you're riding along, and we find this especially true at night. It's a very peaceful ride, and we'd take it just for the pleasure of it even if we didn't need to go anywhere. As you approach Disney Springs you get a great view, and at night the lights are beautiful.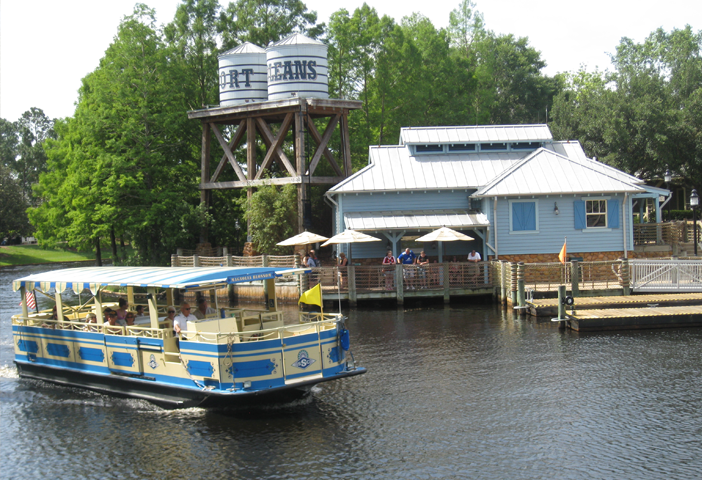 The Main building at Disney's Port Orleans Riverside Resort – The Colonel's Cotton Mill
The Colonel's Cotton Mill building is themed as a riverboat depot and an old-fashioned cotton mill. It's bright and pleasant, with sections featuring a style more in line with the Magnolia Bend mansions, and other areas reflecting the more rustic Alligator Bayou buildings. It houses the resort store, bar, full service restaurant, food court, arcade, front desk and Guest Relations. You'll even find face-painting and a caricature artist there.
Outside, the main bus stop is in the front, and in the rear you'll find the Friendship boat dock, the boat and bike rental areas and at night, the horse and buggy ride area.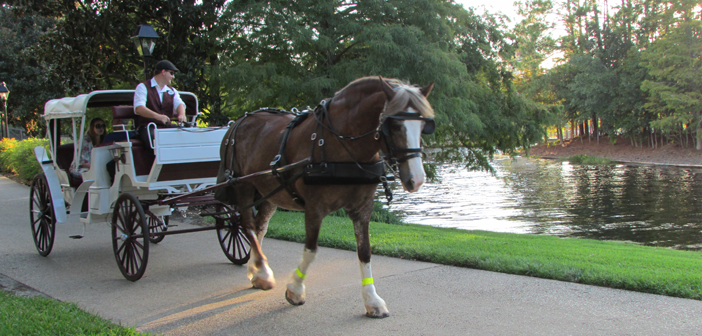 Checking In to Port Orleans Riverside. 
Check-in is inside the main building.  The area has a calm, simple décor with cream colored walls, turquoise and blue furnishings, a salmon and turquoise accented carpet, white columns, and a high ceiling with chandeliers.
There's a kids waiting area in view of check-in with a television playing Disney movies. There's a nearby arcade, though it's not in view of the check-in area. Older kids can enjoy playing games while waiting for their parents to check in.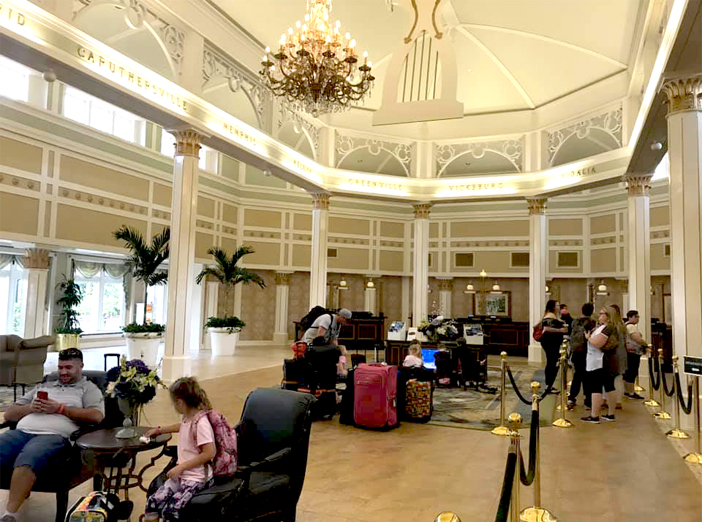 Luggage Delivery at Port Orleans Riverside
There's no valet parking for cars, but there's really no need; you're only here long enough to check in. When you arrive, Bell services will take your luggage and store it until you're ready for it to be taken to your room. Once your room is ready, they'll deliver your luggage. You'll either drive your car and park motel style in a lot near your room, or walk to your room. Once you get there, you can call Bell Services to deliver your luggage.
As mentioned above, if your room isn't ready at check-in, they can store your luggage until it is. You're welcome to use the pool, dine or to even go enjoy the parks. They'll also store your luggage for you after check-out if you are not leaving Disney World immediately.
Parking at Port Orleans Riverside
Keep in mind that most guests will not be parking right outside their rooms, but will have to walk around the building and down outdoor corridors to get to their rooms. Some rooms will be quite a long walking distance from the parking lot. If you need to have your car near your room, you may wish to request a room near the parking lot.
Parking Fees: There is a charge for parking at the Disney resorts. At this time it's currently $19 per night. There is free parking for those with a valid handicapped placard. Bring it with you to show the Cast Member when you check in. If you are participating in the online advanced check-in, then when you arrive, go to the front desk to request free parking. For more info on parking fees throughout Disney World visit here.
Scooter Pick Up: If you're having a wheelchair or scooter dropped off at the resort by an outside company, you'll set up a time to meet the company at the resort, at a location they'll let you know about. If you're in a scooter, you can ride it to your room.
Buildings & rooms at Disney's Port Orleans Riverside Resort
There are no internal hallways but each floor has external walkways with railings on the upper floors. There are no balconies or first level patios. Each floor at Magnolia Bend and Alligator Bayou has soda, ice and vending machines located near the elevators on all the guest floors.
How many people can stay in the rooms? The rooms are approximately 314 square feet. Magnolia bend rooms sleep 2-4 plus a child under 3 years old, and Alligator Bayou rooms sleep 2-5 plus a child under 4 years old.
Two styles of buildings: As we mentioned there are two distinct styles of guest rooms here, reflecting themes from the Old South. Magnolia bend depicts the grandeur of the stately Southern plantation style mansions.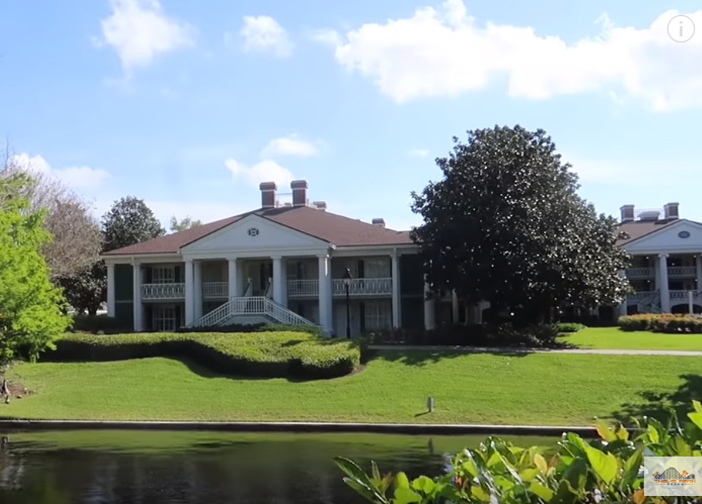 Alligator Bayou is Disney's rustic take designed to look like the Mississippi backwater bayou homes.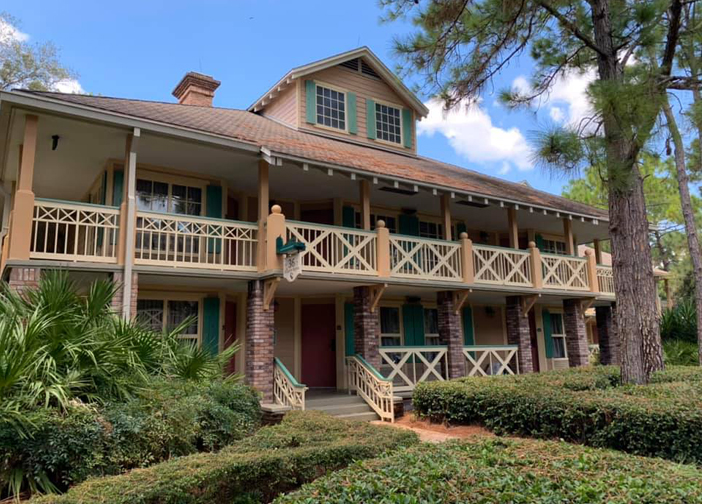 Magnolia Bend has four buildings, two and three story high, with 256-rooms. You'll see tall white columns, wrought iron railings, fountains and a grand outdoor staircase (think Gone With the Wind). The buildings are surrounded by a variety of exceptionally well manicured gardens with huge oaks, magnolia trees, and other flora decorations including trellises adorned with roses and hanging plants, and flower adorned gazebos. We find the Magnolia Bend grounds to be particularly beautiful and generally very peaceful.
Alligator Bayou's buildings and rooms are exactly like Magnolia Bend in size and basic design, but they lack the grand touches and have a homier feel. There are small ponds and streams around these buildings, which are surrounded by lush wooded areas. There are 16 two-story buildings, each with 64 guest rooms set far back in the complex. The majority of these are a long way from the main areas. However if you don't mind walking, you'll enjoy the pleasant and peaceful atmosphere.
Please note that Magnolia Bend buildings have elevators, but the Alligator Bayou buildings do not. If mobility is an issue for you, you may wish to request a first floor room at Alligator Bayou, or a room in Magnolia Bend. Although Disney will do its best to honor your request they will not guarantee it. Here's a look at the stairs in an Alligator Bayou building: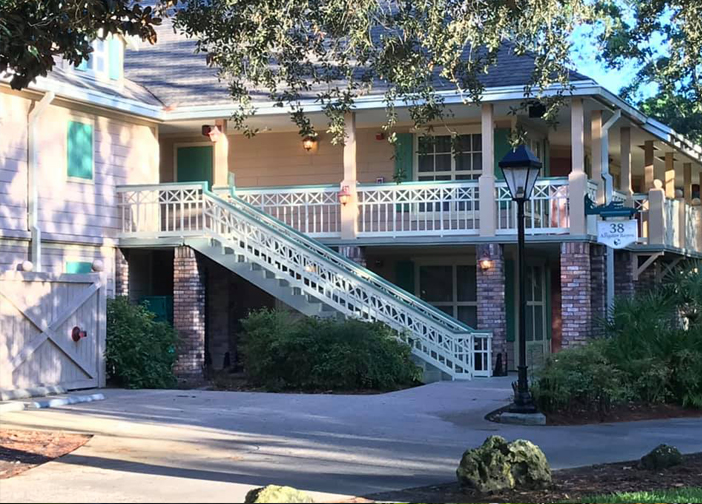 Room decor: The décor of Alligator Bayou and Magnolia Bend rooms are as different as could be. Each reflects their themes.
The Alligator Bayou rooms have furniture and decorations that look rustic. For example the lights over the beds look like old fashioned gas lamps.
Take a look at an Alligator Bayou room in detail:
The Magnolia Bend rooms have a more refined look and formal looking furniture. Here's a photo of a standard Magnolia Bend room: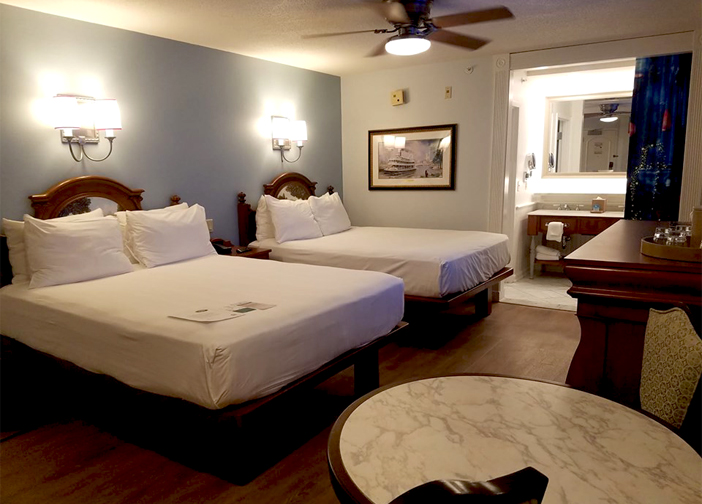 Connecting or adjoining rooms: These can be requested but are not guaranteed.
Preferred rooms at Disney's Port Orleans Riverside Resort:
There's an extra charge for the Preferred Rooms in Alligator Bayou which will get you closer to the main building. These are in Lodges 14, 15, 18 and 27. The Royal Rooms (that have an extra charge) are only found in building 90 (Oak Manor) and building 95 (Parterre Place). These two Magnolia bend buildings also get you closer to the main building.
Royal Guest Rooms at Disney's Port Orleans Riverside Resort:
Royal Guest rooms are available for an extra charge. Guests experience special Disney fashioned rooms with custom furniture, art, drapes and linens, and even special headboards that light up with fiber optics to simulate fireworks. There is so much attention to detail to appreciate in these rooms. Kids will love them, as will adults!
Take a tour of a Royal Room:
Room location tips for Disney's Port Orleans Riverside
Tip: The shortest walks to the main building (The Colonel's Cotton Mill) from Magnolia Bend are from building 90 (Oak Manor) and also parts of building 95 (Parterre Place) nearest the bridge. Building 85 is a little farther from the main building, but closer to the main pool. To get there you can cross the bridge that leads to Ol' Man Island where the main pool is, and you can walk across the island to another bridge that leads to the food court end of the main building. Whichever building we're placed in, we always request that our room be as close as possible to the bridge to reduce walking. However this puts you farther away from the parking lot.
In Alligator Bayou, the closest buildings to the main building are 14, 15 and 18. The closest buildings to Ol' Man Island are 27 and 38, but they're quite a long hike to the main building.
Tip: Looking for quiet? The rooms towards the front of the guest buildings that border the main pathway tend to get noise from foot traffic. Avoid these locations if this is an issue for you. Also, you may wish to request an upper level floor to further reduce foot traffic going by your room.
In Alligator Bayou buildings 15, 16, 17 and 24, guests may hear car noise from Bonnet Creek Parkway.
Consider another thing that creates noise. These resorts have large air conditioning units outdoors, and they're loud. Request a room away from these units if you're looking for quiet. The cast members at check-in are not always familiar with the unit locations. If you get to your room and find that it's right by one of these noise makers, you can call and request a change. They'll try to accommodate you if possible.
More about the Port Orleans Riverside Resort Rooms
As mentioned above, all rooms at Magnolia Place sleep 2-4 with most rooms having queen beds and some with king beds. The accessible rooms in Magnolia Bend have king beds.
In Alligator Bayou, The standard rooms there sleep five with two queen beds along with an Ecco bed (drop down bed unit). This unusual bed serves several purposes. By day it's a bench seat with some drawers underneath, and the flat screen TV is on top. By night you can convert it to a bed suited for a child. In the photo below you can see the it with the bed put away on the left, and with the bed dropped down on the right.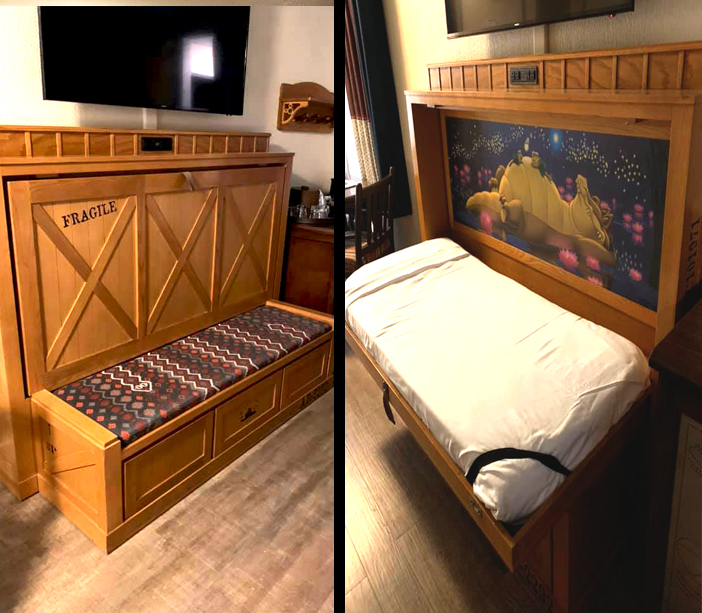 The handicapped units in Alligator Bayou sleep 2-4. These rooms do not have the convertible Ecco bed.
In both Magnolia Place and Alligator Bayou, most rooms have one window. The corner rooms have two, making for a brighter, more open feel.
In addition to the items above, each room has:
Flat panel LCD television
Nightstand with telephone
Settee
Dresser
A small table with two chairs
Hairdryer
Mini refrigerator
Wall safe
Wifi wireless
Ironing board with iron
Coffee Makers that take pods, packets of coffee, creamer (decaf, regular and tea are available)
Mirror
H2O shampoo, conditioner and soap
Digital thermostat that you can adjust
Bathrooms have two sinks with a shelf over them. In front of the sinks a privacy curtain separates this area from the bedroom. There's a separate bathroom area with a door that has a shower and toilet. Most rooms have a tub, but there are some handicapped rooms that have a roll in shower. Most of the rooms have a shower with a bathtub, but wheelchair accessible handicapped rooms have roll-in showers without a tub. At times Disney may give an accessible room out to a party that doesn't need it, if it's not in use and the room is needed. So be sure to request a room with a tub if you require that. 
Available Upon Request (Including handicapped options)
Alarm clocks are available upon request. Though they used to be put in the rooms automatically, they are no longer there unless you request it.
Guests can also request cribs, and a Pack 'n Play at no extra charge.
Handicapped & health related requests: Hearing-impaired TDD telephones, bed shaker accessory, visual smoke alarms, wake up alarms and door knocks; bed boards and bed rails; Sharp containers for used syringes.
Resort shopping at Port Orleans Riverside 
Fulton's General Store is located in the Colonel's Cotton Mill (main building). You'll find most of what you could need including Disney clothing and goods, snack foods, toiletries, alcohol, books and magazines, and over-the-counter medications such as aspirin.
Dining at Port Orleans Riverside 
Riverside has one full services restaurant, and a large food court. Here are details:
The Riverside Mill food court is a 450 seat food court with various types of cuisine. It's themed to look like the interior of a cotton-mill. The main attraction is the huge working waterwheel just outside, visible from most of the large windows. You can see the waterwheel in the photo at the top of this article.
Despite the comparatively large size of this place it can be packed and hectic during peak crowd times. This is especially true at breakfast, before guests head out to the parks. During the rest of the day and evening it's not usually nearly as crowded.
Breakfast includes American favorites. Lunch and dinner stations offer hamburgers, pizza, pasta, soups, sandwiches, salads, carved turkey and other meats,  and bakery items. The bakery serves ice cream, including a no sugar added flavor. They also carry some gluten free baked goods options. There's a grab-and-go section where you can get fresh fruits and some pre-made items. There's a microwave for guests.
The majority of the chairs are wood without arms. There are a small number of tables with padded booth seats on one side.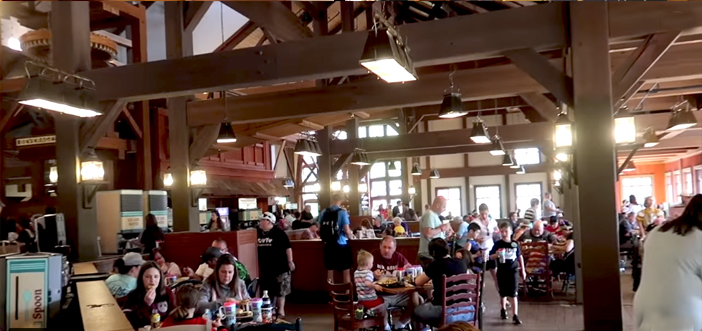 Off to one side, in the back, is a television tuned to the Disney channel. If there are long waits for your meal, it might make for good child-distraction.
Special Health Requests at Riverside Mill Food Court: You can speak directly with a chef about your dietary needs. They'll advise you on which foods you should avoid and they can prepare items that will fit most diets. Kosher meals should be available here without advance notice, but you should confirm this prior to your trip if you will be needing Kosher meal. Many special requests can be fulfilled without advance notice.  One guest commented on their responsiveness to special requests:
"Most of the time the chefs bent over backwards to make me special meals. I was amazed. Even when the place was packed they would cook for me. One chef made me a gluten free pasta and cream sauce. It was so yummy that if I had been served this dish in an expensive restaurant I would have been happy with it."
Boatwright's Dining Hall – Full Service Restaurant at Port Orleans Riverside
Boatwrights Dining Hall is a full-service restaurant serving dinner only. The food is American & southern style. Designed to look like a wooden shipbuilding yard, the huge frame of a boat hangs from the ceiling above diners, and boat making tools adorn the walls.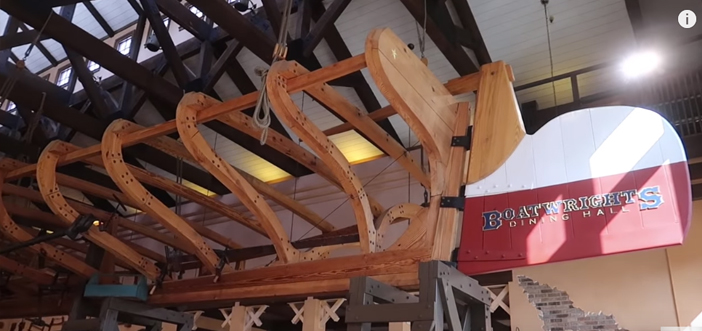 Entrées have included prime rib; chicken with black-eyed peas, rice and collard greens; jambalaya, grilled tenderloin medallions with crayfish; pork chops; pasta and shrimp; blackened red snapper.
Chairs are wood with padded seats, backs and no arms. The dining room has a fireplace. If you can be seated by the fireplace, it can make your dining experience far more cozy and romantic. The restaurant can get noisy.
Special Health Requests at Boatwright's Dining Hall: A chef will come to your table and tell you what menu items you should avoid and can specially prepare foods that fit into your dietary needs. This restaurant also offers gluten-free, sugar-free and lactose-free options.
The River Roost lounge is off the main lobby. This full bar serves specialty drinks and light hors d'oeuvres.
Entertainment in River Roost: Several nights a week the lounge has live entertainment. Yehaa Bob Jackson is usually the entertainer with his high-energy sing-a-long. Bob is a huge guest favorite and the lounge fills up. Guests really get into the fun, and he creates a very upbeat environment. He takes requests and has a way of getting everyone involved. It's fun for adults and kids alike.
Take a look at Yehaa Bob Jackson performing in the River Roost Lounge at Port Orleans Riverside: 
Wheelchairs should be able to navigate here, though you may need to move some chairs to get deep inside the lounge.  There are various styles of chairs including wood with arms and some leather padded chairs with arms. There's a working fire place that's often lit.
This lounge does not usually have the ability to get special foods made for those with special dietary needs.
This outdoor pool bar is in the main pool area on Ol' Man Island and offers drinks and small snacks such as potato chips. It has a television which usually plays sports or news. Smokers tend to congregate around the bar, so if you wish to avoid smoke you may want to sit away from that area.
Room service delivered throughout Port Orleans Riverside
This is available from 4 PM to Midnight, serving pizza, salads, soft drinks and beer.
Pools at Port Orleans Riverside
This resort has 6 pools. There are 5 pools that are considered "quiet pools". These do not have features like slides, and they don't have bars or restaurants. They do tend to be more quiet and less crowded than the main resort pool.
All of the pools have unlimited towels available for guests.
All the pools at this resort are unique in that it's not difficult to find a shady spot to hang out in. This is because there are so many trees at this resort. Most other Disney resorts don't have shady areas at the pools.
Water Temperature: Though the water is supposed to be heated to 82 degrees, it can still feel pretty chilly in the colder weather, depending on the outside air temperature and your level of sensitivity. We find that we're unable to swim in the winter, but there are almost always more hardy souls in the water.
The Main Pool
Found on Ol' Man Island, this pool is themed as a rustic, southern swimming hole. Of course it's a large modern pool, but the decorative items such as the old boot, sink and pail are forever set into the concrete and contribute to the theme. The 95 foot long water slide is designed to look like something you would see at an old saw mill.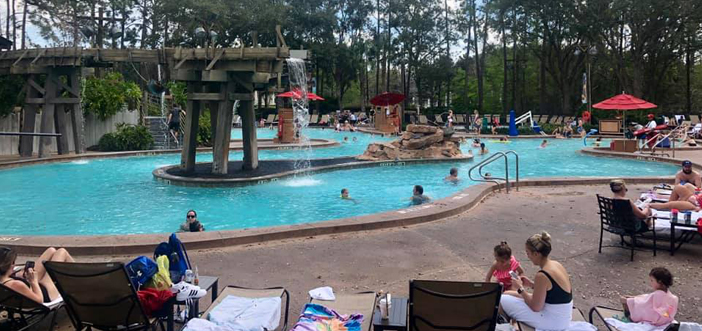 There's one whirlpool hot tub and a small children's pool. There's a transfer tier for those in wheelchairs, but no zero entry. There is a chair lift that can lower you into the pool. See a lifeguard to use this.
Muddy Rivers Bar is found next to this pool. There are showers and coin-operated lockers here also. We find this pool particularly pleasant during low or moderate crowd times. It's surrounded by lush trees and foliage, and the sound of the pool's waterfalls can lull you into a calm state. Still, despite the fact that there are five quiet pools around this resort, most people tend to congregate at this one. With over 2000 rooms on the premises, this pool can get jam-packed.
Pool Party at the main pool: Usually sometime after 1 PM, the main pools at all of the Disney resorts have pool parties going on. Parents and kids will love this, but if you're looking for quiet, keep in mind that these parties are VERY loud. There's dance party music blasting throughout the entire afternoon, and the Cast Members lead the kids in activities over a loud speaker. This all makes the quiet pools appealing to many adult travelers and anyone looking for a more peaceful environment.
Quiet Pools
Alligator Bayou has three quiet pools and Magnolia bend has two. The pools in Alligator Bayou go to a depth of 6 feet and Magnolia Bend pools go to 5 feet. The quiet pools are not heavily themed, and do not have life guards on duty. Each quiet pool does have restrooms and laundry facilities.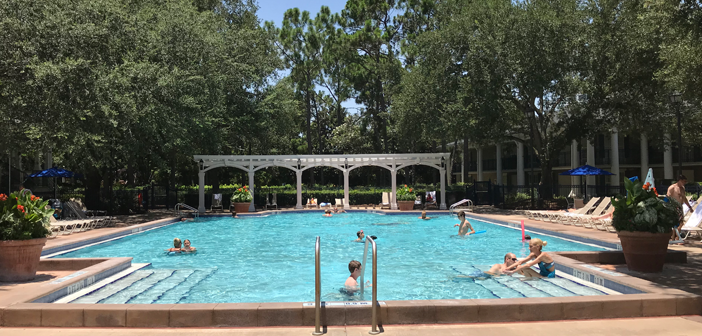 Port Orleans Riverside guests can also swim at the one and only Port Orleans French Quarter pool.
Other entertainment at Port Orleans Riverside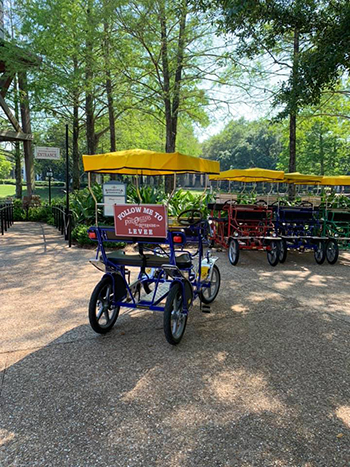 Bike rentals including the four wheel covered surrey bikes are available at the marina. Boat rentals are also available at the Marina.
Horse-drawn carriage rides are available in the evening. To reserve a ride in advance call 407-WDW-PLAY (407-939-7529). For same day reservations call (407) 824-2832. Walk-ups can take a ride if there's available time. Just ask the carriage driver at the departure location. The carriages are not wheelchair accessible. You must step up onto the carriage to board. Those who are very sensitive to bumpy motion may find the ride somewhat uncomfortable.
Dock Side Drawing Class is available twice a week at this time.
Cane pole fishing is available in the mornings, but it's a catch-and-release program so the fish must be thrown back in. Ol' Man Island has a kids' playground area that's a bit larger than some of the other resorts.
Medicine Show Arcade is an accessible arcade inside the main building. It's one of the largest arcades in the Disney resorts. It's opened 24 hours a day!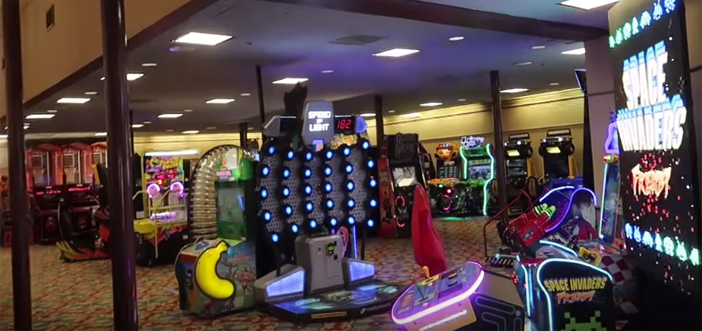 Available seasonally guests can enjoy an activity called Campfire on de' Bayou. It's usually held Sunday and Thursday nights from 6:30 – 8, weather permitting. It's a sing-a-long around the campfire, with story-telling as well. No reservations are required and there are no costs unless you purchase a s'mores kit which is currently $7. The kit includes graham crackers, chocolate, marshmallows and sticks.
Movies Under the Stars: Free movies are played outside, most nights. On our last visit they gave out free bags of Pop Chips.
Laundry at Port Orleans Riverside
There's a Laundromat at each quiet pool location. The washing machines are top loading, and the dryers are side loading and stacked. They accept credit cards only. If you don't have one, you can buy one at the front desk. The cost is currently $3 a wash and $3 a dry. There's also a vending machine with stuff like laundry soap, fabric softener, etc. Lastly there's a vending machine with drinks, water, snacks and candy.
There's also valet laundry service available.
 Transportation at Disney's Port Orleans Riverside
This resort offers boat and bus transportation.
Friendship Boats at Port Orleans Riverside
If you're going to the other Port Orleans resort (French Quarter), or Disney Springs, this is a great way to go! To learn more about the Friendship Boats, check out this article. Once you're loaded on the boat it's about a five minute ride to Port Orleans French Quarter. It's about a fifteen to twenty minute boat ride to Disney Springs, which is too far to walk. Also there are no walkways between the resort and Disney Springs, though you can walk to French Quarter. The boats are accessible.
Although the boats do sometimes fill up at the resorts, it's usually not so full that guests must wait for the next boat. However at night when returning from Disney Springs, there have been times when the line of people waiting to get back was so long that we had to wait for another boat or even two to come along before we could board.
At this writing, the boat service takes guests to French Quarter and Disney Springs from 10 AM to 4:30 PM. Boats arrive and depart approximately every 20-30 minutes. From 4:30 PM to 11 PM onward, the boats are supposed to go directly to Disney Springs, though we have experienced stops at times at French Quarter, both going to Disney Springs and returning. After 4:30 PM the boats arrive every 10 minutes (give or take). Times may vary so check prior to departing. If the last boat has left Disney Springs, the other alternative is to catch a bus.
Tip: At night there's very little light on the boat, and the wooded areas around the river can get quite dark. If there's someone in your party who has a fear of the dark, you may wish to sit towards the front where there are some low lights for the captain to see his work area.
Buses at Port Orleans Riverside
Buses take guests to all four parks, the water parks and Disney Springs. There are a number of bus stops scattered throughout the Riverside resort. There's a shaded area with a bench at each bus stop.
Sometimes the buses are dedicated to Riverside, but sometimes the buses are shared with Port Orleans French Quarter.  It can vary. When the buses are being shared, Port Orleans French Quarter is usually the first stop going out and the first stop returning.  If this is the case, guests of French Quarter will often have more room to board, and will find it less likely that they'll have to stand.
The downside for Riverside is that guests may encounter crowded buses on their departure and longer rides on their return. However, at peak times there may be dedicated buses just for your resort, which means greater convenience for everyone.
Smoking
Smoking is banned in all Disney-owned hotel rooms. Even patios and balconies are non-smoking areas. Of course it's always possible that another guest could smoke in a room anyway, but Disney reserves the right to charge a penalty since they'll need to specially clean the room. This usually discourages people from smoking inside their rooms. There are pre-designated outdoor areas around the resort where smoking is permitted. The resort map that you're given when you check in should have the areas marked, or ask a cast member when you check in.
For News & Updates about Port Orleans Riverside, check out this website here: portorleans.org
PHOTO & VIDEO CREDITS FOR THIS PAGE:
Thank you so much to the very generous people who shared their photos and videos with us! For those whose photos didn't get used, even if we couldn't use your photos this time, we really appreciate your taking the time to share them. Thank you to:
Lee Adams (owner of Theme Park Ohana Youtube channel – check it out, It's great!)
Also a big thank you to Erica Larsen, Lorrie Beam Heavilin, Dee Bradley, Amanda Patterson, Melissa Hayman Bishop, Andrea Beckey Walker, Angie Springs, Erika McQuown Jacobs, Lisa Walters Agler, Rhiannon Tribble, Margaret Rosloniec, Catherine Carter, Rebecca Kroll, Karla Tholl Ruggieri, Joy Myers, Natalie Whitbread Barnes, Dian Oliver, Danielle Nichols, Shannon Guenther, Cherise Litwiller Heinze.
Join our Facebook group & follow us on Pinterest !!!!
Ask any questions, share your knowledge and just enjoy getting to know other Disney fanatics in our facebook group called Walt Disney World Made Easy for Everyone.
Also join me on Pinterest here.
GET UPDATES, NEWS & TIPS (IT'S FREE!!!)
Sign up below to stay updated on the newest information, tips and tricks to help you plan your perfect Disney World trip!