Cover photo by Amanda J-c
Location: Between the Animal Kingdom area and Hollywood Studios. Address: 1000 West Buena Vista Drive, Lake Buena Vista, FL., 32830. Phone: (407) 939-1000 Fax: (407) 939-1001. Parking fee: $20 per night. Check-in: 3 PM. Check-out: 11 AM. Resort Type: Moderate.
Overview of Disney's Coronado Springs Resort
This is Disney's largest convention center resort, but families enjoy it as well.
With 2,385 guest rooms, the resort is themed after Spanish-Colonial Mexico and the American Southwest. This resort is spread out around a beautiful 22-acre lake named Lago Dorado.
The resort was named after Francisco Vasquez de Coronado, a Spanish explorer. He set sail to find the Seven Cities of Cibola which was said to have vast amounts of gold. He never found it, but members of his group found the Grand Canyon. The resort sets out to reflect the footsteps of the explorers' travels as well as his dream of the cities of gold.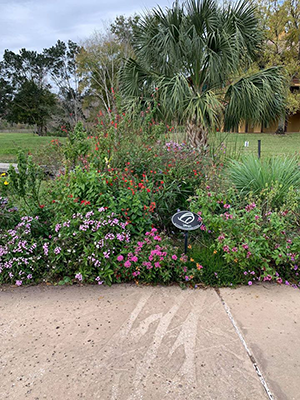 There are four distinct areas within this resort. Three of them have different themes that reflect the varied locations covered in Coronado's travels. The fourth area is the newest completed in late 2019, with the striking Gran Destino Tower.
Disney does a beautiful job of capturing the art, architecture and culture with their usual whimsical style. Artwork, detail and drama abound here.
The grounds around each section are beautifully landscaped to reflect the unique differences in the locations they're modeled after.  (You'll see photos below in the buildings & rooms section).
You'll even find a small butterfly garden between the Ranchos and Casitas area! See the photo on the right.
The 46 foot tall Mayan stepped pyramid pool is considered to be one of the best on Disney property.
Since Coronado Springs has a Convention Center, it's different from all other Disney moderate resorts.
Coronado Springs is the only Moderate resort that also has a convention center. Because of this, there are some things that are different about it:
There are often adult guests walking around in business casual or even business dress clothing.
Food prices tend to be a little higher here than at the other Moderate resorts, but there are more restaurant choices with a step up in food quality.
Disney has added some deluxe level amenities here such as a salon, two workout facilities and a spa.
It's the only Moderate resort that offers suites.
A potential perk at this resort is that the buses and pools may be less crowded than at the other resorts during the day, and the pools may have fewer kids.
Regardless, families like it too! Despite the convention center, this resort still attracts its fair share of families with kids. There's plenty to do there with a large well themed playground, 4 pools including one of the best pools on property, walking/jogging trails, a volleyball court, and an arcade.
Coronado Springs resort is huge.
If you have walking limitations, this resort may be a challenge for you. There are no room locations that put you close to both the main building and the main pool, because these two areas are quite a distance from each other. You'll probably walk a lot no matter where you stay.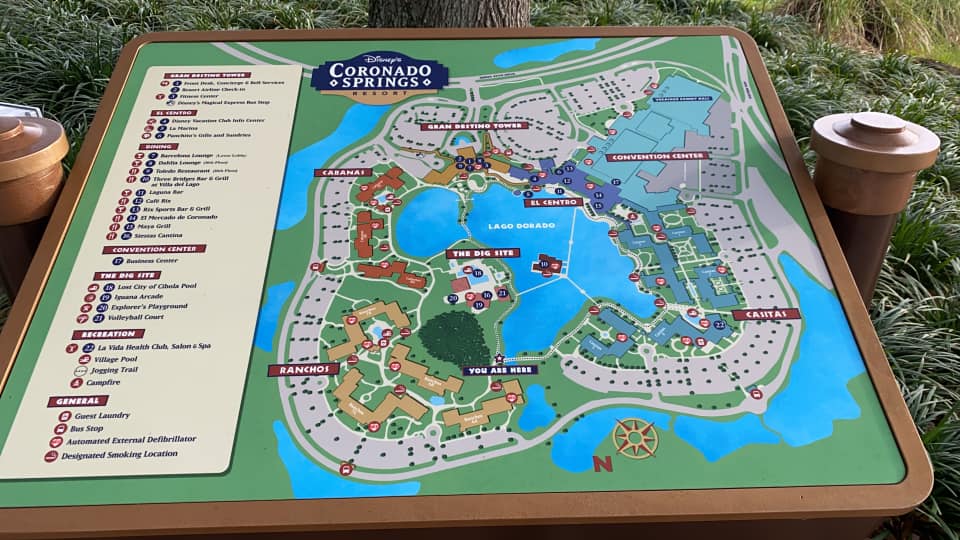 The guest rooms are spread around the large lake which is nearly a mile around. If you're room is on the opposite end from the main building you could be walking approximately a half mile to get there. Those with mobility issues should either rent or bring an ECV, or choose another resort such as Port Orleans French Quarter which is much more compact.
El Centro: The main building at Coronado Springs
This building used to house the lobby. Although the main entrance to the resort is now at the newer Gran Destino Tower, El Centro still remains the center of a lot of activities for this resort. The large and beautifully themed building features a large tiled fountain and a beautiful domed ceiling.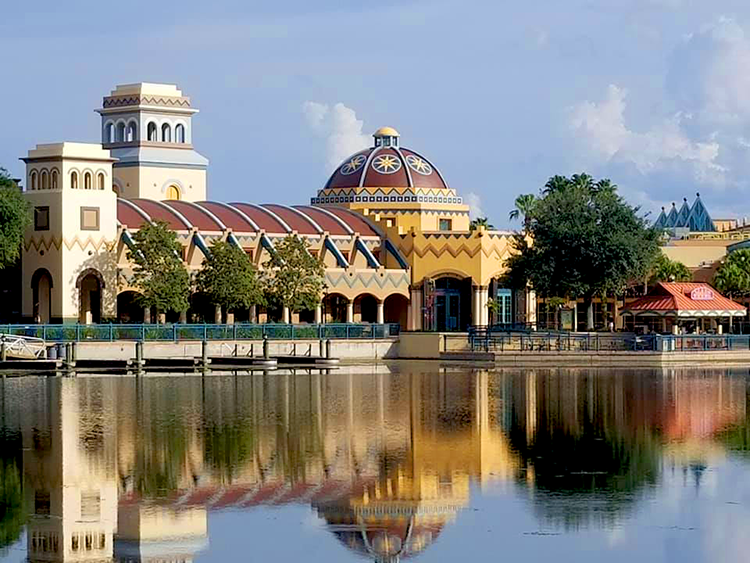 You'll notice plenty of attention to detail with the arched windows and entryways, high ceilings, mosaic tiling, wood beam ceilings and hanging lanterns.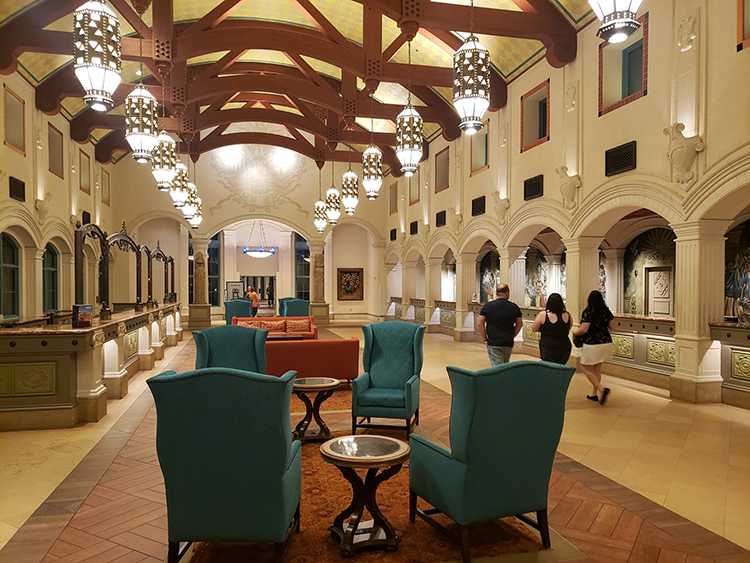 The building contains:
We'll talk about each of those locations below. The conference center is also a part of this building. The main pool is not near this main building, as it usually is in most other Disney World resorts.
Check-in at Coronado Springs
Check-in takes place in the Gran Destino Tower building on the second floor. The lobby is strikingly beautiful and upscale with intricate lattice work, high arched windows. The check-in area is spacious and open.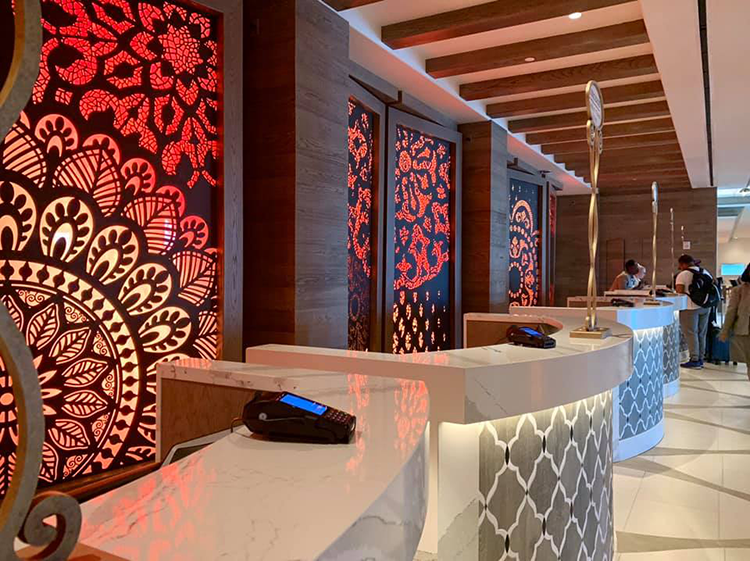 The check-in desk on the end is lower for wheelchairs and scooters to check-in. There's a sitting area in view of the check-in counters for children to watch Disney movies while you check-in.
When you arrive, Bell services will take your luggage and store it until you're ready for it to be taken to your room. Once your room is ready, they'll take your luggage to your room. If you request it, they may be able to ride you to the room on the cart with your luggage. If you have a car, you can drive to the parking lot nearest to your room. Some rooms have parking right near them, and others will require you to park and walk a bit. There's no valet parking at this resort, and they do not offer this service to those with handicapped permits.
Those with mobility issues may wish to request a room near the parking lot and near a bus stop. You can also catch one of the Disney buses to get to any other bus stop within the resort. However waiting for a bus can take 20 minutes or more at times, which is not ideal.
Even if your room isn't ready at check-in, you're welcome to use the pool, dine or to even go enjoy the parks. On the day you leave, they'll also store your luggage for you after check-out if you are not leaving Disney World immediately. You're still welcome to use the facilities.
Guest Buildings & Rooms at Disney's Coronado Springs Resort
The guest rooms are divided by distinct sections called:
Casitas
Ranchos
Cabanas
Gran Destino Tower
There are accessible rooms on the first floors in each of the first three sections, and throughout the Gran Destino Tower. We'll take the sections one at a time, starting with the newest building.
The Gran Destino Tower at Disney's Coronado Springs Resort
Named after the Disney Film called Destino, this 16 floor building is currently the most upscale location of any Disney World moderate resort. It's the tallest building in the midst of this huge resort.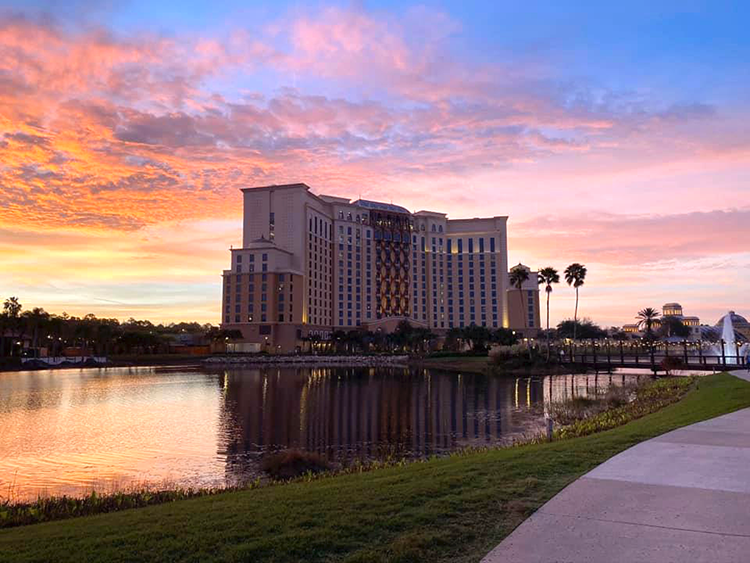 With a beautifully appointed and spacious two story lobby, this resort is Grand!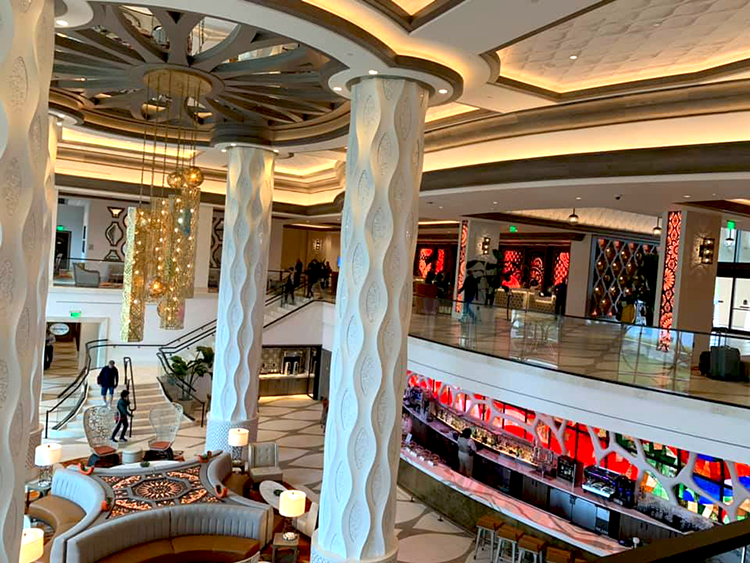 The attention to detail is amazing, with touches of art everywhere you look. Some of it is even Disney related, and all of it is in sync with the resort theme.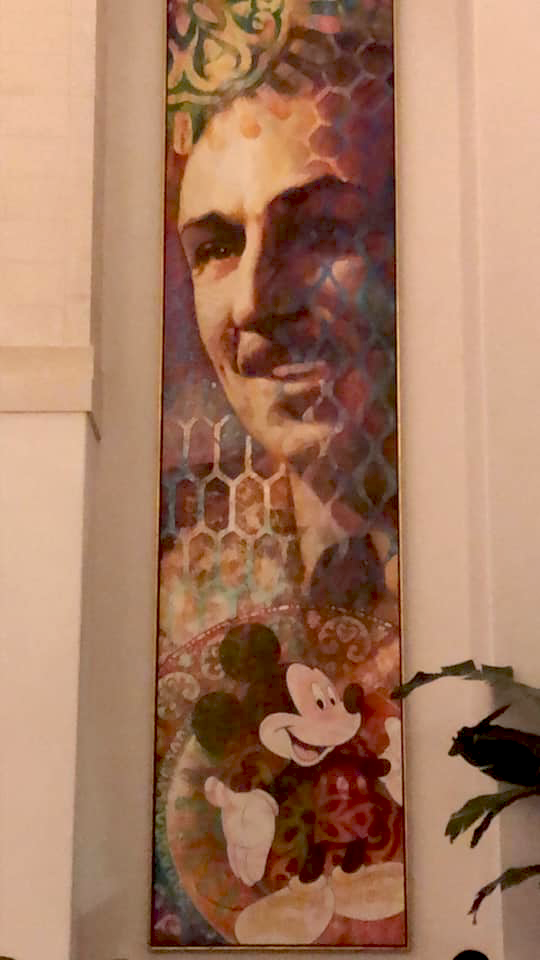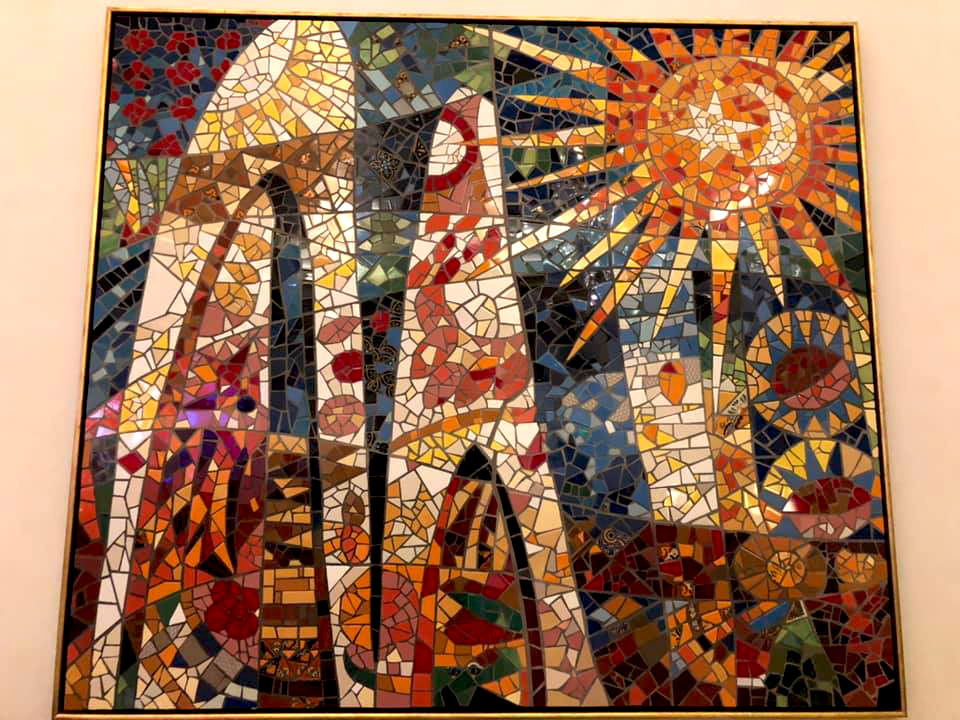 The combination of the artistically crafted and elegant chandelier, along with the massive window arcs, metal work and other grand features in the lobby, make for a dramatic setting.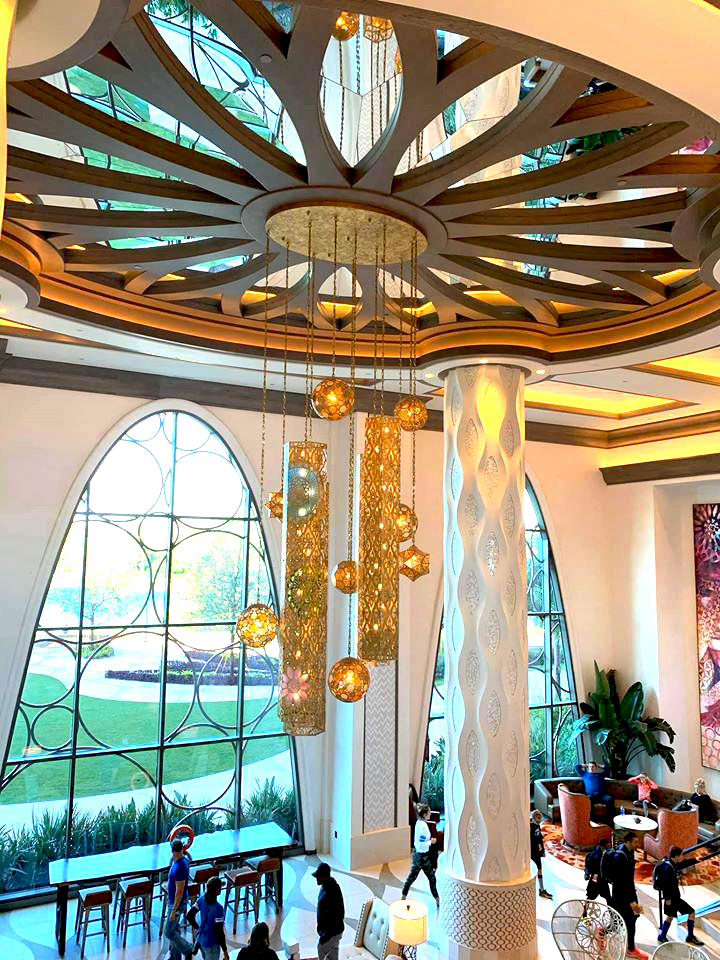 Even the guest room hallways are attractively themed.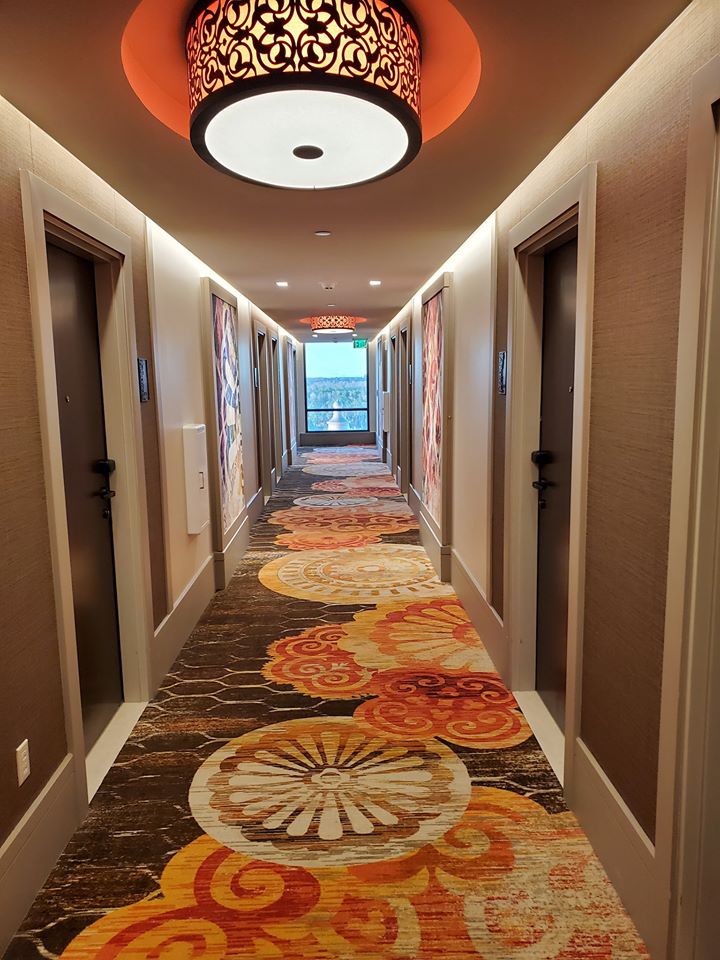 Take a walk thru of the Gran Destino Tower:
Guest rooms in the Gran Destino Tower
The Gran Destino Tower has 545 guest rooms, including Club Level rooms, and suites with two of them Presidential Suites. This part of Coronado Springs was likely built to appeal to business travelers, and to bring in more conventions, so it's completely different from the other moderate resort buildings and rooms in a variety of ways. Still, this will be a nice option for families as well, though there's one drawback with the bathrooms that we'll discuss below.
How many people can stay in the rooms? The rooms and suites sleep from 2-4 adults plus a child under three years old. The Presidential Suite sleeps up to 6 adults plus a child under three years old.
Room size: The standard rooms in Gran Destino Tower are larger than other Disney World moderate resort rooms at 375 square feet. The only one that is bigger is the Fort Wilderness cabins which measure in at a huge 504 square feet. The 375 square feet size is even larger than some Deluxe level and DVC resort rooms. The problem is that much of the room is taken up by an entryway, so the room itself might not feel much larger than other moderate rooms.
Do you require access to fresh outside air? One drawback to these rooms compared to many of the deluxe resort rooms is that there are no balconies, and the windows don't open. Most people won't have a problem with that, but if accessing fresh air is a priority for you, the Gran Destino Tower won't be appropriate for you. Still, having windows that don't open is typical for the Disney moderate resort rooms anyway, though for most of them you can open the door to the outside to let fresh air in.
What is the decor like? The decor of these rooms is not what you'd call Disney themed. It's very modern and mostly neutral with plain white bed coverings, light earth tones most everywhere else, and some bright orange thrown in for splashes of color on the headboards and the corner chair.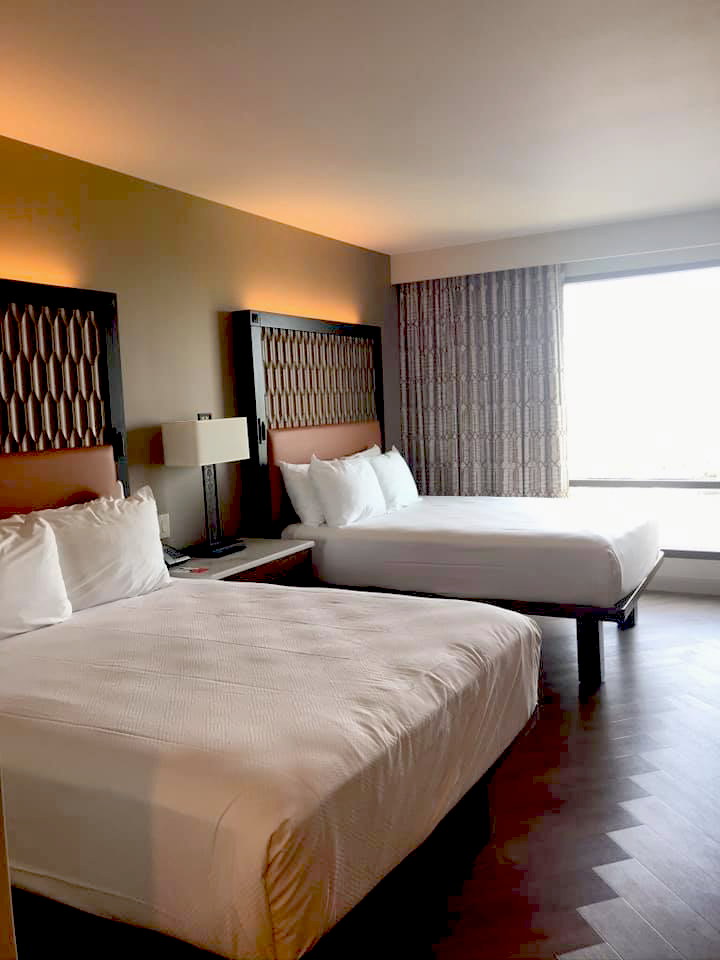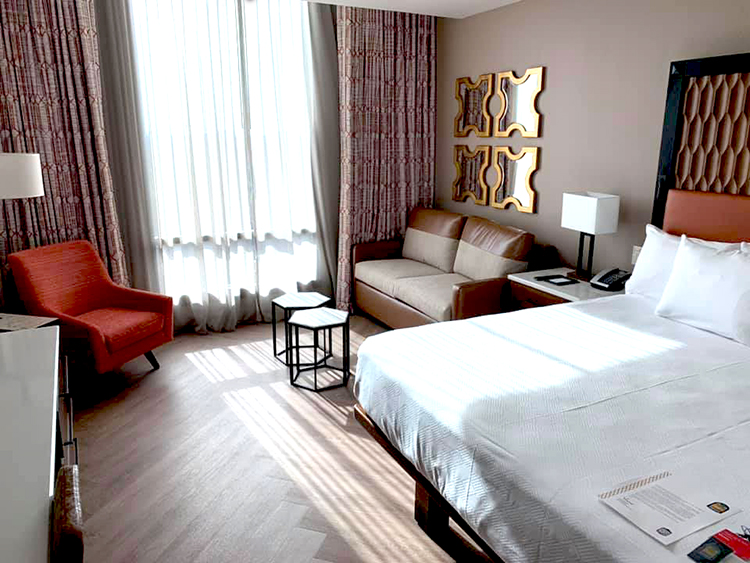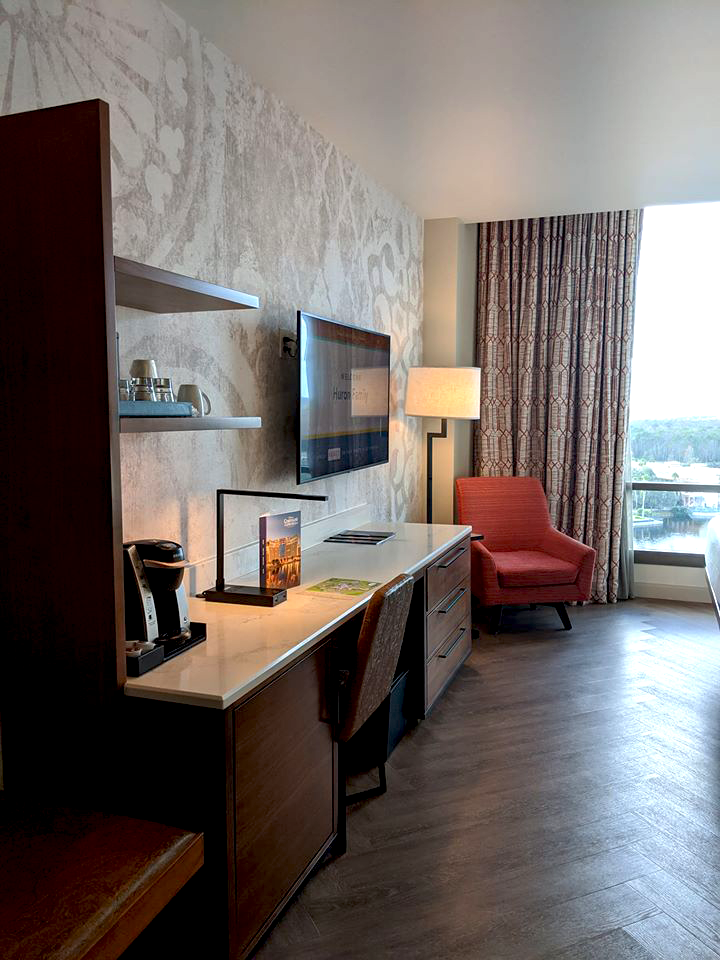 What's in the rooms? Here are the types of beds in each kind of room in the Gran Destino Tower:
Standard Tower rooms – 2 queen beds or 1 king bed and a couch that does not convert to a sleeper sofa.
Deluxe Suites – 1 king bed and 1 queen-size sleeper sofa
One Bedroom Suites – 1 king bed and 1 queen-size sleeper sofa
Presidential Suites – 1 king bed and 2 queen beds
In addition to the items mentioned above, each room has:
Space for luggage to be stored under the bed
Flat panel smart TV that's wall mounted.
Faux-hardwood floors that are actually laminate
Nightstand with a telephone
Dresser/desk with chair
A fabric covered stuffed chair
Hairdryer
Mini refrigerator/cooler
Ceiling fan
Room safe with numbered keypad that should fit a small laptop computer or iPads, etc…
Wifi wireless
Ironing board with iron
Keurig Coffee Makers, with k-cups of coffee, creamer (decaf, regular and tea are available)
Mirror
H2O shampoo, conditioner and soap, and other H20 products including aloe cooling gel.
Handheld shower head with a ceiling-mounted rainfall shower head.
Digital thermostat that you can adjust
Privacy & other issues with the bathrooms in the Gran Destino Towers: The bathroom is a little different than those in most other Disney rooms. While the bathroom area is separated from the main room area by a sliding door, the sinks are in the same room as the shower.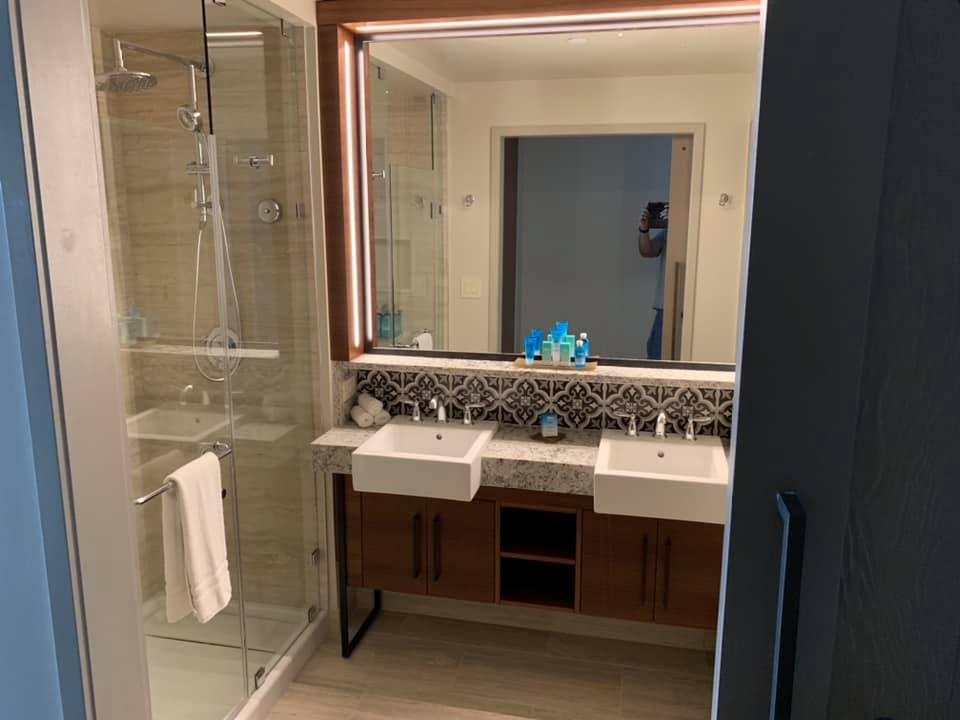 So if you need privacy while showering, other members of your party won't be able to use the sinks while you're in there.
You'd also have to walk through that sink/shower room to get to the room with the toilet, but that's not unusual. The shower is partitioned with glass which is see-through, so if you need privacy for showering, this could increase the amount of time it takes to get ready for the parks, etc.
Also rooms do not have a bathtub. They only have a shower. If a bathtub is a priority for you, you may wish to stay in one of the other sections in the resort.
What are the views available? View-wise, with a standard view you could be facing either Epcot or Hollywood Studios. If you get a higher floor, you could have a very pleasant view without paying extra. You might even catch fireworks from your room.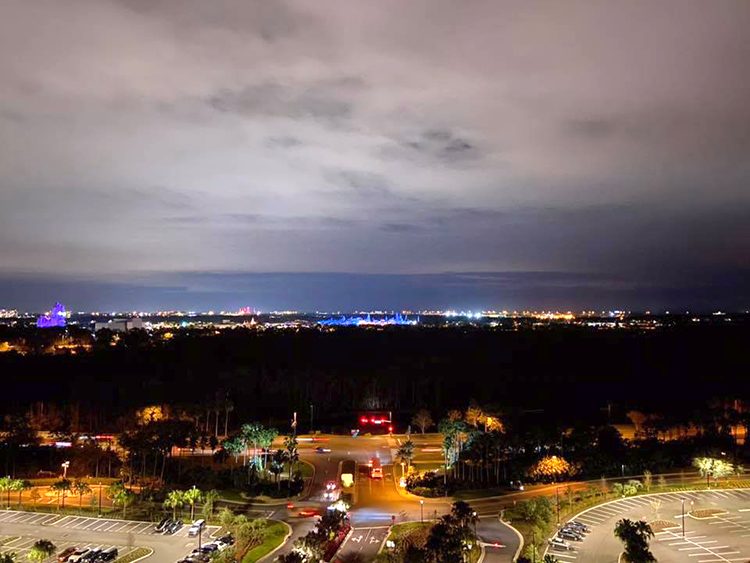 The upgrade is the water view which has you facing towards the Coronado Springs Resort. That's very pleasant too, so it's really a matter of preference.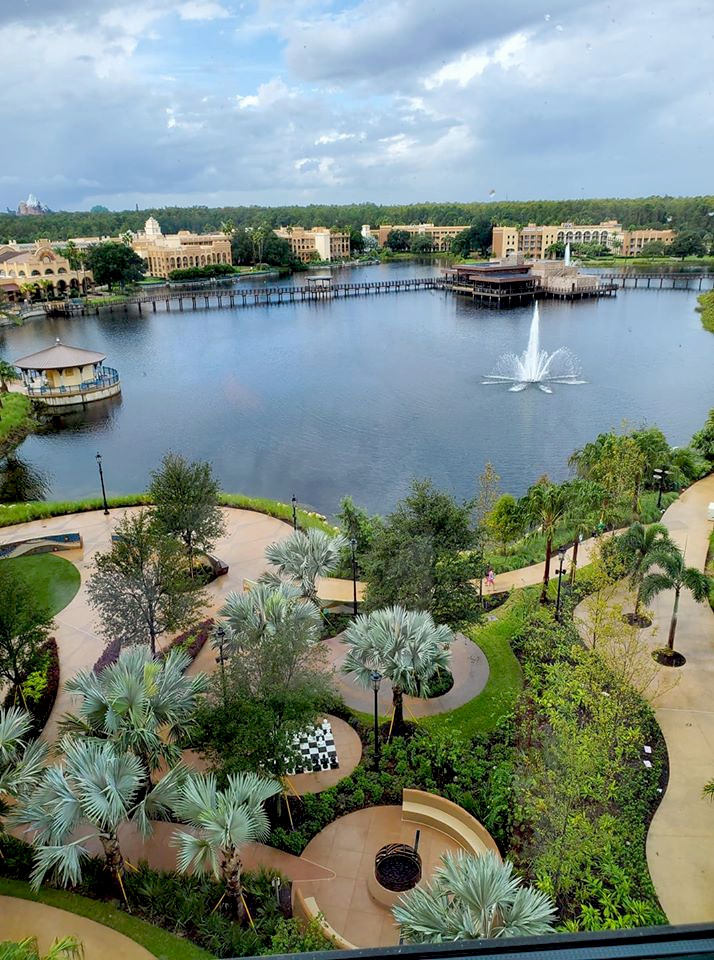 The Gran Destino Suites
The Gran Destino Tower also has Club Access rooms and suites available. The suites sleep from 4-6 adults and a child under 3 years old. Here are some photos from the Alcazar Suite: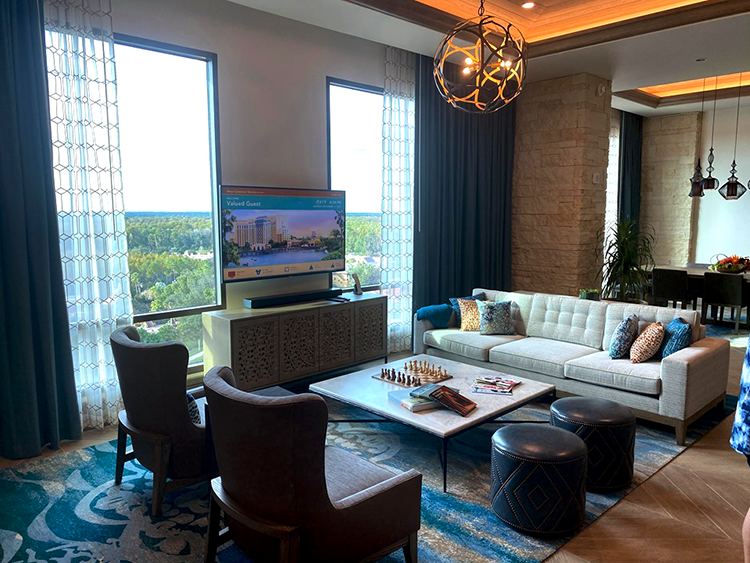 For more photos of the Alcazar Suite in Gran Destino Tower, visit here. 
Does the Gran Destino Tower have a pool? No. It does not have its own pool, however you can walk over to the main pool, or you can use the quiet pool in the nearby Cabanas section.
The Chronos Club: This is the Club Level lounge for those with rooms that allow access. You can upgrade to Club Level access with Gran Destino Tower standard rooms (there's limited availability), as well as all the suites. This Club Level Lounge is Disney's largest and we're seeing good reports of the delicious food and drinks that are available throughout to day to those who have access.
The Casitas, Ranchos and Cabanas at Disney's Coronado Springs Resort
While the buildings throughout the rest of the resort may differ, the rooms are all basically the same. We'll go over the differences in the section building themes, and then cover what's in the rooms.
All of these multi-floor buildings have elevators. Ice and vending machines are available on each floor by the elevators. The standard rooms either include two queen beds or 1 king bed. Accessible rooms are available with a king bed.
The Casitas Section at Disney's Coronado Springs Resort

The Casitas are 4 story peach/orange urban-style terra-cotta buildings. They're themed after the residential areas of the colonial cities found all over Mexico. The courtyards have a variety of beautiful fountains, colorful tiles and palm trees.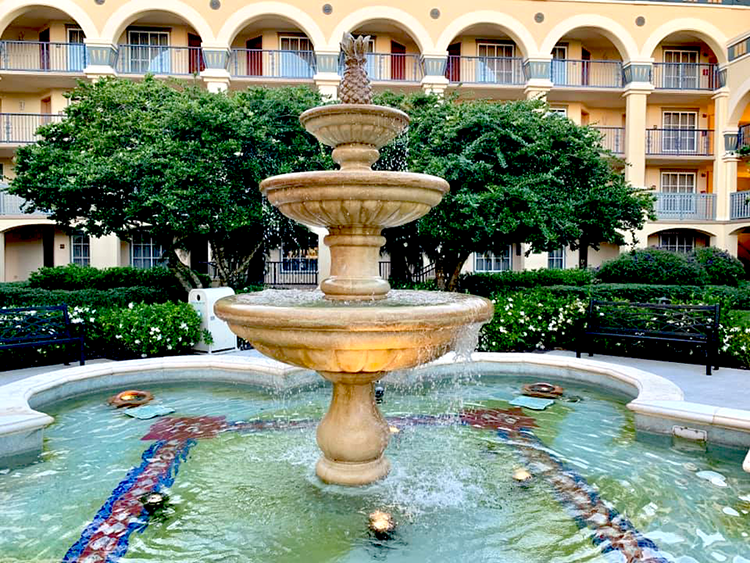 Disney's The Three Caballeros is represented with topiary. The buildings are bright and cheerful with arches, columns and wrought iron railings.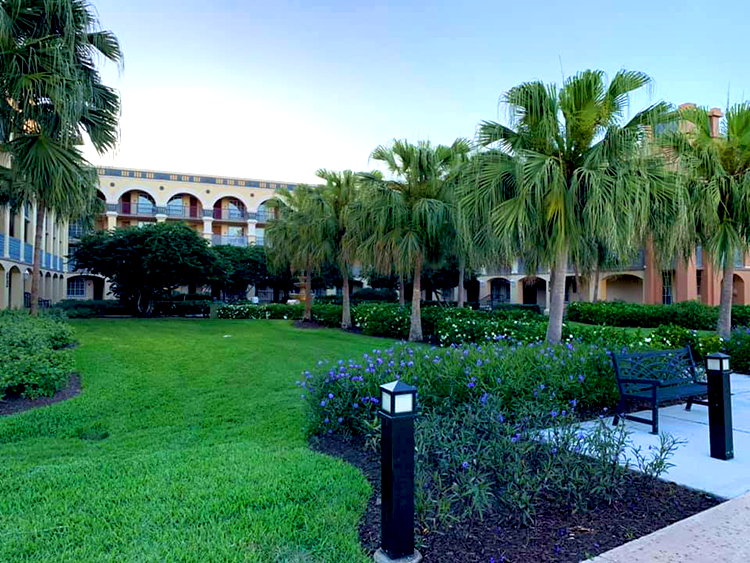 The Ranchos Section of Coronado Springs
The three-story Ranchos feature rustic pueblo-style earth-toned architecture, and are the furthest rooms from the main building. They represent the ranch houses of the very dry southwestern chaparral regions of northern Mexico and the American Southwest. The gardens feature dramatic desert landscaping with boulders, gravel, cactus, succulents and other desert flora.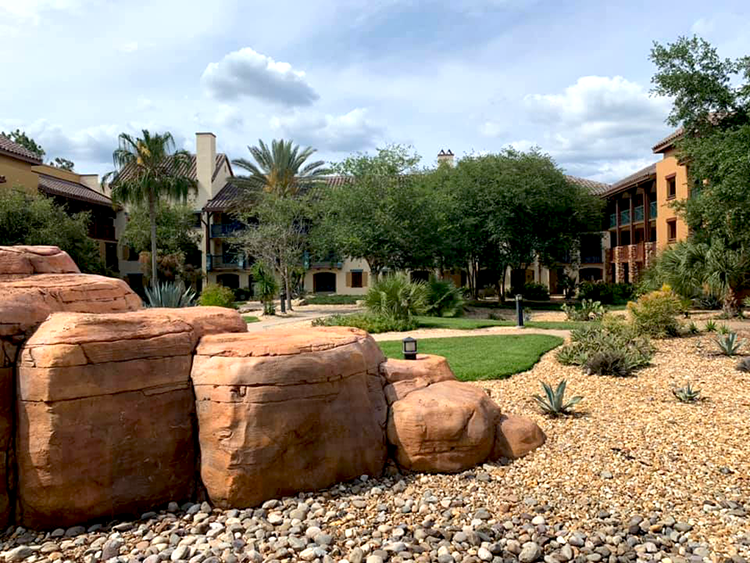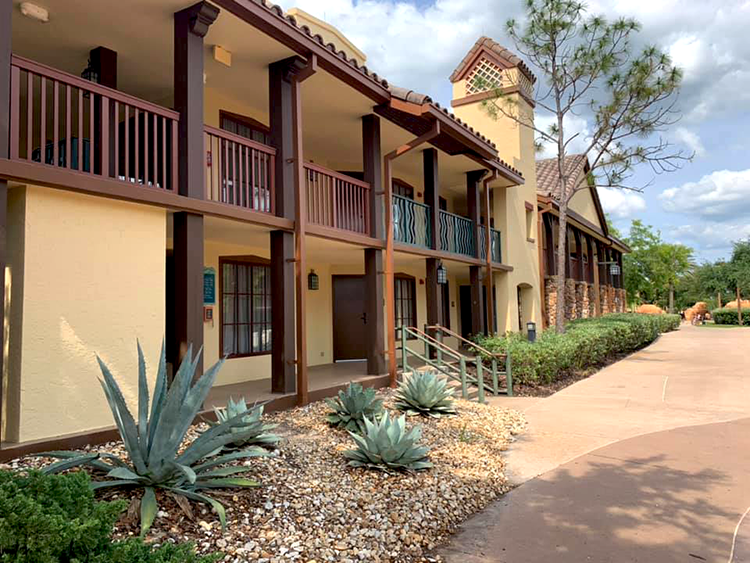 The Ranchos are the furthest buildings from the El Centro main building. It can take anywhere from 11-20 minutes to walk to El Centro from the Ranchos, depending upon your walking speed.
The Cabanas section in the Coronado Springs Resort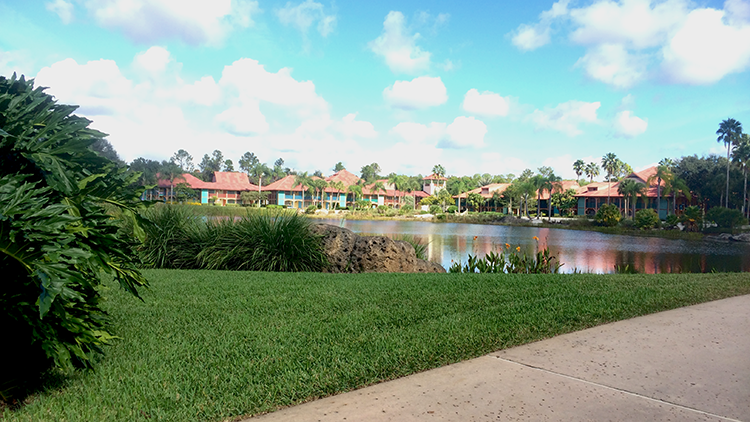 The two-story Cabanas represent Mexico's beach resorts. The buildings have a Caribbean feeling with festive multi-colored exteriors and plenty of palm trees. They're meant to represent the small tropical coastal fishing villages on the Mexican Coast. They border a white sandy beach, and we've certainly enjoyed lounging on the hammocks!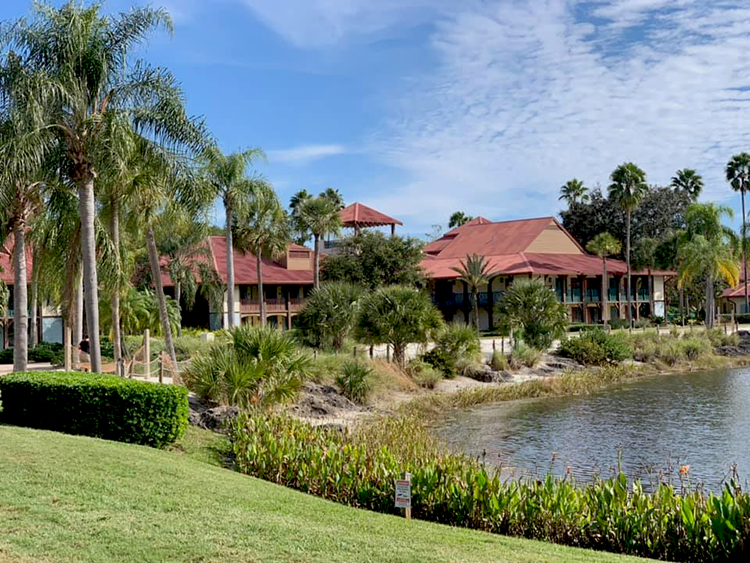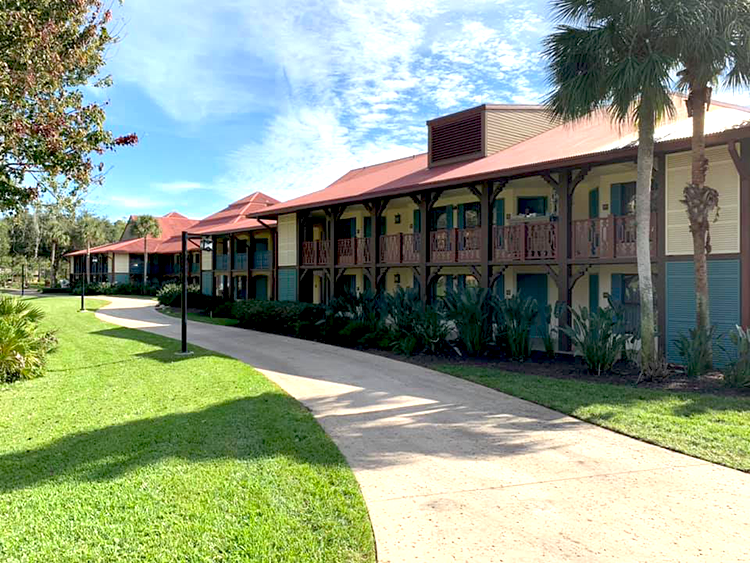 The Cabana guest rooms border a white sandy beach, and we've certainly enjoyed lounging on the hammocks!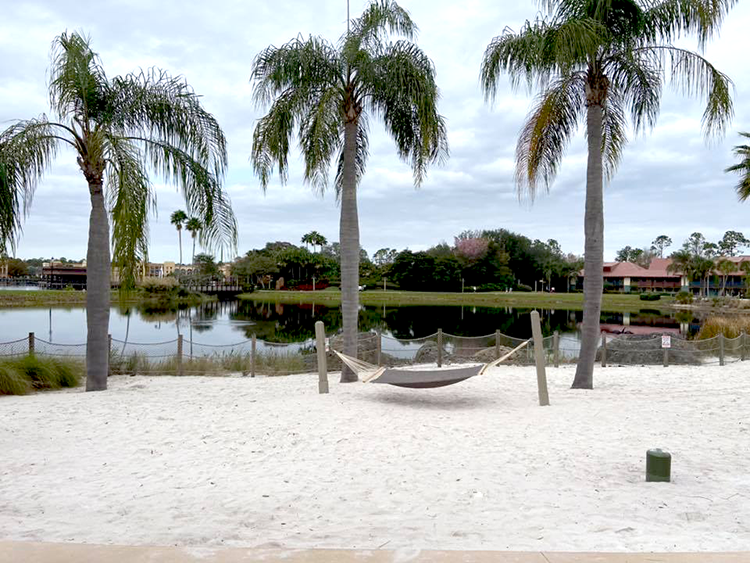 Rooms in the Cabanas, Casitas and Ranchos at Disney's Coronado Springs Resort
Standard rooms in all three sections allow for a maximum of four guests (plus a child under 3 in a crib), and they're approximately 314 square feet. They're all accessed by outdoor walkways and there are no balconies in the rooms. The windows do not open.
The decor in these rooms is modern and doesn't really shout Disney theming. It's similar to that of Gran Destino Tower with neutral colors and some orange, but they are a little less spacious. Also the windows are smaller than those in the Gran Destino rooms, giving less natural light.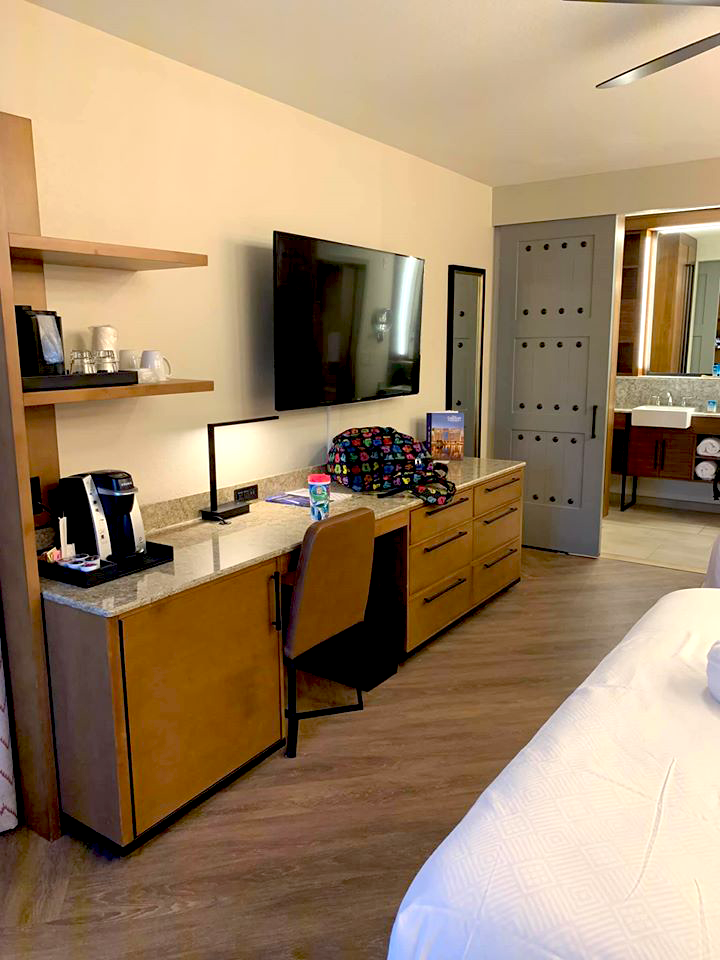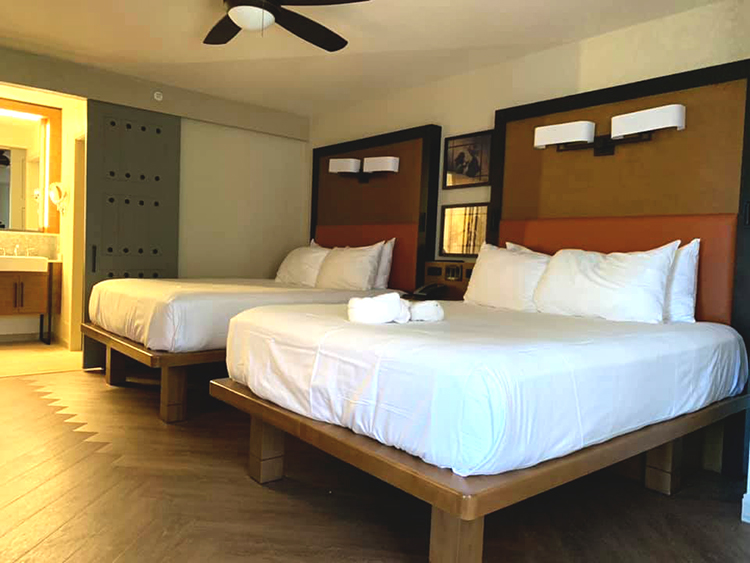 There are also suites available. They allow occupancy from 4-6 people (plus a child under 3 in a crib), depending upon the suite.
Bathrooms are more private and maybe more practical here than Gran Destino Shower. Each room has and area with two sinks, and a separate room with a toilet and tub/shower. This allows privacy in the shower and bathroom while others in your party use the sink area. The vanity area is separated from the room by a sliding wood privacy divider. Unlike the Gran Destino Tower rooms, most of the rooms in the Cabanas, Casitas and Ranchos have a bathtub/shower combo which is great for those who need baths.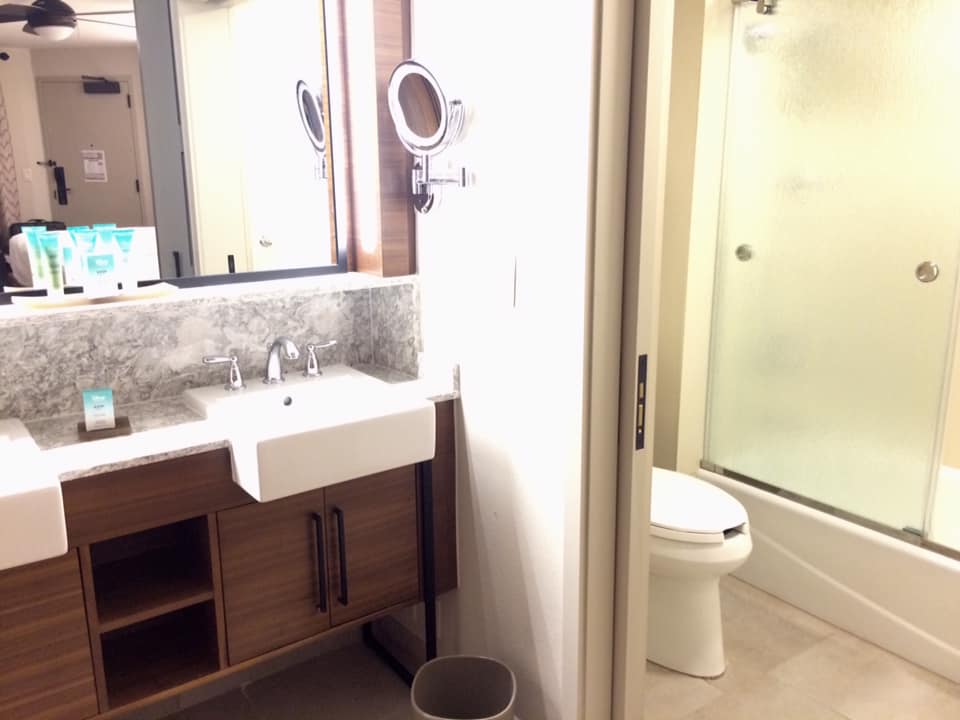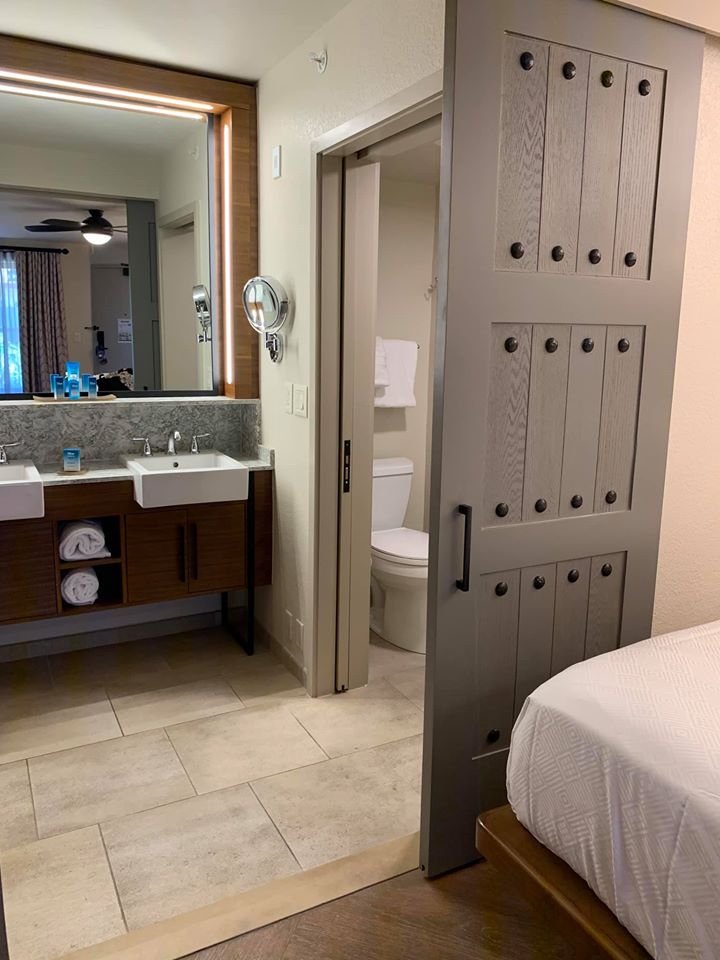 There are some connecting rooms available. In addition to the items mentioned above, each room has:
Space for luggage to be stored under the bed
Flat panel smart TV that's wall mounted.
Faux-hardwood floors that are actually laminate
Nightstand with a telephone
Dresser/desk with chair
A fabric covered stuffed chair
Hairdryer
Mini refrigerator/cooler
Ceiling fan
Room safe with numbered keypad that might fit a tablet like an iPad.
Wifi wireless
Ironing board with iron
Keurig Coffee Makers, with k-cups of coffee, creamer (decaf, regular and tea are available)
Mirror
H2O shampoo, conditioner and soap, and other H20 products including aloe cooling gel.
Handheld shower head with a ceiling-mounted rainfall shower head.
Digital thermostat that you can adjust
King bed rooms also have a couch that does not open to a bed.
Standard view rooms face a courtyard or parking lot, while water-view rooms face a pool or the lake.
Tip: Since none of the rooms have a balcony, it may not be worth the extra cost to get a water view. Though you may be able to look out at the water from inside your room, the room design and furniture arrangements can make it awkward. Some people do like to pull out chairs and sit on the railed outdoor walkways outside their rooms.
Room Location Tips & Preferred Rooms for Disney's Coronado Springs Resort
Since this resort is so large, we have a lot of room location tips. Here goes:
Convention guests have tended to stay in the Casitas section, which is nearest to the convention center and restaurants. With the features and proximity of the new Tower to the convention center, they're also likely to stay there.
When there's a convention at this resort, Casitas rooms near the convention center may be blocked off and unavailable to non-convention guests.
Casita's buildings 1, 2 and 3 are considered Preferred Rooms, so they're a little more expensive.
Casita buildings 1 and 3 are close to the El Centro buildings' restaurants, bus stop and other amenities, but are far from the main pool.
Casitas 1 is attached to El Centro, and is especially close to the restaurants.
Casitas 2 is close to parking and tends to be quiet.
Casitas 4 is the closest to the Casitas area bus stop.
Casitas 5 is the closest of this section to the Dig Site and main pool, but it's the farthest of the guest buildings in this section from El Centro.
The Casitas section contains the salon, exercise facility and a quiet pool. The walkways to the Casitas rooms are the only ones that are covered from the elements at this resort, other than the tower building rooms.
Mobility issues: Those with mobility issues who plan to use the main pool and resort restaurants may wish to consider Gran Destino Tower, Cabanas building 8C, or Cabanas 8B as a third choice if 8C isn't available. Cabanas 8B is next door to the Gran Destino Tower with El Centro on the other side of the Tower. Though it's not right next to either the main pool or El Centro, it's a fairly short walk to both. Also there's a quiet pool next to building 8C which is very convenient.
The main pool: The Cabanas 8A building is closest to the main pool and the playground. This is convenient for those who wish to use this pool a lot. There's a long walk to El Centro with its restaurants and other amenities, but a bridge was added over the lagoon that makes this walk shorter than it used to be. The buildings closest to the pool tend to have noise coming from the pool area. It's a short walk to a bus stop.
Ranchos 6A and 6B and 7A are the farthest away from El Centro. They tend to be on the quiet side, but they're nearly a half mile from El Centro. On average this walk may take around 11-20 minutes depending upon your pace and exact start location. Using the bridge over the lagoon can cut down on walking time as well.
Available Upon Request for all rooms at Coronado Springs (Including handicapped options)
Alarm clocks are available upon request. Though they used to be put in the rooms automatically, they are no longer there unless you request it.
Guests can also request cribs, and a Pack 'n Play at no extra charge.
Microwave's may be available upon request. They have limited numbers. If you're requesting it because of a health issue, you may want to contact Special Resort Reservations at Disney World with the request before your trip, at (407) 939-7807 and press #1.
Handicapped & health related requests: Hearing-impaired TDD telephones, bed shaker accessory, visual smoke alarms, wake up alarms and door knocks; bed boards and bed rails; Sharp containers for used syringes.
Resort Shopping at Disney's Coronado Springs Resort
Panchito's Gifts & Sundries is located in the El Centro building next to the main lobby. You'll find plenty of Disney souvenirs including shirts, hats, mugs, kitchen goods, plush toys, etc.
You'll find items that you might need such as bathing suites and covers, shorts, flip flops, etc. There are also sundries – things that are commonly needed like tylenol, peroxide, etc.
You'll also find a small selection of snacks, groceries and drinks including beer, wine and liquors.
Pools at Disney's Coronado Springs Resort & The Dig Site
Coronado Springs has four pools plus a kiddie pool.
What's available at the pools?
Towels should be available to guests at all the pools.
All pools have a chair lift, including the hot tub.
There are lifeguards at the main pool only.
Free life vests are available at all pools.
Each pool has restrooms.
Water temperature: In the cooler weather, pools are heated to 82° Fahrenheit, 28° Celsius. At times we've found that the pools felt much colder than that. How warm a pool will actually gets will depend on a variety of factors including pool size. At times we've found that the heat was not turned on for a quiet pool. If that's the case, let a Cast Member know you'd like it turned on.
The Dig Site: The Dig Site recreation center is a Coronado Springs Mayan-themed playground that may be the best of any Disney resort. The main pool is located in the area. You'll also find a children's shallow fountain pool, hot tub, Iguana Arcade, Siesta's Pool Bar, ping pong, a playground and a sandy volleyball court. The children's playground area has a soft surface and a sandbox that has hidden artifacts for the kids to dig up. Hair wrapping is available in the Dig Site pool area.
The Iguana Arcade is accessible, although some games may not be.
Main Pool: Called the Lost City of Cibola Pool, the main pool is quite amazing and widely considered one of the best pools on Disney World property. It features a massive four-story 50-foot high reproduction of a Mayan steppe pyramid with a waterfall coming down from the top. The Jaguar Slide is a 123 foot long twisty pool slide that takes you under a water spitting jaguar. There's no zero entry but there is a transfer tier and  a chair lift.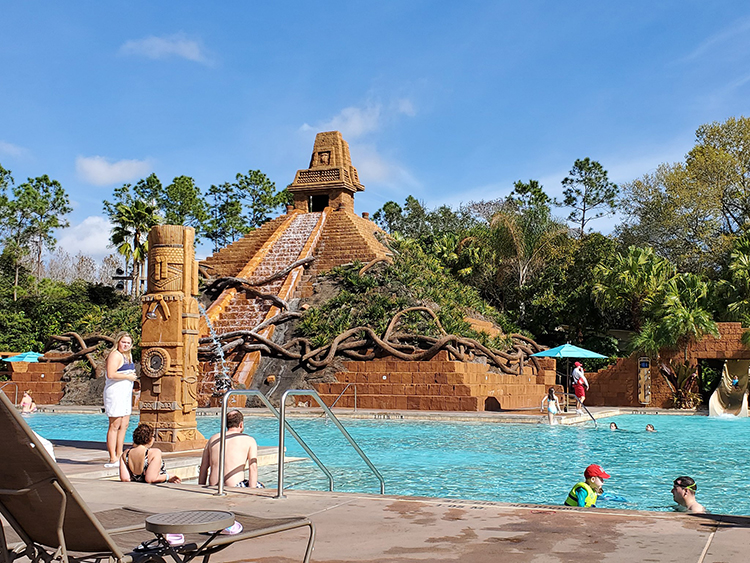 Also found at the Dig site, you'll find the largest hot tub on Disney World property. You can fit 22 people in there at a time.
Near the main pool you'll find a shallow kids' pool that has a fountain in the center which sprays the children.
There's not a much shade around the main pool area but there are some locations where you'll get at least some partial tree shade.
Pool Parties: Most afternoons, weather permitting, Disney Cast Members will lead kids in games and fun at the Lost City of Cibola Pool. It does get very loud. Cast Members blast music and speak to the kids over a loud speaker. Guests who are looking for quiet may wish to use one of the quiet pools.
The Dig Site also includes a playground area that has a soft surface playground with swings, a kiddie fountain pool, volleyball court and the Iguana Arcade. The arcade is accessible, although some games may not be. There's also a sandbox that has hidden artifacts for the kids to dig up, and a nature trail behind the Dig Site. The main pool is also considered a part of the Dig Site. Hair wrapping is available in the Dig Site pool area.
Tip: If you're hanging out at the main pool, you can avoid a long walk to the restaurants by eating at the small snack/food bar called Siesta's Pool Bar and Grill. However there aren't many healthy menu choices.
Quiet Pools at Coronado Springs: In addition to the main pool, there are three quiet pools, with one in each guest room section. These pools each have a transfer tier, but no zero entry. All pools have a chair lift. They don't have lifeguards on duty. Bathrooms are near the pools.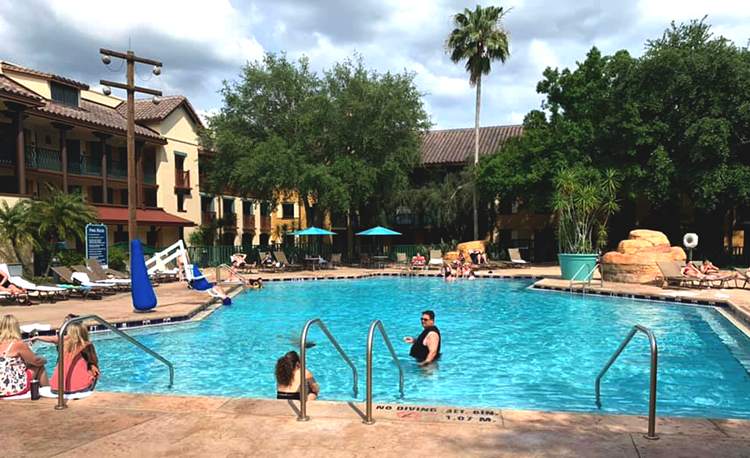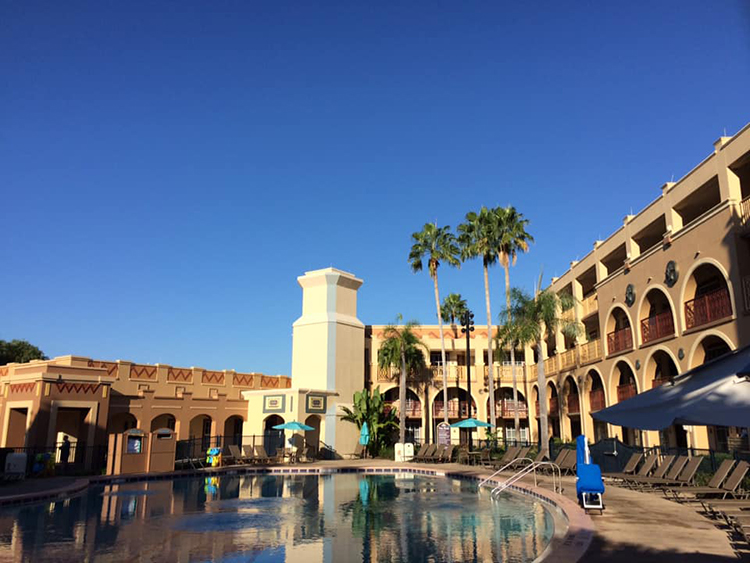 Fitness center, spa & hair salon at Coronado Springs Resort
Coronado Springs is the only moderate resort with a health club and hair salon. In fact they have two health clubs at this resort! Guests staying at this resort have free use of the health club. There's a fee for use of the fitness center if you're not staying at this resort, but if you purchase any spa treatment, the fitness center is available to you all that day at no extra charge.
Spa & Health club: La Vida Health Club is located in the Casitas section building 4 near the quiet pool. The spa is approximately 3000 square feet, and has locker rooms, exercise equipment, whirlpool, sauna and massage. They have had recumbent bikes and elliptical machines.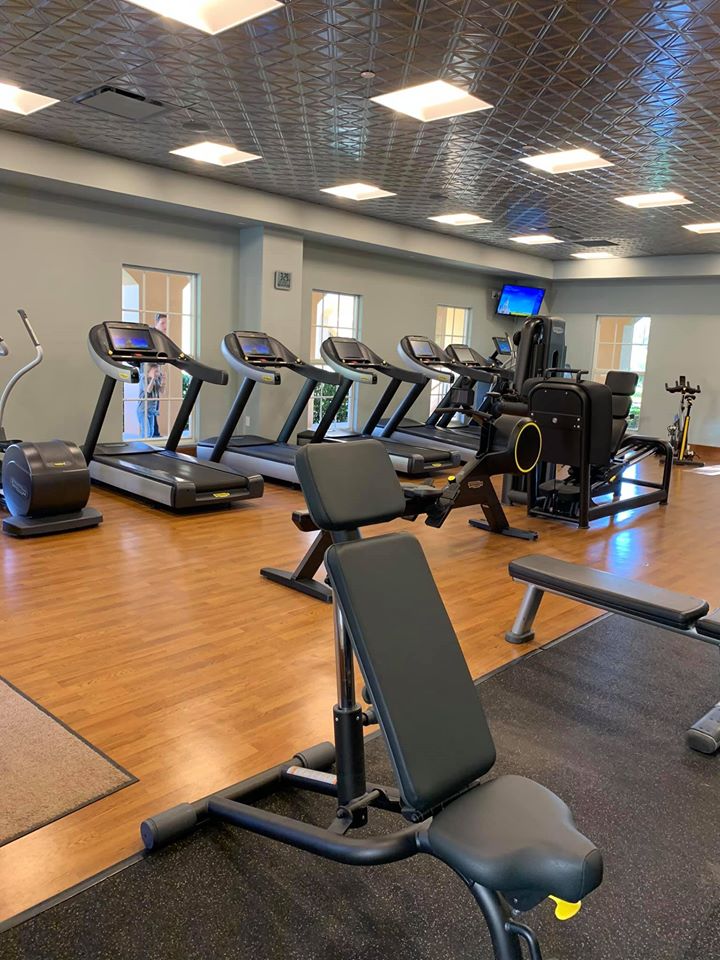 You can also arrange a session with a trainer.
Though you can get spa services here, this location doesn't really have that luxury spa-like feel you find in some spas.
Salon: Casa de Belleza is a salon for men and women that offers hair and nail services as well as facials. It's located next door to the health club. The phone number for the spa, hair salon and health club is (407) 939-3030.
Fitness Center at Gran Destino: A second fitness center is available inside the tower on the lobby level. This newer workout area might seem a little more upscale than La Vida Health Club. It includes TechnoGym Technology.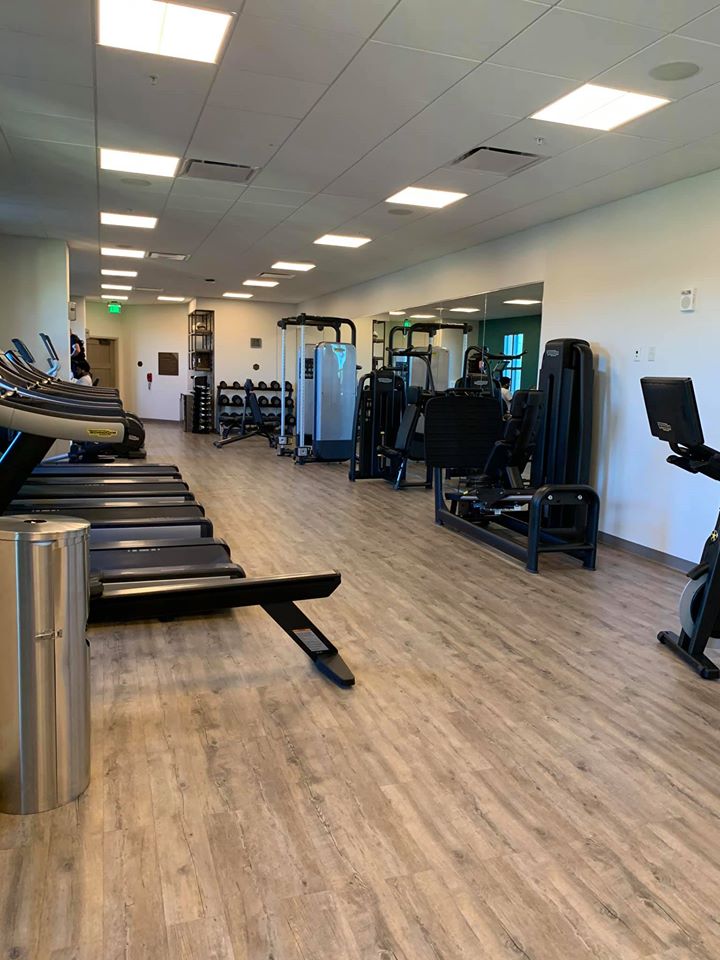 Other Entertainment at Coronado Springs Resort
In addition to the activities mentioned throughout this page, other activities at this resort may include:
Campfire activities – Enjoy roasting marshmallows by the campfire.
Movies Under the Stars – The resort plays Disney movies outdoors by the Lost City of Cibola pool, weather permitting.
Volleyball
Jogging trail – You can enjoy a .9 mile walk or run around the lake and resort areas.
Colors of Coronado Painting Experience – Mondays at 2 PM in the Dahlia Lounge, guests 12 years and older can participate in a "master-led painting class". Cost is $50 plus tax. Reservations are recommended. Call (407) 939-7529.
Fitness classes – These are led around various locations throughout the resort. They include the Aqua Fitness Blast, Pilates and Yoga. Check this page for times and locations.
Iguana Arcade – This area is located by the main pool area.
Playground – Described above in the Dig Site section.
Food, beverage & Dining at Disney's Coronado Springs Resort
The Coronado Springs resort has a lot more dining choices than many of the other Disney resorts. Here's what you'll find:
Maya Grill  – This is a full service restaurant serving American, Mexican, Seafood and Steakhouse cuisine. The atmosphere is colorful, with a Mayan and Aztec theme, dramatic columns and features, tile floors and glass works. From what we've seen, this restaurant tends to get mixed reviews.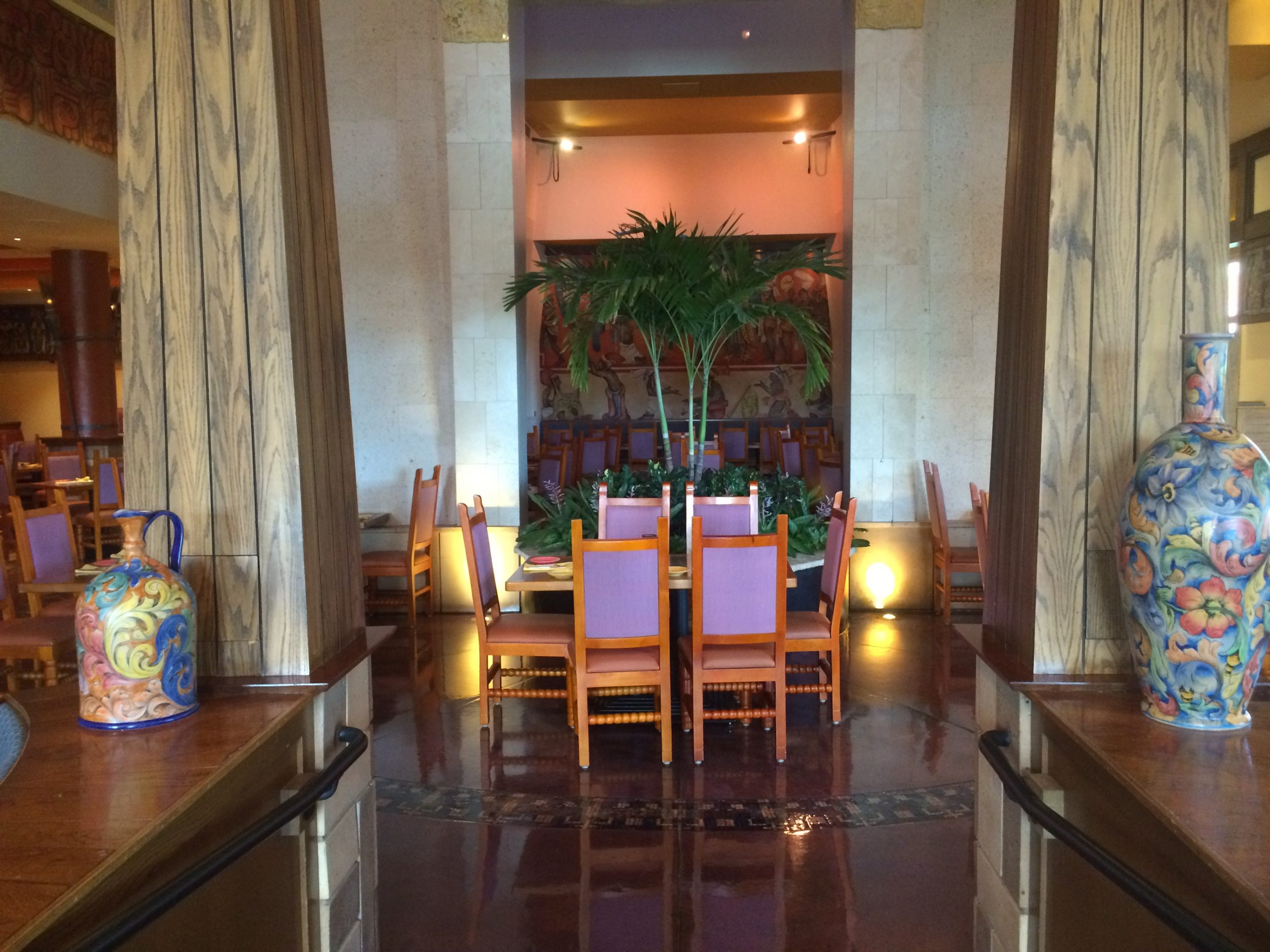 Rix Café offers snacks like bagels, muffins, cereal with milk, pastries, fruit, coffee and other soft drinks. In the past they've carried a couple of flavors of flavored coffees here.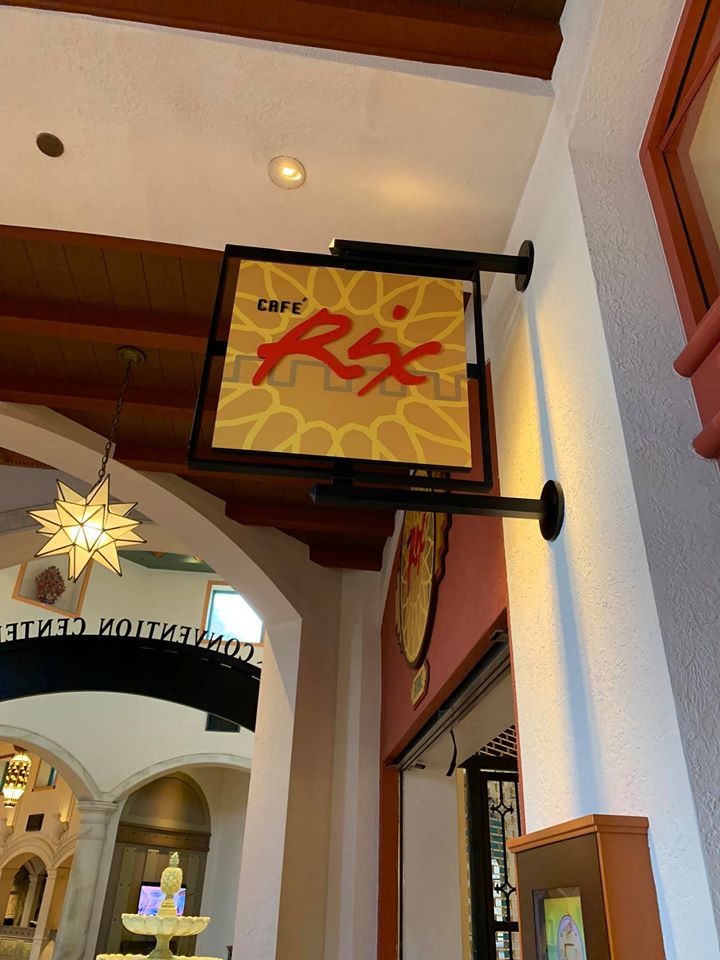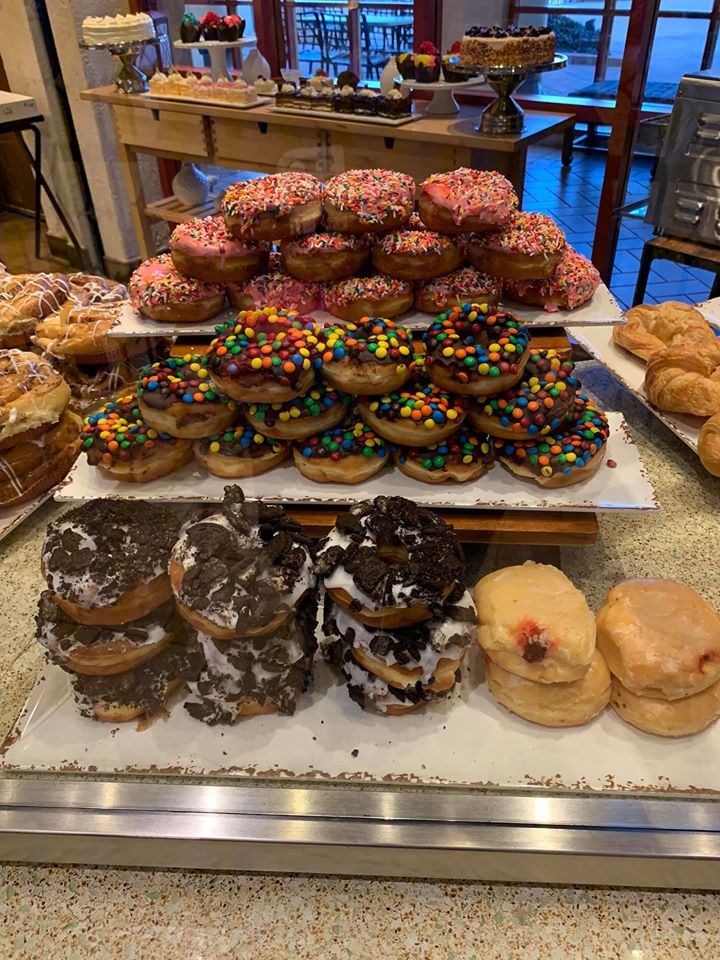 El Mercado De Coronado is a large food court style restaurant serving breakfast, lunch and dinner. Breakfast offers include the American classics. For lunch and dinner there are a variety of options such as pasta, pizza, salads, burgers, rice bowls and various sandwiches.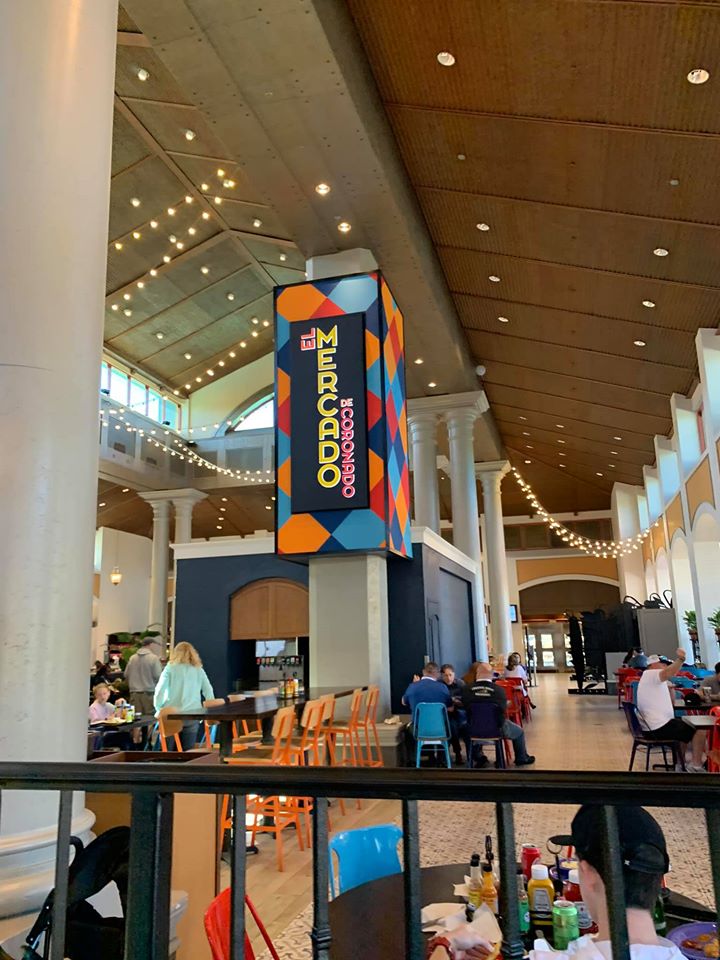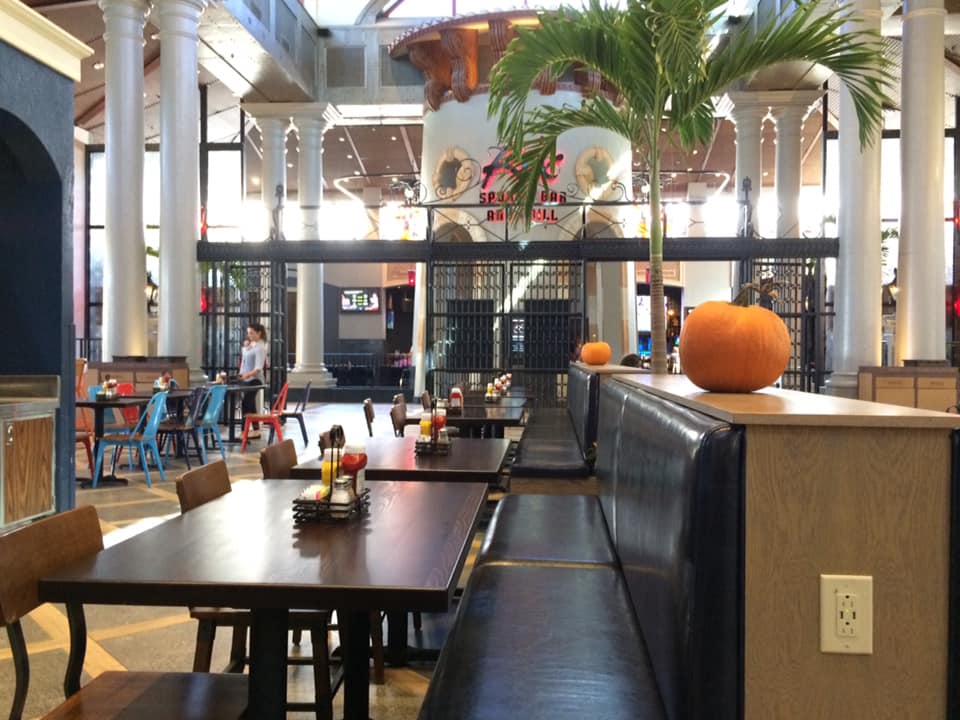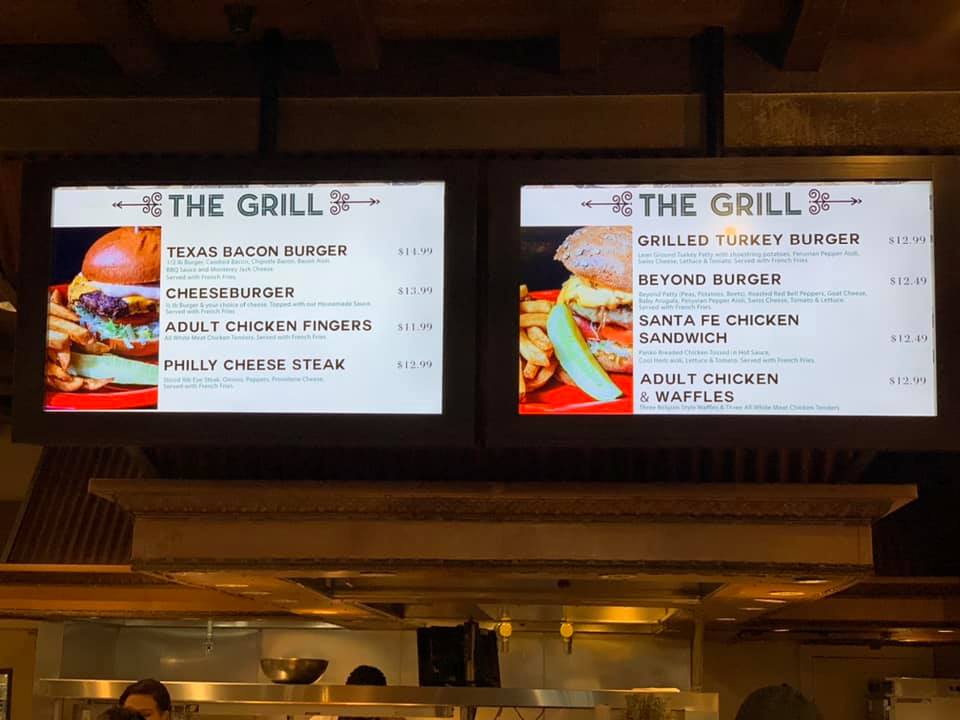 Rix Sports Bar And Grill. Right near the El Mercado De Coronado food court, this is a pleasant spot to hang out, watch a game, and grab a snack or a meal, along with an alcoholic or non-alcoholic drink. They serve breakfast, lunch and dinner. This 300-seat lounge is also a night spot, and at times you'll find a DJ playing top 40 music. There's a variety of seating choices including booth style seats, cushioned couches and chairs, and bar stool style chairs with backs. It's opened from 5 PM to 2 AM. After 9 PM guests must be 21 years of age or older.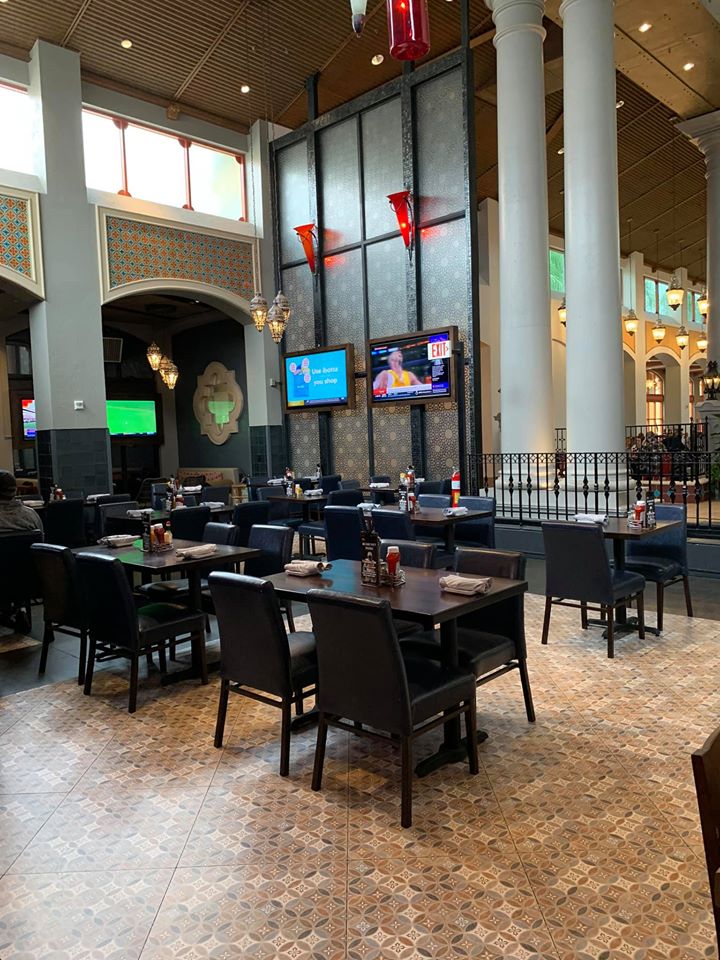 Siesta's Cantina Pool Bar is located by the main pool, and offers quick food items such as French fries, hamburgers, hot dogs, a BLT chicken wrap, tacos, nachos, fruit cup, yogurt parfait and ice cream bars. They also serve alcoholic beverages. Refillable mugs can be refilled at this location. The bar is open from 11 AM to 7 PM. Food service is from 11 AM to 6 PM.
Three Bridges Bar And Grill is one of the newer restaurant/bars on property. It sits on a small island, looking over the water, making for fantastic views all around. With open sides, it's covered outdoor dining. You access this restaurant/bar by walking over the bridges/walkways that pass over the lake. They serve dinner only, with hours at this writing of 4:30 pm to midnight. Hang out and enjoy appetizers and mixed drinks, or a full meal.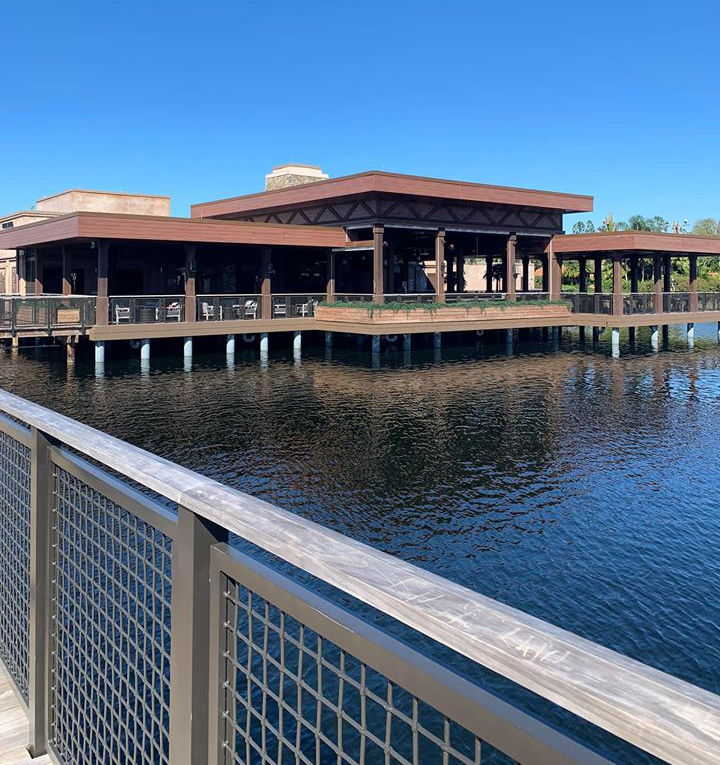 The Laguna Bar is a pleasant lakeside outdoor lounge with a fantastic view. They only serve drinks here.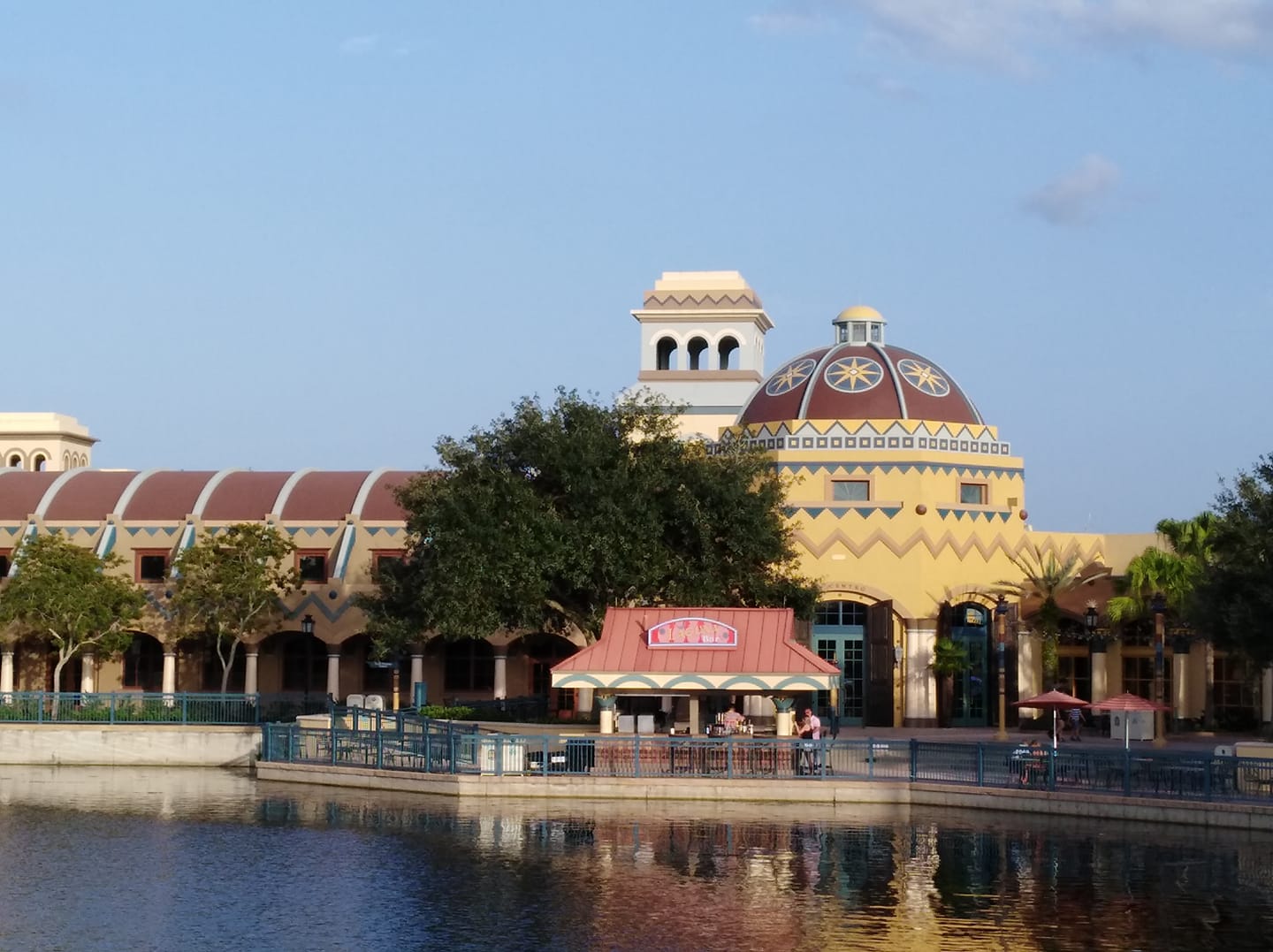 Dahlia Lounge is rooftop lounge located inside the Gran Destino Tower. They serve Spanish themed appetizers along with some alcoholic beverages with some interesting mixed drinks.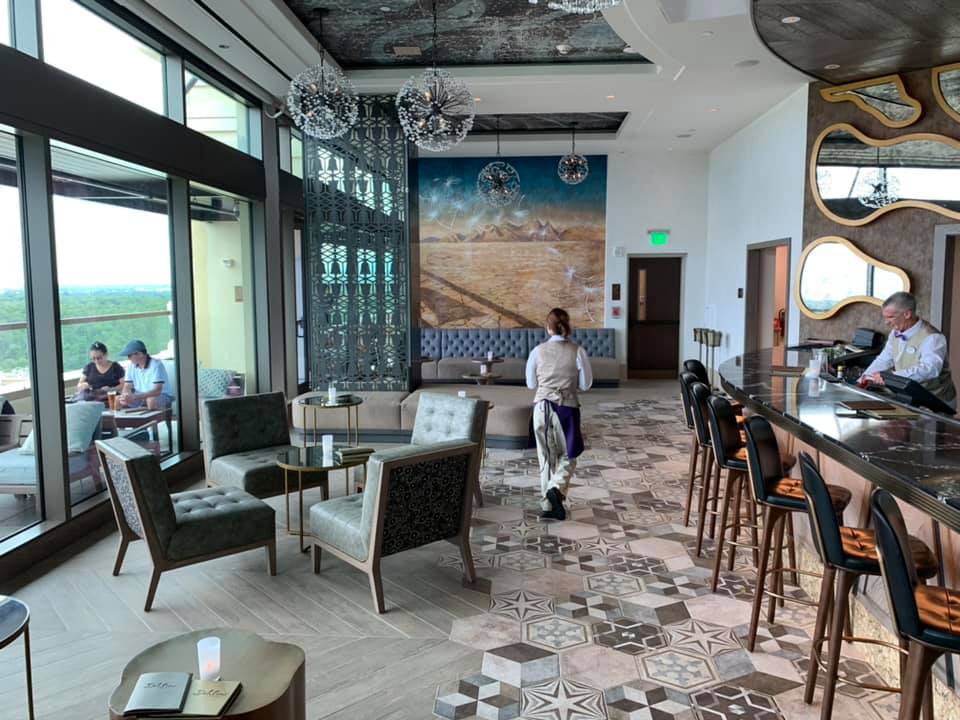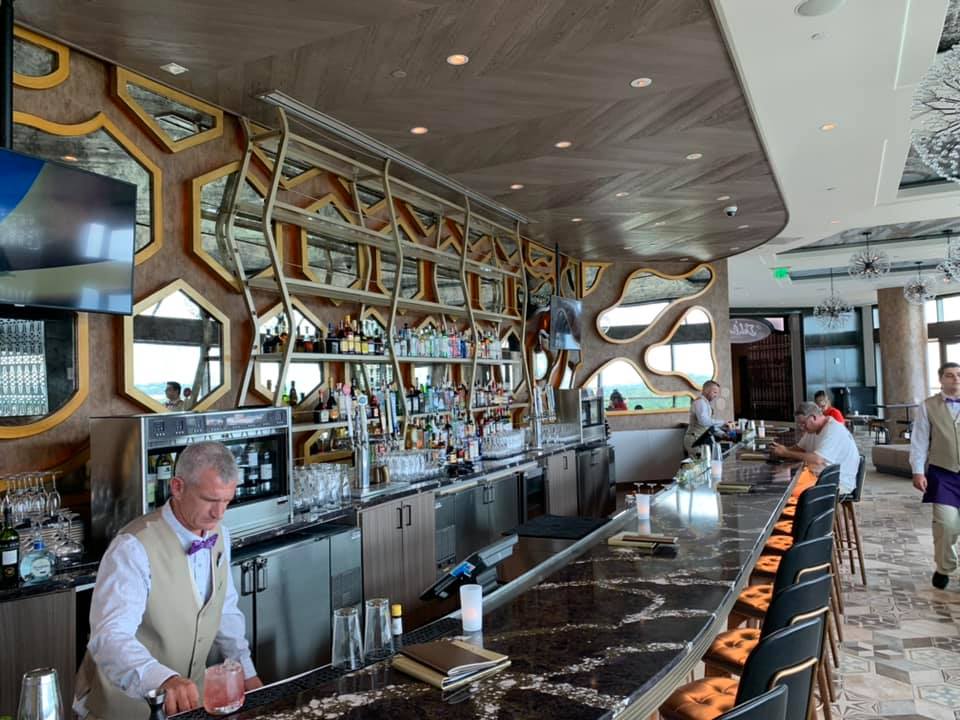 Toledo is a rooftop restaurant serving Spanish Tapas, Steak and Seafood restaurant. It's located in the Gran Destino Tower. It boasts a super striking atmosphere with huge windows, color filled stained-glass vaulted ceilings and live olive trees.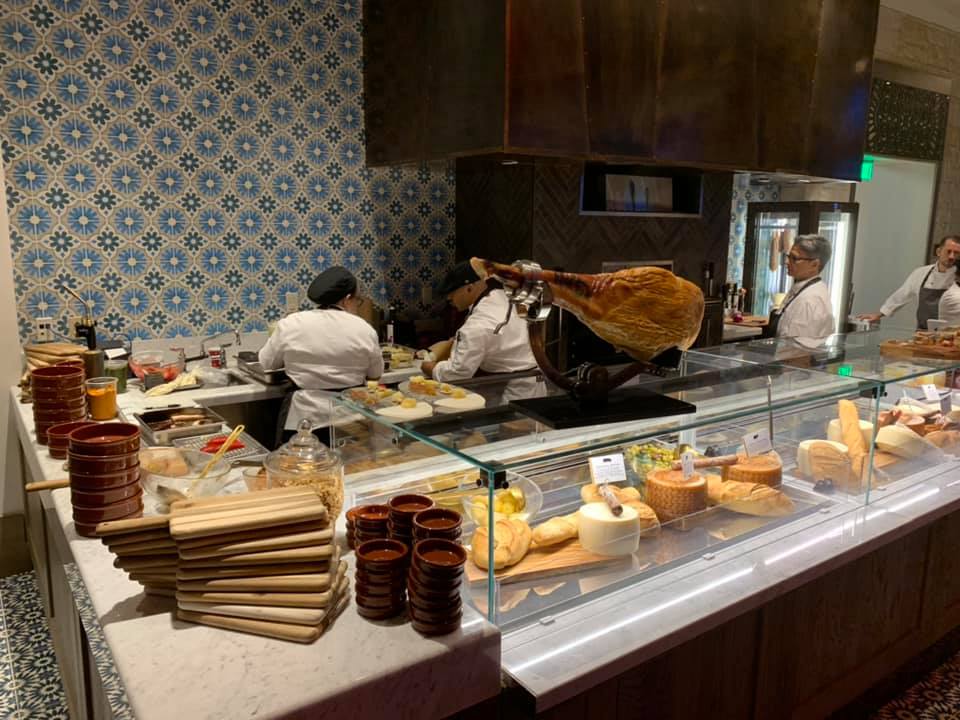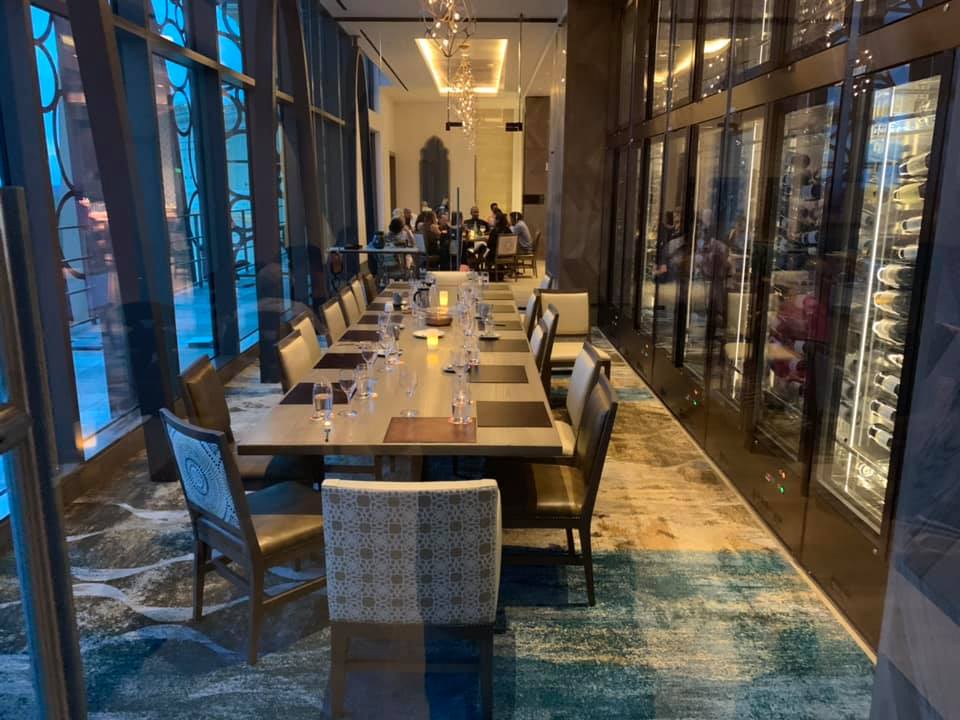 Barcelona Lounge is a lounge in the two-story lobby inside the Gran Destino Tower. They have a breakfast offering with a European coffee experience with Spanish and American themed pastries and breakfast offerings. In the evenings they serve Spanish themed appetizers and alcoholic beverages.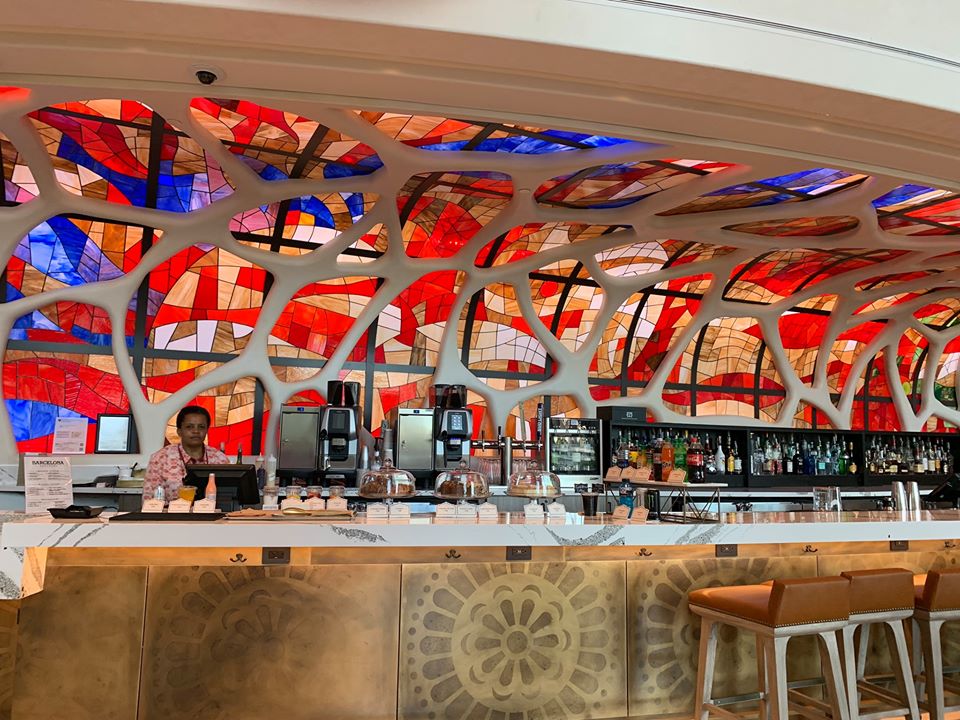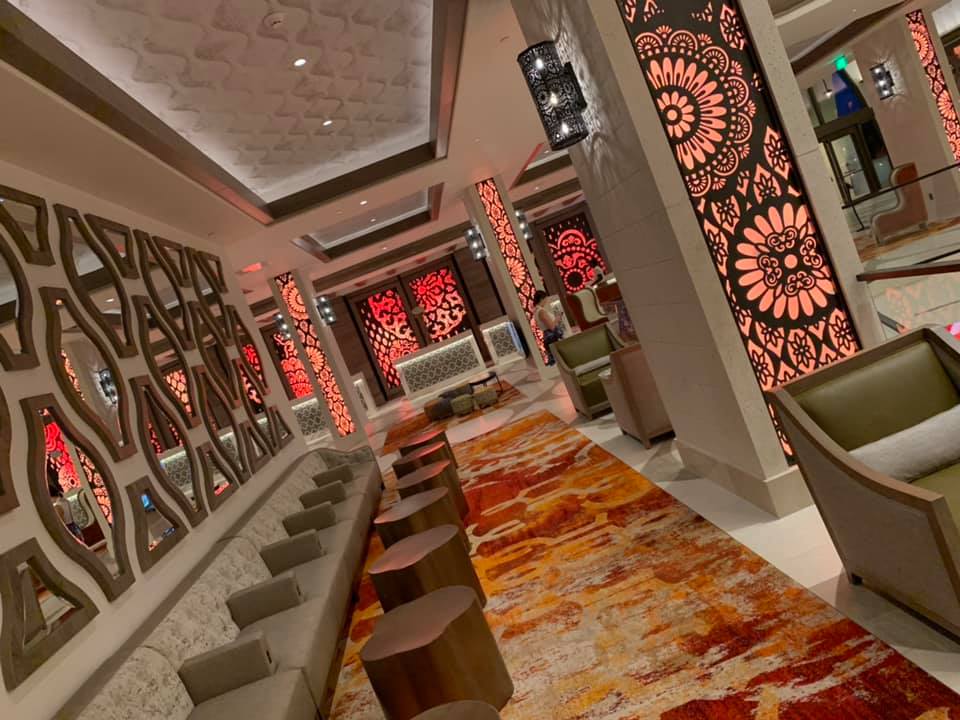 In room dining: Unlike the other moderate resorts, Coronado Springs has room service that offers a small assortment of breakfast, lunch and dinner choices. Breakfast is served from 7 AM to 11 AM. Choices include a continental style meal, yogurt and fruit, egg, ham and cheese sandwich, cereals and bagels. Lunch and dinner are served from 11 AM to 11 PM, and include buffalo wings, salad, pizza, sandwiches and fried chicken. They also offer alcoholic beverages and a hospitality menu for gatherings.
Transportation at Disney's Coronado Springs Resort
Disney transportation includes the bus system only. The buses go to all the major theme parks, water parks, Disney Springs and Disney's Winter Summerland Mini golf course. There are no buses to any other resort from here. This resort does not share buses with any other resort.
There are five bus stops within the resort. The main bus stop is behind Gran Destino Tower. The others are located near Casitas 4, Cabanas 8, and Ranchos 7A. Guests can use the external Disney bus system to get around inside the resort. When going to the parks, Casitas is the first stop. When going to Disney Springs, the tower is the first stop.
The bus stops are covered, but there's very little seating. Most people will be standing. At all Disney bus stops the buses come approximately every 20 minutes, give or take.
Those with mobility or fatigue issues may wish to rent or bring their own car while staying at this resort because of the large size and layout. This is especially true in the warmer months with the heat and frequent thunder storms.
We've seen fan websites saying that this resort has an internal shuttle system. This is not currently available. We've been told that guests with mobility issues can call Bell Services to request a lift around the resort in a golf cart. If they're not too busy they may accommodate you, however there's no guarantee that they'll do this. If you have mobility issues and are staying at this resort, we'd recommend renting a scooter even if you don't normally need one.
Laundry at Disney's Coronado Springs Resort
There are Coin Laundromat facilities located at each of the three quiet pools. The washing machines are top loading, and the dryers are side loading and stacked. They accept credit cards only. If you don't have one, you can buy one at the front desk. The cost is currently $3 a wash and $3 a dry. There's also a vending machine with stuff like laundry soap, fabric softener, etc. Valet laundry service is available with pickup from your room. Laundry bags should be in your room closet, with a pricing sheet attached.
Business Center at Coronado Springs Resort
This is the only moderate resort with a business center. You do not need to be a guest at the resort to use it. The center offers a full range of office services and supplies. You can use a computer there for a fee. You pay as you go by the minute with a 10 minute minimum. You can connect your own laptop there as well. Other services available for a fee include printing, scanning, faxing and copying. They also offer a Notary Public and shipping services.
Smoking
Smoking is banned in all Disney-owned hotel rooms. Even patios and balconies are non-smoking areas. Of course it's always possible that another guest could smoke in a room anyway, but Disney reserves the right to charge a penalty since they'll need to specially clean the room. This usually discourages people from smoking inside their rooms. There are pre-designated outdoor areas around the resort where smoking is permitted. The resort map that you're given when you check in should have the areas marked, or ask a cast member when you check in.
Join planning support Facebook groups to help with your trip to Disney World:
There are a couple of Facebook groups I'd recommend you join if you're looking for answers, support and help.
Walt Disney World Made Easy for Everyone Facebook group – This is my group (Stephen Ashley). We're happy to help answer questions on anything related to planning your Disney trip, and we love to talk about anything Disney World related.
Coronado Springs Buzz Facebook Group – This is a super supportive and knowledgeable group of people who are happy to answer questions about Coronado Springs resort.
Ask any questions, share your knowledge and just enjoy getting to know other Disney fanatics in our facebook group called Walt Disney World Made Easy for Everyone.
Also join me on Pinterest here.
GET UPDATES, NEWS & TIPS (IT'S FREE!!!)
Sign up below to stay updated on the newest information, tips and tricks to help you plan your perfect Disney World trip!