Disney's Pop Century Resort
In-Depth Info for Everyone!

Plus More for Those with Extra Challenges…
Location: Adjacent to the Wide World of Sports Complex, next to Caribbean Beach Resort, across from Art of Animation, and not far from Hollywood Studios. Address: 1050 Century Drive, Lake Buena Vista, FL 32830. Phone: (407) 938-4000 Fax: (407) 938-4040. Parking fee: $15 per night. Check-in: 3 PM. Check-out: 11 AM. Resort Type: Value.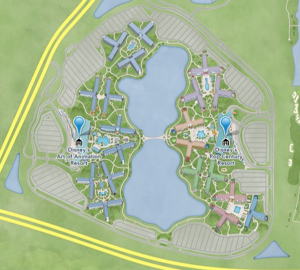 Pop Century is one of the more popular Disney Value Resorts. Since this resort got the new Skyliner transportation, it's become even more popular. Unfortunately, this has resulted in a price hike. It now tends to be higher priced than the All-Star resorts. However, it's still priced low enough to still be considered a Value resort.
Built after the three All-Star resorts (All-Star Music, All-Star Movies, All-Star Sports), Pop Century opened at the end of 2003. It's situated by Hourglass Lake, and it has 2,880 rooms and 10 lodge buildings.
The lake view is a something that Pop Century offers, that the three All-Star value resorts don't have. There's a pleasant walk between Pop Century and Disney's Art of Animation, which is on the other side of the lake. You can take a bridge to enjoy the sights and to use the food court at this Art of Animation. It opens up options!
Decades at Disney's Pop Century Resort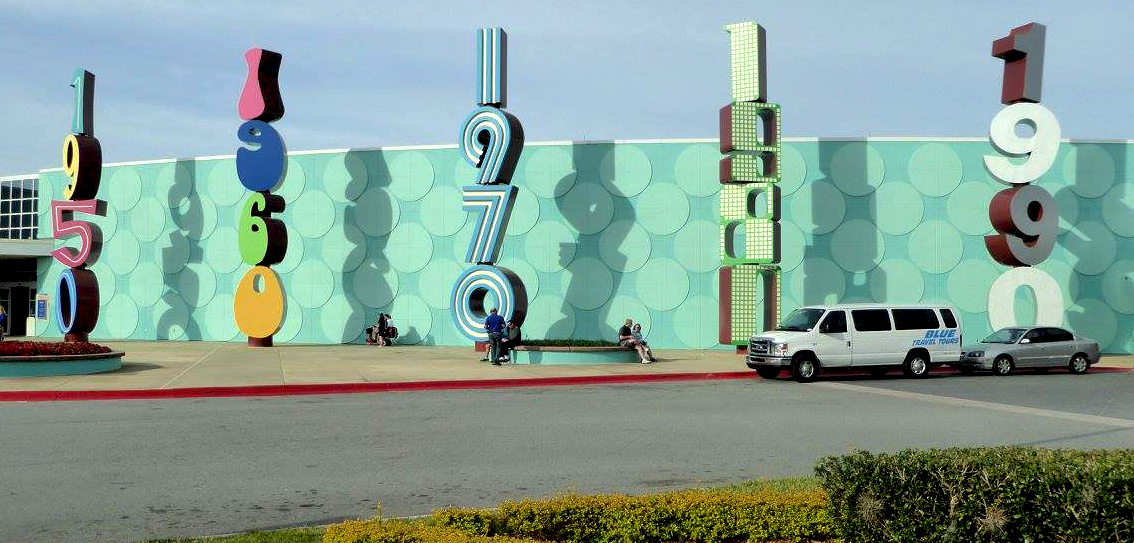 Each section of the resort reflects a particular decade, and music from that decade plays outside the rooms.
Here's what you'll see: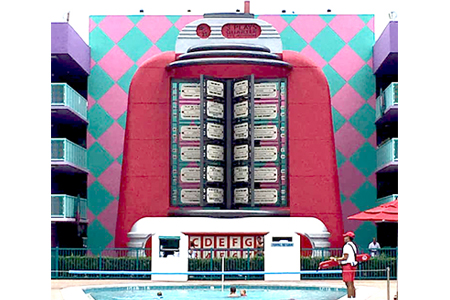 The 1950s section icons include giant dancing sock-hoppers on the sides of the lodge buildings, and a 40-foot-tall tabletop jukebox that anchors the courtyard.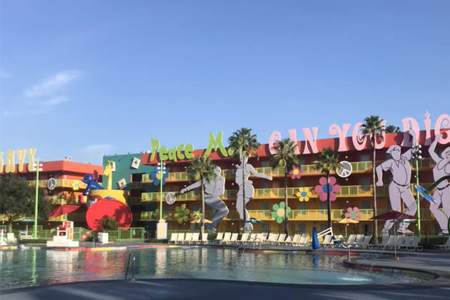 The 1960's section features tie-dyed hues and psychedelic colors. Icons include a giant can of Play-Doh with colorful Play-Doh animals peeking out the top, and Baloo and Mowgli from Disney's "The Jungle Book".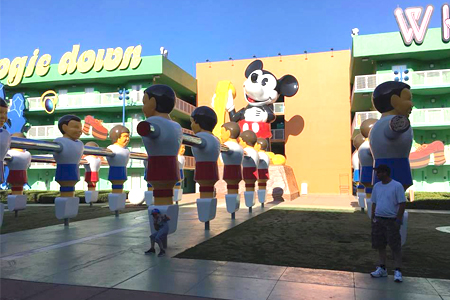 The 1970s section has a colorful Big Wheel riding toy in the courtyard, larger than life foos ball men, and a massive Mickey Mouse rotary-dial phone. Eight-track tapes adorn the buildings.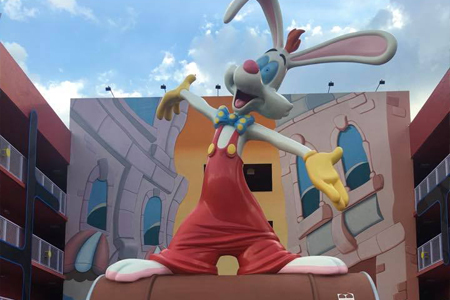 The 1980s section features Roger Rabbit, and Giant 41 foot Rubik's Cubes.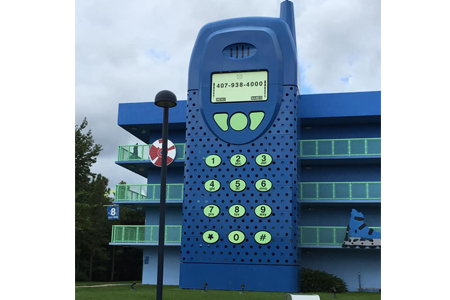 Finally, the 1990s section features technology, which is the defining characteristic of this period according to Disney. A giant laptop computer is the centerpiece; along with early-model cellular telephones (remember how huge they were?). The pool is computer-shaped with a giant keyboard pool deck area.
.
Value vs. Luxury at the Pop Century Resort
Pop Century is a Disney Value resort, which makes it an affordable option for many. If you thought you couldn't stay right on Disney property, check out the prices for Pop and the other Value resorts. When you add in the perks like free parking in the four parks, free transportation, Early Theme Park Entry and more, they can make staying right on property a good value.
If you're on the fence about staying on property and need help deciding, check out this article: Should I Stay in a Disney World Resort?
The Pop Century guest rooms are very compact at 260 square feet, but Disney resorts are known for being clean and well maintained. Sure, you're giving up space and luxury, but you're getting a resort experience that has all the over the top Disney touches, great Disney customer service and everything you need to have fun.
The rooms were recently remodeled and the new designs effectively allow more storage and living space. We're hearing rave reviews. See below for details.
If a Value resort isn't your thing, and you have the budget for it, take a look at the Moderate and Deluxe resorts, or a Disney Vacation Club Villa. There are HUGE discounts available using Disney Vacation Club point rentals. You can get a Disney Deluxe Resort Villa at somewhere around half price, give or take. Check out our article called How to Save $$$ (Safely) on Disney Vacation Club Rentals.
What Makes Pop Century Different from the All-Star Resorts (and maybe a bit better)?
This was built after the three All-Star resorts, and the Disney team included many upgrades including:
The main building is more centralized so there's less walking.
Rather than 3 floors per guest building, there are 4 floors which keeps the resort from being as spread out.
Pop Century is built on Hourglass Lake which really adds to the experience of the resort.
The use of the Skyliner for transportation is a great perk.
This resort has dedicated buses, which makes traveling much easier and quicker. See below for more info on this.
The decor, atmosphere and ambiance may be just a bit more upscale compared to the All-Star resorts.
You can walk to Art of Animation Resort, which is across the lake. The path over Generation Gap bridge is a pleasant walk, and it gives you another restaurant to choose from, in walking distance.
Pop Century is a bit more expensive than the 3 All-Star resorts, and a little less expensive than the new Art of Animation.
At this writing, when it comes to amenities and quality, we find Pop Century and the Art of Animation to be the best choices in the value resort category because of the upgrades. But… Disney is all about fun, so we also suggest taking the themes into account when choosing!
More advantages and some disadvantages of Pop Century Resort
ADVANTAGES: In addition to the Disney magic you can expect in every single Disney World resort, here's what's really good about this resort:
If you remember the decades represented here, you may enjoy the theme. You may also like it if you're young and interested in history.
This is definitely Disney territory! Children and adults will enjoy the larger than life jaw-dropping icons, and the fact that there's something fun to see everywhere you look.
Low prices compared to the moderate and deluxe Disney resorts.
Its highly themed pools add another element of fun to your vacation.
The food court is convenient and less expensive than a full-service restaurant.
You get all the benefits of being in a Disney resort, such as Early Theme Park Entry, room package delivery, transportation, etc.
There's a zero-entry pool here. 
You can walk to Art of Animation. It's fun to check out the resort, plus they have a great food court there, so that gives you another dining choice.
Skyliner & dedicated buses – As we mentioned above, this is a great perk. The Skyliner adds convenience and fun!
DISADVANTAGES
The rooms are REALLY small.
If you're trying to get an ECV or wheelchair in there, it's extremely tight. It can be done, but it's not as easy as in the resorts that have larger rooms.
No hot tubs in the pool areas in this resort.
Value resort level luggage service is not as convenient as in the moderate and deluxe resorts.
It can be noisy here at times. Large groups of kids tend to stay here.
Yes, it's imperfect, but it's Disney. Many people would rather stay at a Disney value resort than a much more deluxe resort somewhere else. There's that intangible "magic" that everyone talks about at the Disney resorts. It's real and you can't experience it anywhere else. If a value resort fits within your budget, and the theme of this resort appeals to you, this may be a good fit for you.

Noise and crowds at the Pop Century Resort
The value resorts tend to attract groups, and they can be noisy. They can also create crowds. Also the rooms don't have great sound proofing. To learn about what you can do to minimize this, check out our article called Minimizing the Effect of Noise & Crowds in Disney World Value Resorts.
The Pop Century Buildings
The main building – Classic Hall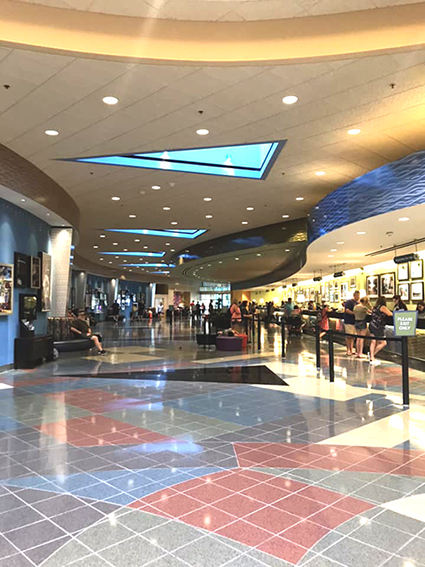 This houses the check-in area, arcade, food court, indoor bar, lounge and store. There's also an outdoors bus depot here. The design of this building has much of the activity in the same area, so it can be hectic and loud. At the same time, it's also bright, cheerful and fun.
Although most of the large groups of guests are placed in the All-Star resorts, the overflow is placed at Pop Century. These groups often stick together creating a crowd wherever they go, and they can crowd Classic Hall at times.
Check-in: Classic Hall is where check-in takes place. You'll want to check out the exhibit in that area. Across from the front desk is a wall covered with items from the last century. They're from flea markets, yard sales, eBay and antiques shops, and they reflect the 1950's through the 1990's.
Of all the Disney resorts this is the largest check-in area and usually the most staffed. We hear very mixed reviews about wait times. This resort strives for efficiency with processing guests, and they often do a great job getting guests checked in quickly. Despite that, we hear complaints that the lines for check-in can be long, regardless of the time of day. Of course it will vary depending upon a number of factors including the overall crowd conditions at Disney.
Handicapped accessible info: At each end of the front desk you'll find a low counter area for those in wheelchairs or ECVs.
The kids waiting area: This has brightly colored couches that are cheerful and inviting, however it's not in view of the check-in area. It's just off of the lobby. If you need to keep an eye on your child, there are some benches in the check-in area.
Guest Buildings at Pop Century Resort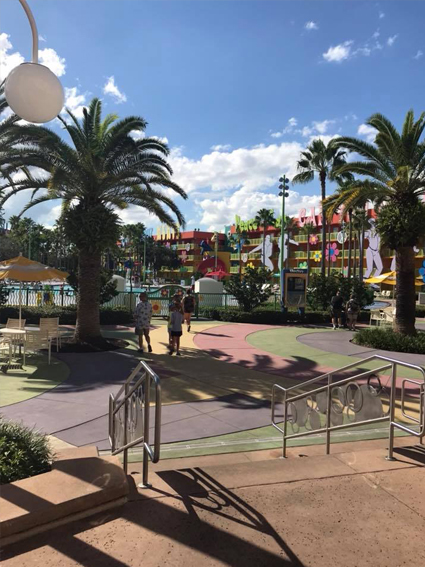 The buildings are four-stories high and spread out. All the resort buildings have elevators. They can be found in the center of each building, so depending on where your room is, there may be some walking or riding to get to it if you're in a wheelchair or ECV. The stairs are at the ends of the buildings.
Depending upon where your room is, you may need to do some walking to get to the main areas or the bus stops.
Rooms at Pop Century Resort
The recently remodeled rooms are designed to make better use of the limited 260 square feet. They all have wood laminate floors, white walls and white bedding. The look seems to be about simplicity, brightness and low maintenance. It's functional with a clean, neutral look and colorful Disney art thrown in. We're hearing great feedback on the changes from our Facebook group members.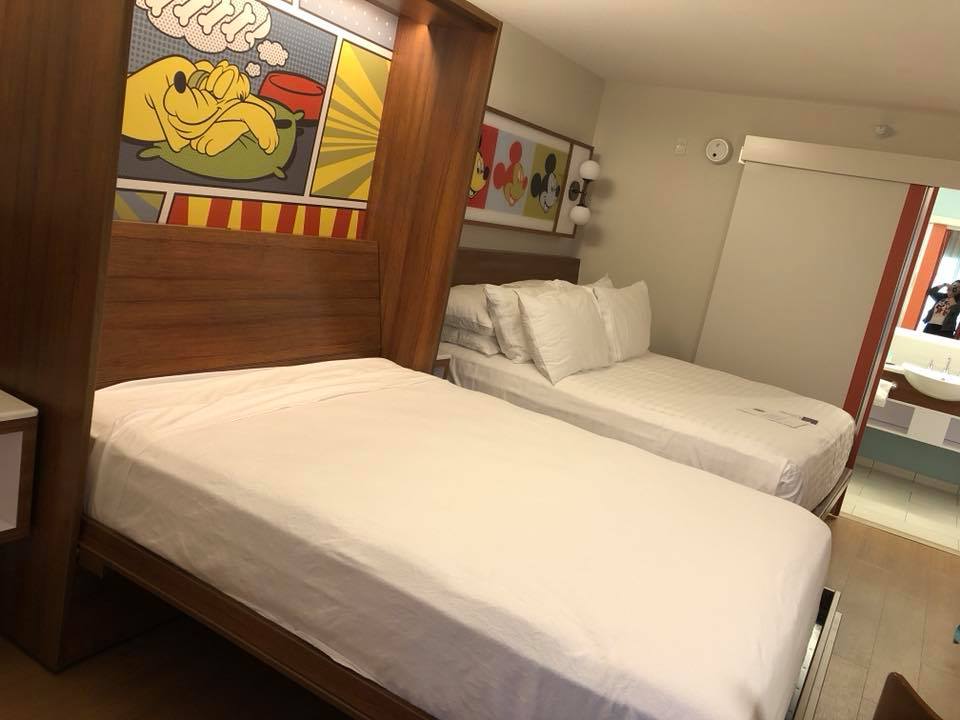 Rooms sleep: 4 adults plus an infant under 3 years old.
For all of the value resorts, the maximum number of guests allowed in the standard rooms is 4 people including children, plus an infant (a child below 3 years old) with a portable crib. The standard rooms will be tight if you have four adults or even two adults and two teens. Even families with two adults and two kids may find it challenging. Yet, if you go in with reasonable expectations, it can work well.
Amenities:
All rooms have the following:
H20 shampoo and bar soap
Air conditioning
Hairdryer
Iron and ironing board
Complimentary wi-fi Internet
Coffee/tea maker with supplies (sugar, coffee, etc.)
Cable TV including the Disney Channel and ESPN
Telephone with voice mail
Digital thermostat
In-room safe. According to Yourfirstvisit.net, the safe is 19 inches by 15 inches by 6.5 inches tall.
Mini-fridge (no freezer)
If you want an alarm clock, you can request one. They're not automatically put in the room.
Furniture in the Pop Century Resort Rooms
Beds: For beds they have either 1 King bed or 1 Queen bed and 1 Queen-size Table Bed. Beds are on a non-movable base, so they can't be moved to gain more space for wheelchair maneuvering.
Table Beds: The table beds are hideaway space savers. They can be closed up so that the mattress is hidden inside a closed closet, and you're left with a small attached table attached to the closet. When you open it, you get a Queen-size bed that we hear is very comfortable, and in fact just as comfortable as the regular beds. The beds have space underneath to store suitcases, etc.
Here's a look at how the Hideaway table beds work, with a video from Travel Agent Autumn Barnes:
And here's a look at the room with another video from Autumn:
The rooms also have:
A dresser with a room safe inside, and two electrical outlets, great for charging.
Small built-in night stands.
Two small chairs that fit with the Table Bed when the table is out.
A 54 inch flat screen color television mounted on the wall over the dresser.
Furniture with a counter surface for the coffee maker and food related supplies. It has shelving above, and  the small mini-fridge below. It has a drawer where you'll find the coffee packets, creamer, etc.
Coat rack
Plenty of electrical outlets
Full Length mirror
Bathrooms in Pop Century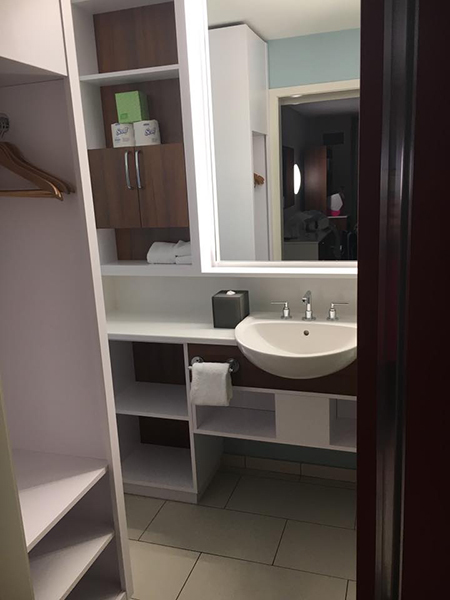 The bathroom area is separated from the room by a wood door that slides to open and close. You'll enter a room with one sink, a lot of built in storage shelves, and a closet. In addition to the wall mirror, there's a make-up mirror built into the wall with a swing out arm. The ironing board is hung inside on the wall.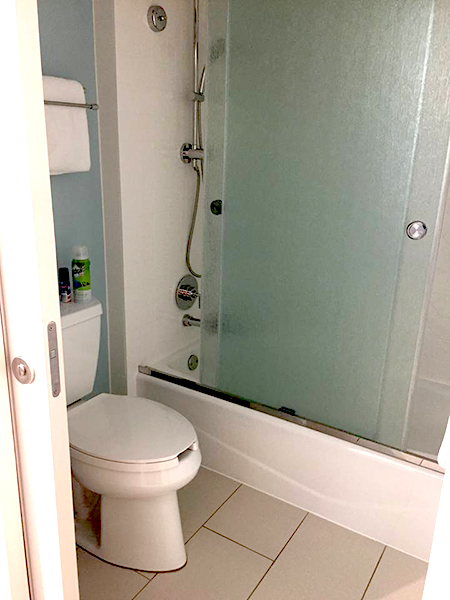 The toilet and tub/shower are behind another sliding wood door. The shower has a sliding door, which means there's no bothersome shower curtain. The shower includes a rain type shower head, and a hand-held shower extension.
TIP: Need a bathtub? We have heard from various sources that there are some rooms with no bathtubs, and only a shower. At this time we've speculated that these might be a type of handicapped rooms that were not in use. If a handicapped room doesn't get allocated, it's put into general use. We're not sure yet however.

So if you need a bathtub, you'll want to be sure to request one.
Room Locations:
Room options include:
Parking lot view

Pool or woods view

Water view
There are also some water view rooms, but there are no balconies to hang out on.
Preferred location rooms are also available for an extra fee, and they're the rooms closest in proximity to the Classic Hall. They're found in
Tip:  Looking for a room close to the action? There's an additional fee for rooms closest to Classic Hall because of the convenience factor. This includes the 1960's building and parts of the 1950's and 1970's buildings. You must request this at the time you make your reservation.
Here are some room location tips:
To be closest to the main building, food court and main pool, when you make your room reservation, request a room in the 1960's section closest to Classic Hall.
There's a possible disadvantage for those with their own cars. The closer your room is to the main building, the farther away you'll be from the parking lot.
Other possible locations that will put you close to the main areas while bringing you closer to a parking lot are found within certain sections of the 1950's and 1970's buildings. Request a room location that's closest to the Classic Hall and the Hippy Dippy Pool.
The 1980's and 1990's are the farthest away from those common areas, but it should only be approximately a five to eight minute walk to get to Classic Hall. Compared to some of the other resorts, this is relatively close.
Are you looking for a quiet room? If walking is not an issue, the farther buildings may be a good choice. Keep in mind that you'll have a long walk to the main common areas. The lake view rooms and rooms on the upper floors can be comparatively quiet also. However, noise from the highway carries over the lake, and this type of noise may bother some people. Stay away from a Pool view, which can be very noisy and crowded until late at night. Remember that there's no guarantee of quiet with almost any hotel room, and this is even truer of the value resorts.

Noise in the rooms: We repeatedly hear complaints about thin walls, but the level of noise coming through will depend upon who your neighbors are. The sound of your neighbors shower and toilet can be really loud, and it may help somewhat to close your own bathroom door.
Available Upon Request (Including handicapped options)
Rooms accessible to guests with disabilities; hearing-impaired TDD telephones, bed shaker accessory, visual smoke alarms, wake up alarms and door knocks; bed boards and bed rails; Sharp containers for used syringes; connecting rooms (not guaranteed) unless you have children staying alone in the separate room (be sure to confirm this when you make your reservation). Guests can also request cribs, and a Pack 'n Play at no extra charge.
Handicapped – Accessible Rooms at Pop Century
Some of the ADA accessible rooms have 1 King bed which will give you more floor room, or the two queen beds as described above. Keep in mind that the rooms are quite small. Regardless, we hear from our readers that they're able to manage.
To view the types of rooms, accessories and options that Disney offers at all its resorts, check out this article called Reserving Handicapped – Accessible Rooms in the Disney World Resorts.
Take a tour of the Pop Century resort and rooms before we continue:
Restaurant & Dining options in the Pop Century Resort:
This resort does not have a full service restaurant.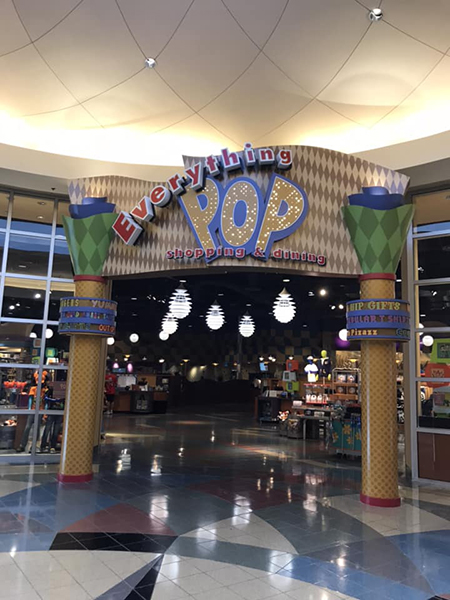 Everything Pop Shopping and Dining: This is a large, pleasantly themed 640-seat food court and store located in the Classic Hall. Despite the size it can get extremely crowded here, especially during peak seasons. Breakfast and dinner can be mobbed, while lunch is much more manageable with many guests away at the parks.
They have 7 stations including grab 'n' go items, grilled fare, pizza, pasta, sandwiches, healthy choices and home-cooked cuisine. To see the menu visit Disney's website here.
Disney Dining Plan: This is on the Disney Dining Plan as a quick service location. (1 quick service credit)
Petals Pool Bar: This is located adjacent to Hippy Dippy Pool. To see the menu visit here.
Disney Dining Plan: This is not on the Disney Dining Plan.
Pop Art Pizza Delivery Room Service –  After a long day at the parks, you might want room delivery. You can get a variety of foods delivered from 4 pm through Midnight. The options have included pizza, pasta, fried chicken, salad, veggie sandwich, chicken Parmesan, chicken breast bites and chicken wings. Desserts have included cheese cake, chocolate cake or carrot cake.
Resort shopping at Pop Century:
Everything Pop Shopping and Dining: The largest of the stores in the original four value resorts, it's located in the 5,000-square-foot retail center in Classic Hall. In addition to the standard merchandise, kids will love the candy choices as well as the "create your own Mr. Potato Head" and "create your own crown" sections. It's open from 6 AM through midnight.
Pools at the Pop Century Resort in Disney World  
There are three good size heated pools and one kiddie water pool. There should be lifeguards at all three pools, but you'll want to double check once you're onsite.
Water Temperature: Though the water is supposed to be heated to 82 degrees, it can still feel pretty chilly, depending on the outside air temperature and your level of sensitivity. We find that we're unable to swim in the winter, but there are almost always more hardy souls in the water.
There's not much shade at any of these pools, however at certain times of the day it may be possible to move a chair back into the shadow of a building. The water depth of the three pools range from 3 ft 6 inches to 4 ft 9 inches. Each pool has a locker room with bathrooms, showers and lockers.
THE HIPPY DIPPY POOL

The main pool is the 235,000 gallon flower shaped Hippy Dippy Pool located near the 1960's building and it's close to the main lobby in Classic Hall and near the food court. It's the only zero entry pool at this resort (they don't offer a water wheelchair here). Right by the Hippy Dippy Pool is the Goofy Kiddie Spray Area. It's a great place for kids, and there's padding around the deck.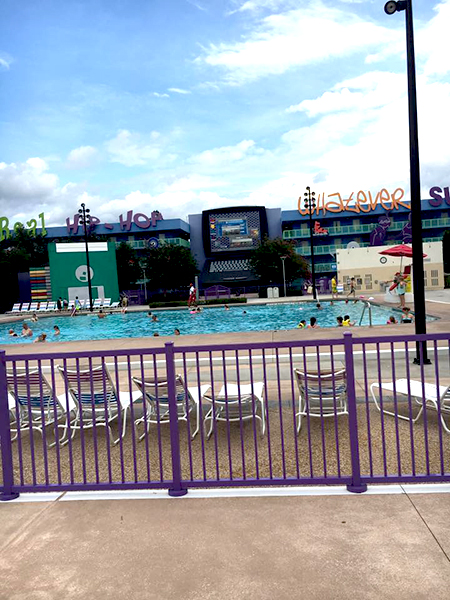 THE COMPUTER POOL 
The Computer Pool is considered a quiet pool. This means that there won't be any loud pool parties run by Disney in this location. Since it's a quiet pool, guests are really supposed to avoid loud noise and a lot of rough, splashing play, but that doesn't always happen.
The computer pool is located near the 1990's buildings. It's rectangular and shaped like a computer monitor. It has a very unique deck towards the back of the pool with a gigantic spongy floor shaped like a keyboard.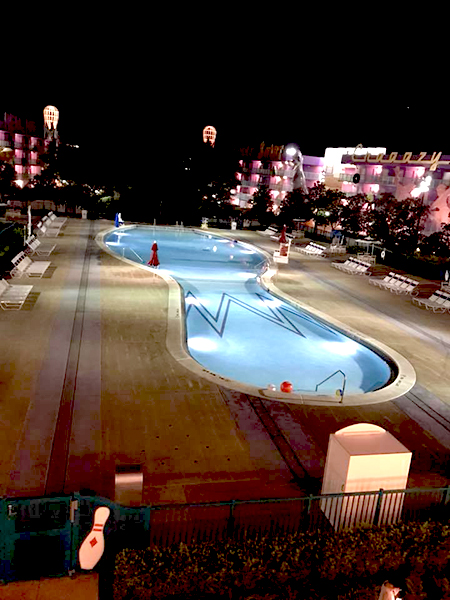 THE BOWLING POOL
The Bowling Pool is also considered a quiet pool, and it's shaped like a bowling pin. It's located near the 1950's buildings.
Goofy's Pop Jet Area is a children's play area located in the 1970's section between buildings #5 and #6. It has padding on the ground. Water jets go off, and kids absolutely love it.
Disney World Transportation at the Pop Century Resort
This resort does not have boat or monorail access, but they do have: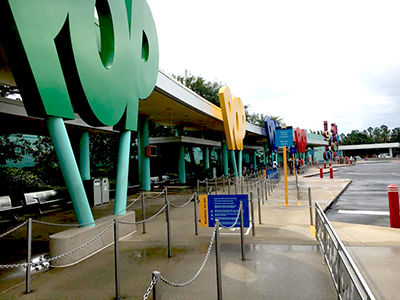 Buses, buses and more buses. The great thing about Pop Century's bus system is that they don't share with other resorts. Many people consider this a huge reason to pick this resort. It means you'll have shorter rides, and you won't have full buses driving up to Pop Century.
Buses go to the four main theme parks, water parks and Disney Springs.
The buses do tend to come more frequently than at some of the other resorts to handle the demand. We hear that 5 minutes is an average wait, which is really great for Disney transportation, but it can be as much as 20 minutes or more.
With only one bus stop located in front of Classic Hall the crowds can be large at times. You may need to wait for the next bus, depending upon crowd size. The buses are often sardine packed, with many guests having to stand for the full ride. It's especially crowded when you're riding to a park opening or from a park closing. If you plan on using the Disney transportation, and any of the above sounds difficult or unappealing, consider a different resort or a rental car.
There's a cover over the bus stop area, but not over the queue line areas. Even under the awning a hard or sideways rain will get guests wet. There are some metal benches with backs in the waiting area, but if the area is crowded most people will have to stand.
Gondolas – Disney's Skyliner's
Disney has opened a new gondola system at 4 resorts and two parks. Disney's Pop Century has a Gondola Station and it shares with Disney's Art of Animation resort. The gondolas ride over Hourglass Lake making for a pleasant view! The gondolas will connect the resorts with Hollywood Studios and Epcot's International Gateway entrance. The other resorts that will have gondolas are Caribbean Beach and Disney Riviera.
Entertainment at Pop Century Resort
Although there's a lake, there's no marina or boat rental here. There's a full arcade called the Fast Forward Arcade in Classic Hall which is accessible. There's also a kids' playground. There's a nice walking path beside the Hourglass Lake.
All the Disney resorts offer various activities, and they print a Recreational Calendar that you can pick up when you get there. They might include activities such as their nightly outdoor movies (Movie Under the Stars), scavenger hunts, poolside activities, arts & crafts, etc.
Laundry at Pop Century
There's a Coin Laundromat at each pool location with top loading washing machines and front loading dryers.
Luggage Delivery at the Pop Century Resort
Compared to moderate or deluxe Disney resorts, value resort guests receive a much lower level of service and assistance at the value resorts. For example, although you can leave your luggage with Luggage Assistance at the front entrance (notice it's not called bell service because it's not considered the same type of service), it can take around an hour or more after check-in for your luggage to be delivered to your room.
We suggest that you think ahead and pack anything you may need in a carry bag that you keep with you. Some people like to pack swim gear in a carry bag so they can go swimming after they arrive.
If you feel that you'll need your luggage quickly, you have the option to bring it to your room yourself. You should be able to use one of the resort's luggage carts, but they require that you have a credit card on file to do so.
At check out, luggage services in the value resorts are not as convenient as in the other resorts. Instead of calling when you're ready to go, they require 24 hour's notice. What may be even more challenging for guests with health issues is that they don't guarantee availability of luggage service if you call the day you're leaving. They request that you call the night before you're leaving to make arrangements if you wish to be certain that you'll have your luggage handled for you.
If you're not leaving right away, they can store your luggage for you until you're ready for it.
After you check in, you'll need to either drive your own car or walk to your room. There is no internal transportation service. Several of the moderate resorts will ride you in a golf-type cart along with your luggage, and the Caribbean Resort has its own internal bus system. The value resorts don't offer this.
Staying with wheelchairs and ECVs in Pop Century
If you've ordered an ECV or wheelchair from a non-Disney company that is on Disney's Featured Provider list, they'll leave it with the luggage area. Otherwise the providing company will let you know where to meet them. (We recommend Buena Vista Scooters by the way) 
As with all of Disney, accessible rooms are not usually any larger than standard rooms. With the combination of small rooms and outdoor entry at Pop Century, wheelchair and ECV users may find these resorts challenging. While you should be able to ride your wheelchair inside your room to store it, it will be very tight and may require some maneuvering.
Fortunately the new rooms at Pop Century have space under the bed for storing your luggage, so that can help. You can choose to leave your chair outside of your room, but it may be exposed to sideways rain.
If you need to stay in your chair while you're in your room, you may want to consider a resort with larger rooms such as the Polynesian, or a larger suite in one of the deluxe resorts. Even a room in one of the Moderate resorts would be easier, though tight.
Smoking
Smoking is banned in all Disney-owned hotel rooms. Even patios and balconies are non-smoking areas. Of course it's always possible that another guest could smoke in a room anyway, but Disney reserves the right to charge a penalty since they'll need to specially clean the room. This usually discourages people from smoking inside their rooms. There are pre-designated outdoor areas around the resort where smoking is permitted. The resort map that you're given when you check in should have the areas marked, or ask a cast member when you check in.
Thank you to all who donated photos! You all rock and we thank you for your support.
We were able to use many of them, but if we didn't get to use yours, we're still thankful for your help. We'll hold on to them and use them in future articles. Thank you to Grace Flanary, Karen Robertson, Sally Cooper, Kerri Luckner, Gerard Petersen, Lesley Dawn, Lori Green Sjoberg, Christina St Germain Weatherby, Shannon Bartley Bonham, Nancy Tuttle Meza, Mélanie Marsolais, Lori Shields-Barber, Donna Ng, Timothy Carroll, Lauri Jordan, Mary Rice, Monica Nelson Smith, Ashley Eiler, Jen Accinelli, Diane Sumutka, Karen Cutting, Matty Tennaro, Michael J Beagan, Natalie Magee, Joana January, Sarah Stuart-Howell, Ginger Busek, Errin Mueller Anderson, Linda Wendelaar, Pamela Paige, Samantha Magdalene, Teresa Corona, Lizzandra Marie, Armando Mercado.
Join our facebook group & follow us on Pinterest !!!!
Ask any questions, share your knowledge and just enjoy getting to know other Disney fanatics in our facebook group called Walt Disney World Made Easy for Everyone.
Also join me on Pinterest here.
GET UPDATES, NEWS & TIPS (IT'S FREE!!!)
Sign up below to stay updated on the newest information, tips and tricks to help you plan your perfect Disney World trip!