Location: In the Epcot Resort area. Address: 900 Cayman Way, Lake Buena Vista, FL., 32830 Phone: (407) 934-3400 Fax: (407) 934-3288. Parking fee: $20 per night. Check-in: 3 PM. Check-out: 11 AM. Resort Type: Moderate.
Disney's Caribbean Beach Resort Overview
If you're longing to combine your Disney vacation with a tropical island getaway, this resort may be for you. Guest rooms are scattered in 33 unconnected, 2-story brightly colored buildings around a beautiful 42-acre lake called Barefoot Bay. The lake has white sand beaches and a tropical island connected by bridges. There are some incredible sunsets over this lake!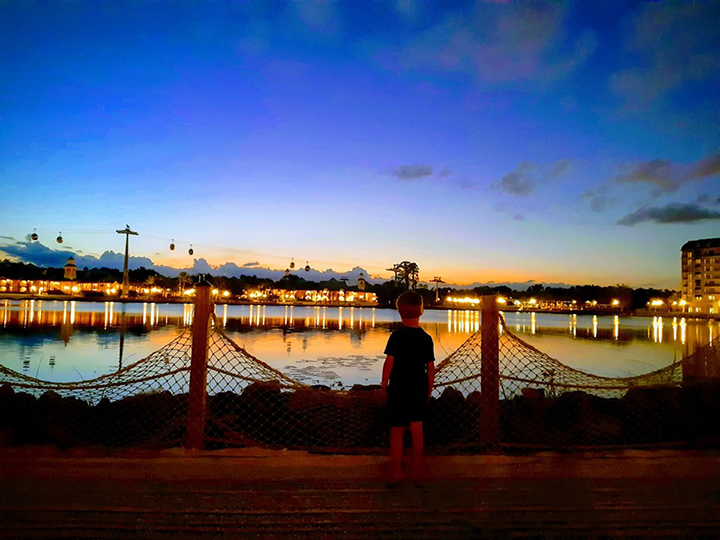 This massive 200-acre resort has 2112 rooms and consists of six "island villages" representing:
Martinique
Jamaica
Barbados
Aruba
Trinidad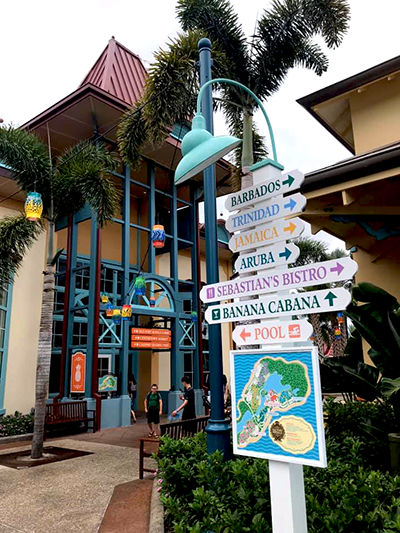 Every village has its own swimming pool, white sandy beach, bus stop and laundry facility. Buildings and rooms are colorful with a Caribbean flavor, and the grounds are lush with tropical landscape. You'll see the pirate theme throughout the resort, and in response to the success of The Pirates of the Caribbean movie, there's even a section of pirate themed guest rooms.
Caribbean Beach resort has undergone some big changes which were completed in late 2018, making it a much better choice than it was originally. Caribbean Beach was the first moderate resort to be built on Disney property, and it's apparent that Disney learned from this experience. The newer moderates appear to have had better planning and larger budgets, resulting in more convenient layouts, a more upscale feel, and more detail in the architecture (not including Fort Wilderness, which was not originally built as a moderate). However Disney made some radical changes which made Caribbean a reasonable choice for a moderate.
Changes included making the main guest areas more centralized. They also revamped the main pool, so now the pool theme can compete with almost any Disney resort pool.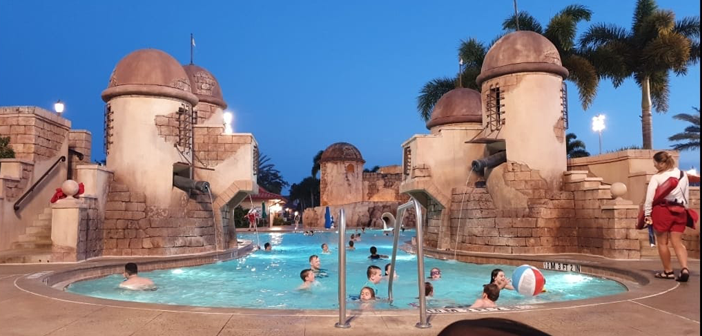 They added a restaurant, the Spyglass Grill, to the farthest section of the resort (Trinidad) so guests don't have to walk or ride all the way to the main common areas for food. Lastly they also refreshed the room furnishings which are much more modern and comfortable than they once were.
Still, with its large size and resort layout, some guests find it inconvenient and even physically challenging. There are NO ELEVATORS in the guest buildings, and the resort is so large that it's one of only two Disney World resorts with its own internal transportation system (the other is Fort Wilderness).
Guests without their own transportation who are not in the preferred rooms that are near all the activities will either be walking quite bit (not fun after a long day on your feet at the parks), or waiting for buses and riding just to get around inside the resort. Before you choose this resort, imagine having to walk a long distance or to ride just to visit Guest Services or the front desk, or to swim in the main pool. On the other hand, if you crave privacy, love the tropical theme, or have children who want to run, run, run, (without disturbing the other people down the hall) this could be just the spot.
Those with mobility issues and other conditions such as chronic fatigue may wish to consider another resort. If you still feel that this is the resort for you, we strongly recommend choosing a room in a Preferred location (see below), and renting a scooter from an outside company so that you can have it while at the resort. Also consider keeping drinks and snacks in your room so that you don't have to go to the food court as often. Lastly, consider bringing or renting a car.
Despite its issues, many people adore Caribbean Beach Resort. The peaceful quality of the grounds draws a lot of positive comments. With the pirate themed rooms and pirate pool there will be many a young buccaneer who will be thrilled.
Also on the same lake, and in walking distance, is Disney's Riviera Resort. It opens in December 2019.
Advantages and some disadvantages of Caribbean Beach Resort
ADVANTAGES: In addition to the Disney magic you can expect in every single Disney World resort, here's what's really good about this resort:
It's beautiful, tropical and relaxing. The Caribbean look of the buildings, gardens, lake and tropical foliage make for a really pleasant feel. There are many places to hang out and enjoy the grounds.
Moderate prices compared to the deluxe Disney resorts.
Its main pool is themed really well. It can compete for one of the nicest pools on property.
It has quiet pools in every "village", so they're easy to access and they tend to be more quiet than the main pool.
The food court and grab-and-go are convenient and less expensive than a full-service restaurant.
It has two full service restaurants as options.
You get all the benefits of being in a Disney resort, such as Extra Magic Hours, room package delivery, transportation, etc.
You get to use the Skyliner Gondolas in addition to the buses.
Some rooms can take 5 people plus a child under 3 years old. 
You can see some of the Epcot and Magic Kingdom fireworks from within the resort.
There's plenty of room on the grounds for kids to run and play. Adults too!
DISADVANTAGES
The rooms are not huge. Of course they're larger than the value resort standard rooms, but there's not a lot of wiggle room.
The grounds are HUGE. It's  so large that it's the only Disney World resort with an internal bus system. If your room is far from the main areas, you'll spend a lot of time and effort getting around within the resort.
Maintenance on the grounds can be noisy. Since there are so many gardens and common areas, there often seems to be maintenance going on including pressure washing, lawn mowing, etc.
The food court can be crowded, especially at breakfast. It's a huge resort and the guests flood into breakfast before going to the parks. It can be very crowded. Pre-ordering can help with that.
Buses can be less than ideal. There are a lot of bus stops within the resort . In fact, the most of any Disney resort. Depending on where you get on, you may have a lot of additional bus time and crowded buses.
If you're trying to get an ECV or wheelchair in your room, unless you have a handicapped room with a king bed, it's tight. It can be done though.
Yes, it's imperfect, but it's Disney. Many people would rather stay at a Disney Moderate resort than a much more deluxe resort somewhere else. There's that intangible "magic" that everyone talks about at the Disney resorts. It's real and you can't experience it anywhere else. If a Moderate resort fits within your budget, and the theme of this resort appeals to you, this may be a good fit for you.
You might want to start off with a tour of Caribbean Beach Resort:
Old Port Royale – The main building at Caribbean Beach Resort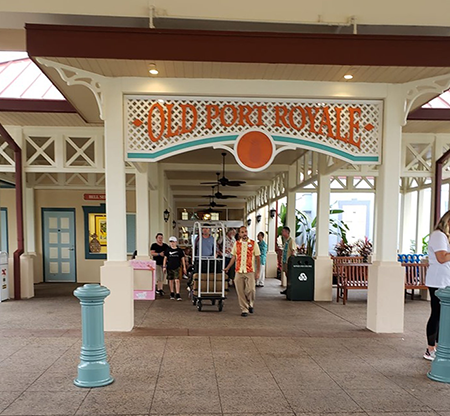 In and around the Old Port Royale building is where you'll find the majority of the activities.
This includes the Check-in area, Centertown Market restaurant (food court style), Banana Cabana (full service bar & food) and Sebastian's Bistro (full service dining), the Calypso Trading Post Market shop, the main water park pool, and boat and bike rentals at Barefoot Bay Boat Yard and Bike Works.
You'll also find Bell Services, laundry drop-off and pick-up, and the concierge.
The back of the Old Port Royale area is a great place to walk or hang out.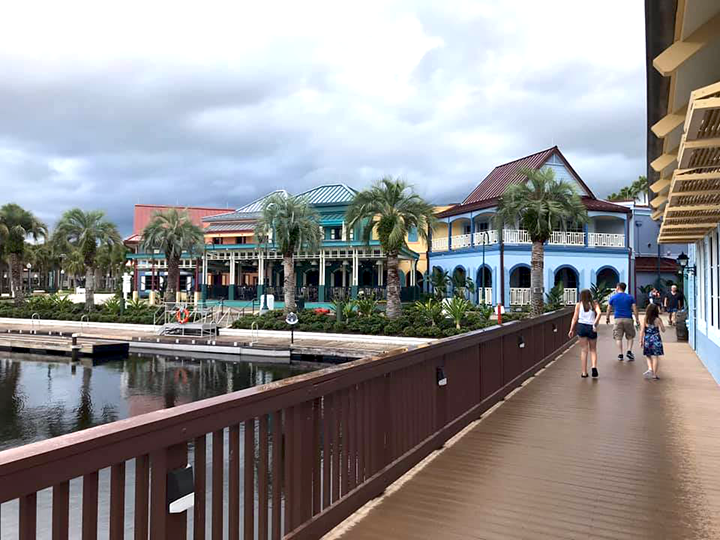 The lobby is pleasant and festive with a Caribbean flair, and it has plenty of nice places to sit and relax.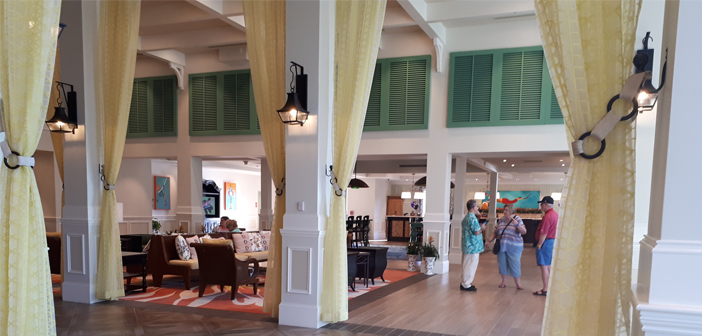 Checking in to Caribbean Beach Resort
Check-in is in the Old Port Royale building. The wait to check in can be especially long here. As in most of the Disney World resorts, the lobby has an area for kids with a television playing Disney movies in view of the check-in counters. As mentioned above, there is a lot of seating nearby.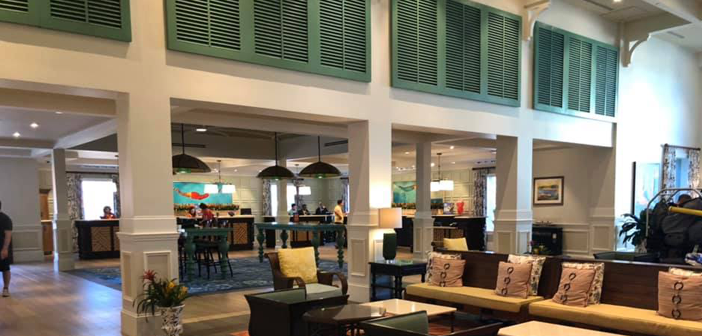 There are tables in the check-in area with charging ports.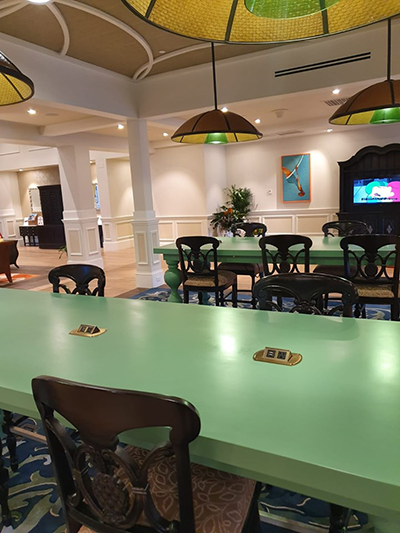 There's no valet service here, but there's really no place for it. Although you'll be checking in here, you'll most likely be parking much closer to your room (motel style) afterwards.
When you arrive, Bell services will take your luggage and if your room isn't ready, they'll store it until it is. It's a major journey from there to get to some of the guest rooms. Once your room is ready, they can drive you with your luggage to your room in a van, or if you have a car with you, you can drive or walk yourself and meet them there. You can also take an internal bus or walk.
If Bell Services is especially busy, they may ask that you take the internal shuttle bus or walk to your room if it's nearby. They'll deliver your luggage as soon as they're able. Guests are not permitted to carry luggage on the bus, so taking your own baggage is not an option if you're using the Disney transportation to get to your room.
If you're in a scooter, you may wish to ride it to your room if the weather permits. You can also use the internal bus system, or you can request the resorts' accessible van. There are times when Bell Services is very busy and the van gets tied up. There are also times when it's out of commission for service. If so, you'll be asked to take the internal bus to your room.
If your room isn't ready at check-in, they can store your luggage until it is. You're welcome to use the pool, dine or to even go enjoy the parks. They'll also store your luggage for you after check-out if you're not leaving Disney World immediately.
Parking at Caribbean Beach Resort
There's plenty of parking next to each village, so you can park near your building. However those with mobility issues will find that it's still a significant walk to some of the rooms. If you're planning on having a car, you may wish to request a room near the parking lot.
Buildings at Disney's Caribbean Beach resort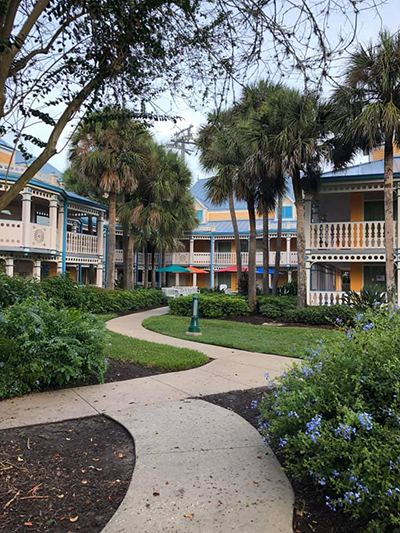 The villages are arranged around a lagoon with white sand beaches. Each village has its own heated pool. There's a walking trail around the 42 acre lagoon that's about a mile and a half long. Compared to the 15 acre lake at the Coronado Springs Resort, or the 0.7 mile trail around the Port Orleans Riverside Resort, the Caribbean Beach Resort wins the prize for the largest size.
If you're staying at the far end of Trinidad or even Barbados, and you need to walk to the Old Port Royale building, it can take approximately 7-15 minutes from the farthest point, depending on how fast you walk. There's a bridge that crosses the lagoon, making for a quicker walk from either Jamaica or Aruba. All rooms at these resorts have outside sidewalks with outdoor room entry, so all of the walking is potentially exposed to sun or rain, as are the bus stops.
The brightly painted buildings are two stories, and there are no elevators. Each village has a soda vending machine, and there are ice machines available in each guest room building.
There's a lot of tropical foliage, and in a few places it actually obstructs the room windows. This can be a plus or minus, depending on your point of view! We noticed that these rooms tend to be ones with courtyard or parking-lot views, so specifying a more expensive water view would probably get you an un-blocked window. You can specify that you want a room that does not have foliage blocking the view, and they'll do their best to honor your request. Keep in mind that the foliage height and density may change somewhat depending on the season, most recent trim job, etc.
We don't see many complaints about noise here. Much of this resort tends to be quiet and peaceful. Of course there's never a guarantee of this! As in most hotels, it just takes one noisy neighbor to make things noisy. 
Preferred rooms at Disney's Caribbean Beach Resort:
Looking for a room close to the action? Martinique and Barbados are considered "preferred locations" and cost extra because they are the closest to Old Port Royale where most of the resorts' action takes place. At this resort we strongly suggest that those with mobility issues secure a preferred location. In Martinique the closest building is number 26, followed by building 25 and then 24. In Barbados, the closest building is number 31 followed by 32 and then 33.
Tip: If you want to avoid the extra fee of a preferred location, and don't mind being a little bit further away, Jamaica 44-46 (45 is the closest) and Aruba 51-53 (51 is the closest) may be your next best bets. Although they're across the lake from Old Port Royale, there's a bridge that takes you straight across.
More room location tips
Looking for quiet? Trinidad is very far from the main buildings, and the longest walk. The farthest buildings in Trinidad are buildings 37-39. Avoid being right by the pool. Of course how quiet the area will be will always depend upon who's staying there at the same time you are.
Want to be near the Skyliner? If you want to be close to the Skyliner station, the one for Caribbean Beach resort is near the Jamaica village.
Rooms at Disney's Caribbean Beach resort
The available views at this resort include a standard view, or a water view (extra charge), which has you facing Barefoot Bay or a pool. The standard views may face courtyards, woodlands or parking lots.
Take a tour of a standard room at Caribbean Beach Resort: 
How many people can stay in the rooms? Rooms accommodate from 2 to 5 people and one child under three years old. Some rooms have a pull down sleeper that accommodate a 5th adult, though those beds are on the smallish side and would be best used by a child.
Room Size Controversy: The rooms are approximately 314 square feet according to Disney. We've seen other publications state that the rooms here are 340 square feet, and that they have the largest size of the moderate resort rooms. Since we were seeing conflicting reports, we asked a Disney Engineer Service Manager at the Caribbean Beach Resort to measure the rooms for us (thank you so much Steve!). He remarked that it would be easy to make the mistake of thinking the rooms were 340 Square feet because the angles of the room make the math more complex. He re-measured, and confirmed that the rooms are 314 square feet, which is the same as the other moderate rooms (except for Fort Wilderness Cabins).
What's in the rooms? Most of the rooms contain two queen beds. There are some kings as well, and the accessible rooms have king beds.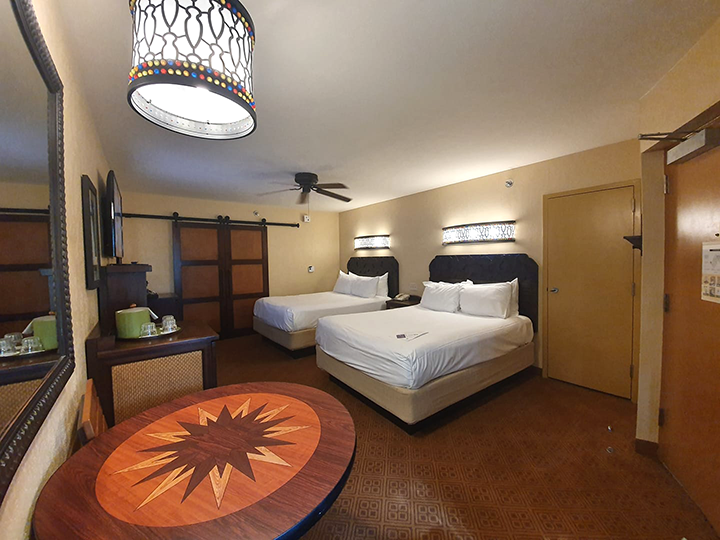 Rooms have two sinks with vanities, separated from the bedroom area by dual privacy sliding wood doors. Off of the vanity area there's a separate bathroom with a shower and tub (some handicapped rooms don't have a tub) that has a door for privacy.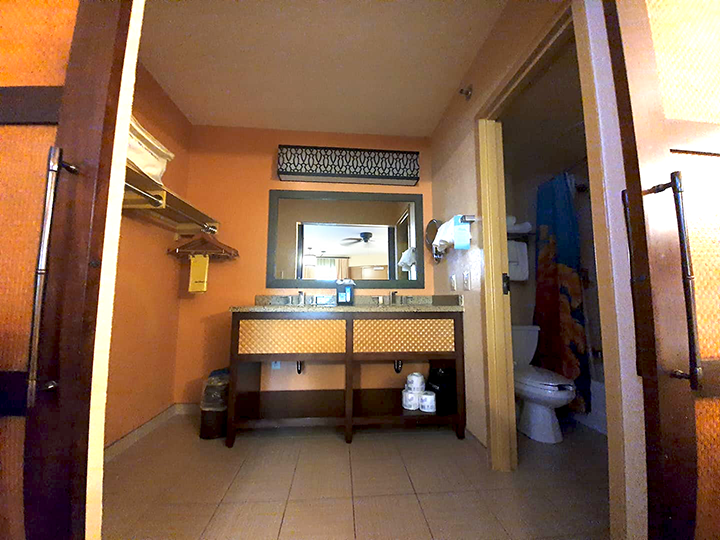 There's a small table with two chairs, dresser, and for rooms that sleep 5, there's a convertible bench/bed with a pull down bed. The convertible bed has a some drawers underneath it for storage.
The beds in these rooms do not have storage space below them, as do beds in some other Disney resorts.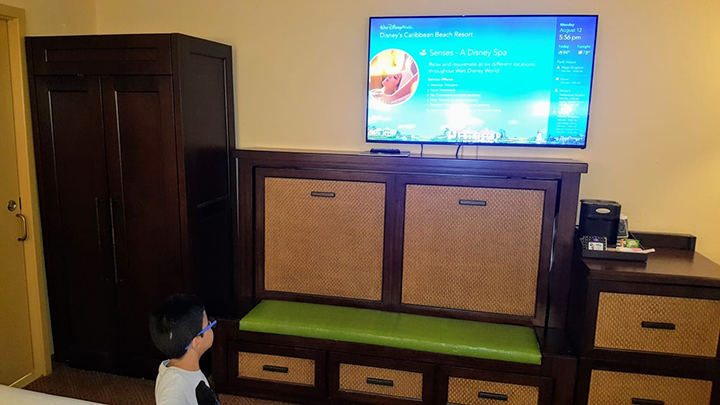 Connecting rooms are available.
In addition to the items mentioned above, each room has:
Flat panel LCD television
Nightstand with a telephone
Dresser or convertible bed/seat with two end tables
A small table with two chairs
Hairdryer
Mini refrigerator
Ceiling fan
Wall safe with numbered keypad
Wifi wireless
Ironing board with iron
Coffee Makers that take pods, packets of coffee, creamer (decaf, regular and tea are available)
Mirror
H2O shampoo, conditioner and soap
Digital thermostat that you can adjust
Pirate rooms: Trinidad rooms have been converted to a Pirates of the Caribbean® movie theme. The rooms have the same basic layout as other rooms, but the décor includes pirate-ship styled beds and buccaneers' accessories including lantern lights. There are wheelchair-accessible pirate rooms. The standard pirate rooms sleep 4, with two queen beds.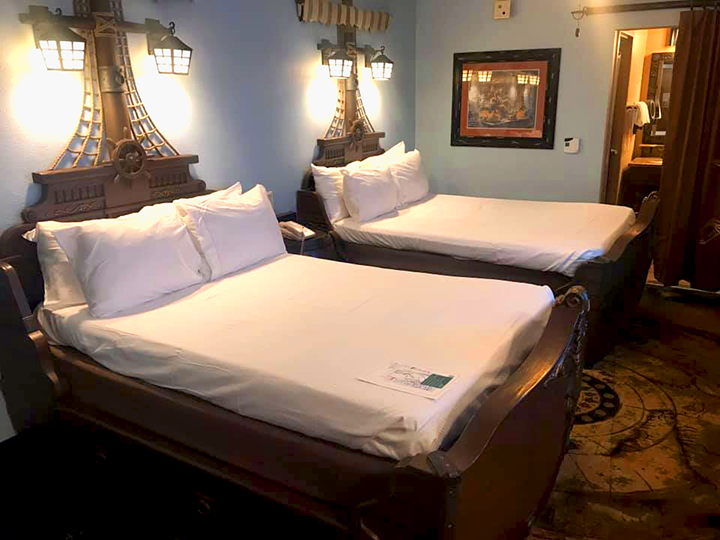 Handicapped rooms: As in all of the Disney resorts, the handicapped accessible rooms are scattered throughout the property. They're not necessarily in the villages closest to the Old Port Royale. You'll have to request that, or to get as close as possible, book a room in one of the preferred locations.
We've heard that cast members will tell you that there are some "handicapped" rooms on the second floor, but these rooms have only shower and toilet grab bars. With no elevators to the second floor, full handicapped accessible rooms are limited to the first floor. Be sure to request a first floor full handicapped room if you need this. If you need a first floor room for health related reasons, but you don't need a handicapped room, you can request this. They'll give you priority over non-medical requests; however the only way that they'll guarantee a first floor is if you've reserved a handicapped accessible first floor room.
Available Upon Request (Including handicapped options)
Alarm clocks are available upon request. Though they used to be put in the rooms automatically, they are no longer there unless you request it.
Guests can also request cribs, and a Pack 'n Play at no extra charge.
Microwave's may be available upon request. They have limited numbers. If you're requesting it because of a health issue, you may want to contact Special Resort Reservations at Disney World with the request before your trip, at (407) 939-7807 and press #1.
Handicapped & health related requests: Hearing-impaired TDD telephones, bed shaker accessory, visual smoke alarms, wake up alarms and door knocks; bed boards and bed rails; Sharp containers for used syringes.
The Pools at Disney's Caribbean Beach Resort
Each of the 5 villages has its own quiet pool, and there's one main pool by the Old Port Royale building. Caribbean Beach guests can use any of the village pools as well as the main pool.
Village pools: These 5 quiet pools are not themed, and they're smaller than the main pool. There are no lifeguards on duty. They do not have zero entry, though some have transfer tiers. All pools have a chair lift.
The Martinique pool area is more challenging to access for wheelchair users. The only ramp is placed in a less than convenient spot near the laundry building.
At each quiet pool, you'll find laundry facilities (see the Laundry section below for details).
Main Pool: Fuentes Del Morro Pool and Aqua Pool Area is the largest and most themed pool in the resort, and as mentioned above, some consider it to be one of the nicest pools on Disney World property. It's designed to look like a Spanish Caribbean style pirate fort, complete with cannons. There are two water slides with one of them measuring 102 feet long, waterfalls and a 12 person spa pool.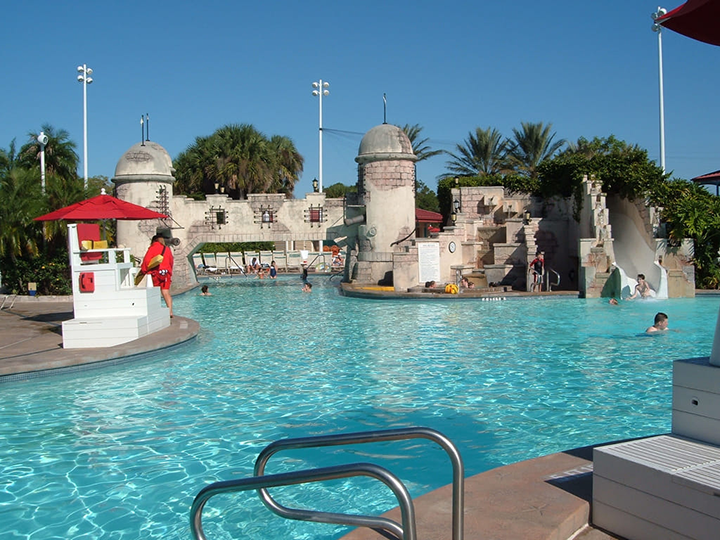 There's also a water play area for kids (see below for details). There is not much shade here, though there are a small number of umbrellas.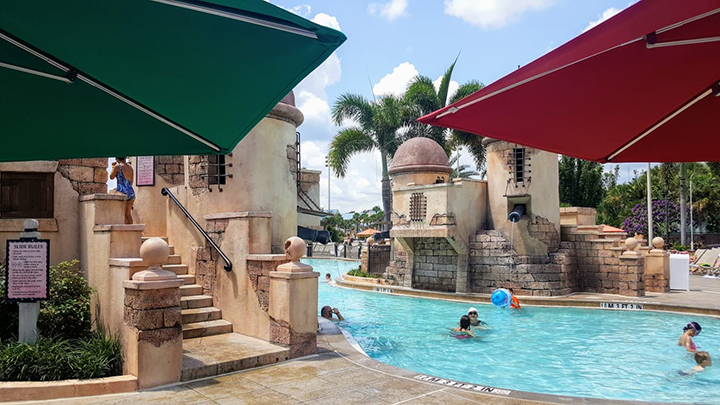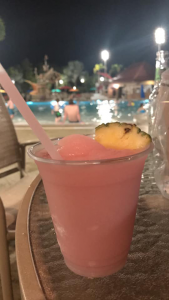 Most afternoons, weather permitting, Disney Cast Members will lead kids in games and fun. It does get very loud. Cast Members blast music and speak to the kids over a loud speaker. Guests who are looking for quiet may wish to use one of the village pools.
You can grab a drink or snack at the nearby Banana Cabana.
There are locker rooms at this main pool with showers, including an accessible shower. There are also lockers that take coins. There's a soft drink machine by the pool for those with refillable mugs.
For wheelchair and scooter users, this pool has convenient access around the pool area. There is zero entry and there is a lift chair that will place you in the shallow end of the pool. See a lifeguard to use it.
Kid's pool & play area: The new Aqua Play Area is a pirate themed kiddie pool and play area next to the main pool that includes a kiddie size slide.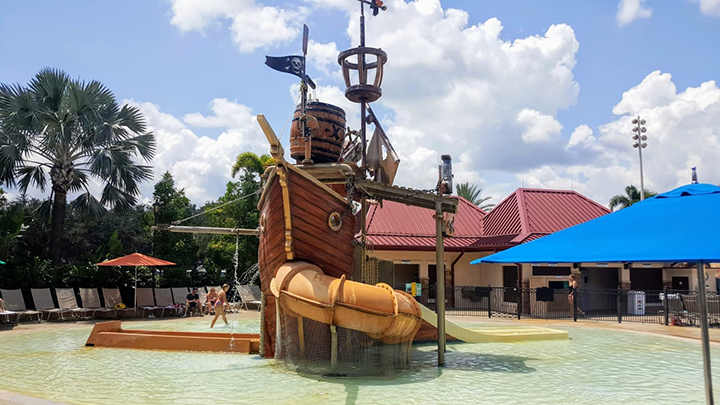 You must be 48″ or under to play here. In this play area there's a giant bucket sitting atop a shipwrecked pirate's boat. This bucket fills with water and eventually tips, pouring like a waterfall on anyone below. You can tell it's about to happen because it makes a noise as it gets ready to dump. Avoid this area if you're uncomfortable with a lot of water being dumped on you.
Entertainment at Disney's Caribbean Beach Resort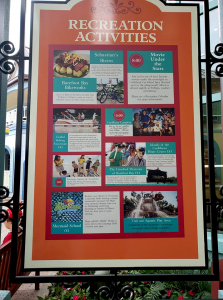 Places to relax and enjoy the Caribbean Beach Resort ambiance abound. Around the villages you'll find very pleasant courtyards with places to sit and enjoy the lush landscaping. Each village has its own white sand beach replete with chairs and hammocks strung on palm trees for sunbathing. However, as with all of the Disney resorts with natural water, swimming is not permitted.
Along with the attractions available on the grounds, recreational activities are posted for the week. They might include activities like supervised children's board game and coloring hour on a little cove of the Caribbean Cay Island, a water balloon toss, and a live Calypso band on the deck next to the main Pool.
Here are some regular activities that are usually available at the Caribbean Beach resort:
Caribbean Cay: This one-acre island that looks like a tropical jungle right in the middle of the lagoon (it was formerly called Parrot Cay). Open from sunrise to sunset, it can be accessed by a bridge. This bridge is also the shortcut that connects Old Port Royale to a spot between Jamaica and Aruba on the opposite shore. This island is a great place to relax!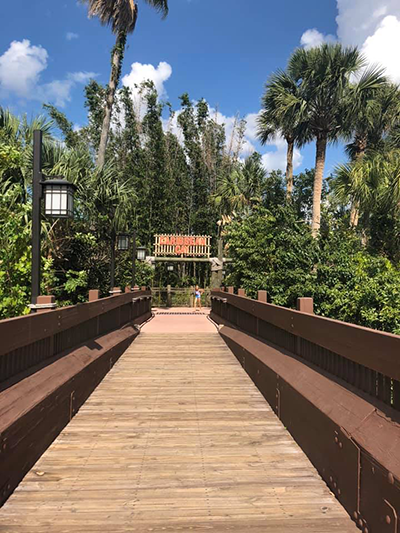 On the island you'll find the Caribbean Cay Playground, and on some nights you can catch Movie Under the Stars on the island. In addition to the playground, there's nothing to do on the island but stroll around or sit and hang out. There are hammocks strung from swaying palm trees, little paths leading to secret spots with picnic tables, rockers and benches, and so much lush vegetation that you could get lost.
Accessibility of the island: Most of the "secret" island paths are accessible by wheelchair or scooter. Though they're a bit hilly, most of them are paved and smooth. You'll find occasional steps, but there are always alternate, smooth paths. A few spots are covered in sand, and there are a few small raised gazebos that you must use stairs for, but they can be avoided. The bridge has aging wooden planks. This might be somewhat rough for wheelchair and scooter riders. Also, on the side going to Jamaica/Aruba, the bridge arches a little, causing a mild incline and decline.
Walking trails: There's a paved trail winding around the lagoon that's over 1.4 miles. You can take a scenic walk, jog, or ride around it. There are seats and hammocks around so that you can relax and enjoy the view.
Bikes: Bikes and also Surreys which carry 2-4 adults are available to rent next to the boat dock at Barefoot Bay Bike Works. The phone number for bike or boat rentals is (407) 934-2851.
Marina: Fishing excursions are available daily from the marina, as well as Children's Pirate Cruises (see both below). The phone number for bike or boat rentals is (407) 934-2851. The marina is handicapped accessible.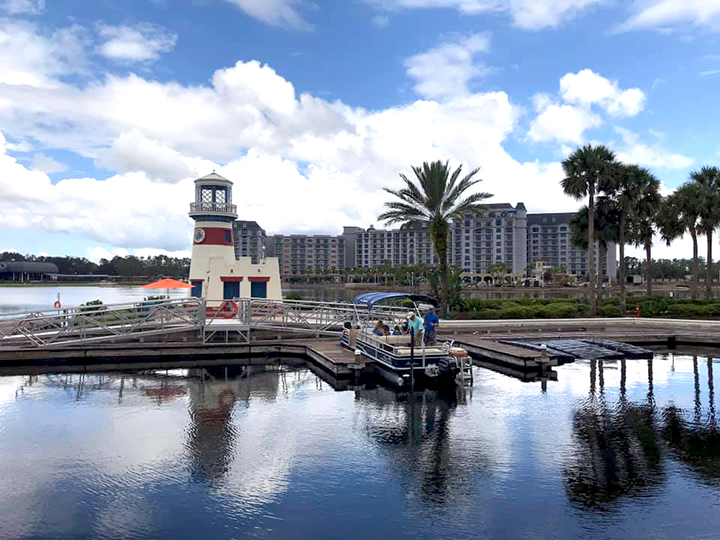 Pirate Cruise Adventures: There are two versions of this cruise for kids.  Currently available during the day on Thursday's, Friday's and Saturdays from 9:30 am to 11:30 am, Islands of the Caribbean Pirate Cruise will take your kids to search for "treasure". This is for Kids ages 4 to 12. On Thursday from 8-9:30 pm, kids ages from 10 to 16 can cruise Barefoot Bay to "investigate the mysteries of pirates of the past". Register at the Concierge desk or call Disney for reservations at (407) 939-7529.
Guided Bass Fishing Excursions: Up to 5 guests can take a 2-4 hour fishing trip on the lake. Prices currently start at $27 for two hours, but check in advance. Call (407) 934-2851.
Sports and playgrounds: There's a volleyball court on the beach in front of the Port Royale. There are three small playgrounds around Caribbean Beach Resort on the Barbados, Jamaica and Trinidad sandy beaches. There's another playground on the Caribbean Cay island. There's a ping pong table by the main pool.
Mermaid School: Young mermaid hopefuls get to put on a mermaid tail and learn how to swim like a mermaid. This takes place at the Fuentes del Morro pool, currently happening on Monday and Wednesday mornings, 1 hour prior to pool opening. Register at the Concierge desk.
Hair wrapping and face painting is available by the Old Port Royale pool.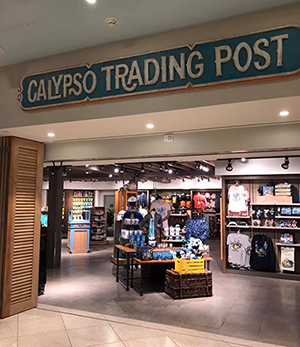 Resort Shopping at Disney's Caribbean Beach Resort
The Calypso Trading Post is located in Old Port Royale. It sells Disney and Caribbean Beach Resort clothing. You'll find plenty of Disney souvenirs including shirts, hats, mugs, kitchen goods, plush toys, etc.
You'll find items that you might need such as bathing suites and covers, shorts, flip flops, etc. There are also sundries – things that are commonly needed like tylenol, peroxide, etc.
You'll also find a small selection of snacks, groceries and drinks including beer, wine and liquors.
Dining Options at Caribbean Beach Resort
Centertown Market: This location contains a grab-and-go area and something similar to food court style dining. The food is American, Latin and Caribbean. Located inside the Old Port Royale building, it's made up of various colorful stations that look like small individual Caribbean restaurant fronts.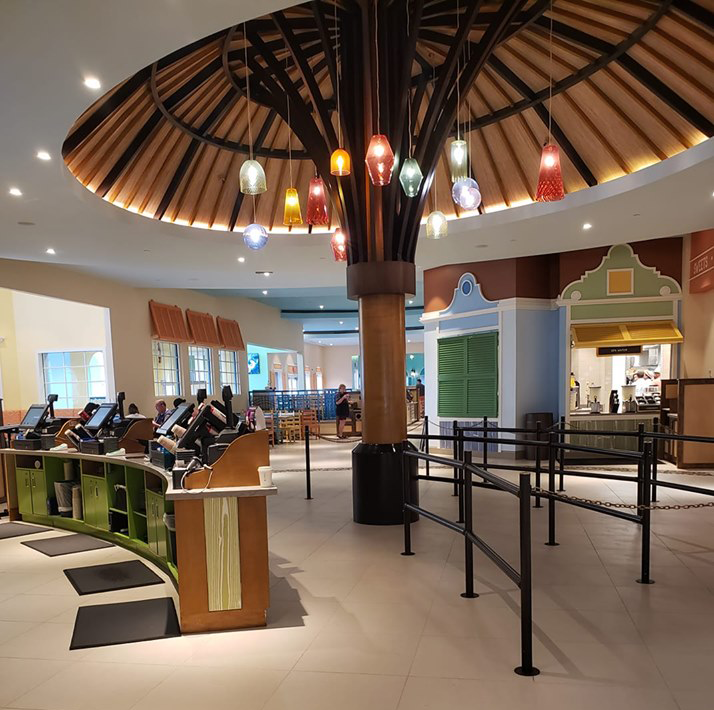 The grab-and-go is currently open from 6:30 am straight through until midnight. In the food court area breakfast is available from 6:30 am to 11 am, lunch from 11:30 am to 4 pm, and dinner from 5 pm to 11 pm. Notice that there are short periods of time during the day when the food court area is not available. You can check out the menu for Centertown Market here.
What makes this food court different is the way that you'll order and get your food. At the Grab-and-Go area you'll just grab your food and pay right there. However for food court choices you'll order and pay in one location. You'll then be given a pager/tracker. For breakfast and lunch you'll be notified when your food is ready and you'll pick it up. For dinner you'll have a tracker and your food will be delivered to you.
You can use mobile ordering at this location which could really cut down on your time. There's a separate station for mobile food ordering pick up and take out.
Spyglass Grill: Located in the Trinidad South village, this is convenient if you don't feel like walking all the way to Old Port Royale. It's open for breakfast, lunch and dinner, currently serving from 7 am to 10 pm. It's a quick service restaurant with outdoor seating with a view of the water. It's got American/Caribbean food choices. Spyglass Grill offers mobile ordering. For a look at the Spyglass Hill menu visit here.
Sebastian's Bistro: This surf and turf full service restaurant serves up Latin and Caribbean inspired choices. It's the resort's more elegant dining location, with indoor and outdoor seating overlooking the lake. It's located on the Old Port Royale Promenade. Reservations are advised for this location. Visit here to see the menus for Sebastian's Bistro.
Banana Cabana: This poolside bar is also a full service dining location serving lunch and dinner,  from 11 am to 11 pm. The restaurant closes during inclement weather, and will reopen when the weather clears up, as long as it's during normal operating hours. Check out the menu for Banana Cabana here.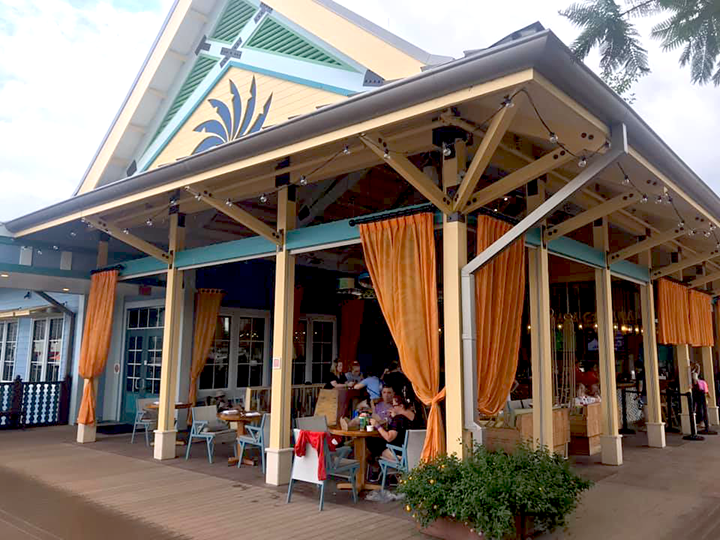 Bluerunner Pizza and Meal Delivery: In-room pizza delivery is available from 4 PM to 11:30 PM.
Transportation at Caribbean Beach Resort
We do strongly suggest that those with mobility or fatigue issues, or even those who wish to save time and energy, rent or bring their own car while staying at this very massive resort. Even for those without mobility issues, having a car will be far more convenient. This is especially true in the warmer months with the heat and frequent thunder storms when walking outdoors, and waiting at outdoor bus stops can be uncomfortable.
There are two forms of transportation at this resort – Buses and the Skyliner gondolas.
Buses: There's an internal bus system and an external bus system here. The external buses go to all the major theme parks, water parks and Disney Springs. There are no buses to any other resort from here, but you can take transportation to a park and transfer from there.
If you plan on using the bus system, you'll be able to find the closest stop to your room on the map that they'll give you at check-in. Depending on where your room is located within your Village, it can be a surprisingly long walk. If walking is an issue, you could request a room near a bus stop. Of course Disney tries to fulfill requests but they do not guarantee it.
Guests can use the external buses to get around inside the resort, but ask the bus driver to be sure he or she is going to your destination before leaving the resort grounds.
Internal bus system: With the distance between some sections of the resort from the Old Port Royale building, guests without cars can make use of the internal bus system to visit the front desk, grab a meal or use the main pool. The internal buses stop at each bus stop the external buses stop at, but they're dedicated to moving guests around within the Caribbean Beach Resort. These buses are the same as the other Disney buses, and are wheelchair and scooter accessible.
Keep in mind that it can be a walk to the bus stop from your room. There might be a wait for a bus, and then it can take a while to get to your destination. We've heard that it can take as long as 45 minutes from start to finish just to get somewhere on the grounds, though it can be shorter.
External bus system: These buses circle the resort making stops at all the villages and at Old Port Royale. This resort does not share buses with other resorts. There are eight stops within the Caribbean Beach Resort, and it can take as much as 20 minutes or more just to get off of the Caribbean Beach Resort property depending upon where you were picked up. It's also possible that a bus can have standing room only or that it can be completely filled by the time it gets to you. However we hear that most often this is not the case.
Some buses start their loop at Martinique and some begin at Jamaica. The bus stops are covered, but there's very little seating. Most people will be standing. During peak times it can get very crowded. As with most Disney bus stops, the buses come approximately every 20 minutes, give or take.
Disney's Skyliner: New to Disney World, guests can travel by gondola to certain locations including Epcot, Hollywood Studios, and various other resorts. For locations and details, view the Skyliner article on this site or visit Disney's Skyliner page here.
The Skyliner station for Caribbean Beach resort is near the Jamaica village. If you're staying in Trinidad or Barbados, you can cross a bridge into Jamaica to pick up the Skyliner. If you're staying on the other side of the resort, Aruba is close to the Riviera Resort Skyliner station, and you can walk to it. Martinique might be the furthest village from either station.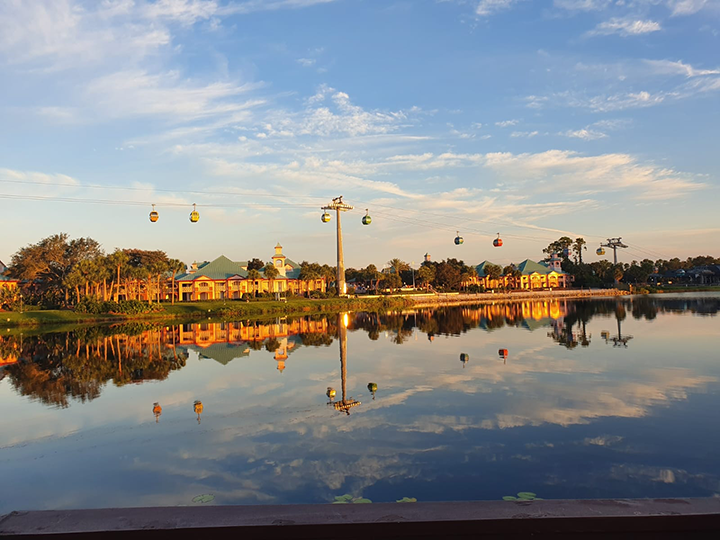 Laundry and other amenities at Caribbean Beach Resort
There are Coin Laundromat facilities in each village near the pool area. The washing machines are top loading, and the dryers are side loading and stacked. They accept credit cards only. If you don't have one, you can buy one at the front desk. The cost is currently $3 a wash and $3 a dry. There's also a vending machine with stuff like laundry soap, fabric softener, etc. There is also laundry valet services available.
Smoking
Smoking is banned in all Disney-owned hotel rooms. Even patios and balconies are non-smoking areas. Of course it's always possible that another guest could smoke in a room anyway, but Disney reserves the right to charge a penalty since they'll need to specially clean the room. This usually discourages people from smoking inside their rooms. There are pre-designated outdoor areas around the resort where smoking is permitted. The resort map that you're given when you check in should have the areas marked, or ask a cast member when you check in.
Have more questions? Or just want to hang out with other Disney World fans? Join these Facebook Fan Groups:
Also join me on Pinterest here.
PHOTO & VIDEO CREDITS FOR THIS PAGE:
Thank you so much to the very generous people who shared their photos and videos with us! For those whose photos didn't get used, even if we couldn't use your photos this time, we really appreciate your taking the time to share them. Thank you to:
Lee Adams (owner of Theme Park Ohana Youtube channel – check it out, It's a great channel for Disney info!)
Also a big thank you to these really generous people who donated their photos: Louise Lennon, Amber Siewert Krzaczkowski, Rachel Lemonofides, Joanne Ingram, Vichelle Wilson, Sandra Baker, Amanda Reed, Troy DeJoode, Ronald Allan, Alaina Burton, Rachel Groves, Abby Mason, Vanessa Hood Guyton, Linda Forrester, Denise Tonks, Phoebe Elizabeth, Erin Barnes, Jayne Walkling, Jessica Clayden, Jodi A Pirelli, Stephanie Miceli, Theresa Marie, Yvette Camacho Contreras, Julieanne Childs, Jillian Pogue, Ria Schagen, Katie Richards, Erica Smith, Janet Markward Carvalho, Kelly Puddy, Brittany Horvath, Natalie Wales, Chelsea Luehrs, Chad Shifflett, Danielle Cregg, Amy Helen Stonehouse, Dorothy Brown, Christie Sisk Reynolds, Jen Yeargin, Gemma Ann, Gemma Harrison, Pat Baniowska, Heather West Nichols, Eileen Lai Zawalski, Cynthia Saxon Abraham, Gerard Peterson, Frances, McNally, Kerry Snow Comiskey, Jill craft Patterson Bosarge, Chrissy Morgan, Kelly Cummings, Cesar Ortiz.
GET UPDATES, NEWS & TIPS (IT'S FREE!!!)
Sign up below to stay updated on the newest information, tips and tricks to help you plan your perfect Disney World trip!