This article contains just about everything you'd want to know about managing with a stroller at Walt Disney World. We'll start with the basics.
What stroller options do you have when visiting Disney World & Orlando?
You'll have several choices when it comes to strollers at Disney World. You can either:
Bring your own stroller from home.
Rent a stroller from a non-Disney owned stroller rental business.
Rent a stroller from Disney World (only available to rent and use in the four main parks and in Disney Springs).
Buy a stroller on Disney property or in an Orlando area store like Wal-Mart.
Strollers are not available for rent in the water parks, but you can bring your own in.
We'll also cover:
How to manage with a stroller in the Disney World parks.
Disney transportation and using your own stroller or your stroller rental (from a non-Disney rental company).
Strollers used as wheelchairs.
What do we recommend when it comes to strollers at Disney World?
We recommend either renting from a Disney Preferred Vendor (see below), bringing your own stroller to Disney World, or buying one in Orlando. These options will allow you to use your stroller at your resort, in all the parks and recreation areas, in the park parking lots, and getting to and from Disney transportation. It will make your life so much easier.
Of course you also have the option of renting a stroller from Disney, but frankly that's our least favorite option. That's because you will not be able to use the strollers outside of the parks or Disney Springs. We also hear that these aren't the most comfortable strollers for kids, and they're lacking in storage space.
So if you're not bringing your own stroller, here's what we think is the next best option.
Renting a Stroller From an Outside non-Disney Owned Stroller Vendor
If you want a stroller throughout your stay, and you'd prefer to have something that's more substantial than an umbrella stroller, consider using an outside non-Disney stroller rental company. That way you can use the stroller wherever you are, including your resort. It's also usually less expensive than some of the other options.
Weight and height: Keep in mind that most of the the outside stroller rentals usually have a height limit of 44 inches, and a weight limit of 50 pounds for a single and 100 pounds for a double, with no more than 50 pounds per side.
Here are some of the more well known Orlando area stroller vendors:
Please keep in mind that we're not endorsing them, but only giving you information for your research purposes:
Buena Vista Rentals – (866) 484-4797
(Use the Code: "EasyDisney" to get a food tray accessory added for free to your order)
We recommend Buena Vista Rentals and invited them to sponsor us. Here's why:
Their strollers meet Disney's size requirements. Even their double strollers.
FREE DELIVERY to resorts and hotels. For Universal and many other resorts, you don't have to be there to pick up or deliver. It will be left there for you at Bell Services.
Newest equipment.
Clean equipment and well maintained.
GREAT REPUTATION and customer reviews.
Quick service, even in the parks.
Great selection of strollers and stroller accessories.
Convenience. They'll pick up and drop off at your Disney resorts without you being there.
More options such as a case of water or Gatorade with your delivery.
Reliable! They've been in business over 23 years.
To see more about why we recommend Buena Vista Rentals, visit this article here.
Orlando Stroller Rentals, LLC. This company has a variety of stroller types including the Liberty Special Needs PushChair and double strollers. Toll free phone 1-800-281-0884
A Baby's Best Friend. They also rent a wide variety of child care products. Phone 407-891-2241 (Orlando area and outside the United States), Toll Free:  1-888-461-2229   (in the United States only)
All-About-Kids.com. They also provide childcare and rent a variety of child care products. Phone 407-812-9300
Disney World in-Park Stroller Rentals & Disney Springs Stroller Rentals
The strollers for rent at the four main parks and at Disney Springs can not be used outside those areas. That can be a disadvantage.
The majority of the Disney rental strollers are appropriate for toddlers and children up to approximately 6-7 years old, and are NOT appropriate for infants. There are a limited number of infant strollers available at the parks, which are smaller than the regular single strollers. You can rent them in the four main parks, as well as in Disney Springs (they're only for use there).
The strollers were recently changed out at Disney World. The new strollers are very Disney with pictures of Mickey and Minnie on them.
These strollers don't fold, but there's no place that you'll need to carry them inside the parks or in Disney Springs. There's a small pocket for storage in the rear, and an awning for shade. They don't lie back.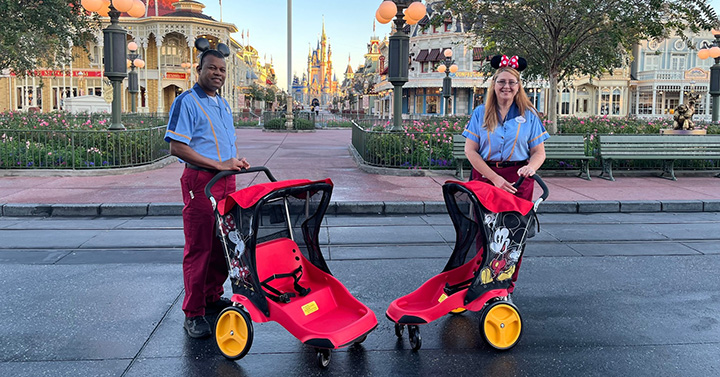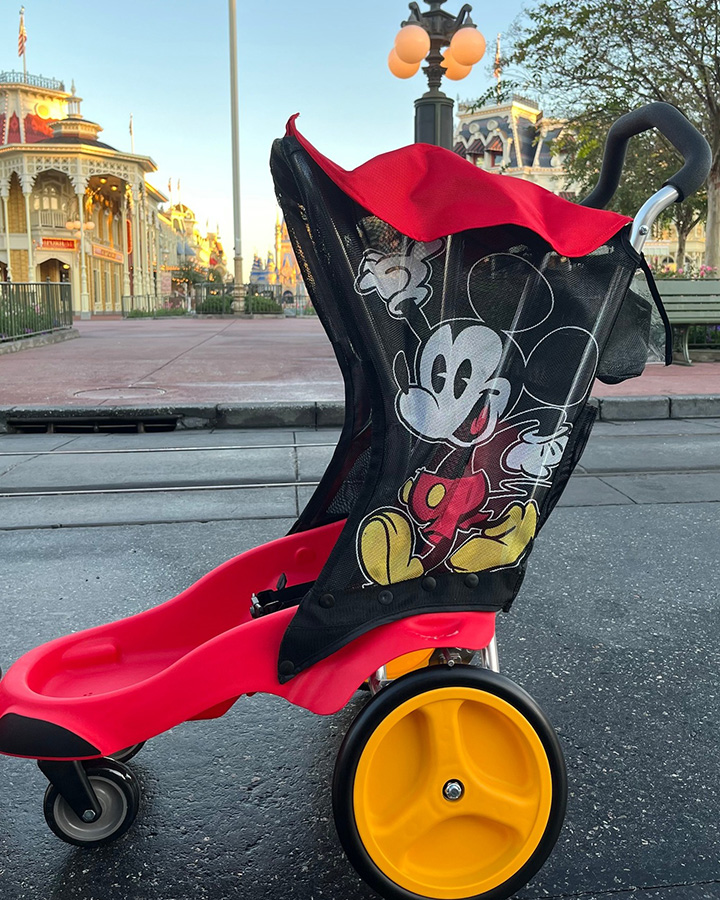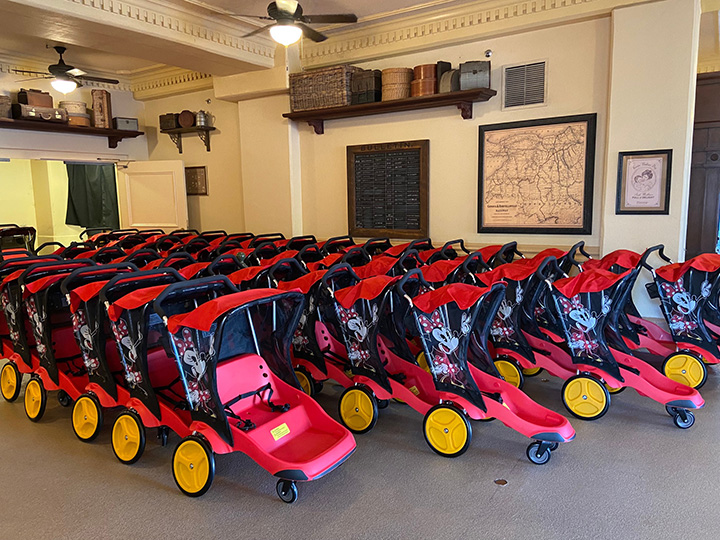 Here are a couple of tips for the Disney World rental strollers:
Tip: Bring a soft blanket or thick towel to make the hard stroller more comfortable for your child.
Tip: The Disney strollers offer very little storage space, making them impractical if you have a lot to carry. Consider renting a double stroller for the extra space.
Toddler rental strollers available in the Disney World parks
The toddler rental strollers that Disney offers are the hard plastic type with four wheels. They're set in a fixed position with the child sitting up, and they have a canopy. They do allow the child to curl up on their sides.
Weight and height: These strollers have a "recommended weight" of 50 pounds for a single, and 100 pounds for a double. We are not aware of a recommended height for these strollers.
Infant rental strollers in the Disney World parks
The infant rental strollers available in the parks are similar in size to the regular single strollers rented at Disney, but they're designed for newborn to one year. They're available on request, and they're not normally visible with the regular strollers outside the stroller locations. These strollers are not in the new Mickey and Minnie style. Instead they're a plain single blue color. Again, they usually have a limited number, so if you want to be sure to have a stroller, it's a great idea to either rent from an outside company (see below), bring your own or buy one once you're in Orlando. Light blue.
Other options for infants:
For infants you may prefer to use other types of baby carriers like slings and backpacks, but consider the amount of walking you'll be doing. You may want the option of having a stroller to use as well. If you're visiting in warm weather, the shared body heat you'll experience using these types of carriers can cause both of your body temperatures to rise. This can be miserable and even dangerous for your infant. Again, a stroller may be best, and the small folding umbrella strollers tend to be easier to handle than other kinds. On the flip side, if the weather is cool, a sling or backpack can be warming.
Cost & Locations for Renting a Stroller at Disney World Parks & Disney Springs
Strollers can be rented close to the entrance of each of the four main parks. They can also be rented in Disney Springs in the Marketplace at Wonderful World of Memories.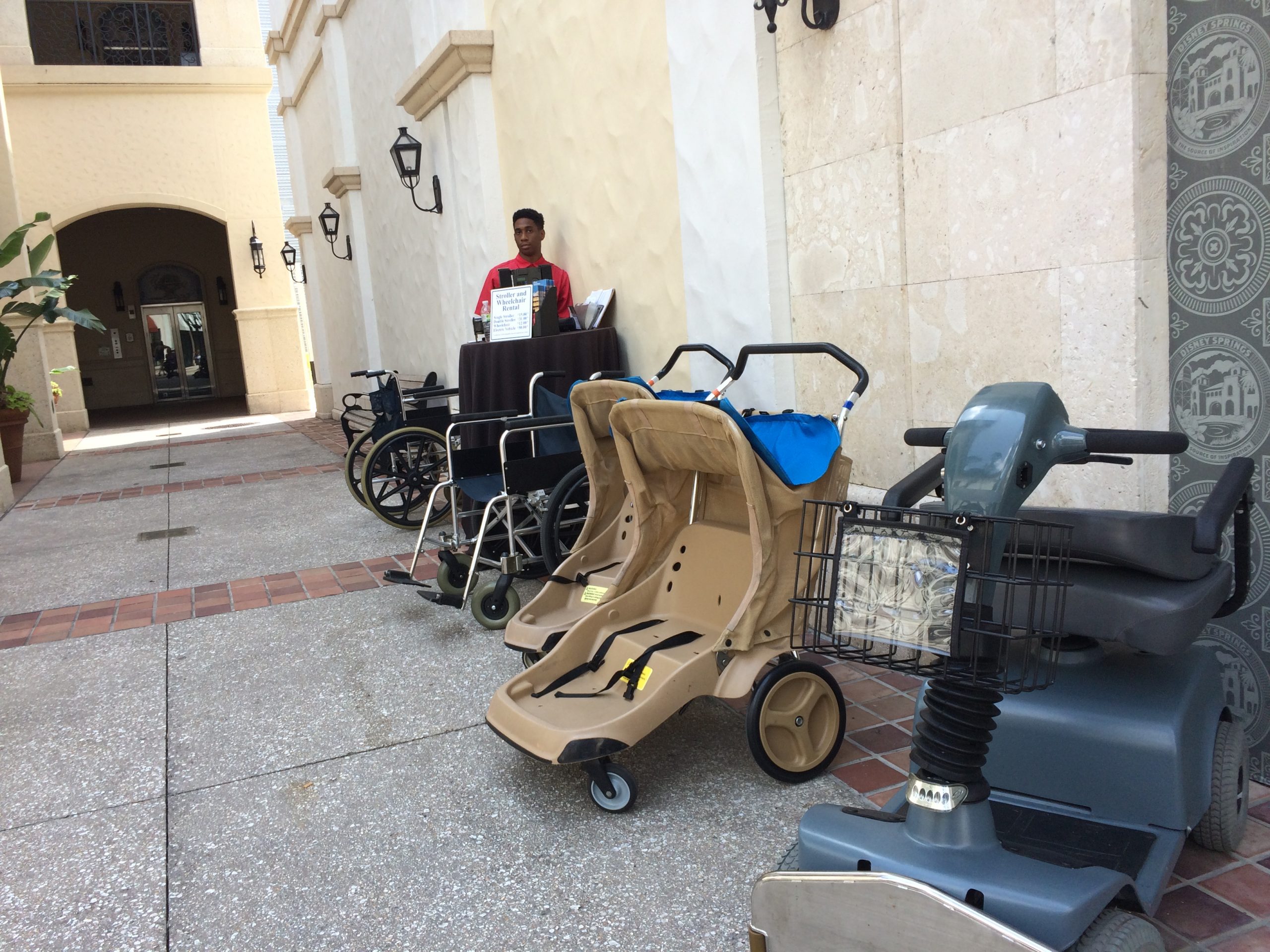 Disney World stroller pricing
Single strollers cost at this writing is $15 per day, and multi-day length of stay rentals (2 or more days) are $13 per day (length of stay rentals may not available during peak crowd times). Double strollers are available for $31 for single day rental, and the multi-day length of stay price is $27 per day. Infant strollers are the same price. At Disney Springs you can only get single strollers, and you'll need to leave a $100 deposit which is refundable when the stroller is returned on the same day.
For multi-day rentals, you'll pre-pay and show your receipt at the rental location to get a stroller. This allows you to bypass the queue which can shorten your wait time considerably! Strollers are given on a first come first serve basis, and though it's not typical it is possible for them to run out.
FYI – Here's Disney's stroller rental page: https://disneyworld.disney.go.com/guest-services/stroller-rentals/
Stroller size rules at Disney World
As of May 1, 2019, Disney initiated size rules for strollers coming into the parks.
Rule #1: Strollers will now have to be no larger than 31″ (79cm) wide and 52″ (132cm) long or smaller. Apparently most strollers fit these dimensions.
If you need to get your stroller marked as a wheelchair, check out this article here for information on how to do it, what it means, and how these new rules will impact you.
If you have your own stroller, check out this article that lists the strollers that fit within the new guidelines, and some of those that don't.
Change #2: Stroller wagons like the Keenz will no longer be permitted in the parks. This is true even for those who are disabled, according to Guest Relations.
Park Hopping with a Disney Stroller Rental
If you're leaving the park and going to another one, you'll leave your stroller and bring your receipt to the stroller rental location in the next park. As long as they haven't run out of strollers, they'll give you one.
Leaving a Park and Returning Later with a Disney Stroller Rental
If you're leaving the park, but plan to come back to the same park later in the day, you can leave your stroller outside an attraction with the other strollers. Be sure to leave something on it that helps it stand out, such as ribbon or a balloon. When you return, you'll have your stroller without having to go through the stroller rental process again.
Buying a Stroller
At Disney you'll have the option of purchasing an Umbrella Kolcraft stroller, available in many of the resort and park stores as well as in each parks' stroller rental area. It's currently $49.95.
If you have a car, another option that may be less expensive is to purchase a stroller once you get to the Orlando area at a nearby Walmart or Target. When you're done with it, if you don't want to take it home with you, you can always offer it to another family!
Using Strollers in the Disney World Parks
Guests are not permitted to take strollers inside ride queues and on rides. There are exceptions for those who get permission with a Disability Access Card (See below). Outside each ride there's an area for 'stroller parking' and it will usually be crowded. The cast members will write your name on a card that attaches to the handle of the stroller.
Tip: Sometimes Disney staff will move the strollers around. You might come out of an attraction and discover that your stroller is not where you left it. Don't panic — look. If all else fails, talk to the nearest cast member. Although a card with your name on it is attached to the handle of the stroller when you rent it, it's helpful to leave something on the stroller that will more easily identify it as yours. Make sure it's something you don't mind losing. If your rented stroller is missing (it does happen by accident since they look alike, and there is the occasional theft) you can just show your receipt and get another.
Tip: If it rains the stroller and your child will get wet. Some of the stroller parking areas are uncovered. You may wish to bring a stroller rain shield or cover. These are available all over including Walmart and Toys R Us.
Tip: Always make sure that you don't leave anything valuable in your stroller when you part from it. If you can't afford to lose it, don't leave it.
Tip: You can lock a stroller to itself with a cable or bicycle lock through the wheels and/or the frame. This will allow a cast member to re-position the stroller if they need to. If you lock it to anything fixed such as a tree or fence, the lock or cable will be cut and it will be moved.
Tip: If you park in a stroller parking area, normally if your stroller is moved it will only be a few feet away so that the rows and spaces remain neatly filled in. However if you park away from a stroller parking area, it will be moved to a stroller parking area somewhere; how far away it will be moved will depend on how the cast member feels at the time! So park only in stroller parking areas to make it easier on yourself.
Tip: Though strollers are not permitted in the Disney restaurants, we've seen them permit a stroller with a sleeping child in it. There's no guarantee though, and this is entirely up to the cast members at the restaurant.
Strollers used as wheelchairs in the Disney World Parks
Strollers can be given the same status as a wheelchair by Guest Relations, if needed. Check out our article here: Strollers Used as Wheelchairs in the Disney World Parks.
Disney World Transportation and Strollers
Any folding stroller can be brought on the buses, trams, trains, monorails and most boats. Some of the larger ones may be too big to hold on the trams or boats, so the small umbrella strollers may be more convenient. Strollers must be folded on the buses. Depending on how busy it is, you may be able to keep a stroller open for children to sit in on the monorails and larger boats like the ferry boats.
Stroller Recycling, Swapping and Sharing
There's a group on Facebook that allows members to share their strollers. You may be able to use a stroller that was passed on by someone who just left Disney. You can check out the group here for all the rules and to join.
Stroller Theft at Disney World
We're often asked if your own stroller is safe at Disney World. Consider that Disney gets millions of guests each year. There's no way for them to completely weed out the people who might steal. Unfortunately we do hear about strollers being stolen, especially in the parks.
Recently I've heard that Disney has been putting in cameras to watch the stroller areas, but my guess is that there will still be theft.
I can't say what the numbers might be for this, but personally I would think twice about bringing a very expensive stroller. Instead I'd suggest either renting or buying an inexpensive stroller to use during your trip. It's also important to never leave anything on the stroller unattended that you wouldn't mind losing.
If you do have your own stroller, you might consider using a stroller lock. Though you can't lock it to another object while you're at Disney World, you can put the lock through the wheels to make it more difficult to take.
Using strollers in the rain at Disney World
For details on how to manage with a stroller when it rains at Disney World, check out this article called How to Enjoy Rainy Days at Walt Disney World.
————————————————————————————————————————————
MENTION US AND YOU'LL GET A FREE SNACK TRAY STROLLER ACCESSORY with stroller rental. MENTION THE DISCOUNT CODE "EASY DISNEY". 
Or Call: (866) 484-4797 (mention the diz-abled.com offer or "EASY DISNEY" to get your FREE SNACK TRAY)
————————————————————————————————————————————
Join our facebook group!!!!
Ask any questions, share your knowledge and just enjoy getting to know other Disney fanatics in our facebook group called Walt Disney World Made Easy for Everyone.
Also join me on Pinterest here.
GET UPDATES, NEWS & TIPS (IT'S FREE!!!)
Sign up below to stay updated on the newest information, tips and tricks to help you plan your perfect Disney World trip!