Should I rent a wheelchair or ECV rather than walk the park, resort & recreation areas?
Are you toying with the idea of using a wheelchair or ECV while you're at Disney, but you're unsure? Or are others telling you to do it, but you don't really want to? Don't rule it out too quickly! Even if you don't require a wheelchair in your daily life, you may want to consider using one at Disney World.
If you tire easily, or if you're dealing with any of the following, a wheelchair or ECV/scooter can make your trip so much better:

Pain
Weakness
Mobility challenges
Heart problem
Chronic fatigue
Injury
Anything that physical activity can worsen
Many people who don't normally use a wheelchair or ECV feel very uncomfortable with the idea of using one. It's understandable, but the wheelchair/ECV can help help you conserve energy, reduce pain, and avoid irritating your condition.
If you use an ECV/scooter, you can have all this while also having freedom, independence and mobility (in fact it's really fun to drive around). Your trip will be so much more fun, and you'll be so much more comfortable than if you choose to walk.
Here's one Disney fan's comment that we find to be typical: 
"I was so resistant to the idea of a wheelchair. I don't need one at home, and I didn't want to be looked at as an invalid. After experiencing pure exhaustion and a major worsening of my pain after a day at the park, I finally rented an electric scooter. It was fantastic. By the end of the day I felt much, much better with the scooter than I had on foot. Now I always use a scooter at Disney."
The Disney parks are HUGE, and the walking is extensive. You'll walk miles.
When you're at Disney World, you'll be walking and standing for most of your day. According to knowdw.com,  If you just walked around the perimeters through the walking paths, you'd walk about:
2.17 miles at Magic Kingdom
2.78 miles at Epcot
1.39 miles at Hollywood Studios
2.27 miles at Animal Kingdom
How far do you really have to walk at Disney World?
When I asked members of my Facebook group who track their walking distance how far they walked per day in each of the parks, I got approximately a whopping:
Average of 6-12 miles a day!!! Sometimes more. 
That's because you won't just be walking straight through perimeter of the parks. You'll be walking through the parks, going from attraction to attraction, zigging and zagging, and sometimes retracing your steps, and walking inclines and declines. One of my Facebook Disney group members clocked in at 17 miles in a day.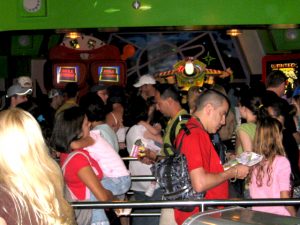 You'll walk along ride and attraction queues. They can be super long. In fact, the queues for Kilimanjaro Safaris in Animal Kingdom and Soarin' in Epcot are each over ¼ mile long.
You'll stand a LOT. Consider that you'll be standing while you wait in lines for the attractions, dining, transportation, etc. On a busy park day you can stand in line for as much as an hour or even 1 ½ hours for a single attraction. It can even be longer if you're visiting on a peak crowd day.
There is no seating in the queues, so you will not be able to sit.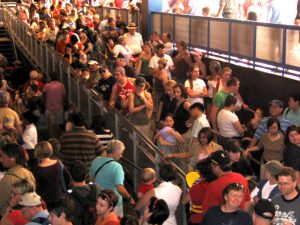 Check out our photos of a couple of queue lines in the Magic Kingdom. Granted this was a fairly busy day, but this is not unusual.
So if any of this sounds strenuous, painful, tiring or difficult to you, we strongly suggest that you rent a wheelchair or ECV.
It will mean a much better time for you, and it will mean a much better time for your family.
TIP: If you or someone in your travel party is still unsure about using a wheelchair or scooter at Disney World, Contributor Sue Mickelson, suggests the following: Pick out a spot that you (or your party member) is familiar with that is about 5 miles from home. Ask yourself (or him/her) if you could walk there. The answer is probably 'no'. In fact for many people that would be a ridiculous question. If you (or the member of your party in question) could walk there, ask yourself (or him/her) if you could walk there and back home again…. Every day (or as many days as you plan to go to the parks). That would simulate what a trip to WDW is like.
Still not convinced? 
Here are testimonials from people who did NOT want to use a scooter, fought it, but finally gave in:
"I now use a scooter at Disney due to my arthritis, not an injury, however I understand the feeling of being uncomfortable. I fought it. I'm only 47, I don't look like I have problems. I dealt with my pain, by afternoon I was in so much pain, I was no longer was having fun.

My family suffered because I had to stop all the time, keeping them from their fun. I felt so guilty.

By the 3rd day, I could barely walk. Several years ago, Disney changed the rules for the DAS card (Disability Access Services card) and I could no longer get one. My husband and a very understanding cast member talked me into using the wheelchair.

By the end of the day, I wasn't hurting, I could walk without fighting tears.

I felt guilty making my husband push me, no one else to help, but we also didn't loose so much time with me sitting to rest all the time. The next year, I rented a scooter. I park it in central areas, walk to do a few attractions that are close, then drive to another area.

I know people will judge, but I'm not in pain…

Don't skip the scooter/wheelchair. Disney is expensive and miles of walking each day, you don't want to spend that money and not be able to enjoy yourself due to an injury (or illness). Then suffer setbacks as a result of pushing too hard. Get the scooter/wheelchair, leave it in stroller parking area to walk to/in attractions, ride when you need to. Trust me, your body will thank you for it, and you can enjoy your vacation." —Kathy
Next quote:
"We just got back from WDW this weekend. I have several medical conditions that make walking and standing in lines difficult for me, so I rented a ECV. For those of you who are worried about this, I have to tell you it was the best thing I did. I was traveling with 5 other family members and it gave them and myself all the freedom to go at our own paces. They all could recognize my "beep, beep."

Yes, I did have to be watchful of the people who would walk in front of me, or even worse, do the quick dead stop… My worst fear was getting on and off of the buses. For my first bus ride I had an awesome driver who showed me exactly how to it and how to park it in the bus. I was a pro after that. He made all the difference in allowing me to relax for the rest of my vacation… Someone on this page told me to "own it" when it I drove, and that's what I did and that was the best advice, thank you! You made my vacation. " — Patty Witte VandenHeuvel
Next quote:
"If you're taking someone elderly PLEASE try to get them a scooter. We heard so many older people sound so sad commenting to their younger family that they wish they had one of those as we went by. They were so hot and tired. One poor man was struggling to use a walker through that HUGE line in Soarin and he was so tired and sad sounding. He said he needed a scooter and his wife said "maybe next time."

I understand it's a financial issue as well, but for those who CAN afford it, I would just get it and have it on hand. I think pride might make some people say they don't need one but once they get in the parks and there's 10-14 miles of walking in heat and crowds and up hills, they change their tune. One woman told me she regretted declining it because she had to return to her resort 30 minutes after arriving in a park due to exhaustion." —Tiffany Rae Lambert
If you or your party member doesn't agree to a wheelchair or ECV:
Take along the contact information for an offsite rental place. You can also rent wheelchairs and ECVs in the parks. They don't run out of wheelchairs, but they do usually run out of ECVs if you are arriving later than about 10:30 am. The outside rental wheelchairs and ECVs are nicer, but it's good to know you can get one at the park in a pinch.
Renting a wheelchair or a scooter at Disney World
If you do decide to rent a wheelchair or scooter, I'd suggest you read the following articles to get started:
You'll also want to visit this page to read all our articles designed to teach you everything you'll need to know about using wheelchairs and ECVs once you get to Disney World. Visit here:
Everything You Need to Know About Wheelchair, ECV and Mobility Challenges at Disney World. 

NEED TO RENT A SCOOTER or WHEELCHAIR? We like Buena Vista Rentals!
They're giving a FREE SCOOTER ACCESSORY TO OUR READERS!

CHOOSE A FREE CUP HOLDER OR CANE HOLDER with scooter rental. 
Phone – (866) 484-4797 (mention the "dizabled" offer from diz-abled.com)
Why Choose Buena Vista Rentals?
 We think Buena Vista Rentals is great! When we decided to seek a wheelchair/ECV sponsor, we researched. Here's why we invited Buena Vista Rentals before any other company:
Free Delivery to resorts and hotels.
Great reviews! We found that they had consistently great reviews over the years.
Newest Equipment. 
Clean and well maintained equipment. 
Extra services. They have helpful services and options that other Disney Featured Vendors don't offer. For example they'll deliver cases of water or sports drinks with your scooter. They offer strollers, bicycles, oxygen, as well as helpful scooter accessories.
They can provide service in the parks. If you need service they can come find you in the Disney parks!
Convenient locations.  If you should need to go there, they have a convenient rental location on Disney property at the front of the BoardWalk Inn, and they also have other locations around Orlando.
Service for your personal scooter. If your personal scooter has a problem, Buena Vista Rentals can help!
So please support us by supporting our sponsor!
Have you decided to rent a wheelchair or ECV at Disney, or have you opted out of it? Let us know how it went and what you thought in the comment section below.
Also – Join our facebook group!!!!
Ask any questions, share your knowledge and just enjoy getting to know other Disney fanatics in our facebook group called Walt Disney World Made Easy for Everyone.
Also join me on Pinterest here.
GET UPDATES, NEWS & TIPS (IT'S FREE!!!)
Sign up below to stay updated on the newest information, tips and tricks to help you plan your perfect Disney World trip!