Most people of size will find that there's very little they can't do at Disney. Here are some things to consider.
Managing with Turnstiles at the Disney World Parks
Though most people of size will have no difficulty going through turnstiles, some may wish to bypass them. At Disney there's always an alternative entrance designed for wheelchairs and strollers that people of size can use. Just let a cast member know you need this and they'll let you through.
Height Concerns on the Disney World rides
According to Services for Guests with Disabilities, tall people will be fine on most rides. However those who are close to 7 feet or taller will have problems with some rides. As we add ride descriptions to the website, we'll try to make note of those ride cars that may pose a challenge to people of size.
People of short stature will find many rides with height restrictions. We'll let you know what those restrictions are as we add the ride descriptions to this website.
Ride Cars and Other Seating for People of Size
Though some rides do have height restrictions, the rides at Disney DO NOT have weight restrictions.
The issue will be about whether or not you will fit within the various types of restraint systems. Many people of size express that there's no problem on just about all the rides, however how you do will depend upon a combination of your height, weight, body type and where you carry your weight. For example those who carry their weight in the chest area may have a problem with the over the shoulder harness restraint systems found on some rides.
A Disney representative at Services for Guests with Disabilities shared that rides with lap bars tend to be less of a problem for people of size then the other restraint systems. Also, she noted that if you're unable to ride on one attraction with a certain type of restraint system, you'll probably need to avoid all the other rides with that type of system. She suggests that you speak with a cast member greeter at each attraction, and they'll help you determine whether the ride is appropriate for you.
Also if you feel you'll need extra time to board a ride car, let the Cast Member know there. Some ride boarding areas are on moving walkways, and some of these can be stopped or slowed.
Sample Ride Cars to Practice on: Test it out before you go
Some attractions have sample ride cars that you can test out. Some of these are in private locations that a cast member can take you to, and some are in full view of other guests. Either way, these provide you the opportunity to make sure you're comfortable in the ride car, and to practice getting in and out without the time pressure you'll experience in the ride queues.
Types of Ride Cars and Attraction Seats at Disney World
 Seats with a lap bar: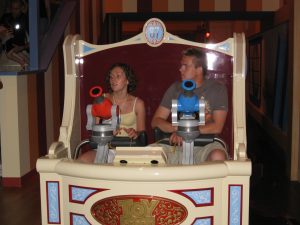 A lap bar is usually a metal bar that you either pull down over your lap or it automatically comes down itself. There may be more than one guest in a shared seat, and bars will stop when they encounter the larger guest. It's a good idea to avoid sharing a ride seat with someone significantly leaner or smaller than you, since the bar will most likely not afford them protection.
Feel free to request that you either ride alone, either in front of or behind those in your party.
For rides with lap bars that come down automatically, make sure to keep your legs down with your feet flat on the floor. The bar can hit your knees otherwise, and that can be painful!
Seats with seat belts:
When you pull the seat belt out, it's a good idea to pull it all the way out at one time so it doesn't lock up in a shorter position. On some attractions, it may be easier to do that prior to sitting down. Hold the seat belt so that it doesn't retract, sit down, and then place it in the seat belt lock. If you're sitting side by side with someone from your party, it can be much easier to hand them the belt after you've pulled it out, and have them insert the belt into the lock for you while you hold the base so that it doesn't retract. You can also ask a cast member for help with this. Don't hesitate to ask! We find that Cast Members are generally friendly and supportive.
Cast members can provide seat belt extenders for some attractions with seat belts. They make the belts equivalent to what you'd find on an airplane seat. Three examples of attractions with seat belts are Test Track, Tower of Terror and Star Tours.
Theater-Style Single Seats:
Most theater seats will accommodate people of size; however there are some that are on the smaller side. If you find you're having difficulty with a theater-style single seat, try sitting on the edge, and then wiggling backwards into the seat. We'll make note of smaller seats in the ride descriptions as we add them to this website.
Bench Seats: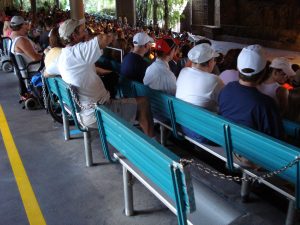 You'll find bench seats on some rides and in many of the theater-style auditoriums. In the theaters you should have no problems. On the rides, the seats are designed for a certain number of people. The Cast Member who seats you should assign fewer people than they regularly do to your row, but if you find that you're not given enough room, feel free to let the cast member know that you need more. Even if you and your party must to wait for the next ride vehicle to board, they should accommodate you.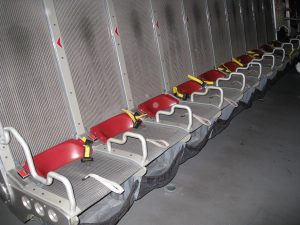 Single Seats:
Some rides have seats that are designed for a single rider. They're designed to fit people of size, but of course that will depend on your unique shape and size, as well as the unique qualities of the ride seat. Some of these rides have sample seats, and if you have any doubt, make use of these to test things out before you ride.
Other Seats: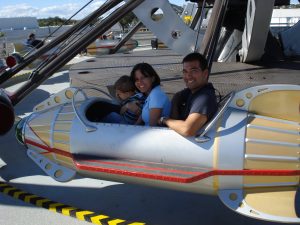 One of the seat styles that may be most challenging for people of size are the seats that are designed to have multiple riders sitting basically in each other's laps. You can see an example to the right. These can be a tight fit for anyone, and they're usually low to the ground. If you're wanting to try this, you may want to ask for your own ride car.
Another option is to have the largest person go in first and sit in the position furthest to the back. Then the others in the party can get in, preferably in order of size, largest to smallest. The smallest person sits in the front.
More Tips for People of Size
Disney often accommodates plus size guests wherever they can. For example, in their behind the scenes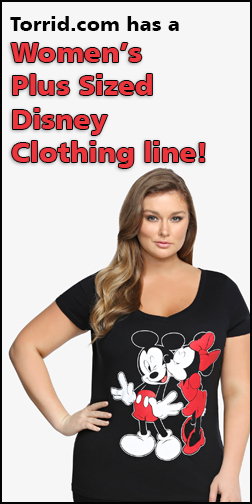 tours in Epcot that involve diving, they offer wet suits up to women's size 5X (please confirm before going if you need a plus size suit). The spas usually carry plus size robes as well, and all Disney transportation is designed to accommodate people of size.
Many restaurants have chairs with arms, but if you need one without arms, ask when you check in. They may have extra chairs available without arms.
Disney themed clothing for women does sometimes come in sizes like xx-large, but we don't find that for every style, and often the larger sizes are out. If you're looking for Disney themed clothing, check out the Disney line at Torrid.com. They have a line with shirts, dresses, coats, bathing suites, pants, socks and purses with some great styles that are designed for plus size women.
When you're at Disney you'll see a large percentage of the guests sporting Disney clothing (including Mickey ears on large men). Buying Disney clothing that fits you comfortably in advance of your trip will allow to get into the spirit!
For more tips and information for people of size, read our article here:
For pictures and information on all the ride cars and seating at Disney World, check out these pages on touringplans.com:
Do you have some opinions and experiences you can share? Please share your tips, as well as your good and bad experiences below in the comment section.
Please feel free to post them in a comment below. We'd love your input.
Join our facebook group!!!!
Ask any questions, share your knowledge and just enjoy getting to know other Disney fanatics in our facebook group called Walt Disney World Made Easy for Everyone.
Also join me on Pinterest here.
GET UPDATES, NEWS & TIPS (IT'S FREE!!!)
Sign up below to stay updated on the newest information, tips and tricks to help you plan your perfect Disney World trip!