Sprinkles is the world's first cupcake bakery, and they focus on using high quality ingredients such as bittersweet Belgian chocolate, fresh fruits, and pure Madagascar Bourbon vanilla. When sprinkles opened in Walt Disney World's Disney Springs area, they got a ton of publicity by giving away free cupcakes. We heard of hour long lines because of this, but we still had to take advantage of it! We signed up online and got our cupcake credits.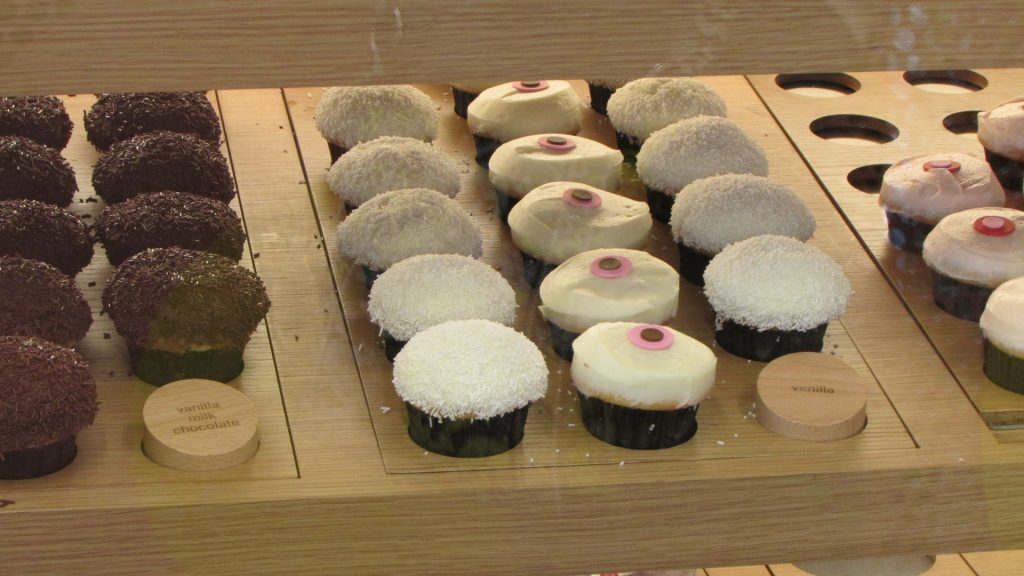 Fortunately we waited only about 10 minutes. The queue was outdoors, but we quickly got inside and out of the sun.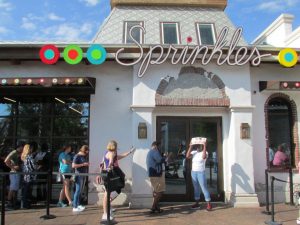 Apparently Sprinkles has quite a following. Considering that, along with the attention to fine ingredients, I expected something very special. My first impression upon walking into the bakery was that the cupcakes didn't look especially appealing. I've seen cupcakes that look so good that you can't just walk by without getting one, or at least drooling over them as you pull yourself away. These had more of a homemade-baking-with-the-kids appearance.
Sprinkles has a long list of flavors including peanut butter chip, pumpkin, red velvet, cinnamon sugar chair latte,  and cuban coffee. They even have a gluten free red velvet and sugar free red velvet. They rotate their cupcake flavors on different days of the week which you can see here.
Since I'm a "chocolaholic", I ordered Milk Chocolate and Chocolate Marshmallow cupcakes. The chocolate cake in the Chocolate Marshmallow cupcake was only so-so until I bit into the Marshmallow in the center. The combination of the cake and marshmallow was delicious. The plain Milk Chocolate cupcake seemed very average. On both cupcakes the frosting was also average. The cake itself was reasonably moist.
Honestly I was a little disappointed, but maybe that was because of all the publicity and hype, along with having experienced other more exceptional cupcakes in the past. It was good but not special or great. So personally, if I were having a real need for something sweet and small, I might visit sprinkles if the line wasn't long, but it wouldn't be a "must do".
They also serve ice cream and cookies, but clearly cupcakes are the star of the show in Sprinkles.
Have you tried Sprinkles?
Let us know what you think below. We'd love your input.
Join our facebook group!!!!
Ask any questions, share your knowledge and just enjoy getting to know other Disney fanatics in our facebook group called Walt Disney World Made Easy for Everyone.
Also join me on Pinterest here.