T-Rex
Downtown Disney Marketplace Restaurant
Phone Number: 407.828.8739
Website: www.Trexcafe.com
This Disney Springs restaurant is more like a park attraction than a restaurant, with food thrown in for good measure. It's worth a visit, even if only to walk through. From the exterior to the various inside rooms, the theme is carried out in a spectacular way. Although there are some similarities to the Rainforest Café, a restaurant that's been a part of Disney Springs for some time, T-Rex goes way beyond, bringing themed restaurants to a whole new level. These restaurants are not Disney owned, but Landry's Restaurants has created a concept that fits right in with Disney.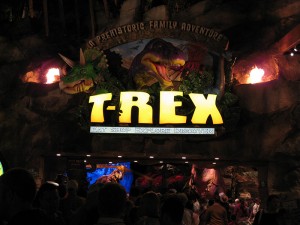 The exterior is attention grabbing with massive dinosaur bones adorning the building. A small "dig site" area is off to the right, for little archeologists to enjoy while waiting to be seated. The interior consists of several different zones, each with a relevant theme.
The interior is unlike anything we've ever seen. The atmosphere is colorful, interesting, and highly stimulating. There are things to see everywhere, and it gets really, really loud and chaotic in there. You'll see guests walking around to see the sights, and a large number of servers are zooming around the floor at top speed. Periodically the dinosaurs "come alive" with movement and roaring sounds.  There was tremendous attention to detail paid here. You'll spot things everywhere you look, including amethyst geodes embedded into the walls and furniture.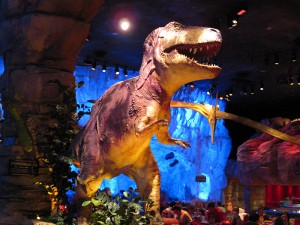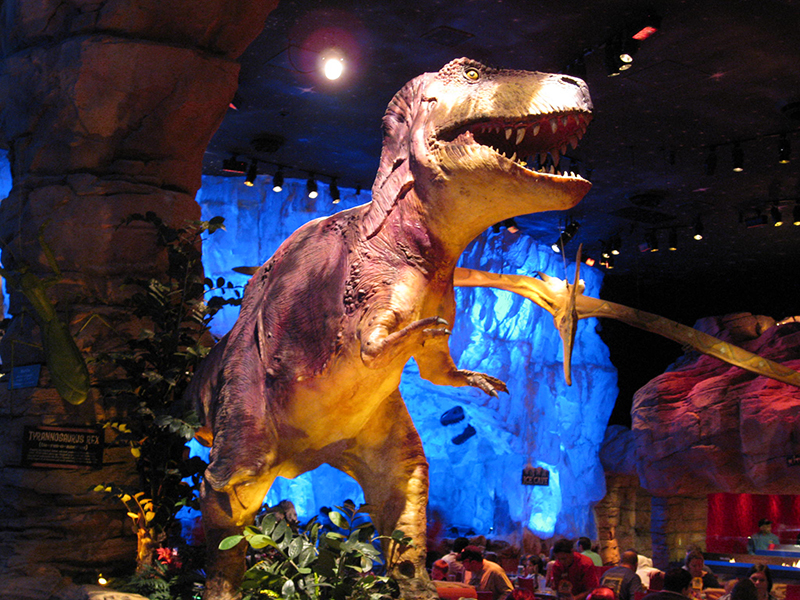 Guests first encounter the store area where you can shop for clothes, toys and other fun items. A large dinosaur greets you with occasional roaring and head turning. Look up to see a giant sun along with planets on the ceiling. Periodically the restaurant erupts with a "meteor shower" and you can see shooting stars on the ceiling, along with other special effects and lots of noise. Some of the rooms darken and there are flashing lights when this happens.
To the left is the bar that leads into a dining area. Both have an underwatertheme. Giant sea creatures,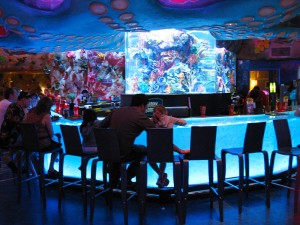 including a massive octopus and giant jellyfish, hang from the ceiling and real aquariums display beautiful tropical fish and coral. The bar glows with embedded lights, and there are other lights that create a rippled water in motion effect.
The Undersea ceiling at T-Rex: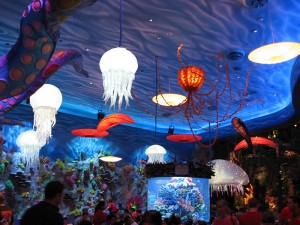 The striking ice age room is to the right. Diners enter a cave made of transparent "ice", which changes colors periodically. The room is fairly dark and the walls seem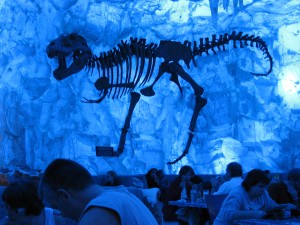 to glow from the inside. Huge dinosaur bones are visible through the ice, and a couple of audio-animatronic "living" dinosaurs are there as well. Every so often a baby dinosaur began roaring for its mom right behind me. At one point the waitress was trying to take my order but we had to wait for the dinosaur to stop wailing so that she could hear me!
Towards the back is a prehistoric forest area with a lot of foliage and a variety of creatures, including some major dinosaurs and a mammoth.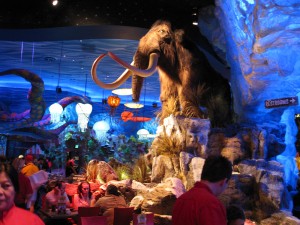 Another room looks like the interior of a regular cave. The kitchen is open and guests have a view of the chefs, along with some open flames.
Disney Dining does not take reservations for this restaurant. You can call them directly to get priority seating. This works similarly to Disney's priority seating process. So for example, although you've called and booked for 8 PM, even if you arrive at that time you may not be seated immediately. However you'll be put ahead of the walk-ins and you'll have a much shorter wait. It's quite large inside, but at peak times there can be long waits. Guests wait outside in a line that leads to the "dinostand". You'll then be taken to your assigned seat.
Padded booths are only available for parties of 6 or more, with the exception of a couple locations that seat four. These tables have booth seating on one side and chair seating on the other side.  Most chairs are wood with no arms.
Our server was very willing to make substitutions and to take our special requests. If you have special dietary needs, you can call in advance. Also, the chef will come out and speak with you if that's necessary. Just let your server know you need this.
Here are a couple of unusual things that may be of interest to those with certain health issues. For those with rapid flashing light sensitivities, this may not be the place for you.  In addition to the special effects, there are drinks served here that feature cups with flashing lights. There's a dessert that puffs out smoke from the center of the dish, but it's only dry ice.
There was plenty of room to ride a wheelchair or scooter.
The menu is varied with salads, burgers, pasta, sandwiches, chicken, fish, beef and pork. Some items include a ½ of a fire roasted rotisserie chicken, Mega Mes-o-bones (ribs), triceratops filet (steak tenderloin), tribal tacos, tar pit fried shrimp, Mesozoic Mahi Mahi.
We enjoyed our visit, and it's certainly worth it to drop in if you have the time. Keep in mind that the prices are a bit higher than some of the other Disney Springs restaurants, but you're really paying for the show.