By Melissa Fraga
Mickey's Very Merry Christmas Party (also called MVMCP) is a special ticketed event offered by Disney each year at Magic Kingdom in Disney World. It usually happens around most of November and December. When it comes to the Christmas season, what better way is there to celebrate than by enjoying a full-blown party with Mickey and his friends?
The festival is great for kid and adults as well! Whether you're looking for an adventure, or enjoying the treats and sights, this party is perfect for the whole family. Let's dive right into the amazing details of this event. Then if you want to buy tickets and check dates, visit Disney World's page for Mickey's Very Merry Christmas.
Is Mickey's Very Merry Christmas Party included with a regular day ticket?
No. The party is a separate ticketed event.
What time can I get into the park with a ticket to Mickey's Very Merry Christmas Party?
Though the party usually starts at 7 PM, guests of this event are able to enter Magic Kingdom as early as 4 pm (though Disney doesn't formally post this anywhere), and the event usually runs until midnight. If you wanted to visit the park earlier in the day, you'd also need a park ticket. If you'd rather not purchase a park ticket for this day, this party makes a great end to a resort/break day.
DVC members get a great perk. They're able to enter the park at 2 PM! To do this you'll need to show your valid Disney Vacation Club Membership Card along with your event ticket.
How will I be identified as a guest of the Mickey's Very Merry Christmas Party?
When you enter the park you'll be given a special wrist band that identifies you as a guest of Mickey's Very Merry Christmas Party. According to wdwprepschool.com, you can pick them up at various locations:
At the front of the park as you enter.
Inside the Chamber of Commerce building on Main Street USA
Near Buzz Lightyear
Outside the Mickey's Philharmagic attraction
Guest Relations window in Liberty Square
Near Turtuga Tavern
Can park guests who have not bought the special tickets stay during the party?
Once the actual party event starts at 7 pm, non-event guests are restricted and asked to leave. Guests of the Mickey's Very Merry Christmas Party can show their special wristbands that identifies them, so they can continue getting on rides, and they can enjoy all the Party activities.
As mentioned above, during party hours, those who don't have tickets are restricted from engaging in activities and encouraged to leave. Cast Members check for party wrist bands in various locations including:
At the treat stations
When guests enter stores
At the restaurants
At all the rides and attractions.
At all the pathways leaving and entering into the various lands along Main Street USA.
Along the parade path.
While some guests may try to stay for the party, they won't be able to do much if anything.
What does Mickey's Very Merry Christmas Party Cost?
The price varies with the dates of the event. Currently ticket rates are starting at $99 for adults and $94 for kids 3-9 years old when purchased in advance. On different dates I'm seeing them go as high as $139 for adults and $134 for kids. Tickets are non-refundable, even if the weather is poor.
Can I buy tickets at the event?
This event sells out, so we would not recommend trying to buy at the gate.
Can I use Genie+ during the event?
Disney does not offer Genie+ once the party begins at 7 PM, but if you're planning to enter the park at 4 PM, you may be able to get Genie+ reservations during the 4 pm to 7 pm window.
What makes this party so "Merry" and unique?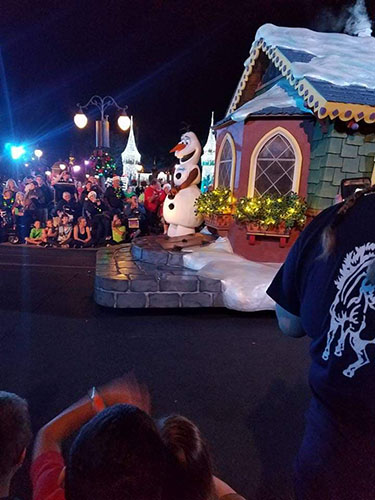 There are many things to be delighted with at this party. Here's some of what makes it fun:
1. Crowd conditions during the party.
The party is only for guests who purchased the ticket for the event, and Disney limits the tickets. During my six visits to this party, this has translated into much lower crowd conditions. Whether I was roaming the park to enjoy the atmosphere or I was waiting for rides, this makes for a great experience.
I've found the party to be a great opportunity to enjoy shorter wait times for the most popular attractions. In my experience, during Mickey's Very Merry Christmas Party every ride (other than the Seven Dwarf's Mine Train ride) has had a 25 minutes or less wait time. For the Seven Dwarfs Mine Train ride, during regular park hours I usually find that the wait time is 90 minutes and up. Yet even during Mickey's Very Merry Christmas Party I've never had to wait more than 45 minutes, even on sold out nights.
Stephen Ashley's note: Since publishing this article we have received some feedback from those who say they experienced major crowding and long waits. Since this was really different from Melissa's experience during 6 different parties, I created a poll to see what others had experienced.
Poll Results: During Mickey's Very Merry Christmas Party, here are the crowd conditions experienced:
54% – MODERATE CROWDS
22% – LOW/MODERATE CROWDS
19% – HIGH CROWDS/LONG LINES
5% – VERY LOW CROWDS
The feedback I received was that:
Weekends tend to be more crowded.
Wait times for character meet and greets can be long regardless of crowd size.
Certain areas of the parks tend to be more crowded because of the activities in those areas. For example the parade route can get crowded because many of the guests congregate.
Ride wait times tend to vary – From long to very, very short, depending on the day of the week, the date of the party, and the crowd size. Regardless, it appears that the majority of the people find that ride wait times are reasonable and usually shorter than during regular park hours, with some rides having no wait at all at times.
As it gets later, the crowds tend to thin out.
You may experience lower wait times on rides during the parades. Since there are usually two parades, you could go on rides during the first parade and view the second parade.
Most importantly the majority seem to have loved the experience and would go back, while a small number felt that although they were glad they had gone to this party once, they probably wouldn't do it again because of the crowds.
Here are a couple other crowd avoidance tips according to wdwprepschool.com:
November dates tend to be less crowded than December dates, aside from the first couple parties of the year.
Tuesdays are usually less crowded than parties offered on other days of the week.
Here's feedback from our Facebook group member Marie Montgomery:

"I've done 4. I've worked 30. Ones on Friday, Saturday, or Sunday are as a Rule Extremely Crowed but still less than a non special ticketed event. Any mid week ones are less crowded too. The last week it's offered gets more crowded."
2. Almost all rides are open and running during Mickey's Very Merry Christmas Party!
On my visits I've only noticed a couple that have been closed. They were The Hall of Presidents and the Carousel of Progress.
3. There are special character meets & greets that you don't find during regular hours. 
You'll be given a map which will show you where all the character meet & greets are being held. There are so many of them and they're all over the park! Of course you'll find Santa Clause at the party. He's usually been found near the City Hall. Some other characters that I have seen during the party are:
Sandy Claws
Judy Hopps
Nick Wilde
Lotso
The 7 Dwarfs in Christmas outfits
Santa Goofy
Santa Stitch
There have also been many other characters at the party such as:
Belle
Peter Pan
Ariel and Princess Eric
Cinderella and Prince Charming
Daisy and Minnie
Vampirina & Timon
Alladin with Abu
Donald & Scrooge McDuck
Elena of Avalor
Jasmine with Genie
Tiana & Naveen
Rapunzel & Flynn Rider
Snow White and her Prince
Aurora and Prince Phillip
Tigger and his friends
Mary Poppins & Bert
Captain Jack Sparrow
etc.
Here's a tip: Character lines tend to start prior to the announced time. The more popular, the longer the line. If you really want to see a specific character, prepare to get in the line prior to their scheduled time.
4. There's a special Christmas parade during Mickey's Very Merry Christmas Party.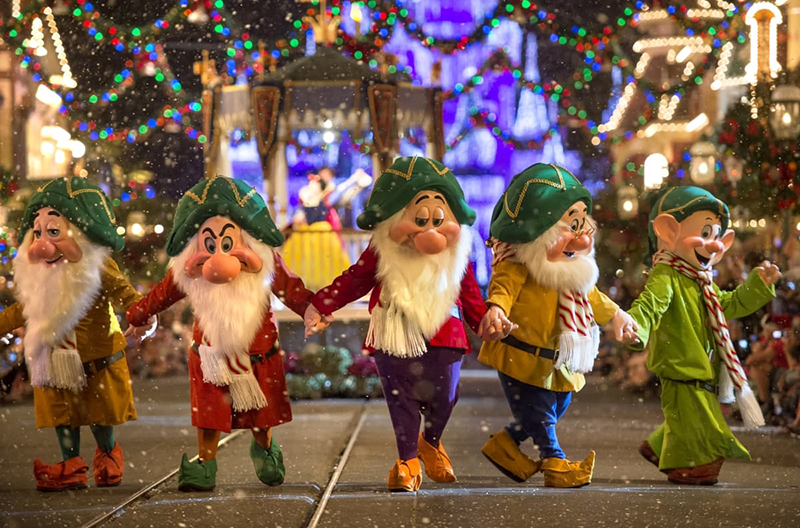 You'll see things you don't see at any other time like Snow White and the Seven Dwarfs above. The parade is full of Characters, from Anna and Elsa to Santa Claus himself.
5. There's a special Fireworks show that's just for Mickey's Very Merry Christmas Party.
The special Christmas fireworks are a spectacular experience, designed just for the Christmas party. Also the castle glows in white sparkling lights, which is also spectacular! The story line of the fireworks show is unique to the Christmas party as well.
Of course be aware that everything at Disney is always subject to change.
6. Food, food, food! Disney hands out free treats! Plus there are many other options.
Here's what you need to know about free treats, full service dining options, special dietary needs, quick service options, and holiday themed dessert parties!
Let's start with treats, because what could be better than the unlimited delicious treats that are included with your ticket price?!!!
There are Complimentary Holiday Treat Stations throughout the park. You'll recognize them by their giant, lit up candy canes. You can also pick up a special Christmas party map that lists the snack locations.
At the snack locations you'll be able to partake of delicious Christmas themed treats. In the past Disney has served snacks such as cookies, soft pretzels, eggnog, apple cider, chocolates, hot cocoa, and little shaved ice cones. (See below for information on allergy snack replacements.)
The cookie flavors I've seen there have included sugar cookies, snickerdoodle, ginger molasses,  peppermint crunch, chocolate chip, and a few others. Though the cookies are not all holiday decorated, they're plentiful and endless.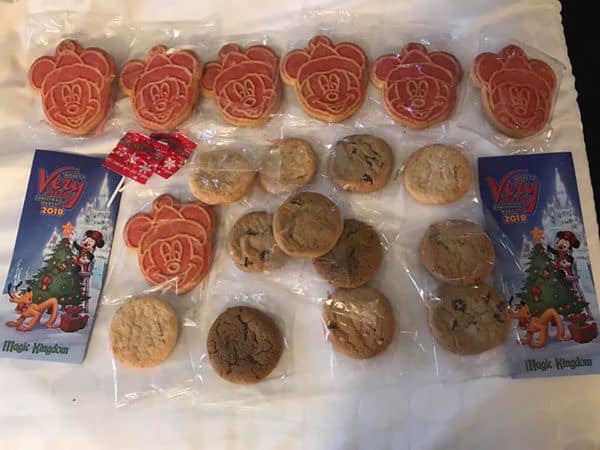 For healthier choices, Disney has given out apple slices and cold apple juice.
Disney also gives out "healthy", allergen and gluten free treats.
The gluten free and allergen free snacks are limited. One such option has been Enjoy Life Cookies, which are gluten free and free of the top allergens. In the past, during the party Disney has served the allergen cookies at Cosmic Ray's and Pinocchio Village.
Keep in mind that the hot chocolate is not gluten free.
As mentioned above, during the party guests can also buy snacks. Some of these have been designated as gluten friendly in the past. You should be able to either speak to a manager at the various locations and/or see an ingredients list book.
For more information on managing gluten free at Disney World's Mickey's Very Merry Christmas Party, visit the gluten free dairy free at WDW website.
Some quick service restaurant are open during the party.
Some of the food options are Christmas themed and only sold during this party. For example Main Street Bakery sells some really nice Christmas themed baked goods like a holiday Mickey Cinnamon roll and a chocolate Yule Log which is gluten friendly! Check out this photo below of some of the delicious looking pastries Disney has offered throughout the park.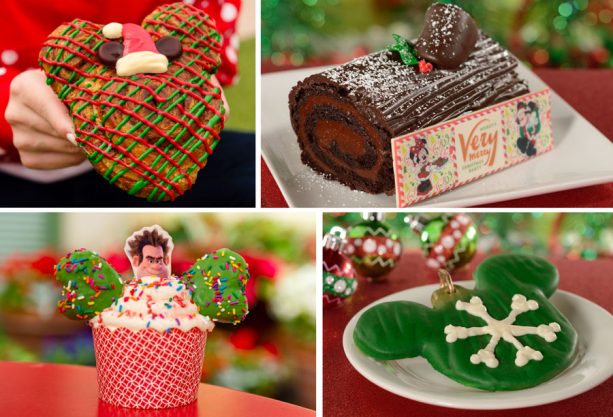 Some of the quick service locations that have offered food & snacks for sale during the party have included the following. Please be aware that some of these close early – even as early as 8 PM. Here they are:
Casey's Corner
Pecos Bill's
Golden Oak Outpost
Plaza Ice Cream Parlor
Gaston's Tavern
Sleepy Hollow
Cosmic Ray's Starlight Cafe
Storybook Treats
Aloha Isle
Liberty Square Market
Columbia Harbor House
Auntie Gravity's Galactic Goodies
The Lunching Pad
Storybook Treats
For a full list of what restaurants were opened and what was offered in previous years, check out Disney's Foodie Guide for Disney's Very Merry Christmas in 2018. These lists also lets you know if items were gluten friendly.
Some full service restaurants will be open as well! 
If you want to have a full service meal, Disney does have some of these open and running. Right now they're showing the following restaurants:
Be Our Guest
Cinderella's Royal Table
The Crystal Palace
The Plaza Restaurant
You'll want to make a reservation in advance. Walk-ins may or may not be accepted, so if it's something you're really hoping to do, make a reservation. To do that, visit Disney World's page for making dining reservations at Mickey's Very Merry Christmas Party and make reservations.
(Stephen Ashley's suggestion: We don't usually advise full service dining during the special ticketed events because it can take up a lot of precious time. You'll be spending at least an hour and sometimes a lot more in the restaurant.)
Holiday Fireworks Dessert Parties have also been available on select nights.
The Tomorrowland Terrace dessert party gives you a view of the fireworks, and it's under a covering which is great if it's raining. Plus you get unlimited desserts like cupcakes, pastries, chocolate dipped strawberries, fruits, cheeses, ice cream, and beverages. You'll need to book it in advance, so visit this page to book the  Tomorrowland Terrace Dessert Party.
For a little less money, you can choose the option of watching the fireworks from Plaza Garden Viewing area. It's not under cover but it's in a great viewing location and you won't have to wait as long to grab your viewing spot. You'll still enjoy your desserts on the Tomorrowland Terrace, but you'll be escorted over to the Plaza Garden viewing area to watch the fireworks show. To book the Fireworks Dessert Party with Plaza Garden Viewing, visit here.  
7. There are other fun things to do at the Mickey's Very Merry Christmas Party!
In addition to all of the above, there are amazing photo opportunities, a dance party, and a Christmas stage show. And of course, you'll be able to enjoy the atmosphere of Magic Kingdom.
Check out the pamplet from a previous party to see what happens at the party:
Tip: All times and locations of all the meet & greets, dance party, treat locations, and other party related information is listed on the party map provided at the park.

Mickey's Very Merry Christmas Party map and guide book sample
Here's a great video showing the event in detail:
Join our facebook group!!!!
Ask any questions, share your knowledge and just enjoy getting to know other Disney fanatics in our facebook group called Walt Disney World Made Easy for Everyone.
Also join me on Pinterest here.
GET UPDATES, NEWS & TIPS (IT'S FREE!!!)
Sign up below to stay updated on the newest information, tips and tricks to help you plan your perfect Disney World trip!