By Rebecca Joy (and thanks to Tawnya Titus for the great castle photo above)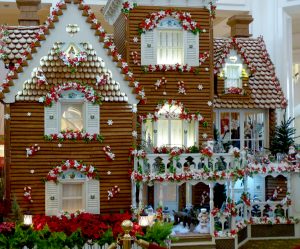 Each year around the holidays Disney goes all out to bring wonder and joy to this most magical season. Disney World lights up with special decorations, shows and activities. Even visiting the various Disney World resorts to see their decorations can be a lot of fun, and it's free! For example you can see the special life-sized gingerbread house built each year in the Grand Floridian. You can even buy fresh baked gingerbread cookies from the store inside of it.
To help you plan your holiday visit, we've put together a list of the special Disney World holiday events and activities below.
1. Disney Springs "Starbright Holidays – an Intel Collaboration".
This is the top of our list for a reason. It's a brand new show using new technology, and it's very exciting stuff! For those wondering how to add some pizazz to the holiday spirit at Walt Disney World, this new holiday experience has just been unveiled at Disney Springs. Disney is ligthing up the holiday sky with flying drones.
It was jaw-dropping to me, and so moving that I was tearful when it ended. —Sarah Ashley
Each night from November 20-January 8, with performances at 7:00 and 8:30 PM, the skies above Disney Springs' West Side waterfront come alive with lights and sound.
Using cutting-edge technology, 300 individual drones swoop, fly, and hover in the air, creating inventive holiday scenes such as marching soldiers, a sparkling tree, and a glowing angel. The scenes are accompanied by an orchestral recording of classic songs of the season. Though fairly short, this spectacular new show is getting great reviews, and is a fun addition to Disney Springs' holiday season lineup. Check out the video here:
2. More to see and do at Disney Springs
Disney has gone all out to showcase its newest additions to this non-park area. In addition to "Starbright Holidays," there are a variety of other new things to do in between shopping and eating your way through Disney Springs. Here's some holiday info about it on Disney's website, and here are some of the things you'll find at Disney Springs:
Nightly tree lighting ceremony
Elaborate storefront window displays
Santa's Chalet to meet and have your picture taken with Santa Claus (November 11-December 24, 2016) or Santa Goofy (December 25-December 30, 2016)
Holiday-themed DJ dance party with games and activities
Live entertainment (toy soldiers, snowflake stilt walkers, acapella groups, and more)
Special Kwanza and Hanukkah celebrations
Photo opportunities with holiday sculptures
Christmas Tree Trail with stunningly decorated trees to create a walking wonderland
3. Holiday themed park events at Disney World
Certain holiday events have become Disney World traditions, and many guests return to each year to enjoy them. Here are some of them:
Epcot's Holidays Around the World is full of things to see and do all around the park. The various countries have their own decorations and some offer live holiday themed entertainment. Then there's the widely loved Candlelight Processional that features a celebrity narrator, full choir and 50 piece orchestra. Epcot has also recently added holiday themed food booths which you can check out here on the Disney Food Blog.
4. Even if you can't go to Disney World, you can enjoy Disney holiday TV Specials.
If you can't join in the fun at Walt Disney World this season, you can still be part of the magic! Disney Parks Blog describes how WDW has planned holiday TV specials for three different days this year:
"The Wonderful World of Disney: Magical Holiday Celebration" on ABC on November 24, airing 8-10 p.m. EST. Take a look at the video preview below.
"Disney Parks Presents: A Descendants Magical Holiday Celebration" on Disney Channel on November 25, airing 8-9 p.m. EST
"The Disney Parks' Magical Christmas Celebration" on ABC on December 25, airing 9-11 a.m. EST
https://www.youtube.com/watch?v=FqG_YypuwUY
Do you have a favorite Disney World activity or decoration? And did we miss something you really enjoy?
Please share it below in the comments section.
Join our facebook group!!!!
Ask any questions, share your knowledge and just enjoy getting to know other Disney fanatics in our facebook group called Walt Disney World Made Easy for Everyone.
Also join me on Pinterest here.
GET UPDATES, NEWS & TIPS (IT'S FREE!!!)
Sign up below to stay updated on the newest information, tips and tricks to help you plan your perfect Disney World trip!