Tables in Wonderland, Disney's special dining discount program, offers special dining events throughout the year open only to those who purchase the card. The Great Movie Ride event was one we couldn't pass up! Here's what you get with this event:
– Guests are taken inside The Great Movie Ride attraction, and served food and drinks inside three movie scenes.
– Actors mingle with guests inside these three scenes. They play characters that go with the particular scene they're in.
– Guests are walked through each scene in The Great Movie Ride and permitted to look things over and take photographs.
We were so excited to experience this, that we wondered if it could live up to our expectations – and it did!
With taxes, the event cost $163.22 per person. Here's the menu along with the schedule:
7:30 – 8 p.m. Passed Reception in the Gangster Scene
Bugsy's Fire-roasted Duck with Cherries
Dillinger's Seared Shrimp with Dill
Bonnie and Clyde's favorite Chive-stuffed Potatoes
8 – 9 p.m. Plated Dinner in the Western Scene
Creamy Free-range Yard Bird Corn Chowder with Grilled Flatbread
Wild Greens tossed with Cactus and Cilantro Vinaigrette plated tableside and
topped with Carrot Tumbleweeds
Mesquite-grilled Beef Filet with Herb Butter
Truffle Mac and Cheese and Molasses Pinto Beans
House made Roasted Onion Bread with Butter
9 – 10 p.m. Dessert Buffet in the Land of Oz
Display of Munchkin-sized Desserts
Columbia Crest Two Vines Chardonnay and Canyon Road Cabernet Sauvignon
Disney closed down The Great Movie Ride attraction early. We were greeted outside in front by several cast members who checked us in and placed a paper bracelet on our wrists. This event was open to only 80 people, and we waited in the outside front court to be brought inside. I noticed that there were no children, and and only one teenager in the group.
Since my wife was in an ECV, we were told that we should stay in a certain area so that we could be taken inside through an accessible side entrance. Then around 7:40 PM the "Director" came out. A man dressed in an old time director's costume set the tone immediately with some funny comments and then led the group inside.
There were around 8 people in ECV's and wheelchairs, and our parties, were led inside through the side entrance. We went alongside the large ride cars, and into the attraction. There was one steep ramp for entering the attraction, and the one person pushing a manual wheelchair had to work hard to handle the angle. Getting around with the scooter inside the attraction throughout the event was easy. There were no actual tracks visible, and the ground is smooth and level. Those with visual disorders may wish to know that much of the attraction was well lit, but a few scene areas we walked through were on the dark side.
We arrived inside the gangster scene where a pianist played lively period music. There was a bar serving mixed drinks, bottled water, beer and soda. Servers walking with trays offered some pre-mixed drinks along with alcohol free Shirley Temple's. This was a great alternative because there was one bartender for 80 people. The line at the bar was long during throughout this part of the event, and I bypassed it by taking a pre-mixed drink.
My wife is currently on a gluten free diet, and we had requested a gluten free meal for her. In true Disney style, they prepared a gluten free version of each dish for her. She let a server know that there should be a gluten free tray prepared for her, and they retrieved it. It included one of each of the items that the rest of the diners were served. Though it was a tiny serving, she found it was tasty. By the end of the meal she felt full and satisfied, so looking back she felt that it was fine that the portion was so small.
In the gangster scene there were three actors mingling with the diners. The director who met us outside, a gangster toting a "machine gun", and his wannabee singer girlfriend who was there to audition for the director for a part in a movie. All three actors were really funny, and interacted easily with the guests. This type of thing can be awkward for guests, especially if we're not great at improvising on the spot, but we felt that the actors made us feel comfortable. They were spontaneous, capable and really talented!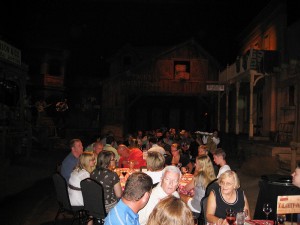 We were then brought into the next set which is the western scene. There was assigned seating at round tables. A single very funny actress made the rounds from table to table, dressed as a hillbilly. A great country-style band played while we ate. Water was served with dinner, and there was a full service bar. Throughout this part of the meal, the line line at the bar was short or non-existent.
Although we had been told that the staff would know where my wife was seated and would bring her a gluten free meal, we ultimately had to let our waitress know about the situation. She got someone to go back and retrieve my wife's food. She did have to wait until after everyone was served and almost done with each course, but there was still plenty of time to eat, and ultimately she really enjoyed her food which was well prepared. Towards the middle of the meal a chef came out to chat, and to make sure she was comfortable with the food.
The meat was served medium rare, and I like mine well done, so I didn't eat it. Regardless, I enjoyed the rest of the food, along with the environment and the company. One thing we both really enjoyed was having the opportunity to meet other adult Disney fanatics. Everyone we met was as into Disney as we are. In fact, some of them had even flown in just for this event. It was a pleasure to chat with all of these people!
Following dinner, we were brought through some scenes on the way to the next course, where we were permitted to linger and take photos. The cast members keep careful watch to be sure no one goes where they shouldn't, but we were permitted to get quite close to the props. I was even able to touch the snakes in the Indiana Jones scene, and we got some great photos in the Tarzan scene in front of the life size elephant carrying Jane.
Viewing the movie scenes from this perspective was actually thrilling and fun. We're sci-fi fans, and especially loved being inside the Alien set. All of the effects were working such as the periodic bursts of steam, ship sounds and the alien popping out. We lingered in there quite a while before moving on, and got a lot of great photos.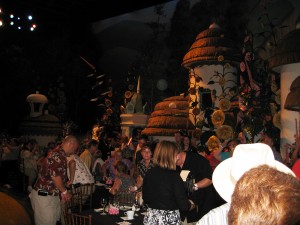 We arrived at the Land of Oz scene to find tables and chairs, and a buffet including various cakes and treats, coffee and the full service bar. There were tootsie pops on each table, along with lollipops. My wife was served a dish of fresh fruits and a gluten free brownie. Glenda the Good Witch entered and mingled with the guests. After some time, the audio-animatronics Wicked Witch appeared, and Glenda interacted with her. Once she disappeared, we were encouraged to move on through the rest of the scenes, making our way to the final movie clips area where we viewed the classic movie clips ordinarily shown at the end of this attraction. When that was over, the cast members saw us out of the building, and we were done.
All in all, we really enjoyed this experience. Frankly, we felt like I had the glee of a 7 year old in a combination toy/candy shop! It was a unique experience that we'd gladly repeat.