How to Enjoy Disney World Quick Food Restaurants with:
Allergies,  Celiac, Gluten Intolerance, Low-Sodium, Metabolic disorders, PKU, No Sugar Added, Sugar-Free, Low-Fat, Low-Carb, Vegetarian, Vegan, etc…
When you visit Disney World, you 'll see that there are tons of quick service / counter service restaurants. For most people with special dietary needs, they'll be able to do great with just a little information.
Before we start, if you haven't already, visit our starting page for this subject.  You'll find the basic info common to all Disney World restaurants that you'll need. It's called:
You can also check out the article called: How to Use Mobile Ordering, which includes information on ordering with allergies or special dietary needs.
Now we'll discuss extra tips for counter service restaurants. Please note that the terms "counter service" and "quick service" are interchangeable.
There are some quick service restaurants in the parks that Disney has set up to be "special dietary needs friendly" locations.
These Disney World counter service restaurants offer more choices to those with allergies and special dietary needs than other counter service restaurants. They're set up to handle all of the common food allergies and intolerance's, and they carry many substitute food items. For example, they may have gluten-free, no sugar added, sugar-free, low-fat, low-carb and low-sodium options. They should always have allergy and special dietary needs trained staff on hand to talk with you.
These allergy and special dietary needs friendly quick service restaurants include: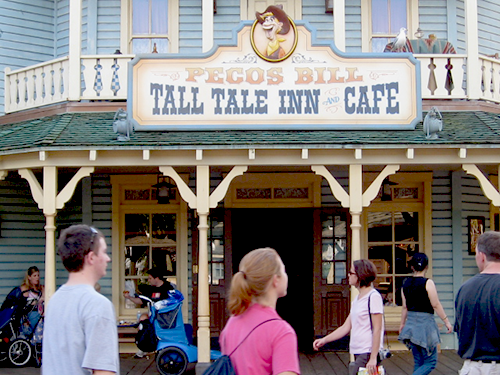 Disney's Animal Kingdom Theme Park: 
– Restaurantosaurus
– Flame Tree Barbecue
– Pizzafari
Disney's Hollywood Studios: 
– Backlot Express
– ABC Commissary
Epcot: 
– Liberty Inn
– Sunshine Seasons
– Electric Umbrella
Magic Kingdom Park: 
– Be Our Guest (Breakfast and Lunch Only)
– Cosmic Ray's Starlight Café
– Pecos Bill Tall Tale Inn & Café
– Columbia Harbour House
– The Pinocchio Village Haus
– Casey's Corner
Many of these restaurants have allergy menus. All restaurants will have a book with all of the ingredients in their menu items. You can request to see either or both of these.
How to Order at Counter Service Restaurants with Special Dietary Needs
Whatever your special dietary need, ordering your meals at a Disney World Quick service restaurant is easy once you get the hang of it. Whether you're vegan, low carb, or you have challenges like allergies, diabetes, celiac or gluten intolerance, Disney will usually be able to take great care of you.
When you walk into a quick service/counter service restaurant, depending on your needs, you'll either want to:
You can do both of the above if you'd like! Also if you'd like, you can ask any server or chef for an ingredients book, which will list all the ingredients in the posted food options. If you've asked a server and they're not aware of the ingredients book, ask for a supervisor or chef to assist you.
My wife has food allergies. When we walk into a quick service restaurant we usually start by asking a cashier for an allergy menu. If there is one, my wife will take a moment to look it over. If it has something on it she'd like, we'll get in line and order from the cashier. If she doesn't see exactly what she'd like, or if she needs to change something, we'll ask for a chef to come speak with us. The cashier will have a chef or manager come speak with us.
Allergies or gluten issues – ordering at a Disney World counter service / quick service restaurant
For those with allergies or gluten issues, ordering from the allergy menu can be great if you see what you want. The cashier will take your order and put a code into the register that lets the staff know that it's an allergy order. In the back they'll handle your order using cross-contamination avoidance techniques.
If you don't see what you want on the allergy menu, feel free to ask to speak with a chef or manager. They may be able to offer you alternatives.
Even if a restaurant has an allergy menu with something you want on it, some people just feel more comfortable when they get to speak with a manager or chef. This is common for people with a severe allergy or intolerance. Don't hesitate to request this. Personally we like having that extra confirmation from a manager or chef that our order is being handled carefully.
How do you request to speak with a chef or manager at Disney quick service restaurants?
When you enter the restaurant, you can ask any Cast Member that you see to get one for you.
Sometimes the chef or manager will come out immediately, but at times we've had to wait as long as 10-15 minutes. However it's usually fairly quick and always worth it!
Tip: Disney's Special Diets department suggests that when you're dealing with servers or cashiers, tell them that you have an allergy rather than a different illness like Celiac, gluten intolerance or lactose intolerance. Most of these people are not trained to know about health concerns and special dietary needs. However if you mention the "allergy" word, they'll be able to give you the allergy menu, or get a manager or chef who is liable to have had training.
What can the chef do for you in the Disney counter service restaurants?
They can sometimes make simple substitutions, such as replacing french fries with fruit, or a regular bun with a gluten free bun. They may also be able to leave something off of the meal. For example, vegetarians may be able to get a chicken salad without the chicken.
For the locations that are set up to handle special dietary needs more extensively that we mentioned above, they can usually do a lot more. For example, to avoid cross contamination they may have a dedicated fryer to make gluten-free, allergy french fries and other foods, or if not, they may be able to bake them separately. They might even be able to create certain items from scratch.
Info on the purity of the oil in the Disney World dedicated fryers:

Recently within the Disney Facebook community there's been some question about the purity and safety of the oil in the dedicated fryers in the parks and resorts. This question has been answered by Sarah at Gluten Free Dairy Free WDW who was able to contact the head of Disney's Special Diets Department, Gary Jones. Here's what Sarah said:

"There's been a lot of rumors going around lately about the allergy-friendly fryers at Walt Disney World recycling oil every night and contaminating the allergy-friendly fryer oil. Disney's Special Diets Department have also sent out some pretty unsettling emails that indicated that this might be true. I reached out to the head of Disney's Special Diets Department Gary Jones for some clarification… Here's what he said about the allergy-friendly fryers and oil:

'All locations at Walt Disney World Resort follow procedures to provide allergy-friendly meals for our Guests. Our fryers reserved for allergy-friendly meals are cleaned daily and refilled with fresh oil. Some locations have fryers with self-contained filtering mechanisms. In these cases, the allergy-friendly fryer is cleaned separately and refilled with fresh oil. Some locations with multiple fryers—one of which is reserved for allergy-friendly orders —may require a portable filtering machine. In these locations, filtered oil is only used to top off the non-allergy specific fryers. New oil is always used in the clean allergy-friendly specific fryer.'

I had also reached out to some chef friends at Disney and they confirmed that this was the case too, so this is really good news on the allergy-friendly fryer front!"

In addition, we received the same statement directly from Alison Lovell of the Special Diets Team at Disney.
When you're dining at any of the Disney World restaurants, including quick service locations, it's still a good idea to ask about the oil in the dedicated fryers. This is especially true if you're very sensitive. So ask the manager or chef if the oil used in the dedicated fryer has gone through the common filtration system, or a dedicated allergy safe filtration system, or if it is filled with completely new, fresh oil. You may also want to ask if the fryer always has new oil or oil filtered in a dedicated gluten free filtration system.
More tips for ordering in counter service restaurants with special dietary needs

To avoid cross contamination from filtered and reused oil, some restaurants will separately bake things for you that are normally fried, like French fries or chicken tenders. For example we've had this done in Cosmic Ray's at Magic Kingdom. Ask the chef or manager about this.

If the chef has time, they may be able to do things like cook a batch of fries without salt. Of course, you're likely to have to wait longer.

If you have a special request and a front-line cast member says it can't be done, you have the option of asking for a supervisor. Sometimes they're willing and able to go further for you than one of the front-line cast members.

Throughout Disney World in the Disney-owned counter-service restaurants, there are certain foods that should be allergen-free and/or gluten-free provided they're cooked with proper cross-contamination avoidance procedures. For example, hot dogs and hamburgers are fairly easy to find and should be gluten free. Of course it's important to verify this wherever you go.

The menus do change periodically, and Disney may change ingredients or manufacturers, so don't go by what you've had in the past. Always check.
If you have special dietary needs that are not common, you can call to find out exactly which over-the-counter locations can meet your specific dietary needs best. Call the Special Dietary Requests line at (407) 824-5967.
If you're visiting last minute and need information and help, you can also call the dining headquarters at each Disney park. Please be sure to only use these numbers if it's a last minute need. They don't have the manpower to field all of the individual advance trip calls. That's what the Special Dietary Requests line is for. For last minute special dietary information call:
Animal Kingdom
(407) 938-3288
Epcot
(407) 560-7292
Magic Kingdom
(407) 824-5967

or email wdwmkspecialdiets@email.disney.com

Hollywood Studios
(407) 560-7830
For more Disney World planning tips, check out this page here:
Join our Facebook Group!!!!
Come meet me there, ask any questions, share your knowledge and just enjoy getting to know other Disney fanatics in our facebook group called Walt Disney World Made Easy for Everyone.
Also join me on Pinterest here.
GET UPDATES, NEWS & TIPS (IT'S FREE!!!)
Sign up below to stay updated on the newest information, tips and tricks to help you plan your perfect Disney World trip!