SPECIAL FOOD ALLERGY MENUS AT THE DISNEY WORLD RESTAURANTS
Disney World visitors with food allergies will be happy to know that Disney has been steadily adding allergy friendly menus to many of their restaurants. That includes quick service and table service restaurants. When a restaurant does have an allergy friendly menu, you'll be able to see what options you have in that restaurant, based on the 8 most common allergens:
– gluten or wheat
– shellfish
– soy
– lactose or dairy
– peanuts and tree nuts
– fish
– eggs
– corn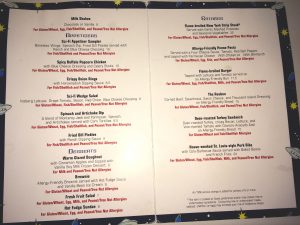 Check out the allergy menu from Hollywood Studio's Sci-fi Dine-In Theater restaurant. Click on it to enlarge it.
You'll see that under each dish on the menu, Disney lists in red which allergies the dish should be safe for. So if a menu item does not have dairy or egg in it, you'll see dairy and egg listed.
If you have multiple allergies, you'll want to make sure the dish you choose lists them all.
When a Disney World restaurant has an allergy menu, there are two things to keep in mind.
First, you can still ask to speak with a manager or chef.
If you have requests that you'd like to discuss, or even if it just makes you feel more comfortable, don't hesitate to ask. Disney is very accommodating in this way.
Second, they may be able to prepare you something that's not showing on the food allergy menu.
Often with just a minor adjustment to a dish, it can be made to omit the allergen you're concerned about. For example, if the restaurant has hamburgers on the regular menu but it's not listed as a gluten free item on the allergy menu, they may be able to make you a hamburger with a gluten free bun. Just ask to speak with a chef or manager and they can discuss your alternatives with you.
Where can you see some more Disney World food allergy menus? 
Our friend over at the gluten free and dairy free website has posted a lot of the Disney World allergy menus. This page here lists and links to the allergy menus they have on the site. 
 Will all the Disney World restaurants have food allergy menus eventually?
Many of the Disney-owned restaurants still do not have allergy menus, and Disney is not promising to put them in all of the restaurants. In fact, they won't publish a list of restaurants that have them because they say that it could change. They can remove them or add them from any restaurant at any time.
For more Disney World planning tips, check out this page here:
Join our Facebook Group!!!!
Come meet me there, ask any questions, share your knowledge and just enjoy getting to know other Disney fanatics in our facebook group called Walt Disney World Made Easy for Everyone.
Also join me on Pinterest here.
GET UPDATES, NEWS & TIPS (IT'S FREE!!!)
Sign up below to stay updated on the newest information, tips and tricks to help you plan your perfect Disney World trip!