By Catherine Lauer & Stephen Ashley
NO MORE MAGICAL EXPRESS!

MEARS ANNOUNCES MEARS CONNECT: Mears will provide transportation from the airport to your Disney resort. It should be the same as before when it was called Magical Express. Mears ran Magical Express, and at this time they're saying that it should be the same service. This will begin  May 2021. Sign up on their site here. The direct phone number to Mears Connect is (407) 422-4561.

DISNEY ANNOUNCEMENT: For stays in 2022, we will no longer offer Disney's Magical Express service for airport transportation, starting with arrivals Jan. 1, 2022. We will continue to operate the service for new and existing reservations made at Disney Resort hotels for arrivals throughout 2021. Additionally, complimentary transportation options – such as buses, monorails and Disney Skyliner – will continue to be available within Walt Disney World Resort for Disney Resort hotel guests, including to and from all four theme parks.
First we'll answer some common questions and then we'll give you a step by step guide to using Magical Express.
Disney's Magical Express Service Will Help Relieve Stress!
What is it? If you qualify, this free service will:
Shuttle you to your resort and back to the airport.
Deliver your luggage right to your resort room, and back to the Orlando International Airport.
Allow you to handle check-in at your resort instead of at the airport.
This makes Disney's Magical Express one of the greatest conveniences of staying on Disney property, and it takes away some of the greatest stressors of any vacation! It will eliminate trying to jockey for position at the luggage belt, having to catch a cab, or even worse – waiting in line to rent a car. All of these worries can be cast out of your mind.
Magical Express is Free to Disney World Resort Guests
Guests staying at most Disney World hotels on property are eligible for The Magical Express! To see a list of which hotels participate in the Magical Express program, visit here. It doesn't matter if you're staying with a package or room-only reservation. Either way you're welcome to use Magical Express.
Sorry – If you're not staying in a Disney World resort, you don't qualify. Swan and Dolphin resorts as well as Shades of Green do not qualify.
Does Disney's Magical Express have a direct phone number?
Yes! You can call the direct number to the Magical Express: (866) 599-0951. Magical Express is actually run by Mears Transportation and you can call them directly with any questions.
Can Service Animals and Dogs that are Pets go on Magical Express too?
Yes. Service animals are permitted to travel with their owners in the passenger cabin on Magical Express.
Disney now has some pet friendly resorts that allow dogs. If you're staying at one of these resorts, and you're visiting with a dog that is not a service animal, it  must travel in a pet carrier that you bring yourself. The pet carrier has to be able to fit safely on a seat inside the bus for this to be allowed.
Can I send my luggage on Magical Express if I'm not going on the bus?
Officially No. You'll have to take your luggage with you. Disney will not be responsible for your luggage if you should send your luggage without being on the bus. So if it's lost, Disney does not accept liability.
Step by Step Directions for Using Magical Express
Step 1: Signing Up for Magical Express is Easy
It's simple to sign up for this service when making your vacation reservations, either online or over the phone. Or if you have a travel agent, they can do it for you. If you're phoning, call (407) 939-1936.
You'll need your flight information.
If you're registering online when you make your reservation, here's the form you'll see: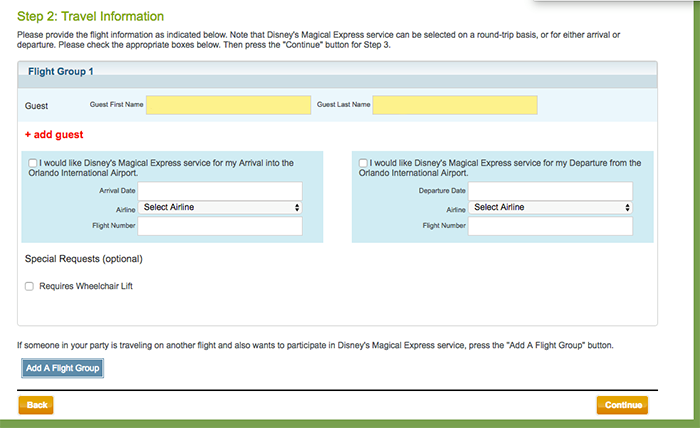 What if you're booking your flight separately and don't have the information yet?
That's not a problem at all. You can do it up to 10 days in advance of your flight. You can call Disney, or go online to request Magical Express here and add your flight information once you have it. To do this you'll need:
Your email address
Hotel reservation number
Name of the resort that you're staying in
Airline, flight number, arrival and departure dates.
What if your flight changes?
No worries! Just call Disney and give them the new information.
Signing up if you're bringing a pet or service animal:
You'll want to call Disney to have that added to your reservation.
Signing up for Magical Express with a Wheelchair, Scooter or another ECV (electric convenience vehicles)
If you're be bringing a wheelchair or ECV, check out our Magical Express page for those with wheelchairs, scooters, ECVs and other mobility devices.
How to Sign Up for International Travelers to Disney World
If you're an International traveler, you can have your travel agent sign you up, or you can sign up for Magical Express either by phone, or by using a form on Disney World's site here. Once you're done you should get an email from support@disneymagicalexpress.com. It will have your reservation confirmation information and instructions for preparing.
If you're calling, here are the numbers for International travelers:
United Kingdom Reservations: 0800 16 90 730
US. and Canada Reservations: (407) 939-1936
Step 2:

 

Watch Your Mail Before Your Flight to Disney World 

(non-international travelers)

Two to three weeks prior to your upcoming trip, Disney will mail you:
Luggage tags
MagicBands
Magical Express documents (mailed apart from the luggage tags and MagicBands)
If your luggage tags and MagicBands don't arrive in time, you'll still be able to use Magical Express. We'll tell you how below.
Step 3: When You Fly to Disney World, Here's What You Do!
Secure the luggage tags provided by Disney onto your bags that you intend to check. (If you don't have luggage tags, you'll need your baggage claim numbers.)
keep your MagicBands and Magical Express Documents with you in your carry on. You'll need them before you get your bags.
Check your luggage at your airport.
Tip: Don't pack your MagicBands in your checked luggage! You'll need them to check in for the Magical Express, and to use as a key to get into your room when you arrive at the resort. If you don't have a MagicBand, you'll need your Magical Express documents to use the service. You can then get your MagicBands when you arrive at the resort.
As long as your flight lands in Orlando between 5:00 AM and 10:00 PM Eastern Standard Time, this can be the last time that you see your luggage until you're nestled in your hotel room! However, please keep the luggage claim ticket given to you by your airlines, just in case something happens in transition.
If you don't arrive between 5:00 AM and 10:00 PM Eastern Standard Time, you'll need to pick up your own luggage.
Step 4:
Arrival at Orlando International Airport
(International travelers see below)
– After your plane lands, you'll take a tram ride:
When your flight arrives at Orlando International Airport, you will board the train tram that takes you to the main terminal. This is all on Level 3.
– Get your baggage if it's NOT between 5 AM and 10 PM Eastern Standard Time:
Baggage claim is on Level 2, but it can be bypassed as long as you arrive in the 5:00 AM to 10:00 PM window. If you're not within that window, you'll have to stop by the baggage claim area and pick up your luggage. Once you get to the resort, the Disney Cast Members should still be able to deliver your luggage to your room.
If you are within that window of time, Disney will pick up your bags and deliver it to your hotel room.
– Go to Disney's Magical Express Welcome Center: 
If you arrived on Side A of the airport, go over to side B.

Head over to the Magical Express Welcome Center which is located on Level 1 on Side B.
Follow the signs to the Magical Express Welcome Center (which is all the way down to the right), making sure to have your MagicBand and paperwork out. If you didn't use Disney luggage tags, give a Cast Member your baggage claim numbers. The Disney Cast Members will direct you to your line where you will await your Magical Express bus to your resort!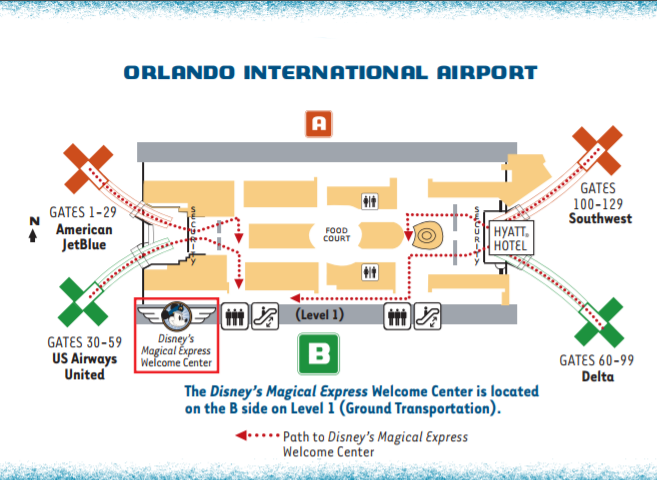 – If you don't have your MagicBands or your MagicBands are not showing the right information: 
Your MagicBand should have all your information on it for the Magical Express. However, if they don't or for some reason you did not receive your MagicBands, proceed to the check-in desk with your paper documents. The Disney Cast Members will direct you to your line where you will await your Magical Express bus to your resort! If for some reason you didn't receive your papers either, they should still be able to assist you if you have a Magical Express reservation.
International Travelers Airport Arrival
If you've already changed planes inside the USA, and you've gone through Customs at a U.S. Immigration checkpoint, you can head over to the Magical Express Welcome Center.
If Orlando is your first stop inside the USA, once you get off the airplane you'll go through the U.S. Immigration checkpoint. You'll need to get your luggage. You'll also need your passport and any other documents that are required.
Once you're done with the Immigration checkpoint, if you want to allow Disney to deliver your luggage to your room and it's between 5 AM and 10 PM Eastern Standard Time, return your checked luggage to the transfer carousel. Disney should get your luggage and deliver it to your room. If it is between 10 PM and 5 AM, You'll have to get your luggage and bring it with you to the Magical Express Welcome Center.
Now follow the directions for the non-international guests above to get to Magical Express.
Step 5: The Ride to your Resort on Disney's Magical Express
It will take time for you to arrive at your resort. The buses are pretty comfortable with individual padded seats. Each bus will stop at multiple resorts, so the journey will take roughly 35 minutes to an hour. However, we find that the trip doesn't seem very long due to videos played on the bus and the aid of great bus drivers!
Children are allowed to sit on adults laps or in their own seat. Car seats are not permitted on the bus, but the Cast Members will store it below for you.
Step 6: Luggage Delivery to Your Room from Magical Express
Your luggage will usually arrive in your room within three hours, but Disney suggests keeping any medication, essential items and/or valuables in carry on luggage. We strongly advise that as well. Be sure to keep anything with you that you may need. Some people even like to carry bathing suits so you can go swimming at your resort before your luggage arrives!
Now that Disney has taken care of the luggage and transport hassle, you're free to enjoy your vacation!
Step 7: Leaving Disney World to Fly Home
– The day prior to your checkout date:
Disney will inform you of when your return trip to the airport is scheduled by placing a Transportation Notice on your hotel door or sliding it under the door. You'll need your Transportation Notice before boarding Magical Express. It will be collected by the Cast Member there. MagicBands hold no return trip information.
Return trips on the Magical Express are scheduled to depart your hotel about 3 hours prior to your flight. It was 4 hours previously but beginning January 11, 2018 it's 3 hours. International flights may be scheduled 4 hours before your flight.
– The day of your departure:
If you need Bell Services to take your luggage, you'll have to call Bell Services to arrange it. Otherwise you can bring your luggage to the Magical Express bus area yourself.
You will be responsible for transporting and checking your luggage on the way home, UNLESS you are able to utilize the Resort Airline Check-In (read below to see if you qualify). If you can't use the Resort Airline Check-In Service, your luggage will be loaded onto the Magical Express with you, and you will be responsible for checking it in at the airport.
Either way, you'll want to either contact valet to get them to deliver your luggage, or you'll take it yourself. If you're using Airline Check-in, you'll have your luggage delivered to that desk. If you're not using it, you'll have your luggage delivered right to the Magical Express bus.
Boarding and Riding Your Magical Express Bus
You'll report to your Magical Express bus by your assigned time. Actually the time you're given is the time the bus will leave, so you'll want to get there at least 15 minutes ahead of time.
Again, be sure to bring your Transportation Notice, and any other documents you'll need. Please be aware that the bus may be taking guests staying at multiple Disney resorts. This may extend your travel time.
For those with mobility issues, in wheelchairs, scooter and ECVs, check out the Magical Express boarding information here. 
On your bus ride to the airport, the Magical Express will play a good-bye (or see ya real soon) video on your way to Orlando International Airport and before you know it, you will be at the airport ready to head home! No taxis, no returning a rental car, no getting lost without your GPS. Magical!
Resort Airline Check-In Service Inside the Disney World Resorts
This service allows you to handle the airline check-in at your resort so you can bypass the airline check-in in the airport. You'll check in for your flight, print boarding passes and check your luggage. The Resort Airline Check-In desk will be somewhere inside your resort lobby area, or outside near Bell Services.
The Resort Airline Check-In is available at the majority of Disney World resorts. To see a list of the resorts that qualify, visit Disney's page here.
Resort Airline Check-In is only available for the following airlines:
Alaska Airlines
American Airlines
Delta Airlines
JetBlue Airlines
Southwest Airlines
United Airlines
If your airline is participating, Disney will get your luggage checked with your airline, allowing you to skip this line yet again!
Here are some rules for Disney's Resort Airline Check-In Service & Magical Express:
– If you're not using one of the airlines listed above, you can still use Magical Express transportation, but you won't be able to use your resort check-in service. You'll have to handle check-in with your airline at the airport.
– Anyone staying at the participating Disney resorts can use the airline check-in to get their boarding passes, even if they're not using Magical Express transportation. However you must be using the Magical Express transportation if you want Disney to handle your luggage to and from the airport.
– You are responsible for any baggage fees. (Disney isn't THAT magical).
To pay for your airline baggage fees: Pay by phone by calling Baggage Airlines Guest Services (BAGS) before you go to your Resort Airline Check-In Service. They currently take MasterCard, Visa, American Express and Discover. You'll be paying any baggage fees your airline would normally be charging you. Fees vary by airline. Only guests who are using the Resort Check-In Service can pay for their baggage fees in advance. It's free to call from your Disney World resort room.

Call BAGS (407) 284-1231 between 7 am and 11 pm Eastern Standard Time.
The following things will disqualify you from checking in your luggage at the resort, and you'll be required to check it in at the airport: 
If you're luggage is greater than 50 pounds.
If you have more than one bag per person.
If your bags don't meet the size or weight requirements for your airline, and you didn't pay your additional fees in advance of your flight.
If you get to the Resort Check-In Service within 4 hours of your flight (this may be changing to 3 hours – please check in advance).
If your flight leaves before 8 am.
Naturally since your Magical Express departure time should be about 3 hours prior to your flight, give yourself plenty of time to handle the Resort Airline Check-In Service and to pay baggage fees.
Join our facebook group!!!!
Ask any questions, share your knowledge and just enjoy getting to know other Disney fanatics in our facebook group called Walt Disney World Made Easy for Everyone.
Also join me on Pinterest here.
GET A Free Planning Calendar Template, and UPDATES, NEWS & TIPS (IT'S FREE!!!)
Sign up below to stay updated on the newest information, tips and tricks to help you plan your perfect Disney World trip!