Thanks to Elizabeth Mazzie for the photo of Disney World's Hoop-Dee-Doo Review.
Disney World has several very popular ongoing dinner shows.
They include Hoop-Dee-Doo Musical Review and Spirit of Aloha Dinner Show. Also Disney World creates special event dinner shows such as Club Villain. The chefs who cook for these dinner shows can handle all of the most common needs such as:
Allergies
Gluten avoidance
Vegan, vegetarian
Low Sodium
Low Carbohydrate
Low Sugar
etc.
They can also handle most of the less common issues.
First, before we begin talking about specific stuff you need to know for ordering at dinner shows, you'll want to read the following article: Ordering your meals at Disney World with Special Dietary Needs. Much of the information that you need is true for all types of Disney World restaurants, so you'll find the basics on this page.
What do you need to know to order at Disney World Dinner Shows with special dietary needs?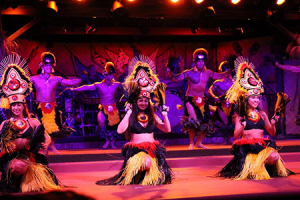 Before the dinner show: 
If you have special dietary needs, you'll want to let Disney know what your special need is when you make your Disney Dining reservation. If you have a need that is unusual, or if you have multiple allergies or metabolic issues, you may want to contact the Special Dietary Requests department before your dinner show. You can read about the Special Dietary Requests department here and get their contact info about half way down the page.
The Special Dietary Requests department may be able to put you in touch with a chef or manager at the dinner show in advance if you feel it's necessary, or they may be able to help you themselves.
For dinner shows, Disney usually requires 24 hours advance notice for special dietary needs to be met, however we always recommend giving as much time as possible. The dinner shows don't have as many options as other restaurants. So if something special needs to be brought in, it's better to give them more time to do it.
What happens if you don't have reservations 24 hours in advance. Can you get your special dietary needs met at the last minute?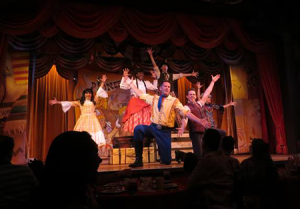 If you're dining without an advance reservation, they still may be able and willing to accommodate you, but it's not a sure thing. Most likely they should be able to handle all of the most common allergens and special dietary needs requests. When you arrive, let the hostess know that you have special dietary needs, and they can let you know if the chefs can accommodate you.
What happens at the Dinner Show? 
Once you get to the dinner show, the process is the same as in the full-service restaurants:
Let the Cast Member at check-in know that you have special dietary needs.
Tell your server that you have special dietary needs.
If you need to speak with a chef, they'll send someone out to you.
You should be good to go from here!
For more Disney World planning tips, check out this page here:
Join our Facebook Group!!!!
Come meet me there, ask any questions, share your knowledge and just enjoy getting to know other Disney fanatics in our facebook group called Walt Disney World Made Easy for Everyone.
Also join me on Pinterest here.
GET UPDATES, NEWS & TIPS (IT'S FREE!!!)
Sign up below to stay updated on the newest information, tips and tricks to help you plan your perfect Disney World trip!