Step-by-step directions for making Disney Dining Reservations with special dietary needs
Step 1 – Do what everyone else does first! 
Making Disney World dining reservations when you have special dietary needs is very easy. Whether you're making Disney dining reservations by computer or by phone, you'll use all the same directions that everyone else follows, with one additional step. Start by finding and following the basic step-by-step directions that everyone follows here:
Step-by-Step How to Book Dining Reservations at Disney World
Step 2 – Here's what you need to do differently: 
Do the following if you're:
– Making reservations by phone:
You'll simply tell the cast member about your special dietary needs. She/he will record it on your reservations. You'll want to make sure that the cast member remembers to place it on each individual reservation.
– Making reservations online: 
During the online reservation process you'll be given the option to specify any special dietary needs. Disney Will show you this form (click on it to see the full size):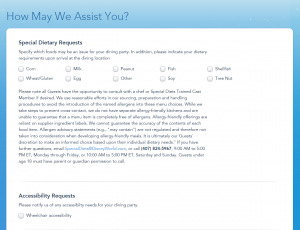 You'll notice that it offers check boxes for the most common allergens, but not for things such as low sodium, etc. While you can choose "Other", there's no place online to get specific. When you get to the restaurant, you'll be able to request what you need.
You may want to take a moment to read Disney's large disclaimer on the form!
What else do you need to know about making dining reservations at Disney World with special dietary needs?
Walt Disney World has a Special Diets Team that can help you in advance of your trip.
While it's not required for you to contact them, Disney does suggest that you do if you have:
Multiple allergies and intolerance's (4 or more)
Multiple guests with allergies within your group
Metabolic disorders
Allergies or intolerances that are not one of the top 8 allergens
Phenylketonuria (PKU)
Even if you don't have the above, you can contact them if you have questions. Visit our page on the Special Dietary Requests Department for more details on what they'll do for you, and ways to reach them.
Is advance notice required for special dietary needs requests?
If you have special dietary needs, Disney prefers 72 hour notice. If you're making reservations with less than 72 hours notice, or if you don't have reservations and you're attempting a last minute walk in, we've found that the Disney restaurants will be able to handle all common special dietary requests and even some more challenging requests without advance notice. In fact, we've never had a problem getting our special dietary needs met (multiple allergies and gluten intolerance) in any Disney-owned restaurant, even when walking in without reservations.
For more articles for those with special dietary needs (celiac, gluten intolerance, allergies, vegetarians, etc. check out this page:
For more Disney World planning tips, check out this page here:
Join our facebook Group!!!!
Come meet me there, ask any questions, share your knowledge and just enjoy getting to know other Disney fanatics in our facebook group called Walt Disney World Made Easy for Everyone.
Also join me on Pinterest here.
GET UPDATES, NEWS & TIPS (IT'S FREE!!!)
Sign up below to stay updated on the newest information, tips and tricks to help you plan your perfect Disney World trip!