The Travel Agency Specializing in Special Needs Travel to Orlando & Walt Disney World
Off to Neverland Travel® is owned and operated by Chet McDoniel, who has no arms and uses an electric wheelchair to travel long distances.  He has extensive travel experience to theDisneyland® Resort, Walt Disney World® Resort and has cruised many times on Disney Cruise Line®.  From his firsthand experiences, he is able to help other travelers with special needs plan safe and wonderful Disney vacations.
I've had the pleasure of getting to know Chet, and I've been so impressed. Despite his physical challenges, he is a person who has a busy, normal life.  He doesn't seem to let his physical challenges get in the way of living life to the fullest.  His friendly, upbeat personality makes you feel comfortable right away.
I really get the sense that he cares about the people he's supporting. He's in this business because he's passionate about Disney, and about helping others find the joy he's found there. It appears he'll go far beyond what most other travel agencies will do to help his special needs clients have a wonderful trip.  Here are some of the services Off to Neverland Travel® offers:
Advice and planning assistance with details regarding air transportation
Advice and planning assistance with choosing the right resort for your special needs
Park touring details and advice when visiting with special needs
Dining reservations and advice for guests with special dietary needs
Overall vacation planning assistance with special needs being the focus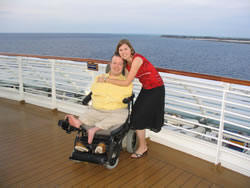 Personally I'm amazed that they'll help their clients with all that. That can be some time consuming stuff, and we all know that time is money. However there's something more going on here than just money making.  Chet is a person who really seems to care about helping make his clients dreams come true.  Here's what Chet says about his travel agency:
"There is truly something for everyone whether you walk or ride through the most magical place on earth!  Our services at Off to Neverland Travel® cannot be matched by any other agency. We have first-hand experience that comes from years of touring Disney with special needs.  We will take care of your vacation planning to make sure that you have an incredible, care-free time at the destination of your choice!"
We're thrilled to find this resource to share with our readers!  Here are a few comments from clients of Off to Neverland Travel®:
"My husband and I had a wonderful trip…  You were wonderful…  In the future I will not hesitate to email you and ask for help again." – R. Mitchell"Wow!  I had a great time–and so did my brother!  Everything was just perfect, so thank you very much again for taking care of all the details!  Thanks also for the message waiting for me in my hotel room, plus the cute Goofy e-card — these personal touches really show you care, and that does mean a lot to me!" – K. Brindley"Our thanks to you for arranging a terrific vacation!  We're ready to book another Disney World trip and we've only been back a couple of days.  Thanking you once again for planning a super trip for us.  We'll be contacting you again!"  – D. Ottmer
To learn more or to contact Chet and the Off to Neverland® travel agency, visit their website here: Disney Vacations – Off to Neverland Travel
or call:
Phone:     817-886-0342
Toll-Free: 877-631-8916