Should you schedule your Disney World Trip for May?
First check out the calendar to see what it's like in June. Then see our recommendations below.
Click on the calendar to enlarge it: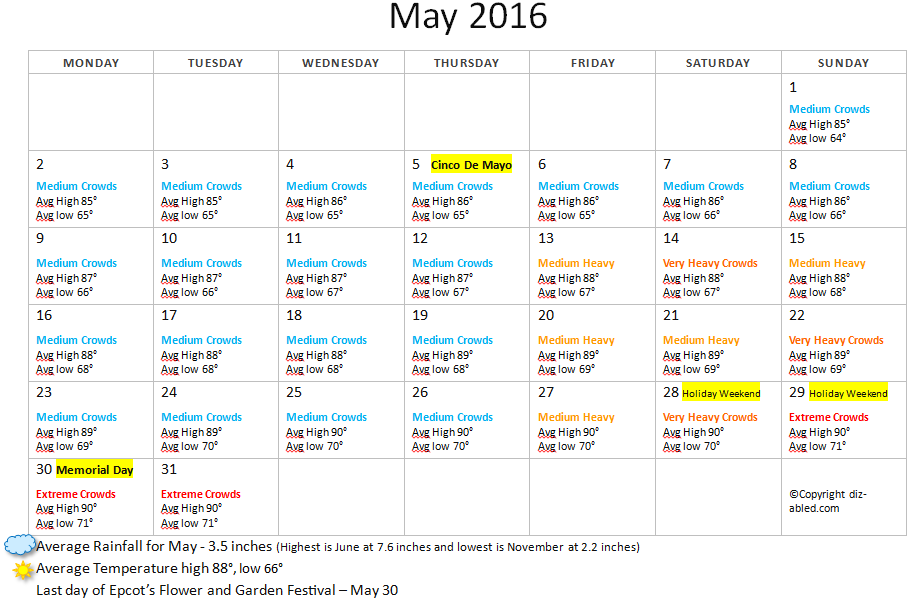 Early May, especially during the first couple weeks, is one of our favorite times to go to Disney World. Here's why:
The crowds are mostly in the medium range. While it's not the lowest crowd period, it's not the highest either, and we find we can comfortably navigate the parks during this time.
It's warm but not usually scorching yet, and though it's not the driest time of the year, it's still tends to rain less than half the time it rains on average in the summer months. Also it's just before hurricane season starts.
It's warm enough to enjoy the resort pools comfortably, though if you're from a cold climate and feel comfortable swimming in the cooler weather, that may not matter as much to you.
Epcot's Flower and Garden Festival is still happening during this month, which is a nice perk.
Late May is another story:
By the end of the month it's heating up towards summer-like temperatures, which can be uncomfortable. As the month progresses, rain generally increases.
Memorial Day Weekend tends to be extremely crowded just before, during and after the holiday.
Park ticket prices and resort prices increase around Memorial Day Weekend because of the holiday and it's also leading into summer pricing.
Other things to consider:
At Disney weekdays tend to have more moderate crowds than weekends in general. The last day of Epcot's Flower and Garden Festival falls on May 30th, on Memorial Day, so the holiday combined with the last day of the festival will make Epcot even more crowded just before and on that day.
Here's a disclaimer folks! Please note that everything on this page and calendar is subject to change. For crowd levels, there are many other things that can impact them that we may not be aware of. What's being shown here are general trends. Keep in mind that Disney can change things at any time. It's not an exact science. Also even though we can track weather averages, weather is not always predictable. Use these tools at your own risk. We're not responsible for the actual weather or crowd conditions you find at Disney, even if they differ from what we've shown here.