General Details:This incredibly huge and elegant resort is so close to the Disney gate, that it can be a quicker drive to some parts of Disney than from locations on Disney property.  Though the Gaylord literature says it's 5 minutes from the gate, it actually took us less than 3 minutes. Not only is the Gaylord close to Disney, it's moments from International Drive and 192 where you'll find a wide array of restaurants, a Publix Supermarket and a Walgreens Pharmacy.  There is a Super WalMart about 8 minutes away.

Address: 6000 W Osceola Parkway, Kissimmee, FL 34746, Reservations: 407-586-2000  Hotel Operator: 407-586-0000
General Details:This incredibly huge and elegant resort is so close to the Disney gate, that it can be a quicker drive to some parts of Disney than from locations on Disney property.  Though the Gaylord literature says it's 5 minutes from the gate, it actually took us less than 3 minutes. Not only is the Gaylord close to Disney, it's moments from International Drive and 192 where you'll find a wide array of restaurants, a Publix Supermarket and a Walgreens Pharmacy.  There is a Super WalMart about 8 minutes away.
Despite the fact that you're near so much, the Gaylord appears to be in the middle of a very quiet area with nothing much around it.  You would never know you're so close to the action, which lends to it's attractiveness.
The AAA 4 Diamond 2.1 million-square-foot resort has 1,406 guest rooms, a high-tech convention center, a Canyon Ranch SpaClub, and a seriously impressive 4.5 acre glass-topped atrium.  From the instant we entered the lobby, it struck us as elegant, inviting and unique. The photo below doesn't actually give you a sense of how amazing it is. There were lush gardens, beautiful architectural touches, shops, enticing restaurants and surprises everywhere.  We were really excited to be able to explore and enjoy this amazing resort. The atrium has three main sections designed to reflect the Florida locales of St. Augustine, Key West and the Everglades.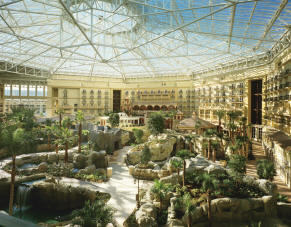 Each section of the atrium shows the architecture, natural resources, beauty and personality of the particular destination. There are some major landmarks inside the atrium that make walking the paths an adventure. For example, you will find a reproduction of the Castillo de San Marcos, which is the oldest Spanish fort in America. Guests can explore the caves adjacent to the fort, and encounter species of Florida turtles and live gators. There's a 60-foot sailboat in a massive indoor lagoon with live stingrays and Florida game fish.  There's a restaurant on the sailboat, by the way, called Sunset Sam's Fish Camp. You'll find a number of quality restaurants within the atrium.
Although it is a lovely vacation resort for anyone, it's also a convention resort, which may make it a great alternative for adult travelers.  While there are many great amenities for kids (see below), we noticed that there were far more conventioneers and adults visible during our stay than the family oriented crowds you'll see at the Disney resorts. Even if you're on vacation and plan to center your trip on the theme parks, adults may enjoy the chance to retreat to a place that offers adult centered options. Some of the amenities that adults will enjoy include the large and pleasant adult's only pool with hot tubs, the spa and the award winning dining options.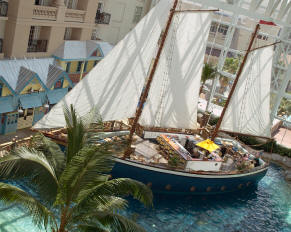 Another reason to consider the Gaylord is that their peak attendance periods can be different from Disney's.  For example, although there's no guarantee, summer is normally a slow season for the Gaylord, while it's a peak season for Disney.  You may want to check out the Gaylord if you wish to avoid the Disney resort crowds.
Reservations and special room requests: We made our special room requests when we called in to make our reservation, and everything was exactly as we requested.  If you must request a handicapped or specially equipped room, they recommend that you inform the reservation agent of any special needs to ensure they have that room type available. They will guarantee a handicapped room.  The do accept special requests such as a deep cleaning for dust allergies, and no fragrances in the room prior to check-in.  Please note that they have feather pillows, and you can request non-feather substitutes. All rooms are non-smoking.
Check-in:  Before we even discuss the check-in process, we felt that the front door was worth mentioning. It's a large automatic revolving glass door that spins on its own.  There is a button to press if you wish to slow it down.  Those with claustrophobia might find it uncomfortable, because once you're inside, you have no choice but to follow it around until your out.  If you wish to bypass the revolving door, you can use the regular side door.  There is a button that those in wheelchairs can press to have the door automatically open for them.  You'll find these doors throughout the resort.
You will leave your luggage with a bell person who will approach your car as you arrive.  Once you're in your room you will call the Bell Service number on the phone, and they'll deliver it to your room.  Once you enter the lobby, you can proceed to the right to visit the front desk.  Our check-in was fast, and the service was superb and personal.
Service: We found throughout our stay that the staff consistently went out of their way for us.  Everyone we encountered was friendly and accommodating. In fact, they actually called our room after we checked in to see if everything was to our liking, and as we requested.  Although the Gaylord is huge, we felt they gave very personal and attentive service.
Rooms:  Our room was very pleasant, clean and it had an upscale feel to it. There were bathrobes for both of us.  The floors in the entry and the bathroom appear to be marble tile, which is attractive but can be slippery in socks, as Sarah found out! Many of the inner rooms have balconies that you can sit on, that overlook the atrium.
The resort is massive, so if you have a mobility issue, you may wish to request a room nearest to whatever you plan to use the most.  We were placed in the Emerald Bay section which is closest to some of the restaurants, the coffee shop and adult pool.  It's also comparatively close to the lobby, though with the massive size of the resort, you will need to do some walking to get around unless you have an ECV or wheelchair.
The rooms facing the interior atrium can be noisier, depending upon your location and the events going on.  We found that at night in our room, we could hear the speakers in a conference event that was in progress in the atrium. Although we could hear it, we found that it wasn't loud enough to really disturb us.
Tip: If you're looking for quiet, you may wish to request an outer room.  The Everglades section may be the quietest room location.  An outside facing room in that section may even be quieter. A section of rooms that we hear can have some noise at night is the Key West section, because it's right over Sunset Sam's where there's usually music playing until 11 or 12 PM each night. Another location that may have some noise is anywhere near Auggie's Jammin' Piano Bar, which can also be make some noise at night.
One unusual thing we observed was that although there is a glass dome over the atrium that you can see from your room, it was difficult to discern the state of the weather from inside our room.  Unless it was a thunderstorm, we could not tell if it was raining or not.  If this is an issue for you, request an outer room that has a window that views the outdoors.
Tip:  Keep in mind that there are some balconies on the 3rd floor with a blocked view.  Those with claustrophobia may feel closed in because the glass doors to the balcony are the only windows in the room, so request a room with a full outside view or a full balcony view if that's an issue for you.  A full view of the atrium would be really pleasant!
The beds are extremely comfortable with a luxury feel.  The mattresses are quite high, and we estimate that the top of the mattress is approximately 3 feet off the ground.  The inner atrium facing rooms are quite dark at night when the curtains are closed.  This is great for sleeping late in the morning, but a challenge for making your way to the bathroom in the dark.
Tip:  Bring a night light if you need to have some light at night.
Each room has a desk with a computer that has access to information about the resort, as well as internet access.  It was extremely convenient, and if you only need your computer for checking email, you can leave yours at home. There is also wireless high-speed connection in the room if you do wish to bring your own computer.
Instead of a Do Not Disturb sign, there's an electronic system inside your room.  You can push the Do Not Disturb button, and it will flip a light outside your door for housekeeping.  We enjoyed the extra privacy that came with not having to open the door in our bed clothes to hang a sign!
We had requested that no scented products be used in our room.  We did not detect any perfume smells, chemical odors or strong fragrances at all.  We noticed an extremely faint scent in the hallways where the guest rooms are, but not in the main lobby or atrium.
All rooms are accessible to wheelchairs and ECVs, but there are specially designed rooms for those who need them.  We were in a standard room, but there was plenty of room to drive an ECV in. There are conveniently located electrical outlets appropriate for recharging your chair.  It would be challenging to navigate in a non-handicapped room if you had to stay in your chair. Fully accessible rooms are normally between 410 and 440 square feet, and they're designed to allow you to move about in your chair. They offer the followingnon-handicapped room types:
| | |
| --- | --- |
| Room Type | Room Size |
| Standard rooms |  410 square feet |
| Oversized Rooms |  440 square feet |
| Executive Suites |  625 square feet |
| Deluxe Suite |  831 square feet |
There are four styles of handicapped rooms including the following:
Standard Room Accessible Shower
Standard Room Accessible Tub
Standard Room Oversized with Handrails
Executive Suite with Accessible Shower
Handicapped modifications and equipment that the Gaylord offers guests include Roll-in Showers, modified toilets, hand rails, accessible tubs, modified beds and closets, lowered closets and accessible sinks.  They offer kits for the hearing impaired which contain a Text Telephone, TV Decoder, Multi-Function Alertmaster Notification System, Clip on Door Bell Transmitter, Bed Shaker, HA-30 In-Line Amplifier and a Visual Smoke Detector. For guests with visual impairments there is brail on the guest room numbers outside the guest room and on elevators, however there is nothing inside the guest room.
For those who need air purification, the resort has air ionizers, however they are not recommended to be placed in the room with guests.  They are used to remove odor and clean the air prior to the guests' arrival or when a guest is out of the room.  If you need this, let them know.
We found that the door to our guestroom was light and didn't require much strength at all.  Sarah was able to ride in and out with her scooter while holding the door open on her own.
All guest rooms include:
Custom-made mattresses
Executive desk with chair
Ceiling fan
Refrigerator stocked daily with two bottles of Dasani® water*
Gaylord iConnect® in-room computer system – one click access to a host of
hotel services and complimentary Internet access
Wireless Internet access*
Two dual-line telephones with speakerphones (one is cordless)
Integrated doorbell system with LED display for housekeeping service
Modem data port
In-room safe fitted with AC outlet, designed to accommodate and recharge
laptop computers
Personal coffee maker, with stoneware mugs and complimentary coffee
Full size iron and ironing board
Guest voice mail service
In-room pay-per-view movies
(*inclusion of resort fee.)
Guest bathrooms include a granite double vanity sink, full-length mirrors, lighted 5x magnifying makeup and shaving mirrors and hair dryers. King guest rooms feature walk-in glass-enclosed showers. Double Queen guest rooms feature a bathtub with shower.
You can request late check out, but it's based on availability.
Parking:  There is valet parking for a fee, and self-parking at a reduced fee. According to the Gaylord, they have the required accessible self parking spaces available for disabled guests that are charged at the self parking rate.  In the event that an accessible parking space in not available in self parking, the disabled guest may valet park their vehicle and only pay the self parking rate.  They do require a valid state issued disability sign to receive the reduced price.  If the disabled guest chooses to valet when there are accessible self parking spaces available, they will be charged the valet parking rate.
We self-parked and we did find that the disabled parking spaces were quite a hike to our room.  It was necessary for me to drop Sarah off at the front entrance, where she would sit on a bench and wait for me to return. Those who have mobility issues and can't be dropped off should use the valet parking service.
Entertainment:
Canyon Ranch SpaClub with salon and fitness center. This is a well known spa name, and we found it to be a pleasant and elegant environment.  There are 25 treatment rooms, a Tea Relaxation Room, and Men's and Women's locker rooms offering steam and sauna.  Gaylord staff states that the therapists usually have five or more years of experience.  This can be a great way to get some pain relief or to just relax!
During your visit, you can partake of fruits and nuts, teas, flavored and unflavored water. If you have allergies to fragrances, let them know at the time of your reservation.  They do have some fragrance-free products, including massage oil. Although they supply soaps, shampoo and lotions for guests, they do not have any that are fragrance-free.  They do offer guests the luxury of heated moist towels which are infused with lavender. Those with allergies may wish to avoid them.  Throughout the spa, we felt that there were no intense fragrances.  There were areas where we discerned mild fragrances.  The rooms with the wet treatments have live candles, but you can request not to have it.  The candles did not seem to be heavily scented.
Goggles are offered to guests receiving massages to help them relax, and they are sanitized after each use.  If you don't wish to use the goggles just let them know.  You can request a hot towel instead.  For the baths they do sanitize between each person.  We were told that the hydro-massage is supposed to work like a deep tissue massage, but without the pain and discomfort typical of that type of massage.
The massage beds are heated, which can be so relaxing! It appeared that the staff was very attentive and eager to please.
There are handicapped showers, including a roll-in shower with grab bars.  Nearly everything is accessible; however some people may require help with doors.
The 4,000-foot Fitness Center is located within the spa. It's opened to all guests of the resort. It features cardiovascular equipment and a Smith Press System for bodybuilding.  For those with back issues they do have recumbent bikes.
Swimming Pools: There are two pools separated by a short walk as well as the bar and a pool side restaurant. According to the Gaylord, they are both heated to approximately 80 degrees.  Depending upon the weather and the staffing situation, there may be drink and food service poolside.  Both pools don't offer much shade, but you may be able to move your chair next to an umbrella table to share the shade. There are restrooms outside, nearby both pools.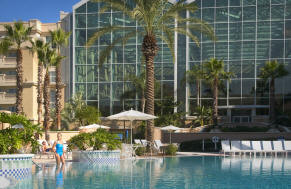 South Beach pool is reserved for adult guests (18 and older).  It's a large fairly large and attractive pool with no major theming other than Florida landscaping. There are hot tubs off to the side.  There is some music played in the background, with varying styles.  Although the pool area is accessible, there are no special features to assist with entry for those with mobility issues.
Clearwater Cove Water Activities Playground features a 120,000-gallon zero-entry pool, octopus water slide, sand play area, waterfall and various water areas for kids.
We found this pool to be pretty wonderful.  There was extensive theming including giant sea creatures everywhere, many of which sprayed cool, refreshing water you could stand under.  There were giant mushrooms that had waterfalls coming out of them, and other surprises that made the pool fun. Despite the fact that it was a peak season for Disney, there were very few people there.  We really enjoyed our time there.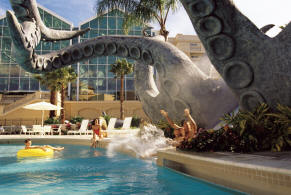 The deepest this pool goes is 3 ft 6 inches.  The hot tub is not very hot, but as one young boy reminded me, this is a kids' area.  At this pool there was an ice water dispenser and cups for guests.  The water seemed filtered.  There are some sand play areas.
Tip: If you wish to be near the adults only pool, request a room in the Emerald Bay section near elevator A. This is also fairly close to the handicapped parking area.
La Petite Academy® Kids Station:  Gaylord offers supervised activities for children ages 3 to 12. You can choose from a list of themed activities or work with their team to custom design a program that fits your child's specific needs.  Kids can stay and play for one to four hours or stay the day during your specifically planned, full-day group activity. The Academy is housed within a 4,000-square-foot, on-site facility designed for kids. The staff are certified in early childhood development and fully trained in first aid and CPR.
Restaurants: There are a number of extremely nice restaurants at the Gaylord including the Old Hickory Steakhouse, Villa de Flora, Sora, and Sunset Sam's Fish Camp. The better dining restaurants are all in lovely and unique settings.  Quality is key with locally grown produce used whenever possible.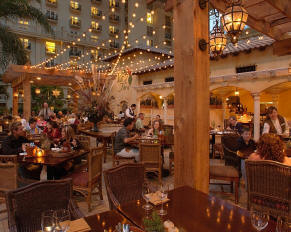 We dined at the buffet restaurant, Villa de Flora, pictured to the right.  It was a wonderful experience all the way around, with unusual dishes that were clearly well prepared and made with quality ingredients.  The atmosphere was particularly nice, and the service was attentive. We would love to dine there again!
If you're looking for something fast and inexpensive, you might try zipping over to International Drive.  The quick food alternative at the Gaylord is the Java Coast, where you can find choices such as sandwiches, yogurt, salads, fruit, cakes and of course coffee. At breakfast time the lines for coffee can be quite long.
Here's the special dietary needs policy as it was shared with us by our Gaylord representative:  We can assist with all dietary needs.  By letting your server know, they will then have a Chef come out and speak directly to the party involved and together they will create a dish or dishes that works best for the guest. Once a guest says they have special dietary needs, the Chef on duty must talk with that person so we are very clear on ingredients we can and cannot use.  Contacting a Chef in advance is a great opportunity for us to further research their allergy or health condition and WOW them upon their arrival.  That also gives us time to inform the other Chefs and managers in the outlets to give them a heads up also. We do have alternatives in every outlet.  Currently we have a group coming in and about 40% are gluten free, and since we knew in advance, we were all able to get great gluten free products in and experiment and create great menus for them.
Concerning In Room Dining, they added the following: It's just like a restaurant here and we treat guests with allergy or health conditions the same.  The Chef will either call or come and meet with the guest to help them feel comfortable and find out what they like to eat considering their restrictions.
All restaurants are handicap accessible.
Elevators: The elevators are glass so that you can see out over the atrium on most of the floors.  This may be helpful to those with elevator phobias.
Wheelchairs: The Gaylord does carry some manual wheelchairs, which are available on a first come first served basis upon check-in. They are only for day use.  If there is one available, it's complimentary with a valid ID, which will be held until wheelchair is returned.  If available, they are stored at Bell Services.  The only way to guarantee a wheelchair upon arrival is to rent one in advance from an outside company.  The concierge can book one for you, or you can refer to the wheelchair section of Walt Disney World with Disabilitiesfor outside companies.
If you book a wheelchair or ECV with an outside company and they are dropping it off at the resort, you can pick it up at the bell station.  This is to the left when you enter the front doors of the resort.  A Bell Person will retrieve your chair for you.  Be sure your name is on the chair.
Transportation: As part of the hotel daily resort fee, they provide shuttle buses to and from the Disney theme parks at scheduled times each day. The buses should be wheelchair accessible.
Pest Management in the Gaylord: Of course, pests are a fact of life in Florida, and the Gaylord has a program for keeping the resort free of this problem.  Keep in mind that you can request that they don't spray your room immediately prior to, or during your stay. Here's what they say they do:
Rooms:  Our pest management program for rooms follows IPM (Integrated Pest Management) practices.  Our pest management team inspects all rooms on a bi-annual basis. We also inspect rooms and other areas whenever there is a report of a potential pest issue.  We apply only the control materials that are necessary when necessary in the least invasive way possible. We apply preventative measures including full inspections. We utilize Eco-sensitive control materials when and where necessary.  Products utilized include but are not limited to dust (Boric acid), Granular material (Max Force Brand) and spray where applicable (Phantom Brand).  All materials are applied by licensed professionals.
Hotel Public Space and Outlets:  Our pest management program for the hotel public space and outlet areas follows similar practices as described above however our inspection of these areas is at minimum 2x weekly.  We utilize similar materials as above, however focus is on sanitation conditions to limit the occurrence of potential pests.  Products include dust, granular, microbial activity for drains (good Bacteria) and liquid sprays where necessary.
Horticulture:  Our Horticulture department also practices an Integrated Pest Management Program consisting of scouting for pest issues, recognizing threshold levels, applying only what is necessary when it is necessary, with the least invasive product possible.  Our control products consist of only material labeled for interior areas.  Methods of application include spray, granular, mechanical and pellets.
Do you have more tips or thoughts on this topic?
Please feel free to post them in a comment below. We'd love your input.
Join our facebook group!!!!
Ask any questions, share your knowledge and just enjoy getting to know other Disney fanatics in our facebook group called Walt Disney World Made Easy for Everyone.
Also join me on Pinterest here.
GET UPDATES, NEWS & TIPS (IT'S FREE!!!)
Sign up below to stay updated on the newest information, tips and tricks to help you plan your perfect Disney World trip!
Some photos belong to the Gaylord Palms and are used with their permission.