Location: Disney Springs area. Address: 2201 Orleans Drive, Lake Buena Vista, FL 32830-1000. Phone: (407) 934-5000 Fax: (407) 934-5353. Parking fee: $20 per night. Check-in: 3 PM. Check-out: 11 AM. Resort Type: Moderate.
With just 1008 rooms, Disney's Port Orleans French Quarter is the smallest and most compact of the moderate priced resorts at Disney World. Despite that, it still feels spread out and open. The seven three-story buildings are scattered along one side of the beautiful "Sassagoula River". The theme here is the New Orleans French Quarter during Mardi Gras. We find it to be charming with its pastel painted buildings, intricate wrought iron porches, floor to ceiling shuttered windows, fountains, brick decorated "streets" and sidewalks, beautiful trees and tidy front gardens.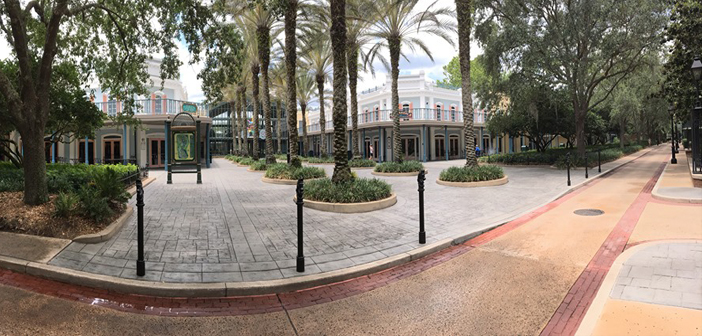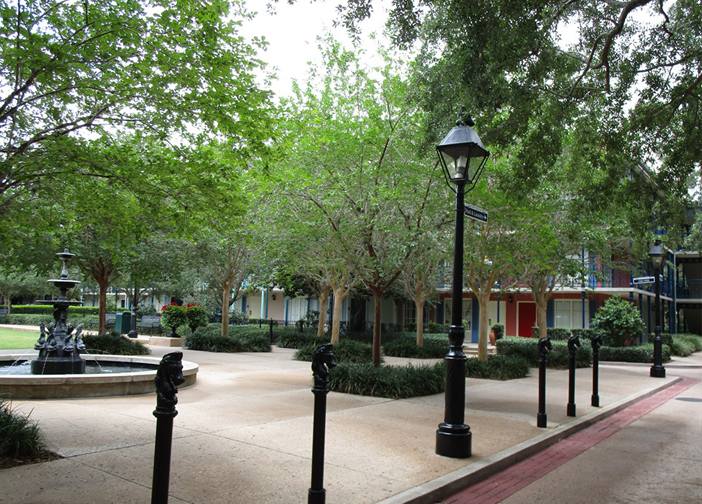 Watch for the small details like the hand glazed tiles that are inset into pavement, and the streets signs with names like "Rue D'Baga". You'll also see colorful life-sized and larger than life-sized characters here and there like a sax playing alligator on the walkway.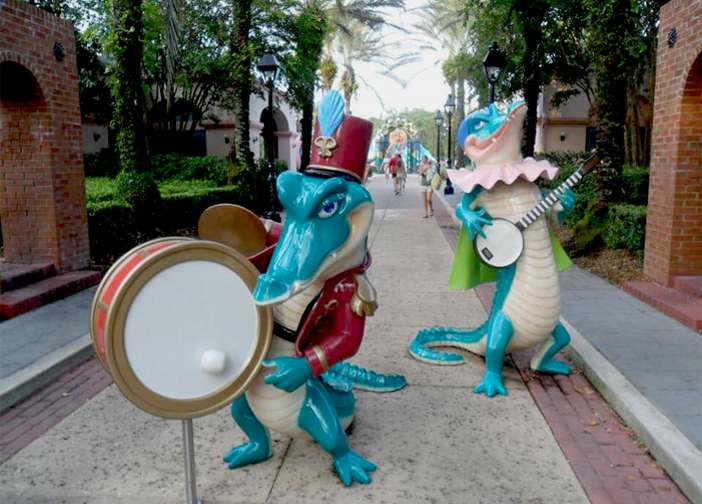 Or the figure over the back door of the lobby leading out to the courtyard.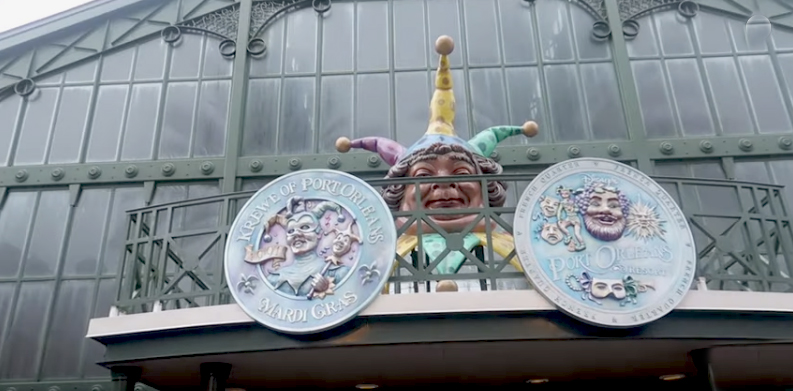 There are separate Spanish-moss covered walls hiding things like a playground, hot tub and even the  Laundromat. Magnolia trees and flowers are plentiful and we never get over the exceptionally neat and beautifully sculpted landscaping. The theme pool here is great fun with its festive atmosphere and secluded Jacuzzi.
Take a leisurely tour of the entire Port Orleans French Quarter property:
When Staying at French Quarter, You Get Access to Two Different Resorts!
Guests of Port Orleans French Quarter and Port Orleans Riverside are invited to use the facilities at both of these resorts, including the pools. To get from one resort to the other, you can take a pleasant walk along the beautiful Sassagoula River that winds through both resorts. This should take approximately 7 to 20 minutes, depending upon your speed and starting point.
Advantages and some disadvantages of Port Orleans French Quarter Resort
ADVANTAGES: In addition to the Disney magic you can expect in every single Disney World resort, here's what's really good about this resort:
It's beautiful. It's a pleasant atmosphere with the river in the back, the quaint streets, ornate metal work, colorful guest buildings, neat and trim gardens, and Disney whimsical touches everywhere you look.
It's very small compared to other Disney resorts. It's the smallest moderate resort on property, so there's less walking required.
Moderate prices compared to the deluxe Disney resorts.
Its themed main pool with a slide adds another element of fun to your vacation.
The food court is convenient and less expensive than a full-service restaurant.
You get all the benefits of being in a Disney resort, such as Extra Magic Hours, room package delivery, transportation, etc.
You can share the pool at Port Orleans Riverside, and you can walk there.
You get to use the Friendship Boats to get to Disney Springs or at certain times of the day, Port Orleans Riverside. It's usually such a pleasant ride.
You don't usually see large, noisy groups of people here. That's something that the value resorts get a lot of. While it does happen at French Quarter, there's not nearly as much of that as in the values.
Horse and carriage rides available. They must be boarded at Port Orleans Riverside though.
DISADVANTAGES
The rooms are not huge. Of course they're larger than the value resort standard rooms, but there's not a lot of wiggle room.
There are no quiet pools. You can use the quiet pools at Port Orleans Riverside but it's a 7-20 minute walk depending on your starting point and your walking speed.
The food court can be crowded, especially at breakfast.
Much of the food in the food court is on the spicy side. For some people that's a positive thing, but for others, not so much. There are non-spicy options as well.
There is no full service restaurant here. There is one at Port Orleans Riverside though, called Boatwright's.
Buses are sometimes shared with Port Orleans Riverside. Sometimes buses are dedicated to French Quarter and then it's great. But at times the two resorts share buses. Between the two resorts there are a lot of bus stops. You may experience crowding and longer rides.
If you're trying to get an ECV or wheelchair in your room, unless you have a handicapped room with a king bed, it's tight. It can be done though.
Yes, it's imperfect, but it's Disney. Many people would rather stay at a Disney Moderate resort than a much more deluxe resort somewhere else. There's that intangible "magic" that everyone talks about at the Disney resorts. It's real and you can't experience it anywhere else. If a Moderate resort fits within your budget, and the theme of this resort appeals to you, this may be a good fit for you.
The Main building at Disney's Port Orleans French Quarter Resort – The Port Orleans Mint
Most of the services and entertainment can be found in and around the central building called the Port Orleans Mint. It's designed to resemble a bank from the late nineteenth century. As you enter through the glass atrium, you'll notice green wrought iron decorations, brick walls and floors, a fountain and a full glass wall that looks out into the courtyard.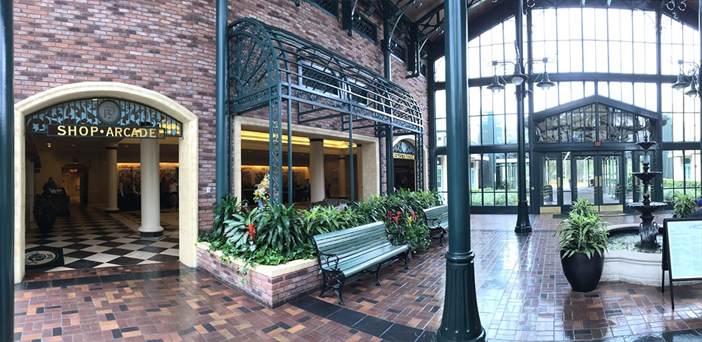 Iron works are everywhere, and there are harlequin court jester figures high up looking down upon the guests. There are benches to relax on so that you can enjoy the ambiance. Port Orleans Mint houses the check-in area, store, arcade, Guest Relations, a bar and a food court restaurant. The courtyard leads to the pool area and on to the river and the guest houses. The courtyard ground is textured, and may be a bit bumpy for wheelchairs.
Checking In to Port Orleans French Quarter 
Check-in is inside the main building.  The area is small compared to other Disney resort Lobbies, with a simple and elegant decor. Intricate paintings that fit the theme of French Quarter and Mardis Gras adorn the walls.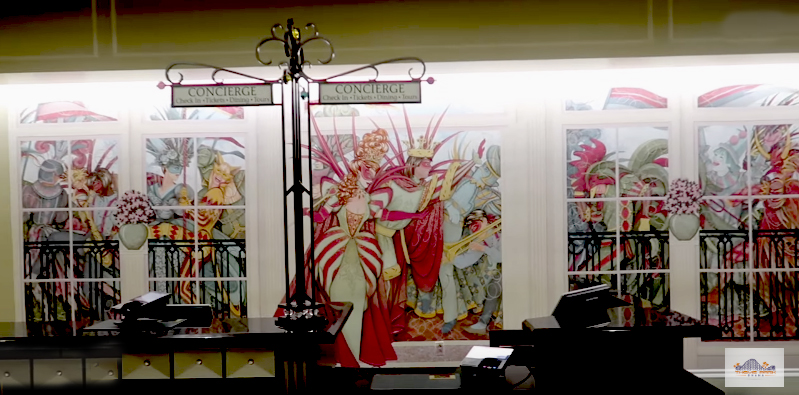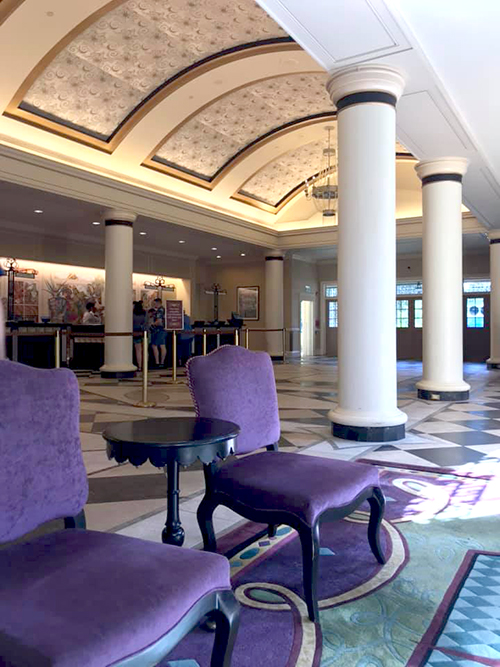 In the lobby you'll find a sitting area with a TV and cartoons playing for children.  It's in sight of the check-in area so you can keep an eye on your kids while you take care of business. There is a game room nearby, though the kids will not be in sight of parents, so this can be a good place to wait for older kids or young kids with an adult.
There's a Portable Charger machine in the Lobby.
Luggage Delivery at Port Orleans French Quarter
There's no valet parking for cars, but there's really no need; you're only here long enough to check in. When you arrive, Bell services will take your luggage and store it until you're ready for it to be taken to your room. Once your room is ready, they'll deliver your luggage. You'll walk to your room, and once you get there, you can call Bell Services to deliver your luggage.
As mentioned above, if your room isn't ready at check-in, they can store your luggage until it is. You're welcome to use the pool, dine or to even go enjoy the parks. They'll also store your luggage for you after check-out if you are not leaving Disney World immediately.
Parking at Port Orleans French Quarter
Some buildings do have parking close by, with some rooms right near the parking lot. Other buildings are deeper inside the complex and will require some additional walking.
Parking Fees: There is a charge for parking at the Disney resorts. At this time it's currently $19 per night. There is free parking for those with a valid handicapped placard. Bring it with you to show the Cast Member when you check in. If you are participating in the online advanced check-in, then when you arrive, go to the front desk to request free parking. For more info on parking fees throughout Disney World visit here.
Buildings & Rooms at Port Orleans French Quarter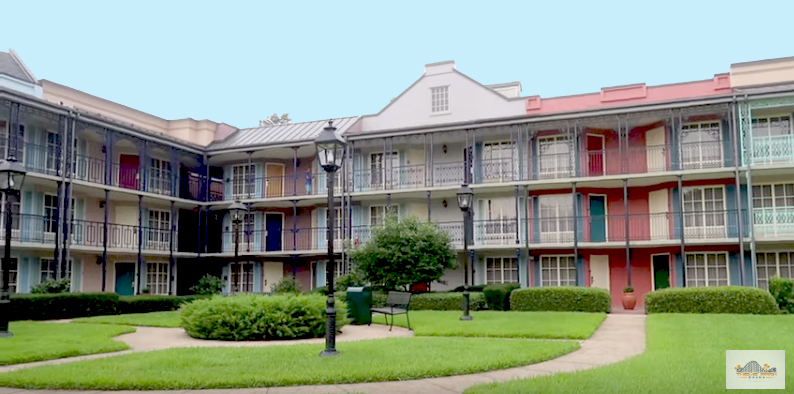 The resort is divided into two "Quarters" (questionable math: perhaps the other two are in a parallel dimension?), separated by the Mint building and the pool area. Buildings One, Two and Three are in the South Quarter and Buildings Four through Seven are in the North Quarter.
As mentioned above, it's a small resort comparatively. If you're in the furthest room in the furthest building from the center (Building Seven) you would have to walk about 0.15 miles to eat and swim; compare that with the Caribbean Beach, where, depending on your location, you might have to walk a half mile to get to dinner.
Building locations and tips:
You can reserve a water view room for an additional fee. This could mean either a view of the swimming pool or river. If you prefer one or the other, specify when you make your reservation. Disney will make an effort, but there's no guarantee. The standard view rooms face a courtyard, garden area or parking lot.
Tip for getting close: With its comparatively small size, almost all of the guest buildings are close to the Mint and Port Orleans Square. Buildings Five and Two are the closest to the pool. Building Four is closest to the bus stop. Buildings Three and Four and the front section of building five are closest to the food court.

Tip for getting near Riverside: Building Seven, while furthest from the center of the French Quarter, is nearest to Port Orleans Riverside. If mobility is not a problem and you want the fun of both resorts, this might be the perfect spot.

Tip for quiet: Building one is at the other end away from Riverside, farthest from the center of the French Quarter. Building one and seven are likely to be the most quiet. Building six is also likely to be on the quiet side, but its closer to the action. Also, if you're looking for a quieter room, avoid a pool view.

Tip for being close to the main areas: Since the resort is on the smaller side, compared to some of the other resorts the distance won't be that prohibitive for those who don't mind a short walk. Regardless, those with mobility issues may wish to request a building close to the main building and pool. Consider buildings 3 and 4 nearest the main building, and buildings 2 and 5 nearest the main building and pool. Keep in mind that water view rooms can be anywhere, including the far end of the resort.

Tip for being closer to parking: Keep in mind that most guests will not be parking right outside their rooms, but will have to walk from the parking lot, around the building and down outdoor corridors to get to their rooms. It can be a significant distance to those with mobility issues. If you need to be close to your car, request a room near the parking lot.
Guest Buildings & Rooms at Port Orleans French Quarter
The buildings are separated by sidewalks. Some of these are themed to look like narrow streets in a charming old city with brick inlay, lampposts, narrow sidewalks and street signs. There are curbs, and periodic ramps that allow wheelchair/ECV access. These are not real roads and they're not used by cars other than the golf carts driven by cast members.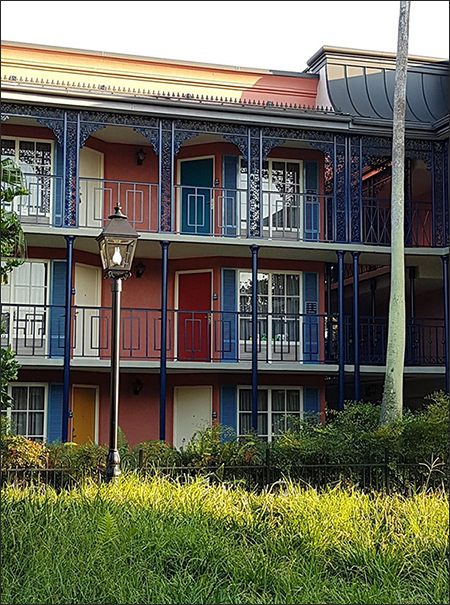 The buildings are three stories with 144 rooms each, and have one elevator per building. Keep in mind that the buildings have three wings each so you may have a long walk to the elevator. You can request a room near the elevator. You can also request a first floor room. Disney will try to accommodate you but there's no guarantee.
There are no internal hallways but each floor has external walkways with railings in front. The railings are designed with different intricate patterns and colors. There are no patios or balconies. The buildings are painted in various pastel colors including pink, purple and yellow. There's one ice machine in each building.
Rooms sleep 2-4 adults plus a child under three. The rooms are approximately 314 square feet, and though they're decorated simply compared to some of the other Disney resorts, they have an extra dose of Southern charm.
Take a tour of a French Quarter room here:
Most of the rooms contain two queen beds. There are some kings as well, for an extra fee. The beds are made taller than normal so that suitcases can be stored underneath. There are plenty of outlets and USB plugs on the nightstands and on the larger dresser. Most rooms have one window, but the corner rooms have two, making for a brighter, more open feel.
Connecting or adjoining rooms are available but not guaranteed.
Handicapped rooms: Most of the accessible rooms have king beds, and there are a small number with 1 king and 1 queen bed.
Standard rooms at Port Orleans French Quarter contain the following:
Nightstand with phone (if you want a clock/alarm clock, you must request it).
Flat screen TV
Dresser with wood inlays
Mirror
A padded bench
Small table with two chairs
Mini refrigerator
WiFi Wireless internet
Coffee Maker, regular & decaf coffee pods and tea pods, creamer
Ironing board and iron
In-room wall safe
Hair dryer
H2O brand shampoo, conditioner & soap
Ceiling fan

Two sinks with vanities

A separate bathroom with a shower, bathtub and toilet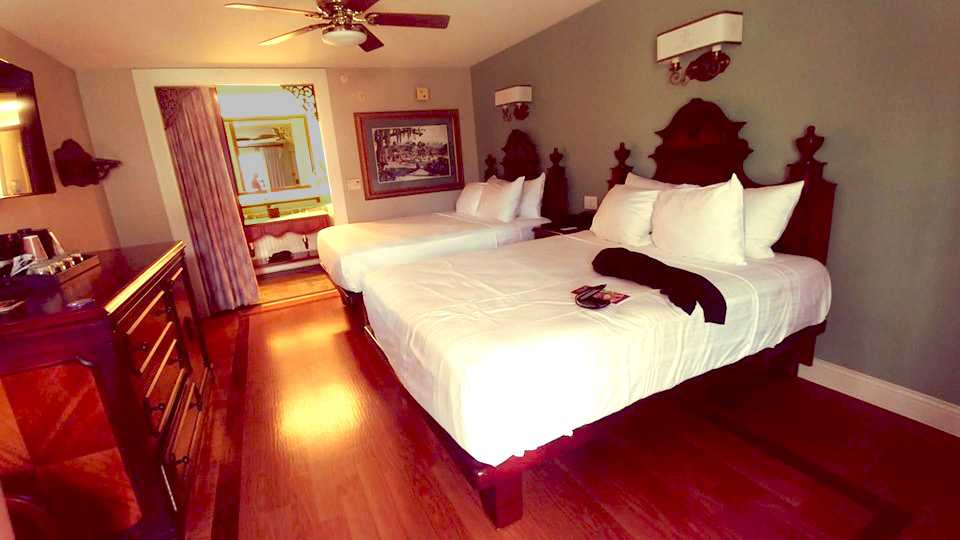 The sink/bathroom area is separated from the bed area by a privacy curtain. You can see that in the photo above.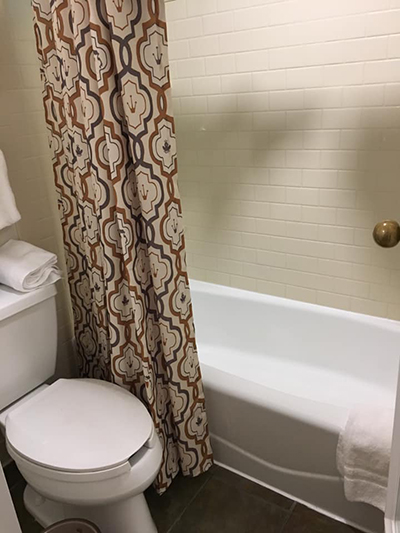 The bathroom toilet area is separated from the sink area by a door.
Most of the rooms have a shower with a bathtub, but wheelchair accessible handicapped rooms have roll-in showers without a tub.
If you absolutely must have a bathtub, you'll want to know that at times Disney may give an accessible room out to a party that doesn't need it, if it's not in use and they're short of standard rooms. So if you must have a bathtub, be sure to request a room with a tub. 
The bathrooms have H20 shampoo, conditioner and soap in dispensers in the shower wall.
Available Upon Request (Including handicapped options)
Alarm clocks are available upon request. Though they used to be put in the rooms automatically, they are no longer there unless you request it.
Guests can also request cribs, and a Pack 'n Play at no extra charge.
Handicapped & health related requests available: Hearing-impaired TDD telephones, bed shaker accessory, visual smoke alarms, wake up alarms and door knocks; bed boards and bed rails; Sharp containers for used syringes.
Resort Shopping at Port Orleans French Quarter
Jackson Square Gifts is located in the Port Orleans Mint main building, and they offer the standard items that the resort stores carry. You'll find most of what you could need including Disney clothing and goods, snack foods, toiletries, alcohol, books and magazines, and over-the-counter medications such as aspirin.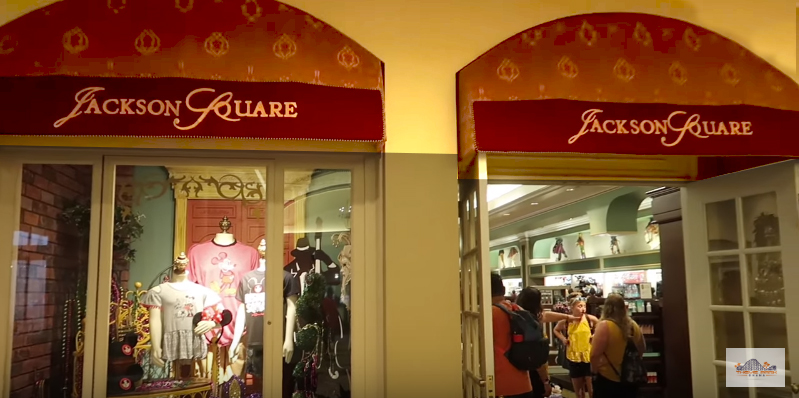 Dining at Port Orleans French Quarter
This resort doesn't have a full-service restaurant, however you can walk over to Port Orleans Riverside for Boatwright's.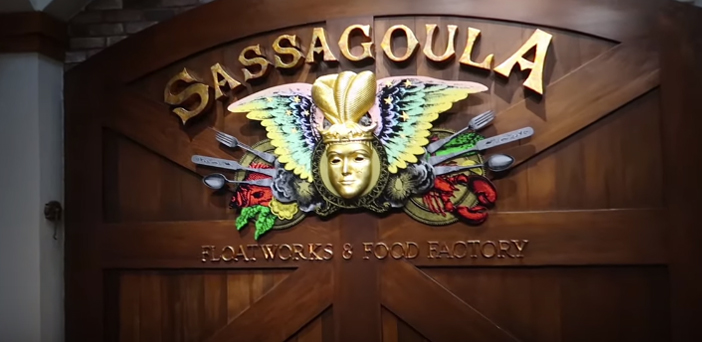 This 300 seat food court is the only place to eat in the Port Orleans French Quarter proper. The Mardis Gras theme continues here with touches such as the Mardis Gras mask display, Mardis Gras beead chandeliers and the wine bottle chandelier.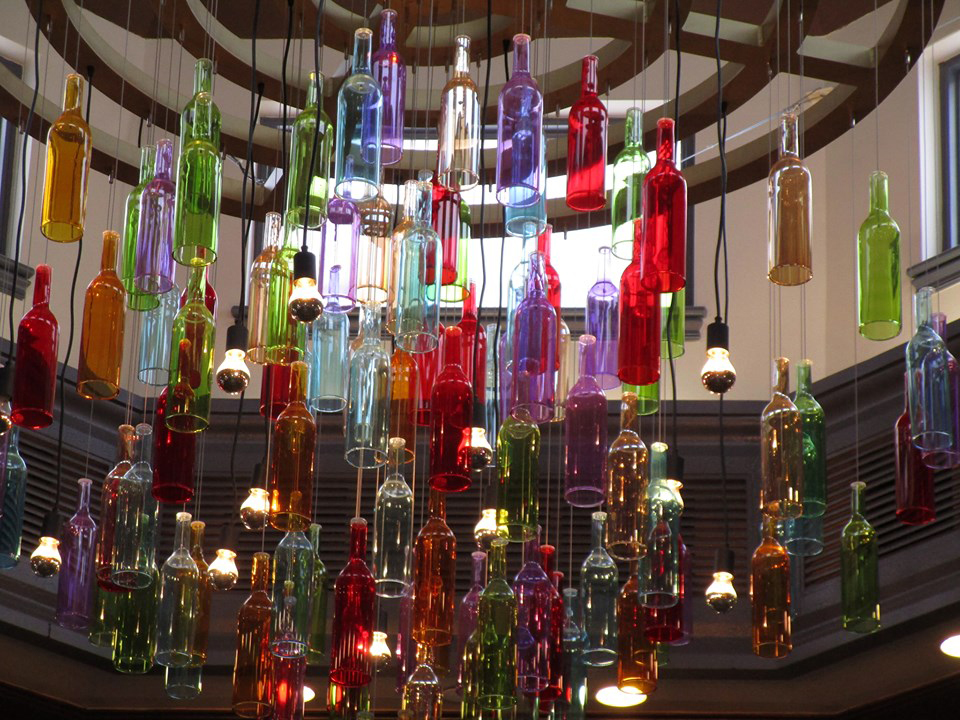 Breakfast includes mostly American favorites with some southern and Cajun dishes thrown in, like the Beignets, and Cajun Grit Bowl with Shrimp.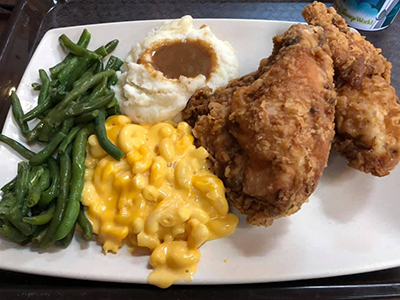 Lunch and dinner has included items such as:
Hamburgers (veggie and meat)
The Beignet Cheeseburger
Pizza
Pasta
Soups
Sandwiches
Create-your-own-rice-bowl
Bakery items
There's been a few Cajun/Creole/Southern options such as chicken gumbo soup, a jambalaya, shrimp & grits, shrimp po' boy, barbecued ribs, and fried chicken (photo above and to the right).
Seats are wood with partial backs and vinyl seats, and there are some high seats that also are wood with partial backs and vinyl seats. All of these seats are not particularly supportive of your back. See the video of the resort overview towards the top of this page to see the chairs in this location. The location is very accessible.
Special dietary needs at Sassagoula Floatworks: You can speak directly to the chefs about your dietary restrictions. The chefs will discuss your options and can prepare items that will fit within most diets. This food court requests that 72 hours advance notice be given for kosher meals, however kosher meals should be available here without advance notice. We have found that the gluten free and special dietary options here have been less abundant than in the Port Orleans Riverside food court.
Scat Cat's Club Cafe – Beignet Bar at Port Orleans French Quarter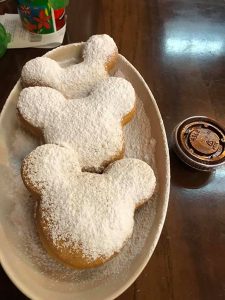 Beignets are a big draw to this resort by visitors. We've stopped by French Quarter many times just to get beignets. They're something like a funnel cake or donut.
They were sold in the food court formerly, but now beignets are being sold out of what was the old location of the Scat Cat's bar. That's moved (see below) and now you can belly up to the bar wood bar for beignets, specialty coffees, tea and hot chocolate.
The cook will make your beignets fresh for you. They're hot, crispy, sugary and delicious. There are a variety of specialty beignets including chocolate, raspberry and cinnamon sugar. You can purchase dipping sauces on the side including salted caramel, strawberry, chicory chocolate and ganache. There's a Mickey-shaped beignet sundae if you really want to get indulgent! You can get even Boozy Beignets infused with alcohol (for adults only). They're filled with your choice of Bailey's, Kahlua or Rumchata.
Gluten free beignets are available by request. 
Seats are wood with and without arms, and some padded bench seats. The location will be open from 6 am to midnight every night, but verify this when you visit.
This little lounge has a new location and stage in 2019, to the left of what used to be Scat Cat's, just off the lobby. Currently they're having live entertainment 5 nights a week (usually Thursday thru Monday). Check the schedule for entertainment.  They open every day at 4 PM. Here's a video to give you an idea of the incredible performances  that have been there lately (as of this writing):
Scat Cat offers a full bar serving specialty drinks and light hors d'oeuvres such as brisket sliders, chicken and waffles, crawfish etouffee, mac and cheese and crab dip with bagel chips. One specialty they serve here is Baton Rouge Beignets that are for adults only. They're filled with your choice of Bailey's, Kahlua or Rumchata, and currently cost $8.
It has mostly small tables with armless wood chairs, and there are some cushioned vinyl padded chairs. Wheelchairs should have plenty of room to navigate here.
This is the pool bar where you can get alcoholic and non-alcoholic drinks, and some light snacks. They also currently have a small number of meal choices such as salad with grilled chicken, and a few sandwiches. It's partially open air with some high stools, a dark wood bar and intricate, decorative green iron works.
Room service delivered throughout Port Orleans French Quarter
This is available from 4 PM to Midnight, serving pizza, salads, soft drinks and beer.
Pool at Port Orleans French Quarter
Doubloon Lagoon is the only pool at the French Quarter, as there are no quiet pools. Pool depth goes from 3 feet to 6 feet. The Mardi Gras theme is carried out at Doubloon Lagoon in a major way.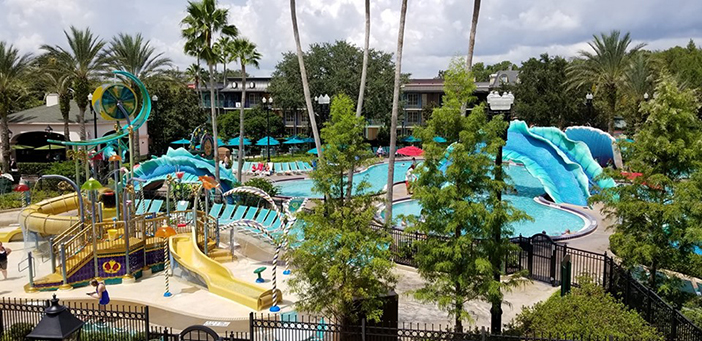 An enormous purple and turquoise serpent winds in and out of the pool. It forms bridges to walk over (with stairs) and under. The serpent's tongue is a gentle 51 foot slide! An oyster shell makes a trickling waterfall to stand under. To get a sense of just how large the serpent slide is, check out the lady in the red bathing suit in the photo below.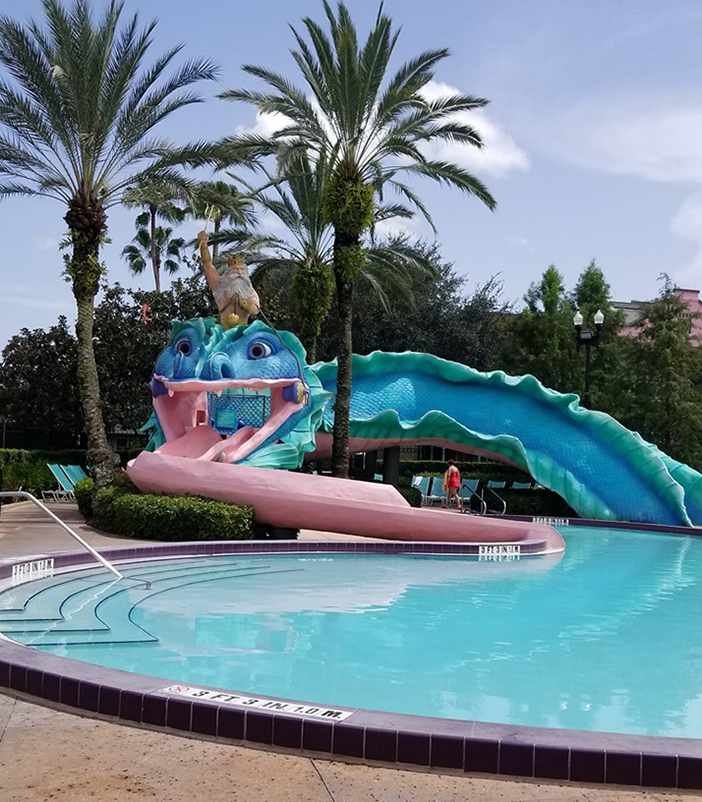 Check out this video of the Doubloon Lagoon pool and the slide, in action: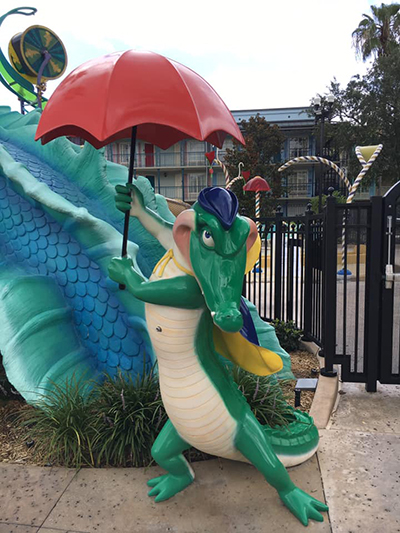 Bright green alligator jazz musicians stand around on their back legs, in some cases blowing water into the pool.
As pool sizes go, it's not the biggest pool in the Disney resorts, but we find that it's usually sufficient for the number of guests who are using it. If it does seem crowded, guests are welcome to use one of the quiet pools or the main pool at Port Orleans Riverside. To get there, you can catch a boat at the boat dock right near the pool if it's before 4:30 pm, or you can take the pleasant walk over.
There's no zero entry in this pool, but there is a pool lift that will place you in the shallow end of the pool. See a Lifeguard to use it. There is a chair lift that can lower you into the pool. See a lifeguard to use this.
The pool has unlimited towels available for guests. There's not a lot of shade to be found, though there are a few spots where you can get some partial shade from the trees.
In 2016 a new colorful aquatic play area was added. It has kid-sized water slides, water cannons and fountains. Those who are 48 inches or below can use the slides.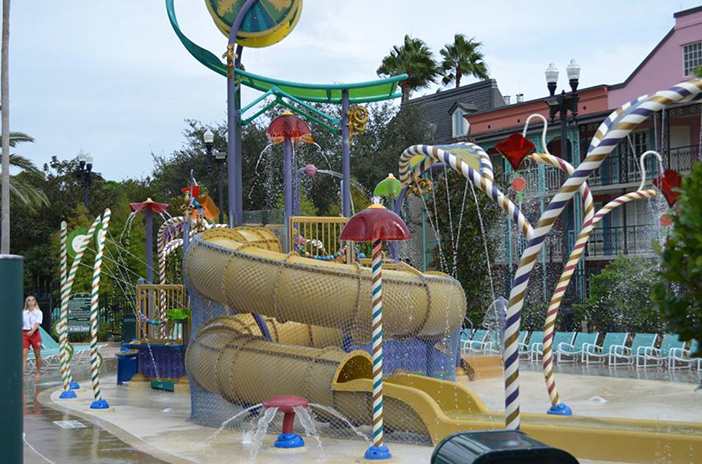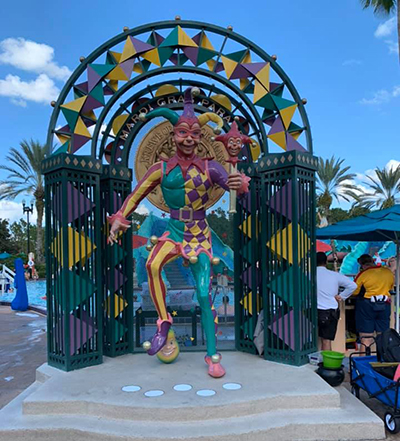 Those with a strong fear of clowns should take note that there's a larger-than-life harlequin court jester/clown right at the pool entrance. To the right is a photo of the Jester.
The Jacuzzi (see photo below) is in its own secluded area, hidden away by brick decorative walls. It's just a short walk down a sidewalk lane towards the main building. It's not visible from the main pool area, so you won't be able to see your kids in the pool and they won't be able to see you. Although it's in the same general area, we feel that it's a bit inconvenient to have to walk out of the pool area and to the Jacuzzi. However we do like the seclusion when you're in it, and we find that we're often alone in there. There is a chair lift that can lower you into the hot tub. See a lifeguard to use this.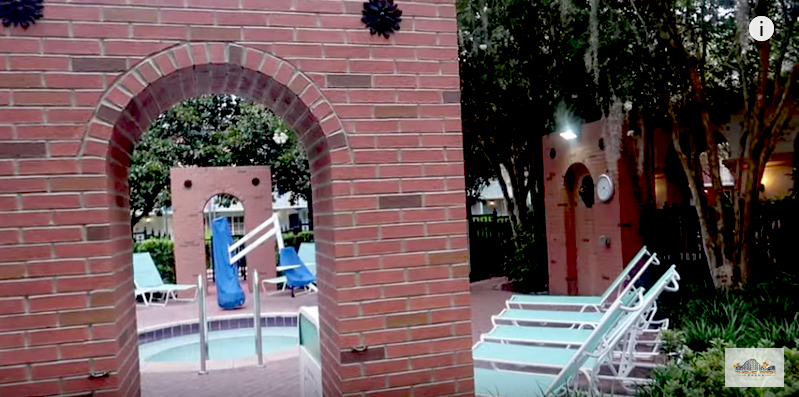 The Sassagoula Floatworks & Food Factory is just beyond the hot tub and bar. It's a very short walk from the pool area, and a much shorter walk than that of the Port Orleans Riverside pool to that resorts' food court. This makes dining during your pool day very convenient.
Pool Party: Usually sometime after 1 PM, the main pools at all of the Disney resorts have pool parties going on. Parents and kids will love this, but if you're looking for quiet, keep in mind that these parties are VERY loud. There's dance party music blasting throughout the entire afternoon, and the Cast Members lead the kids in activities over a loud speaker. This all makes the quiet pools at Port Orleans Riverside appealing to many adult travelers and anyone looking for a more peaceful environment.
Water Temperature: Though the water is supposed to be heated to 82 degrees, it can still feel pretty chilly in the colder weather, depending on the outside air temperature and your level of sensitivity. We find that we're unable to swim in the winter, but there are almost always more hardy souls in the water.
Transportation at Disney's Port Orleans French Quarter
This resort offers boat and bus transportation.
Friendship Boats at Port Orleans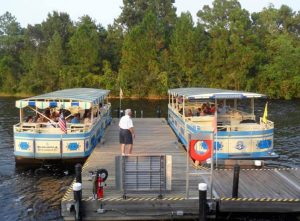 If you're going to the other Port Orleans resort (Riverside), or Disney Springs, this is a great way to go! To learn more about the Friendship Boats, check out this article. Once you're loaded on the boat it's about a five minute ride to Port Orleans Riverside. It's about a fifteen to twenty minute boat ride to Disney Springs, which is too far to walk. Also there are no walkways between the resort and Disney Springs.
The boats are accessible.
Although the boats do sometimes fill up at the resorts, it's usually not so full that guests must wait for the next boat. However at night when returning from Disney Springs, there have been times when the line of people waiting to get back was so long that we had to wait for another boat or even two to come along before we could board.
At this writing, the boat service takes guests to French Quarter and Disney Springs from 10 AM to 4:30 PM. Boats arrive and depart approximately every 20-30 minutes.
From 4:30 PM to 11 PM onward, the boats are supposed to go directly to Disney Springs, though we have experienced stops at times at Riverside, both going to Disney Springs and returning after 4:30 pm. After 4:30 PM the boats arrive every 10 minutes (give or take). Times may vary so check prior to departing. If the last boat has left Disney Springs, the other alternative is to catch a bus.
Buses at Port Orleans French Quarter
Buses take guests to all four parks, the water parks and Disney Springs. There is one bus stop at French Quarter, near the front of the main building. There's a shaded area with a bench at each bus stop.
Sometimes the buses are dedicated to French Quarter, but sometimes the buses are shared with Port Orleans Riverside.  It can vary. When the buses are being shared, Port Orleans French Quarter is usually the first stop going out and the first stop returning.  If this is the case, guests of French Quarter will often have more room to board, and will find it less likely that they'll have to stand.
Other Entertainment at Disney's Port Orleans French Quarter
The French Quarter shares activities with its sister, Port Orleans Riverside. This means that much of what is advertised by Disney as available at the French Quarter is actually only available at Riverside. This includes the boat and bike rentals, the catch-and-release fishing excursions, horse drawn carriages and the Children's Pirate Cruise.
Horse-drawn carriage rides starting at Port Orleans Riverside are available in the evenings, weather permitting. The carriages are not wheelchair accessible. You must step up onto the carriage to board. Those who are very sensitive to bumpy motion may find the ride somewhat uncomfortable. Make reservations at the marina or call 407-WDW-PLAY. For same day reservations call (407) 824-2832. Walk-ups can take a ride if there's available time.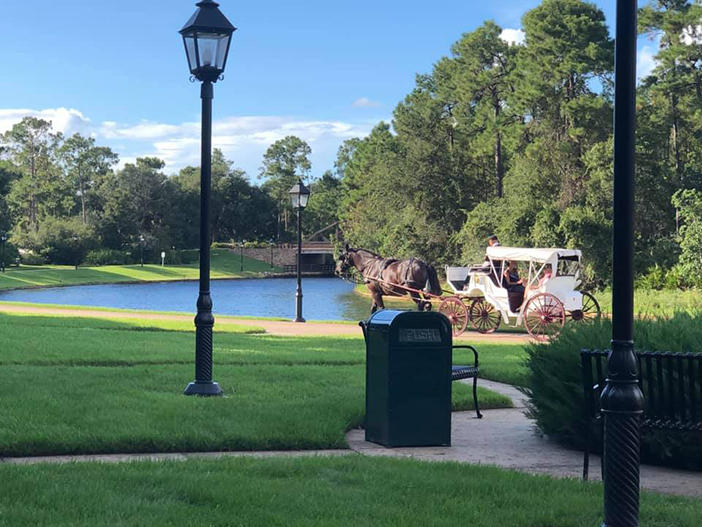 Playground: In the French Quarter, there's one brightly painted purple, gold and green playground hidden under the oak trees behind the Mint building, near the pool. The playground is up a curb. There's a wheelchair ramp around the side that's not immediately obvious.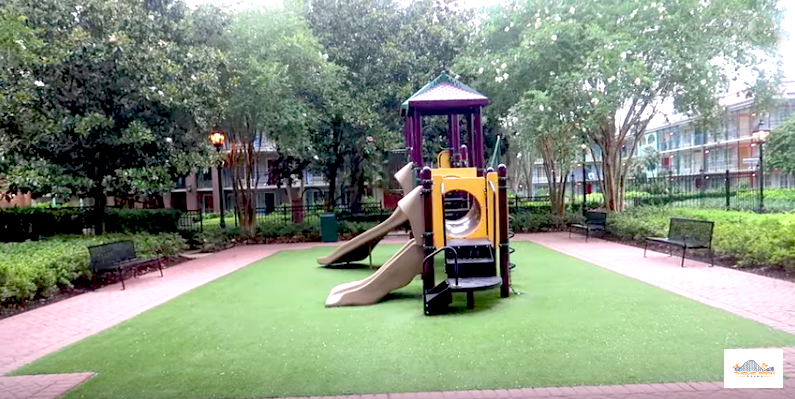 South Quarter Games Arcade is the arcade inside the Mint building. It's open 24 hours a day. Wheelchair and scooter users should find it accessible.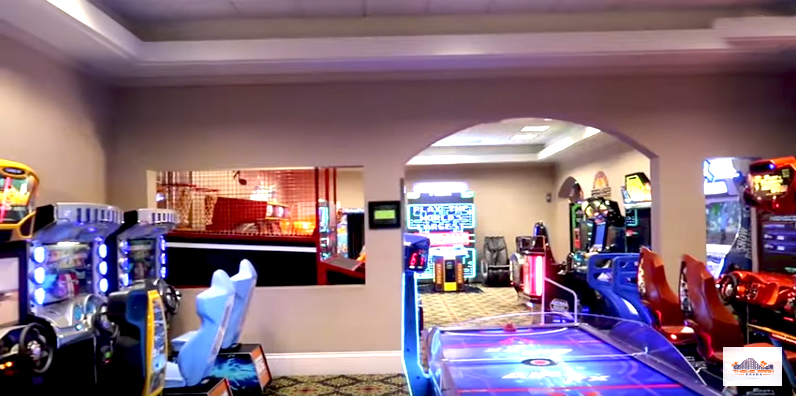 Movies Under the Stars: Free movies are played outside, currently a few nights a week.
Scavenger Hunt: Guests can pick up a scavenger hunt clue guide at the front desk. The scavenger hunt changes monthly, but you'll seek out items throughout the resort such as musical notes which are hidden around the resort that represent favorite Disney movie songs. You'll find all the notes, fill in your guide and return it to the front desk where you'll be given a surprise.
Painting on the Bayou: Art class Disney style where you come out with a painting. Cost is currently $35 and the class happens once a week (currently on Wednesdays but subject to change) at Scat Cats.
Yehaa Bob Jackson at Port Orleans Riverside – River Roost bar: Several nights a week the lounge over at Riverside has live entertainment. Bob Jackson is usually the entertainer with his high-energy sing-a-long. It's worth the walk over, as Bob is a huge guest favorite. The lounge fills up and guests really get into the fun. Bob creates a very upbeat environment. He takes requests and has a way of getting everyone involved. It's fun for adults and kids alike. See the River Roost Lounge section of our Port Orleans Riverside article for a video of Bob.
Hair wrapping and face painting are available inside the main building or outside near the pool.
Laundry at Port Orleans French Quarter
There is a Laundromat in the French Quarter near the pool. The washing machines are top loading, and the dryers are side loading and stacked. They accept credit cards only. If you don't have one, you can buy one at the front desk. The cost is currently $3 a wash and $3 a dry. There's also a vending machine with stuff like laundry soap, fabric softener, etc. Lastly there's a vending machine with drinks, water, snacks and candy.
There's also valet laundry service cleaning.
Smoking
Smoking is banned in all Disney-owned hotel rooms. Even patios and balconies are non-smoking areas. Of course it's always possible that another guest could smoke in a room anyway, but Disney reserves the right to charge a penalty since they'll need to specially clean the room. This usually discourages people from smoking inside their rooms. There are pre-designated outdoor areas around the resort where smoking is permitted. The resort map that you're given when you check in should have the areas marked, or ask a cast member when you check in.
For News & Updates about Port Orleans French Quarter and Port Orleans Riverside, check out this website here: portorleans.org
PHOTO & VIDEO CREDITS FOR THIS PAGE:
Thank you so much to the very generous people who shared their photos and videos with us! For those whose photos didn't get used, even if we couldn't use your photos this time, we really appreciate your taking the time to share them.
A special thanks to Lee Adams (See his great Disney videos on his Youtube channel at Theme Park Ohana).
A huge thanks to Grace Flanary who is always there to support us!
Big thank you's to everyone who generously supported us with photos: Natasha Fisher, Brad Roberts, Katie Smith, Jessica Cherry Carlson, Christy Carter Schnable, Terry Nicholson-Knudson, Liz Mazzie, Briea Dempsey, Andrea Rodrigues, Rachel Snider Lamb, Tracy Anne, Tracy Davies, Carol Ward, Sue Quinn, Brittany Carlyle, Bridgette White, Jay Glows, Cecelia Emblidge, Jamie Swanson, Anita Miller, Jennifer Vanover.
Join our facebook group & follow us on Pinterest !!!!
Ask any questions, share your knowledge and just enjoy getting to know other Disney fanatics in our facebook group called Walt Disney World Made Easy for Everyone.
Also join me on Pinterest here.
GET UPDATES, NEWS & TIPS (IT'S FREE!!!)
Sign up below to stay updated on the newest information, tips and tricks to help you plan your perfect Disney World trip!