Considered Epcot area resorts, they are located between Epcot and Hollywood Studios on Crescent Lake. The Dolphin is situated close to the Boardwalk, and the Swan is closest to the Boardwalk Inn. Although they are considered to be within walking distance to Epcot, some will consider it too far to walk.
Address: 1500 Epcot Resorts Boulevard, P.O. Box 22653, Lake Buena Vista Boulevard, Florida 32830. Main Phone: 407-934-3000 or 407-934-4000. Reservations: 888-828-8850 or 800-227-1500. Main fax: 407.934.4884. Reservations fax 407-934-4710.
Website: www.swandolphin.com.
General Information: Between the two resorts there are 2,265 rooms along with a convention center. Though the resorts are owned by Starwood Resorts and Hotels (they own Sheraton and Westin) and not by Disney, guests still receive most of the Disney perks. This includes full use of Disney transportation, Extra Magic Hours, on-site ticket desks, character dining, package delivery from the parks, free parking in the parks, guaranteed park admission even if the parks are full, and advance tee times at the Disney World golf courses.  Guests will not be able to use their room key for charges outside of the Swan and Dolphin.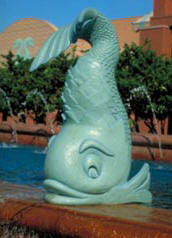 As you approach these two resorts it's impossible to miss the massive figures atop both the Swan and Dolphin.  Of course the Swan has a swan sculpture, and the dolphin has a… what is that anyway? It's certainly not a "flipper" style dolphin, and though it looks more like the type of dolphin you can catch and eat for dinner, it doesn't quite fit that description either. Nevertheless, it's still quite amazing. There are two swans that are each 47 feet tall, and two dolphins that are both 56 feet tall. They are spectacular. Designed by the award-winning architect, Michael Graves, the architecture of the buildings is appealing and modern, with sharp angles, attractive shades of coral and decorative sections of green and turquoise.
The inside and outside fountains distinguish this resort further. The elegant lobbies have the look of luxury with beautiful fountains inside. The outdoor fountains are massive and quite spectacular.  The most breathtaking fountain is the one between the Dolphin and Swan, though closest to the Dolphin. The water cascades nine stories through five seashells into an imposing 54 foot clam shell.  It's got some very massive dolphins beneath the shells.
The grounds are beautifully landscaped and decorated with lush tropical foliage, and a small lake that runs between the two resorts. There are no boat rentals at this resort, but there is Disney boat transportation available to some locations. See the transportation section for details.
What appealed to us most about these resorts was the pool. In our opinion, adults are likely to find that this is the best pool on Disney property. See the pool section for details, but if you're looking for a relaxing getaway with an absolutely beautiful pool complex that looks like a piece of paradise, the Swan or Dolphin may be the resort for you. Of course kids will also be thrilled with the pools.
Another notable stand-out for us was the bed. It was so incredibly comfortable. At home we have an exceptional bed, but I have to admit this was even more comfortable.  It's called the Heavenly Bed®, and indeed it was. The pillow-top mattress really reduced Sarah's pain levels. You can view or purchase these beds on www.westin-hotelsathome.com. This may sound like a commercial, so I'll mention that we're not affiliated in any way with them. We also enjoyed the very luxurious bedding, which includes a down comforter. If you have allergies to feathers you can request an alternative. Our room was relatively quiet so this made for a better nights sleep than we even get at home!
This is a convention resort, and during our recent stay we saw very few children. Adult visitors may consider this a plus. Another possible advantage to these two resorts is that they can offer discounts that Disney doesn't offer.  As you research the price options, note that there is a fee for parking as well as a mandatory resort service package fee. It's currently $10 a day and gives you the following:
Up to 60 minutes free local telephone calls, toll free and credit card access calls
20 minutes of domestic long distance per day
Unlimited access to the resort's health club facilities
In room high-speed internet access
2 bottles of water daily
The buildings:  The Swan and Dolphin are separate buildings connected by an outdoor walkway with a canopy overhead. It's a short walk between the two, so it's practical to use the many restaurants and all of the facilities found in both resorts.
The Dolphin is the larger of the two high rise buildings with a 27-story main building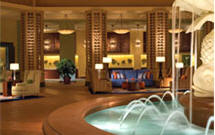 as well as four 9-story guestroom wings. The main building tower is in the shape of an upside-down triangle, coming to a sharp point at the top. It's massive and can be seen from a distance. The main Dolphin lobby has a rather large and striking fountain with dolphins holding up a shell by their tails. It makes the ambiance special. The high ceiling is dramatic with billowing fabric and round windows. Columns adorn the lobby.  There are groupings of brightly colored couches and chairs to relax on.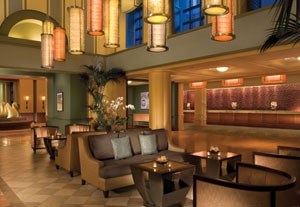 The Swan is made up of a 12 story main building and two seven story wings. It houses 758 rooms. The exterior is also made up of shades of coral, decorated with giant curling waves of pale turquoise. A graceful swan water fountain greets guests in the front. The main lobby is much smaller and more intimate than the Dolphins'. It has a swan water fountain that is beautiful, but smaller and less dramatic than the Dolphins' fountain primarily because of the size difference.  There are groupings of chairs and couches to sit in.
Both resorts offer some retail outlets including a number of fine dining options. The Dolphin is closer to the main pool areas and has the greater number of restaurants, shops and amenities. It even has an art gallery. It has the feeling of a busier place, and the lobby seems more upscale to us. The Swan seems less busy, more casual and generally quieter.
Both resort lobbies have undergone renovations, and the Swan rooms have been completely renovated. The Dolphin rooms are currently in the process of being renovated.  If you're staying in the Dolphin, you may wish to request a renovated room, but of course there's no guarantee that you'll be assigned one.
Elevators have braille and a voice that announces the direction you're heading and the floor. We have to mention that these elevators are so fast that Sarah was actually experiencing the ear clogging that you get with pressure changes. We were joking about the G-forces. On a good note, she hates elevators after being trapped in one many years ago, and these were so fast that the experience of riding was always over quickly.
Reservations and special room requests: Let the reservationist know of your needs during the reservation process to ensure an accessible room is available during the requested dates.  The resort is also willing to accommodate special requests. Some common requests include deep cleaning for allergies, no fragrances in the room, and replacement of the down comforter and pillows.  Just let the agent know when you make your reservation.
We requested no fragrances and the room seemed fine. In our experience the room and the resort as a whole did not seem to have strong fragrances throughout.  Our special requests were consistently honored.
The resort does have a limited number of "air purifying" units available.
Wheelchairs: The hotel does not offer guests wheelchairs, but the Concierge will arrange rentals for guests.  Let them know in advance if you wish the hotel to help you with this, so that they can have it there when you arrive.
Special wheelchair entrances can be found at the main entrance of both hotels, the convention area entrances and the causeway entrances to both hotels.
Check-in: Check-in is 3 PM and check-out is 11 AM. In our experience, check in was simple and quick.  The bell person took our luggage from the car, storing it until our room was ready.  We went right to the front desk where there was very little wait.  However this can change depending upon crowd conditions.  When we were finished checking in, we went to the bell area. They retrieved the scooter we had arranged to have delivered from an outside company.  They also retrieved our luggage and escorted us up to our room.
The lobbies do not have special children's waiting areas as in the Disney resorts.  The check-in counters do not have low counters for wheelchairs.
The front door is a large automatic revolving glass door.  Those with claustrophobia might find it uncomfortable, because once you're inside, you have no choice but to follow it around until your out.  If you wish to bypass the revolving door, you can use the regular side door.  There is a button that those in wheelchairs can press to have the door automatically open for them.  You'll find these doors throughout the resort.
Though late check-out may be available, there may be a fee. Late check-out fees are currently as follows: Noon – 2:00 PM $40.00; 2:00 PM – 5:00 PM ½ of daily rate; after 5:00 PM the full daily rate is charged.  We were able to get a late check-out time of 12 noon with no additional charge, but that's not guaranteed.
Rooms:  Dolphin standard rooms have an occupancy limit of 4 per room. The Dolphin rooms have a limit of 5 per room. The guest rooms are all off interior hallways.  The Swan rooms have recently been redecorated with modern furnishings, and a color scheme of earth tones and warm hues. The Dolphin guest room enhancements are currently in process, but the room we were in appeared to be upgraded already with the new furniture and color scheme.  All rooms are non-smoking.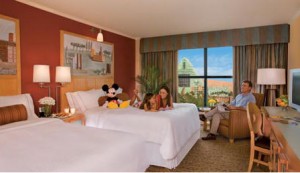 The Swan has 756 rooms and 55 suites. The Dolphin has 1,509 rooms and 136 suites. The standard rooms in the Swan and Dolphin are approximately 350 square feet. Standard accessible rooms are approximately 360 square feet.  Suites have approximately 260 square feet more than standard rooms, and seem quite huge! At this time they don't have any accessible suites with accommodations such as roll-in showers.  We were told that they do have future plans to convert some suites.
There are some connecting rooms available in both resorts. The standard Swan rooms offer King or two queen-bedded rooms. Every Swan room has a refrigerator. For a fee, you use their "A La Carte" menu to order refreshments such as drinks, candies, juices, cookies and pretzels, which will be stocked in your refrigerator.
The standard Dolphin rooms offer King or two double-bedded rooms. Dolphin rooms have a "refreshment center." This includes a cooler type appliance that the resort pre-stocks with snacks which may include drinks, candies, juices, pretzels and cookies. When you check in, you're offered a key to this cooler, which you can accept or decline. If you accept, you are charged only for what you use.
Please note that this cooler is not a refrigerator. Although we're told that it cools, it does not cool to the temperature necessary to store food such as milk, meat or medications. You can request a refrigerator be added to your room for $12 per day. If you need this because of medical reasons, let them know when you make your reservation and they'll waive the fee.
In both resorts, some standard king rooms offer a pullout sleeper for extra guests, and double rooms offer a lounge chair and ottoman. There are in-room safes. The Swan safes will accommodate lap top computers. The Dolphin safes are currently smaller. There are also in-house movies for a fee. Every room has two dual-line telephones, including one that is cordless.  Phones have voice mail messaging and a data port. There are some rooms with balconies, but most don't have them. In the Dolphin only, there is a separate vanity and dressing area.
Disability accessible rooms are available upon request. Provisions available include: Roll-in showers, lower sinks, a bed shaker alarm for those with hearing impairments, telephone amplifiers, strobe door knockers, strobe smoke alarms, TDD equipment. Shower benches and bed rails are also available upon request.
Most ECV's and wheelchairs should fit through the door of any standard room; however the non-accessible rooms will be a tight fit.
We found the room to be very quiet compared to most other hotels. It's hard to say whether this was typical or not, but there was no sounds coming from other rooms. Rarely, we could hear vacuuming or guests out in the hallway. Perhaps because we were on the far end, that was infrequent. We did not hear toilets flushing or plumbing. Between the luxurious bed, bedding and the lack of noise, we were really able to rest well, which we find to be unusual for hotel sleep!
Rooms can be a long walk from the lobby and elevator. If you have mobility issues, you might want to request a room near the elevator. If you are looking for quiet, a room at the end of the hall may be your best bet.
Tip: In the Dolphin, the West wing rooms are the closest to the bus stop, pools and some restaurants including Picabu, The Fountain and the Fresh Mediterranean Market.
Each standard room has a desk with connection to high-speed internet. You'll find a 32 inch LCD flat screen TV with remote. Our suite had a 42 inch LCD flat screen TV with remote.  There are light switches on the side of each of the head boards that turn on a small overhead reading lamp. In our suite there was also an ergonomic desk chair that we found very comfortable and supportive.
The temperature is controlled by the guest, but the system has a motion detector that turns itself off when guests leave the room.  There is a coffee maker with tea and Starbucks coffee.  The soaps in the bathroom are fragrant, and as with most hotels, they don't have unscented products.  Free newspaper delivery and irons with boards are included.
Dining: With 17 venues within both of the resorts, there are certainly a lot of options. You could dine in the resorts for a week and not grow tired of it. There is also 24 hour room service available at both resorts.  The majority of the restaurant choices are more on the upscale side, with a few exceptions.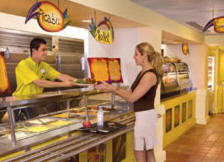 The least expensive option for meals is Picabu, a 24-hour cafeteria located in the Dolphin. You can also find snacks and sundries there.  The swan does not have a quick food or 24-hour alternative. Those who want closer access to Picabu should consider staying in the Dolphin.
If you have special dietary needs, contact the restaurant in advance of your visit. We have been told by the resort representatives that given enough advance notice, all of the dining outlets will try to accommodate special dietary needs. They will even provide alternative items such as gluten free foods. Of course most of the restaurants are independently run, such as Shula's. This means they will go to different lengths to support customer requests.
If you need kosher meals, you must request them at least 72 hours in advance.
Resort Shopping: There are a number of shops in the Swan and Dolphin including a fine art gallery, clothing store, Disney goods stores, sundries, and even a poolside kiosk that sells items such as sun tan lotion and other related items.
Pools:  We took one look at the pool area and we knew we were where we wanted to be! It's really beautiful, and adults will find it a pleasant way to pass the day. Kids will enjoy the choices here as well. Situated between and behind the Swan and Dolphin are five different pools all in the same area.  Surrounded by lush tropical gardens, there are a wide range of atmospheres you can choose to enjoy.  Look towards the main pool and you'll see waterfalls, caves, woods, large rock faces and bridges. Look the other way and you'll see a small lake with the splendor of the Swan and Dolphin on either side.  There's even a water volleyball area.
We found the lounge chairs to on the comfortable side, and far more comfortable than the chairs at most Disney resorts. There were umbrellas scattered around, but they are not movable. Many chairs are in direct sunlight, but there are a huge number of chairs to pick from.  You can even sit on the white sand beach that borders the small lake.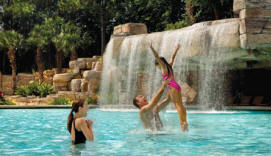 The main pool is called the Grotto Pool. It's 3 acres and made up of three large, connected pools separated by walk-over bridges. A huge two tier waterfall that tumbles over a faux rock face is the centerpiece of the pool, with other smaller waterfalls all around.  You can claim a recliner in the cave under the waterfall for some extra privacy and shade. The restrooms are also under the waterfall, so we found that very convenient. Bring ear plugs along if you're planning on sitting under or near the waterfall.  It's so large and powerful that the sound is deafening!
The Grotto pool ranges from 3 (.91 m) feet to 5 (1.5 m) feet deep. The side pools have gradual stairs into the pool, while the center pool only has vertical metal steps with hand rails along the sides.  There is no zero entry in any of the pools.
If you're looking for a workout, there are two lap pools with marked lanes for serious exercisers.  There are chairs surrounding the pools. The depth goes from 3 feet 6 inches (1.1m) to 5 feet (1.5 m).
The kiddie pool is 3 feet deep (.91 m), and it's situated between a lap pool and the main pool.
There are 4 whirlpools scattered about, and a waterslide.
The official pool hours are 9 AM to 9 PM. The Grotto water slide is open from 10 AM to 7 PM.  Towels were not available when we were there until 10 AM.  There are life guards on duty usually until approximately 7 PM.  This may vary. The pools are heated to 78 degrees Fahrenheit in the summer and 82 degrees Fahrenheit in the winter.  We were there in October and it felt much colder than 82 degrees. The life guard explained that the water from the waterfall chills the water, so the Grotto pool is usually cooler.
Seasonally you'll find a disc jockey, but during other times there's music being piped in throughout the grounds. If you do not enjoy rock music, you may be able to find seat locations that minimized the sound. When there's a DJ, kids will love the group games they organize.
There is a bar and restaurant called Cabana Bar & Beach Club in the pool complex near the Dolphin. There are also restrooms on the side of the building, by the way. A server from this restaurant will take your order poolside if the restaurant is not too busy. With the pool complex as large as it is, we found that it was a very long wait to place an order with the poolside server, and an equally long wait for the delivery of our order.  We found it more convenient to go to the restaurant or bar ourselves. If you're on a budget you'll find that the Picabu restaurant in the Dolphin is a reasonable walk or scooter ride. There are more choices and the prices are a bit lower than the outdoor restaurant offers.
The Cabana Beach Hut is a little store by the pool. You can check out an unlimited number of beach towels there with your room key, but you must return them or there may be a charge. Life vests are issued there and they're complimentary. You can also purchase skin care products, sunscreen, sunglasses and other goodies. Tubes and rafts are available for rental for a fee. Volley balls and basketballs are available in the health clubs of either resort.
Wheelchairs can get just about everywhere but have to take some long routes to get to some places.  We found that the ground is often uneven, so it's important to ride scooters slowly to avoid tipping.
Transportation:  Although this is not a Disney owned resort, the transportation is Disney run. Please refer to the section on transportation for information on the specifics of the boats and buses. The monorail does not come to this area.
Buses are the only form of transportation available from the Swan and Dolphin to Animal Kingdom, Magic Kingdom, Downtown Disney and the water parks.
We found that the buses for the Magic Kingdom and Animal Kingdom came at least every 20 minutes, but the Downtown Disney bus was less frequent. Both bus stops have a resort phone in the area, and we called and requested a bus after waiting over 20 minutes. It arrived around 10 minutes later. Of course this can change day to day.
The two resorts share a boat dock, but they have separate bus stops. Each bus stop is just off of the main lobby. The Swan and Dolphin share bus service with each other and three other resorts. This means that most buses will stop at the Dolphin, Swan, Yacht Club, Beach Club and Boardwalk Inn. You may experience very long rides and crowded buses at times. We chalk it up to high gas prices and Disney saving money. The upside is that you can catch a bus to those resorts to enjoy their restaurants or the Boardwalk.
The outdoor bus stops are covered and there are a small number of benches with backs.  When it's crowded most people will have to stand. There is no ramp for wheelchairs to get down to the street level to board the bus, but the buses will drop their access ramps or lifts on top of the curb so that you can ride on smoothly. There is a fairly steep wheelchair ramp down to the bus stop area.
To get to Hollywood Studios or Epcot, the only form of transportation offered is a water taxi. The Friendship boats can be picked up at the dock between the two resorts approximately every 20 minutes.  As with the buses, the boats at the Dolphin and Swan share a route with the Yacht Club, Beach Club and Boardwalk Inn. This can mean crowded boats and long waits at times, especially during peak seasons and high crowd times such as park openings and closings. Although some people will prefer to walk to Hollywood Studios or Epcot from the Swan and Dolphin, the walk is long enough (approximately 15-20 minutes) to make most people choose to take a boat.
Disney's Magical Express does not serve the Swan or Dolphin.
Concerning the transfer of luggage from the Swan or Dolphin to a Disney owned resort; the official word seems to be that they don't do this. However when we were there they told us they would do it. We have also heard from others who said that they received this service.  With this in mind, we would say that it may or may not be available, but it's worth requesting this service.
Parking: There is a fee for self-parking ($10 per day plus tax) and valet parking ($16 per day n plus tax). Handicapped parking is quite a distance away, and it's not a convenient route for a wheelchair.  If someone in your party is using an ECV or wheelchair we would advise dropping them off at the front door before self-parking. The other option is to use the valet service. Disabled guests can get valet parking for the same charge as self-parking.  They do require a valid state issued disability sign.
Spa: The Dolphin resort houses the Mandara Spa. In Sarah's experience it's the most beautiful spa she's ever seen. It's decorated in Balinese fashion with intricately carved wood and art pieces everywhere. It has beautiful sitting areas with fresh fruit, snacks, citrus water and tea for guests. The waiting areas have men and women together.  There's an extensive menu of services to choose from which you can find on the official site at www.swandolphin.com.
The spa does not offer a sauna or whirlpool as a part of the experience, however you can book and pay for services that includes a private tub with jets. There is a co-ed steam room. The spa is not located near the pool.
Although you will be unable to get a scooter through the door to enter the spa, it appears a standard wheelchair will fit. Richard Johnson, the manager of the spa, borrowed a standard wheel chair and was able to navigate through all the doorways in the Spa. This included Men's and Ladies' Locker rooms as well as both relaxation rooms and the treatment rooms.  We certainly appreciated his support!
The massage therapists have varying levels of experience. If you require someone with a lot of experience we would suggest you request this when you make your appointment.
The spa has products to accommodate those with allergies including a fragrance free massage oil, as well as citrus free and seaweed free formulas.
Fitness Center:  There is a fairly good size fitness center in both the Swan and Dolphin. They seemed quite well equipped. Both the men's and women's locker rooms have a dry sauna, and there is one whirlpool which is shared by both men and women.  Check the current schedule for a variety of exercise classes. Those with back issues will enjoy the recumbent bikes and elliptical machines. There's also a very nice walking or jogging trail that winds around the two resorts.
Entertainment: Options include a good size arcade room, tennis, basketball, volleyball, jogging trails, health club and an art gallery.  There is a ping-pong table in the pool complex next to the bar and restaurant building. Guests have access to advance tee times on the four championship Disney golf courses. The resorts are also quite close to the Fantasia Gardens Miniature Golf Course.
Kids from four to twelve years old can participate in Camp Dolphin, which is held every evening from 5:30 PM to 12 AM. The fully supervised program features arts and crafts, movies, video arcade time and a special dinner program.
If you're visiting the spa or dining at Todd English's Bluezoo or Il Mulino New York Tratoria, you can drop off your child at Camp Dolphin at no charge. Some rules apply, such as one child admitted for each adult entrée purchased.
Pest Management in the Swan and Dolphin: Here is the resorts' description of their program:
"A professional company (currently Ecolab) is contracted to perform pest control maintenance in the resort. Rooms are inspected on a daily, rotational basis and preventive maintenance is performed.  If reports of pests are reported by the hotel team or a guest the Ecolab representative is dispatched to the area where appropriate measures are taken to eliminate the pest. Guests can request no spraying before and during their visit."
Other amenities:  There is a coin operated launderette on the first floor of the Dolphin resort. It has top loading washers and front loading dryers on the walls above the washers. The area is accessible.
You'll also find business centers, National and Alamo car rental desk, ATM machines, concierge services and airline boarding pass kiosks.
Do you have more tips or thoughts on this topic?
Please feel free to post them in a comment below. We'd love your input.
Join our facebook group!!!!
Ask any questions, share your knowledge and just enjoy getting to know other Disney fanatics in our facebook group called Walt Disney World Made Easy for Everyone.
Also join me on Pinterest here.
GET UPDATES, NEWS & TIPS (IT'S FREE!!!)
Sign up below to stay updated on the newest information, tips and tricks to help you plan your perfect Disney World trip!
Some photos belong to the Swan and Dophin Resorts and are used with their permission.