Location: In the Downtown Disney Resort area. Address: 1960 Broadway, Lake Buena Vista, FL 32830. Phone: (407) 827-1100. Fax: (407) 827-1151
Making the most of the beautiful back woods area on Disney property, Disney created a peaceful and uniquely appealing resort. If you love nature and you liked tree houses as a kid, here's a one-of-a-kind experience that may be for you! Disney's Treehouse Villas were closed for years, and re-opened in 2009. Redesigned with a lot of Disney magic added, the octagonal shaped units are elevated 10 feet off the ground (about 18 steps up, but there are handicapped accessible units). They sit on pedestals and beams that are designed to blend into the forest environment. Though the villas have a rustic décor, they offer luxury and comfort. The resort kind of reminds us of the Ewok forest compound in Star Wars Episode VI: Return of the Jedi, where the small teddy-bear-like creatures lived. Walking around Treehouse Villas we got the feeling that we might run into an Ewok!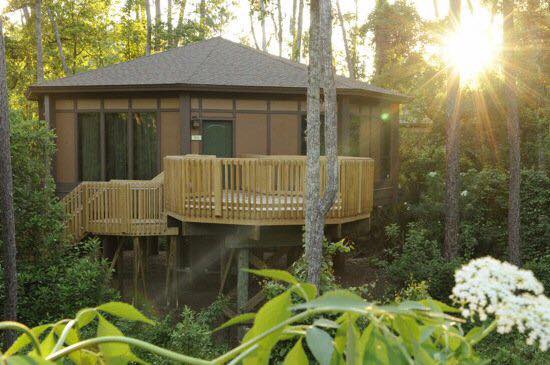 Disney has obviously taken pains to keep this area very rustic. The roads are narrow and almost nothing is cleared out except a tiny area just big enough for your barbeque grill immediately around the base of each cabin. There are paved concrete paths on the grounds to walk on, and it's a good thing, because everywhere there isn't a path seems pretty much non-navigable.
Considered luxury camping, amenities are light with one small quiet pool that has a hot tub and a coin laundry facility, and not much else. There are no other services here either. If you want to shop, dine or talk to a Disney cast member in person, you'll have to get to the main Saratoga Springs lobby.
Since the Treehouse Villas are considered a part of the Saratoga Springs Resort and Spa, Treehouse guests are free to use the amenities at Saratoga Springs. Yet it's not terribly convenient. Saratoga Springs is in another area entirely, and it's not connected by roads unless you leave the resort and come back in from the highway. Walking for most people is impractical. There's a walkway that runs from The Grandstand area of Saratoga Springs, which is about two tenths of a mile long. Then, it's a LONG walk from the Grandstand area to the main area Saratoga Springs are with its services and amenities.
The walkway from Treehouse Villas to The Grandstand cuts though the golf course. This always gives us the willies because we have the disconcerting sense that we could get whacked with a ball. We assume that Disney has it planned out so that the path is not within the driving range, and while we suspect it's safe, you never know.
Check-in: Check in is at the Saratoga Springs main lobby. See that resort for the description. Unless you're a guest at Treehouse Villas, you can't get there by car because there's a gate that only opens with a card key that you receive at check-in. If you don't have a car, Disney will transport you and your luggage to your villa using the a golf cart-type vehicle that they use for Saratoga Springs.
After check-in, if you do have a car you'll drive to the Treehouse Villas by leaving Saratoga Springs, going back out onto the main road to the left, and then turning in to the left about a half-mile away. Follow the signs. After you have checked in, you won't have to go back to Saratoga Springs unless you want to.
Each Treehouse villa has only one parking space. You can keep an extra car over at the Saratoga Springs Resort, but that's almost a five to ten minute drive, so every time you want to take the crowd out it will mean shuttling back and forth.
Guest Rooms: Each of the 60 villas has three bedrooms and two bathrooms with approximately 1,074 square feet of space. They sleep up to nine plus a child under 3 years old. Some of the villas border the river, but Disney will not guarantee a riverside location at this resort. The foliage has become so lush that even the villas by the water may not offer much of a view.
Though the villas maintain a rustic, almost 70's quality, they include modern luxuries such as cathedral ceilings, granite countertops, a whirlpool tub and flat-screen TVs. They're decorated in forest greens and browns, with pine-cones and other such campy patterns in the fabrics. The hard surface flooring is stone, but in the bathrooms the flooring is pebbly. The lighting throughout is a bit dim. Furniture is mission style, rough hewn, log or twig. Rooms have big floor-to ceiling windows to give better views of your woodsy surroundings.
Flat screen televisions are in each bedroom as well as in the living room. The master bedroom has a queen-size bed, two night tables, desk and chair, bureau, ceiling fan, a hard bench with a storage drawer, and master bathroom with a single sink and good size vanity, whirlpool tub, shower, and separate room with a toilet. The second bedroom has a queen bed, the third bedroom has a bunk bed, and they both have a bureau and night table (two in the second bedroom).
The full-sized kitchens include a coffee maker, pots, pans, dinnerware, glassware, flatware, microwave, refrigerator, dishwasher, toaster and stove. The kitchen opens to a living area. The living room has a queen sleeper sofa, sleeper chair and another reading chair. There's a dining table that seats six guests with four padded, armless wooden chairs along three sides, and a padded bench along the fourth side. The island counter that separates the kitchen from the living room seats three with high, round wood counter stools (no backs). The living room also has a ceiling fan, TV and DVD player. There's a bathroom off of the living area with a shower/tub, single sink and vanity and toilet. The laundry area has a stacked washer and dryer.
The decks off the living rooms are generous, and have a round table with four plastic slatted beach-type chairs with arms. It's a perfect place to relax and enjoy the outdoors. Each Treehouse has a charcoal barbecue.
There are 4 accessible villas with ramps up to the villa and roll-in showers. Unfortunately none of these villas are by the water. Cars will be parked right by your villa. Ramps are quite long, and are shared, two accessible villas to a ramp. They split off at the top, like a Y. If you have a manual wheelchair be prepared for a bit of a workout to make it up. Accessible villas also have stairs. Besides the lowered bed and accessible bathroom in the master bedroom (roll in shower, handrails, levered faucets, etc.) these villas have lowered counters in the kitchens, wheel-under kitchen sinks with open kitchen shelving, lowered hanging bars in the closets, a front loading washer instead of top-loading, and a lower tub entrance in the second bathroom.
Pool: The Treehouse pool is small and rectangular with no special theme, lifeguards or a slide. There's a hot tub, and towel service. The brown fabric chairs are mostly chaise-lounges, and there are a few umbrella tables with upright fabric beach chairs with metal arms. There are bathrooms and a water drinking fountain. At one side of the pool three little decorative brass frogs spit water into the pool. The woods surround the pool, so you get the sense that you're in the middle of nowhere.
Transportation: Disney recommends that guests staying at Treehouse Villas have a car, though it's not required. The resort has a boat dock for the Friendship boats that go to Saratoga Springs and Downtown Disney. It leaves every 20 minutes, taking about 5 minutes to get to The Carriage House at Saratoga Springs, and 20 minutes to Downtown Disney. The boat runs from 10:00 AM until 11:00 PM. It's accessible to wheelchairs and ECVs.
There is no direct bus transportation from the villas to the parks. There is bus service that takes guests to the main Saratoga Springs stop. From there you must transfer to another bus to get to any of the theme parks. The two bus stops in Treehouse Villas are in the south and north ends. They're tiny (about 12 feet wide) shacks with single rough wood benches with no backs. The buses drop guests at The Springs bus stop, which is directly across from the pool and the rest of the services at the Carriage House. From that bus stop you can catch any of the park buses.
Thanks to Susan Hunter for the photo of the Treehouse Villa!