Header image by Jessica Blake
Location: In the Magic Kingdom Resort area. Address: 901 Timberline Dr. Lake Buena Vista, FL 32830. Phone: (407) 824-3200 Fax: (407) 824-3232. Parking fee: $25 per night Self-Parking, $33 per night Valet Parking. Check-in: 3 PM. Check-out: 11 AM. Resort Type: Deluxe Villas.
These villas are a part of the Wilderness Lodge Resort. The main Wilderness Lodge resort building serves all guests staying at the Wilderness Lodge, Boulder Ridge Villas and Copper Creek Villas guests. Guests at all three of these locations can use the amenities in the main building, including the pool. Guests at Boulder Ridge Villas check-in in the Wilderness Lodge main lobby.
We'll cover things that are specific to the Boulder Ridge Villas here. Visit here for details on the Wilderness Lodge Resort.
About Boulder Ridge Villas at Wilderness Lodge
The 181 Disney Vacation Club villas are in a separate building attached to the main hotel by a broad shaded walkway.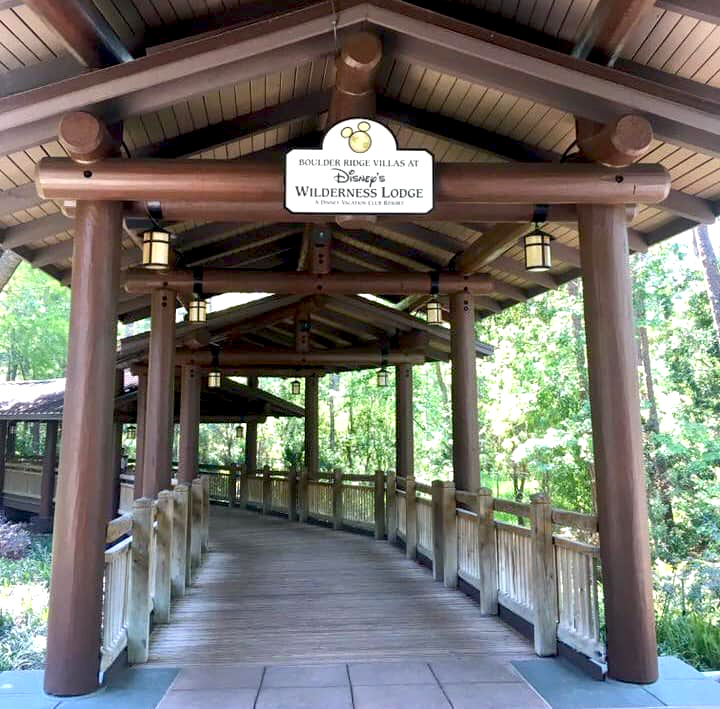 The long, narrow villa building is five stories high and extends quite a distance away from the hotel. A room at the far end is a long walk from the main hotel lobby, main pool and hotel services, but some might enjoy the seclusion. One guest told us she sat on her balcony and watched a deer hanging out, right underneath her feet.
Although Boulder Ridge Villas does not have a full-service lobby, it has a beautiful three story high entrance rotunda with some seating and a fireplace.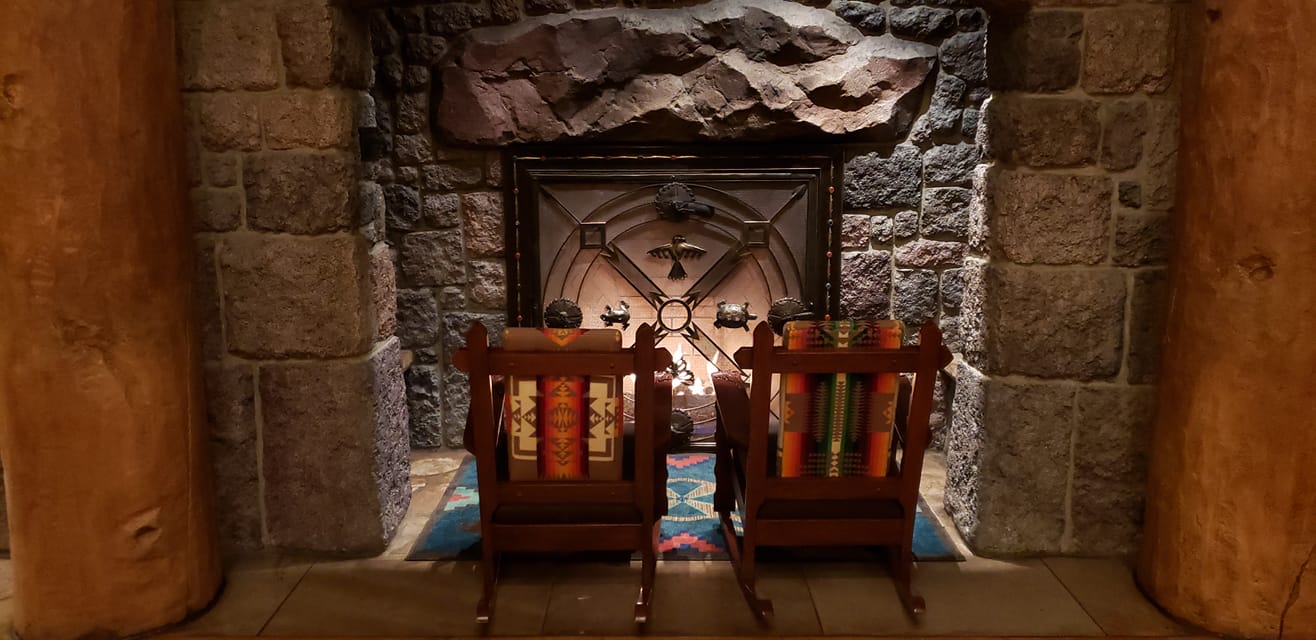 Check out this photo taken at Christmas time. You can see the grand scale and detailed work that went into this area.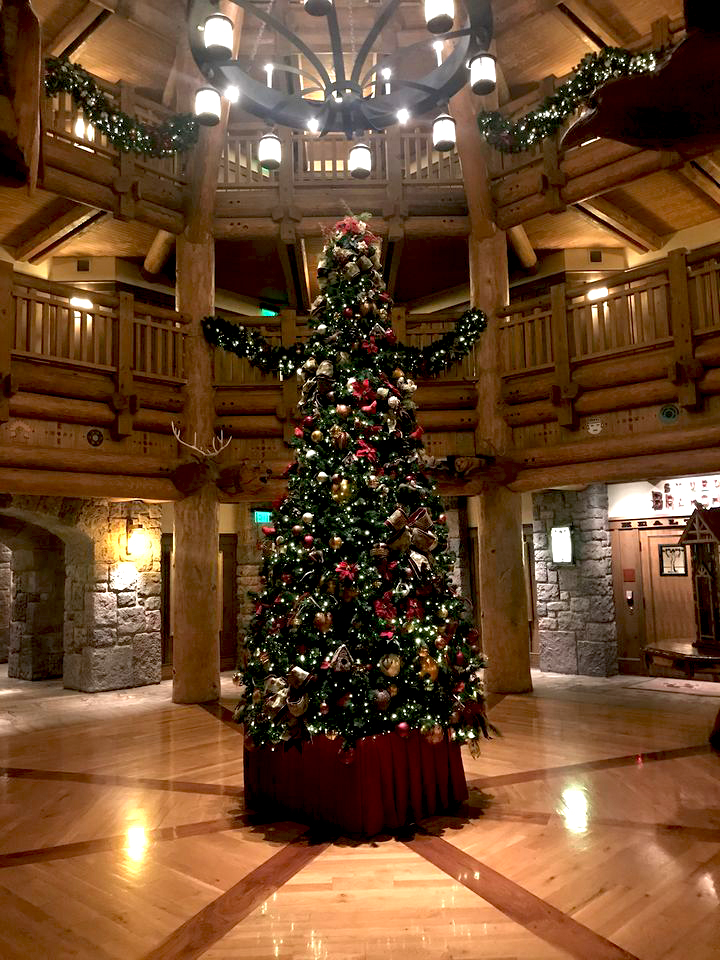 Off to the side is the Carolwood Pacific Room, which is the Boulder Ridge version of a lounging place.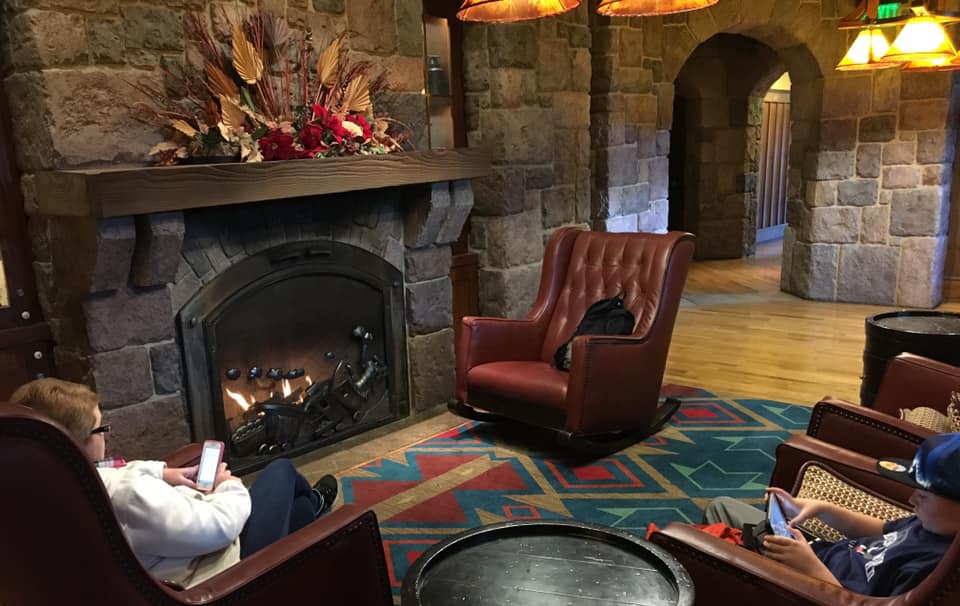 In the room, Disney pays homage to Walt Disney's love of trains. Two of Walt's personal scale-model railroad cars are on display along with a piece of the original track. Here's one of them: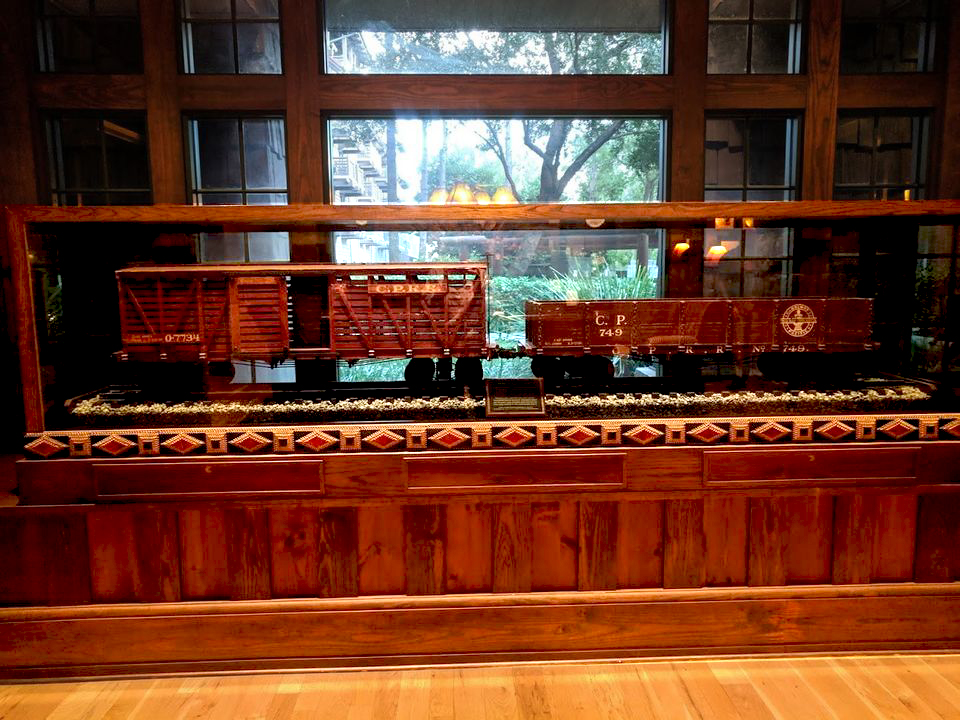 Board game tables are available for guests here. It has a variety of comfy chairs including leather rocking chairs and log-type Adirondack seating. The walls are stone and wood, the floors are polished wood, and carpets add to the coziness. Find yourself a window seat or a chair by the fireplace and you'll really feel like you're away from it all.
The Boulder Ridge Villas guest rooms
The Villas feature large living areas, with a choice of woodland, courtyard, pool or Wilderness Lodge Resort Hotel views.
Studios, one-bedroom and two-bedroom suites are available (no three bedroom villas). The themes and color schemes are similar to those in the hotel rooms, but in our opinion, the furnishings and décor in the hotel rooms seem to have more character, detail and a more upscale feel than those in The Villas. Regardless, The Villas units are spacious and comfortable. The fabrics are done in bold ginghams or Native American patterns. All of these elements combine together to create a busy but cozy feel. The rustic furnishings are more simple and contemporary then those in the hotel rooms, without that hand carved wood and log look.
Every unit has a private balcony or patio. Handicapped accessible rooms are available here. Unless you're a hotel guest, you won't be eligible for daily maid service, and the coffee supply is for one day only. Additional coffee can purchased from the Wilderness Lodge Mercantile in the resorts' main lobby.
Deluxe Studios at Boulder Ridge Villas
Room Size: 356 square feet
Sleeps: 5 adults and one child under the age of three in a crib.
The Studios include the following:
A queen-sized bed and a double-sized sleeper sofa and a single pull down bed appropriate for a child.
Nightstand
Wet bar/kitchen area
Armoire with a small pull out table and two chairs.
32" flat screen TV
Coffee table
Small dining table with two chairs (with backs, arms padded seats), DVD player, ceiling fan, and a safe.
Porch or balcony
DVD player upon request
ironing board/iron
The vanity area is separate from the toilet/bathtub/shower area, and features a generous granite countertop with a single sink.
There's a kitchenette area with an under-the-counter refrigerator, microwave, toaster coffeemaker and wet bar. A start-up supply of coffee is provided in addition to coffee mugs, glasses, bowls and plates, and cutlery. Take a tour of the studio villa with this video below.
Take a tour of the Boulder Ridge Villa Studio here:
One-Bedroom Boulder Ridge Villa
Room Size: 727 square feet
Sleeps: 4 adults and a child under the age of 3 in a crib.
The master suite includes includes:
A king size bed
Flat screen TV
Armoire
Chair with a small side table
Two night tables
A bench with extra storage space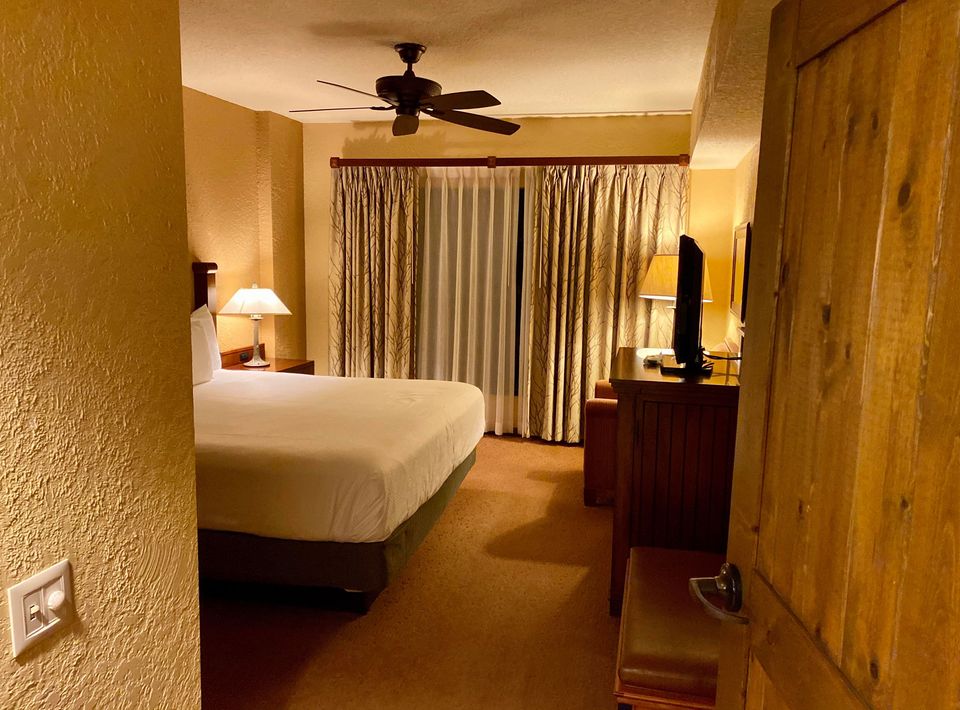 Opening to the bedroom and separated by a wall with no door is a separate vanity and sink area with a whirlpool tub. Over the tub there are rustic wooden window-shutters that open into the bedroom. The full bathroom has an extra large shower, a single sink and a separate room with a toilet.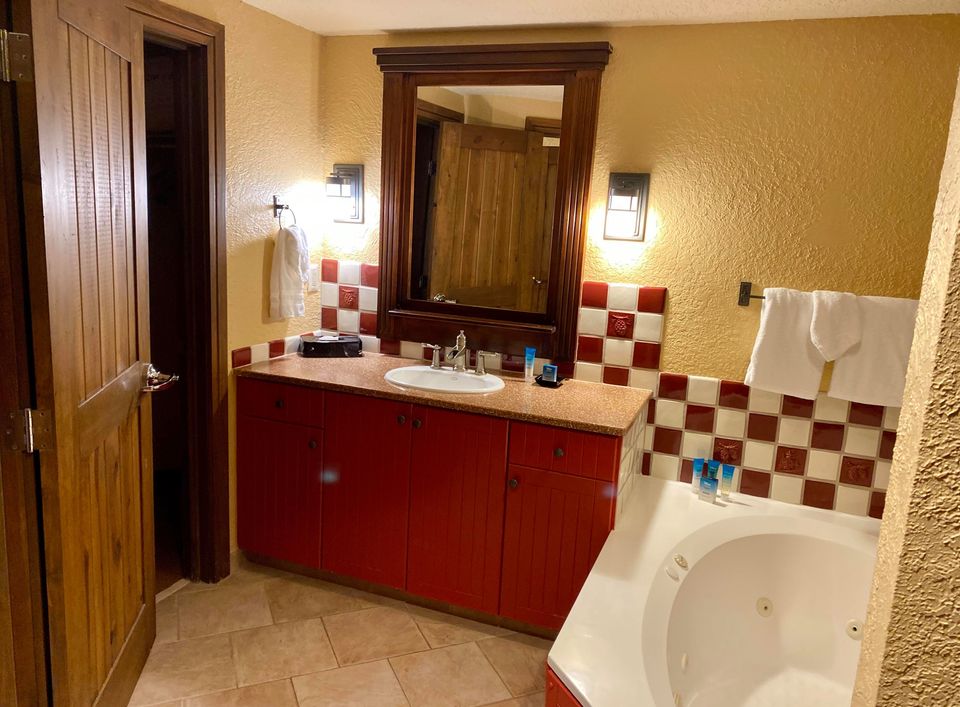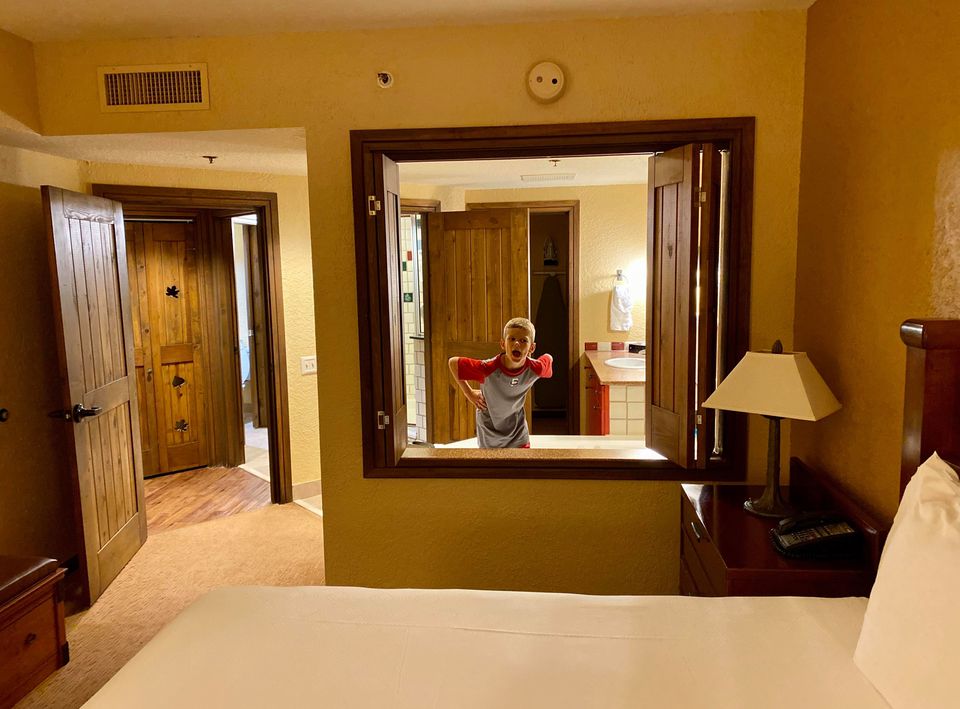 The rest of the villa has (kitchen is below):
A queen size sleeper sofa
Coffee table
End table
32" flat screen television with DVD player (upon request)
Upholstered chair
Dining table with 2 chairs (though it could seat four if you drag the chairs over from the island)
An island work area that separates the living area from the kitchen that has two chairs.
French doors in the living area leading to a private porch or balcony.
Fully equipped kitchen
Washer/dryer (stacked)
ironing board/iron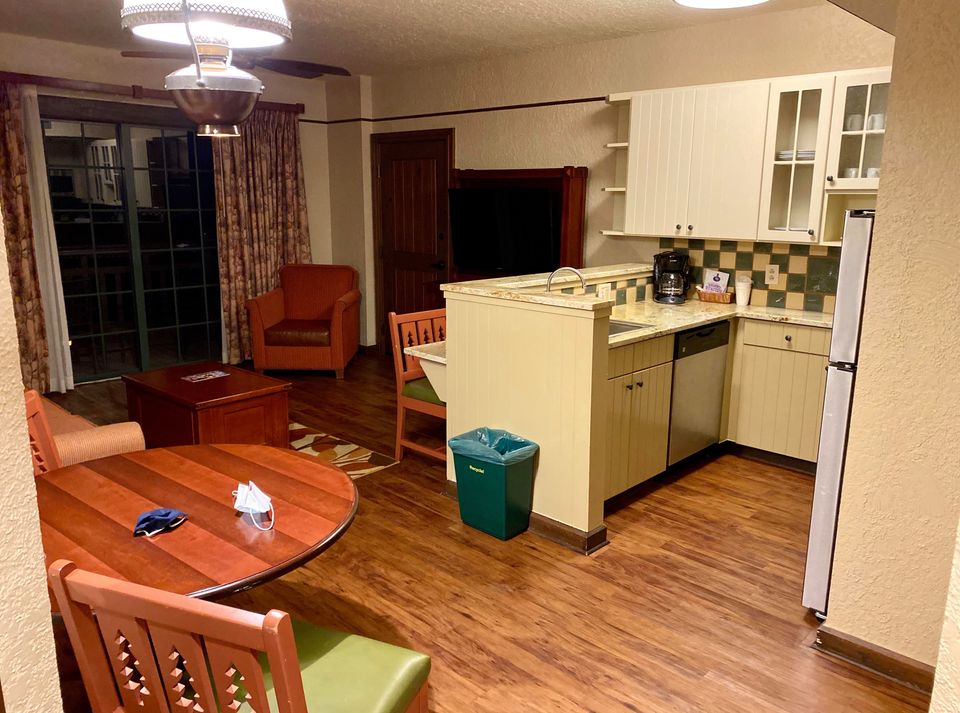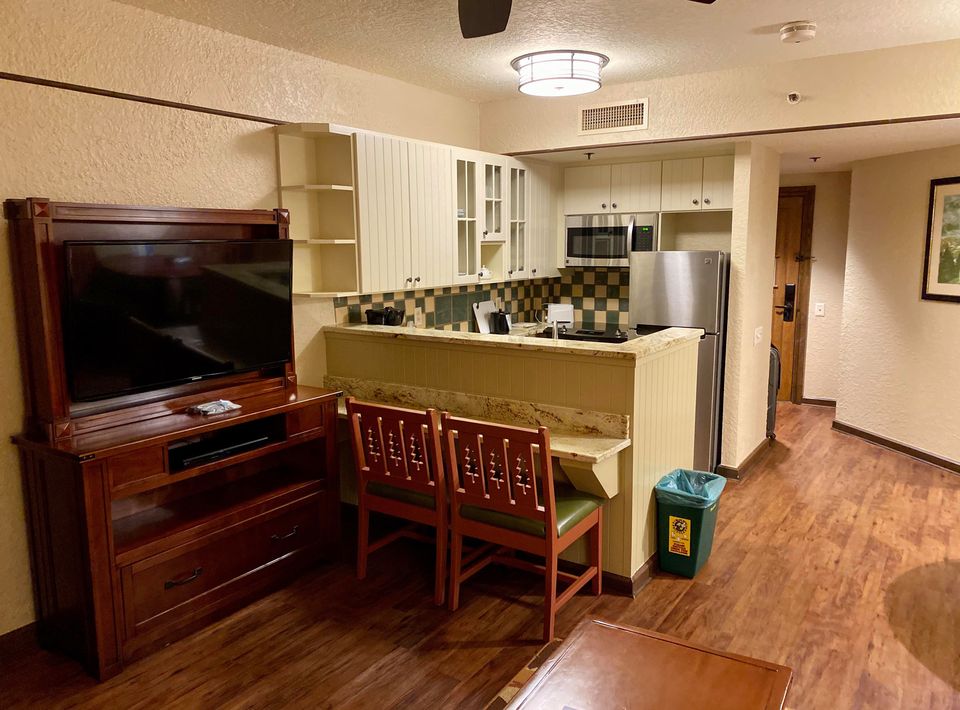 The kitchen has a regular sized refrigerator/freezer, full sized stove with oven, dishwasher, microwave, coffee maker, toaster, and tea kettle. The kitchen cupboards are stocked with cookware, utensils, serving bowls, dinnerware, flatware and glassware service for 8. There's dish soap, dishwashing detergent, a vacuum cleaner, broom and dustpan, iron and ironing board, stacked washer and dryer and one sample sized box of laundry soap.
Take a tour of the 1 bedroom Boulder Ridge Villa:
Two-Bedroom Lockoff Villas at Boulder Ridge
Room Size: 1080 feet.
Sleeps: 8 adults plus a child under the age of 3 in a crib.
The units are a combination of a one-bedroom suite with a deluxe Studio connected by an adjoining door. They have everything that each of these units would include.
FOR A HUGE DISCOUNT ON DISNEY VILLAS CLICK BELOW AND VISIT DAVE'S VACATION CLUB RENTALS:

Have more questions? Or just want to hang out with other Disney World fans? Join these Facebook Fan Groups:
Also join me on Pinterest here.
A HUGE thank you to all the people who donated photos and video. You all rock! Thank you especially to Debbie Dawson White for her support with this article!
GET UPDATES, NEWS & TIPS (IT'S FREE!!!)
Sign up below to stay updated on the newest information, tips and tricks to help you plan your perfect Disney World trip!