Header image by Stephanie Pini Pratt
Location: In the Magic Kingdom theme park area. Address: 1600 Seven Seas Drive, Lake Buena Vista, FL, 32830. Phone: (407) 824-2000. Fax: (407) 824- 3174. Parking fee: $25 per night Self-Parking/ $33 per night Valet Parking. Check-in: 4 PM for Villa guests, 3 PM for everyone else. Check-out: 11 AM. Resort Type: Deluxe & Deluxe Villas.
About Disney's Polynesian Village Resort & Villas
The Polynesian resort is a "monorail" resort, situated in the Magic Kingdom area of Walt Disney World. It's on the shores of the Seven Seas Lagoon. One of two original opening day resorts (the other is the Contemporary), the bright brown/red/orange color scheme can be seen from all around the lagoon. The central building – the Great Ceremonial House – stands in the middle of the resort. It houses the monorail station.
Just walking to the entrance of this resort, you are immersed in a tropical paradise. This is where guests first encounter lush tropical and subtropical foliage with vivid colors from plants like bromeliads and orchids.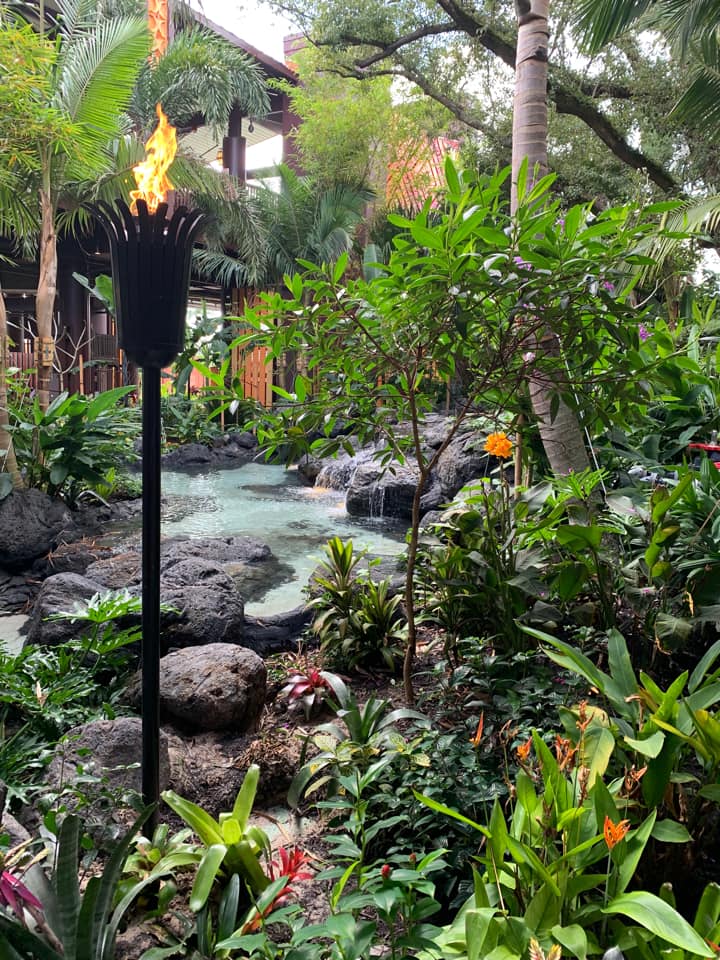 Walk inside the Great Ceremonial House and you may be greeted with a lei (artificial floral necklace). The center of the atrium is home to a tiki statue which is often adorned with leis. Other large tiki statues and carved wood features are everywhere you look. There are polished stone floors, bright accent colors in the carpets and furniture, and Polynesian architectural touches that create a lovely atmosphere.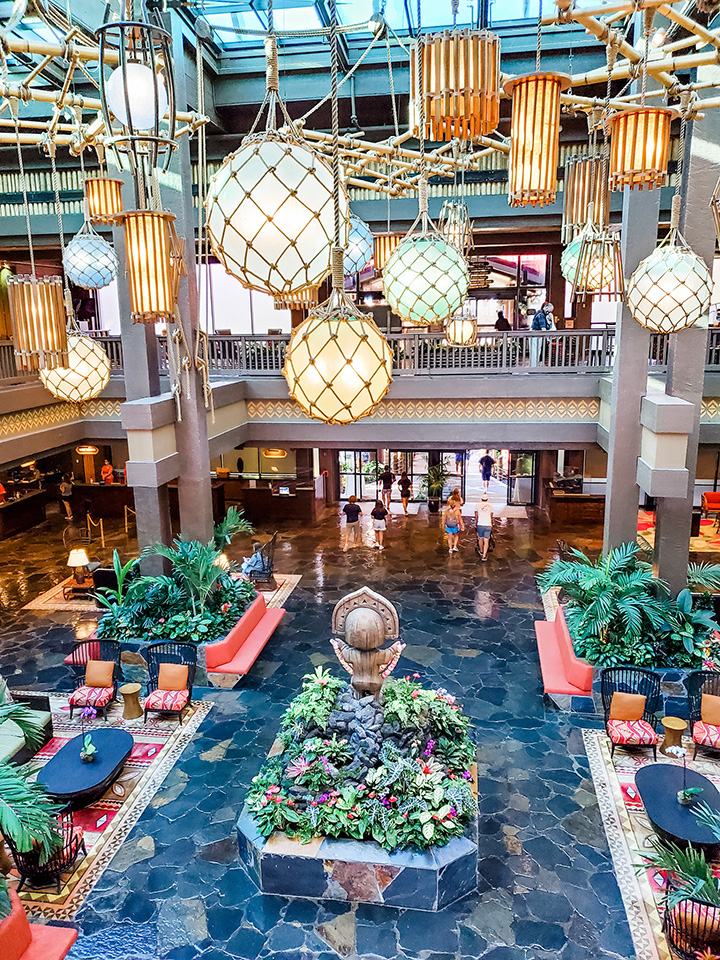 The theme is carried out throughout this resort, with streams, bridges, koi ponds, torch lights throughout the grounds, and guest room buildings designed to look like South Pacific lodges.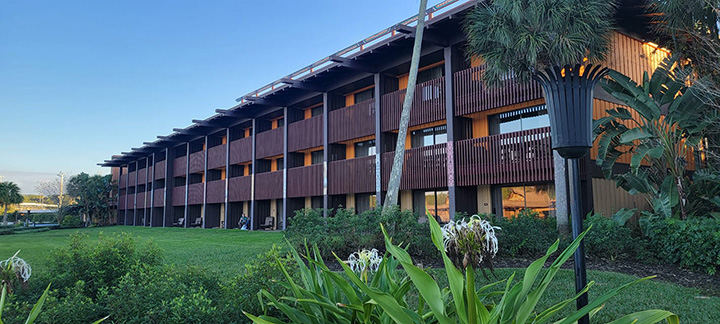 Soft Hawaiian music is played throughout much of the resort.
TIP: if you are not offered a lei when you arrive, you can request one from the concierge desk.
The Polynesian Village resort is very popular, at least in part because of:
The well-executed theme
Beautiful grounds
Larger rooms compared to other Disney resorts
Close proximity to Magic Kingdom
Incredible views
Easy transportation
Other amenities like the themed pool, dining, etc.
The view from the white sandy beach is one of the most beautiful at Disney World. There are Adirondack style chairs on the beach to hang out on and to watch the world go by. In addition to the lake view, guests have a clear view of Cinderella Castle and the attractive Grand Floridian. You can watch the Disney boats pass by. You'll also be able to watch the iconic monorail silently glide by in the distance.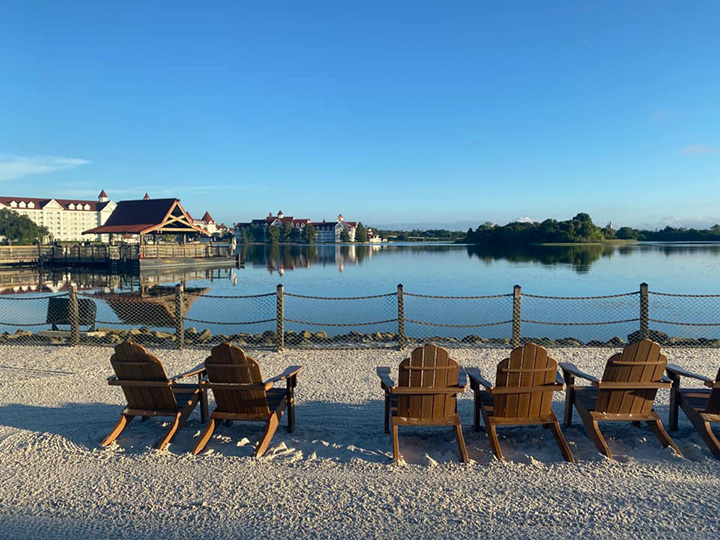 At night you can catch the Electric Water Pageant as well as the Magic Kingdom fireworks. It's a veritable eye feast. You can do all this while lounging in a beach chair, with low-key Hawaiian music playing in the background.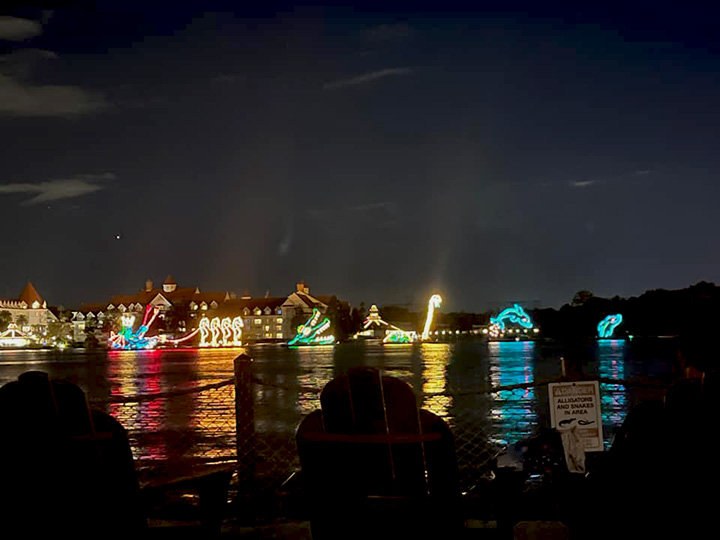 ALLERGY TIP: Those with allergies may wish to know a few things about this resort. First, for many years the rooms were sprayed with a floral fragrance. We've heard that they've stopped, though this is unconfirmed. Also be aware that there are torches throughout the grounds lit with propane gas, and those who are very sensitive may detect a mild smell. Lastly, flowers, plants and trees are everywhere, however some of the more central grassy areas (such as by the pool) are now artificial grass.
Many of the walkways are smooth, but there's also a lot of tiled or textured ground inside and out that's bumpy for wheelchairs.
Wheelchair/Scooter Tip: If you're uncomfortable riding your wheelchair on the bumpy surfaces, you can avoid a lot of it by traveling around the resort inside the longhouse corridors which are mostly carpeted.
The Polynesian also added Disney Vacation Club rooms along with some of the most unique and luxurious villas on the property. We'll go into those below.
Pros and cons of Disney's Polynesian Village Resort
First, let's take a look at the advantages or "pros" of this resort. Here's what makes it a good choice in our opinion.
PROS – Advantages to staying at Disney's Polynesian resort & Villas: 
It's beautiful! The views are amazing and the property itself is beautiful.
Informal: It's one of the least formal and most family friendly resorts along the monorail line, with a fun and relaxed atmosphere.
Transportation ease: There are plenty of easy to reach transport options (boats, monorail, buses). This includes the Transportation and Ticket Center is within walking distance. There's easy access to Magic Kingdom by boat, monorail or on foot.
Club level perks: It has a nice sized club level lounge with panoramic firework viewing for club level guests.
Dining options: The Polynesian has some of the best and most varied and popular dining options offered at any of the Disney resorts. They even have character dining (check on availability as it's been temporarily on hold). There are quick service and table service restaurants.
Entertainment: There are some great options for entertainment with Trader Sam's Grog Grotto and the Spirit of Aloha dinner show. Guests can also participate in a wide variety of other activities (see below).
Room size: Larger than average rooms compared to all Moderate and Value resorts and some Deluxe resorts.
Great pool and water features: These make this resort a super pleasant place to hang out in and relax.
Benefits: You get all the benefits of being in a Disney resort, such as room package delivery, transportation, etc.
Deluxe features: As a Deluxe Disney resort you get some additional space, comfort and luxury.
CONS – Disadvantages to staying at Disney's Polynesian resort & Villas: 
No spa facilities onsite:  Guests must travel to the Senses spa at the Grand Floridian. It's not far, but not as convenient as an on-site facility.
Shared transportation: Sometimes bus services can be shared with Grand Floridian and boat/monorail options can have long waits at the closing of Magic Kingdom.
Boat noise: If staying close to the ferry dock or the water, there will be loud boat horns from very early morning to vary late at night. Really the horns can be heard throughout the resort, but the closer you are to the dock, the louder.
Deluxe Resort Cost: Naturally the Deluxe resorts are more expensive than the Moderates or Values.
Main Building at Disney's Polynesian Resort
Built to resemble a royal Tahitian assembly lodge, the Great Ceremonial House is filled with things to see and do.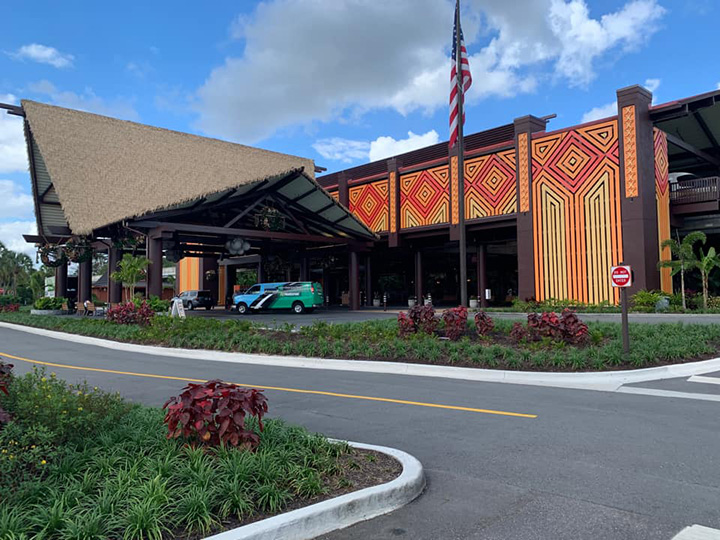 The front desk, stores, restaurants and bars are all here. It's a pleasant environment with benches and comfortable seat groupings that beckon guests to come relax and enjoy. The central atrium creates a light and airy environment to offset all the dark wood and stone that are typical of the hotel theme.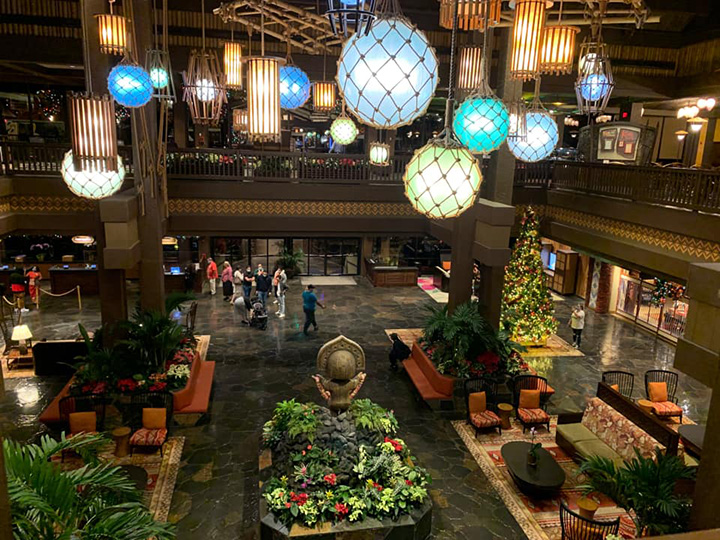 To the rear on the lowest level is the resort's pool complex. From the upper level you can view the Magic Kingdom and its Fireworks. There are no guest rooms in this building.
Checking-in to the Polynesian Village resort & Villas:
Guests check in in the lobby of The Great Ceremonial House.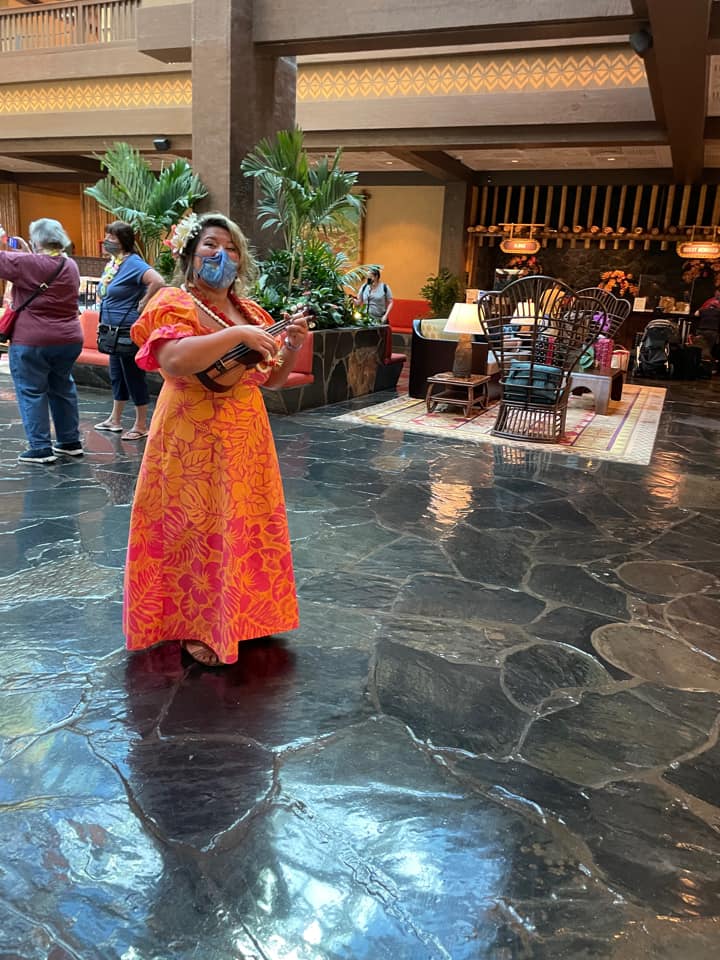 There's an area for kids with a television playing Disney movies. This resort does not have low counters for wheelchairs although there is one slightly lowered desk at the furthest right-hand side as you enter the lobby from the front entrance. It is also now possible to complete the check in process online. This option allows you to go straight to your room without even going to the lobby.
If you're picking up a wheelchair or ECV that was left for you by an outside company, either someone from the front desk can get it for you or one of the cast members who greet you when you enter the Ceremonial House. There's a desk on the left when you walk inside, and if this person is available, he/she can start the process of getting your chair for you. On our visits, Bell Services didn't seem to be involved with this.
Parking at Disney's Polynesian Village Resort
There's valet parking here, which is free for those with a handicapped parking license. The self-parking area is primarily along the front of the resort. There's also a parking lot close to the Rapa Nui longhouse, but it's a very long walk to some of the other longhouses (guest buildings) and the main building. The longhouses that are closest to parking include Rapa Nui, Rarotonga and Tonga.  Rarotonga and Tonga are closest to the main building.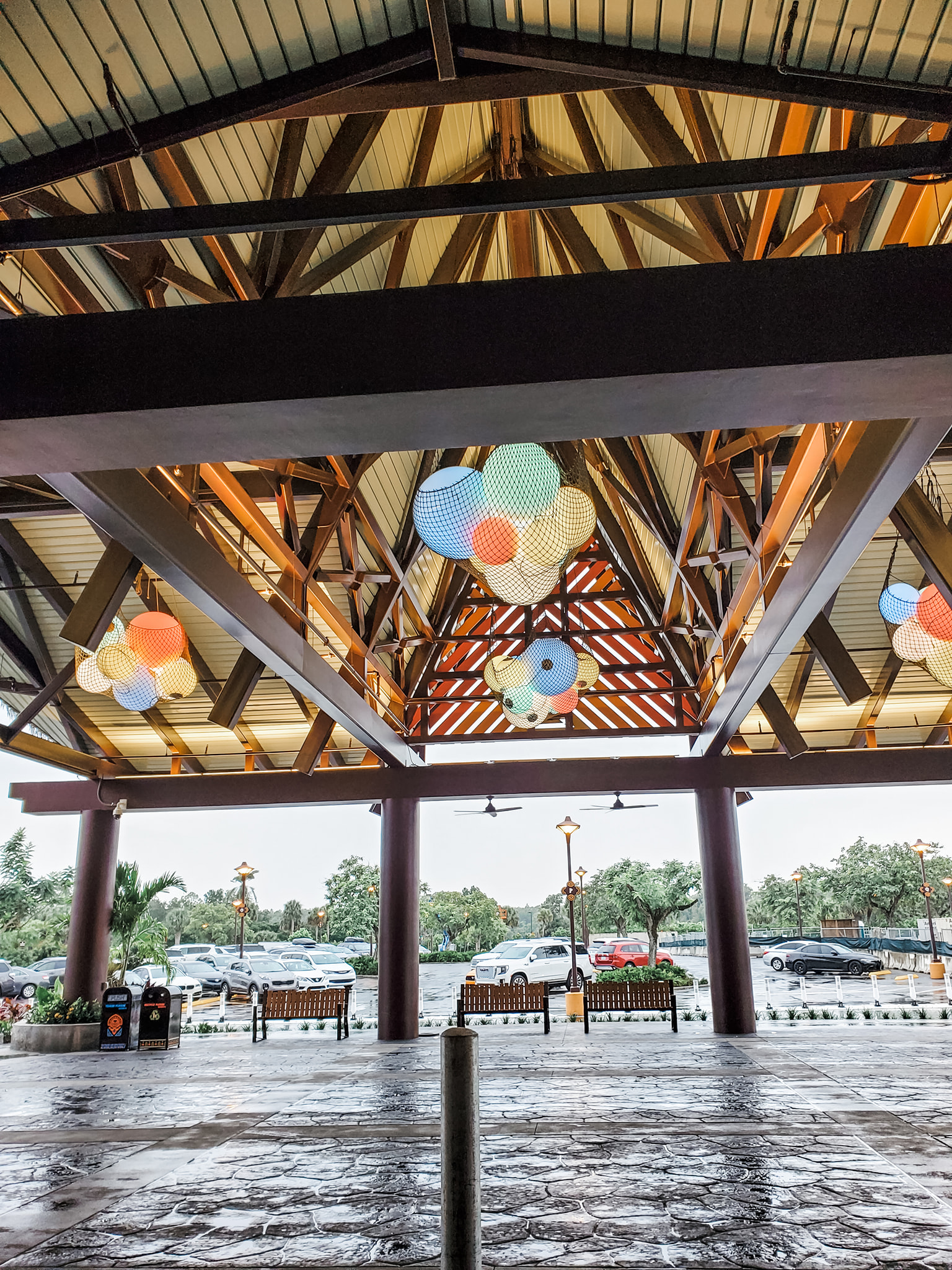 The pools at Disney's Polynesian Village Resort & Villas
This resort has two pools. The main pool is the more themed of the two.
What do you need to know about the Polynesian Village Resort pools?
Towels are available to guests at both of the pools.
Each pool has a chair lift.
There are lifeguards in the Lava Pool but not the Oasis Pool.
Free life vests are available at all pools. They range from infant size to adult XXL.
Each pool has restrooms.
Swim diapers are required for children who are not toilet trained. They can be purchased in the resort store.
The Lava Pool – The main pool at Disney's Polynesian Village Resort & Villas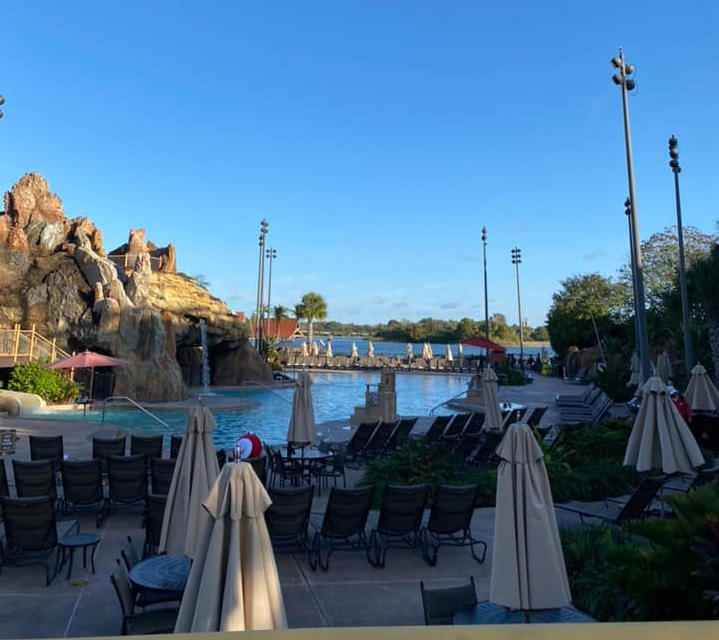 Formerly the Volcano Pool, features – you guessed it – a giant 40-foot volcano. This pool has a waterfall, a 142 foot-long waterslide, zero entry and a transfer tier.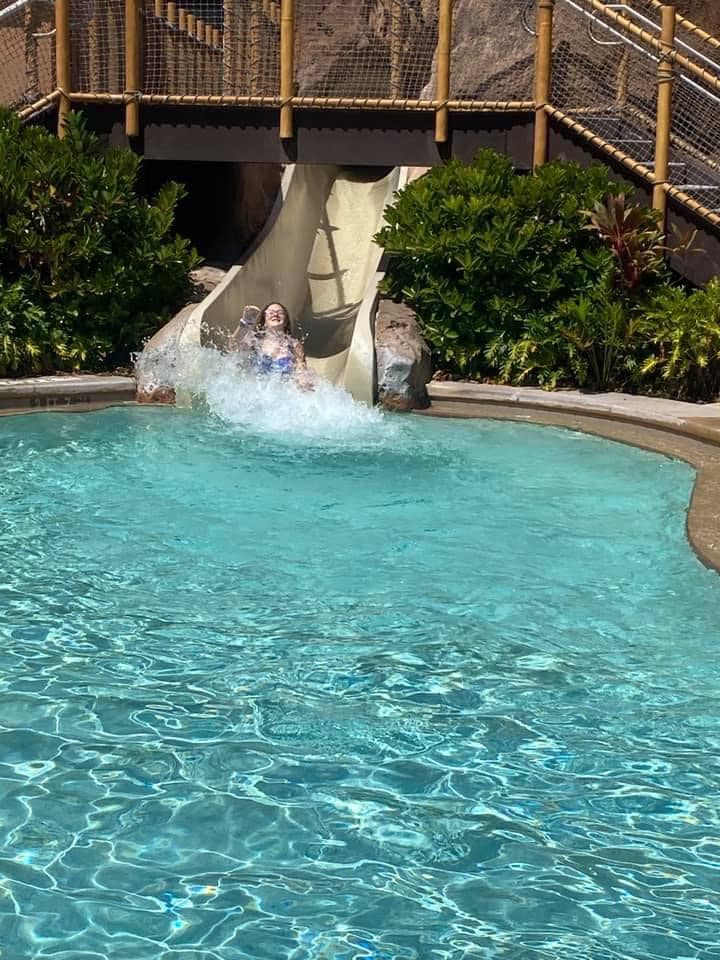 The top of the "volcano" has a kind of waterfall that lets out into the water.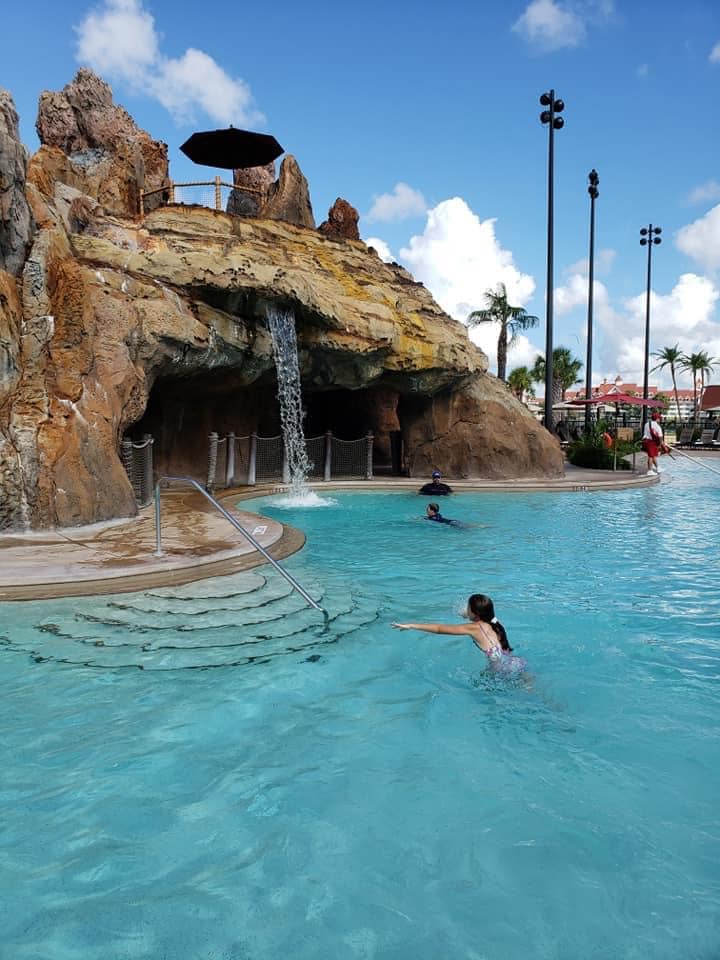 Guests can borrow a water wheelchair here from the lifeguard. This pool is the only one of the two with lifeguards.
The restrooms are under the volcano's waterfall, and you walk under a kind of "cave" tunnel opened at two sides to reach them. They're accessible to wheelchairs and ECVs. There's a shower inside with toiletries and towels, and there's usually a hairdryer. Life vests are available to borrow at the pool side. There is a whirlpool hot tub which is a recent addition to the area.
Next to the main Lava Pool is the children's water play area called Kiki Tikis Splash Zone. It's complete with waterfalls, jets, fountains and a mini water slide for children.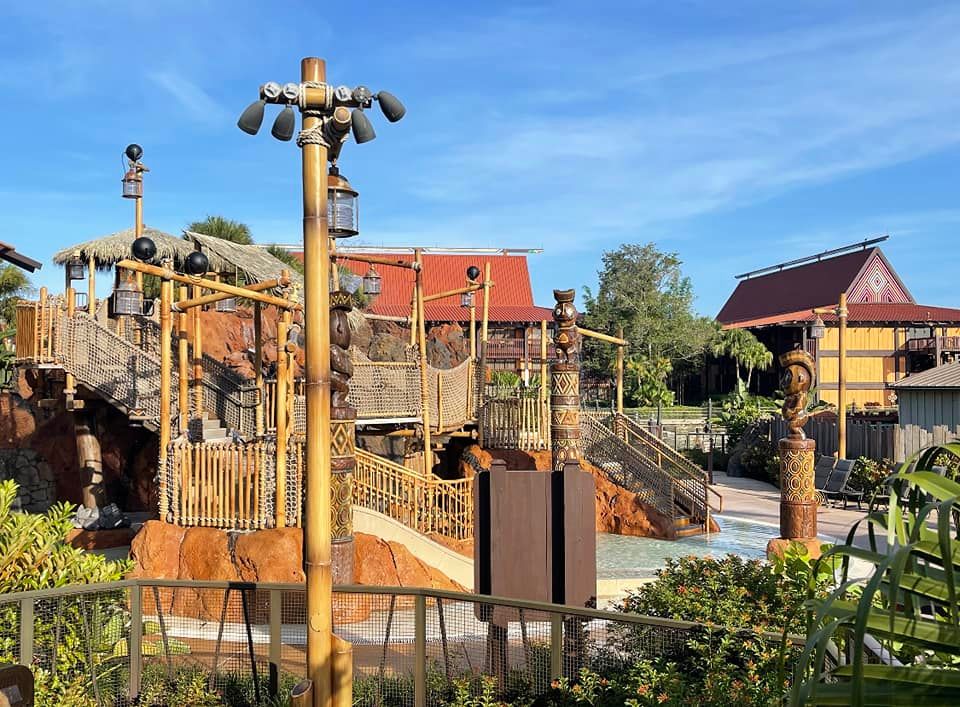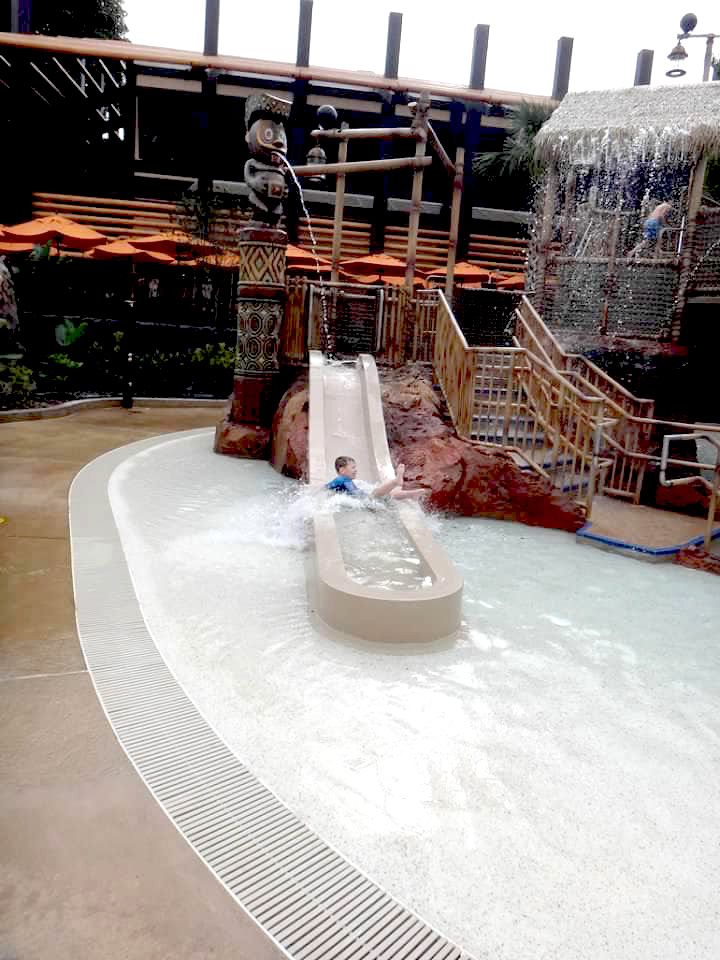 Captain Cook's counter service restaurant is located right behind this pool, inside the main building. The Barefoot Pool Bar is located here, with cocktails and some food items (see below). Nearby you'll also find Trader Sam's Tiki Terrace has a walk-up window for drinks.
Compared to some of the other resorts, this pool is on the small side and can get quite crowded. You may be able to get some partial shade here in some spots. Around the reclining pool chairs there are some umbrellas. Also, there are tables with umbrellas.
Pool Party: In the afternoon, activities cast members may be hosting games or the Lava Pool party, so the pool can get loud and noisy around this time.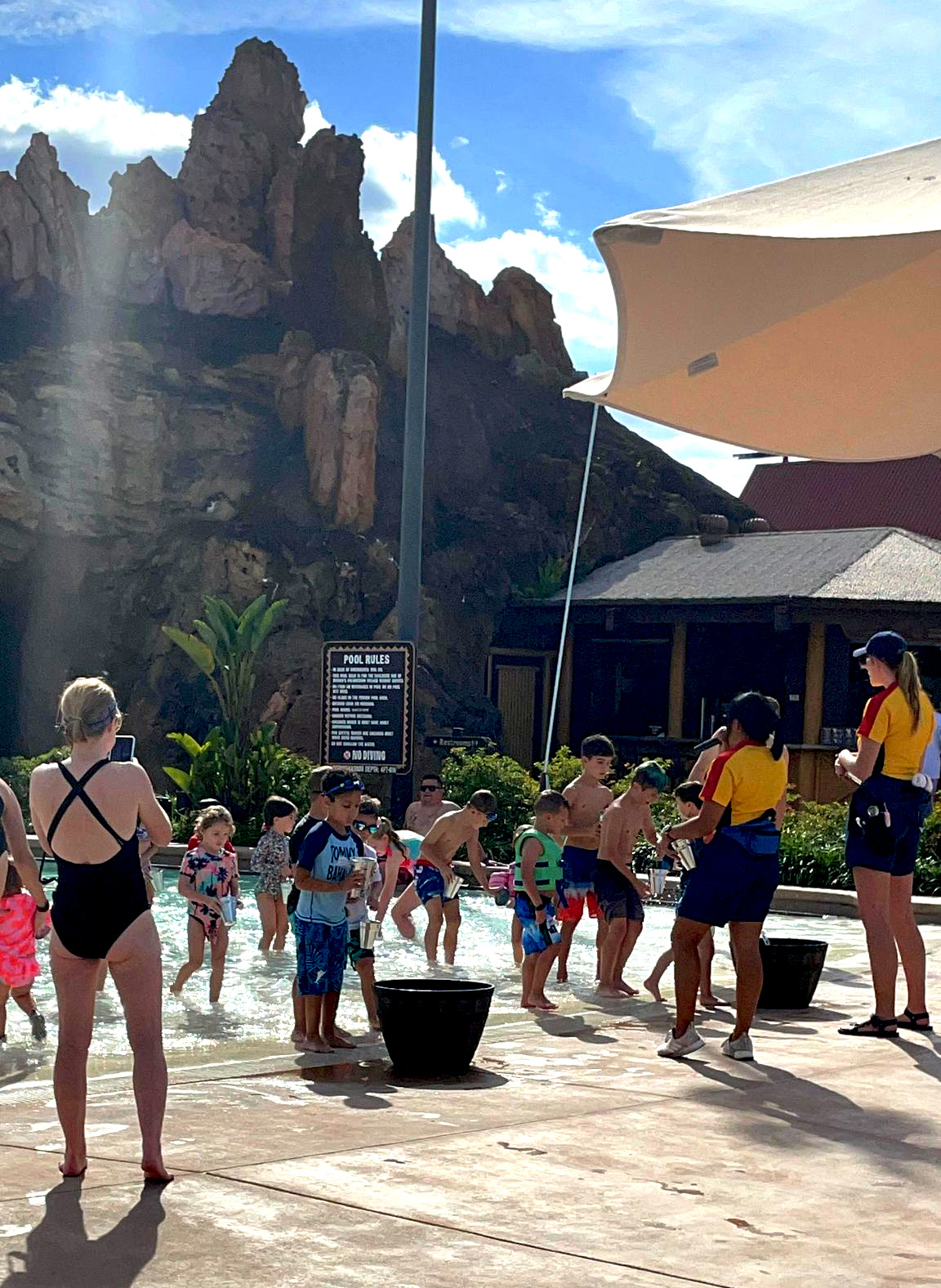 If you are looking for somewhere quiet to relax, head to the Oasis pool instead. Although it's not a true "quiet pool" as some of the Disney resorts have, it tends to be quieter there.
The Oasis Pool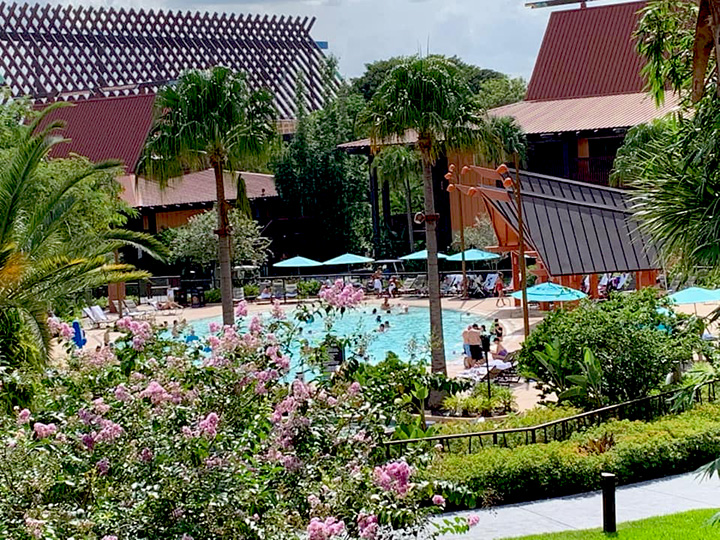 A much smaller, round pool surrounded by longhouses, this tends to be the quieter of the two pools. There are no lifeguards there, but there is a pool lift. This pool tends to hold a warmer water temperature than the Volcano pool. Food and drinks are available at the Oasis Bar & Grill (see below).
Oasis Patios (cabana rental at The Oasis Pool): Guests can rent a private shaded cabana by the Oasis pool. They're an upgrade in luxury! You'll have the option of ordering food and drinks from the Oasis Bar & Grill. It will be delivered to you in your cabana. These cabanas handle up to 6 guests. Cushioned lounge chairs and towels are included. They're available on a first-come first-served basis. For reservations and pricing information call (407) WDW-PLAY [(407) 939-7529].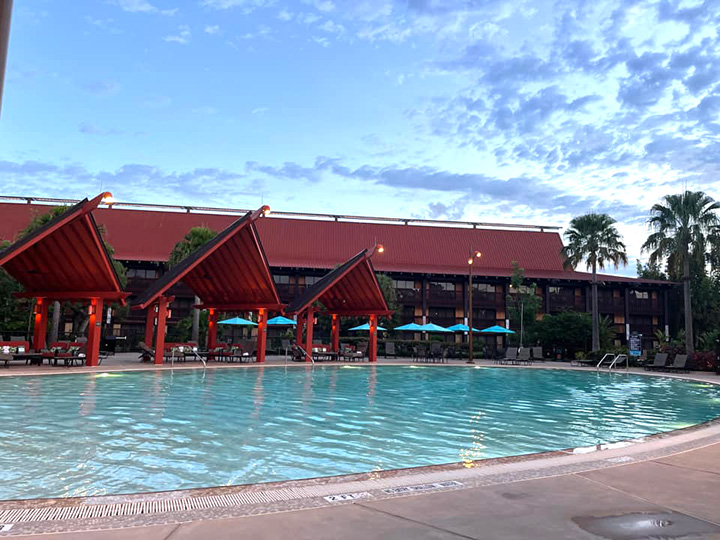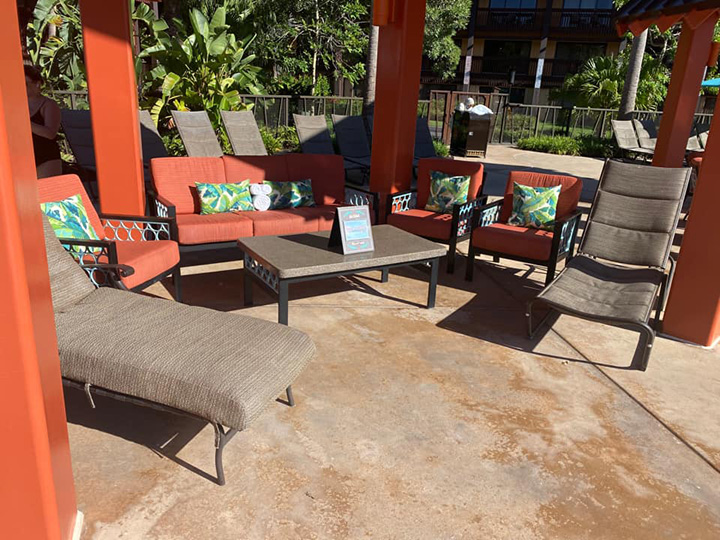 Water temperature for the Disney World resort pools
In the cooler weather, pools are heated to 82° Fahrenheit, 28° Celsius. At times we've found that the pools felt much colder than that. How warm a pool will actually gets will depend on a variety of factors including pool size. At times we've found that the heat was not turned on for a quiet pool. If that's the case, let a Cast Member know you'd like it turned on.
More about pool parties in the Disney World resorts' main pools
Usually sometime after 1 PM, the main pools at all of the Disney resorts have pool parties going on at the main resort pool. Parents and kids will love this, but if you're looking for quiet, keep in mind that these parties are VERY loud. There's dance party music blasting throughout the entire afternoon, and the Cast Members lead the kids in activities over a loudspeaker. Head to the Oasis Pool if you prefer a more quiet atmosphere.
Health club Privileges
This is the only deluxe resort that does not have a fitness center. However, guests are permitted to use the Senses health club at the Grand Floridian Spa & Health Club at no charge. It's easy to get there by Monorail, and it's only one stop away.
Polynesian Village Resort Guest Rooms
Number of rooms: 847
Standard Room capacity: 5 guests plus a child under 3
Beds: Most Standard rooms have two queen beds and one day bed, although some rooms in Fiji, Rarotonga, and Samoa do have one King bed and one day bed.
There are 11 thatched-roof longhouses which are two and three stories high. The buildings are named after Pacific islands. First floor rooms have patios, and some third-floor rooms have balconies. Many of the second-floor rooms do not have balconies, though some do. If you want a balcony be sure to request it. Disney will try to accommodate you but there's no guarantee.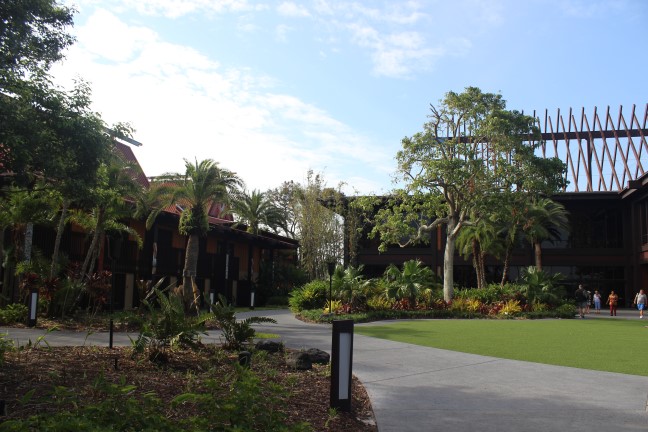 From the farthest rooms it will take approximately 10 minutes to walk to the bus area. Each longhouse has interior hallways, but you must walk on outside walkways to get to your longhouse.
The corridors, which have been refurbished, feature brightly colored and patterned carpets and wall art. Keep your eyes peeled for hidden Mickeys, and even the odd hidden hei hei.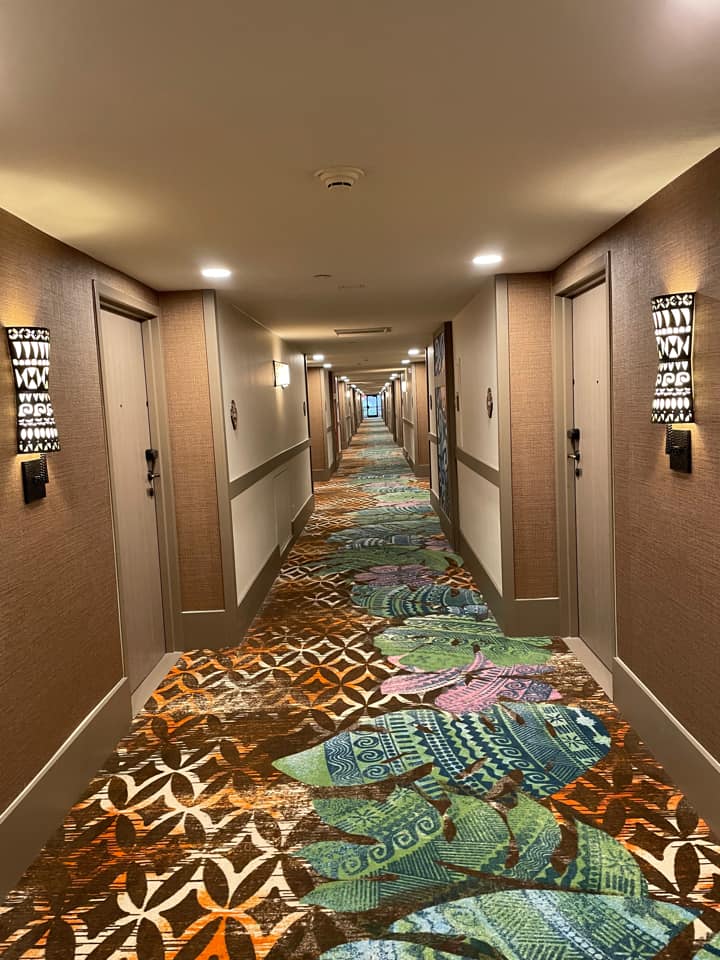 Most recently refurbished in 2020/21, there were changes made to the monorail station, the lobby and the rooms. The new theming of the rooms now infuses the traditional Polynesian style with Moana themed art.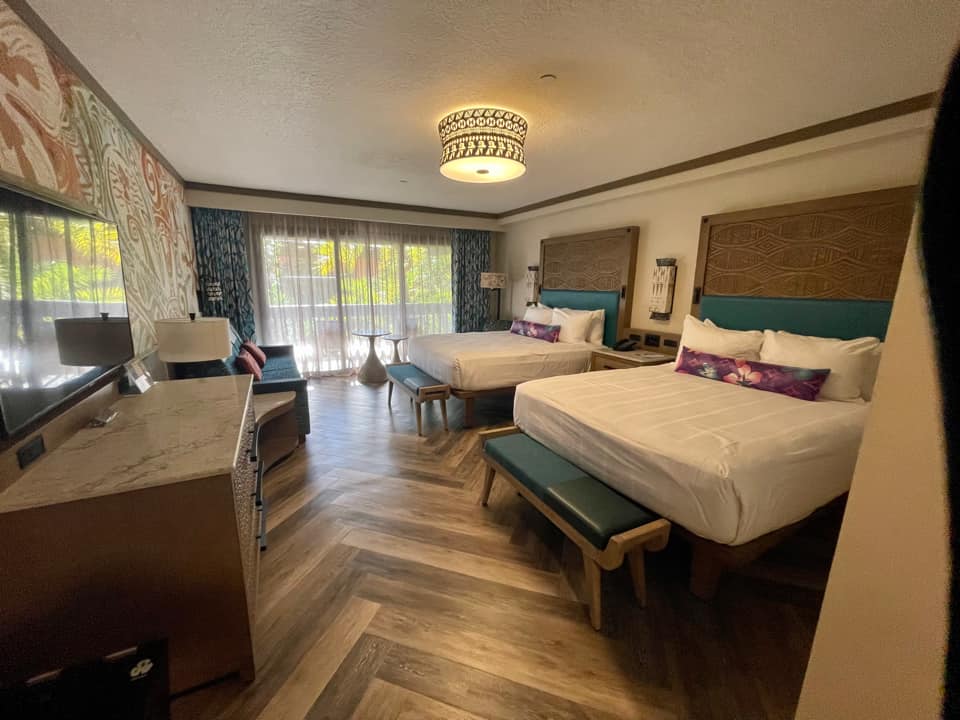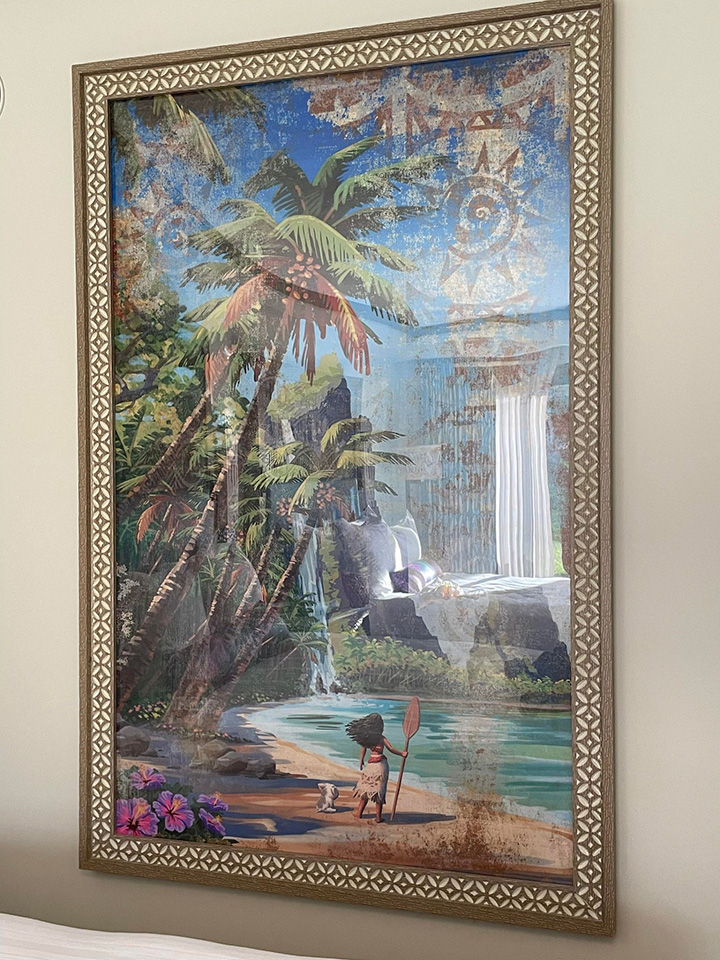 Rooms are generally white and blue/teal with red/orange/purple accents. A feature wall of earthy colors has a full length abstract floral design with hidden Moana characters. The floors are a laminate wood effect.
Room Views at Disney's Polynesian Village Resort & Villas:
Standard views (parking lot/trees/ other buildings)
Lagoon view (view of the lagoon, but not of Magic Kingdom)
Theme Park view (view of the lagoon and Magic Kingdom)
Club level rooms could also have a Garden view which offers a view of landscaped gardens or the quiet pool.
In addition to beds, rooms have:
Mini Fridge (the temperature goes down to 41 degrees Fahrenheit so if you need a lower temperature for meds or special foods, contact the front desk)
An armoire of pale wood
Flat screen TV on top of the armoire
Couch/daybed
Small benches at the end of each bed which are covered in a teal leather look fabric.
Nightstand
Ceiling fans
Newspaper delivery
Clock radios are available upon request.
Hair blower, soap, shampoo.
There is plenty of storage space, with raised beds for under bed storage and a lot of drawers and closet space. There are outlets in between the beds and in the TV unit. All outlets have USB ports as well as plug sockets, so you just need a cable to charge your phone. Guests can request a microwave at this resort. Adjoining rooms are available.
The bathroom has:
The shower/tub with standard and rain head attachments
Twin sinks with plenty of counter space
A toilet which is separated by a sliding panel door.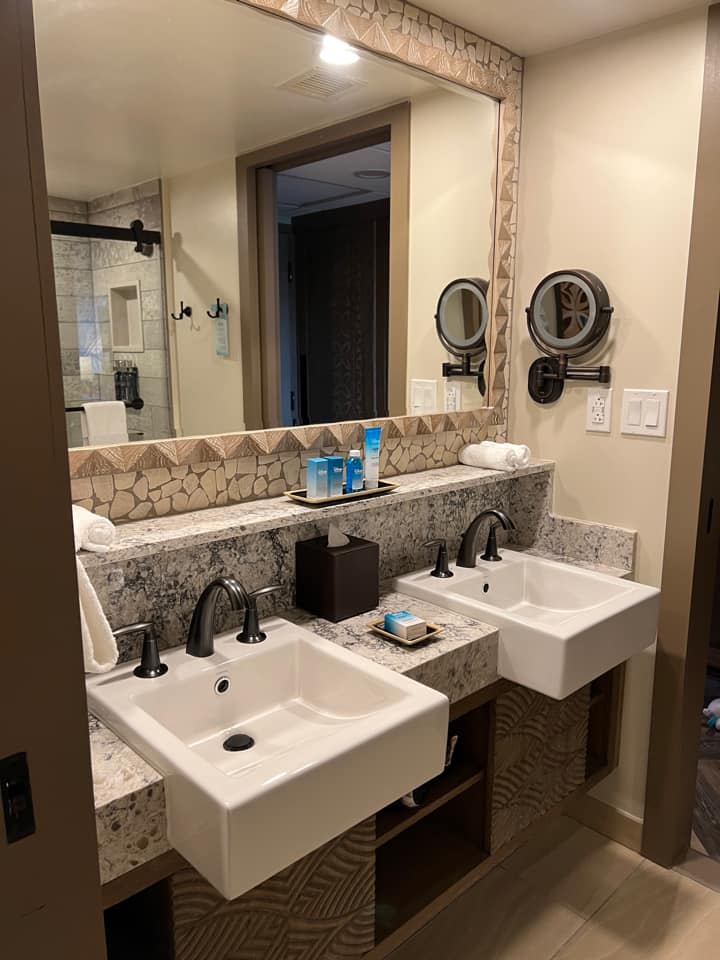 The shower has a sliding screen which sits on top of the bath, and slides back and forth across the bath.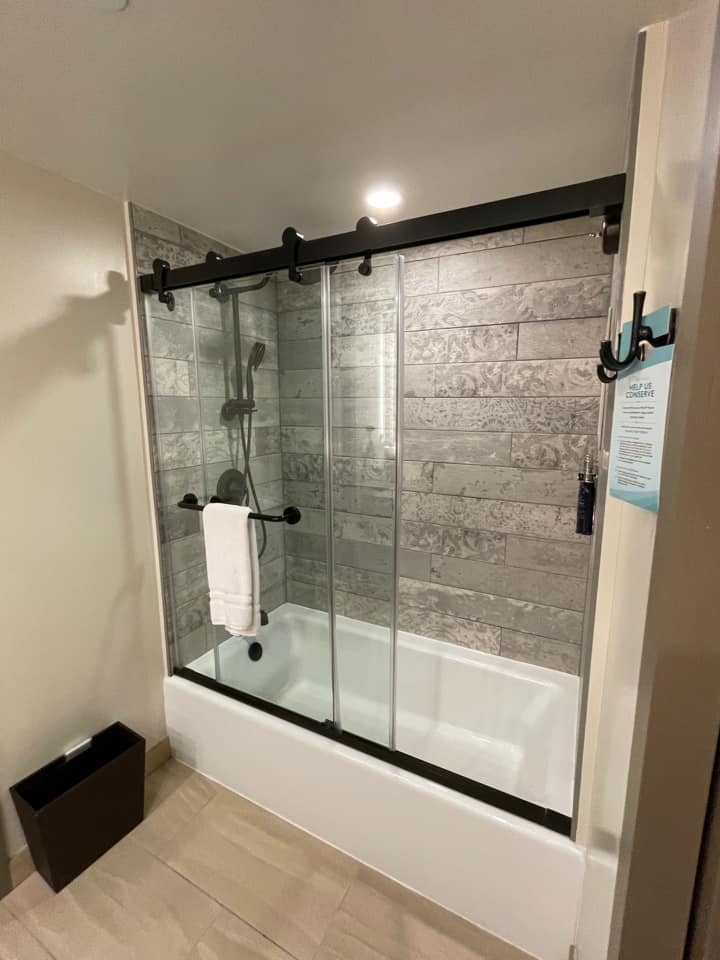 Since there's a door on the toilet area it means that toilet and bathroom can be occupied simultaneously by different people.
ROOM LOCATION TIP: If you're looking for less noise, avoid rooms that face the monorail. Also avoid the sections of the Samoa longhouse facing the Lava Volcano Pool. You may wish to request a room NOT facing the quiet pool in Tokelau, Hawaii, Samoa and Niue. Longhouses that are close to Luau Cove get a lot of loud drum noise from the nightly Luaus. Avoid Fiji, Tuvalu, Aotearoa and Tonga longhouses (suites only) if you wish to avoid this. Also, these buildings are also a long walk to the Transportation and Ticket Center.

Tip: To be closest to the Great Ceremonial House, request Rarotonga, Niue, Tonga (all suites), Fiji and Samoa. Samoa is the closest to the main Lava Volcano Pool.
Accessibility – Handicapped rooms at Disney's Polynesian Village Resort
The resort itself is accessible with many electronic doors in the common areas. We find it easy to get around with a scooter.
The majority of accessible rooms, of which there are around 70, are generally located in buildings closer to the Main Ceremonial House. This includes Rapa Nui, Fiji, Hawaii, Rarotonga, and Tonga.
Some of the longhouses have electric sliding doors. These include Tokelau, Tahiti, Rapa Nui and Hawaii. All longhouses have elevators except Niue. However, there is a second floor walkway that connects Niue to Rarotonga. Guests staying on the second floor in Niue can enter the Rarotonga building, take the elevator to the second floor and walk across the walkway. Just to make life easier, I would recommend that guests in wheelchairs or ECVs avoid this location.
Accessible room features available include lower beds (although the loss of under bed storage is not accommodated elsewhere in the room, so storage is less than a standard room), a pull-down seat in the shower with controls within reach, and step free access to the bathroom.
Here's an example of a Villa room with a lowered bed. Notice there is no room for storage under it;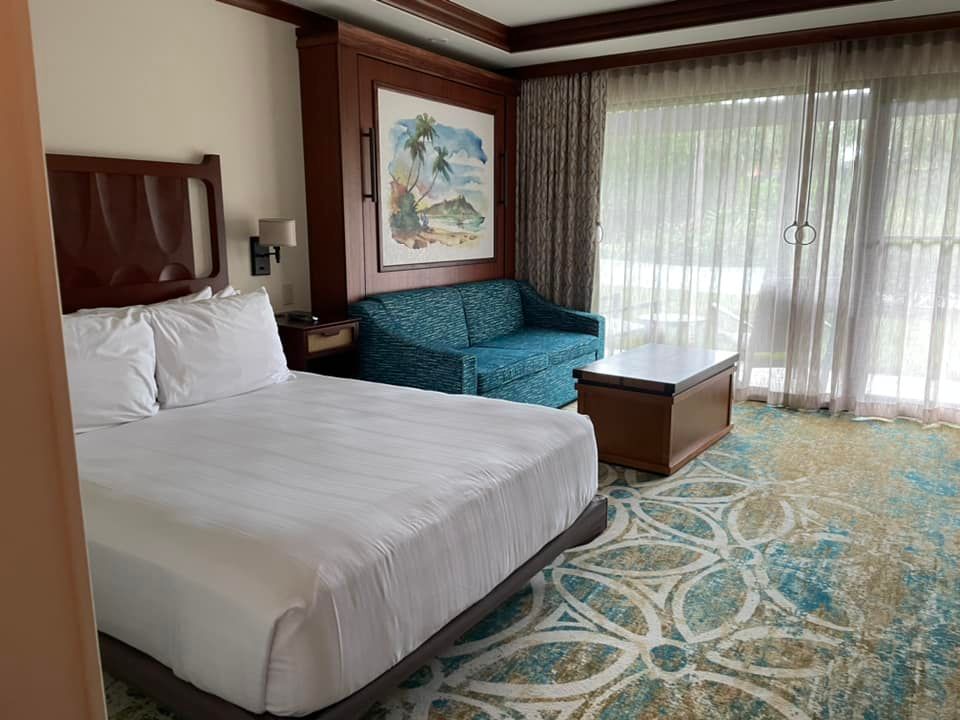 And this is a handicapped accessible roll-in shower: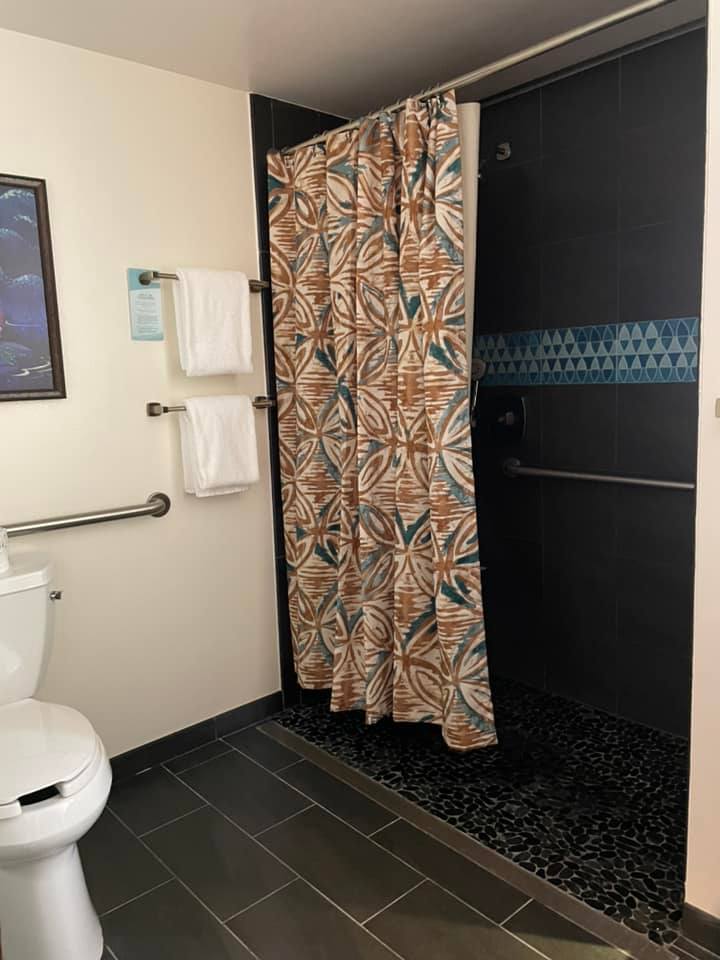 Info for those with scooters who can walk inside their rooms: Throughout the various Disney resorts, many of the non-handicapped Disney resort rooms are able to fit a scooter inside. So, for those who can walk inside their rooms, but need to park and charge a scooter, they can. We always prefer to take a standard room in order to free up the handicapped rooms for those who need to stay in their wheelchairs or scooters. At the Polynesian we found the rooms had plenty of space to park and charge a scooter.
Types of handicapped rooms: As with all of Disney resorts handicapped rooms, there are various types including those designed for those with hearing loss.  There are accessible rooms which have either two queen beds and a daybed or 1 king bed with a daybed. There are accessible rooms with a roll-in shower.
Handicapped & health related requests: Hearing-impaired TDD telephones, bed shaker accessory, visual smoke alarms, wake up alarms and door knocks; bed boards and bed rails; Sharp containers for used syringes.
Club Level rooms at Disney's Polynesian Village Resort
These sleep 5 adults on 2 Queen beds and 1 day bed.
Rooms in Club level are available with Lagoon view, theme park view and Garden view which has either Garden or Quiet Pool views.
These rooms will come with all the amenities of the other rooms, but they have other perks. They include a personalized front desk and guest services area, as well as access to the Concierge Service at the King Kamehameha Club. Access into the Club Lounge is granted between 7am and 10pm where free refreshments and complimentary newspapers are available.
The Club lounge and club rooms are all located in the Hawaii building. The lounge spans two levels, with the second floor usually being the quieter space. The lounge has a great theme park view and has a special perk. Club Level guests will be able to view the Magic Kingdom fireworks from inside the lounge.
The main access to the lounge is via a stairway from the concierge/guest services area as you enter the building. To access the club lounge via the elevator you need to head in the opposite direction, out of the lobby area and to the elevator in the main corridor. Once on the second floor, you can then access the lounge from the main corridor of the building.
DVC rooms – Disney Vacation Club rooms at the Polynesian Village Resort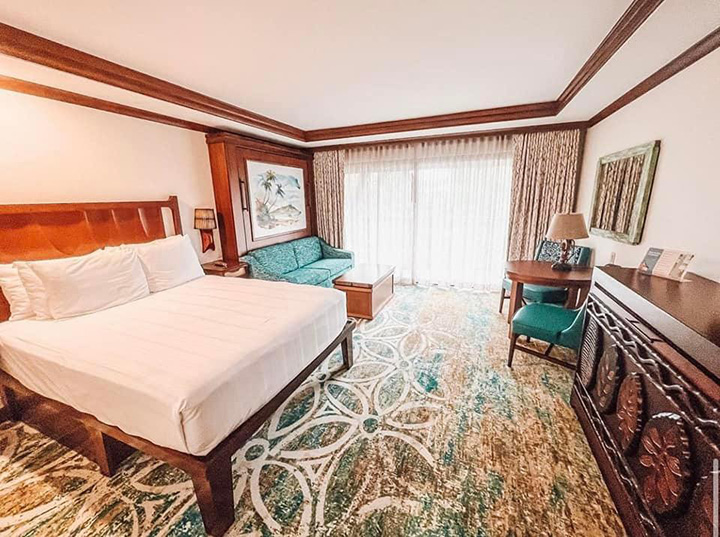 Deluxe Studio Rooms
The DVC studio rooms are located in the Tokelau, Moorea, and Pago Pago longhouses. Some have a Standard view and others have a lake view.
Bed info: They can sleep five people in a one-bedroom studio and are the largest of Walt Disney World's DVC studios. The studios beds include one Queen bed, a pull-out Murphy type bed under the TV, and a Murphy bed over the sofa. The Murphy over the sofa pulls down and sits over the sofa. We are hearing that it's much more comfortable than the sofa beds.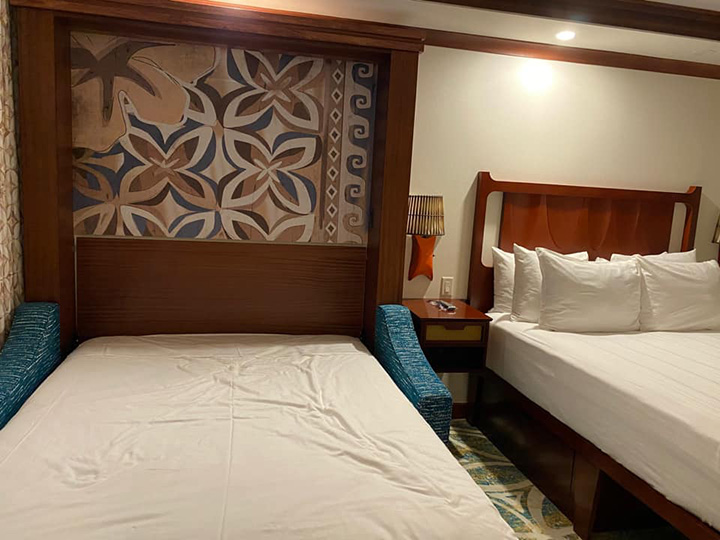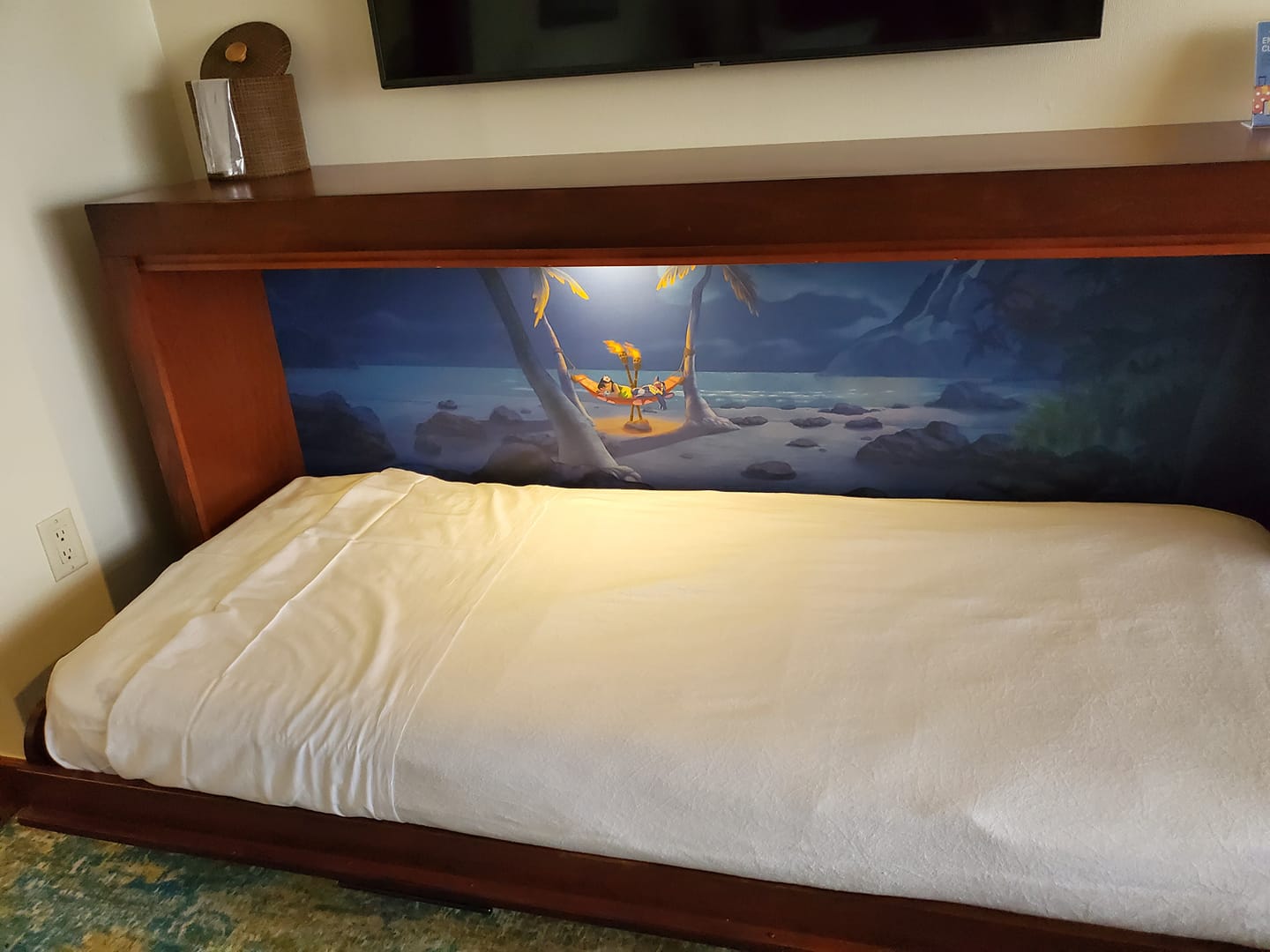 Bathroom details: The studios have a split bathroom with sliding screen type doors. One bathroom area has a sink/vanity unit and a bath with over bath shower and the only toilet in the studio.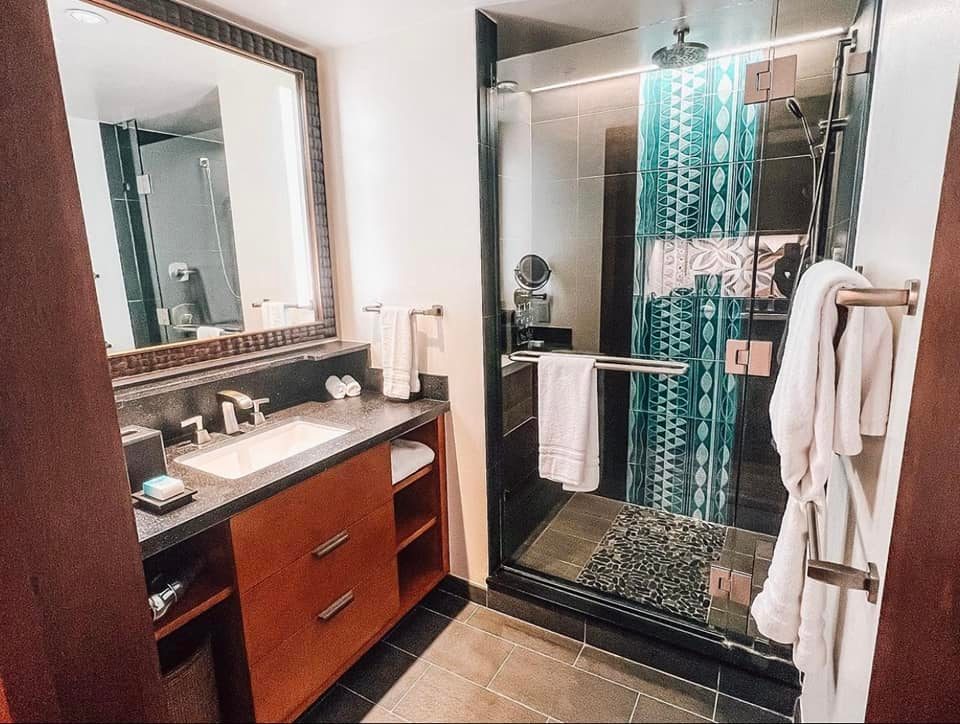 The other has a sink/vanity with a larger countertop, a make-up/shaving mirror and a walk-in shower. The shower has a bench and a rainfall head in addition to the standard shower head.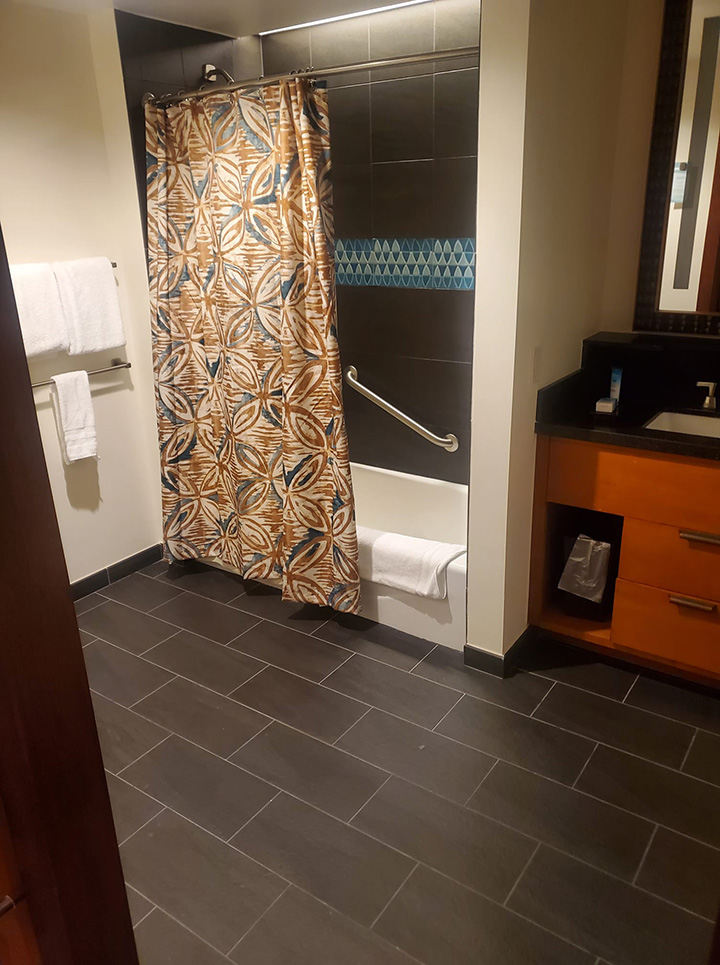 There is a kitchenette with a:
Mini fridge
Sink
Toaster
Microwave
Coffee maker
Paper plates and bowls, with plastic utensils
The room also features a small table and two chairs.
The main storage is under the raised bed. Whereas the standard rooms feature a lot of storage, in the studios this room is given over to the kitchenette. So, this is something to bear in mind if you feel you will need a lot of storage space.
It is possible to book adjoining studios, so if you have a larger party or want more space, make this request.
Take a look at a tour of the Polynesian Village Deluxe Studio:
Bora Bora Bungalows at Disney's Polynesian Village Resort
Sleep: Up to 8 adults and a child under 3 years old.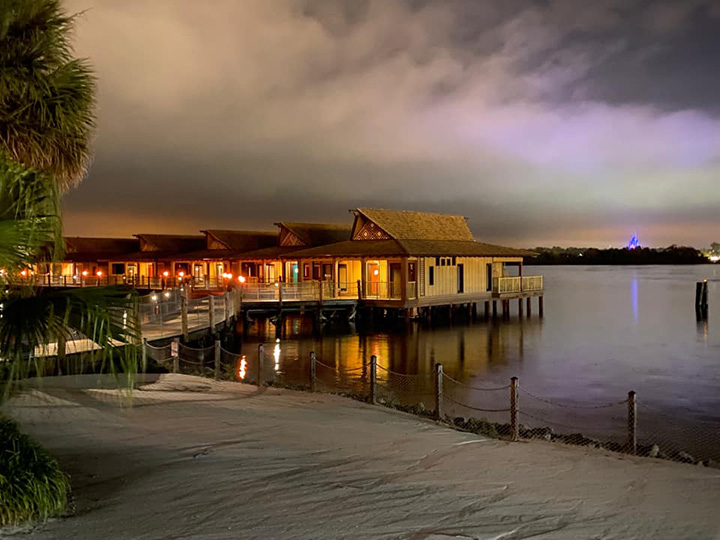 Each of these large and exotic bungalows sits on the water of Seven Seas lagoon. They are DVC properties but are available for booking by all guests. They are similar to the bungalows at Wilderness Lodge. If not using DVC points they could set you back around $5500 a night, give or take.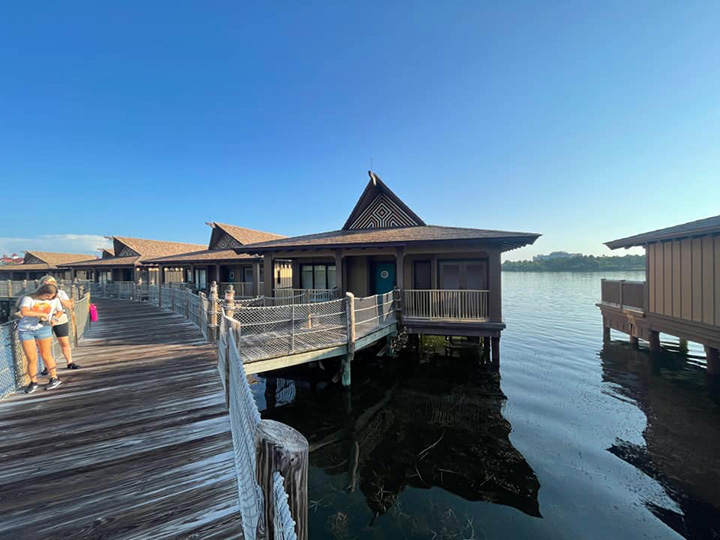 The Bungalows comprise two bedrooms, two bathrooms, a fully equipped kitchen, dining table and veranda with plunge pool. Take a look at the plunge pool. They offer a great view of the Magic Kingdom. You may be able to catch some fireworks at night!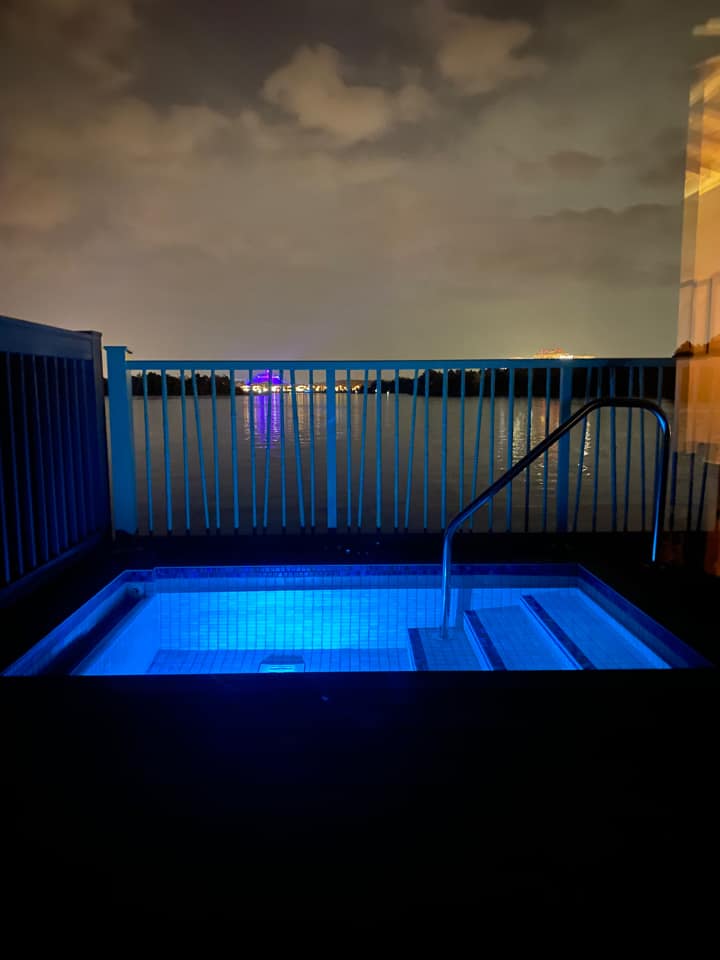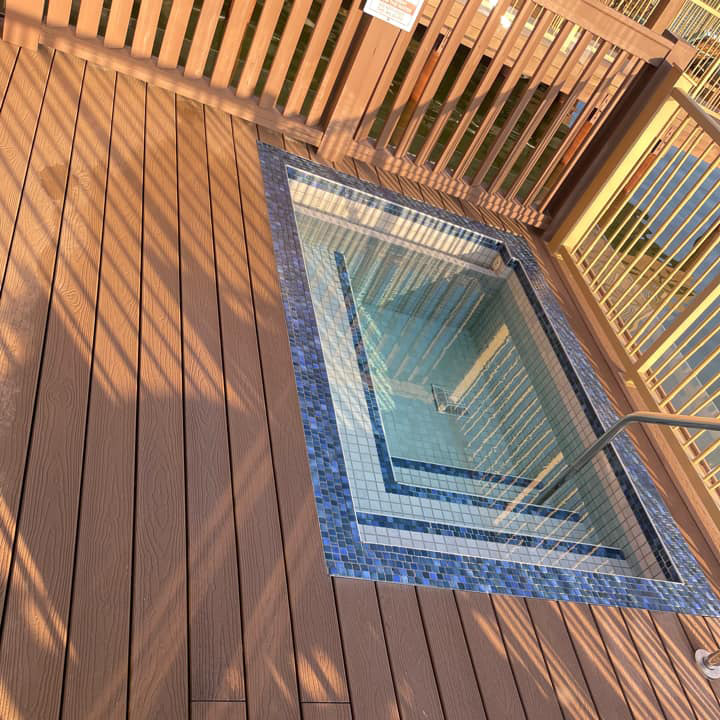 The first bedroom on entering the bungalow has a Queen bed and pull-down bed. There's a spacious closet. The view is pleasant, looking back to the beach and the rest of the resort. The second (Master) bedroom has a King bed, with an ensuite bathroom. The bathroom has twin sinks, a separate toilet, a bath and a separate walk-in shower.
The other bathroom is also split with the bath, over bath shower and one sink in one half, and the toilet and a second sink in the other. In this part of the bungalow, you will also find the stacked washer and dryer as well as more storage space.
In the main living area, there is a fully equipped kitchen with a:
Large refrigerator/freezer
Full stove and oven
Sink
Coffer maker
Plenty of cupboards for storage
Microwave
Dishes, glasses & utensils
Pots & pans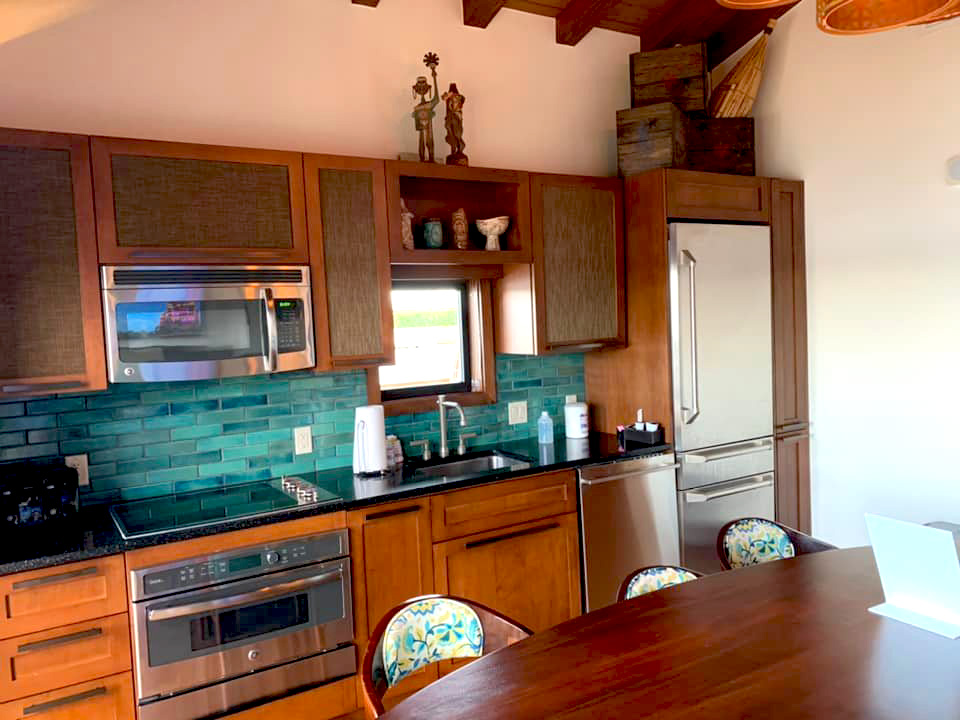 Adjacent to the kitchen is a large dining table with seating for 8 people.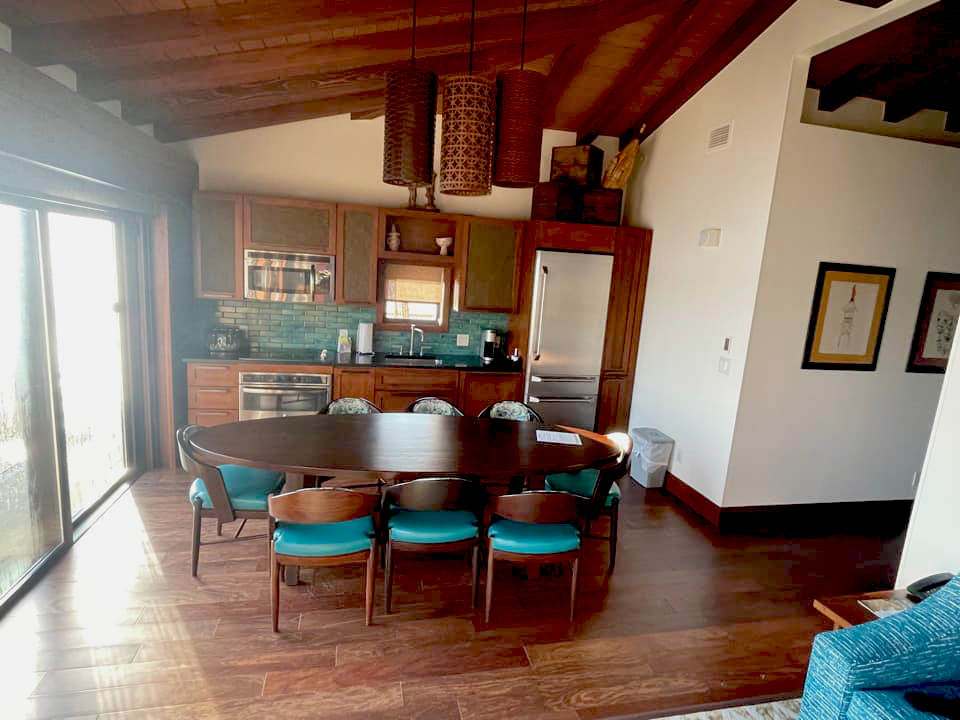 There's a relatively large and comfortable living room.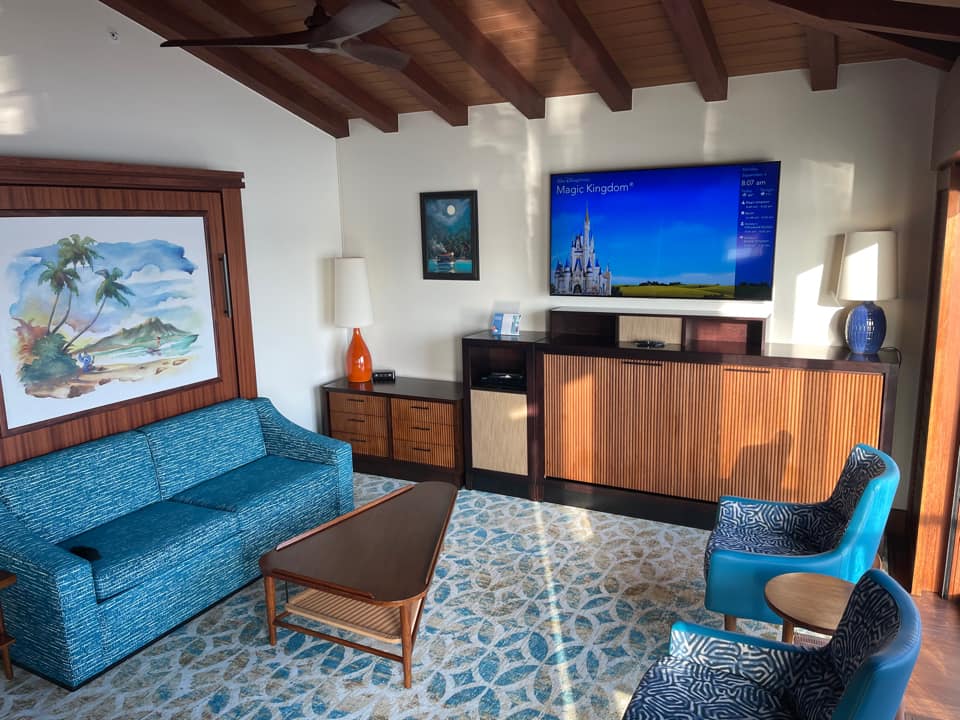 living area has a sofa, pull down bed, coffee table and two armchairs.
Outside on the veranda there is a small plunge pool, which is separately fenced for safety. There is a variety of seating including chairs, loungers and hanging swing seats.
TIP – the Magic Kingdom Ferry is required to sound its horn each time it leaves the dock at the Transportation and Ticket Center. This happens regularly from about an hour prior to park opening (could be as early as 7 am). It runs until a couple of hours after park close (could be after midnight if there is extended hours/After Hours event/party). The nearest bungalow is only a few yards away from the dock. If you want to be away from the noise, request a bungalow at the 7001 end, as this is farthest from the dock.
Watch this video to take a tour of a bungalow at Disney's Polynesian Village Resort:
Available Upon Request for all rooms at Disney's Polynesian Village Resort 
Alarm clocks are available upon request. Though they used to be put in the rooms automatically, they are no longer there unless you request it.
Guests can also request cribs, and a Pack 'n Play at no extra charge.
Although there are microwaves in all the villas, they are not in the standard rooms. However, they may be available upon request. They have limited numbers. If you're requesting it because of a health issue, you may want to contact Special Resort Reservations at Disney World with the request before your trip, at (407) 939-7807 and press #1.
Dining options at Disney's Polynesian Village resort
The Polynesian is loaded with dining options! We'll cover them below. Please be aware that the menu items mentioned could be changed at any time.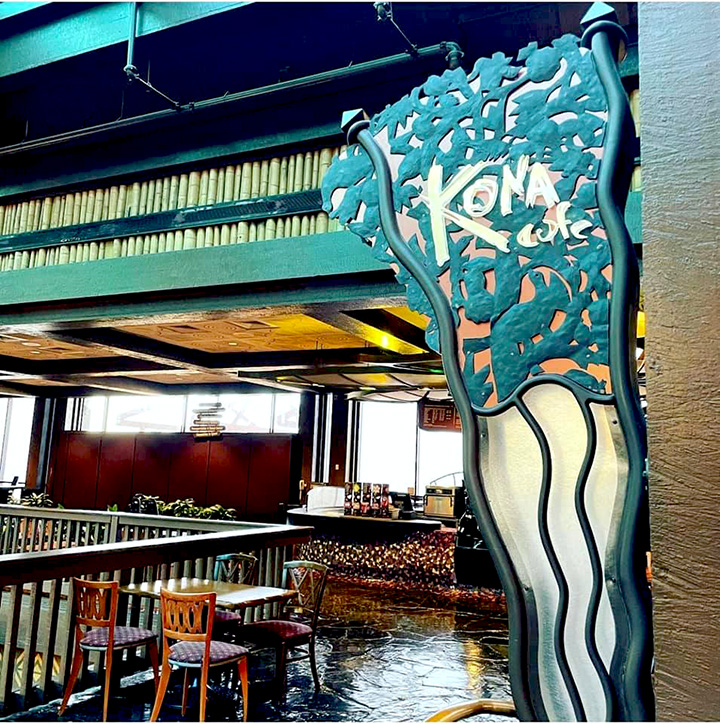 This restaurant serves breakfast, lunch and dinner with a lot of classic items. In addition to the usual breakfast and dinner items, there are Polynesian items. One of the most popular is the Tonga Toast (deep fried, banana stuffed French toast). The Kona Hawaiian coffee is also a really popular item. This Café does require a reservation, but it is much easier to get one here than at 'Ohana.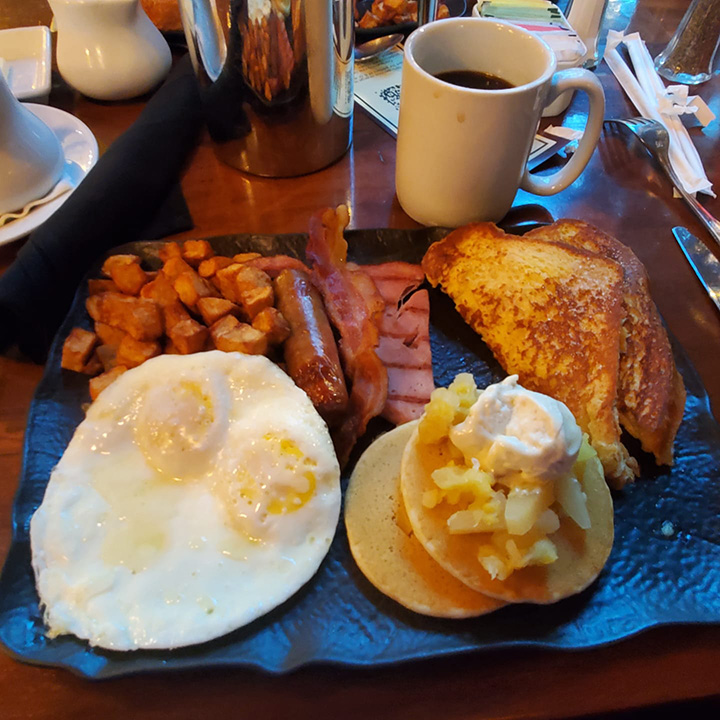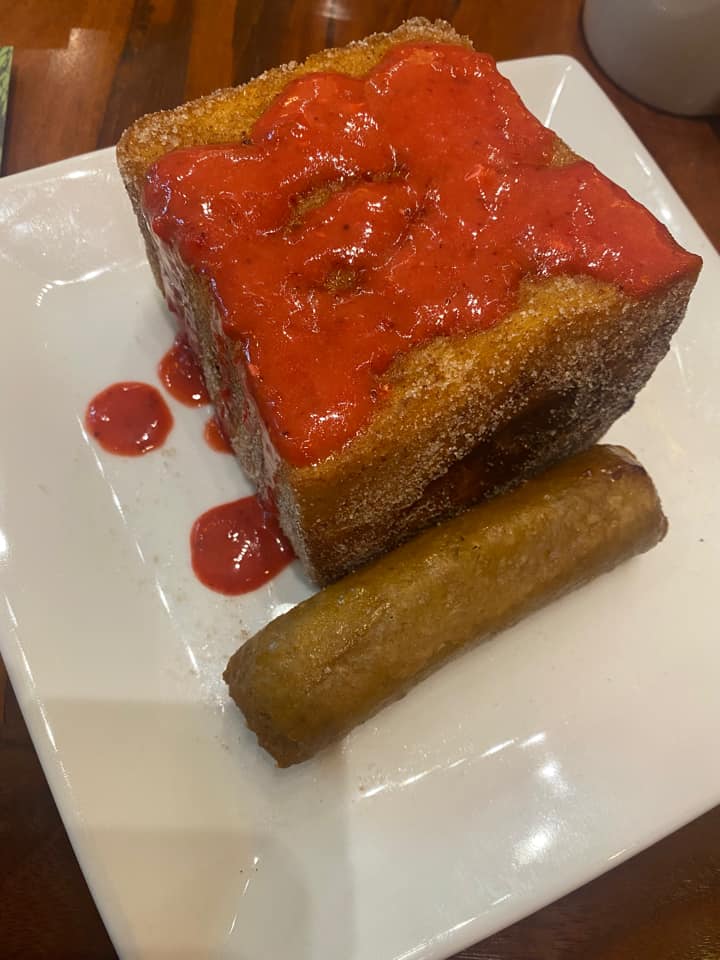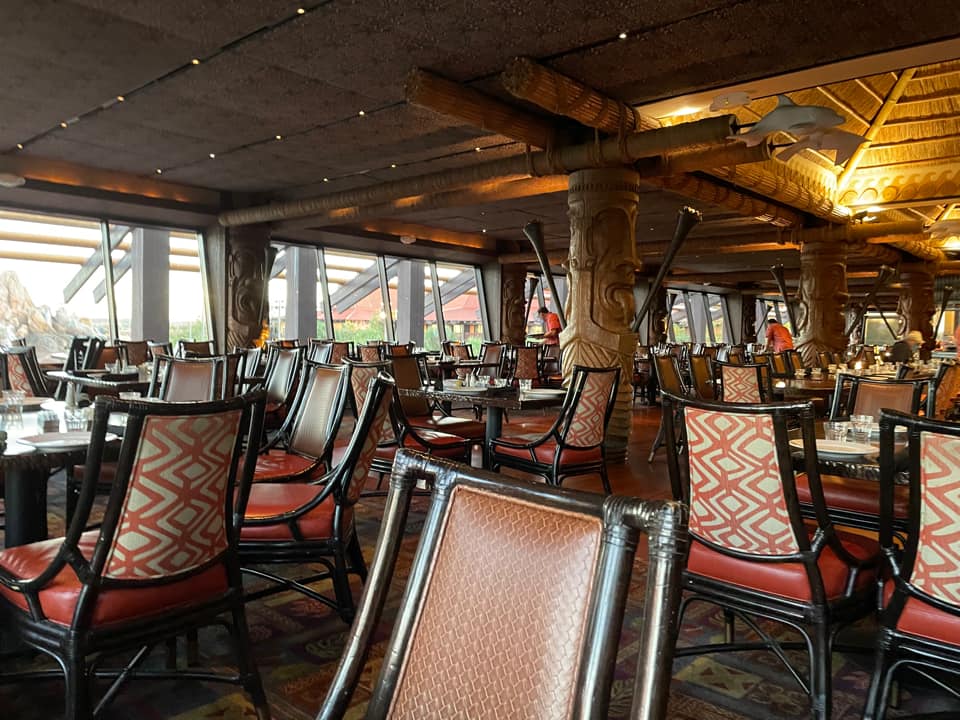 Serving a family-style all-you-can-eat dinner with Polynesian flavors this is an in-demand restaurant. This is one of the most popular restaurants in Walt Disney World, so reservations are required. There are a lot of popular dishes for both breakfast and lunch/dinner. They are so popular in fact that when Disney recently removed one of the much-loved menu items, there were so many complaints it was reintroduced.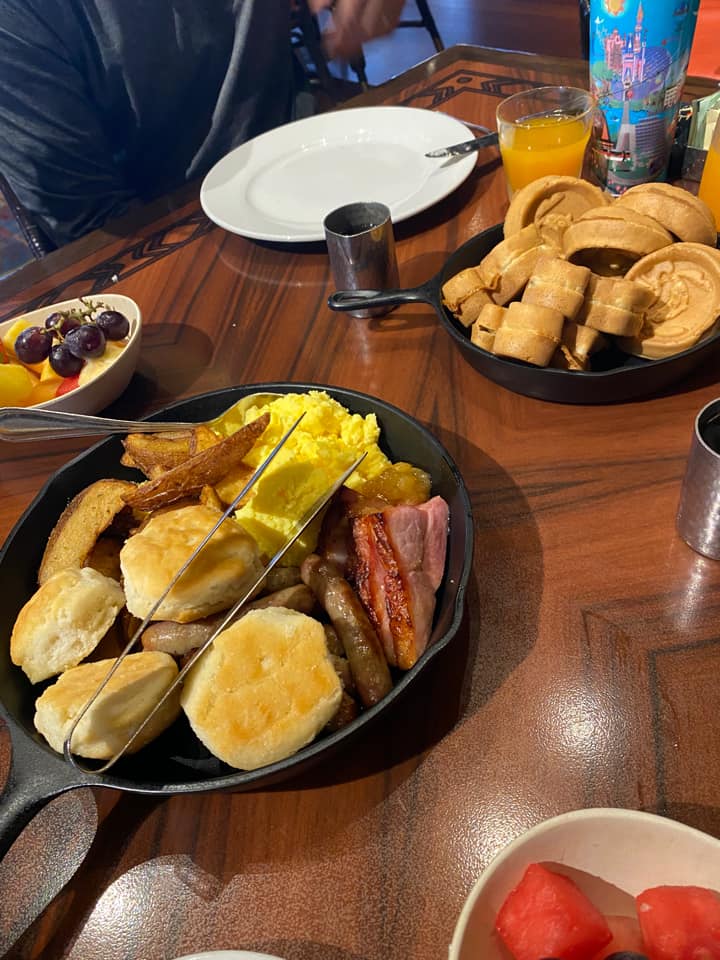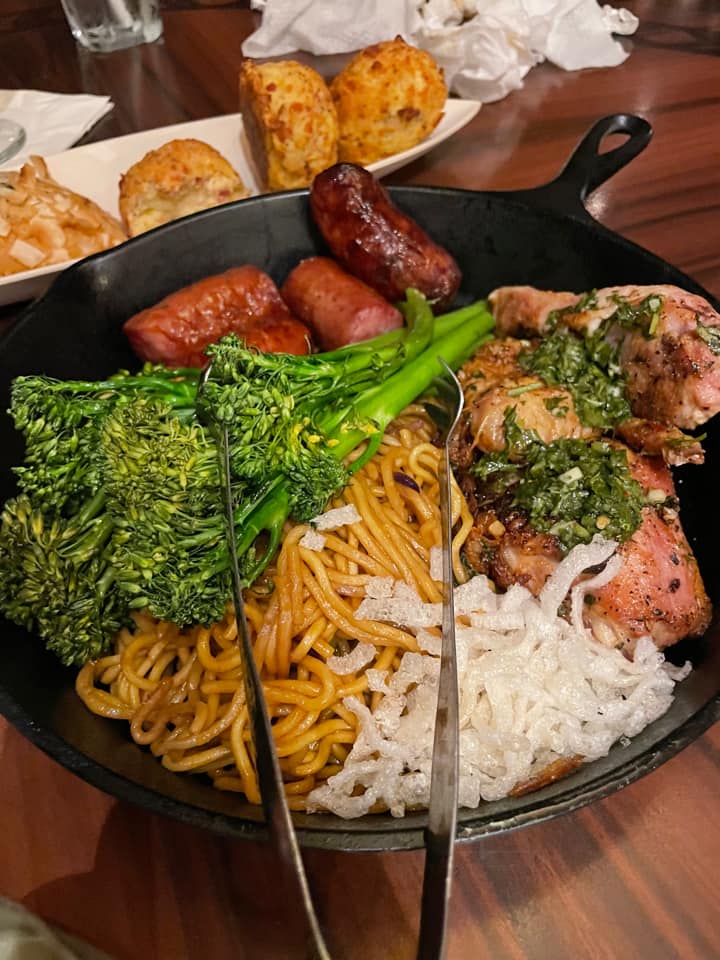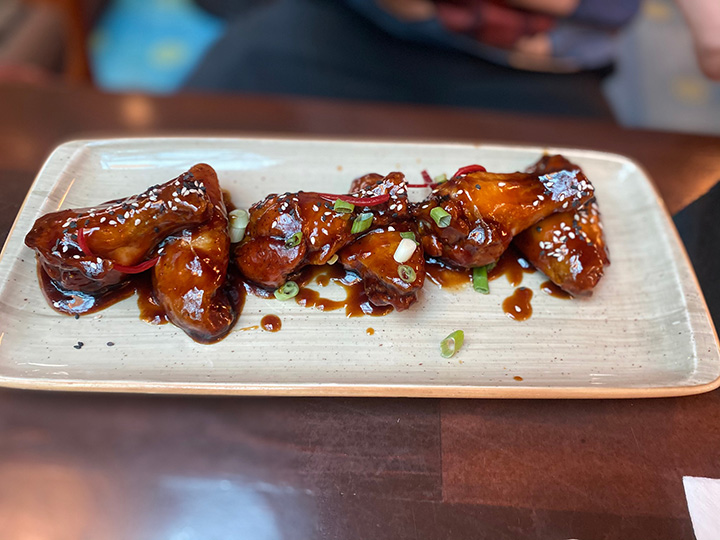 If you are lucky, you may get a dinner reservation at the time of the Magic Kingdom fireworks. The soundtrack is played inside the restaurant and if you have a window table, you will get a nice view of the fireworks without needing to get up.
'Ohana's Best Friends Breakfast with Lilo & Stitch is a character breakfast buffet. Check Disney's 'Ohana page to see if it's currently being offered.
This is the quick-food restaurant for this resort, serving breakfast, lunch and dinner. This is a really popular quick service with resort guests and non-resort guests. That's because it serves some guest favorites. Mobile ordering is available if you are in a rush. Dishes include Asian style such as noodle soup, Polynesian favorites such as Thai coconut meatball and the Aloha Pork Sandwich. You can also get American entrees such as burgers and chicken wings. There are some "hidden menu" items – special dishes which are not on the posted menu that are available on request (and mobile order). You can also get the famous Tonga Toast if you cannot get a reservation at the Kona Café.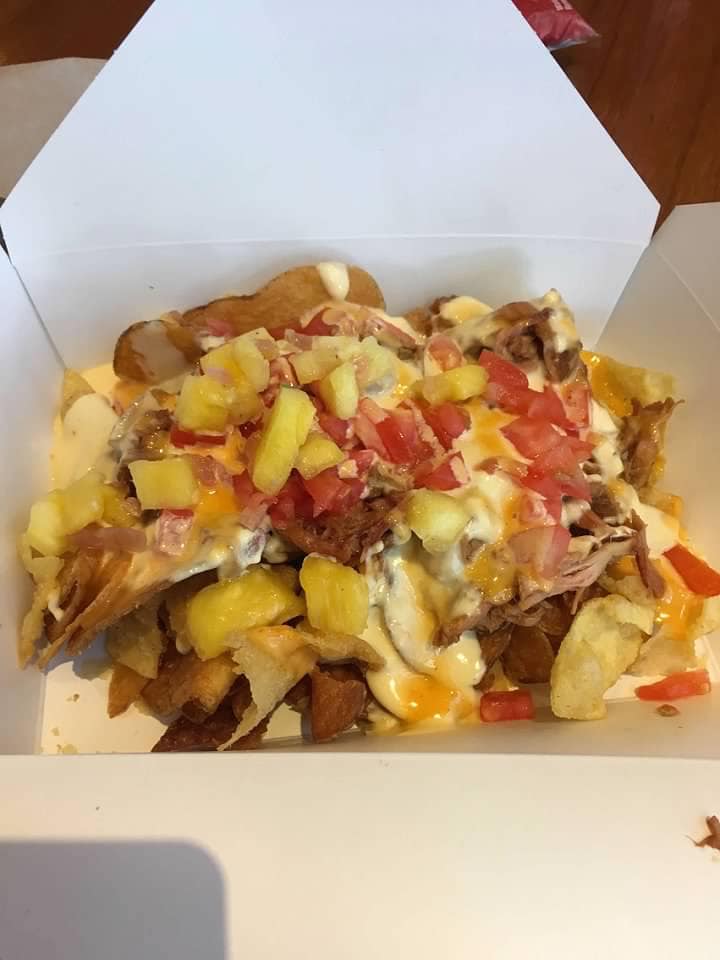 Looking for a luau? Spirit of Aloha is a South Pacific-style dinner and show. The show features elements celebrating Polynesia including drummers, dancers and even a fire/knife performer. The food is just what you would expect from a Luau styled restaurant – Aloha pulled pork, Polynesian ribs, roast chicken and seasonal vegetables. The children's menu features American classics such as Chicken Nuggets, Tater Bites, cheese pizza, and grilled chicken or fish of the day with rice and green beans. Soft drinks, beer and wine are included in the price, but spirits/cocktails are available at an extra cost.
Post Covid this show has still not returned. Check with Disney's site to see if it's been added back.
This is an extremely popular experience and reservations are required.
This is the Polynesian resort's coffee and snack bar. It features Joffrey's Kona coffee, as well as bagels, croissants, muffins and pastries. One of the specialties served here are chocolate covered strawberries with various toppings. If you are adventurous you can try chocolate coated bacon. In the evening it becomes Kona Island Sushi Bar, where you can walk up and grab some sushi and cocktails.
This is a bar located next to 'Ohana. It's often crowded with people waiting to be seated in the restaurant. There's a television in the lounge area that's usually showing sports events. After 4 pm it is possible to order the appetizers and desserts from 'Ohana. So, if you were unable to secure an Ohana reservation, but you want the famous Bread pudding, try the Tambu Lounge.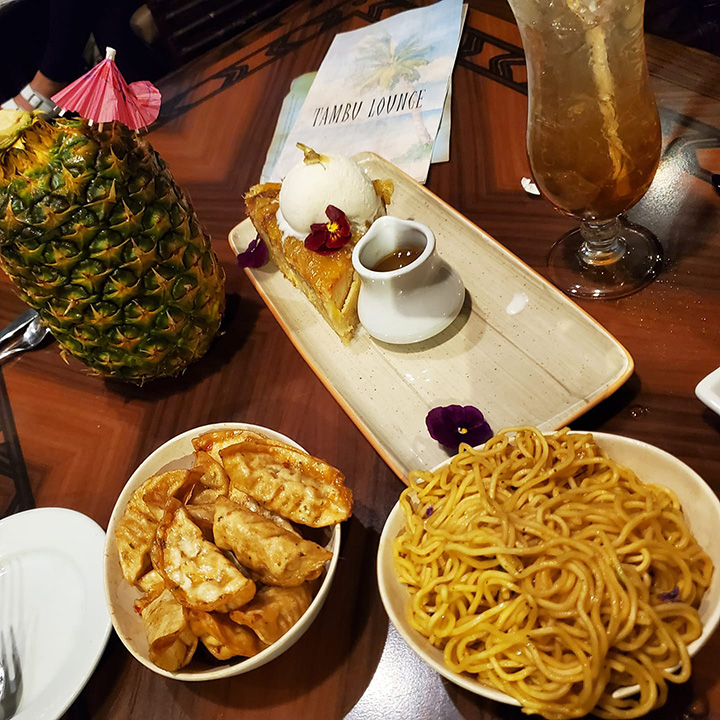 There's a variety of seating types here, including wicker chairs and love seats with padding and pillows. You'll also find high padded bar stools with backs.
TAMBU LOUNGE TIP: You cannot get the 'Ohana menu items to go – you must sit at the bar and eat when it is served.
Located in the Lava Pool area, they serve alcoholic and non-alcoholic drinks. There are some specialty drinks available. They do serve food (burgers, nuggets etc.) too.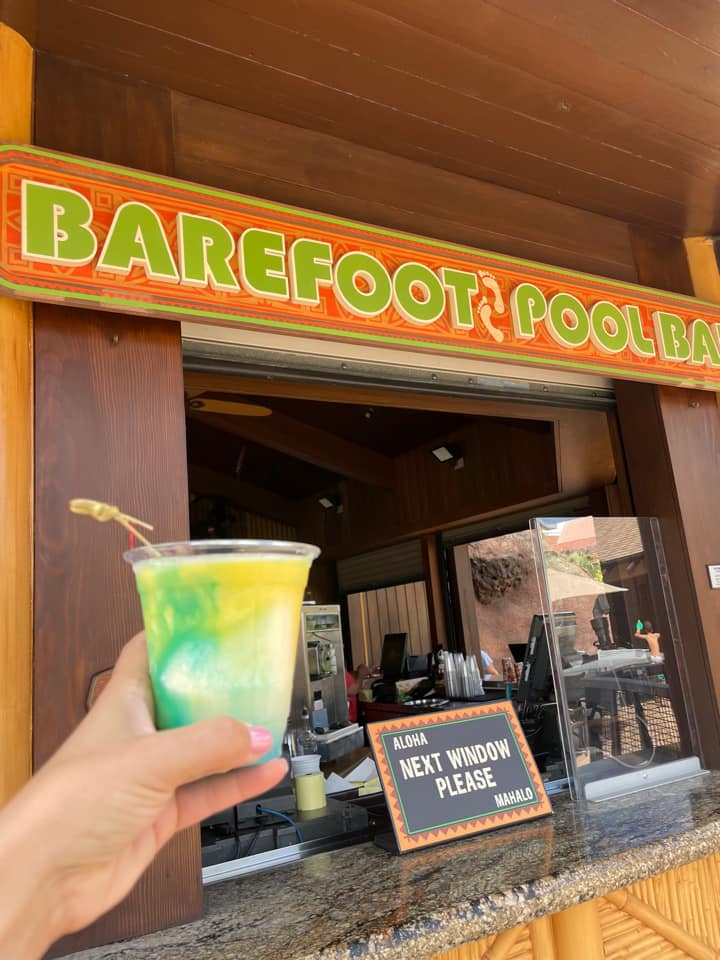 At the Oasis Pool, the Oasis Bar & Grill offers alcoholic and non-alcoholic drinks. They have a quick service menu with appetizers such as salads and wings. They serve a limited number of entrees until 8 pm. Currently this includes Sashimi of tuna, salmon and hamachi, grilled sustainable fish tacos, cheeseburger and a chicken avocado wrap. They even offer something called Malasadas which is a Portuguese doughnut served with passion fruit curd.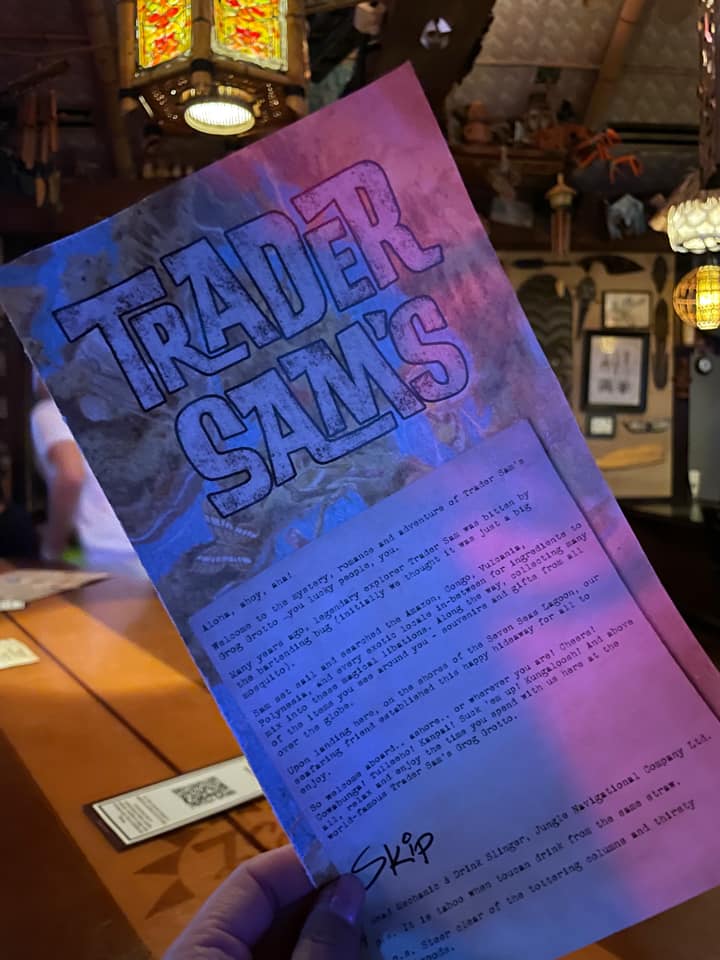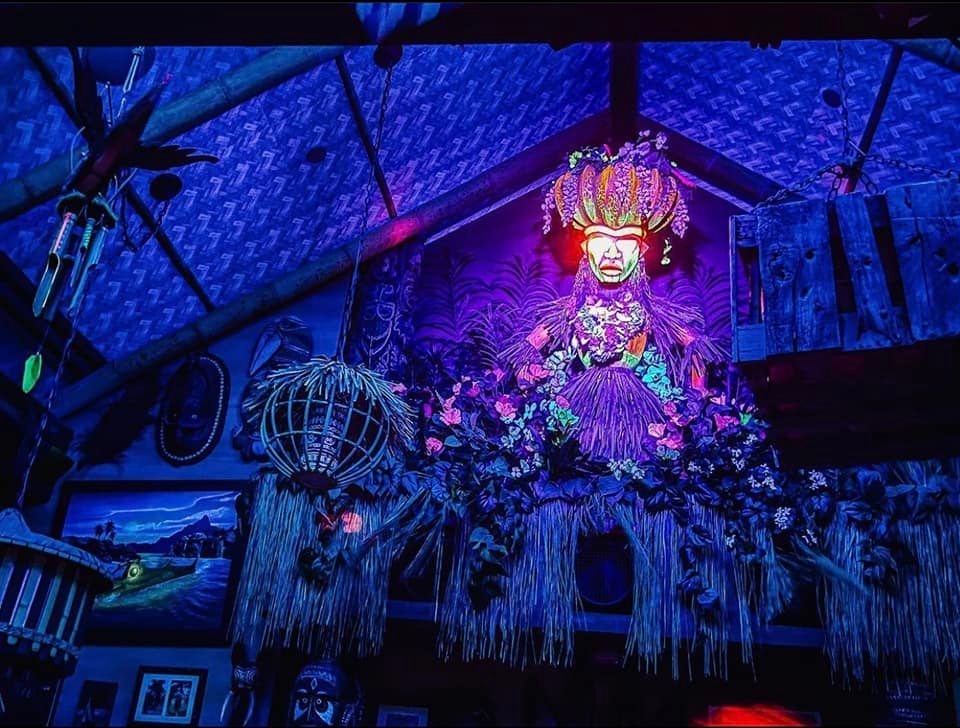 This themed tiki bar is a fully immersive experience. Audience participation is required with the chants to appease the tiki gods, thunderstorms, blasting sirens and erupting volcanos. Certain drinks have their own chants/ songs/celebrations. And there are many different tiki mugs that are sometimes available to purchase with the drink. It is a really fun experience. Of course, you will have more fun if you participate. Be aware that there is a good chance you may get wet. Limited bar snacks are available if you get hungry.
It is very dark inside the bar. It's very similar to the inside of the Enchanted Tiki Room in Magic Kingdom, but with a bar in the middle. There are regular flashes of lightening, loud claps of thunder, sirens and lots of chanting and shouting. The bartenders and servers encourage participation, so you need to be prepared to take part. If you do not like the dark, sudden loud noises, flashing lights, getting sprayed with water, loud chanting/shouting or audience participation, this bar is best avoided.
After 8 PM guests must be 21 years of age or older to enter.
TIP: There is Trader Sam's Tiki Terrace outside, next to Captain Cooks, which will offer the Trader Sam's drinks and foods outside on the terrace without the immersive experience you get inside. There's often live musical entertainment there.
The ever-famous Dole Whip is served at this walk-up window. Here You'll find the biggest selection of Dole Whip options in Walt Disney World. (Dole Whip is a dairy free and gluten free soft serve frozen dessert). As well as the standard Pineapple, the other flavors rotate regularly, so there will always be a choice. You can also get alcoholic and non-alcoholic floats and a choice of cups or cones.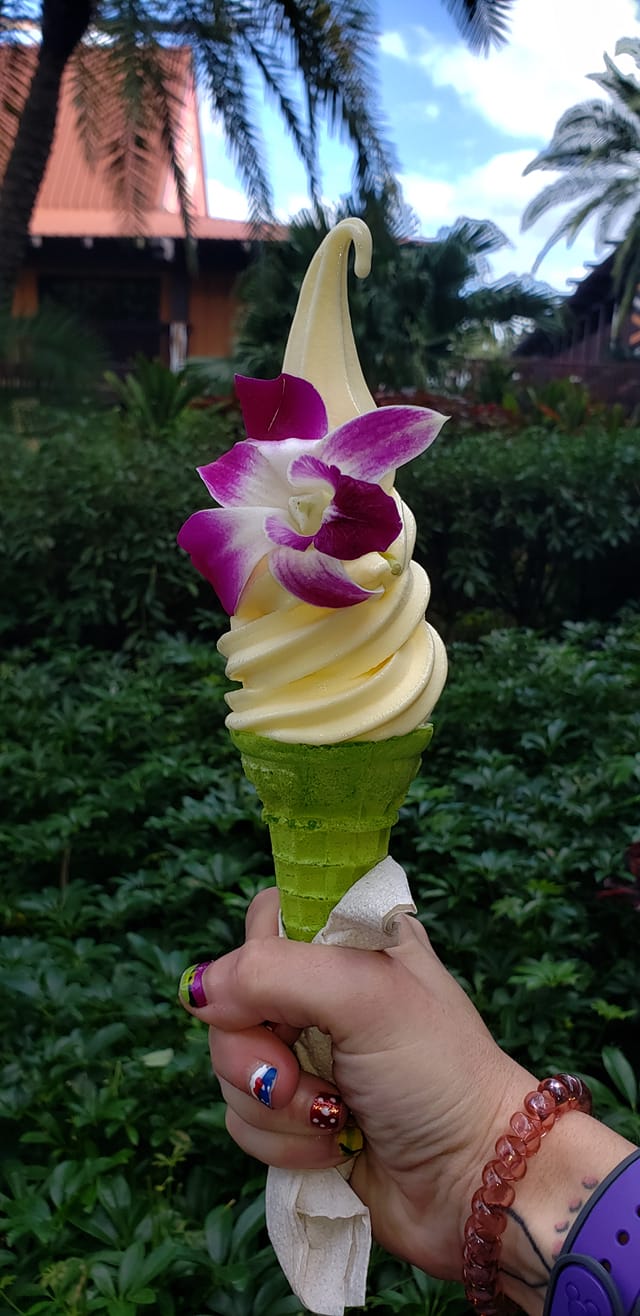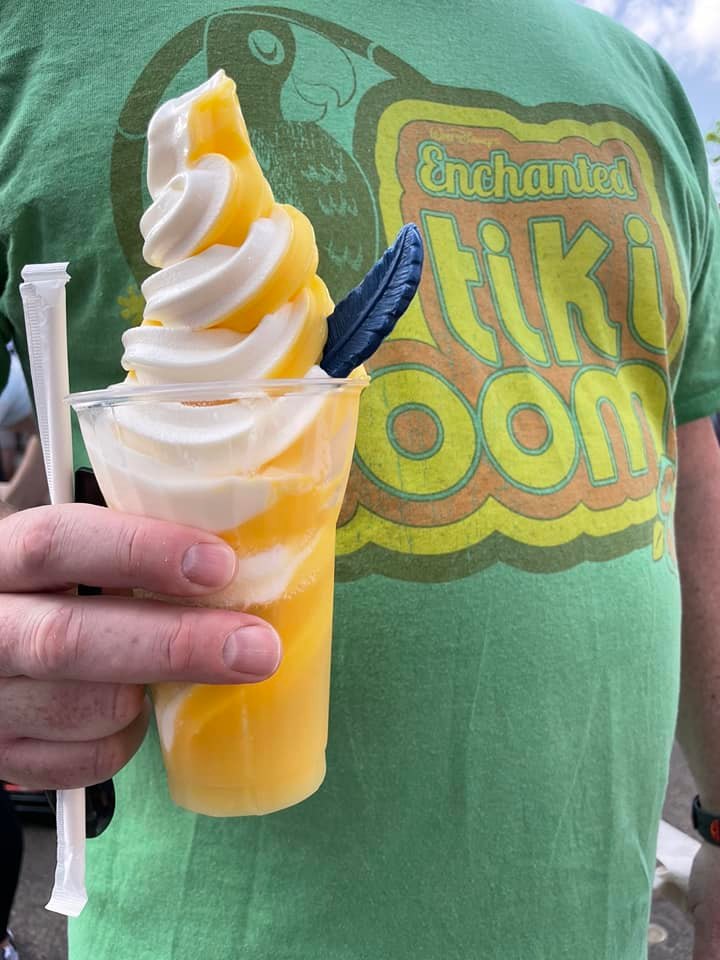 Room Service
Polynesian offers room service from 7 AM to midnight with a wide-ranging menu.
Resort shopping at Disney's Polynesian Village Resort & Villas
Moana Mercantile is on the second level, where you'll find clothing, toys, Disney character merchandise, liquors, beer and wine, snacks and sundries. There are refrigerators/freezers with chilled basics like soda, milk, cheese, frozen pizzas, and ice cream. They also carry cereals, bread, candy, snacks and toiletries as well as alcohol for those in the DVC suites. The rest of the store tends to showcase kids clothing and toys, heavily featuring Moana and Stitch.
BouTIKI is found on the first level of the Grand Ceremonial House. This fairly large store carries a large selection of clothing ranging from better quality resort wear and swimming apparel to Disney T-shirts and tiki shirts. In the front and inside the store you'll see 1,000 pound tiki wood statues that were made in Bali. The store also carries Disney merchandise, homeware, Polynesian style gifts and souvenirs. Recent additions to the store are a wide range of Olu Mel and Duffy bear items from Aulani.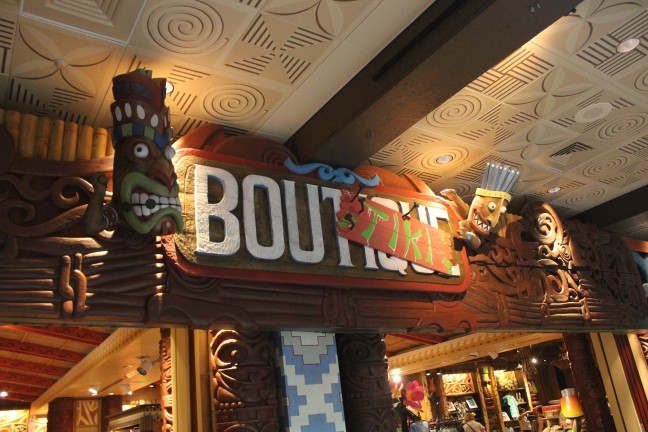 TIP: Although some of the clothes sold in BouTIKI are designer labels, you are still able to use annual pass/DVC discount when purchasing these items in the store.
Wyland Galleries of Florida is a wonderful place to visit if you're an art lover. It features the art of artist Robert Wyland, as well as other artists. It's worth a stroll to take in the beautiful paintings and sculptures. They also sell jewelry.
Transportation options at Disney's Polynesian Village Resort & Villas
Buses, boats and the monorail are available at this resort. There are also walkways which we'll cover below.
Monorail: The monorail is accessed on the second level of the Great Ceremonial House, which can be reached by elevator. Right next door to the Polynesian, and within walking distance, is the Transportation and Ticket Center where guests can pick up the monorail or the Ferry Boat.
Buses: The bus stop is in the front of the Great Ceremonial House. Buses are sometimes dedicated and sometimes shared with other resorts. This may include the Contemporary Resort, the Grand Floridian and Wilderness Lodge. Read more about the Disney bus system here. 
Boats: There's a boat dock at the Polynesian where you can catch a small, non-accessible Launch boat to the Grand Floridian or Magic Kingdom. Read more about the Disney boats and boat system here.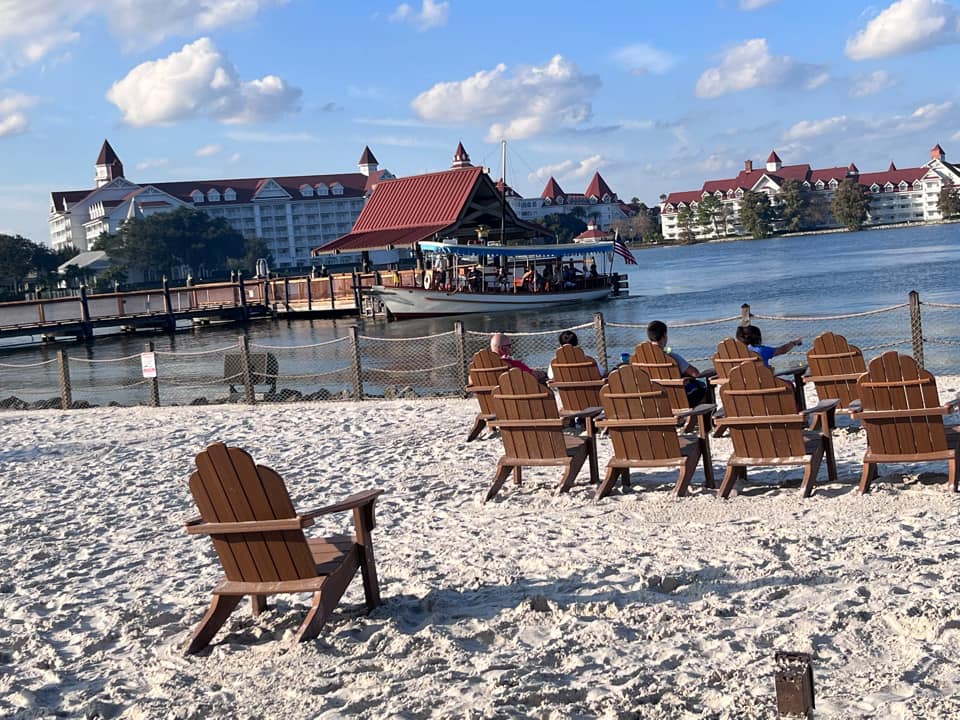 Walkways: There is a relatively new pathway which has been connected between the Polynesian and the Grand Floridian. So, it is now possible to walk from the Polynesian to the Magic Kingdom. This is paved and accessible, but it is about a thirty-minute walk – further if you are in the rooms closer to the Transportation and Ticket Center. Considering you are headed to a theme park to walk several miles, walking may not be the most sensible option for starting your day.
TIP – It is worth bearing in mind that the boats go to Magic Kingdom via the Grand Floridian. They are not two separate routes. So, be sure to factor in the stop at Grand Floridian on the way to and from Magic Kingdom if time is important (i.e. you have dining reservations).
Transportation options available to get to following locations include:
Magic Kingdom – Take the monorail from the Great Ceremonial House, or walk to the Transportation and Ticket Center to catch the monorail or the Ferry Boat. Smaller Launch boats are available at the marina behind the main pool. They run between the Magic Kingdom, Grand Floridian and the Polynesian. These are usually not ECV accessible. Wheelchairs can be taken if they're folded. Passengers must step down into the boat and sit in a regular boat seat.
Epcot – Take the monorail from the Great Ceremonial House to the Transportation & Ticket Center. Once there you'll transfer to the Epcot bound monorail. Or you can walk to the Transportation and Ticket Center to get the monorail to Epcot.
All other parks and Disney Springs – Only buses go directly to these locations.
Other Entertainment at Disney's Polynesian Village Resort & Villas
There are scenic walks here with a 1.5 mile path that weaves throughout the resort, and a walking path on the lagoon. There are running trails which are mapped out, which will take you around the resort and even to the Grand Floridian/Contemporary. It should be noted there is NOT a circular route around the lagoon as the Contemporary is cut off from the Transportation and Ticket Center by the water bridge than allows the connection of Seven Seas Lagoon to Bay Lake.
Seven Seas Marina – Fishing excursions and boat rentals are available at this resort. Call 407-WDW-PLAY or (407) 939-7529.
Pontoon boats seat up to 10 people and are available to rent. Guests are unaccompanied on their excursions, but there are patrol boats which ensure guests are following the rules. To drive a boat you must be over 18 and hold a valid driver's license. Anyone under 12 MUST wear a life vest. It is not possible to make reservations for the boats, and they are rented on a first come, first served basis.
Arcades: There is no longer an arcade at the Polynesian Resort, but you can visit the arcades at the Contemporary and the Grand Floridian.
Playground: There's a splash playground near main the pool but there is not a traditional playground.
Tip: Finding a pleasant place to sit and enjoy the view is one of the best forms of entertainment at this resort. There are so many beautiful places to relax, that picking one will be your challenge. Try the benches on the boat dock at night to watch the fireworks. It's a popular location so you may need to get there early. You may also want to check the times for the electric water pageant which sails past after dark (usually just before or after the fireworks at Magic Kingdom). You may wish to bring a towel to sit on though, as birds seem to like that area as well, and they leave their "calling cards" there.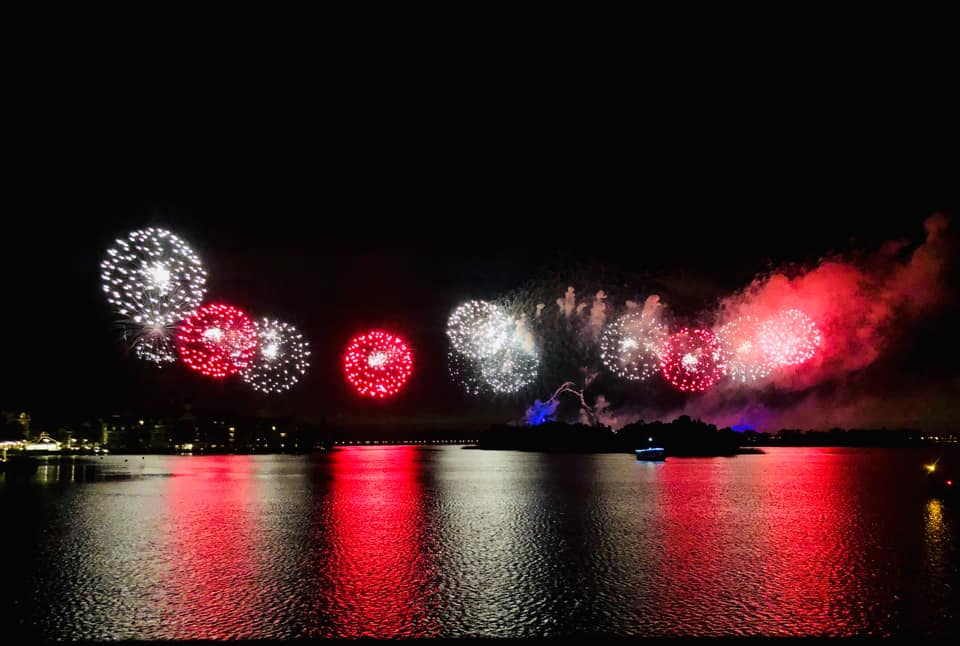 Beach – The white sand beach has Adironck style chairs where you can relax and enjoy a view of Cinderella Castle. In the evening the electrical water pageant may go by, and you can catch the Magic Kingdom fireworks. The monorail quietly goes by as well.
There is no swimming in the lake and it is not possible to enter the water from the beach. For health and safety reasons the shoreline is roped off with rocks and a rope fence. Kids may enjoy playing with the beach sand though. And adults will love the relaxing view.
Daily resort activities
There are plenty of activities for guests wishing to spend a day at the resort. You can find details posted on boards around the resort – usually close to the pool or the Main Ceremonial House.
Lawn Games – Like the small games set up around the pool, there are often activities focused cast members who will set up small lawn games on the grassy area outside the Main Ceremonial Hall (on the way to the pool).
Arts & Crafts – For an additional charge guests can take part in activities such as necklace making or tie dye. Activities and times are usually posed around the resort.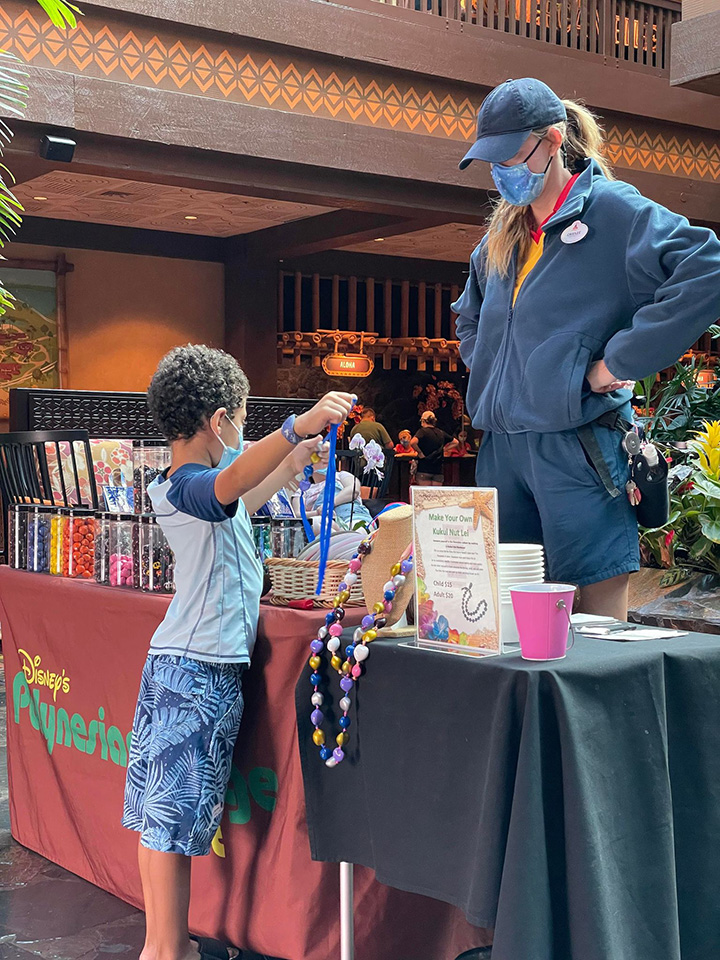 Movies Under the Stars – A large inflatable movie screen is erected at night on the Oasis pool deck, so guests can sit and watch a classic Disney movie under the stars. These do not always run every night, so ask a cast member or look out for the information boards to check which days of the week they are running during your stay, to avoid disappointment.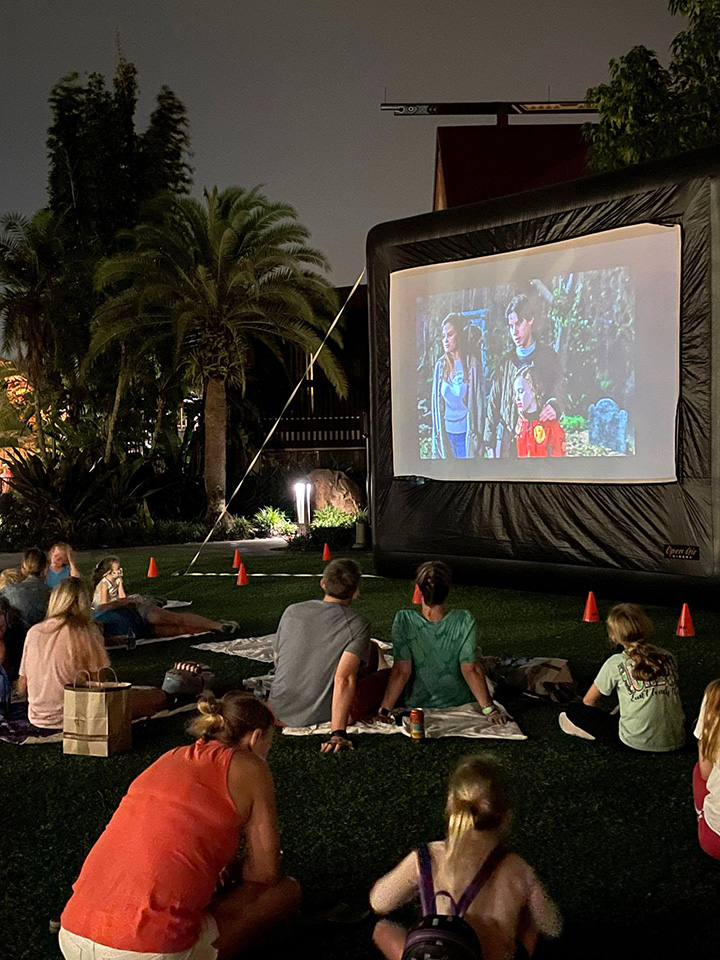 Campfire Activities – There is a fire pit by the beach, which is usually available for guests to use, although guests are often required to bring their own marshmallows/Smores kits. Unfortunately, these are not as regularly available as they are at some other resorts. If they are available from Cast Members there will be a small charge.
Volleyball: There's a volleyball court on the beach that guests can enjoy.
Childcare at the resort
There is no formal child care offered by Disney at any of their resorts. Instead most resorts offer guided activities, which often come with an added charge. In years gone by the Polynesian was home to the Neverland Club – possibly the most popular child care facility at Disney. It was then replaced by Lilo's Playhouse, which is now gone. Whilse you can still see this facility marked on resort maps, the Playhouse closed in 2018. Visit here for information on Babysitting, childcare, Mother's helpers and Senior care at Disney World. 
Laundry options at the Polynesian Villages Resort
There are washers and dryers are located next to what was Lilo's Playhouse, and also in the Moorea building (for DVC). Walt Disney World has updated all its laundry services to accept card payment, making it much easier to use their services. You can even set up the machines to text you when your load has finished. Dry clean services are available for a fee. There should be an order form and a bag in your room closet.
Smoking
Smoking is banned in all Disney-owned hotel rooms. Even patios and balconies are non-smoking areas. Of course it's always possible that another guest could smoke in a room anyway, but Disney reserves the right to charge a penalty since they'll need to specially clean the room. This usually discourages people from smoking inside their rooms. There are pre-designated outdoor areas around the resort where smoking is permitted. The resort map that you're given when you check in should have the areas marked, or ask a cast member when you check in.
Join our facebook group!!!!
Ask any questions, share your knowledge and just enjoy getting to know other Disney fanatics in our facebook group called Walt Disney World Made Easy for Everyone.
Also: Like our facebook page here.
And join me on Pinterest here.
GET UPDATES, NEWS & TIPS (IT'S FREE!!!) Plus get a Free Disney World Planning Schedule Form.
Sign up below to stay updated on the newest information, tips and tricks to help you plan your perfect Disney World trip!