A very new addition to the Orlando area, this resort opened on April 3, 2008.  Within walking distance to theOrlando/Orange County Convention Center, it's also close to Universal, Sea World, Aquatica and International Drive. It's also not far from a wide variety of restaurants and stores including a Whole Foods and Walgreens Pharmacy. Located 12 miles from Orlando International Airport, it took us approximately 11-12 minutes to get to Downtown Disney, and 11 minutes to get to the Magic Kingdom entrance.
Address: 9501 Universal Boulevard, Orlando, Florida 32819; Phone Number: 407.233.2200 Website: www.westinimagineorlando.com
We enjoyed our stay at this resort and would describe it as a more upscale Residence Inn with an art-deco flavor. The subdued and earthy tones throughout the resort are calm and pleasant, and touches such as the marble tiled walls and leather chairs in the lobby add a sense of luxury. The newness of the resort has everything in excellent condition.
We've experienced some great service in other resorts we've visited, however this staff seemed unusual. Our requests were fulfilled quickly as with some of the other resorts, but they were carried out with sincere smiles and enthusiasm. We had the feeling that they were not just in there because they had to be, but that they were actually happy to be helping. For us, the outstanding service added to the upscale feel of the resort.
Although it's not far from activity, the Westin Imagine Orlando appears isolated except for the view of the rear of the Convention Center across the street. Although the Convention Center is within walking distance for those without mobility issues, it's a wide street and there's a lot of land between the resort and the convention center. This leaves the resort with a quiet and peaceful feel. Resort attendance tends to depend upon whether there's a convention going on or not. During our stay it was extremely quiet although it was a peak season for the Disney resorts. However it can fill up and get busy when something is going on across the street.
There are 12 floors and 315 guest rooms, including one- and two-bedroom suites. All king bedded guest rooms have either kitchenettes or full kitchens. All of the two-bedroom suites have full kitchens.  These suites are fantastic for those who need space and privacy, and for those who wish to do some cooking. This resort also has over 7,100 square feet of conference and meeting space. Although we feel it's a great pick if you're attending a convention, we also think it's a good choice for families.
The hotel is 100% smoke free. Westin Imagine Orlando guests can participate in the Starwood Preferred Guest Program.
Reservations and special room requests: We made our special room requests when we called in to make our reservation, and when we arrived everything was exactly as we requested. If you must request a handicapped or specially equipped room, they recommend that you inform the reservation agent of any special needs to ensure they have that room type available. They will guarantee a handicapped room.  They do accept special requests such as a deep cleaning for dust allergies, and no fragrances in the room prior to check-in. Please note that they have feather pillows, and you can request non-feather substitutes. All rooms are non-smoking.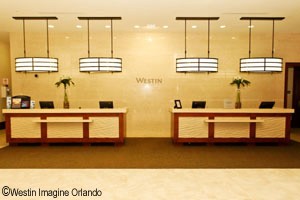 Check-in:  When we drove up to the entrance, there was no one there at thetime. We went inside to the check-in desk. Check-in was very easy, quick and friendly. The desk person mentioned each of our special requests and let us know that they were all taken care of. Later, when we got up to our room, we saw that indeed they were. Once we had checked in, she asked us if we needed help with our baggage. Of course we did, so a bell person was called. He arrived almost instantly. Throughout our visit we noticed that there usually was a bell person out front to greet new arrivals.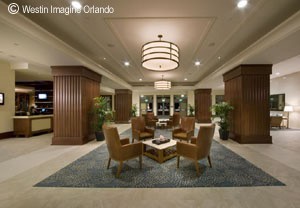 The lobby has a very faint fragrance called White Tea; however it was so faint that it won't be noticeable by most people.
When you check in you can request a Westin Kids Club amenity bag which has a variety of items to entertain your kids. It usually includes a coloring book, crayons, hacky sack and ball, and a scavenger hunt game.
You can book a wheelchair or ECV with an outside company and have it dropped off at the hotel. They'll hold it for you, and they'll bring it out to you when you check in.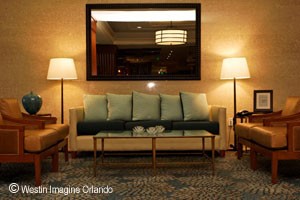 If your room is not ready, bell services can store your luggage until it's available. If you wish to temporarily store your luggage on the day of departure, you can do that as well.
The building:  I'd describe the interior as modern, with clean lines and subdued earth tones mixed with shades of aqua and pale greens.  The use of wood, leather and marble brings a sense of quality. It's a calm atmosphere that's a step up from many of the other suite resorts in the area. The resorts' one restaurant is off of the main lobby, while the pool and health club are just outside the back door. You can purchase sundries next to the front desk, with items including snacks, drinks, magazines, cameras, Westin Heavenly Products, personal hygiene products, batteries and more.
Although the front door has a wheelchair accessible electric door switch, the rear of the building has only manual doors. All of the rooms are accessed through interior hallways. There are no guest rooms on the first floor. They are found on the second floor and above.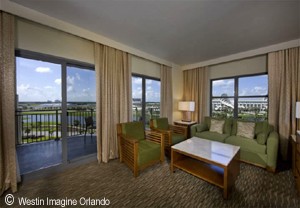 Rooms: We were very impressed when we walked in to our two bedroom suite(left). The rooms felt spacious and open. The wood furnishings, flat screen TV, gleaming granite kitchen countertops and wrap around windows all contributed to a sense of quality and calm.  We found the design of the rooms as well as the color schemes of aqua and blue or sage and green to be pleasant and comfortable! We even joked about selling our home and moving here permanently.
To the right is a studio suite: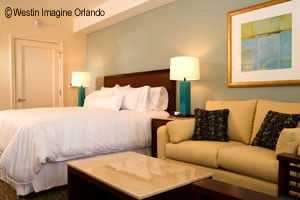 Tip: The hallways are long, so request a room near the elevators if you're looking for a shorter walk. The two bedroom suites are all on the far ends of the resort.  There is one suite that is closer to the elevators than the others; however it's still a fairly long walk. However you may wish to request this one if you want to minimize your walk. On the other hand, the farther you are from the elevators, the quieter it usually is.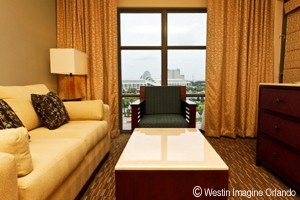 The resort has 132 one-bedroom suites, and 100 king guest rooms with kitchenettes. There are 24 two-bedroom suites with full kitchens. There are also 59 queen/queen bedded guest rooms. Each room has a Heavenly Bed® (very comfortable!), and a 32-inch flat panel HDTV LED television. The multi-room suites have televisions in each bedroom as well.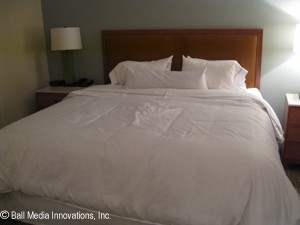 Suites are fully furnished with a nice dining room table with chairs, marble-topped desk ideal for setting up your computer, and a sleeper sofa. All guest rooms have balconies. Our suite had a full dining set outside on one of our balconies.  There's a full length mirror, dresser in each bedroom, coffee table, end tables and wood/fabric chairs. Suites have high speed internet access (charge), alarm clock, in-room video games, free daily national newspaper, hairdryer, bathrobes, iron and ironing board and cable channels. Connecting rooms are available. Westin mentions that some of the above items may not be available in all rooms.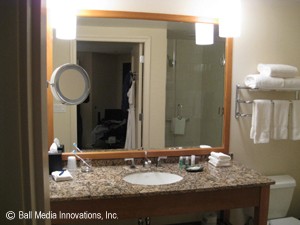 The bathrooms differ slightly depending upon what type of suite you have. With the two bedroom suite we had two bathrooms. One was a full bathroom off of the main living area which had a shower, toilet, and a granite counter top vanity with a single sink. The master bedroom had a full bathroom with a bathtub, shower, toilet and granite counter top vanity with a single sink.
Each sink has a halo light magnifying make-up mirror. Fragranced bath products are in each bathroom, which you can request to have omitted. Both bathrooms had the Heavenly Bath® dual showerheads. These were definitely a very pleasant luxury, and great for working out the knots! In each bathroom you'll find a small sewing kit, shower cap and vanity kit.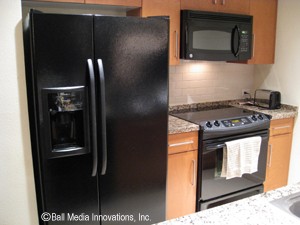 The full kitchens include a side-by-side refrigerator, microwave, full electric stove/oven, dishwasher, double sink, garbage disposal, toaster, coffee maker with complimentary Starbucks coffee, and a variety of pots, pans, utensils and dishware. We found that everything was in good condition. The refrigerator is pre-stocked with various drinks, and you'll find snacks on the counter. Please note that if you eat or drink any of the offerings you'll be charged. Many of the snack items are on the healthier side, such as the honey roasted nuts, smoked almonds, cashews, dried fruit and protein bar.
Salt, pepper and napkins are provided by the resort, and we found the kitchen to be well equipped. We loved being able to prepare our own healthy meals and snacks, and the kitchen was a breeze to use. Housekeeping will put your dirty dishes in the dishwasher and run it for you. This was a service we really enjoyed!
The Kitchenettes include a microwave, sink and a mini-bar or small refrigerator, which is small, but should be large enough for some medication or 1 restaurant "to go" box.  Of course you'll also find the mini-bar offerings inside. Please note that if you eat or drink any of the offerings you'll be charged
We had requested that no scented products be used in our room.  We did not detect any perfume smells, chemical odors or strong fragrances at all. In the hallways we did not discern any strong smells during our stay. All rooms are non-smoking and there's a $200 cleaning fee applied to your bill if the staff detects that you've smoked in the room. Pillows are feather; however you can request hypo-allergenic pillows instead. The can accommodate other special requests such as a deep cleaning. We are also told that they have fans and air purifiers available upon request. It would be a good idea to confirm and request this in advance if you think you'll need this.
All rooms are accessible to wheelchairs and ECVs, but there are specially designed rooms for those who need them.  We were in a standard room, but there was plenty of room to drive an ECV in. There are conveniently located electrical outlets appropriate for recharging your chair. Standard rooms are approximately 447 square feet, while two bedroom suites are 1082 square feet. Accessible rooms have the same dimensions. Rooms have either two queen beds or a king bed. Handicapped amenities include Roll-in showers, grab bars, wide doorways and telephone amplifiers.
You can request late check out, but it's based on availability. We were able to obtain a late check-out for 4 PM.
WestinWORKOUT® room – Fitness Center: Guests have free access to the fitness facility. It's located outside, next to the pool in a free-standing building that houses the restrooms and the 24 hour fitness facility.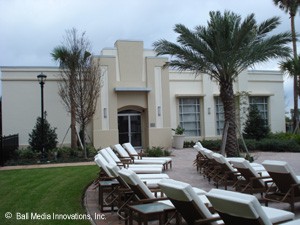 You can only enter by using the automated card reader, so remember to bring your room key card with you. The room is well stocked with free weights as well as various exercise machines. For aerobic exercise you'll find recumbent bikes, elliptical machines and treadmills. There's a flat screen television in the room. The equipment seemed to be of good quality and in great condition.
The restrooms serve guests using the fitness center as well as the pool. The door to the fitness center building and the restroom doors were on the heavy side. The restrooms each have an accessible toilet, shower and changing room. The fitness center is accessible to wheelchairs. Towels are available inside the fitness center.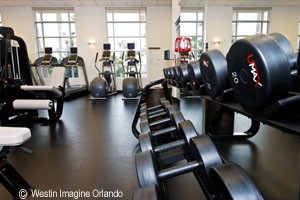 The fitness room doesn't house spa services; however in-room massage treatments are available. You'll find a service menu in your room.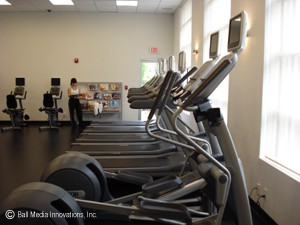 Swimming Pool: The walk to the resort's one pool is short and just outside the back lobby door. The ground has decorative brick pavers, which are attractive but a bit bumpy for wheelchairs. It's enclosed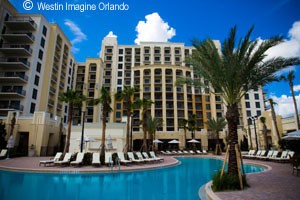 by a gate and surrounded by nice Florida landscaping. We found the lagoon-style pool to be a simple, pleasant environment designed for comfort and relaxation. The lounge chairs have thick cushions, and there are a number of umbrellas. Mellow music is piped into the area. There's one hot tub. Towels are available on a self-serve basis at the pool. The accessible restrooms are inside the fitness center building. There is no lifeguard on duty here.
The pool depth is from 3.6 feet to 5 feet, and it's heated to 81°. The pool does not have a zero entry, but it does have a pool lift. Just notify them that you'll be needing it when you make your room reservation, and they'll have it ready for you. The pool deck is accessible to wheelchairs.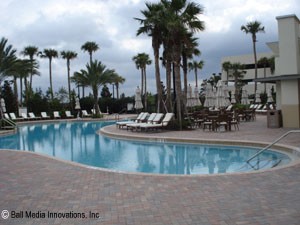 The poolside bar, called the Tiki Bar, is opened seasonally, but the restaurant bar is just inside the building a few steps away. We were told that if it's not too busy in the restaurant, you can let the bartender know and he'll come out and serve you.
Restaurant: Fiorella's Cucina Toscana serves breakfast, lunch and dinner, and the bar serves cocktails throughout most of the day and evening.  The small restaurant is intimate, with upscale dining in a relaxed atmosphere.  Executive Chef Robert Mason creates simple, fresh and authentic Italian dishes from the regions of Tuscany and northern Italy. The dining room combines a Tuscan theme with a casual contemporary feel. There are dark cherry woods, modern furnishings and original blown-glass art works by Orlando artist Charles Keila. The colorful abstract pieces contrast the restaurant's honey-toned Venetian-plaster walls.
In addition to the Italian dishes you'll find at lunch and dinner, you'll find American breakfast favorites along with some unusual choices that are on the gourmet side. You can get the American breakfast with 2 eggs, potatoes, choice of bacon, sausage and ham, and choice of toast or English muffin.  Or you can start the day out with a Lobster and Mascarpone Omelet.  Healthy choices include the fruit plate and the egg white frittata.
The restaurant serves food from 6:30 AM to 2 PM, and 5:30 PM to 10 PM. The restaurant is wheelchair accessible.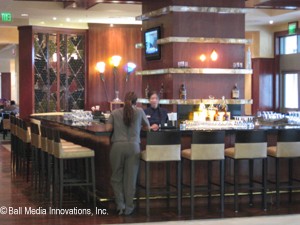 Here's the special dietary needs policy as it was shared with us by the Westin Imagine Orlando representative:  "Chef's will make any necessary adjustments based on a persons needs; including going off-property to purchase food items".  Just contact the Executive Chef or the Restaurant Manager directly by calling the hotel number. Of course as with any restaurant, there's always a better chance of success having your needs met if you contact the restaurant in advance.
Room service is available around the clock, but from 11 PM to 6 AM the menu consists of soups, salad, and Italian meats and cheese. For room service, the staff recommends that you make special requests in advance.
Within a short drive you'll find a wide variety of restaurants from casual to upscale.
Other amenities:  Concierge service, express check-in and check-out, laundry and valet service, multilingual staff, business center.
Wheelchairs: The Westin Imagine Orlando does carry some manual wheelchairs, which are available to guests at no cost. They are only for use on the property. You can inquire with their Service Express Department by calling the main hotel number or by dialing 0 on a house or room phone. If you need a wheelchair off-property they can help you obtain one from a local vendor.
Parking:  Parking at this resort is for a fee by valet only, unless you are disabled. Those who are disabled may self-park at no charge in the parking garage, which has some handicapped spaces on the lowest level. Let them know when you check in, and they'll give you a card key that will permit you entry to the parking garage. From there it's a fairly close walk or wheelchair ride to the rear lobby entrance. Please note that there are only manual doors in the rear of the building.
Those who are disabled can also use valet parking at no charge. Inform the person who checks you in.  This resort does not require a state issued disability plaque or license.
Transportation: There is complimentary scheduled transportation to SeaWorld, Universal and Wet & Wild. Depending upon where you're going there are one to three buses departing from 7:50 AM to 10:50 AM. To return to the resort you'll have a couple of time choices at Universal. There's one shuttle only departing from Wet & Wild and SeaWorld. Check with the hotel for exact times.
If you need an accessible bus, notify the resort the night before and they'll have one brought in for you.  Tell the bus driver on way there that you'll need a ride back. They'll arrange it for you.
If you plan to go anywhere other than SeaWorld, Universal, Wet & Wild or the Convention Center, you may wish to rent a car while you stay here. Of course there are always cabs available.
Pest Management in the Westin Imagine Orlando: Of course, pests are a fact of life in Florida, and this resort uses a vendor who sprays the exterior of the buildings once a week using green products. The rooms are sprayed quarterly or when requested. You can request that your room not be sprayed just before or during your visit.
Do you have more tips or thoughts on this topic?
Please feel free to post them in a comment below. We'd love your input.
Join our facebook group!!!!
Ask any questions, share your knowledge and just enjoy getting to know other Disney fanatics in our facebook group called Walt Disney World Made Easy for Everyone.
Also join me on Pinterest here.
GET UPDATES, NEWS & TIPS (IT'S FREE!!!)
Sign up below to stay updated on the newest information, tips and tricks to help you plan your perfect Disney World trip!
Some of the images on this site belong to the Westin Imagine Orlando and are used with their permission.