Header photo by Chris Murray at My Disney Point of View Photos
Location: In the Epcot area. Yacht Club Address: 1700 Epcot Resorts Blvd, Lake Buena Vista, FL, 32830. Beach Club Address: 1800 Epcot Resorts Blvd, Lake Buena Vista, FL, 32830. Beach Club Villas Address: 1900 Epcot Resorts Blvd, Lake Buena Vista, FL, 32830. Beach Club phone: (407) 934-8000. Yacht Club phone: (407) 934-7000. Beach Club Villas: (407) 934-2175. Beach Club fax: (407) 939-3850.  Yacht Club fax: (407) 939-3450. Beach Club Villas fax: (407) 934-3850. Parking fee: $25 per night Self-Parking, $33 per night Valet Parking. Check-in: 3 PM. Check-out: 11 AM. Resort Type: Deluxe & Deluxe Villas.
Overview of Yacht Club, Beach Club & Beach Club Villas Resorts
Designed to resemble turn-of-the-century style summer homes on Martha's Vineyard and Nantucket, these upscale resorts are attached. However, guests must step outside to get from one resort to get to the other. It's a quick walk and the outdoor portion of the walk is under cover.
Though they have similar themes, they have very different styles. The Yacht Club has a more formal décor, while the Beach Club and Beach Club Villas have a festive New England seaside resort theme. Having lived in New England I can say that it feels authentic.
The resorts and villas all share some amenities such as Stormalong Bay, a fantastic 3-acre water complex with a lazy river, water slide, multiple whirlpools and a free form sandy bottom pool. This pool, by the way, is widely regarded as the best in all of the Disney World resorts.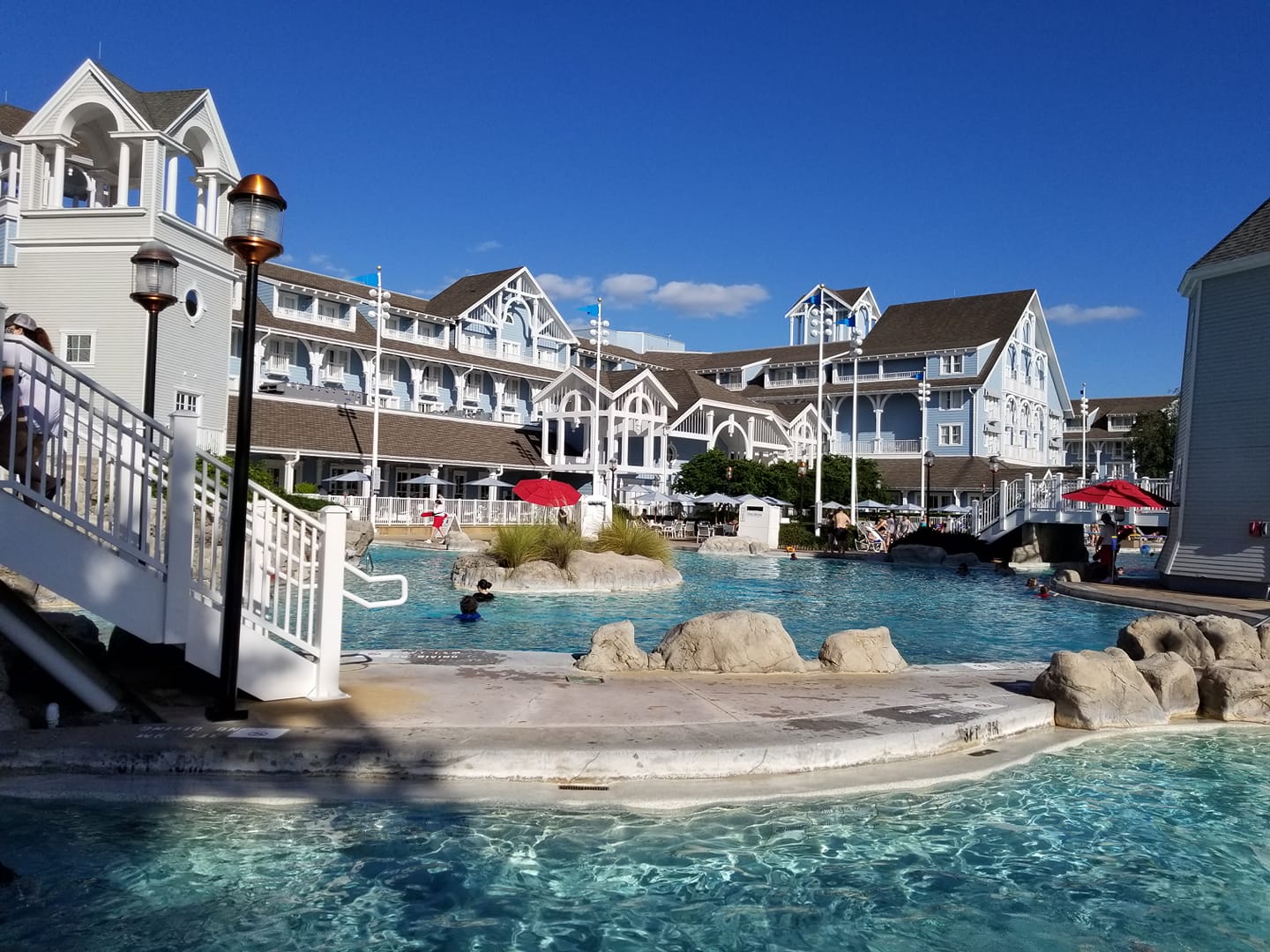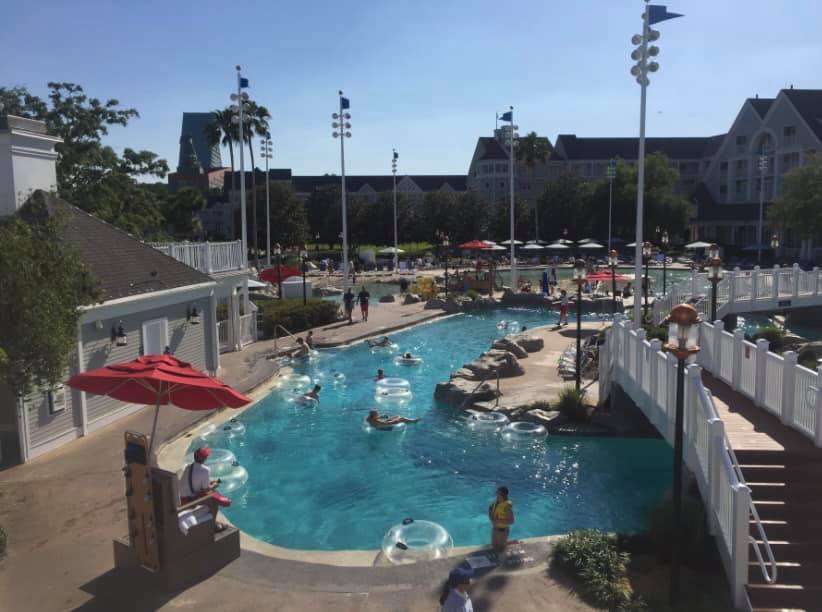 These three resorts are close enough together so that it's practical to plan on accessing all the amenities at these locations.
One of the best reasons for staying in one of these resorts is the location within Disney World. It's a very short walk to the International Gateway entrance of Epcot. Within 5-10 minutes (give or take, depending upon where you're room is and how fast you walk) you'll arrive at the World Showcase side of Epcot. Here's what one Disney fan from Florida had to say:
"During the Epcot Food and Wine Festivals we like to stay at the Beach Club. It's great being able to walk to Epcot whenever we want to eat our way around the World Showcase for lunch, dinner or snacks. At closing time after the fireworks show, while crowds are thronging towards the huge lines for buses, boats and monorails, we take our time. The walk is so pretty and pleasant by the water, and it's a gigantic bonus to be able to avoid all the stress, crowds and waiting in lines."  
It's a longer walk to Hollywood Studios at about 20 minutes, but it's a pleasant walk.
The Disney Vacation Club's Beach Club Villas is next to the Beach Club. It is considered a timeshare resort, which is a part of the Disney Vacation Club. If there are rooms available, non-DVC owner guests can stay there, though DVC guests are given priority. The villas give guests additional space and kitchen options.
Tip: There are two paths on the walk to Epcot from the Yacht Club and Beach Club. Though the upper level path gives you a water view, the lower level path takes you right by the side of the river. Either way, it's a pleasant walk and accessible.
Tip: If you're planning on walking to Epcot, the Beach Club is the resort that's has the shortest walk. The Yacht Club is just a bit further, and a little bit further than that is the Boardwalk Inn. Although you can walk from the Swan and Dolphin, most people find it far enough away (approximately 15-20 minutes) that they prefer take the Disney boat transportation.
Another benefit of these resorts is that they sit on the shores of the 25-acre Crescent Lake. Guests get to enjoy the pleasant water views, views of the resorts around the lake, walking paths, boat transportation, and the white sandy beaches. Within walking distance or a short boat ride is the BoardWalk Inn, Swan and Dolphin Resorts. There's easy access to many great dining and entertainment options in these locations.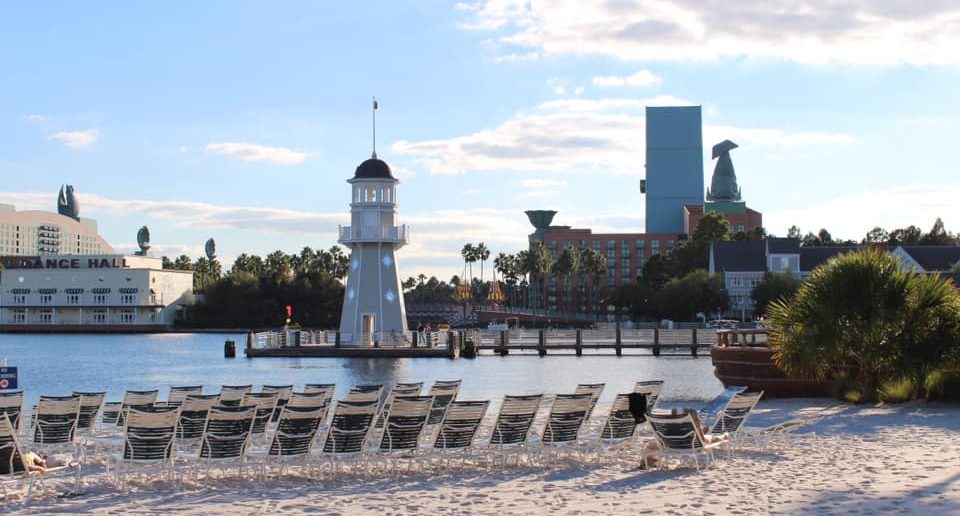 We've heard reports that the Yacht Club tends to be less kid friendly, and that there tends to be more adult travelers there. However cast members have told us that they think both resorts bring an equal number of families. On the Yacht Club side there's a convention center bringing in adult visitors. However we've been told that there are likely to be convention travelers at both resorts. At times we've observed that there were very few kids in the Yacht Club, and many more kids around the Beach Club. The Beach Club has the Character breakfast at the Cape May Café, so every morning the lobby is filled with families (including running and playing children) waiting to be seated. The main dining location at the Yacht Club seems to be far more sedate. Regardless, there are many people with kids who love the Yacht Club.
Price-wise they tend to be similar but Disney can run deals for one or the other, so a price difference might be a good reason to choose one over the other.
Advantages and some disadvantages of Disney's Yacht Club, Beach Club & Beach Club Villas Resorts
ADVANTAGES: In addition to the Disney magic you can expect in every single Disney World resort, here's what's really good about this resort:
Both are beautiful. The atmosphere is upscale and pleasant, and the lake surrounded by the other resorts makes an amazing view.
You can walk to Epcot and Hollywood Studios. You can't beat that! It's especially great when there are festivals at Epcot. You can walk over to grab a bite to eat or to enjoy a show.
You can walk the lake. It's a really pleasant walk with a lot to see.
It has what many consider the best pool on Disney property. There's nothing quite like it in any of the Disney World resorts, or anywhere else I've seen for that matter. There are also quiet pools if you like a more relaxed environment. See below for more details on the pools.
There are many dining options here. Between the two resorts there are several great places to eat. You can also stroll over to the Boardwalk Inn, Swan or Dolphin for other options.
You get all the benefits of being in a Disney resort, such as room package delivery, transportation, etc.
You get to use the Disney World transportation system. You can use the bus system, the boats to Hollywood Studios and Epcot, or you can grab the Skyliner to Hollywood Studios.
You don't usually see large, noisy groups of people here. That's something that the value resorts get a lot of, and the moderates can get some of that as well. While it does happen at here, it's less frequent than at the moderate and value resorts. Can there be noisy neighbors or groups of kids? Yes, but we haven't experienced much of that in either of these resorts.
The resort sizes are small compared to other Disney resorts. Compared to some of the other Disney resorts, this will mean a lot less walking necessary.
DISADVANTAGES
Though larger than moderate and value resort rooms, the rooms are not huge.
Transportation is shared with other resorts. This can mean long waits.
It's expensive. Pricing is higher compared to values and moderates and even some other deluxe resorts (especially Animal Kingdom Lodge and Wilderness Lodge).
Dining – These resorts don't have real food courts. Most of the Disney resorts do have food courts. We've found this to be a small disadvantage when it comes to breakfast. There are still quick food options but not as extensive a choice as with a full food court.
Themes are more subtly Disney. If you're looking for massive Disney icons, you'll want a value resort.
Buildings in the Yacht Club, Beach Club & Beach Club Villas Resorts
Yacht Club Building
The Yacht Club is the more conservative, sophisticated and subdued environment. It features a pale grey clapboard exterior, white trim, red and white striped awnings.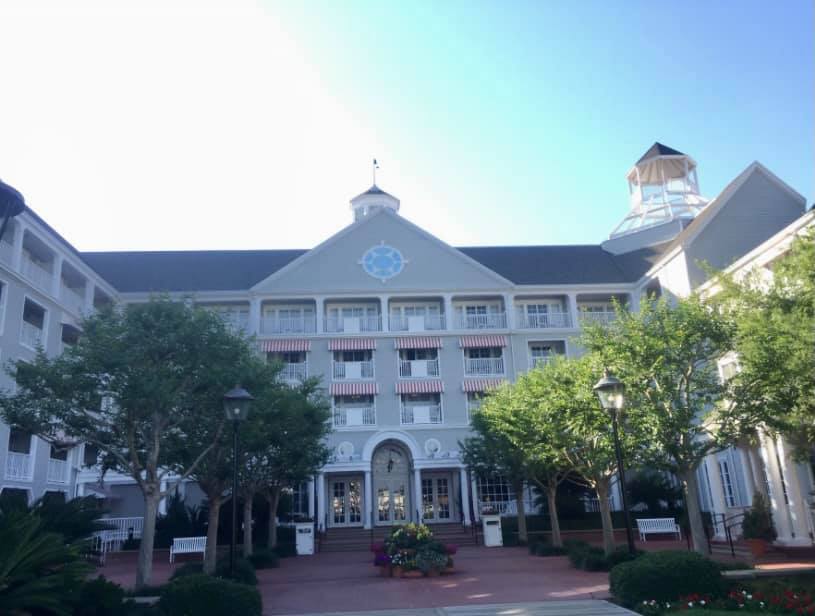 The interior is positively formal with shiny oak wood floors, and the kind of furniture you would see in an upscale home on the New England seashore.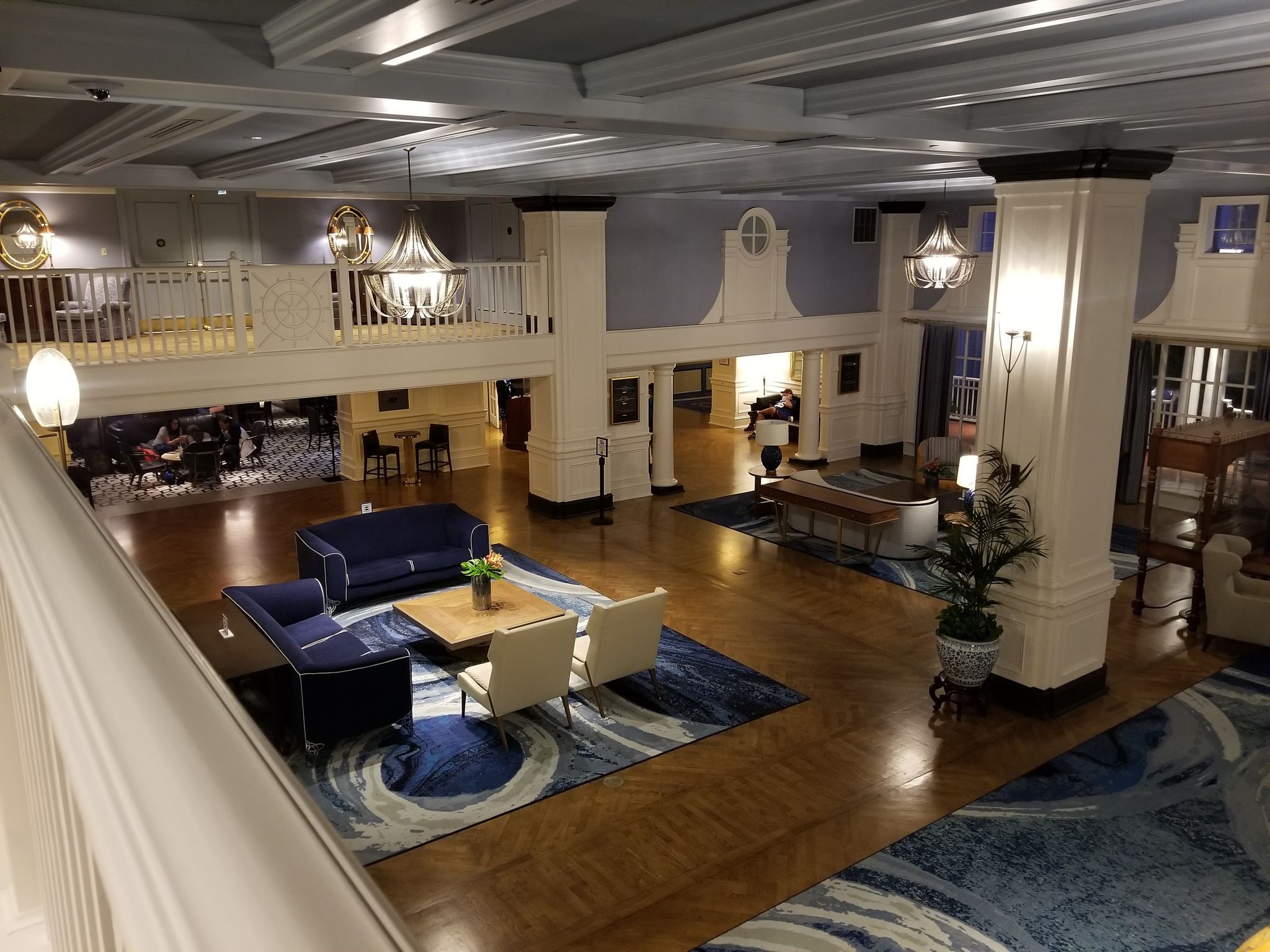 There are many details that make the lobby elegant and special. There's a great deal of pale, ornate wood trim on the walls and ceilings including a ship's steering wheel design. You'll find antique chandeliers, leather furniture, nautical touches such as ropes hanging from the railings, a miniature ship model and brass handrails on the staircase. You can't miss the beautiful, large antique globe situated in the center of the lobby.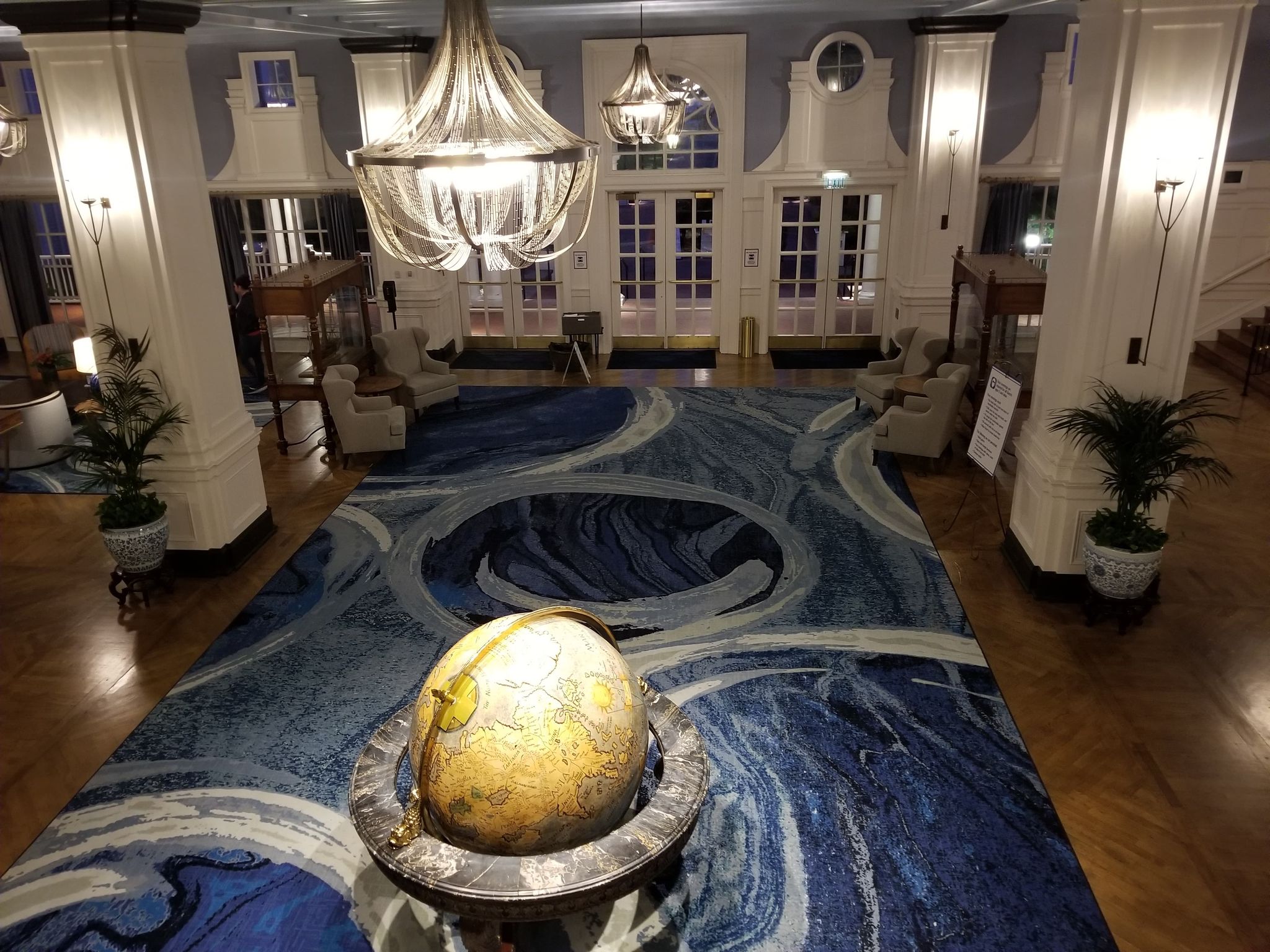 Attentive cast members wearing nautical themed outfits designed in the styles from the late 1800's greet and attend to the guests.
Beach Club Building
The Beach Club is meant to be less formal than the Yacht club, though we find it to be just as upscale and elegant. The exterior is a pleasant Cape Cod stick-style, painted pastel blue with decorative white trim.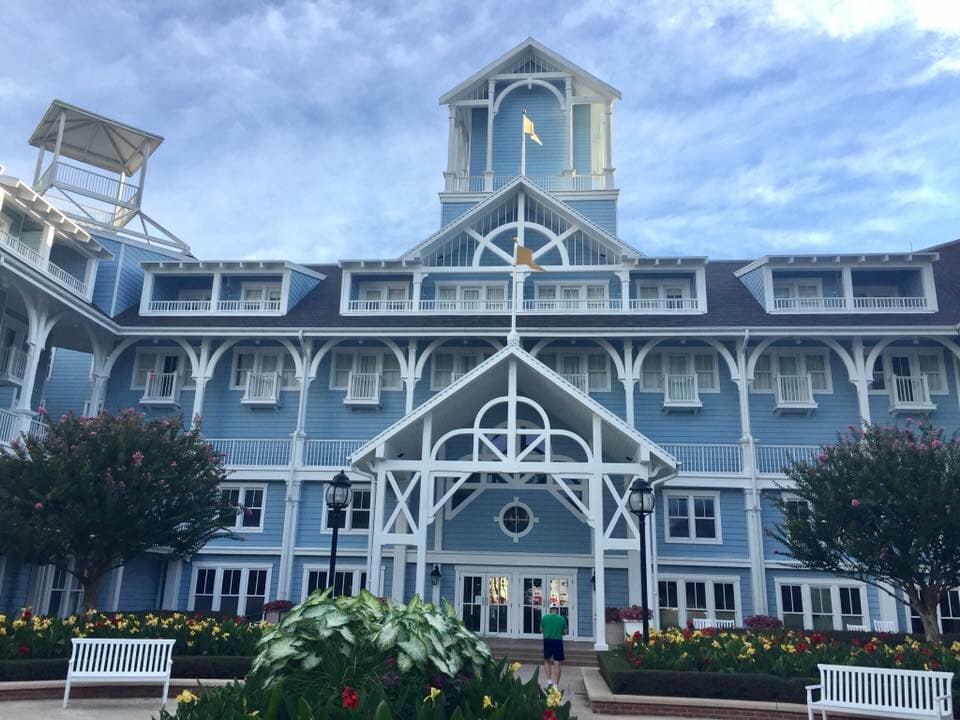 The interior furnishings and rugs feature various shades of turquoise, coral and pink with a seashell motif.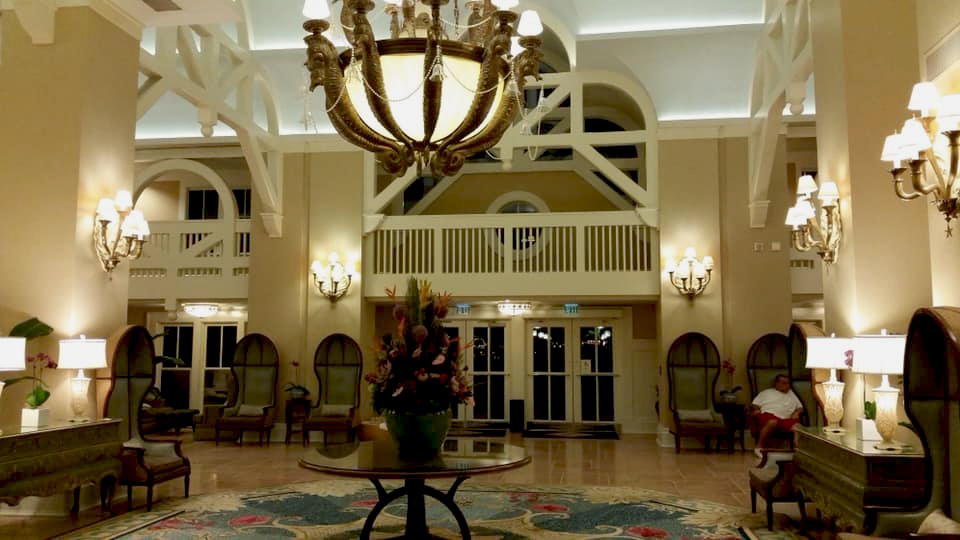 The floors are made from natural French limestone with orange tinted earth tones. The high 24-foot ceilings are dramatic, and the furniture is comfortable. There are massive floral arrangements throughout the lobby and small curtained sitting areas which are inviting and cozy. You can spot characters from The Little Mermaid in the décor around the resort's interior, including the carpeting.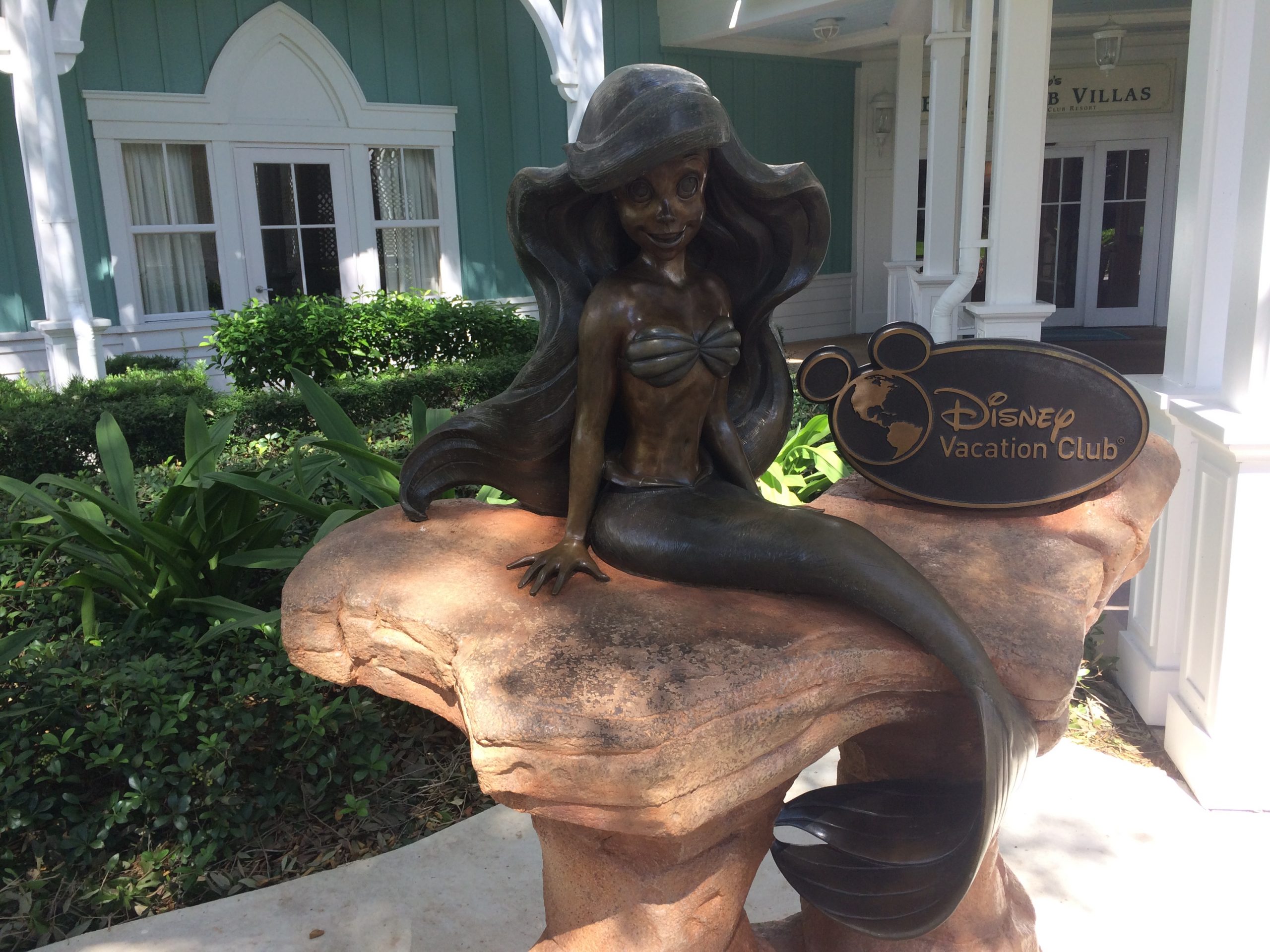 Adding to the elegance, there's plenty of marble used throughout. Even on the elevator floors!
Tip: The Beach Club uses fragrance in the lobby.  If this is a problem for you, you may wish to choose another resort. Although check-in is in the main lobby, we found that there's not much need to spend time there. However, we did pass through on a frequent basis to get to other resort locations. We did not discern any strong fragrances elsewhere in the resort.
Tip: The Yacht Club also uses fragrances in the lobby and they use them in the guest rooms. As of our last visit, they added fragrance packets to the vacuums.
Beach Club Villas
As mentioned above, the Beach Club Villas is next to the Beach Club. The pale turquoise exterior with white trim is styled similarly to that of the Beach club. Visitors to the Beach Club Villas share all of the Yacht Club and Beach Club amenities including Stormalong Bay, the valet and bell services, the front desk and the concierge services. In addition this resort has its own quiet pool and whirlpool.
Checking in at the Yacht Club, Beach Club & Beach Club Villas Resorts
Check-in for the Yacht Club is in the Yacht Club Lobby, and check-in for the Beach Club and the Beach Club Villas is in the Beach Club check-in area. This resort does not have low counters at the check-in area for guests who are in wheelchairs and ECVs.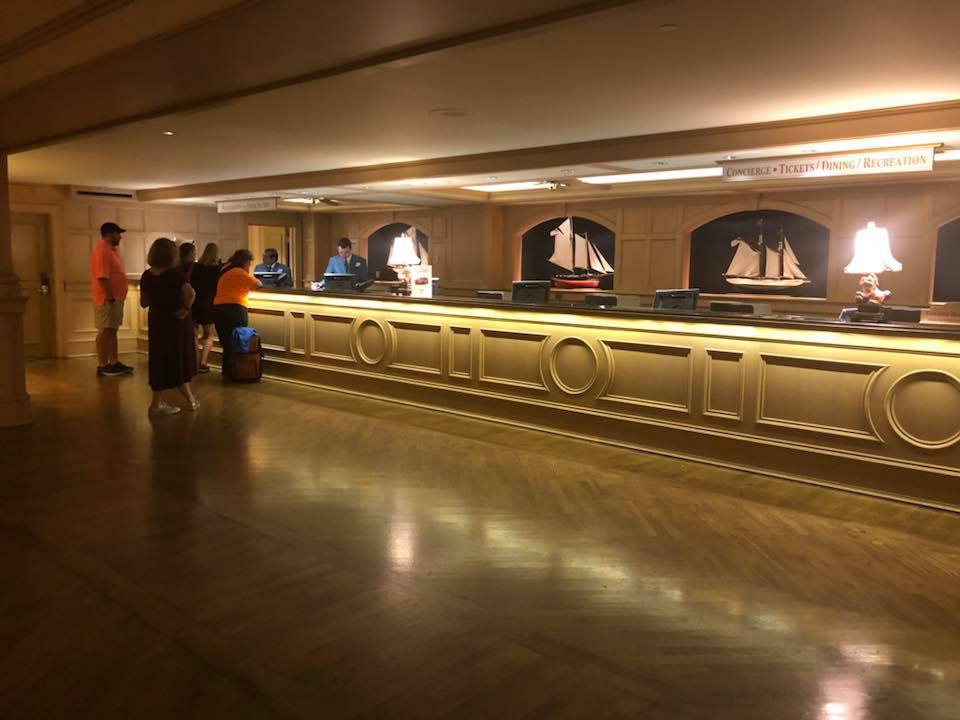 The lobbies have very small children's sitting areas near the check-in locations. There are child size places to sit with a television playing Disney movies.
Service at these resorts tends to be top notch. When you walk into the lobby you'll notice several cast members just standing there waiting to assist guests. Check-in at the Beach Club went amazingly well for this visitor:
"We recently had the best check-in we have ever had in any resort, anywhere. We were greeted at the door by very attentive bell services people who took our luggage. As we walked to the front door, a man in a blue nautical themed blazer approached us, welcomed us to the resort and escorted us to the front desk. He introduced us to the front desk person by name. We had a smooth check-in, and the front desk person gave my wife a long stemmed rose. The bell Services people got her scooter from the back, and escorted us up to our room. We felt important."
Parking at the Yacht Club, Beach Club & Beach Club Villas Resorts
There's valet-parking for a fee or you can self-park at no charge. Disabled guests receive valet parking at no charge with valid state issued proof. Beach Club Villas guests get complimentary parking if they're part of the Disney Vacation Club and using their points. Parking is a long distance from the main entrance, including handicapped parking.
Pools at Disney's Yacht Club and Beach Club Resorts & Villas
Each of these resorts has a small quiet pool, and they share one massive pool complex called Stormalong Bay.
What do you need to know about the pools?
Towels are available to guests at both of the pools. You must show your room key to get towels. Once you've shown it, you'll receive a wrist band that identifies you as a guest of the resort. Without a valid room key or wrist band, you can't receive towels.
Each pool has a chair lift.
There are lifeguards at the main pool.
Free life vests are available at all pools. They range from infant size to adult XXL.
Each pool has restrooms.
Swim diapers are required for children who are not toilet trained. They can be purchased in the resort store.
Water temperature: In the cooler weather, pools are heated to 82° Fahrenheit, 28° Celsius. At times we've found that the pools felt much colder than that. How warm a pool will actually gets will depend on a variety of factors including pool size. At times we've found that the heat was not turned on for a quiet pool. If that's the case, let a Cast Member know you'd like it turned on.
Pool Parties: Stormalong Bay offers hosted kids games at the pool throughout the afternoon. Usually sometime after 1 PM, the main pools at all of the Disney resorts have pool parties going on. Parents and kids will love this, but if you're looking for quiet, keep in mind that these parties are VERY loud. There's dance party music blasting throughout the entire afternoon, and the Cast Members lead the kids in activities over a loud speaker. If this doesn't appeal to you, visit one of the quiet pools.
Sometimes they run these games on the Yacht Club side and sometimes on the Beach Club side. Although you can hear everything loudly wherever you're seated in Stormalong Bay, the side that they're playing on is the loudest. There's no pattern to which side they choose to play on, but ask a cast member what the plans are.
Stormalong Bay Pool
Shared by all three resorts, Stormalong Bay is a really incredible 3-acre water recreation area reminiscent of a Nantucket beach. The pools have sandy bottoms and there's even a white sand beach for kids to play on that begins outside the sandy-bottom kiddie pool. Kids are given pails and other toys to play with. There are "boulders" everywhere, contributing to the illusion that you're on a real New England Beach.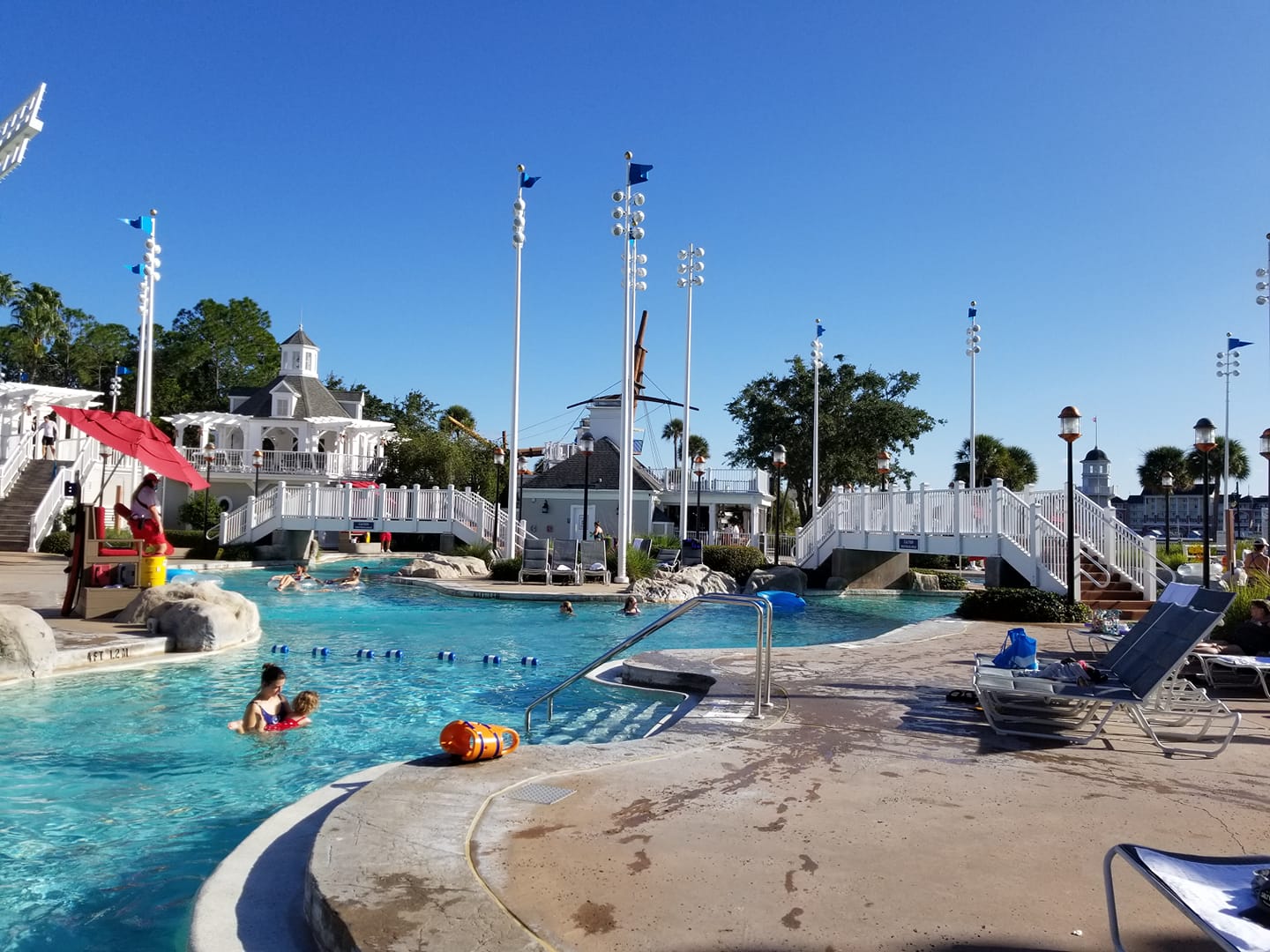 You can't miss the life-size shipwreck and the marina lighthouse that has lounge chairs on top where you can relax with a great view (only accessible by stairs).
There are two separate lagoon type pools at Stormalong Bay. They range in depth from 3 feet to 8 feet. The separate kiddie pool has a depth of 2 to 3 feet.
On the Yacht Club side of Stormalong Bay, there's a wonderful lazy river with water currents that gently pull and push you around a loop. It's most relaxing if you have an inner tube or a noodle to float with. Without those this can be physically demanding and a great workout! You can enter the loop via metal stairs with handles, but you'll find a deep drop (as much as 6-8 feet) after the last step. As you float around the loop, you can get out by metal ladder stairs, but you must be able to pull yourself up to the first step, which is high. You can bypass these stairs and use the gradual cement stairs, but you must walk/swim outside the loop to another area of the pool to access them.
There are hot tubs scattered around, some of which are made private by the rocks. On the Beach Club side lagoon, there's a section that has currents that create a spinning whirlpool. We heard from a mother who told us the following:
"Tell parents to be careful. My son got sucked down under the water in the whirlpool part of the pool. It overpowered him and I had to grab him and pull him up out of the water.  It's really too strong for some kids."
A spiral staircase takes you up on the life-sized shipwreck that rises to a 150-foot mast. There you'll find the entrance to a water flume. It has you plummeting toward a rocky outcropping, and then down 150 feet of spins. You must be able to walk up the staircase to participate. You must also be able to swim in 4 feet of water without having to wear a flotation device.
There is no zero entry into the pool, but there are shallow sandbar areas (really designed for kids to wade in) that have that zero entry type of effect. There is a transfer tier and a lift.
Wheelchair/scooter accessibility tip: Exiting from the resorts to the Stormalong Bay pool can be tricky if you're in a wheelchair or scooter. If you need an electric door, you'll have to go out the back exit in either the Yacht or Beach Club's main lobbies, and ride around outside to the pool fence to the entrance. It's a little roundabout, but you'll get there. There are many manual doors that will put you right outside by the pool complex, but here's what an ECV user had to say about those doors:

"The areas around these non-automatic doors are usually empty of people, so if you're alone and needing someone to hold the door open for you, there may not always be someone around. I was able to fling open a door while sitting on my scooter, and then I had to ride through it before it closed. The doors were light enough for me to manage, but it was challenging to dart through the exit quick enough to avoid having the door hit me or my scooter."

Those in scooters and wheelchairs should keep the speed down and use caution around the pool. The ground can be uneven, and there are some narrow walkways surrounded by water.
There's a poolside gift shop that's behind the poolside restaurant and just under the gazebo. They have all kinds of items for sale including sun block lotion, noodles (a floating device currently costing $4 each), hats and even water guns. They also offer tube rentals, complimentary life jackets and swim diapers.
Stormalong Bay does not offer any umbrellas for lounge chairs. There are no areas where there's shade throughout the day. If you're looking for shade, you may need to move around as the sun moves to get partial shade from trees.
In the past there has been a cast member who serves guests around the pool, taking your order for food and drinks from Hurricane Hanna's Grille. We've found that they're usually understaffed for the size of the pool area, so you can expect infrequent visits and long delivery times.
Other pools at Disney's Yacht Club and Beach Club Resorts & Villas
There are two quiet pools (Beach Pool and Yacht Pool) in alcoves at the far ends of the resorts and towels are available. Each pool has a hot tub. In addition, the Beach Club Villas has its own quiet pool named Dunes Cove. It has a hot tub/whirlpool, and guests are supplied towels. There are no lifeguards in these pools, and there's no transfer tier or zero entry. There is a building with lockers and restrooms.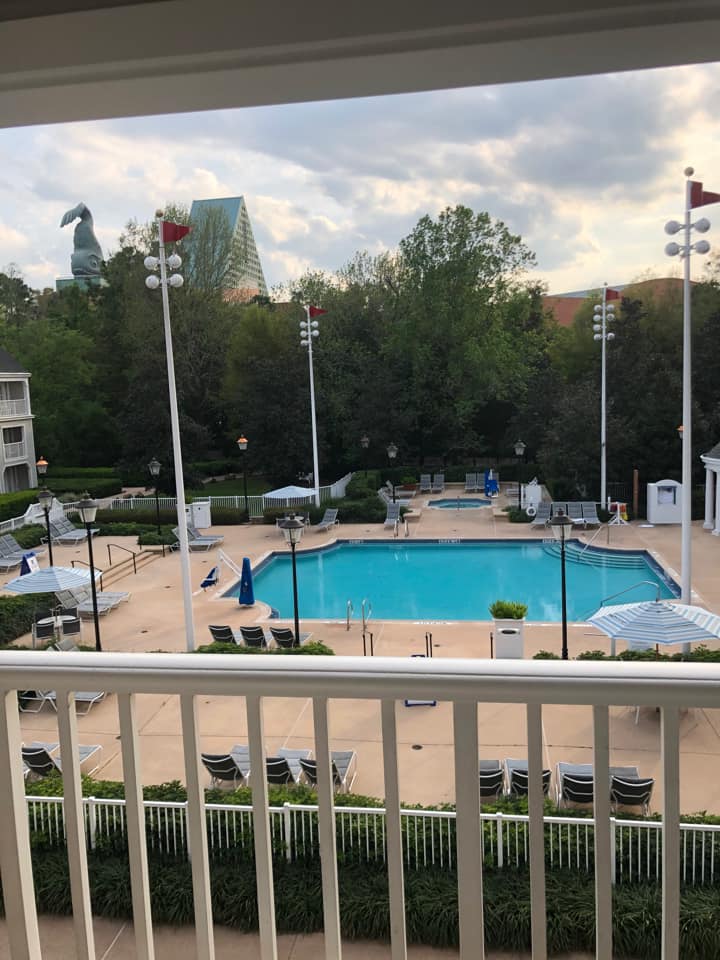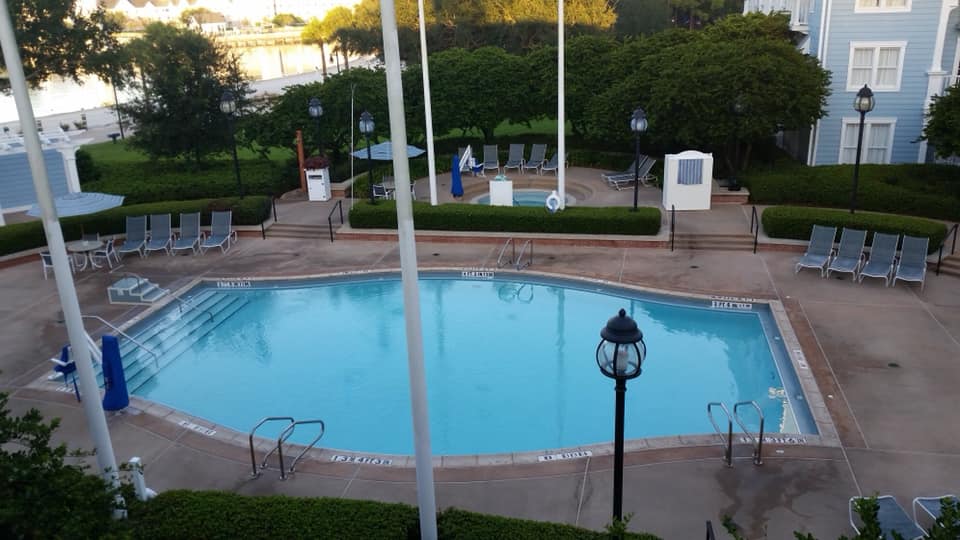 Dining at Disney's Yacht & Beach Club resorts
Yacht and Beach Club Resorts dining options are plentiful however the one thing missing is a food court.  For other dining options, guests can walk over to the Swan/Dolphin resorts, as well as the Boardwalk. Reservations are suggested for all of the full-service restaurants. Here are the options you'll have to choose from:
Cape May Café: Located in the Beach Club Resort, it has a character buffet breakfast and a dinner buffet without characters. It's one of our favorite buffets on Disney property, and sea food fans will love the dinner buffet. Guests enjoy unlimited seafood options along with some other choices such as pasta.
Yachtsman Steakhouse: This is well-known as a top dining destination for steak lovers, and they also serve American cuisine including seafood. Located in the Yacht Club Resort, this high-end restaurant serves only dinner.
The Beach Club Marketplace: This is located inside the Beach Club Resort store. It's a quick service counter in the back. Guests can get a small number of options for breakfast, lunch and dinner. Customization is limited here.
Hurricane Hanna's Waterside Bar and Grill: This is a counter service poolside bar/restaurant serving both resorts, that serves lunch and dinner mostly made up of salads and sandwich's.
Beaches & Cream Soda Shop: This full-service restaurant is well known for serving ice cream, including the giant "Kitchen Sink".  This has just about anything sweet you can think of added to it. They also serve lunch and dinner options such as burgers and sandwiches. It's located outside, poolside in the middle of the two resorts. It's hard to get a seat in this restaurant, so reservations are strongly suggested. There's also a walk-up window for ice cream.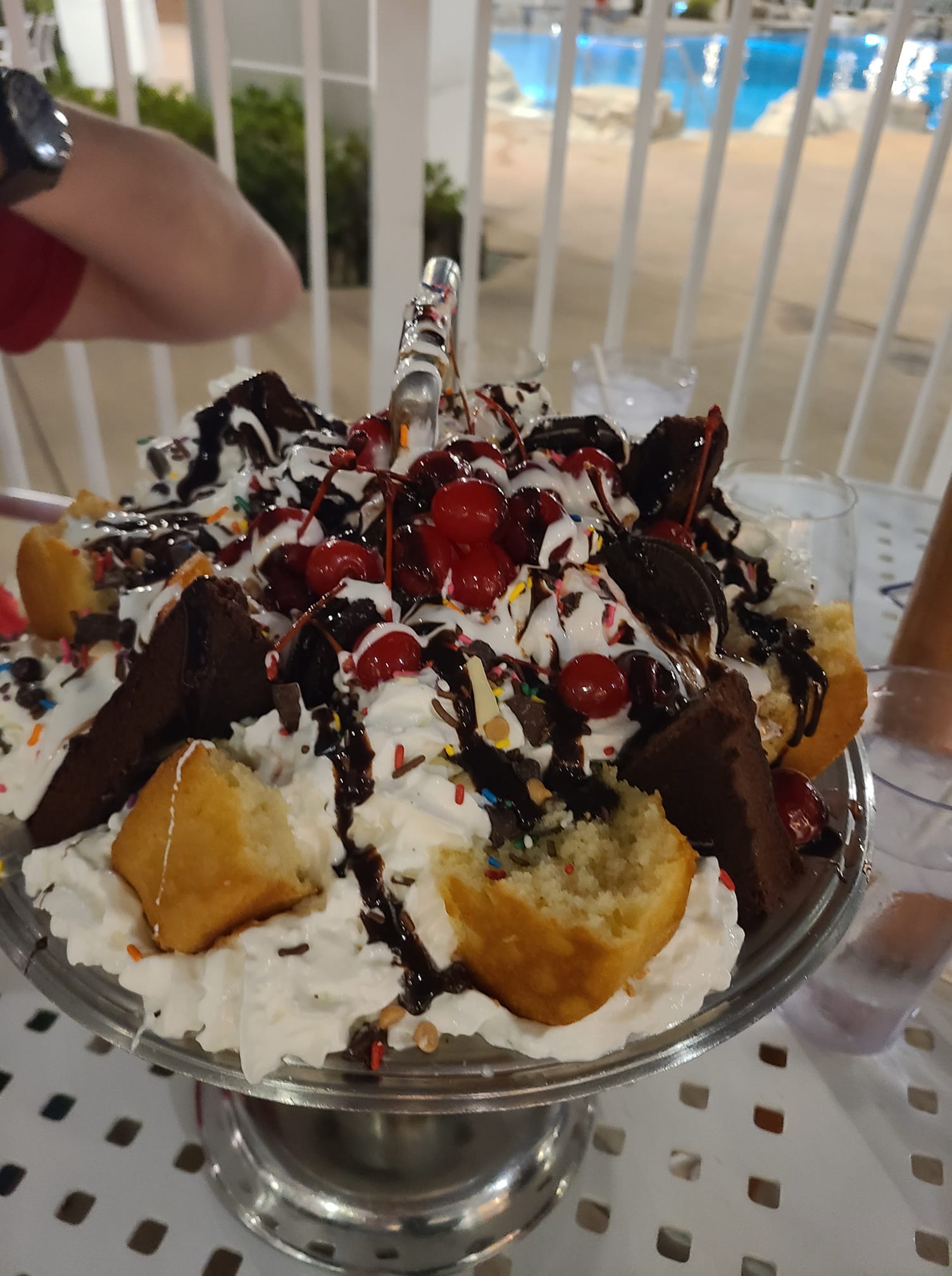 Ale & Compass Restaurant: This Yacht Club Resort full-service restaurant serves breakfast, brunch and dinner. Featuring classic seafood dishes, this restaurant is coastal inspired.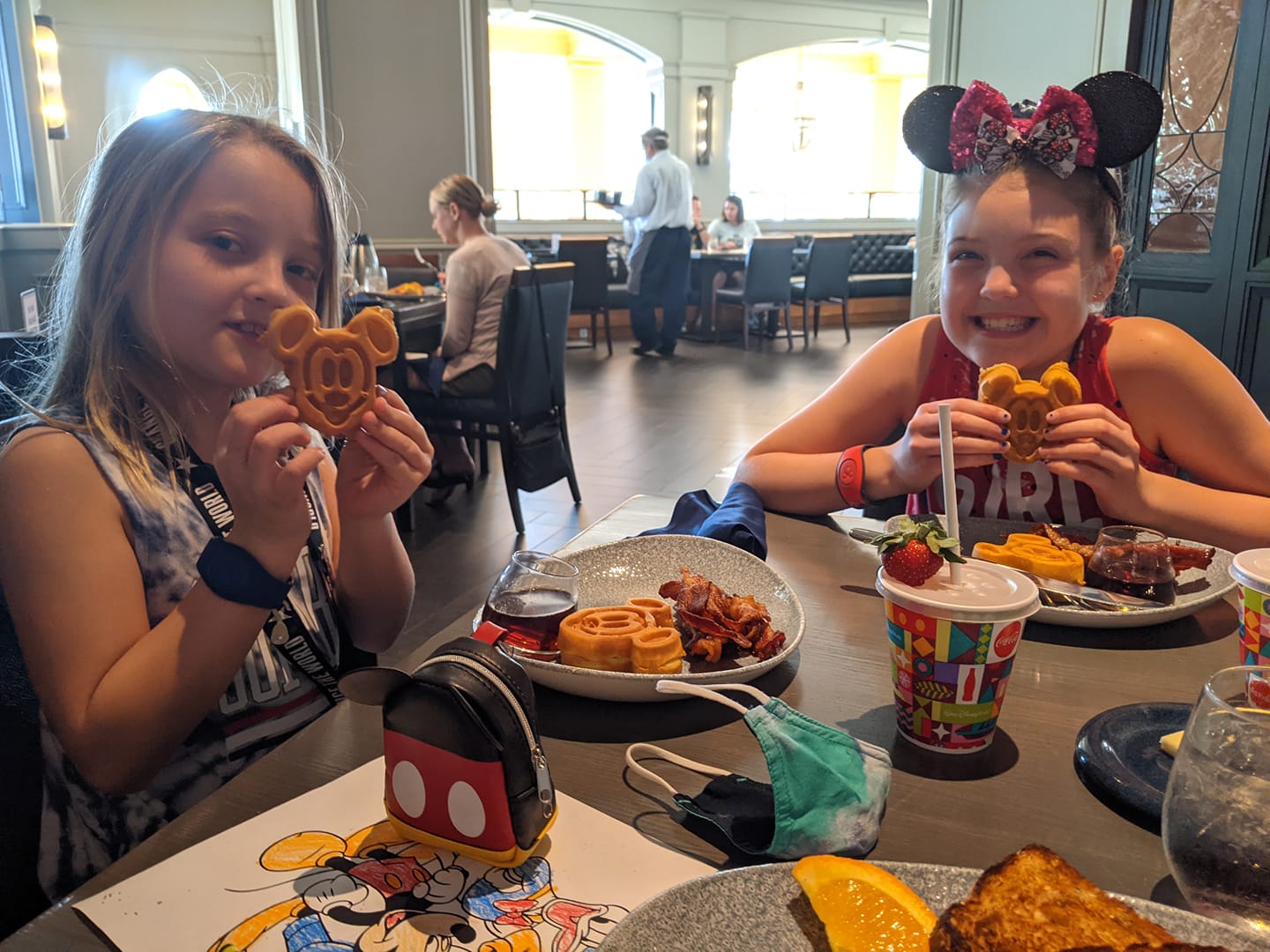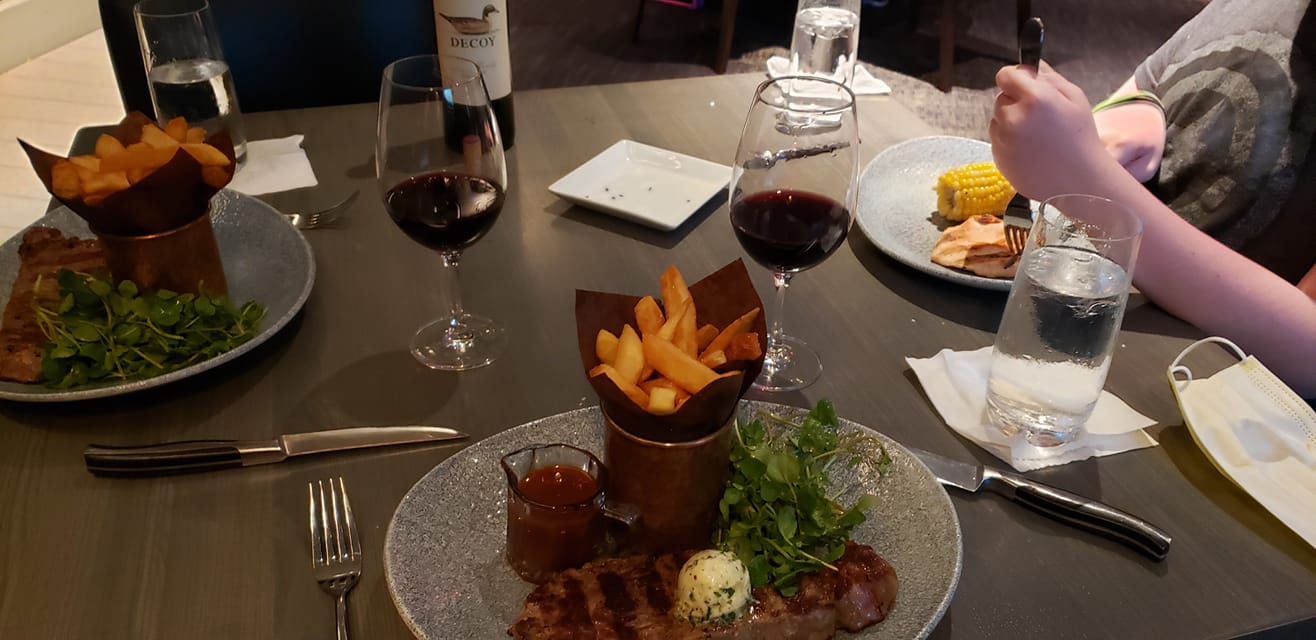 Ale & Compass Lounge: This Yacht Club Resort bar area serves lounge style appetizers and cocktails.
The Market at Ale & Compass: Located in the Yacht Club Resort, this counter service restaurant is inside the resort shop. There's not a lot of customization available, but we've had the Cast Members arrange with the full-service restaurants to handle our allergy requests from within this store. There are breakfast, lunch and dinner options.
Crew's Cup Lounge is located next to the Yachtsman Steakhouse in Disney's Yacht Club Resort. It offers beers from around the world and hors d'oeuvres.
Martha's Vineyard is a pleasant 59-seat lounge in the Yacht Club resort featuring a variety of wines, cocktails and appetizers.
Room Service is ordinarily available 24-hours.
Guest Rooms at the Yacht Club, Beach Club & Beach Club Villas Resorts
The buildings vary with three, four and five-stories.
Beach Club Views: Available views for Beach Club include standard, water or garden. Some of the standard views at the Beach Club include the Rooftop or Parking areas. Water views can be Stormalong Bay (main pool), Crescent Lake, or a quiet pool. Some suites have other possible views such as the woods, Gardens, Boardwalk Inn or Epcot.
Yacht Club Views: Garden, Standard or Water View. Standard views at the Yacht Club include the Rooftop or Parking areas.
# of Guest Room:
Yacht Club – 621 rooms
Beach Club – 576 rooms
Beach Club Villas: 282 rooms
Room sizes: Standard rooms are approximately 381 square feet. Each resort has a variety of suites that include 654 sq. ft. Junior Suites, 1,160 sq. ft. Two-Bedroom Suites and even a 2,374 sq. ft. Captain's Deck Suite.
Number of people per room: The maximum number of people in the standard rooms sleep is two to five plus a child under the age of three in a crib. Deluxe guest rooms and Suites vary in size and sleep three to eight people.
Club Level Rooms: Both resorts offer Club Level/Concierge rooms on the fifth floor.
All rooms have:
Hair dryers
In-room safe
Iron and ironing board
Wireless internet access
Voicemail
Shampoo, soap and conditioner (H2O brand)
Digital thermostat that you can adjust
Ceiling fan
Alarm clock available upon request
Coffee maker and K-Cups
Mini refrigerator
Balcony Tip: If a balcony is important to you, keep in mind that each Yacht Club room has a full balcony with a table and chairs. Though the Beach Club has some full balconies, many of the rooms have tiny partial balconies that only allow you to stand. You can request a full balcony at the Beach Club, but it won't be guaranteed.
Standard Rooms at the Yacht Club:
The Yacht Club rooms have an upscale modern feel with a subtle nautical influence. The color scheme is fairly neutral with navy blues, tans and whites.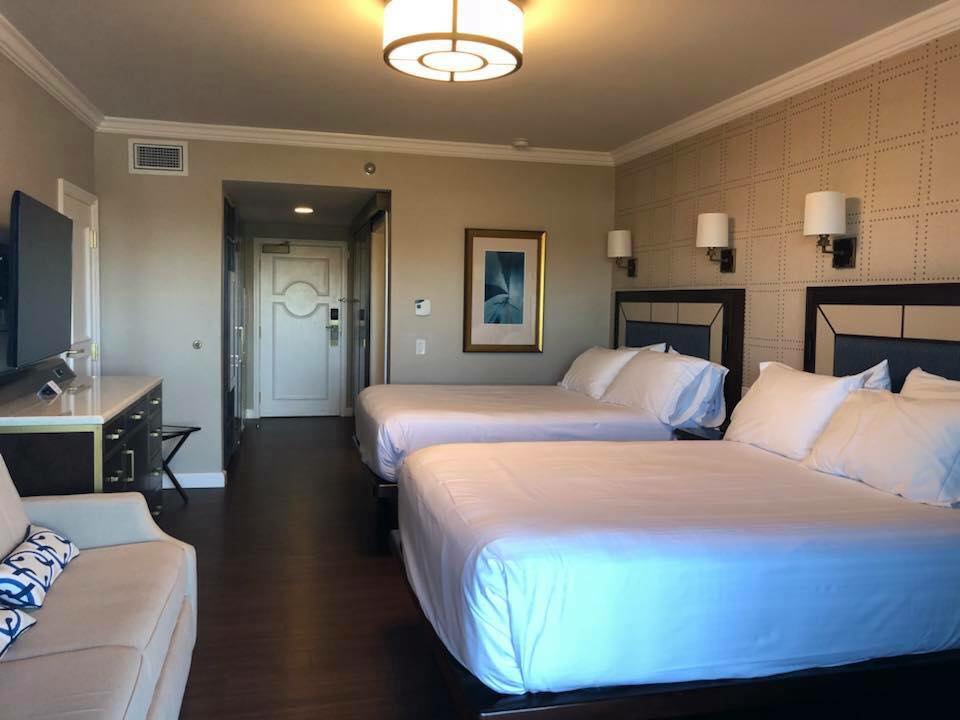 The rooms don't scream Disney. There are very few  Disneyesque touches, and they're very subtle. One cool one though are the curtains in the Yacht Club rooms. They took the stars and made new constellations using Disney characters.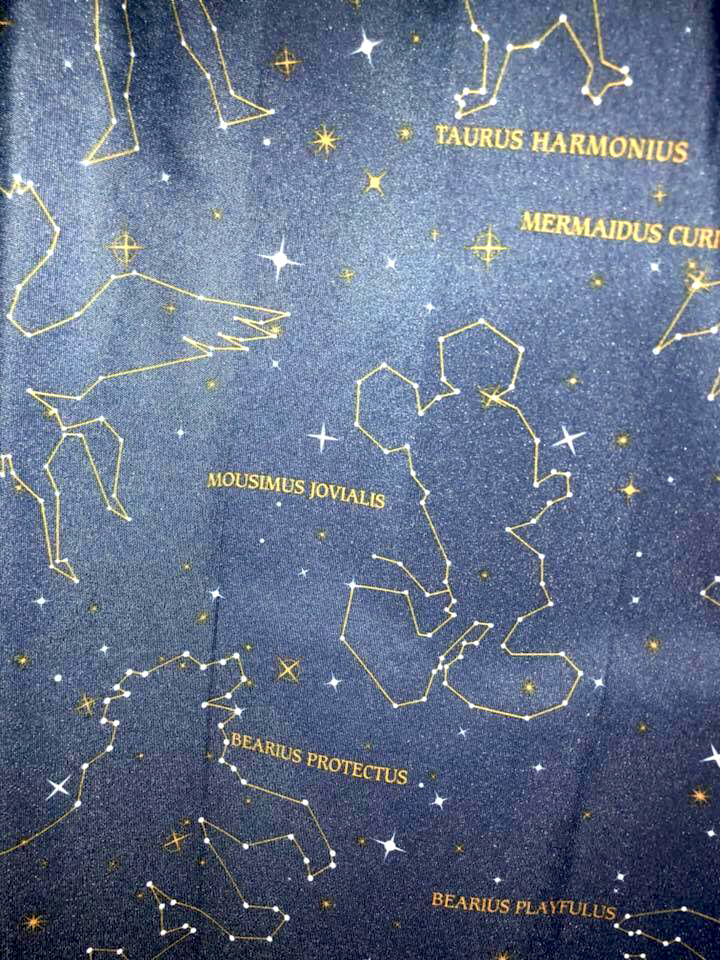 Floors are faux wood, and there is room under the beds to store your suitcases.
Number of Beds: Most standard rooms have two queen beds (some have a day bed in addition), or 1 king bed (some have a day bed). Accessible rooms have one king bed.
Bathroom: Standard rooms have one bathroom with double sink vanity with a makeup mirror. The bathroom has a sliding door that separates the sink area from the room for privacy.
The shower and toilet area also has a door separating it from the sink area. The shower has a clear glass door.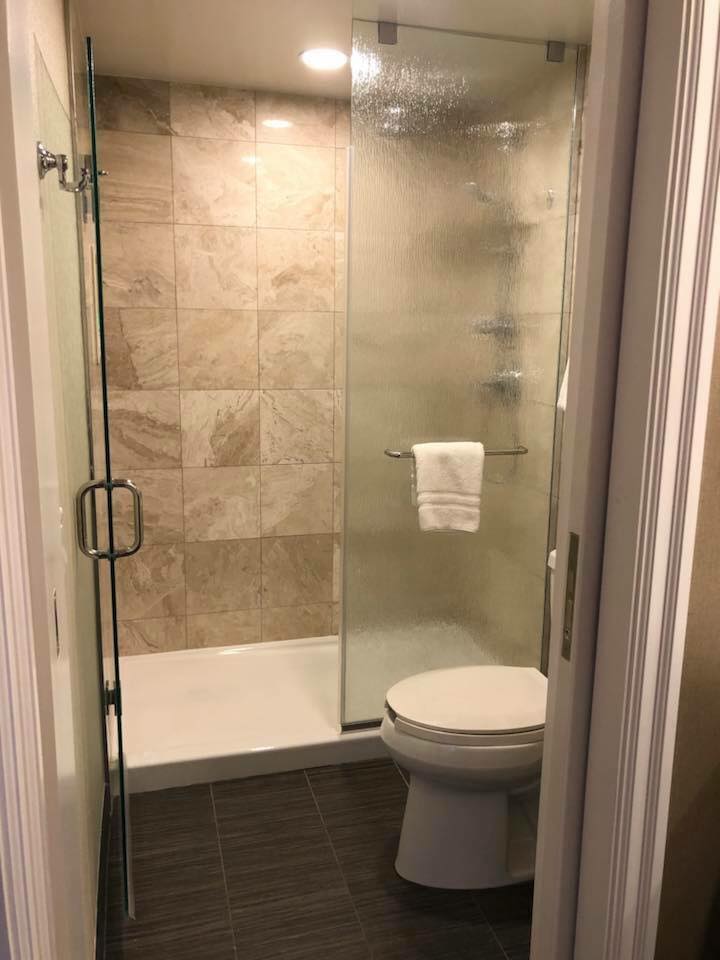 Furniture: 2 nightstands, cabinet with mini-fridge and coffee maker on top, wardrobe, dresser, flat screen TV, small desk and chair, sitting chair with ottoman. Some rooms have a day bed. The desk has a small rolling table under it that you can pull out and use anywhere in the room.
Each room has a Balcony (or a patio for first floor rooms) with two chairs and a small table.
Take a look at this Yacht Club King bed room. Though it is a Club Level room, the rooms are just like standard rooms (minus the robes and slippers). 
Other rooms available at the Yacht Club Resort:
The Yacht Club resort has 2 Bedroom Suites. These rooms sleep up t 6 adults and 1 child under the age of 3. Take a look inside below: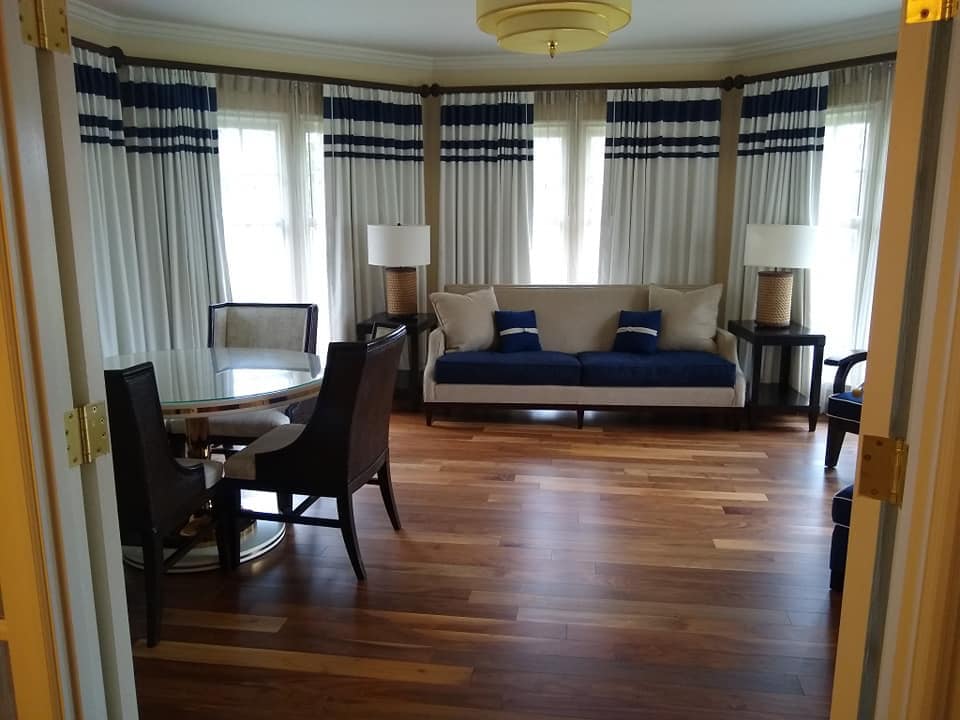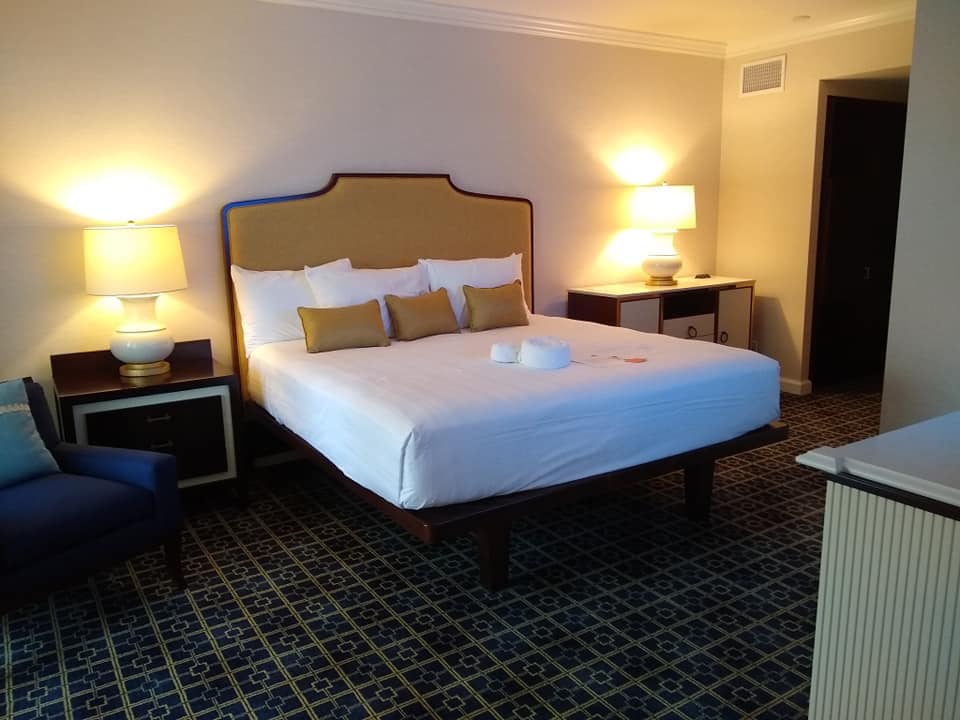 Standard Rooms at the Beach Club:
The Beach Club standard rooms also have that same upscale modern feel with a subtle summer cottage feel. Colors are very neutral with mostly pale blue, beige and grey. Floors are carpeted. Again, the rooms do not scream Disney. There are subtle touches like a picture of Mickey and Minnie on the beach, and some Mickey shapes in the shower curtain.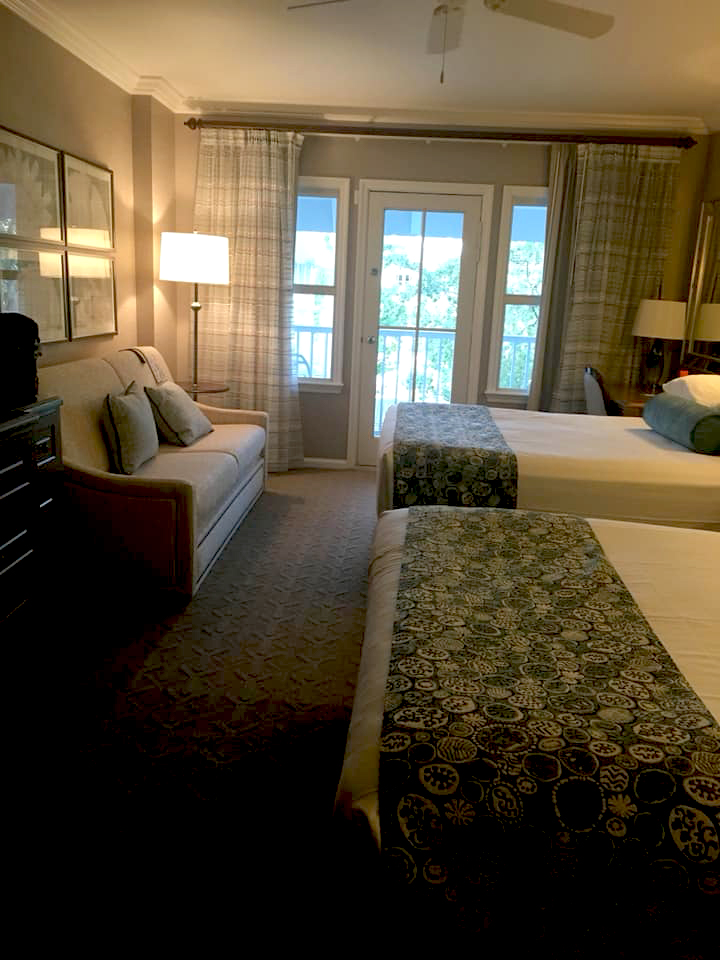 Number of Beds: Two queen beds and a day bed, or 1 king bed and a day bed. Accessible rooms have one king bed.
Bathroom: Standard rooms have one bathroom with double sink vanity with a makeup mirror. The bathroom does not have any door separating the sink area from the room. It's completely open to the room.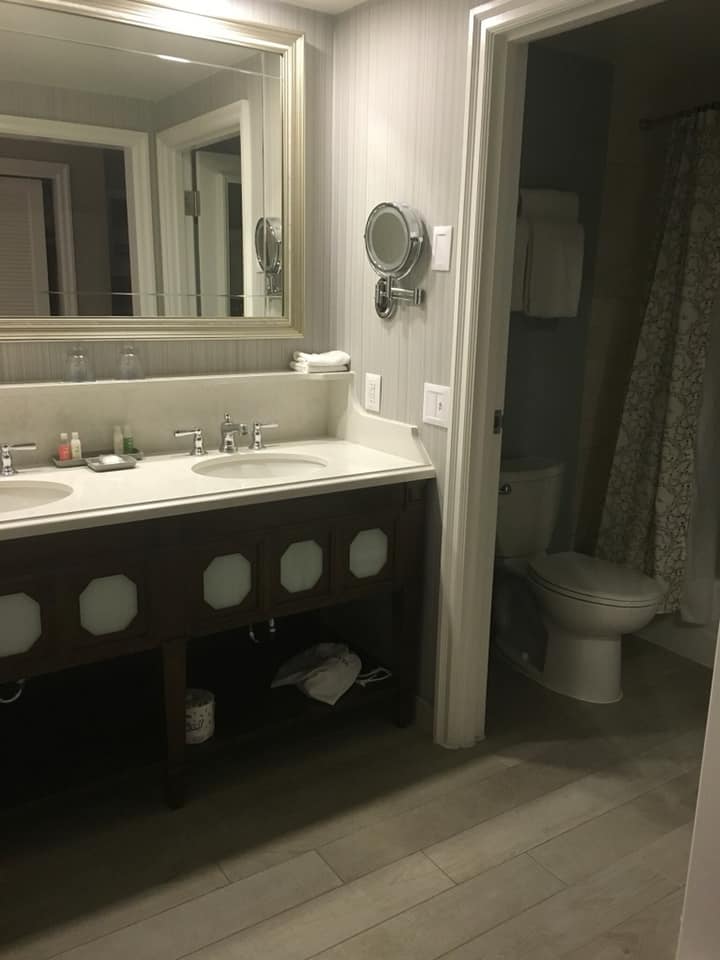 The shower/bath tub and toilet area does have a door separating it from the sink area. The shower has a shower curtain.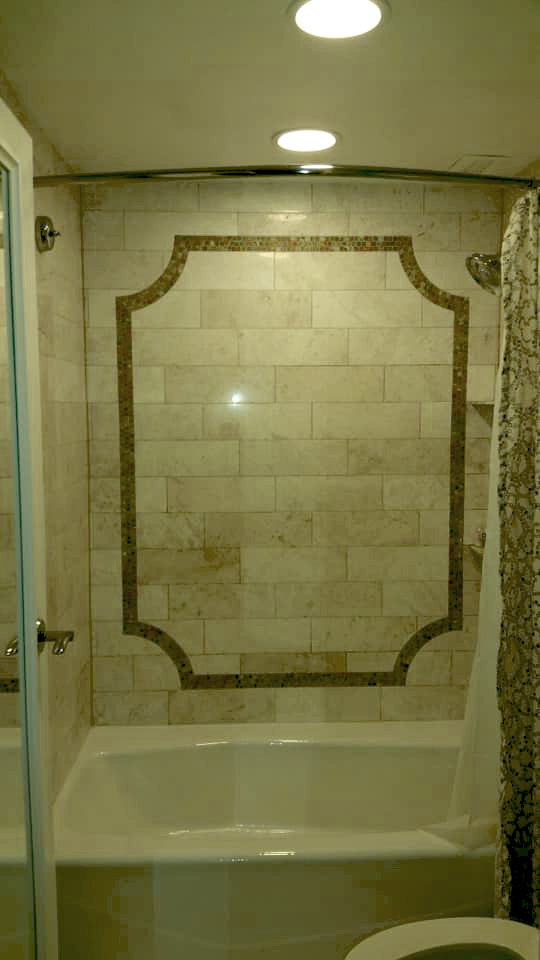 Furniture: 1 nightstand, cabinet with mini-fridge and coffee maker on top, wardrobe, dresser, flat screen TV, small desk and chair, sitting chair with ottoman. Some rooms have a day bed. The desk has a small rolling table under it that you can pull out and use anywhere in the room.
French doors open to outdoor patios (first floor rooms) or balconies. Full balconies and patios have two chairs and a small table. The small balconies do not have any furniture.
Here's a tour of a standard room in the Beach Club:
Other room size options at the Beach Club:
Deluxe Rooms: The Beach Club resort also offers Deluxe rooms which are larger than the standard rooms. They have 2 Queen Beds and 1 Queen-Size Sleeper Sofa, and sleep up to 6 adults and 1 child under the age of 3. They have views of Stormalong Bay, Crescent Lake, Quiet Pool or Parking Area.
1 Bedroom Suites: These have 1 King Bed and 1 Queen-Size Sleeper Sofa and sleep up to 4 adults and 1 child under the age of 3. Views include of Disney's Beach Club Resort Gardens, Woods or Crescent Lake. There's plenty of room in these suites, and adults can get some privacy in the separate bedroom. Keep in mind that these do not have kitchens as the Beach Club 1 Bedroom Villas do.
Take a look at a One Bedroom Suite in Disney's Beach Club resort:
2 Bedroom Suites: These have 2 Queen Beds and 1 King Bed and 1 Day Bed. Views include Disney's Beach Club Resort Gardens, Woods or Crescent Lake. As with the 1 Bedroom Suites, these are spacious but do not have a kitchen.
Nantucket VP Suite: This suite has 1 King Bed and sleeps up to 2 adults and 1 child under the age of 3. Views include Crescent Lake, Disney's BoardWalk Inn and Stormalong Bay. Spacious and beautiful, these are a treat!
Newport Presidential Suite: This suite has 2 Double Beds and 1 King Bed and 1 Day Bed. It sleeps up to 7 adults and 1 child under the age of 3. As the title implies, these are spacious and luxurious.
Club Level Rooms in the Yacht and Beach Club Resorts.
Club Level guests are entitled to additional services, and there's just some extra pampering. This includes:
Access to the private lounge (Regatta Club in Yacht Club Resort and the Stone Harbor Club at Beach Club Resort). You can hang out in the lounge and enjoy a variety of food and drinks all day. From 7 am to 10 pm you can enjoy complimentary food and drinks that vary depending on the time of day. In the morning they serve a continental breakfast. After that you'll find light snacks, with hot and cold hors d'oeuvres and desserts throughout most of the day and evening. Beer and wines are available upon requests, and each evening there are liquors available. Coffee, tea and soft drinks are available throughout the day.
Access to Disney Signature Services. You'll receive special support from Cast Members dedicated to serving Club Level members. They can help with anything including dining reservations, transportation, park tickets, tours, and information such as movie times at Disney Springs, etc. Sometimes they can even help you with booking things that might be hard to get. Call 407-939-7777 for this service.
Complimentary newspapers in the lounge.
Complimentary health club access.
Complimentary fax assistance.
Use of robes during your stay. Don't take them home or you'll be charged!
Nightly turn down service. They'll get your bed ready and they'll leave chocolate treats.
For the Club Level dining, we have heard that they will usually support those with food allergies. They may let you know what will fit within your diet, and we have even heard of them bringing foods prepared by the kitchen specially when there weren't a lot of options. This may be at the Cast Member's discretion.
Check out some of the dining options in the Club Level lounge areas: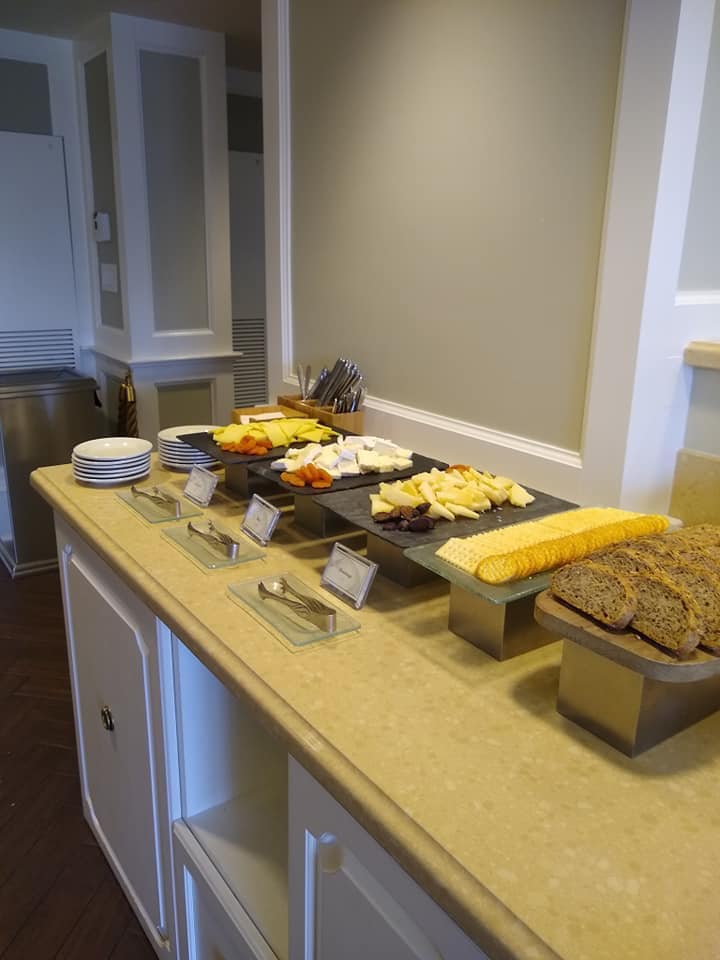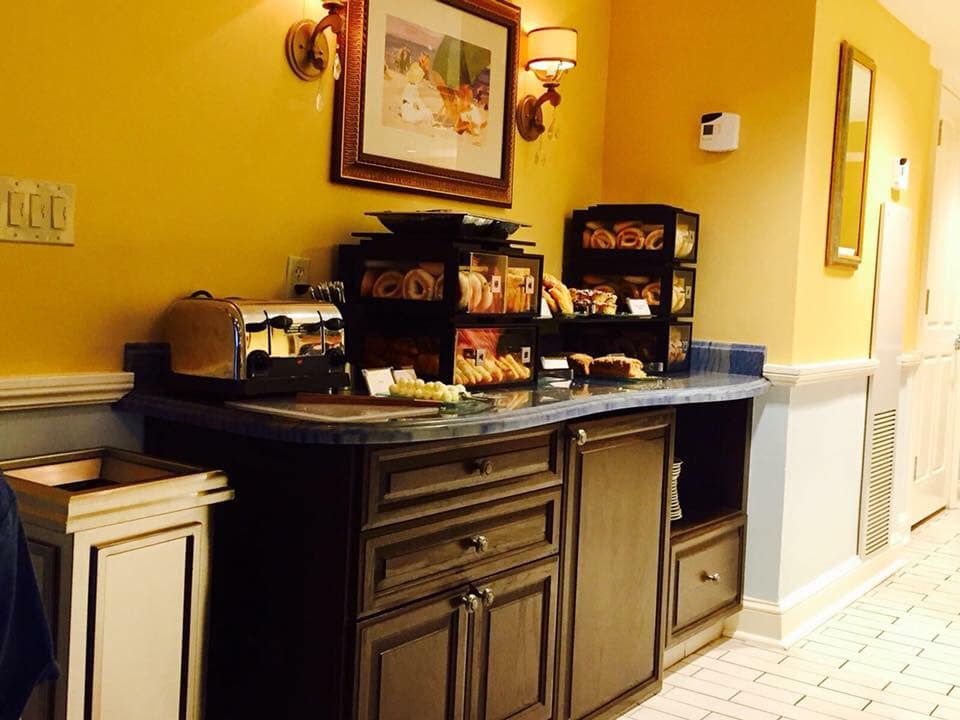 Handicapped rooms in Disney's Yacht Club and Beach Club Resorts and Villas
The resort itself is accessible with many electronic doors in the common areas. We find it easy to get around with a scooter.
Info for those with scooters who can walk inside their rooms: Throughout these resorts, the non-handicapped Disney resort rooms are usually able to fit a scooter inside. So for those who can walk inside their rooms, but need to park and charge a scooter, they can. We always prefer to take a standard room in order to free up the handicapped rooms for those who need to stay in their wheelchairs or scooters.
Types of handicapped rooms: As with all of Disney resorts handicapped rooms, there are various types including those designed for those with hearing loss.
Handicapped & health related requests: Hearing-impaired TDD telephones, bed shaker accessory, visual smoke alarms, wake up alarms and door knocks; bed boards and bed rails; Sharp containers for used syringes.
Available Upon Request for all rooms at Disney's Beach Club and Yacht Club resorts & Villas
Alarm clocks are available upon request. Though they used to be put in the rooms automatically, they are no longer there unless you request it.
Guests can also request cribs, and a Pack 'n Play at no extra charge.
Microwave's are in all the suites but may be available upon request for the standard rooms. They have limited numbers. If you're requesting it because of a health issue, you may want to contact Special Resort Reservations at Disney World with the request before your trip, at (407) 939-7807 and press #1.
Room tips for Beach Club and Yacht Club resorts & Villas
Wheelchair/scooter information: We find that the standard rooms have enough room to ride a scooter in and and park it out of the way. There are some rooms with two double beds. Also there are some rooms with King Sico beds which fold out from the wall.
View Tip: When requesting a view, be aware that water view rooms don't always face Crescent Lake. They may face the Stormalong Bay pool complex or a quiet pool. This can be a very noisy view, especially during the day when there's loud music and a host on a microphone leading the kids in games at the main pool. Some other standard view rooms face the parking lot, a garden or inner court. There are even Beach Club rooms with a view of the nightly Epcot IllumiNations fireworks. Remember that although you can request a particular view, there's no guarantee that you'll get it.
Accessibility Tip: The hallways in these resorts are long. If you wish to minimize walking, request a central room location that puts you as close as possible to both the Beach Club and the Yacht Club amenities. The lobbies of both the Yacht Club and Beach Club are towards the center where the two resorts join, so if you request a room close to the main lobby, that should put you in a more central location.
Location Tip: If you plan to walk to Epcot a lot, you may wish to request a room in the Beach Club as close to Epcot as possible.
 Transportation Tip: If you plan on using the boat transportation frequently, you may wish to stay in the Yacht Club, and request a room as close to the lobby as possible. This will put you near the marina.
Beach Club Resort Villa Rooms
Guests can choose a studio, or a one or two bedroom villa in the five-story resort. Each villa has a balcony or patio.
Deluxe Studios: These have approximately 365 square feet of room and allow for 5 adults and 1 child under the age of three in a crib. There's 1 Double-Size Sleeper Sofa and 1 Queen Bed and 1 Single Pull Down Bed. There's one bathroom with a single sink vanity and a tub/shower. The kitchenette has a small fridge and a microwave.
One Bedroom Villas. These give you approximately 727 square feet and sleep up to four adults plus one child under 3 years old in a crib. These Villas have 1 King Bed and 1 Queen-Size Sleeper Sofa or 1 King Bed and 1 Double-Size Sleeper Sofa. The Villa has a split bathroom. Entering from the master bedroom you have a single sink, toilet and whirlpool tub. There's a door that leads to another room with a sink and a shower.
Just outside the kitchen area is a small dining room table with 3-person padded booth seating. There are two chairs at the nearby breakfast bar that you can pull up to the table to seat 5. A fully equipped kitchen makes this a great option for those who wish to cook during their stay. This includes a microwave, toaster, stove, refrigerator, dishwasher, coffee maker, dinnerware, utensils, pots and pans.
There's a full-size stacked washer and dryer, with the washer on the bottom and the dryer on top. Both the master bedroom and the living room have televisions with cable. There's a safe in the bedroom closet that should be able to hold a laptop computer.
Take a tour of a Beach Club 1 Bedroom Villa:
Two Bedroom Villas. These give you 1,080 square feet and sleep up to eight adults and one child under three years old in a crib. These units vary because some were created as two bedroom villas (same design as a one bedroom villa plus another bedroom), and some are the combination of a one bedroom villa plus a studio villa. All of these villas have a full kitchen, dining area, washer and dryer, and televisions with cable in the living room and both bedrooms.
Resort Shopping at Disney's Beach club and Yacht Club Resorts & Villas
The Yacht Club store is The Market at Ale & Compass and the Beach Club store is the Beach Club Marketplace. In addition to the usual essentials, snacks, basic groceries and Disney souvenirs, you'll find some resort wear, bathing suits and accessories.
Health Club & Salon at Disney's Yacht and Beach Club Resorts & Villas
Ship Shape Massage & Salon Fitness: Located in the Yacht Club Resort, the 4,750-square-foot has a Jacuzzi, steam bath, sauna and a couple of massage rooms (by appointment). There's a weight room and an aerobics room. Both are staffed with cast members trained to assist guests. In the weight room you'll also find an elliptical machine, recumbent bike and Swiss ball. There is an accessible bathroom. Guests can take a jog around the beautiful Crescent Lake. The resort offers a hair salon called Periwig Beauty & Barber Shop. Call for appointments:(407) 939-7727.
Transportation for the Yacht and Beach Club resorts and villas
Buses and boats are available at this resort. With a short walk you can access the Disney Skyliners near the back entrance of Epcot.
These resorts are in the Deluxe category, and in our opinion just about everything you'll encounter will reflect that, except the bus and boat transportation. There are a variety of inconveniences as you'll read below. You may wish to consider having your own car, especially if you're staying during a peak season.
On the other hand, the great thing about these resorts is that they're so close to Epcot's World Showcase, the BoardWalk Inn with its boardwalk entertainment complex, and the Swan and Dolphin resorts, that guests have the option of walking to all these locations. Guests can also walk to Hollywood Studios, however it's a longer walk at approximately 20 minutes.
Each resort has its own bus stop outside, not far from the main lobby. The Yacht Club, Beach Club and Beach Club Villas share transportation with each other, and with the Boardwalk Inn, Swan and Dolphin. This means that most buses and boats will stop at all of these locations. You may experience some very long rides and crowded conditions. The upside is that you can get to the other resorts using Disney transportation.
The outdoor bus stops are covered and there are a small number of benches with backs. When it's crowded most people will have to stand.
The Friendship boats can be picked up at the dock approximately every 20 minutes. The Yacht Club, Beach Club and Beach Club Villas share a boat dock on Crescent Lake located near the lighthouse behind the Yacht Club lobby.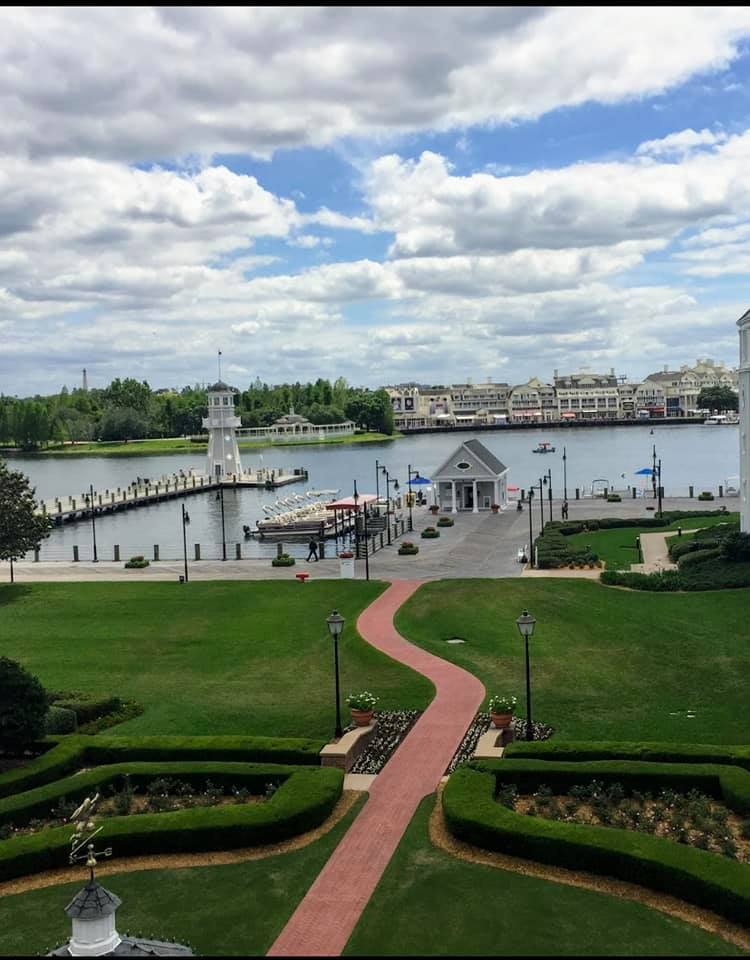 The boats share a route with the Yacht Club, Beach Club, Beach Club Villas, Dolphin, Swan and Boardwalk Inn. Boats can be crowded with long waits at times, especially during peak seasons and high crowd times such as park openings and closings.  There's no seating in the dock queues.
Here are your options for getting around using Disney transportation:
Transportation to Animal Kingdom, Magic Kingdom, Disney Springs and the water parks – Buses are the only form of transportation available.
Transportation to Epcot – Guests can walk or take the friendship boats. The boats take guests to a dock near the World Showcase entrance of Epcot, which is located in the rear of the park. These resorts do not provide direct transportation to the main entrance at the front of Epcot, which is the Future World side. Future World is still a long walk from the boat dock. The other option is to take a bus to another location that does have direct service to Future World, and transfer, however this would be time consuming.
Transportation to Hollywood Studios – Guests can walk, take the friendship boats, or the Skyliner. The Friendship boats take guests to a boat dock fairly close to the Hollywood Studios entrance.  Although some people prefer to walk to Hollywood Studios, it's far enough away so that most people choose to take a boat.
Transportation Tip: After Epcot closes, especially if there's a show, large crowds swarm the Friendship boat dock queue. We've heard accounts from people who were stranded when the boats stopped running at the end of the night before all the guests had been serviced. If you're planning to take a boat back to your resort, you may wish to leave a few minutes early. If there's a show, make your way to the dock as quickly as you can just before the show ends. If you're determined to catch the grand finale, just position yourself as close to the exit as you can, and head to the docks the moment the show ends.
Other Entertainment at Disney's Yacht Club, Beach Club and Villas
Arcade: The Lafferty Place Arcade is a full size arcade. The area is accessible although some games are not.
Boat Rentals: At the marina guests can rent boats which have included Sea Racers, Pontoon boats and Montauks. You can also book a guided fishing trip. For reservations call (407) WDW-BASS [939-2277]. This resort has had a Children's Pirate Cruise in the past. Check .
The resort offers tennis and volleyball. Balls are available at the fitness center with a resort I.D. There's a very tiny kids' playground located near the kiddie pool on the Yacht Club side.
Beach Area: The white sandy beach across from the Beach Club gives you a full view of Crescent Lake, the bordering resorts and the Boardwalk. There's a two person swing and plenty of lounge chairs. Every evening, weather permitting, there's a campfire on the beach by Crescent Lake where you can purchase and toast marshmallows and make s'mores. There's also a different Disney movie played there every evening. You'll receive a movie schedule when you check in. You can relax on the lounge chairs and enjoy the view and the movie. Please note that swimming is not permitted in any of the lakes on Disney property.
Child care services: The Sandcastle Club is open from 4:30 PM to Midnight. Children from 4 to 12 years old are welcome but they must be potty trained. Activities include unlimited free Sega/Nintendo, arcade games, arts and crafts, board games, play areas with toys and stuffed animals and movies. Dinner is served usually consisting of kid favorites such as macaroni and cheese, hot dogs, peanut butter and jelly sandwiches and chicken tenders. You must make reservations. Call (407) WDW-DINE [939-3463]. To call the Sandcastle Club directly for questions call (407) 934-3750.
Laundry and other services: There are coin-operated washers and dryers located in the pool areas. Dry clean services are available for a fee. There should be an order form and a bag in your room closet. This resort has a business center.
Babysitting at Disney's Yacht Club and Beach Club Resorts & Villas
While there used to be an on-site facility, this no longer exists. For information on babysitting services, check out our babysitting at Disney World page.
Smoking
Smoking is banned in all Disney-owned hotel rooms. Even patios and balconies are non-smoking areas. Of course it's always possible that another guest could smoke in a room anyway, but Disney reserves the right to charge a penalty since they'll need to specially clean the room. This usually discourages people from smoking inside their rooms. There are pre-designated outdoor areas around the resort where smoking is permitted. The resort map that you're given when you check in should have the areas marked, or ask a cast member when you check in.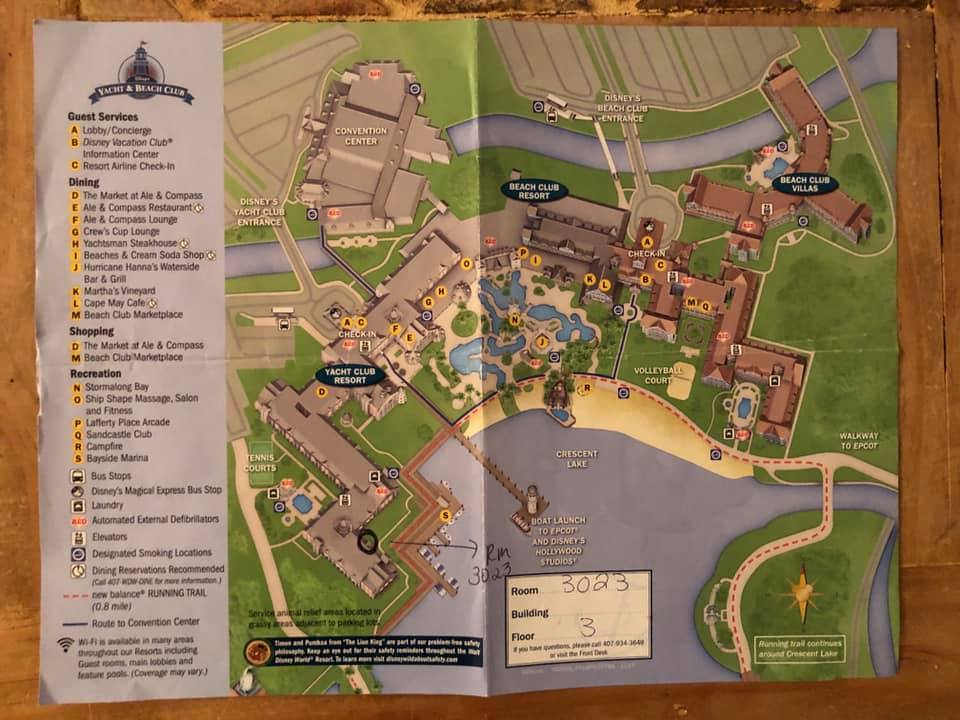 It's a great group! And thank you so much to Shelly Paige for her photo contributions and for allowing me to ask her group members for photos!
Ask any questions, share your knowledge and just enjoy getting to know other Disney fanatics in our facebook group called Walt Disney World Made Easy for Everyone.
Also: Like our facebook page here.
And join me on Pinterest here.
GET UPDATES, NEWS & TIPS (IT'S FREE!!!) Plus get a Free Disney World Planning Schedule Form.
Sign up below to stay updated on the newest information, tips and tricks to help you plan your perfect Disney World trip!