In-Depth Info for Everyone!

Plus More for Those with Extra Challenges…
Location: In the Animal Kingdom area. Address: 1991 West Buena Vista Drive Lake Buena Vista, FL, 32830  Phone: (407) 939-7000 Fax: (407) 939-7111. Parking fee: $15 per night. Check-in: 3 PM. Check-out: 11 AM. Resort Type: Value.
(CLICK ON PHOTOS FOR LARGER IMAGES)
Resort Overview
Located on one end of the three All-star Resorts that are side by side (the All-Star Sports Resort, and the All-Star Music are the other two), this resort is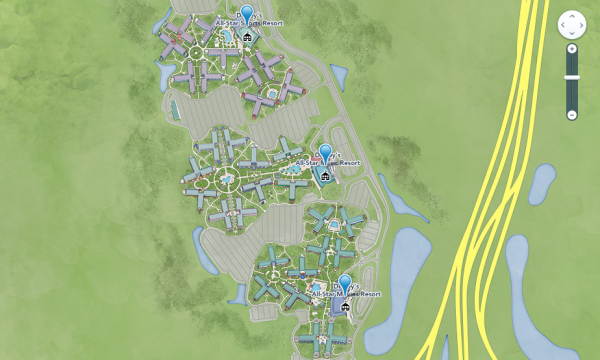 themed around movies. It's located in the Animal Kingdom area of Disney World, and If you're able to walk some distances, you can access all three of these resorts on foot. Guests of any one of these value resorts can use the amenities at the others, so you get to enjoy all the pools, dining options and themes. There are photo opportunities everywhere, and those who enjoy picture taking are likely to enjoy the resort hopping.
As with all of the Disney value resorts, All-Star movies offers the lower level of Disney resort rates. This allows many people to stay right on Disney property who never thought they could. So if you're looking for an affordable place to stay, you don't mind forgoing luxury, and you want a clean place that oozes with flamboyant Disney drama and fun, you may want to consider this resort, or one of the other value resorts.
If you're looking for more luxury and/or more space, you may want to consider choosing a Moderate or Deluxe resort, or a Disney Vacation Club Villa. There are HUGE discounts available using Disney Vacation Club point rentals. You can get a Disney Deluxe Resort Villa at somewhere around half price, give or take. Check out my article called How to Save $$$ (Safely) on Disney Vacation Club Rentals.
Disney's All-Star Movies, like all of the value resorts, is not only appealing to kids. Many adults love the fun atmosphere too. But even if the parents were wishing for something a bit more comfortable, kids tend to love the value resorts. Who could blame them? The theming is really delightful, and many people feel that the positives far outweigh the negatives. (See our advantages and disadvantages list below.)
If you're looking for any sort of luxury, or if you prefer a quiet, peaceful getaway, these resorts are probably not for you. We would recommend that you choose from the Moderate or Deluxe resorts.
Number of guests per room (handicapped info included)
For all of the value resorts, the maximum number of guests allowed in the standard rooms is 4 people including children, plus an infant (a child below 3 years old) with a portable crib. The standard rooms will be tight if you have four adults or even two adults and two teens. Even families with two adults and two kids may find it challenging.
In All-Star Movies, the disabled access rooms that have only a king bed should reasonably fit only two adults. A crib may not fit comfortably in these rooms. This is because they may have enlarged bathrooms for wheelchair access and the extra space is taken out of the bedroom.
Tip: Looking for more room? It may actually be less expensive to get two adjoining rooms in a value resort than to stay in a single deluxe resort room. Another option for obtaining more space is the two bedroom Family Suites offered at the All-Star Music Resort and the Art of Animation Resort. They allow 6 people plus an infant with a portable crib.
Theme at Disney's All-Star Movies
The 1,920-room All-Star Movies is 100% about Disney movies. The outdoor railings around the resort look like threads of film. Each room section features massive icons and various decorations representing a particular movie. They include:
101 Dalmations
Herbie: The Love Bug
Toy Story
Fantasia
The Mighty Ducks
You won't be able to miss Pongo and Perdita from "101 Dalmatians". They tower at more than 35 feet tall! Check out the dalmatians running on the the side of the buildings. This is the type of detail that you'll see all over the resort. In addition to the huge figures and images, you'll see small touches like dog bone and paw print designs in the cement in the 101 Dalmatians area. Kids (and the young at heart) seem to especially love this resort.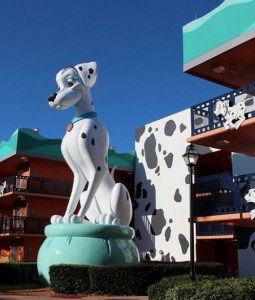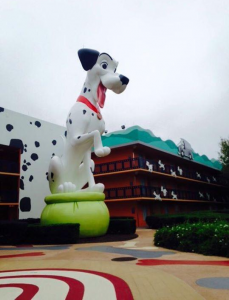 Toy story is represented by toy characters including Buzz Lightyear, and a seated Woody who is 25 feet tall.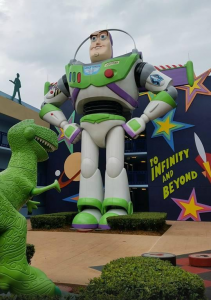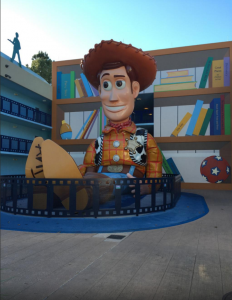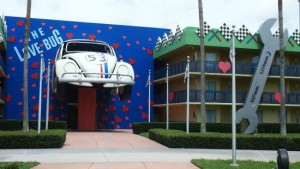 Herbie the Love Bug is approximately five times his normal size.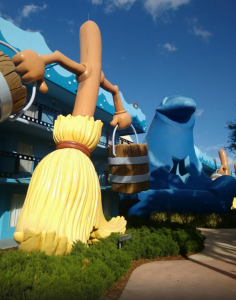 The Giant sorcerers' hat, spell books, brooms and buckets decorate the "Fantasia" area.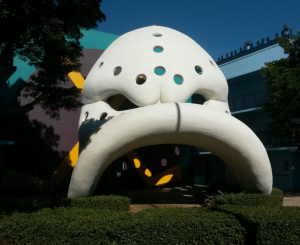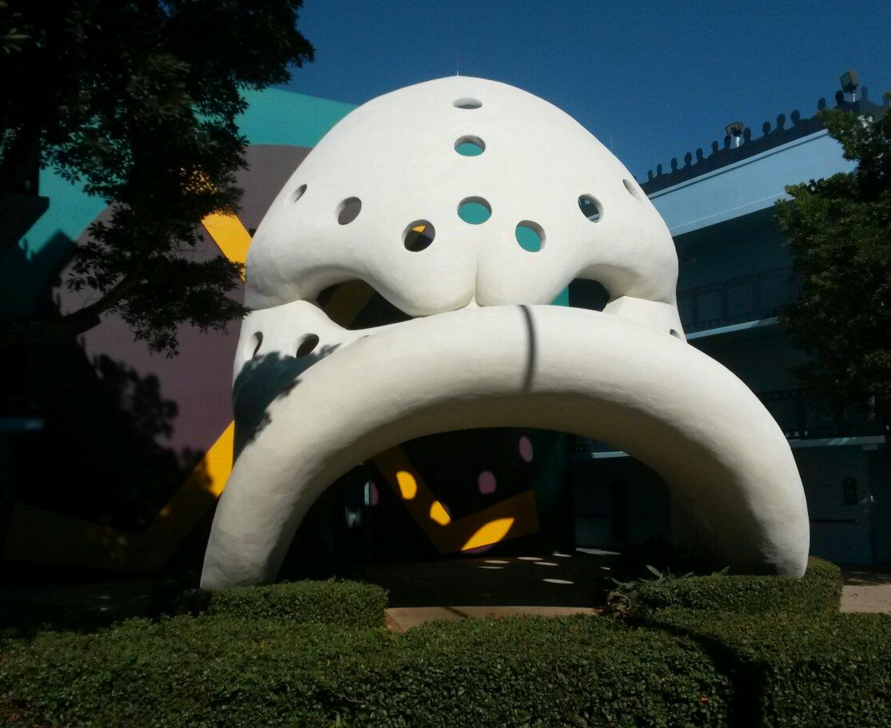 "The Mighty Ducks" section has massive hockey sticks, goalie nets and duck-shaped hockey masks.
Take a tour of the entire resort with this video. 
If you're not interested in the drive onto Disney grounds and to the resort, just move the video forward.
Advantages and disadvantages for All-Star Movies
This resort was the third All-Star resort to be built, and there are some subtle improvements over the other two. For example, the Dining area offers more selections, and it's designed to handle the traffic and crowds better.
In addition to the Disney magic you can expect in every single Disney World resort, here's what's really good about this resort:
If you're a big movie fan, you'll love the theme. Add in the larger than life jaw-dropping icons, something fantastical to see everywhere you look, and that this place is a feast for the eyes.
Low prices compared to the moderate and deluxe Disney resorts. As a value resort, the price is right.
Its highly themed pools add another element of fun to your vacation.
You can use the pools and amenities at the other All-Star value resorts.
The food court is convenient and less expensive than a full-service restaurant.
You get all the benefits of being in a Disney resort, such as Extra Magic Hours, room package delivery, transportation, etc.
Disadvantages at this resort: 
The rooms are REALLY small.
If you're trying to get an ECV or wheelchair in there, it's extremely tight. See details below.
Smaller beds (double beds instead of queen)
There's no zero entry pool here.
You share buses with the other All-Star resorts (usually).
No hot tubs in the pool areas in this resort.
Value resort level luggage service is not as convenient as in the moderate and deluxe resorts.
It can be noisy here at times.
Some of the rooms are far from the main areas.
Let's face it. It's not perfect, but it's Disney. Many people would rather stay at a Disney value resort than a much more deluxe resort somewhere else. There's that intangible "magic" that everyone talks about at the Disney resorts. It's real and you can't experience it anywhere else. If a value resort fits within your budget, and the theme of this resort appeals to you, this may be a good fit for you.
All-Star Movies Resort's Main Building
Cinema Hall houses the check-in area, Reel Fun Arcade, World Premiere Food Court, and the store called
Donald's Double Feature. There's also an outdoors bus depot here. This is a hotel frequented by large groups of people (often teens) who tend to stick together creating a crowd wherever they go. Even without these groups, there's often a hectic and busy feel to Cinema Hall.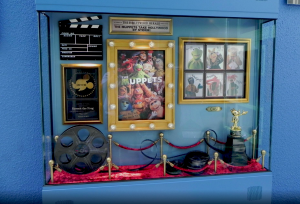 Throughout the building you'll see photos representing films.
Check-in at Disney's All-Star Movies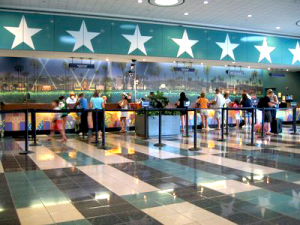 As mentioned above, Cinema Hall is where check-in takes place. This resort does not have low counters at the check-in area for guests who are in wheelchairs and ECVs.
There's a penned in children's waiting area that looks like a little movie theater with small theater-style seats. Of course Disney movies are played there. It's in view of the check-in area.
Buildings & Rooms in the All-Star Movies Resort
The buildings are three-stories high and very spread out. The building structures themselves are simple in comparison to the moderate and deluxe resorts. They're reminiscent of some of the chain motels with a kind of boxy feel, but with many more building wings than you'll see in a typical chain. While the hotel buildings themselves lack character, the outdoors are nicely landscaped and the decorations are amazing and really fun.
The rooms are 260 square feet. All rooms at these resorts have outside sidewalks with outdoor room entry. The buildings are multi-level, so there are wrap-around balcony-style walkways on the upper floors. There are two elevators in each building located next to each other in the center of the building, and there are outdoor staircases. There are ice, soda and snack machines located near the elevators.
All of the All-Star Movies Rooms Have:
All rooms have air conditioning, hairdryers, radio alarm clocks, and an iron and ironing board, complimentary wi-fi Internet, a mini-refrigerator, cable TV including the Disney Channel and ESPN, telephone with voice mail and data port.
There are in-room safes in all of the rooms, but they're quite small. They're great for things like for keys, money and papers. We've been able to squeeze two iPads in the safe, but laptop computers won't fit.
Except for the suites in the Art of Animation resort, these rooms do not have coffee makers.
Room Location Tips for the All-Star Movies Resort
Tip:  Looking for a room close to the action? The Fantasia, Toy Story and 101 Dalmations buildings are considered preferred locations and you'll be charged an additional fee. You must request this at the time that you make your reservation. Here's a map to help you visualize the locations, and here are some proximity tips:
To be closest to the main building, food court and main pool, request a room in the Fantasia section closest to Cinema Hall.
A second choice would be some of the rooms in the 101 Dalmatians and Toy Story buildings. If you wish to minimize walking distances be sure to request a room located as close to Cinema Hall as possible.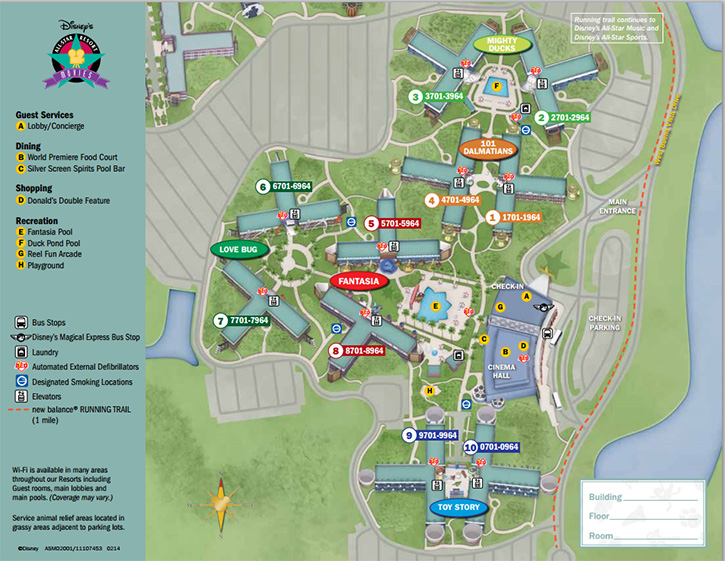 Tip: The Mighty Ducks building is quite far from the All-Star Movies main building, pool and the bus depot. You'll actually be closer to the All-Star Music main building, food court, pool and bus depot, which you can use instead.
Tip: If you're looking for quiet, and walking is not an issue, the farther buildings may be a good choice. Keep in mind that you'll have a very long walk to the main common areas. Available views have you facing a parking lot, courtyard or pool. There are a small number of rooms that face a wooded area, which would be a good choice if you're looking for quiet. Stay away from a Pool view, which can be very noisy and crowded until late at night. Remember that there's no guarantee of quiet with almost any hotel room, and this is even truer of the value resorts.
Disney's All-Star Movies Rooms in detail
The rooms are decorated with movie posters, colorful borders and bedspreads. There are movie themed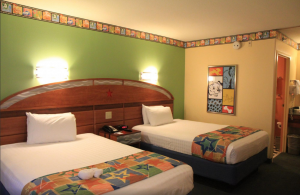 touches even in the bathrooms like film reel tiles and light fixtures that look like popcorn boxes.
Rooms have two double beds or one king bed. The double rooms have one nightstand, and king bed rooms have two with one on each side of the bed. The accessible rooms are all connecting rooms as well.
The rooms include a dresser, table, two chairs and a flat screen color television.
The vanity area has a single sink and open closet with a shelf. The separate bathroom has a toilet and shower/bathtub.
There are handicapped equipped rooms with larger bathrooms that include a wheelchair-accessible shower but usually no bathtub. The king rooms are considered accessible and those with health needs have priority over other guests with these rooms. There are connecting rooms available.
Here's a room tour:
Available Upon Request (Including handicapped options)
Rooms accessible to guests with disabilities; hearing-impaired TDD telephones, bed shaker accessory, visual smoke alarms, wake up alarms and door knocks; bed boards and bed rails; refrigerators (extra charge, but included in the suites and free if you need it for medical purposes); Sharp containers for used syringes; connecting rooms (not guaranteed) unless you have children staying alone in the separate room (be sure to confirm this when you make your reservation). Guests can also request cribs, and a Pack 'n Play at no extra charge.
All Value resorts have: ATM machines, daily maid service.
Staying with wheelchairs and ECVs in All-Star Movies
If you've ordered an ECV or wheelchair from a non-Disney company that is on Disney's Featured Provider list, they'll leave it with the luggage area. When you arrive at the resort, you can approach the Luggage Assistance area and request your chair. They should bring it right to you. You'll have it for check-in so you won't have to stand as you wait in the line. You'll leave your chair with a cast member in the luggage area when you depart.
As with all of Disney, accessible rooms are not usually any larger than standard rooms. With the combination of small rooms and outdoor entry, wheelchair and ECV users may find these resorts challenging. While you should be able to ride your wheelchair inside your room to store it, it will be very tight and may require some maneuvering. This leaves little room for storing luggage. You can leave your chair outside of your room, but it may be exposed to sideways rain. To create as much room as possible, some people prefer to stack their luggage or unpack and store the luggage as out of the way as possible.
If you need to stay in your chair think about booking a resort with larger rooms such as the Polynesian, or a larger suite in one of the deluxe resorts. Even a room in one of the Moderate resorts would be easier.
To view the types of rooms, accessories and options that Disney offers at all its resorts, check out this article called Reserving Handicapped – Accessible Rooms in the Disney World Resorts.
Smoking
Smoking is banned in all Disney-owned hotel rooms. Even patios and balconies are non-smoking areas. Of course it's always possible that another guest could smoke in a room anyway, but Disney reserves the right to charge a penalty since they'll need to specially clean the room. This usually discourages people from smoking inside their rooms. There are pre-designated outdoor areas around the resort where smoking is permitted. The resort map that you're given when you check in should have the areas marked, or ask a cast member when you check in.
Restaurant & Dining options in the All-Star Movies Resort
This resort does not have a full service restaurant. The World Premier Food Court is located in Cinema Hall.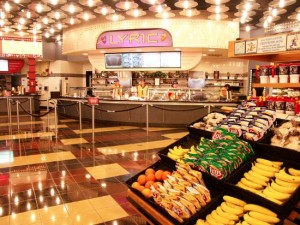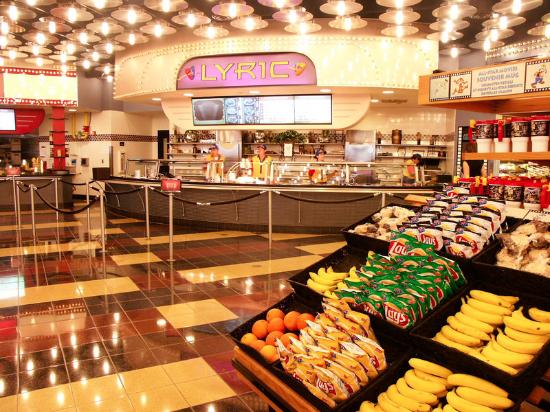 Of the three All-Star resorts, this one is the most heavily themed, has the most food choices and is probably the most comfortable and spacious. Wheelchair users may find it easier to navigate in here. Movie fans will feel right at home with the food stations that are designed to look like theaters, with movie marquis and lights.
It can get crowded here, especially during peak seasons. Breakfast can be mobbed, while lunch is much more manageable with many guests away at the parks. You may find more quiet at breakfast if you take your food to a table by the pool.
Room service is pizza delivery to guestrooms from 4 pm through midnight. Silver Screen Spirits pool bar is located by the Fantasia Pool. You may be able to get some basic snacks there.
Resort Shopping
There's one store called Donald's Double Feature in Cinema Hall, which carries all of the standard items such as Disney goods, snack foods, drinks, toiletries, and over-the-counter medications such as aspirin.
Resort Pools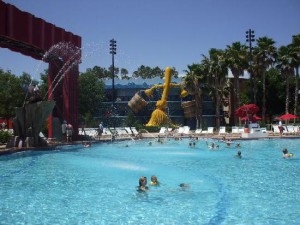 There's no zero entry pool at this resort. They do have transfer tiers which allow a person in a wheelchair to self-transfer to the top and to then slide down steps into the water. There are also wheelchair lifts. There is no hot tub here.
There are two larger sized heated pools and one kiddie pool. The larger pools have approximate depth of 3 to 5 feet. The Fantasia Pool is the main pool for this resort, and it's in the shape of a star with a huge Sorcerer Mickey spraying water into the pool. The kiddie pool is also in the Fantasia area.
There are lifeguards at the two larger pools every day, and pool hours change depending on the season and weather.
The other pool is in the Mighty Ducks area called the Duck Pond Pool. It's smaller than the Fantasia pool and designed to look like a hockey rink. It even has the markings of an ice hockey rink on the bottom of the pool. It tends to be less crowded than the fantasia pool.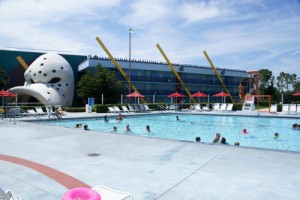 There's not much shade at any of these pools, though there are a small number of umbrellas. Each pool has a locker room with bathrooms, showers and lockers.
There's a group of Pop Jets that children can play in, however it doesn't have padding on the ground as they have at the Pop Century resort. It's located in the Herbie the Lovebug Courtyard on the black and white checkerboard squares. The water randomly sprays out of the jets coming from below the ground.
Transportation at the All-Star Movies Resort
Buses are the only form of transportation available at this resort. The bus depot is right outside of Cinema Hall. Buses go to the theme parks, water parks and Downtown Disney. The buses do tend to come more frequently than at some of the other resorts to handle the demand.  We hear that 5-10 minutes is an average wait, but it can be as much as 45 minutes or so.
Disney does sometimes allocate dedicated buses that will only stop at this resort, however much of the time the buses stop at the other All-Star resorts also. When you're departing from the resort to get to other locations, All-Star movies is the final stop prior to departing the All-Star Resort area. On the plus side, this means you won't be stopping at other resorts before heading on to your destination. On the negative side, the bus may be completely or nearly full once it gets to you. You may have to wait for other buses, or there may be standing room only. Upon your return to the resort, unless it's a dedicated bus you'll stop at All-Star Sports and then All-Star Music before arriving at the All-Star Movies resort. This means a longer wait to get back to your resort.
With only one bus stop located in front of Cinema Hall, the crowds can be large. The buses are often sardine packed, with many guests having to stand for the full ride. It's especially crowded riding to a park opening or back from a park closing. If you plan on using the Disney transportation, and any of this sounds difficult, consider a different resort or a rental car.
There's a cover over the bus stop area, but not over the queue line areas. Even under the awning a hard or sideways rain will get guests wet.  There are some metal benches with backs in the waiting area, but if the area is crowded most people will have to stand.
Entertainment at the All-Star Movies Resort
There's a full arcade called the Reel Fun Arcade in Cinema Hall across from the food court which is accessible. A small playground is located between the Fantasia and Toy Story wings.
Laundry
There's a Coin Laundromat at each pool location. The dryers are front-loading, and the washing machines are top-loading.
Noise and crowds at the All-Star Movies Resort
The value resorts tend to attract groups, and they can be noisy. They can also create crowds. Also the rooms don't have great sound proofing. To learn about what you can do to minimize this, check out our article called Minimizing the Effect of Noise & Crowds in Disney World Value Resorts.
Luggage Delivery at the All-Star Movies Resort
Overall, we've found that we receive a much lower level of service and assistance at check-in at the value resorts than at the moderate or deluxe level resorts. For example, although you can leave your luggage with Luggage Assistance at the front entrance (notice it's not called bell service because it's not considered the same type of service), it can take around an hour or more after check-in for your luggage to be delivered to your room. If you think you'll need to access anything in your luggage once you get into your room, you may wish to pack a small bag that you keep with you. If you need your luggage quickly, you may wish to take it to your room yourself. You should be able to use one of their luggage carts, but they require that you have a credit card on file to do so.
On one of our visits to a value resort, there was a thunder storm that was going to last throughout the day. We were told that they don't deliver luggage if there's thunder and lightning regardless of how long it lasted. They said that the luggage would be delivered once the thunderstorm stopped, whenever that would be, or we could take our own luggage if we wanted it in our room that evening. We've been told that this is the policy at all of the Disney resorts with outdoor room entry. This was not our experience. We've checked in to a moderate resort with outside room access while there was a thunderstorm, and our luggage was delivered right away. We speculate that this is more of a value resort thing. Of course it's not an issue at the resorts that have interior hallways as you'll find in some of the deluxe resorts.
At check out, luggage services is also less convenient at the value level resorts. When checking out, expect to wait some time before they come to get your luggage. They require 24 hour's notice. What may be even more challenging for guests with health issues is that they don't guarantee availability of luggage service if you call the day you're leaving. They request that you call the night before you're leaving to make arrangements if you wish to be certain that you'll have your luggage handled for you. If you're not leaving right away, they can store your luggage for you.
After you check in, you'll need to either drive your own car or walk to your room. There is no internal transportation service. Several of the moderate resorts will ride you in a golf-type cart along with your luggage, and the Caribbean Resort has its own internal bus system. The value resorts don't offer this.
Do you have more tips or thoughts on this topic?
Please feel free to post them in a comment below. We'd love your input.
Join our facebook group & follow us on Pinterest !!!!
Ask any questions, share your knowledge and just enjoy getting to know other Disney fanatics in our facebook group called Walt Disney World Made Easy for Everyone.
Also join me on Pinterest here.
GET UPDATES, NEWS & TIPS (IT'S FREE!!!)
Sign up below to stay updated on the newest information, tips and tricks to help you plan your perfect Disney World trip!