Location: In the Epcot area. Address: (for both BoardWalk Inn and BoardWalk Villas) 2101 Epcot Resorts Blvd, Lake Buena Vista, FL, 32830 Phone: (for both) (407) 939 5277. Fax: (for both) (407) 939 5150 Parking fee: $25 per night Self-Parking/ $33 per night Valet Parking. Check-in: 3 PM. Check-out: 11 AM. Resort Type: Deluxe & Deluxe Villas.
About Disney's BoardWalk Inn & Villas
The BoardWalk Inn blends the best of Coney Island and Atlantic City in the Roaring '20s. Carousel figures, artwork, candy-striped tents and a roller-coaster–inspired water slide are just a few of the elements that make up this elegant yet fanciful resort.
The hotel stands high above the 'BoardWalk'. Guests walk out of the backside of the hotel and down quite a number of wide steps (there are wheelchair ramps, or take one of two elevators) to access a broad wood-planked walkway. This borders the shore of the 25-acre Crescent Lake. Along the BoardWalk are the restaurants and shops. If you enjoy an evening stroll, the BoardWalk is just the place. You can walk all the way around it, passing the Yacht and Beach Club on the opposite shore, and the nearby Swan and Dolphin resorts. If you walk all the way around the lake you'll end up right back where you began.
There's plenty of 'streetmosphere" (Disney's word, not mine) along the way. Come night time, the BoardWalk comes alive with pushcarts, musicians, jugglers, comedians and what-have-you. Guests may rent bikes or surreys to bicycle around the lake. It really does evoke a sense of a busy beach BoardWalk. The actual BoardWalk is literally made of wood boards. They're surprisingly smooth, making it fairly comfortable for wheelchairs.
The wide variety of dining and evening activities make the BoardWalk a popular destination for guests of other resorts and locals. This means that reservations for dining can sometimes be hard to find, and nightclubs and other activities can become very busy at peak times. Despite this, the atmosphere makes the BoardWalk an excellent post-park location if you are looking for something different than Disney Springs.
The BoardWalk Villas are also located here, and are considered a Disney Vacation Club timeshare resort. If there are rooms available, non-Disney Vacation Club members can stay there.
This is a convention center hotel, and the convention center is large and situated to the right as you face the hotel. It shouldn't make too much of a difference to your stay, because with three pools and the BoardWalk below, the hotel boasts plenty of entertainment, restaurants and spots for shopping.
Parking Tip: If you've just parked and it is pouring rain, ducking into the convention center is the best way to get inside with the minimal amount of exposure. Park to the far right, even if you have a handicapped sticker and can park to the left. Then go into the nearby convention center, head to your left, and you can go out doors that will lead you right under a covered walkway. You can take the walkway all the way back to the entrance.
One of the best reasons for staying in one of these resorts is the location within Disney World. It's a very short walk to the International Gateway entrance of Epcot. Within 5-10 minutes (give or take, depending upon where you're room is and how fast you walk) you'll arrive at the World Showcase side of Epcot. It's a longer walk to Hollywood Studios at about 20 minutes, but it's a pleasant walk.
Pros and Cons of Disney's BoardWalk Inn & BoardWalk Villas Resorts
PROS – ADVANTAGES TO THE BOARDWALK INN RESORT:
In addition to the Disney magic you can expect in every single Disney World resort, here's what's really good about this resort:
The resort is beautiful and the combination of the resort with the BoardWalk makes it a unique resort. The lake surrounded by the other resorts makes for an amazing view. You can also enjoy walking around the lake. It's a really pleasant walk with a lot to see.
You can walk to Epcot and Hollywood Studios. You can't beat that! It's especially great when there are festivals at Epcot. You can see the fireworks or just pop in for dinner in the World Showcase.
If you want to start your day with a run, there is a scenic 8 mile course around the lake.
The theme is magical and combines a sense of nostalgia, with the elegance and fun of the era. The entertainment, dining and shopping areas also mean you get extra activities right in your resort.
There are many dining options with several great places to eat. Some of these restaurants are highly sought after from non-resort guests. You also won't have far to walk if you choose the character breakfast at the popular Trattoria Al Forno.
You get the benefit of some of the activities, and all of the restaurants and dining at the other resorts around the lake. They have excellent offerings such as the highly regarded Beaches and Cream.
You get all the benefits of being in a Disney resort, such as room package delivery, transportation, etc.
You get to use the Disney World transportation system. You can use the bus system, the boats to Hollywood Studios and Epcot, or you can grab the Sky liner to Hollywood Studios.
As a Deluxe Disney resort you get some additional space, comfort and luxury.
CONS – DISADVANTAGES TO THE BOARDWALK INN RESORT:
Though larger than moderate and value resort rooms, the rooms are not huge.
Boat transportation is shared with other resorts and the buses can also be shared. This can mean long waits.
It's expensive. Pricing is higher compared to values and moderates and even some other deluxe resorts (especially Animal Kingdom Lodge and Wilderness Lodge).
Dining – These resorts don't have real food courts. Most of the Disney resorts do have food courts. We've found this to be a small disadvantage, especially when it comes to breakfast. There are still quick food options but not as extensive a choice as with a full food court.
Themes are more subtly Disney. If you're looking for massive Disney icons, you'll want a value resort.
Rooms with a lake view – particularly on the lower levels can be noisy if the BoardWalk below is busy.
For those with mobility issues or using a scooter, wheelchair or ECV of any type, this resort requires a lot of "walking" to get around. We find that the accessible entrances, exits and elevators are so spread out that it can be inconvenient.
Check out this great tour of the entire BoardWalk Inn grounds:
The Main building at Disney's BoardWalk Inn & The Actual BoardWalk
Disney's BoardWalk Inn is a large, sprawling five-story building with all of the guest rooms under one roof. The five-story building housing the BoardWalk Villas appears to be separate and unattached, tucked among the shops along the BoardWalk, but it's not. It curves all the way around from the main part of the hotel and has an entrance out on the BoardWalk.
Services such as restaurants and shops are not inside the building, but on the BoardWalk.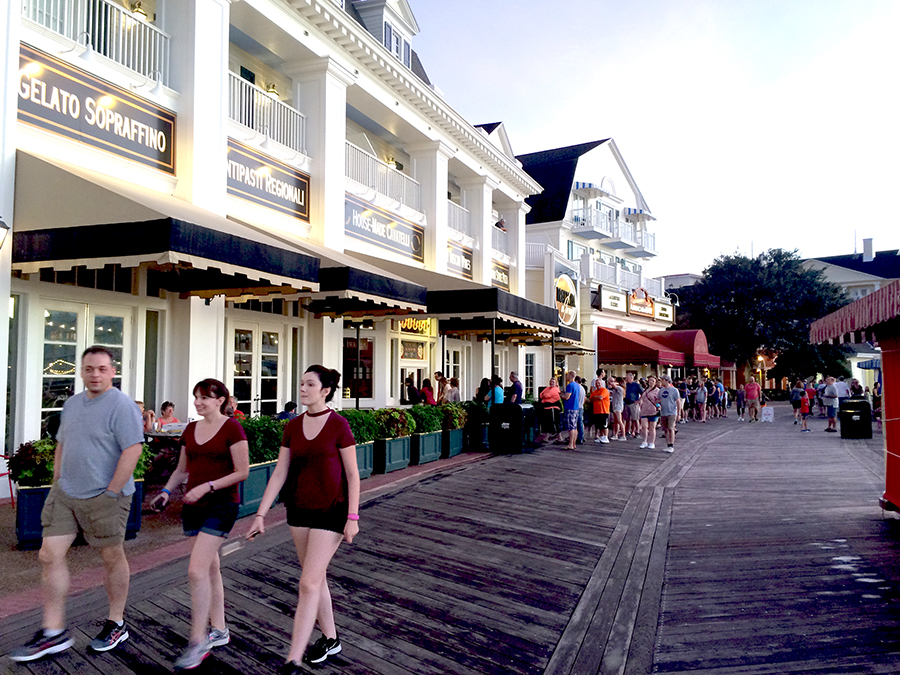 As you drive up you might not be as impressed, because the best view of the BoardWalk Inn is from the backside. From the front it's an all-white structure, large, but not overwhelmingly so. It has a sprawling, beachy, turn-of-the-century feel to it.
There are a couple of small square turrets and an impressive portico in the front with the name BOARDWALK embossed in large gold letters. The five-story hotel also doesn't look as tall as it actually is because the land slopes down in the back. In the front you're only aware of three stories. In fact, you enter on the second floor; there's an additional story down to get to the lake and BoardWalk (and pool) level in the back.
The décor of the BoardWalk hotel is meant to evoke the feeling of the mid-Atlantic shore around the early twentieth century. The theme tends to run to amusement parks — as we said before – think Coney Island. In the lobby there's a small model of a merry-go-round under glass. This is an original, produced by a carousel builder from Atlantic City during the days before glossy brochures were available for advertising. Builders actually toted around small-scale models of the park rides they were planning instead. There's also a roller coaster model on view.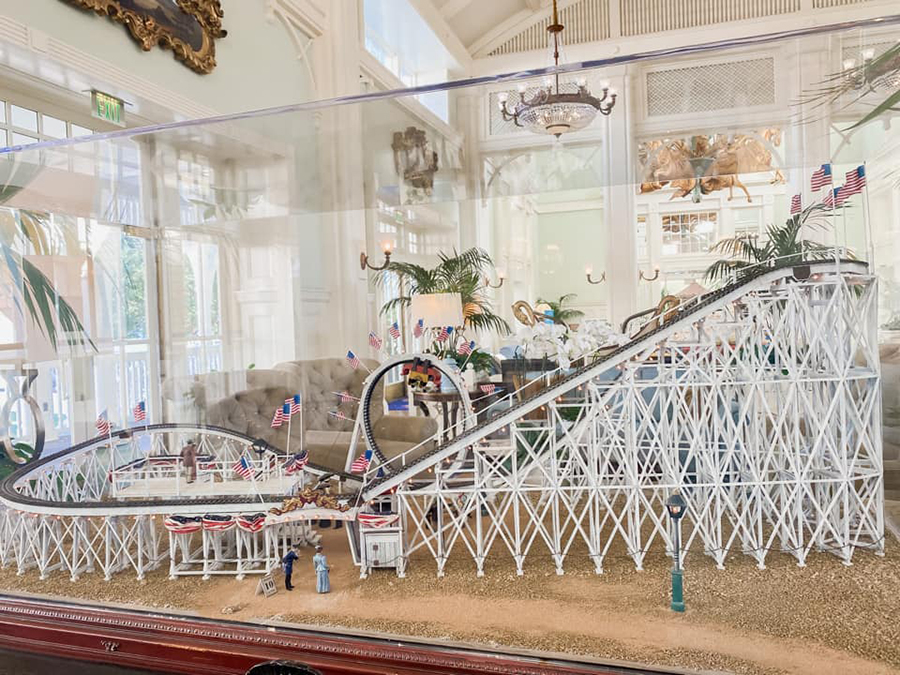 You might see a few hidden Mickeys painted on it which were added later. Above the carousel is the largest chandelier on Disneyworld property. The 'Hippocampus Electrolier' chandelier is a big gold-leaf affair decorated with fantastical half-horse-half-sea-creatures, and Austrian crystal. It weighs 3000 pounds!
The BoardWalk Inn looks less overtly child-friendly than some of the other hotels. Regardless, we watched some small children climbing all over the patio furniture in full view of the staff. Despite the formal décor, there were no recriminations. This is Disney, after all.
The lobby is small, but elegantly inviting. It has polished wood floors accented with a bit of slate and aubusson-look carpets. The cozy padded chairs and rounded sofas (circular poufs) are done up in florals and chintzes. The colors are rose, green, and violet against black.
There's a working fireplace with an ornate brass screen. The furniture is delicate but dark painted or inlaid wood. There's a lot of fascinating memorabilia, mostly of Atlantic City and Coney Island. As you walk down the hallways, look down. The design on the carpet also has an amusement park theme. It's as though you were in the air, looking down at stylized Ferris wheels and carousels. There is no strong fragrance in the lobby that we could discern, but this could change at any time.
Outside the hotel the landscaping is not especially lush – this is not a tropically themed hotel and the gardens reflect that. The plantings are formal and Victorian.
Parking at Disney's BoardWalk Inn & Villas
The resort has valet parking, which is free for those with a handicapped parking license, as well as for DVC members. There is a charge of $33 for other guests wishing to valet park, and $25 a night for self-parking.
Self-service parking is quite a distance from the entrance, and there's a gradual incline. The parking lot tends to fill up because locals use it when they visit the BoardWalk. There's an overflow lot across the street, but it's quite far. Handicapped spots are available in a dedicated lot to the left, but they're not close to the entrance. However if you're staying in a Villa room then the parking on the left could be very close, almost motel style.
Check-in at Disney's BoardWalk Inn & Villas
Bell Services will take your luggage and bring it to your room. If your room isn't ready, they'll store your luggage for you, and you can enjoy the property or even go to a park. On your last day, you can have them store your luggage for you until you're ready to leave.
All guests check in inside the main lobby. There's one slightly lowered counter for guests in wheelchairs or ECVs in the middle of the reception area.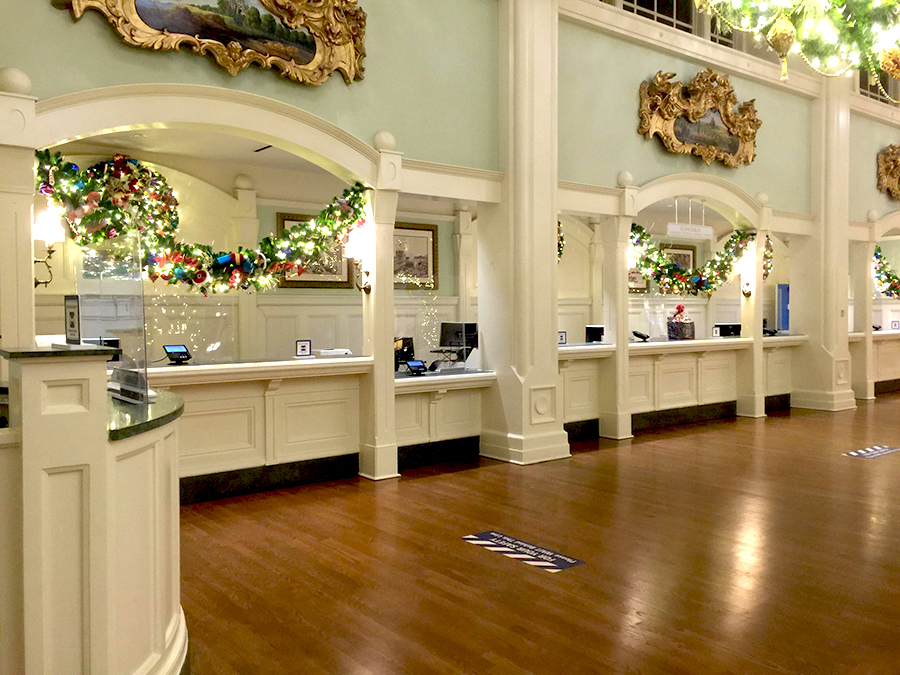 There's no children's waiting area here and the arcade room is outside and far away. There's a shaded balcony off the lobby with a nice view, and there are padded wicker chairs in both adult and child sizes.
Club Level guests can check in at the main lobby and they will take you up to the club level concierge desk. Or you can check in at the Club Level concierge lounge. Take the elevator to the fourth floor and then follow the signs to "Innkeepers Club" lounge. There you will find a desk at the entrance. Once checked in you will then be able to open the door into the club lounge, to advance past the concierge desk. Some club level rooms are beyond this door, and some are elsewhere in the hotel.
Here's a look at breakfast at the Innkeeper's Lounge:
Guest Rooms at Disney's BoardWalk Inn & Villas
Number of rooms: Over 370 guest rooms in the main hotel
Number of villas: 532 villas
Size of rooms: Standard rooms have approximately 390 square feet.
Maximum number of people in a room: Rooms sleep from 2 to 9 adults.
There are nine different levels of accommodations, ranging from standard rooms with a parking lot view to a suite on the concierge floor.
Unique to this resort are the Garden Suites, which are two-story cottages featuring white picket fences and private front yards. They were designed with honeymooners in mind, but can actually sleep up to four. These suites have private hot tubs with mini televisions. They have internal stairs, so the upper story would not be wheelchair accessible. There are at least some that are partially accessible by having a bedroom on the lower floor.
Just about every room has a balcony or garden patio, although they vary in size. The few without a balcony have a large plate-glass window. The hotel is arranged in two wings that fan out from the lobby, with the villas all on one side and the hotel rooms all on the other. The farther out on the wing you are, the longer the walk will be to your room from the main entrance. Request a room close to the lobby to minimize this. The resort has inside hallways and elevators.
Room Views
Disney knows that some hotel rooms are better than others. Most people want something pretty to look at from their hotel room window. To capitalize on this, Disney categorizes all of BoardWalk Inn's hotel rooms based on what you see outside the room.
Here's the system Disney uses for this resort:
BoardWalk View: A small number of rooms at BoardWalk Villas overlook the actual BoardWalk. Some rooms in BoardWalk Villas also have a view of crescent lake. Rooms 5001-5033 afford dynamic views of the promenade and crescent lake, with Epcot in the background.
Garden or Pool View: Garden views can include views of landscaping and trees, some rooms look out on to one of the resort's pools.
Standard View: Standard rooms generally have unremarkable views of landscaping or parking lots.
Handicap-accessible Room Options at Boardwalk Inn & Villas
Disney's BoardWalk Inn resort has around 27 handicap-accessible rooms. Some feature roll-in showers, while others include assistive hearing devices. A subset of these rooms have been converted to comply with Florida's Accessibility Code, with changes to everything from bed, counter-top, and dresser drawer height, to door widths, wheelchair ramps, and more.
Accessible rooms have either two doubles or one king bed. Fully handicapped rooms have roll-in showers, elevated sinks, and lowered peepholes in the doors. There are also rooms that just have grab bars by the toilet and inside the regular tub. Make sure to specify what you need when you make your reservation.
Standard size rooms at Disney's Boardwalk Inn Resort
These are approximately 390 square feet. Most standard rooms have two queen beds, though there are a small number of king rooms. Rooms with a day bed can sleep up to 5 adults in a room plus a child up to 3 years old.
The décor is elegant and the colors are restful, but certainly not dull. Pale yellow and white stripes adorn the wallpaper, and dark green "satin" covers the pull-out sofas. A folded yellow Matelasse Coverlet decorates the end of the white duvets on the wood, high poster beds. There's nothing that screams Disney here, although there are hidden Mickeys inside and outside the rooms that are fun to look for.
Even though some rooms look out over the busy BoardWalk, the hotel consistently gets good ratings for noise levels. The biggest issue about room choice here will probably revolve around view. The best (in our opinion) would be of the Crescent Lake, but there are not a lot of those. These rooms are all over the BoardWalk, so if it does get noisy on the Boardwalk, these are the rooms most likely to be impacted.
Here's a room tour of a standard room with a standard view at Disney's BoardWalk Inn:
All of the standard rooms have:
Sealy Posturepedic pillow top beds.
Down pillows (you can request an alternative).
White duvet cover over an insert for the beds, but they're not down, even though they feel like it.
Double sink with a vanity and a make-up mirror.
Separate bathroom with a shower/tub and toilet, and a door.
Desk and chair.
32" flat-screen television inside an armoire.
Nightstand
Chest of draws
Ceiling fan
Couch/daybed which opens to a bed that's a little smaller/shorter than a standard twin.
Room safe which may fit a mobile device like an iPad.
A daily newspaper is delivered to your room.
Turn down service is available upon request.
Clock radios are available upon request.
In the room with queen beds there's just enough room to ride an ECV in and park it out of the way.
Room Location Tip: The themed pool is by the Villa rooms. There's a quiet pool on the other, hotel room side. If you're in the main resort and want to be near the theme pool, ask to be near the lobby. This should get you as close as possible.
Club Level Rooms at Disney's BoardWalk Inn Resort:
Deluxe Resorts have exclusive areas for those wishing to pay for a little more. At Disney's BoardWalk Inn this is called the Innkeeper's club. Most of the club rooms that you will find at the BoardWalk are the same as other rooms, but they are located in an exclusive section of the hotel, on the 4th floor. It is also possible to get a club level garden / outer room that is club level and therefore distinct from the "regular" rooms.
The main reason that guests may choose to stay in a club level room is the extra perks outside of the room, rather than the room itself. These include access to the fully stocked lounge. This has food and drinks available throughout the day. Club Level guests also get the services of a dedicated concierge service. In the lounge there is comfortable seating and there are with four small food and beverage servings throughout the day.
When accessing the club level guests must use their magic bands or cell phones to gain access. There is a reception desk which is where the concierge is based, and then there is a walk, down the corridor, to the lounge at the other end.
Deluxe Club Level rooms sleep up to 6 adults and a child under 3 years old
BoardWalk Inn Villa Rooms
Guests can choose a studio, one, two or three bedroom (Grand) villas. The décor features yellows, blues, peaches, and pinks. It's slightly brighter than the non-villa hotel rooms, but not jarring. There's a nice and obviously professional blend of checks and florals. Although the colors are similar, the look in the villas is much more modern than the look in the main hotel rooms. We would say the Villa rooms are attractive but bland, and not as true to the turn-of-the-century theme as the main hotel rooms.
All of the villas have a very small balcony or patio with two little chairs and a tiny table, ceiling fans, Sealy Posturepedic beds and Wamsutta bed linens and towels. Beds are made up with blankets and bedspreads, and pillows are not down. Down pillows are available. Ask at the front desk.
Deluxe Studios:
Room Size: Approximately 412 square feet.
Sleeps: Four adults and one child under the age of three in a crib.
# of Beds: 1 Queen bed and a double sleeper sofa.
There's also an armoire, and small table with two high-backed upholstered wicker chairs. Other amenities include a mini-refrigerator under the counter, a microwave, coffee maker and a wet bar. The flat screen TV is small – only 17 inches. The bathroom is split with one area containing double sinks with a marble vanity and a whirlpool tub and the other containing the toilet and shower. The area with the whirlpool tub and sinks is open to the bedroom. The studios do not have washers and dryers, but you can find those in the resort near the Muscles & Bustles Health Club.
Check out this video of the Deluxe Studio with a water view:
One Bedroom Villas:
Room Size: 814 sq. feet.
Sleeps: Four adults plus one child in a crib.
# of Beds: There's a master bedroom with a king sized bed, and a queen-size sofa bed.
There's also a small flat-screen TV and a private bathroom with a whirlpool bathtub. The whirlpool bathtub and vanity are in one room, and the shower, a small pedestal sink and toilet are in another. There's a privacy door between them, but no door between the bedroom and the whirlpool tub room. The living room has a sofa that converts to a queen-size bed, an upholstered chair with wood arms and a pale pink painted wooden entertainment center with a 26" flat-screen television and DVD player.
Just outside the kitchen area is a small round dining room table with two chairs with padded seats and no arms. There are also two less padded wooden chairs, also with no arms, at the nearby breakfast bar. A fully equipped kitchen stocked for eight people makes this a great option for those who wish to cook during their stay. This includes a microwave, toaster, stove, refrigerator, dishwasher, coffee maker, dinnerware, utensils, pots and pans.
There's a full-size stacked washer and dryer with the washer on the bottom and the dryer on top. The safe in the bedroom closet should be able to hold a laptop computer. There's also a vacuum cleaner in the closet.
Two Bedroom Villas:
Room Size: Approximately 1,226 square feet (may vary – see below).
Sleeps: Up to eight adults and one child under three years old in a crib.
These units vary in size because some are the dedicated units that are one bedroom villas with a second bedroom, and some are "lockouts" which combine a one bedroom villa and a studio villa.
The dedicated units have one room with a king sized bed and master bath containing the whirlpool tub, and another room with two queen beds (either two actual beds or one bed and a pull-out), and a separate bathroom. The unit has only has one door that opens onto the hotel hallway from the main living area. This could be a plus if you have an escape artist for a child! All of these villas have televisions with cable in the living room and both bedrooms.
The Grand Villas:
Room Size: Approximately 2492 feet.
Sleeps: Up to 12 adults and one child under three who can sleep in a crib.
With that relatively whopping size, they're mostly two story units with internal stairs. There are also single level grand villas, but a request cannot be guaranteed to be met.
They have full kitchens, laundry facilities with full sized washer and dryer, a master suite with a king sized bed, Jacuzzi tub in the master bath, a 32" flat screen television with a DVD and CD player, and cathedral ceilings. The two additional bedrooms also have two queen beds each, private bathrooms and their own televisions. They have full living rooms with polished inlaid wood floors overlaid with carpets, wicker furniture, with the final two people being accommodated by a sofa bed. There is a full dining room with an oval table and eight full sized wooden padded chairs. Note, it is not possible to sit all 12 guests at the same dining table.
Requests for additional items for Villas
Guests in the Beach Club Villas can request full-size cribs, booster seats, high chairs, a toilet seat for the disabled and a TTY device for people with hearing disabilities. There are handicapped accessible rooms available here as well, with roll-in showers, levered sinks, lowered, peepholes, etc.
Available Upon Request for all rooms at Disney's BoardWalk Inn & Villas (Including handicapped options)
Alarm clocks are available upon request. Though they used to be put in the rooms automatically, they are no longer there unless you request it. Guests can also request cribs, and a Pack 'n Play at no extra charge. Microwave's may be available upon request. They have limited numbers. If you're requesting it because of a health issue, you may want to contact Special Resort Reservations at Disney World with the request before your trip, at (407) 939-7807 and press #1.
Handicapped & health related requests: Hearing-impaired TDD telephones, bed shaker accessory, visual smoke alarms, wake up alarms and door knocks; bed boards and bed rails; Sharp containers for used syringes.
In hotel dining at Disney's BoardWalk Inn Resort

The Bellevue Room is the only restaurant that's inside the resort. Located near the lobby, the Bellevue Lounge is a very small café serving continental breakfast from 6:30-11 AM. From 5 PM to midnight it becomes a lounge with a club-like atmosphere. Chairs are mostly padded armchairs. There are coffee tables, a few regular tables (also with armchair-type seating) and a bar with a few bar stools. There's plenty of room for a wheelchair to maneuver. There are board games here for guests to enjoy. Tables in Wonderland is accepted here.
BoardWalk Dining
Trattoria Al Forno: A cozy Italian with an artisanal menu featuring authentic regional dishes. The Bon Voyage Breakfast allows guests to dine while meeting with characters such as Ariel & Eric and Rapunzel & Flynn. This is a really popular meal, and reservations are hard to get, so we recommend booking as soon as reservations open.
Big River Grille & Brewing Works: A family friendly "brewpub" serving American favorites from the grill. For the children's menu there are classics such as hamburgers. While you eat you can enjoy award-winning, handcrafted ales and lagers brewed on the premises.
BoardWalk Bakery: Open early until late, serving house-specialty salads and sandwiches, as well as freshly baked goods.
Pizza Window: A small quick service option with salads and pizzas as well as a variety of drinks.
Flying Fish: An extremely popular location, reservations are a must! Gourmet seafood in a warm and luxurious location with an open kitchen that allows guests to watch the chefs at work.
ESPN Club: A classic American sports bar with screens showing sports matches on nearly 100 TV Screens. On nights with big games, this is an extremely popular occasion and reservations will be required if you want to ensure you can watch the game!
Hot Dog & Funnel Cake carts: situated on the BoardWalk. We've enjoyed some of the largest hot dogs we've ever had from the hot dog cart.
Leaping Horse Libations: This pool bar is themed to look like the building for a carousel. They serve alcoholic and non-alcoholic drinks. There are small square bar stools with backs, and beach chairs nearby at umbrella tables.
BoardWalk Joe's Marvelous Margaritas: Cocktails and savoury snacks.
Resort Shopping at Disney's BoardWalk Inn

The resort offers the largest number of stores of any of the Disney resorts.
Dundy's Sundries: Found inside the lobby near the front desk, this small shop offers emergency supplies such as film, over-the-counter medications, souvenirs like T-shirts, and snacks. This is a small store, so if you are looking to browse, or for a wider range of merchandise, you should visit the Screen Door General store which is situated on the BoardWalk.
Wyland Galleries: This is the same Wyland famous for painting those wonderful underseas vistas on the sides of buildings. You can view his website here: www.wylandgalleries.com. There are also other artists showing there, and some jewelry for sale. It's a mini-museum as much as a store, and art lovers will enjoy it. This store is not childproof. There are large framed paintings within reach, and breakables on the edges of low tables. There's adequate room for wheelchairs and ECVs to navigate.
ESPN Club Store: Attached to the ESPN Club restaurant, this store offers a small selection of ESPN branded items.
Screen Door General Store: They offer sundries, groceries, snacks, and alcoholic beverages, as well as a selection of Disney items. There's a small selection of DVD's for sale, but they don't rent them. You can rent DVD's at the Community Hall (by the Villa pool). This is a fairly large store for a resort and carries a lot of merchandise such as plush, pins, shirts and hats.
Thimbles and Threads: Offering mostly beachwear along with some other clothing, they carry clothing for men, women and children including infants. Technically this is a store within a store, as it is connected to the Screen Door.
The Pools at BoardWalk Inn and Villas
There are three pools at the BoardWalk Inn. The Luna Park Pool is the main themed pool located near the villas, and there are two smaller non-themed quiet pools. One is named Inn's Rose Garden Courtyard, and the other has no name that we could find. One is near the wing of hotel rooms by the convention center, and the other is by the villa rooms. Beside Luna Park there is a kiddie pool and a splash pad area. It's a very simple pool and area with no special features. There's a little playground right next to the kiddie pool, which is a dry area with no water features.
Luna Park is the name of the amusement park on Coney Island that was built in 1903, and that's the theme of this pool. The central feature here is a mickey themed slide built to look like an old wooden roller coaster. Until recently the mouth of the slide entered the pool via the mouth of a giant clown face. Revamped as part of the 50th anniversary refurbishments, those who are afraid of clowns no longer need to avoid this area! There are also life-sized elephant statues here, some of whom spout water. Other than that, the pool is relatively simple.
Check out the newest theme of the Luna Park pool here:

Luna Park Pool has some large shade umbrellas that sit between some of the lounge chairs. There are also umbrellas on the tables.
What do you need to know about the pools? 
Towels are available to guests at all of the pools.
There are lifeguards at the main pool only.
Free life vests are available at all pools. They range from infant size to adult XXL.
Each pool has restrooms.
Each pool has a chair lift.
Each pool has a hot tub with a chair lift.
Swim diapers are required for children who are not toilet trained. They can be purchased in the resort store.
Life jackets are available at all the pools.
There's not much shade and there are no umbrellas for lounge chairs, but there are umbrellas for the tables.
Quiet Pools: The two outlying pools, or quiet pools, have no special features such as zero entry or transfer tiers. Those in scooters and wheelchairs should keep the speed down and use caution around the pool.
The quiet pools each have a hot tub. They do supply towels, but there are no lifeguards.
Water temperature: In the cooler weather, pools are heated to 82° Fahrenheit, 28° Celsius. At times we've found that the pools felt much colder than that. How warm a pool will actually gets will depend on a variety of factors including pool size. At times we've found that the heat was not turned on for a quiet pool. If that's the case, let a Cast Member know you'd like it turned on.
Pool Parties: Usually sometime after 1 PM, the main pools at all of the Disney resorts have pool parties going on. Parents and kids will love this, but if you're looking for quiet, keep in mind that these parties are VERY loud. There's dance party music blasting throughout the entire afternoon, and the Cast Members lead the kids in activities over a loud speaker. If this doesn't appeal to you, you'll want to visit one of the resort 'Quiet Pools' which do not usually have these parties.
Muscles & Bustles Health Club
Open 24 hours, Muscles & Bustles Health Club is located outside in the tunnel that leads to the themed pool, across from the arcade. They have tanning beds, a steam room, sauna, and gym equipment including free weights, weight machines, treadmills and elliptical's. Massages are available by appointment. Attendants are usually there from 6:30 AM until 7:00 PM. If you want to go earlier or later you'll need to meet with an attendant to sign a waiver and receive a key. Lockers are available. Kids younger than 17 must be accompanied by an adult, and children younger than 14 can not go at all. For a massage appointment, or just to ask a question, call (407) 939-2370.
Entertainment at Disney's BoardWalk Inn & Villas Resorts
In addition to the night time entertainment you'll find outside on the BoardWalk, there are a number of things to do at this resort.
Clubs/Bars:
AbracadaBar: The "story" is that this is a magical bar that was once a favorite of illusionists… before the bar mysteriously vanished! Now the bar has reappeared on the BoardWalk. You can step back in time to experience this magical establishment.
Jellyrolls: Out on the BoardWalk, this sing-along piano bar is named after the famed 'Jelly Roll Morton'. It caters to the 21 and over crowd only. It features two pianists playing ragtime and other hits in a dueling piano style. Inside it's crowded with small wood tables and chairs. Jellyrolls is non-smoking. It's located towards the end of the BoardWalk, so you'll have to walk to get there. Phone: (407) 560-877.
Atlantic Dance Hall: At the end of the BoardWalk is a real art-deco dance hall complete with a mirror ball hanging from the ceiling. There are large padded chairs around tables in a carpeted area that surrounds a large wooden dance floor. Guests dance to top 40 videos. You must be 21years or older. Open Tuesday's thru Saturday's, opening at 9 pm. There is no smoking here. Phone: (407) 939-2444.
Other Entertainment:
Tennis: BoardWalk Inn has two clay tennis courts. Guests can borrow racquets and balls free of charge from  Community Hall. Call (407) 621-1991 to reserve court time.
Community Hall: The Ferris W. Eahlers Community Hall is a clubhouse where guests can participate in a variety of activities. For example, cast members hold games and arts and craft activities (some are free and some are paid), and there's also ping-pong, Foosball, video games, and a large screen television playing Disney movies. There's a variety of other games available to guests. They also rent DVD's here.
They post a schedule of activities right outside. This often includes a campfire at the fire pit, with free marshmallows, followed by open air movie on the beach. The posting also lists those activities happening across the lake at the Beach Club Resort, which guests of BoardWalk Inn and Villas are welcome to attend.
Bike Rentals: Two- four- or six man surreys and bicycles are available for rent. Surrey's have an awning to shade you from the sun. Costs are $25 per half hour for both.
Arcade: Located near the main pool, Side Show Games Arcade is accessible, though not all games are. There is also a smaller arcade along the BoardWalk near ESPN.
Boat Rentals: At the BoardWalk Marina guests can rent boats which have included Sea Racers, Pontoon boats and Montauks. You can also book a guided fishing trip. For reservations call (407) WDW-BASS [939-2277].
Movies under the stars: There's also a different Disney movie played most evenings. You'll receive a movie schedule when you check in. You can relax on the lounge chairs and enjoy the view and the movie. Please note that swimming is not permitted in any of the lakes on Disney property.
Crazy House Playground: There's a brightly colored and fenced-in children's playground that's off to the right side of the main pool for 2-12 year olds. It's quite small with a molded climbing frame and a slide.
Services/Amenities at BoardWalk Inn

Laundry and other services: Villas with one or more bedrooms will have their own washers and dryers. There's one Coin Laundromat near the Muscles & Bustles health club (by the pool) and another 24 hour self-service laundry near the 3rd floor elevators. There's a vending machine with detergent. Dry clean services are available for a fee via Housekeeping. There should be an order form and a bag in your room closet.
Business Centre and Conference Centre: This resort has both a business center and a conference center. The conference center features over 20,000 square feet of space including a ballroom and numerous smaller rooms.
Babysitting at Disney's BoardWalk Inn Resorts & Villas: While there used to be an on-site facility, this no longer exists. For information on babysitting services, check out our babysitting at Disney World page.
Transportation for the BoardWalk Inn Resorts & Villas
Buses and boats are available at this resort. With a short walk you can access the Disney Skyliners near the back entrance of Epcot.
These resorts are in the Deluxe category, and in our opinion just about everything you'll encounter will reflect that, except the bus and boat transportation. There are a variety of inconveniences as you'll read below. You may wish to consider having your own car, especially if you're staying during a peak season.
On the other hand, the great thing about these resorts is that they're so close to Epcot's World Showcase. Guests can also walk to Hollywood Studios, however it's a longer walk at approximately 20 minutes.
The bus stop is situated to the front of the resort, to the left as you exit the lobby. The BoardWalk Inn shares with the Yacht Club, Beach Club, Beach Club Villas and the Swan and Dolphin. This means that most buses and boats will stop at all of these locations. You may experience some very long rides and crowded conditions. The upside is that you can get to the other resorts using Disney transportation.
The outdoor bus stops are covered and there are a small number of benches with backs. When it's crowded most people will have to stand.
The BoardWalk Inn has bus service to Animal Kingdom, Magic Kingdom and Disney Springs. There is no bus service to Hollywood Studios and Epcot. To get to the bus stop, you'll walk down a covered path. It's approximately 100 (self-paced) yards from the front entrance of the hotel. The waiting area has a roof, and a few hard benches with backs. The bus to the parks shares a route with the Dolphin, Swan, Yacht Club and Beach Club resorts. This can make every trip take quite a while, and in fact, this is a common complaint from guests of these resorts. We find it surprising that guests who are paying the high Deluxe resort prices are being inconvenienced to this degree.
The Friendship boats go to Epcot and Hollywood Studios. They can be picked up at the dock approximately every 20 minutes at Promenade Pier, which is off the BoardWalk. It's a straight shot out the back of the hotel after you've walked down the steps. The boat makes a circle around the lake picking up passengers from the Yacht Club, Beach Club, Swan and Dolphin hotels. Depending on when and where you catch it, you may need to wait and/or stand for all or part of your ride. These boats are wheelchair accessible.
The boats share a route with the Yacht Club, Beach Club, Beach Club Villas, Dolphin, Swan and BoardWalk Inn. Boats can be crowded with long waits at times, especially during peak seasons and high crowd times such as park openings and closings.  There's no seating in the dock queues.
Here are your options for getting around using Disney transportation:
Transportation to Animal Kingdom, Magic Kingdom, Disney Springs and the water parks (a transfer is needed) – Buses are the only form of transportation available. To get to the water parks, you'll need to get to Animal Kingdom and grab a bus to the water park from there.
Transportation to Epcot – Guests can walk or take the friendship boats. The boats take guests to a dock near the World Showcase entrance of Epcot, which is located in the rear of the park. These resorts do not provide direct transportation to the main entrance at the front of Epcot. The front entrance is still a long walk from the boat dock. The other option is to take a bus to another location that does have direct service to the front entrance, and transfer. However this would be time consuming.
Transportation to Hollywood Studios – Guests can walk, take the friendship boats, or the Skyliner. The Friendship boats take guests to a boat dock fairly close to the Hollywood Studios entrance.  Although some people prefer to walk to Hollywood Studios, it's far enough away so that most people choose to take a boat.
Transportation Tip: After Epcot closes, especially if there's a show, large crowds swarm the Friendship boat dock queue. We've heard accounts from people who were stranded when the boats stopped running at the end of the night before all the guests had been serviced. If you're planning to take a boat back to your resort, you may wish to leave a few minutes early. If there's a show, make your way to the dock as quickly as you can just before the show ends. If you're determined to catch the grand finale, just position yourself as close to the exit as you can, and head to the docks the moment the show ends.
Smoking:
Smoking is banned in all Disney-owned hotel rooms. Even patios and balconies are non-smoking areas. Of course it's always possible that another guest could smoke in a room anyway, but Disney reserves the right to charge a penalty since they'll need to specially clean the room. This usually discourages people from smoking inside their rooms. There are predesignated outdoor areas around the resort where smoking is permitted. The resort map that you're given when you check in should have the areas marked, or ask a cast member when you check in.
Join our facebook group!!!!
Ask any questions, share your knowledge and just enjoy getting to know other Disney fanatics in our facebook group called Walt Disney World Made Easy for Everyone.
Also join me on Pinterest here.
Thank you to all the people who donated photos! Whether we used them or not, you all rock!
GET UPDATES, NEWS & TIPS (IT'S FREE!!!)
Sign up below to stay updated on the newest information, tips and tricks to help you plan your perfect Disney World trip!